Easy Chickpea & Lentil Curry in under 30 minutes! It's creamy, thick, saucy, comforting, and packed with delicious, rich, spicy flavour.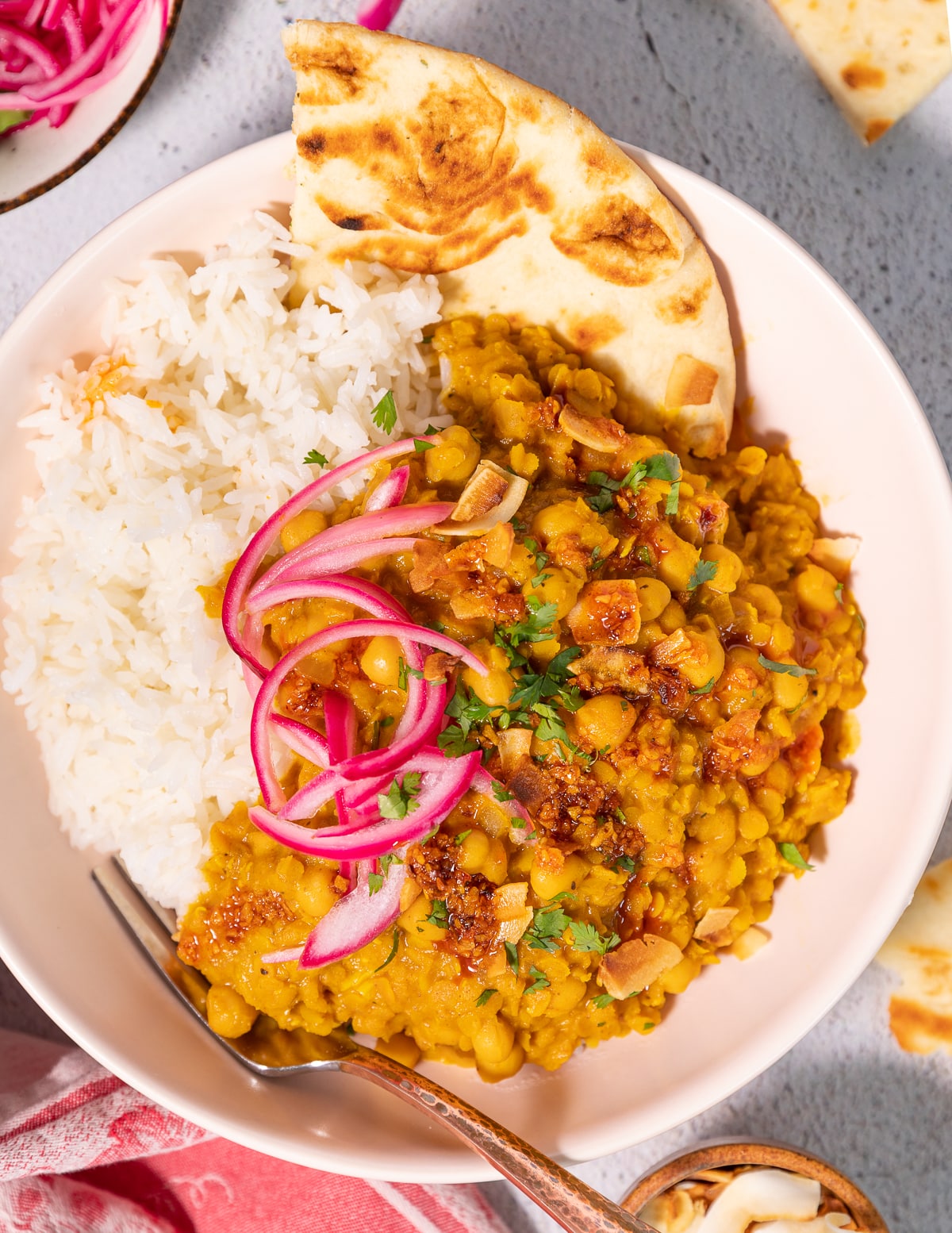 Lentils and chickpeas. These cheap, healthy, filling, protein, and fiber packed pantry staples are being transformed into a thick, creamy, rich, spicy, and super delicious Lentil & Chickpea Curry that's just perfect for a weeknight dinner.
Bonus points for it all happening in under 30 minutes ...I seriously could not love this recipe more!
Ingredients
To make seriously good curried chickpeas and lentils you will be needing: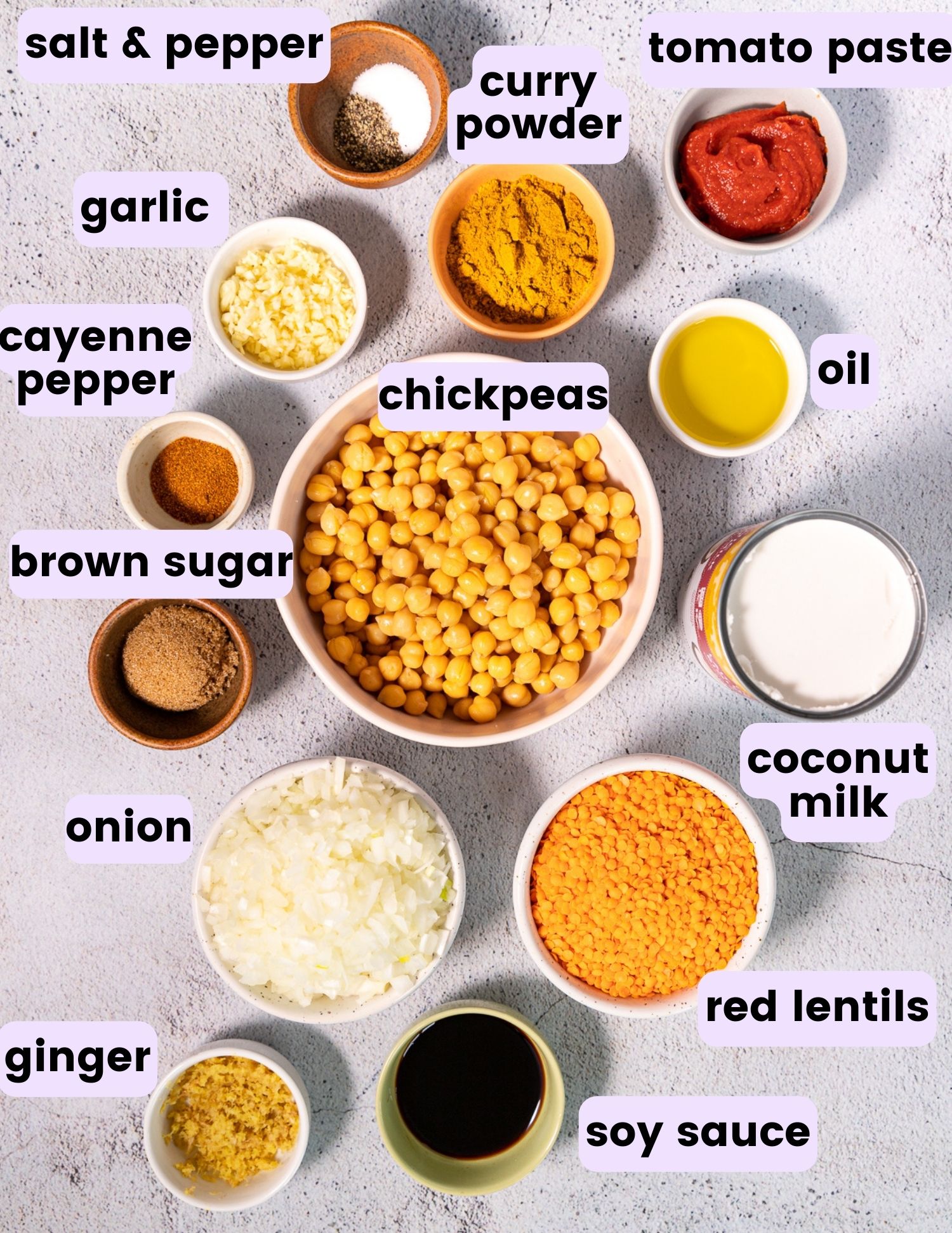 And a few important ingredient notes:
Lentils - These need to be red lentils. They break down and thicken the sauce beautifully. Green or brown lentils will not work in this recipe.
Canned coconut milk - For the best results this should be full-fat coconut milk, not light. The sauce won't be anywhere near as rich and flavourful with light coconut milk, so no complaints about it not being as good as you hoped if you don't heed my advice ;O)
Chickpeas - You can use canned or dried chickpeas that you have cooked yourself for this lentil chickpea curry recipe. Not got chickpeas? Check out my red lentil dal recipe instead.
Brown sugar - You could use coconut sugar instead. It's being used more as a seasoning than a sweetener. It's just a little bit and it makes a HUGE difference to the overall flavour of the curry. It adds richness, depth, slight caramel undertones, and balances out any acidity.
Cayenne pepper - Made as written the curry will be just pleasantly spicy and not hot. The amount you add is customizable though. Increase or reduce it to suit your heat tolerance. You can even omit it if you're cooking for children or don't care for any heat at all.
Soy sauce - You can use gluten-free soy sauce, Tamari, or coconut aminos instead. Like the sugar, it's being used as a seasoning and adds a layer of richness and depth.
How To Make Chickpea & Lentil Curry
The key to amazing flavour in this vegan curry recipe is to sauté the onion, garlic, and ginger well, bloom the spices, and also cook out the tomato paste until it darkens before adding any other ingredients.
Don't rush these steps as they remove any harsh, raw flavour, and add lots of sweet, savoury, complexity. Once that's done and you've got your flavour base, everything else goes in, and we simmer it all up gently until the lentils are melty and tender.
For a step by step visual see my recipe video.
Variations
The great thing about curry is its versatility. Feel free to throw in extra veggies. Additions that I love include frozen peas, bell peppers, sweet potatoes, butternut squash, broccoli, and spinach (in the last few minutes). Cauliflower is great too but I recommend roasting it in the oven before adding it so it doesn't make your sauce watery.
Serving Suggestions
Curry with lentils and chickpeas needs some fluffy rice to soak up that delicious, rich sauce! You can go simple with plain white or brown rice, but I highly recommend my Coconut Basmati Rice. It really elevates the dish and is a simple recipe that takes no longer to make than plain rice. Cauliflower rice, couscous or quinoa work well too.
You'll notice the red onion in the pics. It's actually quick pickled red onion and takes just a few minutes to throw together. With this curry it is incredible! Another layer of flavour and texture and that bright pop of pink colour...So pretty and a great contrast! I'll drop the simple instructions in the recipe notes in case you want to give it a try. I make mine just before I boil the rice so they have a little time to steep.
Chili crisp oil is also highly recommended. I am obsessed with Triple Smoke Crunch Chili Onion Garlic (You can see it in action in my main pic.) It's locally made, a staple here at AVV HQ and is so good on this curry, adding even more flavour, heat, and texture. Because I love it so much I reached out to Triple Smoke and they have offered my readers 10% off any purchase. Use coupon code AVIRTUALVEGAN at checkout.
A tumble of toasted coconut flakes, cashews, or peanuts, a dollop of vegan yogurt, a squeeze of fresh lime juice, and some fresh cilantro are really nice additions too, and of course, some flatbread is always a good idea. Naan bread is the best choice, but my very quick and simple no-yeast flatbreads are a great alternative and so quick and easy.
Tips For Storing Leftovers
Store your lentil chickpea curry leftovers in an airtight container in the fridge for up to 5 days or the freezer for up to 3 months. Reheat gently on the stovetop, or in a microwave.
More Curry Recipes
If you try this recipe, let me know how you like it by leaving a comment and rating below! And be sure to join my mailing list for more deliciousness!
Recipe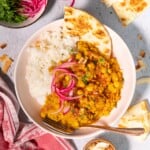 Chickpea & Lentil Curry
Author:
Easy Chickpea & Lentil Curry in under 30 minutes! It's creamy, thick, saucy, comforting, and packed with delicious, rich, spicy flavour.
INSTRUCTIONS
Heat the olive oil over medium heat. Add the onion and sauté for about 6 to 7 minutes until softened, transparent, and just starting to turn golden.

Add the garlic, ginger, curry powder and cayenne and cook for another two minutes, stirring frequently until smelling fragrant.

Add the tomato paste. Stir it in and cook for 1 more minute, constantly stirring until it darkens in colour.

Add the water, canned coconut milk, red lentils, brown sugar, soy sauce, black pepper, and salt. Stir and bring to a gentle simmer. Cook for 15 to 20 minutes until the lentils are soft and breaking down and the sauce is thickening.

Add the chickpeas and allow to heat through. I like it nice and thick, but feel free to add a little water to thin at this stage if you prefer a thinner consistency.

At this point you can serve as soon as it's hot, or leave to simmer on low for a bit longer if you need to. It will continue to reduce and thicken. Taste and adjust seasonings as necessary before serving.
NOTES
For the quick pickled red onions (highly recommend!): 1 red onion sliced into very thin half moons, ½ cup white vinegar, ½ cup water,1 tablespoon white/cane sugar/maple syrup, ½ teaspoon salt. Pop it all in a jar and shake well. Leave for 20  minutes, or refrigerate for up to 2 weeks. (also works with cucumber & is equally delicious with this curry). Enjoy with curry, chili, pizza, BBQ, tacos, nachos in sandwiches, salads etc.
NUTRITION
Serving:
1
serving
|
Calories:
351
kcal
|
Carbohydrates:
38
g
|
Protein:
14
g
|
Fat:
18
g
|
Saturated Fat:
13
g
|
Polyunsaturated Fat:
1
g
|
Monounsaturated Fat:
3
g
|
Sodium:
591
mg
|
Potassium:
684
mg
|
Fiber:
13
g
|
Sugar:
6
g
|
Vitamin A:
194
IU
|
Vitamin C:
6
mg
|
Calcium:
74
mg
|
Iron:
7
mg
Did you make this recipe?
Rate it & leave feedback in the comments section below. I love seeing your remakes too. Tag @avirtualvegan on Instagram! 🌟