Kidney Bean Burgers with loads of flavour and texture. They are quick and easy to make, perfect for midweek meals and great for making ahead too!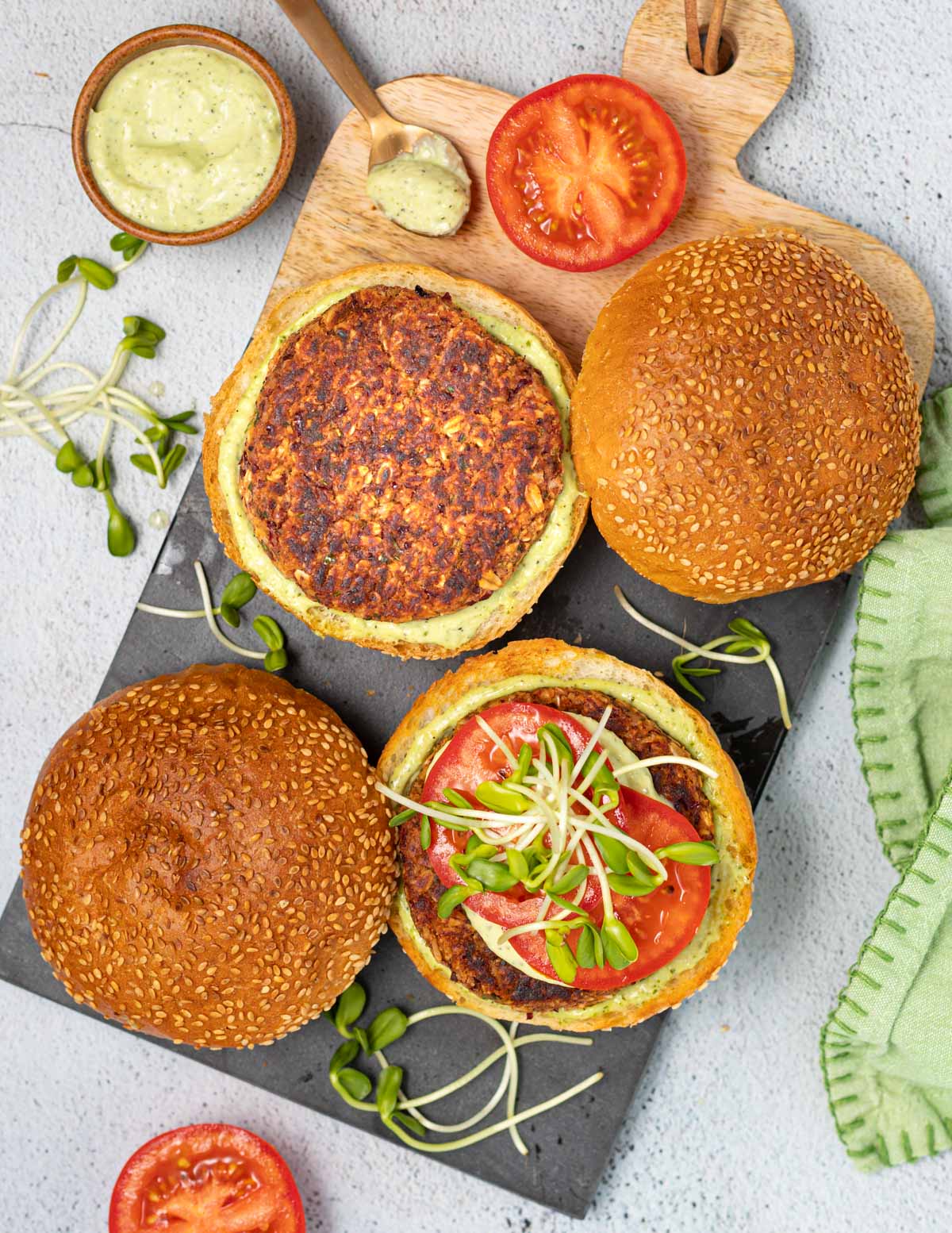 Kidney beans are the underdog when it comes to bean burgers. It's usually all about the white bean burgers and the black bean burgers. That is until now because my kidney bean burgers are coming on through and they are so good!
In this post:
Jump to:
We're talking golden and crusty on the outside, really well-textured on the inside, and loaded with flavour from pantry staples like dried herbs, spices, and ketchup. Easy and protein-packed too!
This kidney bean burgers recipe can be made really quickly, and considering the minimal effort plus the excellent (and healthy) results, they are just perfect for midweek dinners. In fact, they've become a real family favourite here. We've been serving them with my Lemon Garlic Air Fryer Roasted Potatoes and kidney bean salad or broccoli salad.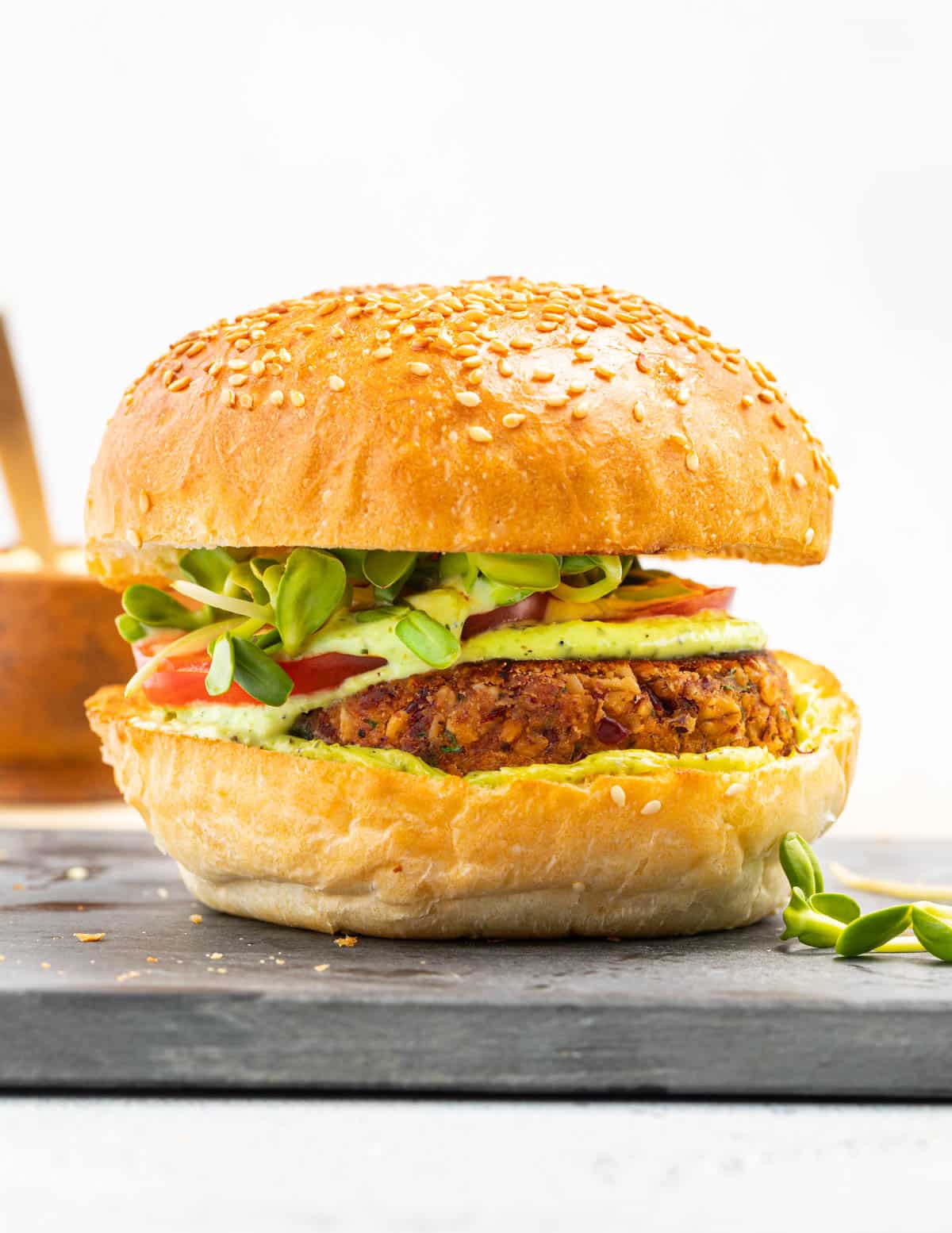 Ingredients
(For detailed measurements and instructions, see the printable recipe card).
There's nothing fancy about these kidney bean burgers, but they are a dang tasty and soon-to-be staple recipe. Here's what you will be needing: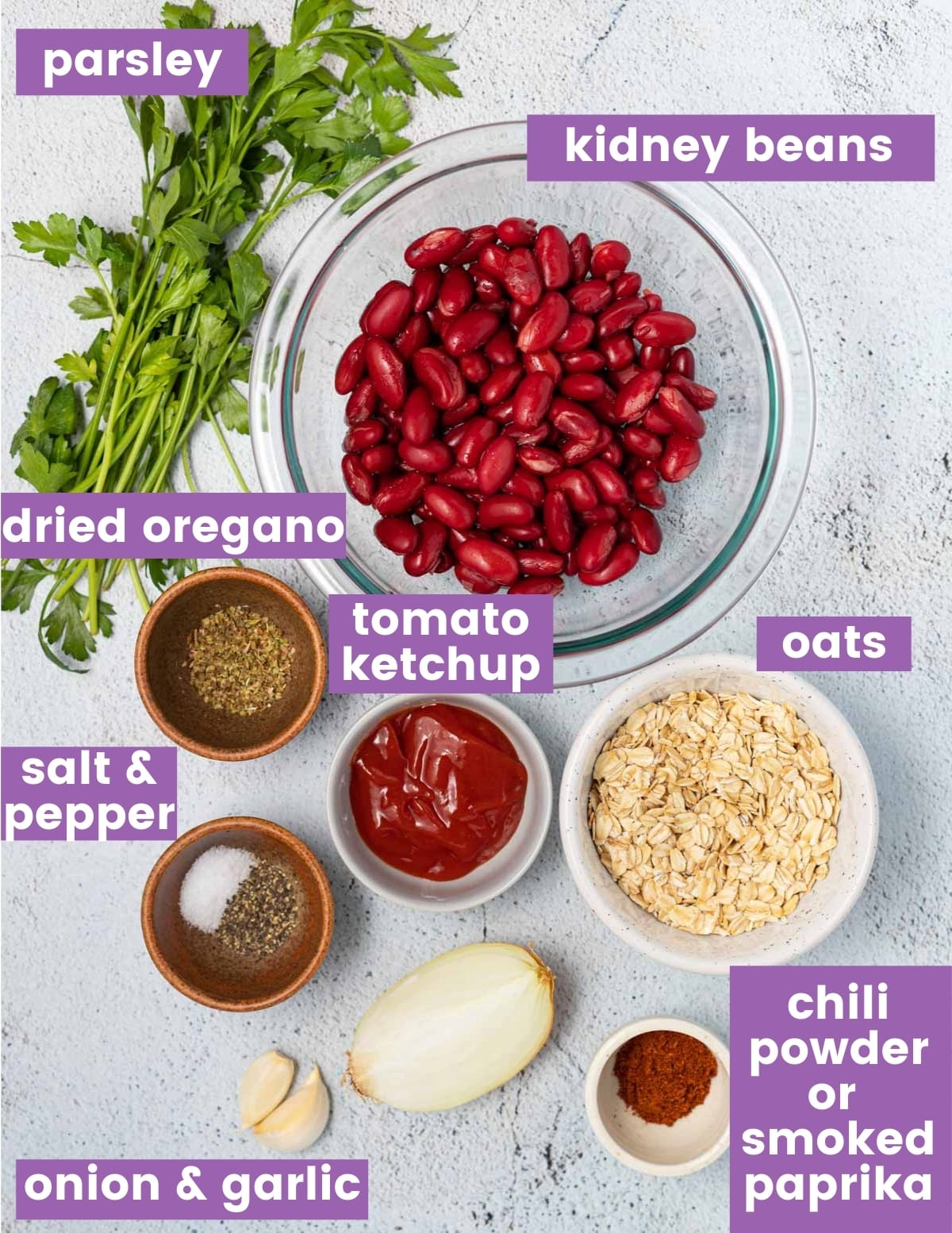 And a few notes about each of them so you know what we are using and why:
Kidney beans - The dark horse in the bean burger world but so tasty! We will be blending half of them up then just pulsing the other half to keep the texture good and so that you can see some chunky bean bits. Use canned kidney beans or home cooked kidney beans.
Oats - Beans tend to have a dense mushy texture, and when making burgers it's important to add something that will give a good texture. Rolled or old fashioned oats are what we are using here because they work really well, and because they are budget friendly and accessible to most people. Use certified gluten-free oats to keep the burgers gluten-free.
Onion & garlic - These go in raw. This is for the best flavour so don't saute them first. It makes the recipe quicker and easier to make too!
Ketchup - For lots of flavour, a hint of sweetness, and for its sticking factor. Combined with the starchy oats it helps hold the burgers together. You could use BBQ sauce instead.
Flavour givers - Chili powder/smoked paprika and oregano because they work so well with the kidney beans and are powerful enough to stand out. Fresh parsley for even more flavour. You can omit the parsley if you don't have any, or use some dried parsley instead. Fresh cilantro also works well. Either chili powder or smoked paprika are fine, unless you are in the UK or Europe, then use smoked paprika only. Your chili powder is very different to the chili powder in North America. Its WAY hotter and doesn't have the same flavour profile, so won't work well in this recipe.
Equipment - You will need a food processor to make these burgers.
How To Make Kidney Bean Burgers
This simple kidney bean burger recipe is ready in just a few simple steps: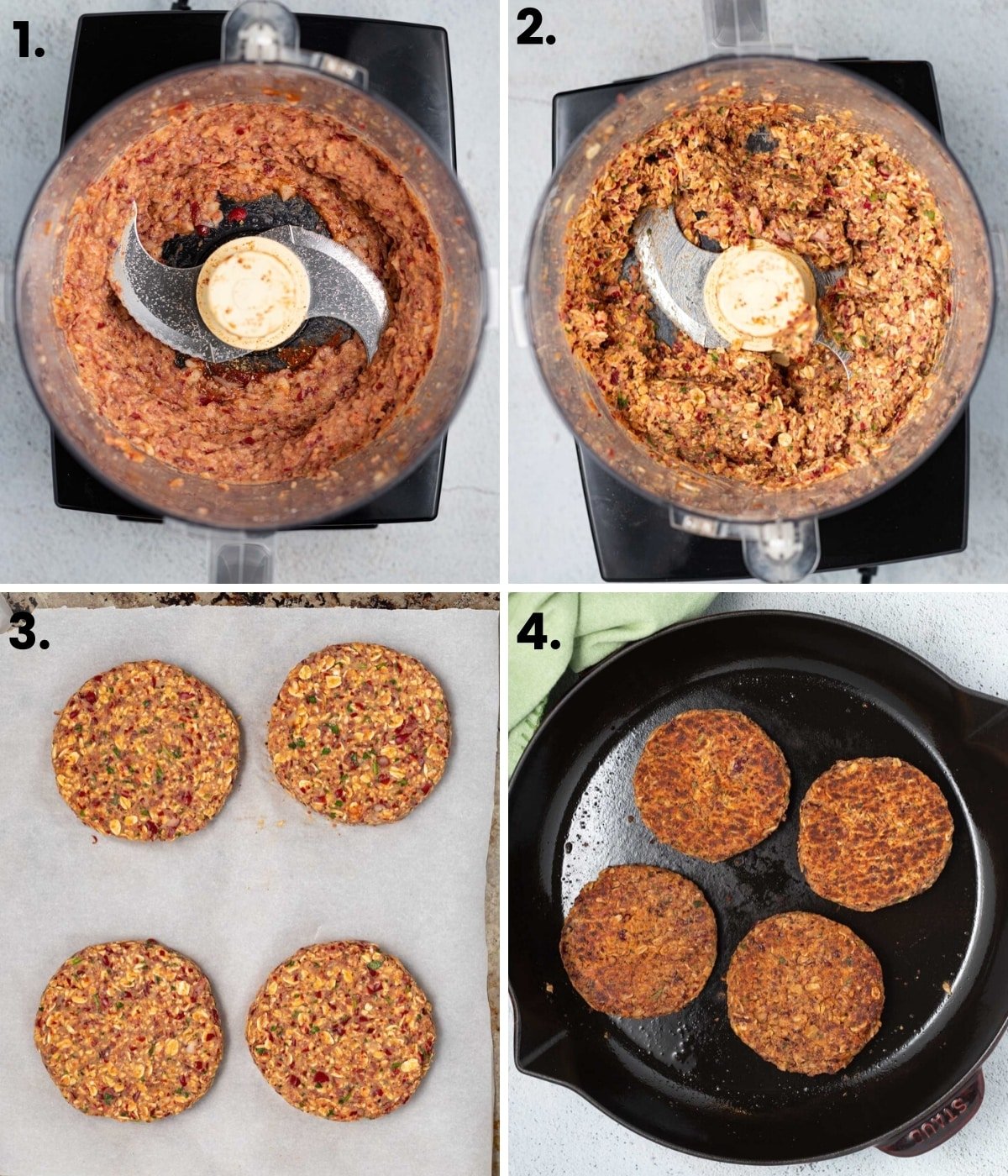 Blend up half of the beans with everything but the oats and fresh parsley.
Add the rest of the beans, oats and parsley and pulse enough to break the oats and whole beans up into smaller but still slightly chunky pieces.
Shape into patties then chill.
Cook in a skillet, frying pan or in the oven.
Success Tips
For the very best results when making this recipe follow these tips:
The chilling step is important for stability. Don't skip it.
This recipe intentionally uses uncooked onions and garlic. Don't switch it for cooked or the texture and flavour will be affected.
Biting into a vegan burger only to find the patty has the texture of baby food is not fun. Controlling the texture is key here. Don't blitz the life out of the mixture. That's why we blend up half of the beans then add some later along with the oats. From there on, pulsing is best .
Ensure the heat is low enough so the burgers cook all the way through without burning the outside. Low and slow is best.
A good crust on the burgers is essential for good texture and flavour.
As with any veggie burger, cooking with oil will give you the best and tastiest golden crust.
If serving in a bun, toast the buns for even more flavour and texture - There can never be too much.
Topping Ideas
Never let anyone tell you what you should or shouldn't put on your burger, but in case you need some inspiration here are some ideas that work really well with these kidney bean burgers:
Pan-fried onions or raw red onion rings
Guacamole or salsa .. or both!
Ketchup, vegan mayo or relish
Vegan cheese slices
Avocado
Some crumbles of vegan feta cheese
Lettuce & sliced tomato
Pickles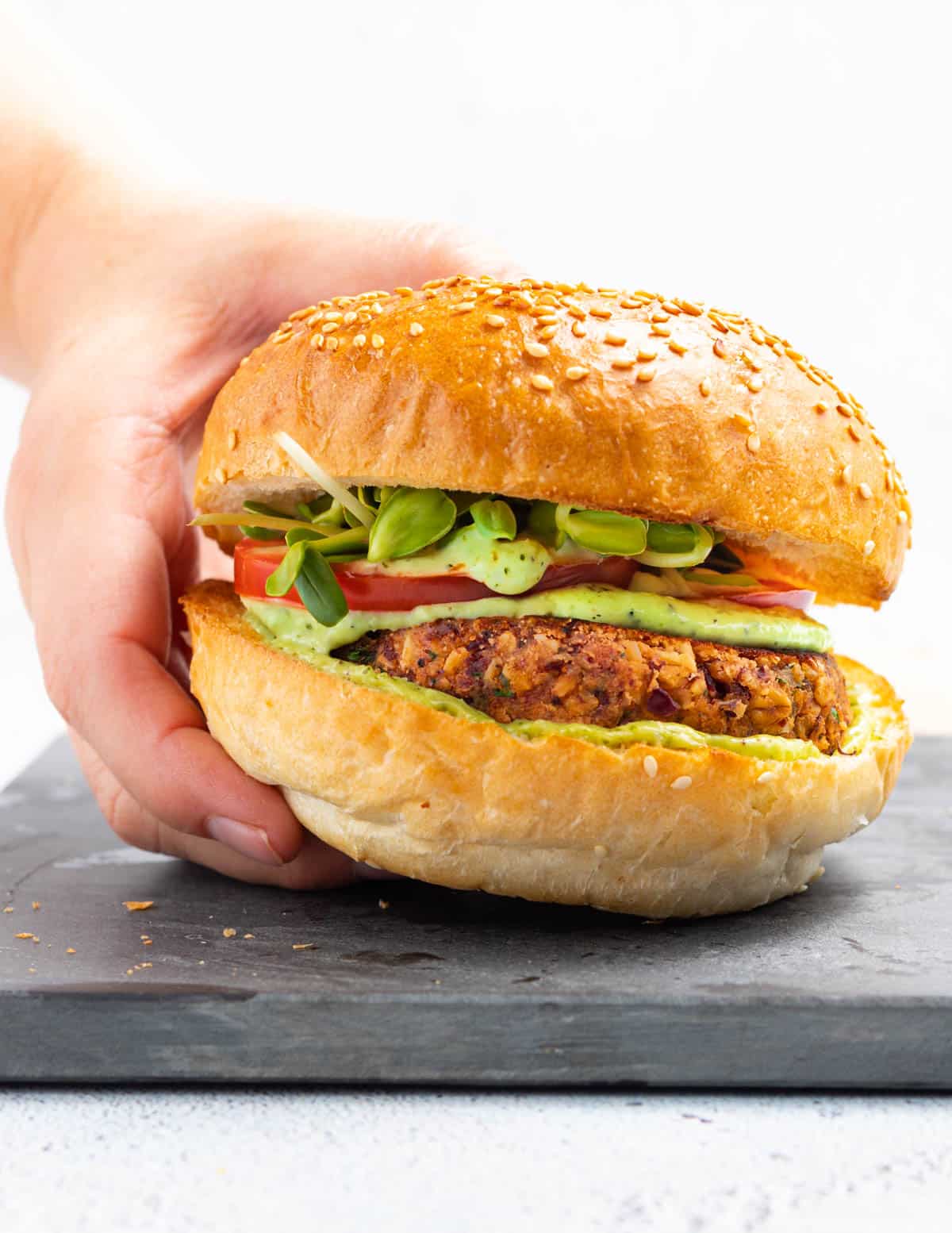 Storage & Freezing
To store uncooked red kidney bean patties in the fridge - Once shaped place the burger patties on a parchment-lined plate or baking tray, cover well and store in the fridge for up to 3 days. When required cook as per the recipe instructions.
To store uncooked red kidney bean patties in the freezer - Once shaped lay the patties out on a parchment-lined baking tray. Place the patties on the tray, cover with plastic wrap or a large bag and put the entire tray in the freezer. After a couple of hours, once the patties are hard, you can remove the tray from the freezer and transfer them to a container or freezer bag. Be sure to place a piece of parchment paper in between the layers so they don't stick together. Thaw on the counter or in the fridge before cooking as per the recipe instructions.
To store cooked leftover kidney bean burgers - Once cooked, the burgers will keep for 2 to 3 days in the fridge but when reheated again they do become a little drier so it is best to only cook the amount you need and avoid cooked leftovers if at all possible. If you do have some left though warm them through in a skillet for 5 minutes on each side, or bake in the oven on 350°F (175°C) for 15 to 20 minutes or until piping hot.
Recipe FAQS
Can I make these burgers oil-free?
Yes, the patties are naturally oil-free. When cooking either oven bake them or cook them without oil in a good non-stick skillet.
Recipe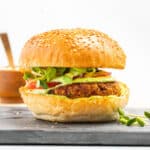 Kidney Bean Burgers
Author:
Kidney Bean Burgers with loads of flavour and texture. They are quick and easy to make, perfect for midweek meals and great for making ahead too!
Ingredients
1½ cups (9 oz or 265

grams)

canned kidney beans

, This is equivalent to 1 x 15 oz can (398 ml can in Canada or 400 gram can in the UK)

¼

medium

onion

2

medium cloves

garlic

2

tablespoons

tomato ketchup

1

teaspoon

dried oregano

1

teaspoon

chili powder or smoked paprika

, see notes if you are in UK/Europe

½

teaspoon

fine sea salt

½

teaspoon

freshly ground black pepper

1 cup (90

grams)

rolled oats

, or old fashioned oats (use gluten-free certified oats of necessary)
OPTIONAL but recommended if you can
INSTRUCTIONS
Rinse the kidney beans and give them a good shake to remove any excess water.

Scoop up about half of the beans into a small container and set aside. Add the remaining half to a food processor.

To the food processor also add the onion, garlic, ketchup, oregano, chili powder/smoked paprika, salt and pepper then process to a paste. Scrape down as needed to make sure everything is blended.

Open the food processor and add the remaining kidney beans, oats and parsley if using. Pulse to combine, breaking up the oats and beans into smaller but still chunky pieces. You will need to get in there and give it a scrape down the sides and into the bottom to make sure everything combines well. Don't process it too much or you will lose the texture.

Have a plate or small baking tray lined with parchment paper next to you.

Remove the blade from the food processor and shape the mixture into four ½ to ¾ inch thick patties. Prior to shaping each patty, really squeeze the mixture together in a tight ball in your hand to compact everything. This helps them hold their shape.

Lay the patties out onto the lined plate or tray once shaped. Refrigerate for at least 20 minutes but up to 3 days is ok. If only chilling for about half an hour there is no need to cover them. Any longer cover the plate/tray well so the patties don't dry out.
To pan fry
Brush a large skillet or frying pan with a little oil and place over medium-low heat. Once the pan is hot, carefully add the burger patties. Cook for about 8 minutes on each side or until firm and brown on both sides. Time will vary slightly depending on your cookware and stove top so use your judgment and cook a little longer/less if necessary.
To oven bake
Put the burgers on a lined baking tray and bake them in the oven on 375°F (190°C) for about 20 to 25 minutes, or until heated through and crusty on the outside. Flip them over halfway through the cooking time.
To grill
I don't recommend putting these burgers right onto the grill grates. Instead either place on greased aluminum foil on the grill to give them some support, or use a greased grill pan or cast-iron skillet. Cook them over medium-low heat for about 7 to 8 minutes each side or until brown and firm.
NOTES
Important for those in UK/Europe - Use smoked paprika in this recipe. Do not use chili powder.  Your chili powder is very different to the chili powder in North America. It's not a flavourful blend of spices like ours and it's WAY hotter.
Store uncooked burger patties in the fridge for up to 3 days or freeze for up to 3 months. Cooke burgers can also be stored in an airtight container in the fridge for up to 3 days. 
NUTRITION
Serving:
1
burger
|
Calories:
185
kcal
|
Carbohydrates:
34
g
|
Protein:
9
g
|
Fat:
2
g
|
Saturated Fat:
1
g
|
Polyunsaturated Fat:
1
g
|
Monounsaturated Fat:
1
g
|
Sodium:
363
mg
|
Potassium:
404
mg
|
Fiber:
8
g
|
Sugar:
2
g
|
Vitamin A:
133
IU
|
Vitamin C:
3
mg
|
Calcium:
46
mg
|
Iron:
3
mg
Did you make this recipe?
Rate it & leave feedback in the comments section below. I love seeing your remakes too. Tag @avirtualvegan on Instagram! 🌟