Risi e Bisi is a creamy, almost velvety, rice dish, not unlike risotto, packed full of delicious spring peas. It's usually served as a first course (primo piatto). There's nothing to say, however, that you can't have it as a main with a crisp green salad. I do. And I love it!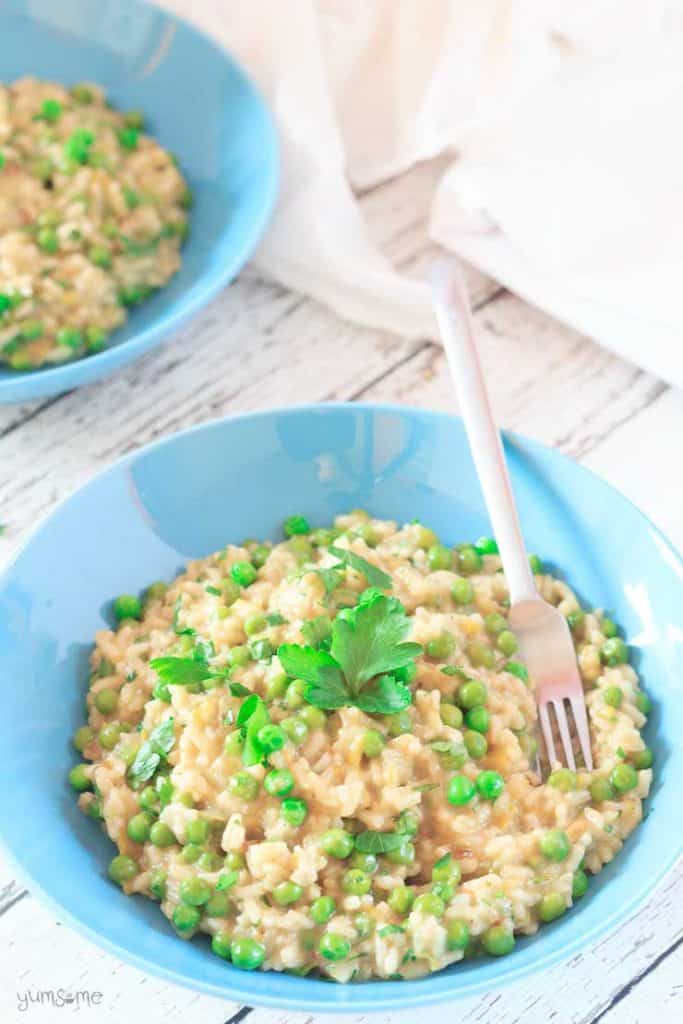 Today you guys are in for a treat because Nico from Yumsome is kindly sharing this recipe for Rice e Bisi with us. She heard that I have been unwell and wanted to give me some extra time to heal with no worries about getting another new recipe out this week. Her recipes are wonderful, and a testament to her homeland of Venice, Italy and her travels around the world.
If you aren't familiar with her blog head on over and show her some love there and on social media (links to her social media are at the end of this post). I recommend that as well as making this recipe you give her Ajvar recipe a try. It brings back happy memories of my own travels in Croatia, Slovenia and Serbia, where this unbelievably flavourful, slow cooked red pepper spread is served up often.
I WILL HAND YOU OVER TO THE LOVELY NICO…..
I thought that for this guest post, which Mel has very kindly invited me to write, I'd share one of my favourite dishes from my homeland of Venezia… (Let's just gloss over the fact that I spent my childhood in Britain, with my maternal grandparents who considered anything from north of London to be too foreign.)
Shhhh…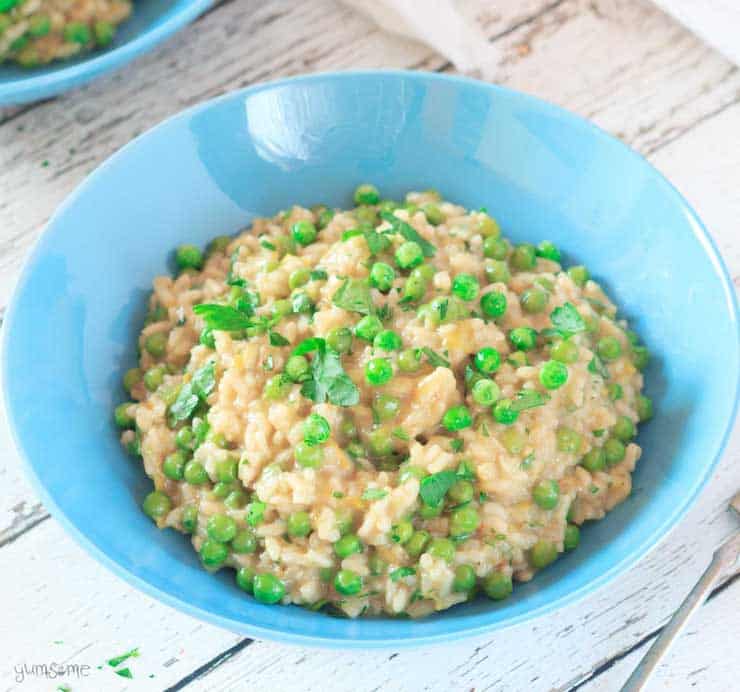 NOT YOUR (SOUTHERN) MAMMA'S RISOTTO
Risi e Bisi (pronounced, ree-zee eh bee-zee) is a traditional and very simple Venetian dish made from rice and peas. It's kind of a cross between risotto and a soup – almost stew-like, if you will. Some Venetians like theirs to err on the side of soup, while others, myself included, prefer it to be a little more solid. Although, if I'm poorly, I prefer it to be more soupy. Go figure!
Unlike risotto, however, risi e bisi does not need you to be slaving over a hot stove for 45 minutes. OK, I know it's not exactly a hardship to make risotto, and actually, to be perfectly honest, I rather like making it – it forces me to stand still for more than five minutes… and I find it almost meditative.
A VERY QUICK RISI E BISI HISTORY LESSON
Risi e bisi is considered something of a celebratory spring dish, dating back to the days when Venezia was still a republic. It was traditional that on April 25th – the feast of St Mark (Festa di San Marco), the first crop of peas to be harvested would be given to the Doge for his banquet, and thus, a fittingly pea-tastic dish was created.
At least, that's the mythos… some schools of thought claim that risi e bisi actually originated in Byzantium (now Istanbul). Given the Venetian-Byzantine connection, it's not outside the realms of possibility that it's an adaptation, rather than an original invention. The romantic in me however, prefers the former story; in my opinion, risi e bisi is fit to be served up in any ducal palace!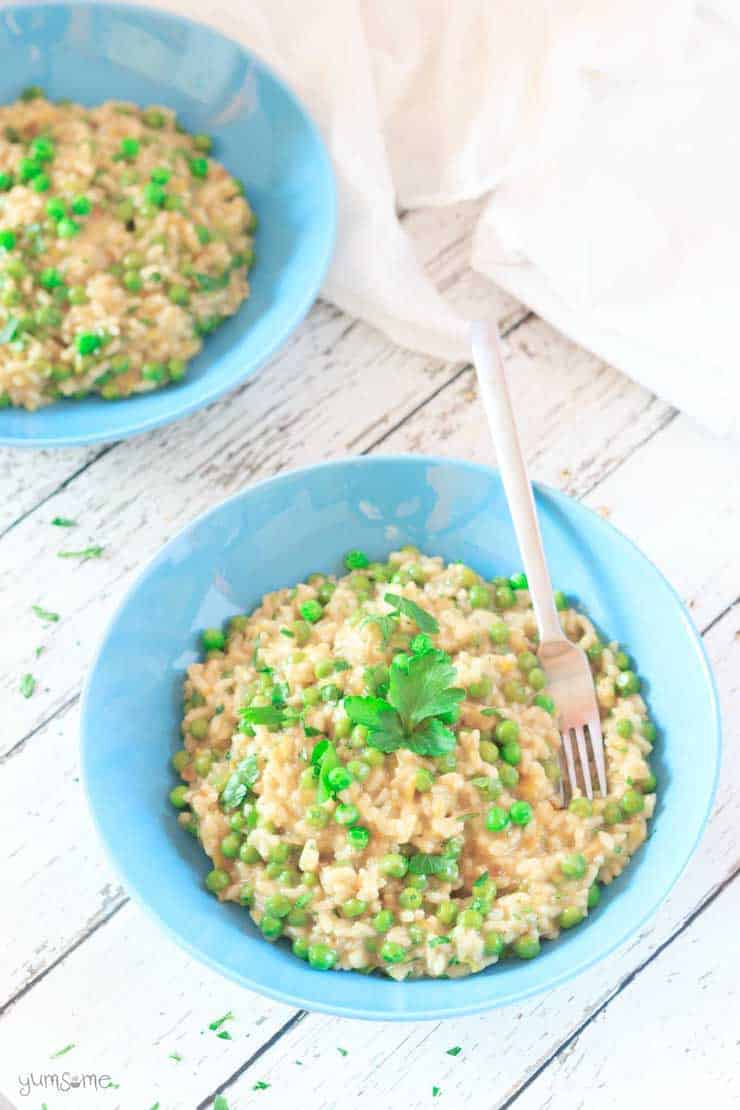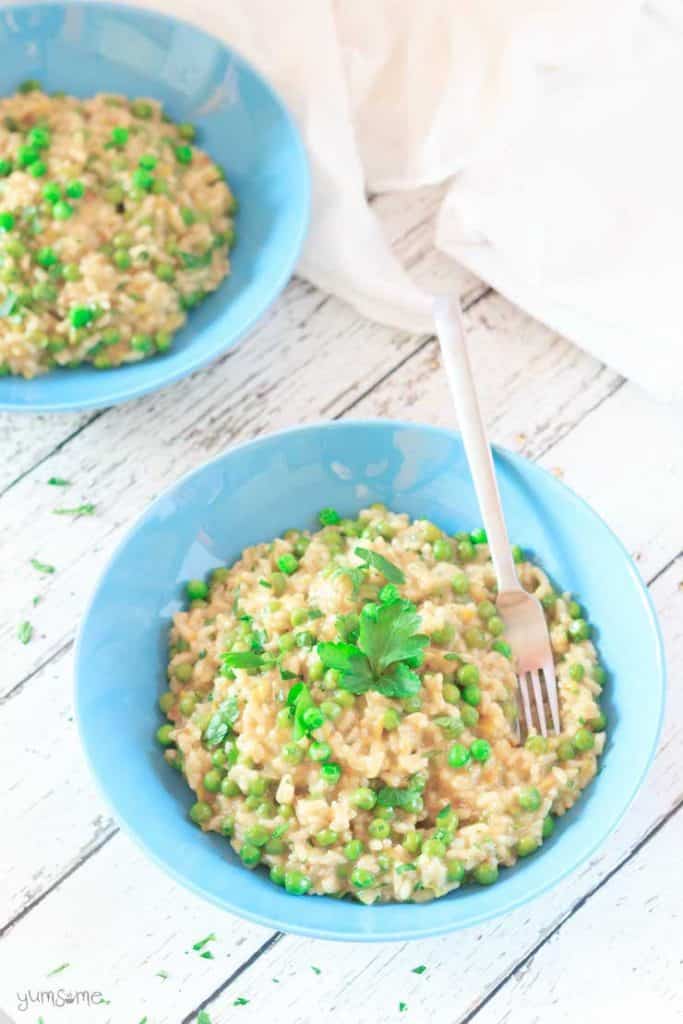 BUT ITALIAN'S ONLY EAT PASTA & PIZZA!
Of course we do. Not. ;-) Although Italy is commonly associated with pasta and olive oil, in the North, it's more traditional to eat rice (potatoes too – think gnocchi), and to cook with butter, as opposed to oil. The rice for risi e bisi (and indeed, for risotto), is grown on the Po river plains in Lombardy and Piedmont – the rice bowl of Italy.
In fact, did you know that Italy is Europe's largest producer of rice? Or that (my all-time hero) Leonardo da Vinci was instrumental in draining the marshlands of the Po? Wheat, on the other hand – specifically, durum wheat, with which pasta is made – is grown in Southern Italy… mainly in Puglia. Pasta has only really been eaten in Northern Italy for a hundred years or so.
WHAT DO I NEED TO MAKE RISI E BISI?
In my opinion, the best rice to use is carnaroli but if you can't get it, arborio works well too. Traditionally, stock for the rice is made from the pods of the shelled peas… which of course, makes this an even more scrumptiously seasonal springtime dish (try saying that after half a bottle of Valpolicella), and with minimal waste too. (We'll forget that pancetta is often used to flavour the stock, mmkay?) Fortunately, in the absence of fresh peas in their pods, frozen peas work just as well. Please don't use tinned though.
If you don't have your own vegetable stock to hand, just make some with veggie bouillon powder or a couple of stock cubes. And of course, Mel's Easy Vegan Butter works perfectly in this recipe. The Venetian culinary police won't come knocking at your door, I promise. But your neighbours may when they smell the deliciousness wafting out of your kitchen.
Don't say you weren't warned.
LET US KNOW WHAT YOU THINK
Both Mel and I would love to know what you think of this recipe. Leave your feedback below and share your pics on Instagram. Tag them #avirtualvegan so we don't miss them!
Buon appetito!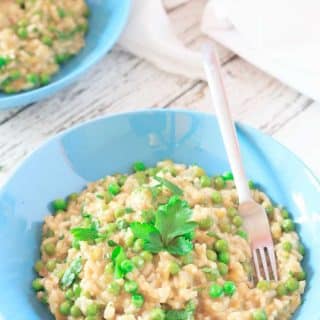 Risi e Bisi
Creamy and velvety, this delicious traditional rice dish from Venice is easy to make with just a handful of basic ingredients, and will take around 50 minutes of your time.
Rate this Recipe!
Print
Pin
Serves:
4
as an appetizer, 2 as an entree
Ingredients
2

tbsp

extra virgin olive oil

1

medium leek

cleaned and roughly sliced

1

small onion

peeled and roughly sliced

4

cloves

garlic

peeled and smashed

1

cup | 190g

carnaroli rice

or use arborio, rinsed well

2

cups | 270g

fresh or frozen peas

6

cups | 1440ml

vegetable broth or stock

2

tbsp | 30g

Mel's Easy Vegan Butter

divided

A few grinds of black pepper

A couple of fresh flat leaf parsley leaves

torn

Vegan Parmesan

optional
Instructions
In a large skillet, over a medium-high heat, sauté the leeks and onions in the olive oil for about 5 mins, until they become translucent.

Reduce the heat to medium, add the smashed garlic, and continue to cook for another few minutes, until the raw garlic smell has gone.

Stir in the rice, and fry, stirring all the time, for 2 mins.

Add the peas, and again, fry for another 2 mins.

Stir in

½ a cup

(120ml)

of stock, and allow it to become completely absorbed by the rice mixture.

Repeat with another

½ cup

.

Add the rest of the stock, bring to the boil, then reduce the heat to medium-low.

Let the rice simmer for around 20-25 mins, stirring occasionally.

The rice is cooked once it's swollen and softened, and most of the stock will have been absorbed. If you want the risi e bisi to be a bit thinner, stir in ¼-½ cup of water.

Remove from the heat, and very quickly beat in the vegan butter.

Finish with a few grinds of black pepper, a little fresh parsley, and if desired, a couple of tablespoons of

vegan parmesan

.

Serve immediately.
Notes
1. Yes, I know I said that in the North, it's traditional to use butter, not olive oil, but Mel's Easy Vegan Butter isn't ideal for frying - were it so, rest assured the olive oil wouldn't have got a look-in! 2. Nutritional content does not include the optional parmesan. 3. I haven't included salt because the stock made from bouillon powder or cubes is generally salty enough; however, if you feel you need more salt, then do go ahead and add some!
Estimated nutrition per serving:
Serving:
1
serving
|
Calories:
355.3
kcal
|
Carbohydrates:
55.7
g
|
Protein:
8.8
g
|
Fat:
12.2
g
|
Saturated Fat:
1.1
g
|
Sodium:
331.2
mg
|
Potassium:
320.7
mg
|
Fiber:
7.6
g
|
Sugar:
5.6
g
|
Vitamin A:
1750
IU
|
Vitamin C:
49.5
mg
|
Calcium:
70
mg
|
Iron:
2.7
mg
Tried this recipe?
Rate it & leave your feedback in the comments section below, or tag @avirtualvegan on Instagram and hashtag it #avirtualvegan
A LITTLE MORE ABOUT NICO
Nico has travelled all her life, and to date has lived in 51 places around the world in 53 years. A vegetarian for most of her adult life, Nico first went vegan in 2006. Through yumsome, she shares vegan recipes and photos, plus anecdotes relating to the food she encounters on her travels.Where to find yumsome:
Website – http://www.yumsome.com
Facebook – https://www.facebook.com/yumsome/
Twitter – https://twitter.com/Yums0me
Pinterest – https://www.pinterest.com/yums0me/
Instagram – https://www.instagram.com/yums0me/