Soft fluffy pillows of gnocchi & tender, sautéed kale, tossed in a creamy, garlic-infused sauce. This Creamy Vegan Gnocchi with Garlic & Kale is dinner party worthy but incredibly easy to make, taking less than 15 minutes from start to finish and that includes prep time too!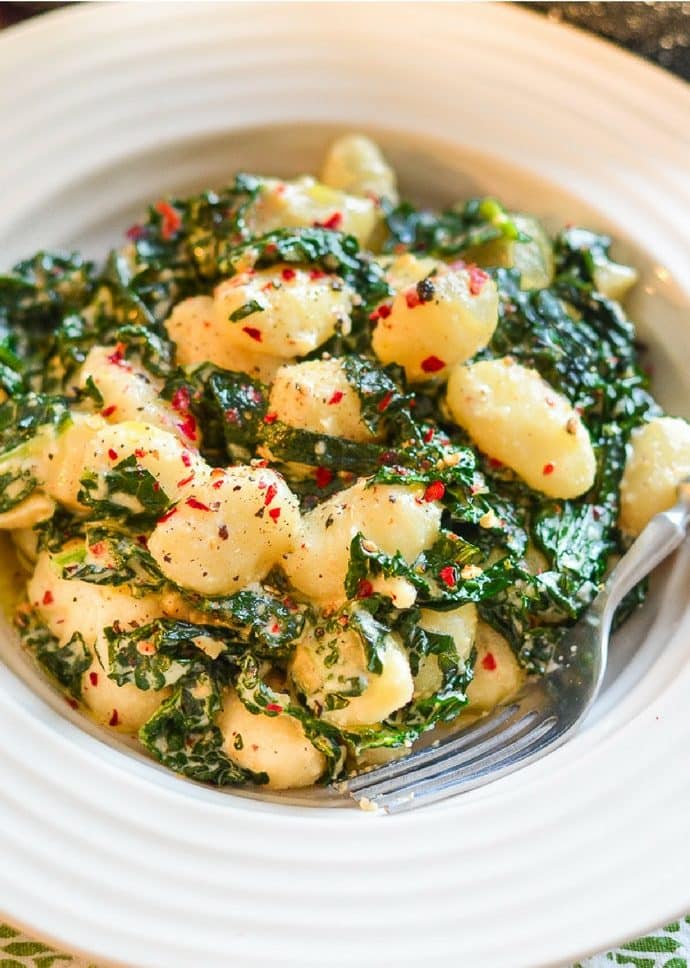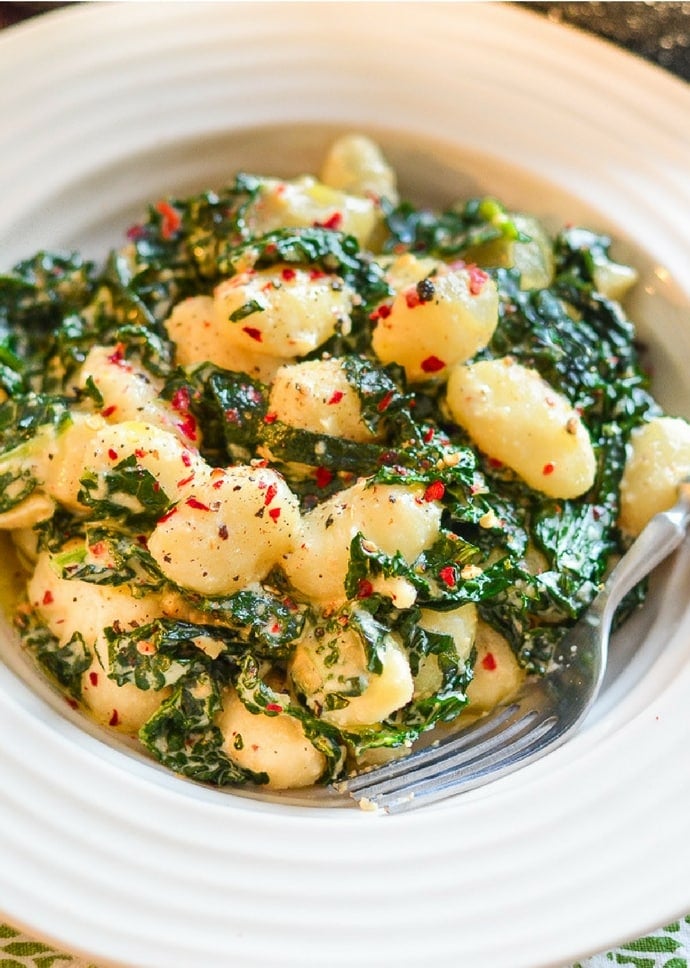 Ok. Compose yourselves. Are you ready for food heaven? Because it's happening right here, right now. And as far as effort versus output goes, we are onto a winner with this Creamy Vegan Gnocchi with Garlic & Kale.
It is out of this world delicious. The fluffy little gnocchi pillows are smothered in a creamy, garlic infused sauce and tossed with sautéed kale. The flavours and textures work so well together.
Bliss. THE only word to describe it.
And what makes it even better is that it is ready in under 15 minutes and that includes prep time.
Seriously, this dinner party worthy recipe is simple and easy enough to make mid-week after a long old day at work. You know those evenings when you just want to impress yourself?
.... Or you can keep it in your back pocket for times when you are entertaining and want to impress everyone!
Your call, but whichever way you cut it, I highly recommend serving it with a glass of red wine. The perfect combo!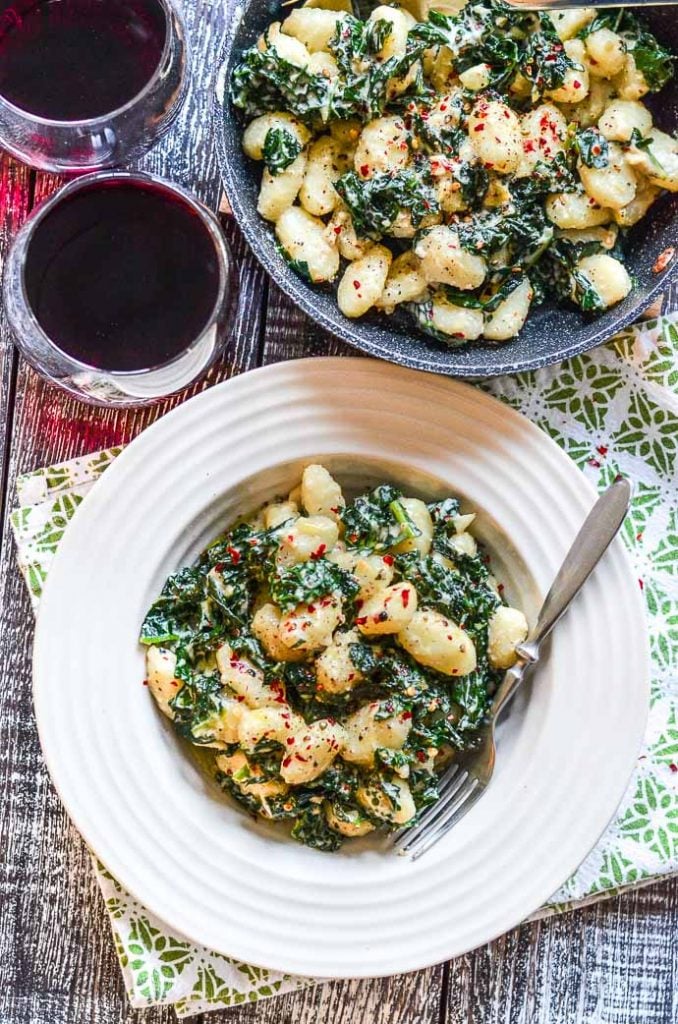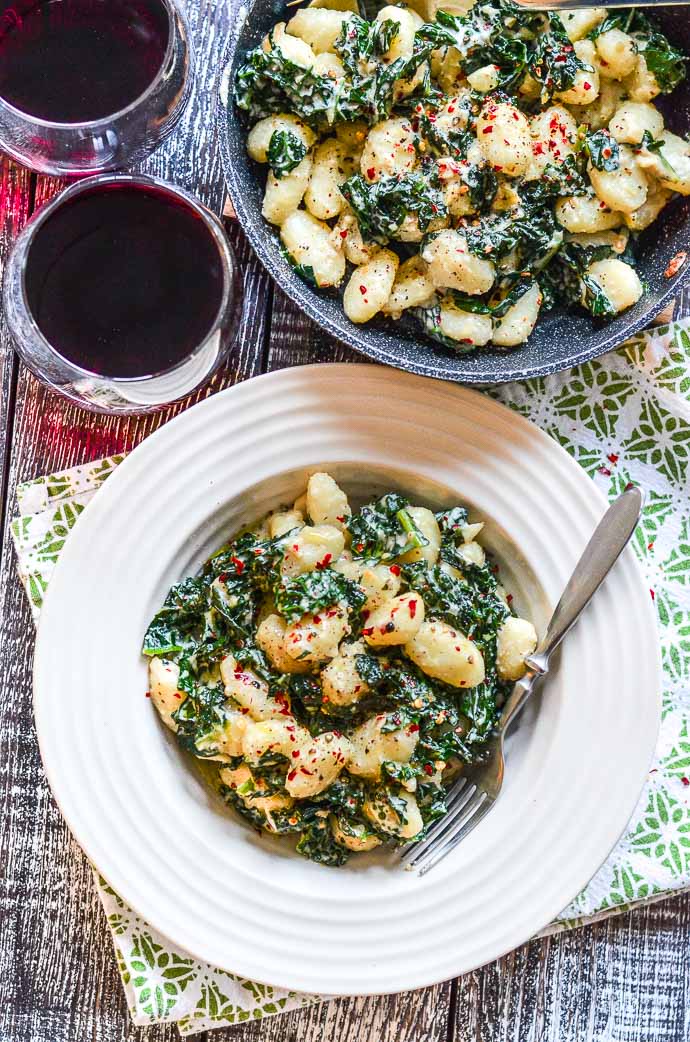 HOW TO MAKE VEGAN GNOCCHI WITH GARLIC & KALE
It's so easy to make. Here's how:
Sauté some garlic with bite sized pieces of kale.
Blend the two sauce ingredients in a blender. If you don't have a high powered blender then I recommend soaking the cashews in water first to get a really smooth result. I have a Blendtec blender and it gets sauces silky smooth with no effort at all.
Cook the gnocchi in boiling water - it takes around 2 minutes
Scoop out the cooked gnocchi and add to the garlic and kale
Add the sauce, stir well and serve immediately.
Serve with plenty of vegan parmesan cheese!

This is why I am loving this Creamy Vegan Gnocchi with Garlic & Kale:
It's rich, creamy and indulgent!
It's super fast and easy to make
It's special enough for dinner parties but quick and easy enough for mid-week too
The ingredients list is really short
If you don't have gnocchi you can use pasta instead!
It tastes like way more effort went into it than actually physically happened!
Ok are you ready to be wowed? Go grab yourself some gnocchi and let's do this!
If you try this recipe, let me know how you like it by leaving a comment and rating below! And be sure to join my mailing list for more deliciousness!
Recipe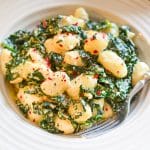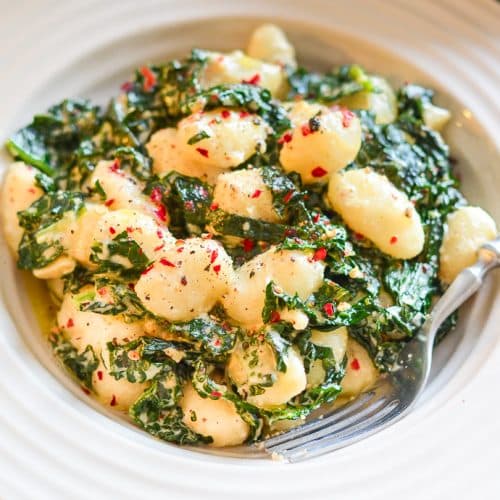 Creamy Vegan Gnocchi with Garlic & Kale
Author:
Soft fluffy pillows of store-bought gnocchi (almost always accidentally vegan) & tender, sautéed kale, tossed in a creamy, garlic infused sauce. This Creamy Vegan Gnocchi with Garlic & Kale is dinner party worthy but incredibly easy to make, taking less than 15 minutes from start to finish and that includes prep time too! 
Ingredients
1

tablespoon

olive oil

, use a few tablespoons of water for an oil-free option

6

cloves

garlic

, chopped finely

1

bunch

kale

, NOT curly kale, the flatter leaf varieties are better for this recipe. I particularly like Lacatino Kale (sometimes known as Cavolo Nero or Dino Kale)

½ cup (75

g)

raw cashew pieces

, soaked in boiling water for 10 minutes if you don't have a high powered blender *see recipe notes for a nut-free option

¼ cup (60

mls)

water

1 x 500g

package

gnocchi

, most are vegan but be sure to check the ingredients label just in case. Gluten-free varieties are also available. Again be sure to check labels.

¼

teaspoon

salt

, plus more to taste

freshly ground

black pepper

, to taste

chili flakes

, OPTIONAL
INSTRUCTIONS
Everything happens pretty fast so be sure to have all of your ingredients and equipment ready and within easy reach.

Bring a large pan of salted water to a boil ready for cooking the gnocchi

Remove the thick stems from the kale leaves. Discard the stems and chop the leafy parts into bite sized pieces.

Warm the oil in a large saute pan then add the chopped garlic and cook over medium heat, moving constantly for about 2 minutes. Then add the kale pieces and a good grind of black pepper, then continue to sauté for about another 5 minutes, stirring frequently. If you want a little bit of heat add a sprinkle of chili flakes at this stage.

While the kale is cooking, blend the cashews with the salt and water until completely smooth. 

After a couple of minutes, once the kale has been sautéing for about 3 minutes and is almost tender, add the gnocchi to the boiling water. Make sure to separate each piece of gnocchi before adding it to the water. Often they get a little clumped together in the pack. Have a slotted spoon ready to fish them out when done.

As soon as the gnocchi start to float (after about 1-2 minutes), use slotted spoon to remove them (do not discard the water yet) and add the gnocchi into the pan with the kale and garlic. 

Spoon the creamy cashew sauce into the pan and stir to combine everything. Add a little of the water the gnocchi was cooking in to thin it out as needed and add more seasoning if desired. 
NOTES
*For a nut-free option you can use shelled hemp seeds in place of the cashew nuts, or you can skip the cream sauce completely and use extra olive oil to coat the gnocchi and kale instead. It's really delicious if you use a good quality extra virgin olive oil.
I like to sprinkle some extra chili pepper flakes and some freshly ground black pepper on top when serving. Some grated vegan parmesan is great with it too.
Best eaten immediately. If you reheat it the gnocchi can get a little tough. If you do have leftovers warm them gently in the microwave or a pan, adding some water to thin the sauce as needed.
Pasta makes a great alternative to the gnocchi in this recipe.
NUTRITION
Serving:
1
serving
|
Calories:
436
kcal
|
Carbohydrates:
42
g
|
Protein:
12
g
|
Fat:
18
g
|
Saturated Fat:
2.6
g
|
Sodium:
713
mg
|
Fiber:
5
g
|
Sugar:
3.8
g
|
Vitamin A:
6050
IU
|
Vitamin C:
102.3
mg
|
Calcium:
140
mg
|
Iron:
3.8
mg
Did you make this recipe?
Rate it & leave feedback in the comments section below. I love seeing your remakes too. Tag @avirtualvegan on Instagram! 🌟