Creamy, sweet Butternut Squash Curry served over piles of steaming rice. Quick, healthy, easy, totally delicious and ready in only 30 minutes!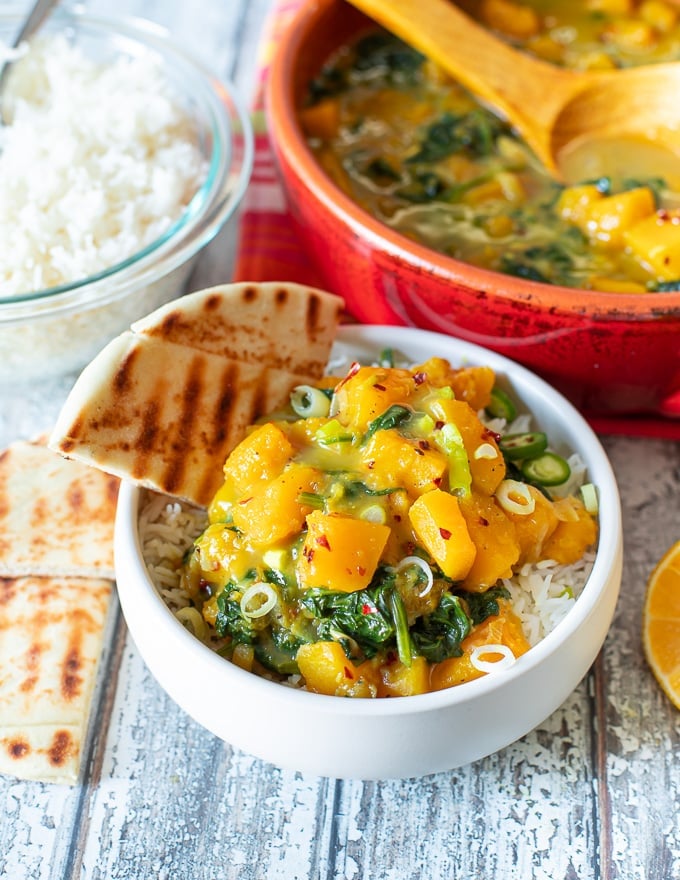 I adore curry. It is one of my all time favourite foods and while I enjoy cooking elaborate and often complicated curry dishes as a treat at the weekends, for a mid week meal after a hectic day, quick and easy wins every time.
And this Butternut Squash Curry delivers on all fronts. It's quick, it's easy, you don't need anything fancy, it's healthy, comforting and super tasty. It does not disappoint.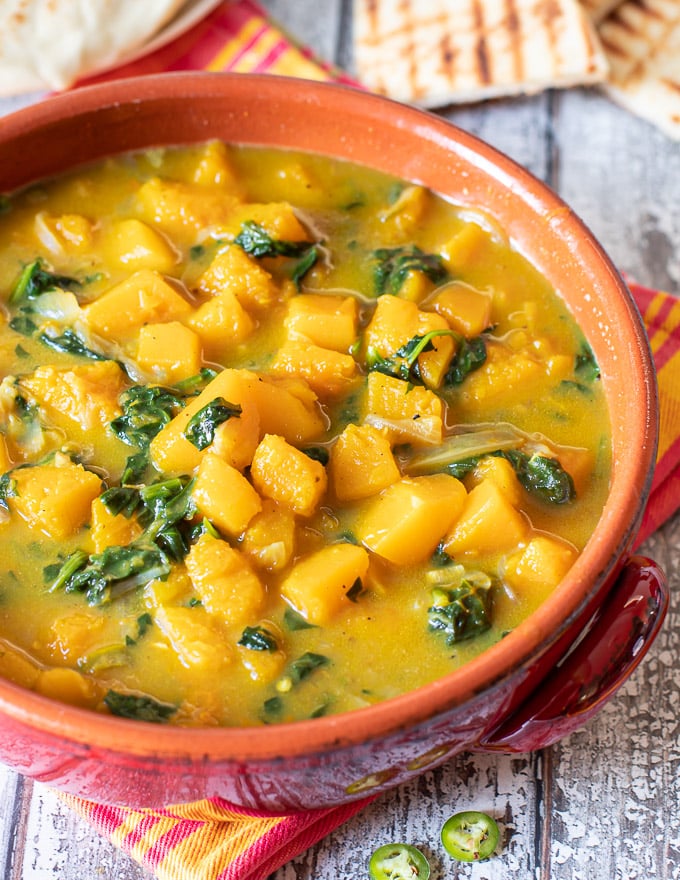 A quick run through of this Butternut Squash Curry situation:
It's rice's best friend ;O)

Super easy curry sauce that's creamy (thank you coconut milk) and sweet (thank you butternut squash)

High in taste, low in effort

Can be made in only 30 minutes but can also simmer for longer if you aren't in a hurry or get distracted

Stringy tangles of caramelized onion

Heavy pulls of deep green spinach

Meltingly tender butternut squash

Mild enough for the whole family to enjoy

Easy to pep up with more heat if that's your thang
How to make Butternut Squash Curry
Nothing tricky here! It's all very straightforward once you've got that butternut squash prepared and you can see my tips for that just below.
To make the curry:
Step 1 - Sauté the onions, then add the garlic, chili and curry powder.
Step 2 - Add the cornflour, stir it all up then add the water gradually, stirring to work out any lumps.
Step 3 - Add the squash and coconut milk, then simmer until the squash is fork tender.
Step 4 - Add the spinach and just before serving a squeeze of lemon juice.
Done in a little over the time it takes your rice to cook!
How to peel butternut squash
The only slightly annoying part about using butternut squash in a recipe, is peeling and chopping the squash. It can be tricky. But hang tight and read on if it's got you stumped. I even have a super easy, microwave butternut squash peeling hack!
If you have a microwave, cut a little off each end off the squash so they are flat. About half an inch should do it. Then pierce the squash all over carefully with a fork, skewer or sharp knife. Stand it on a plate and pop it in the microwave on high for 3.5 minutes. Note that you must pierce it as otherwise you could have a butternut squash explosion on your hands. Not fun. Been there. Done it.
When it comes out, allow it to cool, or protect your hands with a dish towel, and either use a potato peeler or knife to cut away the skin. If using a knife it's easiest to stand the squash on the cutting board and cut downwards all around. The skin will fall away really easily.
If you don't have a microwave, to make it easy, you need a really sharp chef's knife. Butternut squash are hard. A sharp knife will ensure your blade doesn't slip and cause you an injury.
Cut about half an inch off each end of the squash so they are flat. Then either use a sharp vegetable peeler to peel off the skin, or stand the squash on a wooden board, and cut vertical slices down and all around the edge until the skin is removed.
Once the squash is peeled, cut it in half lengthways and use a spoon to scoop out the seeds and most of the stringy bits.
To cube it, lay the squash flat side down on your board and cut into chunks of the desired size.
Once cut, you can use the squash immediately, or refrigerate it in a sealed container for 2 to 3 days.
Butternut squash alternatives
If you aren't a butternut squash lover or can't be bothered to prepare one, sweet potato makes an excellent stand in, as does pumpkin.
You could also use regular potato and maybe add a cup of frozen peas into the sauce for sweetness and colour. Or green beans like my Super Simple Green Bean Potato Curry.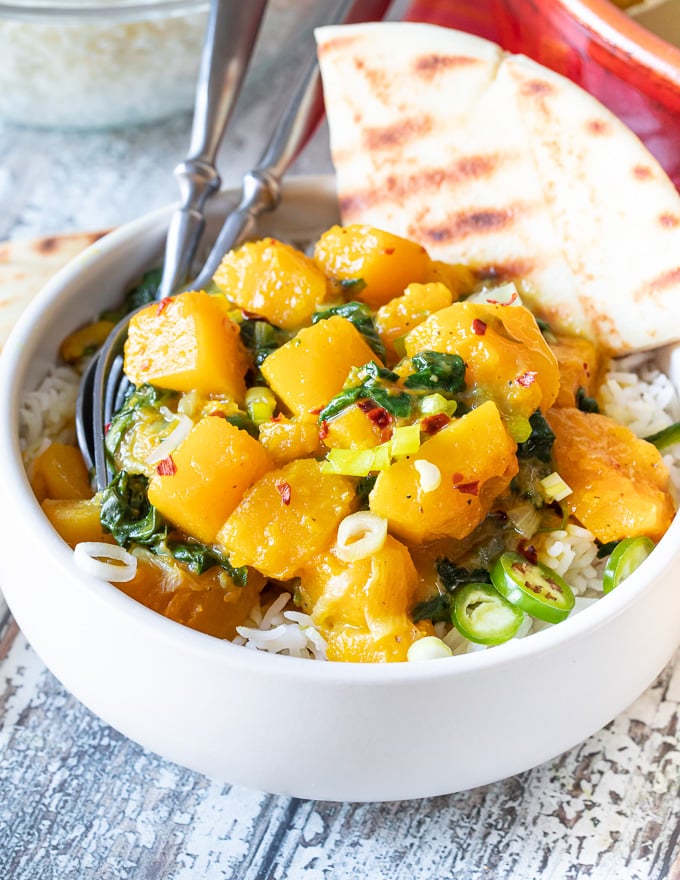 How to serve
Serve your curry with a steaming pile of freshly cooked coconut lime rice, quinoa, coconut basmati rice, or couscous and warm naan bread. Don't forget the mango chutney too! If you don't have any naan bread, my Easy Flatbread Recipe works really well with this too. Or an even quicker option is my no yeast flatbread which can be made in under 15 minutes. Don't forget a side of Quinoa Butternut Squash Salad too.
And you know when you make something like this and end up with just a bit of sauce left in the bottom of the pan with not enough squash etc left in it to make a proper meal?
Well, do yourself a favour and make some fries, then drizzle the leftover sauce over the top of them and EAT. My guilty pleasure and something I always do with leftover curry sauce!
Chips and curry sauce are an English tradition ;O) (when I say chips I mean fries - No matter how long I live in Canada, they will always be chips to me ;O)
How to store curry
The curry will keep well in the fridge for up to 4 days and reheats really well in a pan on the stove top.
It also freezes well. To freeze, allow it to cool completely then freeze in a sealed container. Allow to defrost in the fridge overnight and then reheat in a pan on the stove top. You may need to add a little liquid to thin it out. Water, vegetable stock or a bit of coconut milk are all fine.
This recipe is one that is quick and easy enough for midweek but also good if you are having guests over too. Because it reheats so well you can even make it a day or two before you need it.
Success Tips
Use canned coconut milk. Don't sub any other plant milk. Canned coconut milk makes for a really creamy sauce as well as natural sweetness and flavour. It's not the same without it. Full fat coconut milk makes the creamiest sauce but light is fine too.
Use a good quality curry powder. It's worth spending a little more to get a good one. The super cheap ones at the grocery store don't have great flavour, and without other spices in this recipe ('cus we are keeping it simple!), we are depending on that flavour to come through well.

Taste and adjust the seasoning before serving. As with most recipes, seasoning comes down to personal preference. Remember you can always add more, but you can't take it away, so go slow.

The squeeze of lemon at the end, although not essential, adds a little something and is recommended.
Dress it all up with a sprinkle of fresh cilantro.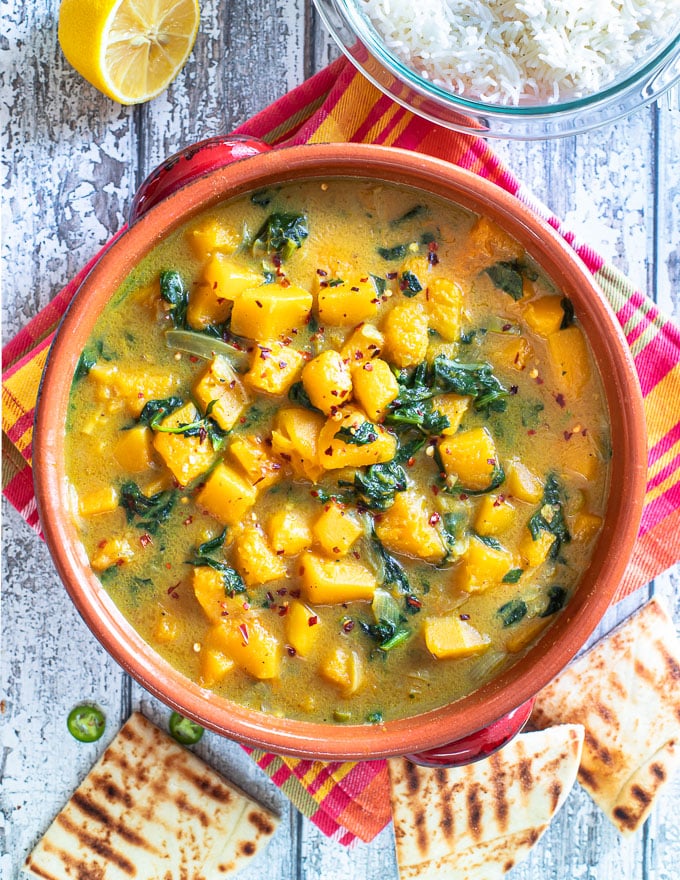 Ways to adapt my Butternut Squash Curry
Use sweet potato, pumpkin or cauliflower florets instead of the butternut squash.

Want things spicier? Add an extra fresh chili or an extra pinch of chili flakes. You can also add a quarter to half a teaspoon of cayenne pepper.

Add a can of chickpeas or some crispy tofu for an extra protein boost

Make it more coconutty by adding half a cup of shredded coconut to the sauce

Add some diced canned tomatoes or a couple of chopped fresh tomatoes to the sauce for a tomato-ey vibe

Add a couple of tablespoons of peanut butter to the sauce

Use frozen green peas instead of spinach. Add a cup or two straight from the freezer in the last 5 minutes of cooking. They will defrost almost instantly in the sauce.

Turn it into soup! Simply add more coconut milk or water, or a mix of both. For a textured soup, once the curry is cooked, remove a couple of cups and blend them up until smooth then return to the pan and stir. Or use a stick blender straight in the pan to partially blend it. For a smooth soup blend in a blender until completely smooth. Add a little more coconut milk or water to thin as necessary.
Fall is nearly here people and cozy comfort food doesn't get much better than this! It's good on so many levels.
Will you eat a very huggable, deep bowl of butternut squash curry over rice with a side of fluffy naan? Or will you skip the rice and scoop the creamy curry up with your naan? Or will you serve it all over a pile of fries? Zero judgment here folks. As long as you enjoy it!
Love curry?
If you try this recipe, let me know how you like it by leaving a comment and rating below! And be sure to join my mailing list for more deliciousness!
Recipe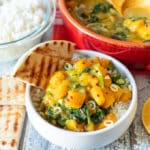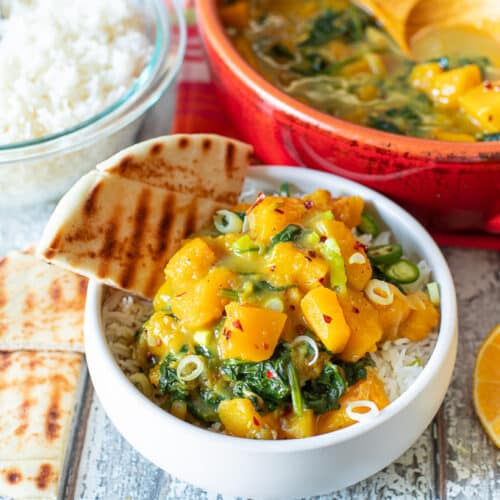 Easy Butternut Squash Curry
Author:
Creamy, sweet Butternut Squash Curry served over piles of steaming rice. Quick, healthy, easy, totally delicious and ready in only 30 minutes!
Ingredients
1

tablespoon

coconut oil

OPTIONAL - if you don't have coconut oil any other oil is fine, or use water to sauté to keep the recipe oil-free

1

medium

onion

, sliced thinly

4

cloves

garlic

, chopped finely

1

fresh chilli pepper

chopped finely, or 1/2 teaspoon of dried chilli flakes

3

tablespoons

mild curry powder

1

tablespoon

arrowroot powder

, or cornstarch

1

medium butternut squash

, peeled, deseeded & chopped (see my post for how to tips)

398 - 400ml / 13.5

oz

canned coconut milk

480mls / 2

cups

vegetable stock or water

3

large handfuls

fresh spinach

1

squeeze of lemon juice

1½

teaspoons

salt

, add more to taste

½

teaspoon

ground black pepper

, add more to taste
INSTRUCTIONS
Heat a large pan over a medium heat and add the oil (or water for oil-free). Sauté the onion until starting to turn golden.

Add the garlic, chili and curry powder and continue cooking for another two minutes, stirring frequently.

Add the arrowroot (or cornflour) and stir well again. It will go a little clumpy and stick to the bottom a bit but that's fine. Gradually add the water, stirring as you go to get any lumps out.

Add the butternut squash and the coconut milk and season generously with salt and pepper.

Simmer over a medium heat until the butternut squash pieces are tender (15 - 20 minutes depending on how big you cut your chunks). You can keep it cooking for longer on the lowest heat setting if you want to. The squash is kind of nice when it gets really meltingly soft!

Once the squash is cooked and no more than 10 minutes before you plan to serve, add the fresh spinach. You might struggle to fit it all in, and if so do it in two parts, but it will wilt down very quickly and then you will be able to stir it into the sauce easily.

Just before serving taste and adjust seasoning if necessary, then add a squeeze of lemon juice and give it a quick stir.
NUTRITION
Calories:
372
kcal
|
Carbohydrates:
37
g
|
Protein:
6
g
|
Fat:
26
g
|
Saturated Fat:
23
g
|
Sodium:
919
mg
|
Potassium:
1161
mg
|
Fiber:
8
g
|
Sugar:
9
g
|
Vitamin A:
22119
IU
|
Vitamin C:
58
mg
|
Calcium:
160
mg
|
Iron:
5
mg
Did you make this recipe?
Rate it & leave feedback in the comments section below. I love seeing your remakes too. Tag @avirtualvegan on Instagram! 🌟