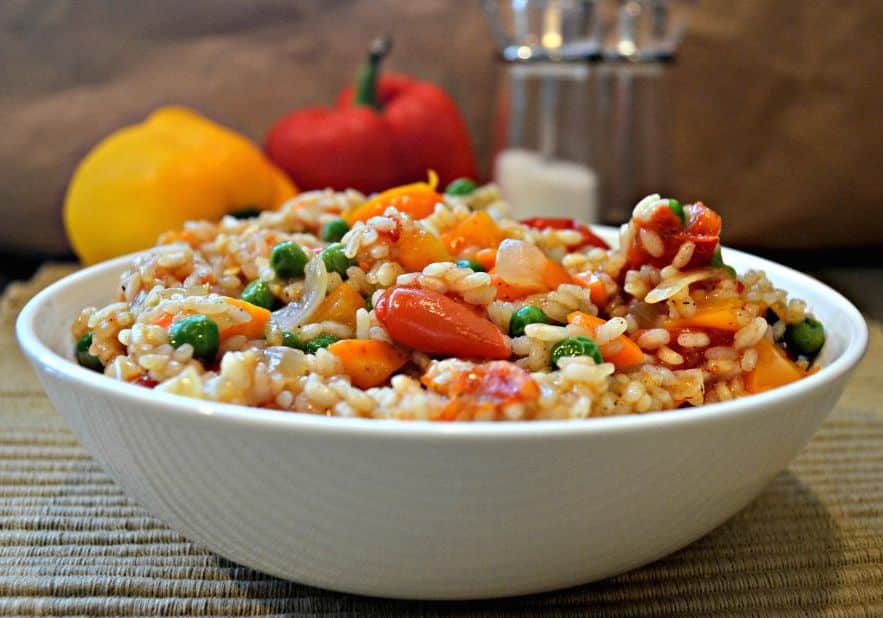 As much as I love cooking, there are times when there isn't much time to spare and you need to be in and out of the kitchen pretty quickly.
Today was one of those days.
However, even when you are pushed for time it is possible to pull together a healthy, tasty meal that your family will love.
This Easy Savoury Rice is
easy to prepare
quick
healthy
tasty
and is made from simple ingredients that you will probably have in your fridge/cupboards already. It also comes together from start to finish in under thirty minutes so is great for those days when you have limited time available for preparing dinner.
Feel free to swap out any of the vegetables or to add some extras. Frozen sweetcorn is great instead of or as well as the peas.
This Easy Savoury Rice is great on it's own as a meal or it can be used as a side. Try it with some crispy tofu and a drizzle of sweet chilli sauce, or if you have children they might enjoy it with a good quality meat free sausage on the side.
Yields 2 - 3 servings
Easy Savoury Rice
Quick, easy & healthy savoury rice. Full of tasty vegetables and ready from start to finish in less than thirty minutes!
5 minPrep Time
20 minCook Time
25 minTotal Time
Ingredients
1 tablespoon of oil (your choice although I used olive oil)
1 medium onion chopped finely
1 clove of garlic chopped finely
1 small fresh or dried chilli chopped finely (you can omit this if you don't want any heat)
1 large carrot diced
1 bell pepper diced
1 cup frozen peas
10 grape tomatoes
1 cup rice (any rice will do, white, brown, long grain, short grain, risotto rice)
2 cups vegetable stock
salt and pepper
Instructions
Add the oil to a pan and heat on medium.
Add the onion and sauté until softened and just starting to colour.
Add the garlic and chili and sauté for 1 minute more
Add the carrot, bell pepper and rice and stir until the rice starts to make slight popping sounds.
Add the stock.
Add the grape tomatoes and peas.
Stir well and cover with a lid.
Let simmer for about 20-25 minutes or until the rice is tender and the liquid has mostly absorbed. Stir every so often so the rice doesn't stick to the bottom of the pan.
Note that if you are using brown rice or wild rice it might take slightly longer to cook through.
Season with salt and pepper to taste.
Serve immediately.
6.8
https://avirtualvegan.com/easy-savoury-rice/
Melanie McDonald | A Virtual Vegan