Need some cheap vegan meals that will help keep your wallet full and tastebuds happy? I've got you covered with this selection of budget friendly recipes you'll love!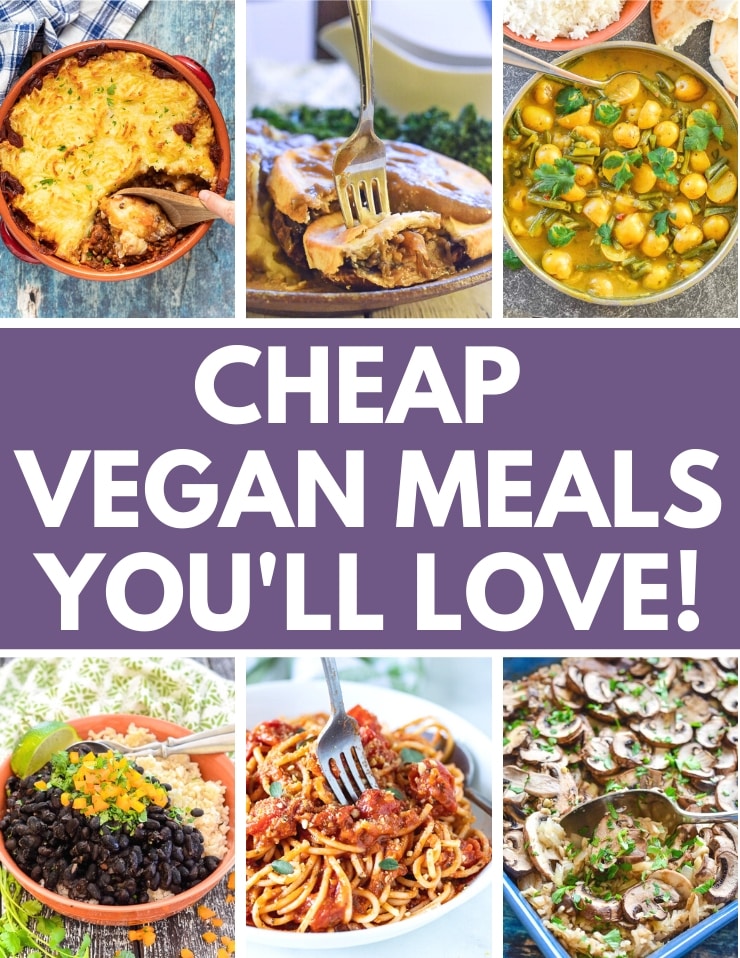 Are you struggling to put cheap vegan meals on the table, or worried that if you start eating a plant-based diet it will become too expensive?
Feeding a family on a tight budget isn't easy no matter which dietary preferences you have, but what a lot of people don't realize is that common vegan staples like beans, legumes, grains, potatoes, pasta, rice, oats, flour, seasonal fruits and vegetables are some of the most budget friendly foods available at the grocery store.
Stretching your dollars becomes a lot easier when you build your meals around these budget-friendly and healthy ingredients.
I definitely spend way less on groceries every month now that I am vegan and you can too with these amazing but cheap vegan meals for dinnertime inspiration.
Here are some tips for saving money on your groceries:
shop seasonally
meal plan and make a list so you don't buy more food than you actually need
buy foods that last a long time (like pasta, dried beans etc) in bulk
frozen fruits and vegetables are just as nutritious as fresh and tend to be cheaper, so incorporate them into your meals more
buy dried beans and cook them yourself rather than buying canned beans
bake your own treats instead of buying them ready made.
don't shop when you are hungry
batch cook things like soups, stews and chili and freeze leftovers for another day or have them for lunch
buy less packaged convenience foods
check grocery store flyers, ads and online to see what's on sale and where before you go shopping
check the marked down/reduced items in the produce department. Slightly past their best vegetables are still great for stews and soups and overripe bananas are perfect for freezing to make some Healthy Banana Bread or Easy Banana Peanut Butter Ice Cream Bars. Other overripe fruits are great for making smoothies, adding to cakes, muffins, crisps and crumbles.
Enter: This post. It contains my favourite cheap vegan meals that also happen to be satisfying and super delicious. Because a good vegan meal doesn't have to break the bank.
---
Lentil Shepherd's Pie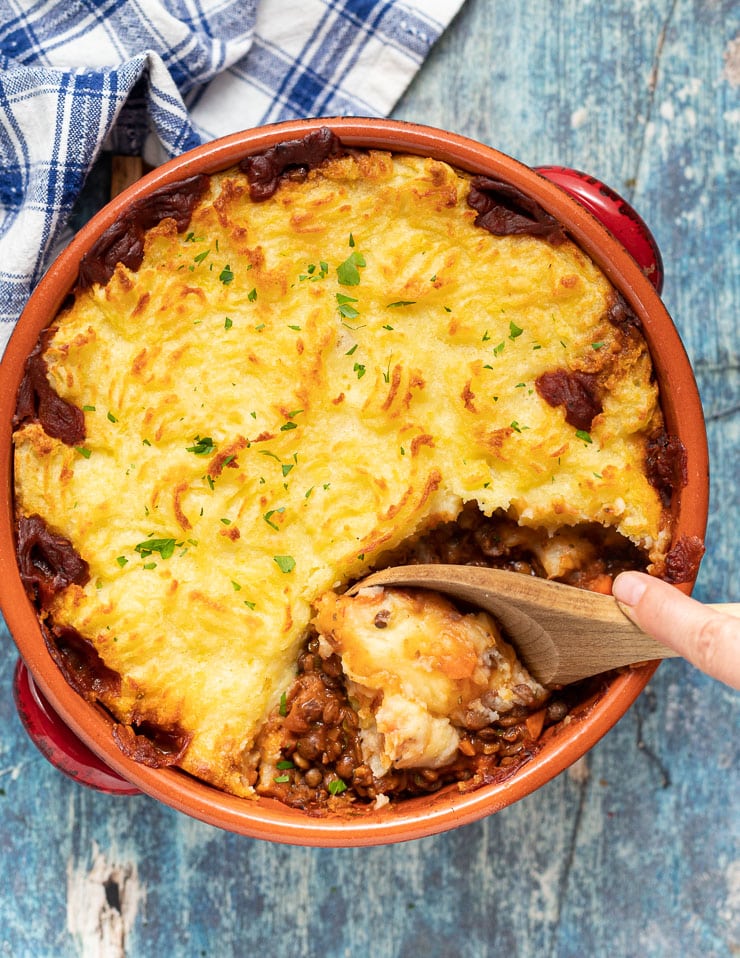 The ultimate Vegan Lentil Shepherd's Pie featuring rich, flavourful, saucy lentils topped with fluffy, creamy mashed potatoes & baked until deliciously golden brown & crispy. Easy, healthy, comforting and filling!
make this recipe
Budget friendly notes - Lentils do a fantastic job of replacing meat in this vegan Shepherd's Pie recipe, making it a really budget friendly recipe. It also happens to be very filling.
---
Cherry Tomato Sauce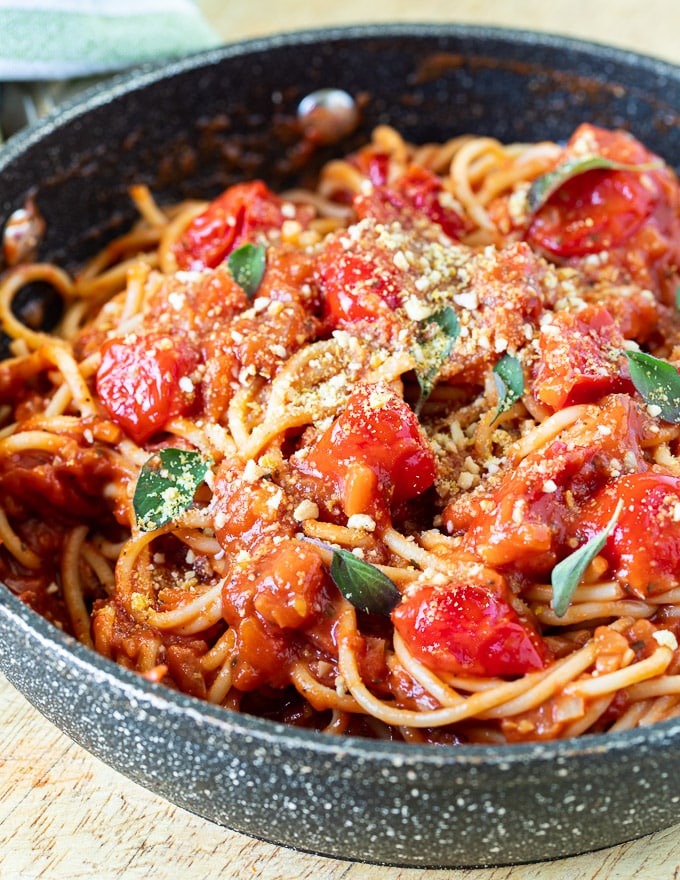 A rustic, creamy, thick and full of flavour Cherry Tomato Sauce, that's perfect for serving over pasta. It's made with only 6 ingredients and is easy enough for midweek, yet worthy of company too. 
make this recipe
Budget friendly notes - With a few handfuls of cherry tomatoes and some basic store-cupboard ingredients you can be tucking into this fantastic cherry tomato sauce. Toss it through some pasta or spaghetti and dinner is done.
---
Vegan Potato Soup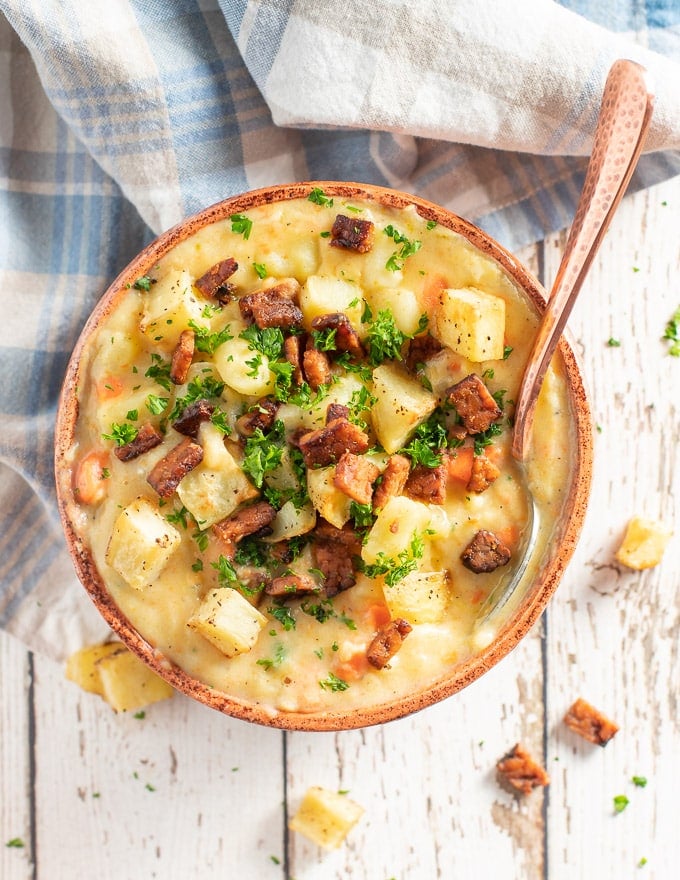 Thick, hearty and creamy Vegan Potato Soup. It's really simple to make and very budget friendly. You can enjoy it just as it is, or get crazy with toppings. I like to finish mine off with some crumbled tempeh bacon, crispy roasted potato chunks & a sprinkle of parsley for a pop of colour!
make this recipe
Budget friendly notes - This soup is a ridiculously cheap vegan meal. It's also easy to make and is so thick, creamy and comforting. Make it a bit more special by adding some toppings like crispy roasted potato cubes, shredded vegan cheese or green onions if you can spare them.
---
Bubble and Squeak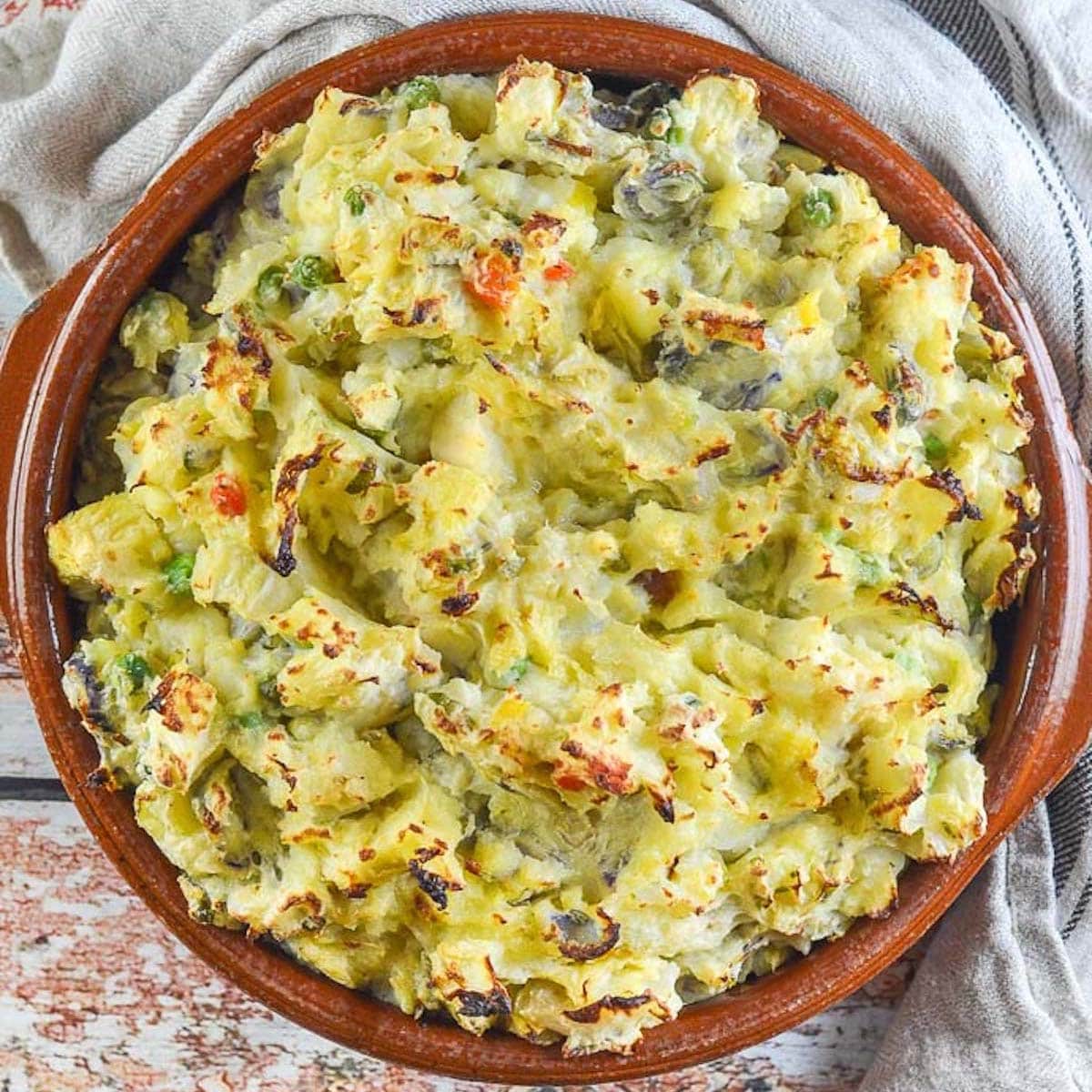 Bubble and Squeak is a simple, versatile recipe that is great for using up leftover cooked vegetables, or make it from scratch with just 4 ingredients. It's really easy and super budget friendly!
make this recipe
Budget friendly notes - You can use any leftover vegetables in this recipe or cook them fresh, and just about anything goes, although it's particularly good with green vegetables like cabbage and brussels sprouts. I like serving this with a side of baked beans.
---
Oven Baked Garlic Mushroom Rice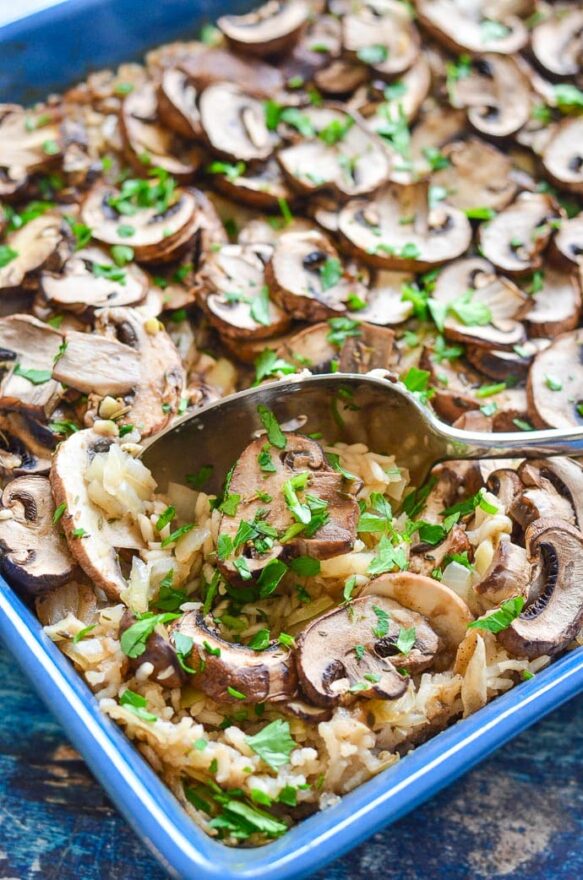 One-pot, Oven Baked Garlic Mushroom Rice. A simple, comforting, no frills kind of meal that you are going to be wanting to make again and again!
make this recipe
Budget friendly notes - A simple, no-frills, cheap vegan one-pot meal that is really easy to throw together with minimal prep.
---
Slow Cooker Black Beans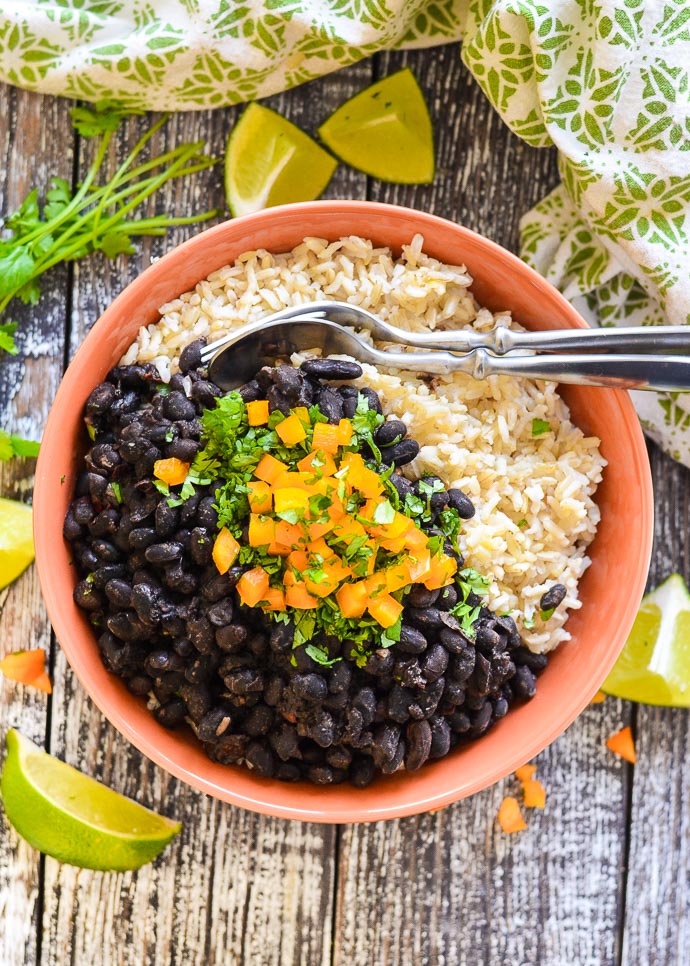 Spicy Slow Cooker Black Beans. Hearty comfort food at it's best and so easy! Plus they are incredibly budget friendly. Cook on the stove top or in a slow cooker for a really easy & tasty meal.
make this recipe
Budget friendly notes - Beans are so budget friendly and really nutritious. These black beans are great served over rice, but are also great in burritos, tacos, grain bowls, quesadillas and they can also be blended up with some stock to make a tasty soup. If you don't have a slow cooker, stove top instructions are included and I also have an Instant Pot version here, and a Meal Prep version here.
---
Easy Vegan Mushroom Pie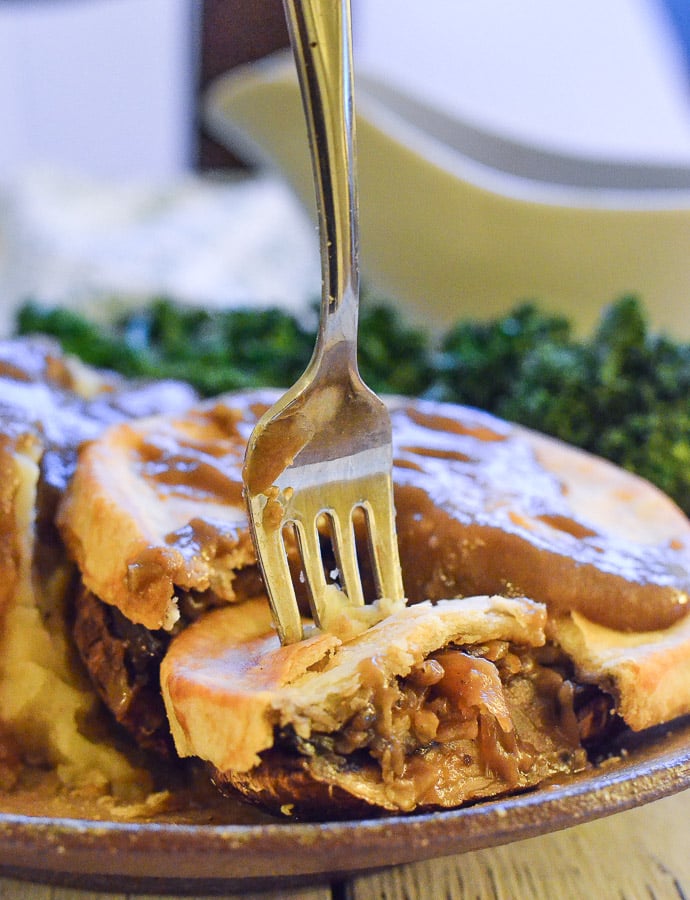 Tender, juicy, meaty portobello mushroom, stuffed with sweet caramelized onions, a sprinkling of thyme, all topped with buttery, crisp pastry. This is seriously the easiest Vegan Mushroom Pie you will find & it's soooo good!!! Perfect for making in advance too!
make this recipe
---
Vegan Pea Soup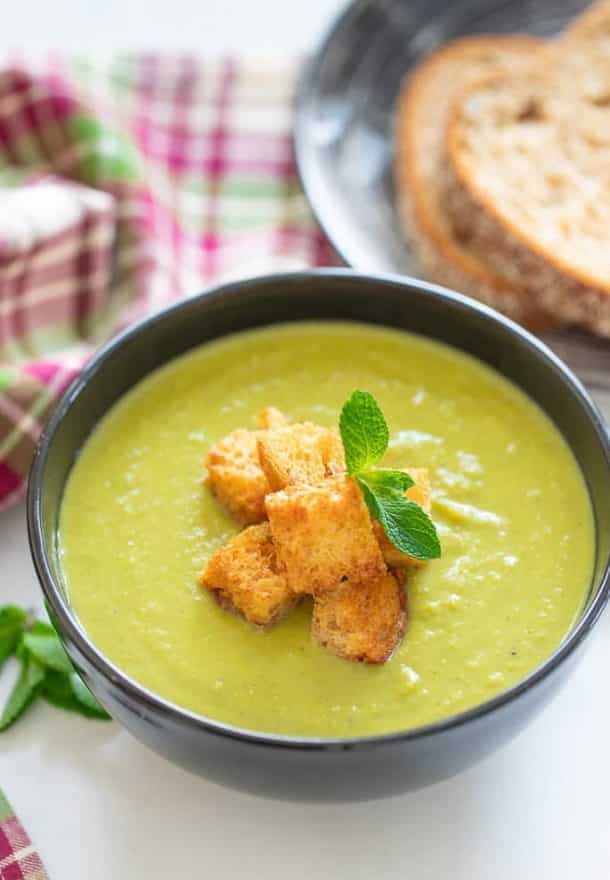 A bowl of brilliant green goodness to warm your soul! This Vegan Pea Soup with a generous handful of optional mint for good measure, is healthy, low calorie, packed with protein and super simple to make. With only 6 ingredients (plus salt & pepper) you probably already have everything you need to make it too!
make this recipe
Budget friendly notes - Soup made with a bag of frozen green peas and not too much else. It's quick, easy and such a cheap vegan meal! Use some stale bread to make croutons. Just cube it, toss with a bit of oil, a sprinkle of salt and pepper, spread out on a baking tray then bake them on 350°F for 10 minutes, toss then bake again for another 5 to 10 minutes or until golden and crispy. The croutons keep for weeks in a sealed container and are great for sprinkling on salads too.
---
Easy Vegan Cheese Sauce (no nuts!)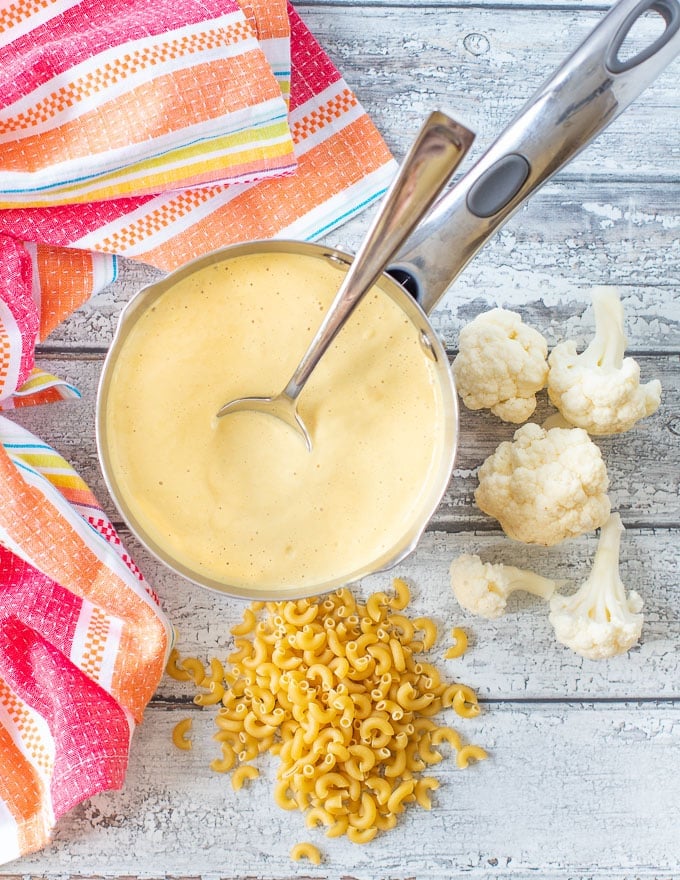 A silky smooth, lusciously creamy, Vegan Cheese Sauce that is nut-free, gluten-free, low in fat, high in protein and can be whipped up in your blender in minutes! It's one of my favourite super quick dinners. Toss it through freshly cooked pasta and serve alongside some veggies or a salad. Dinner done fast!
make this recipe
Budget friendly notes - You can blend this tofu-based vegan cheese sauce up in minutes. Stir it through freshly cooked pasta for a very inexpensive and quick meal.
---
Chili Soup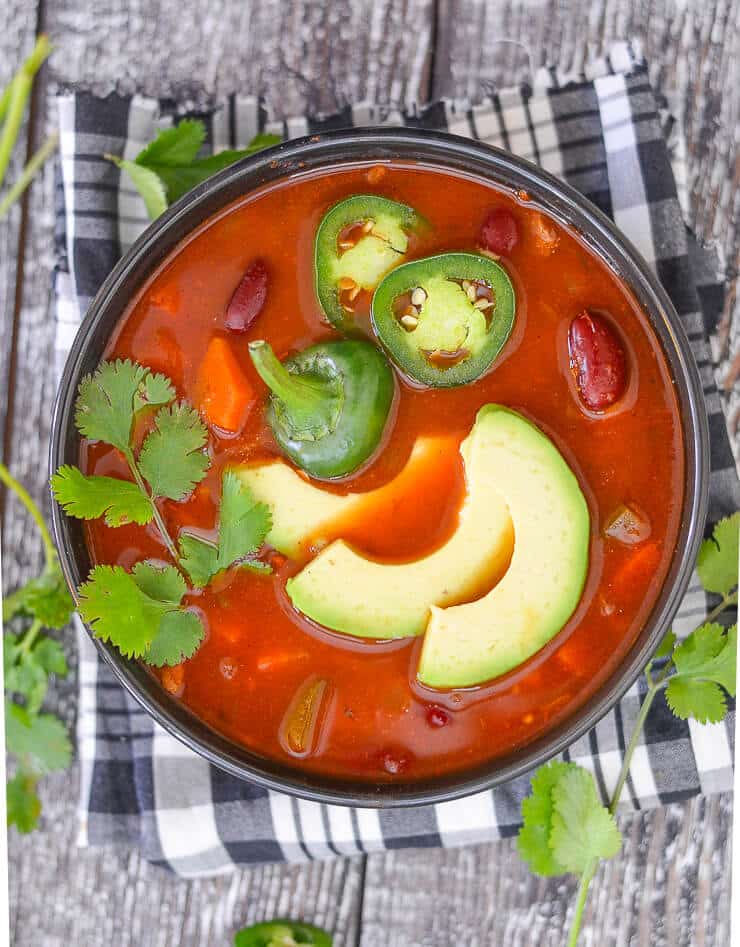 Super tasty Chili Soup that can be made quickly on the stove-top or more slowly in a slow cooker. Simple, comforting & delicious with only 8 ingredients (plus water & salt)!
make this recipe
Budget friendly notes - All the flavours of chili in an easy and budget friendly soup. Eat as it is or top with vegan cheese, avocado and sliced jalapeños.
---
Super Simple Green Bean & Potato Curry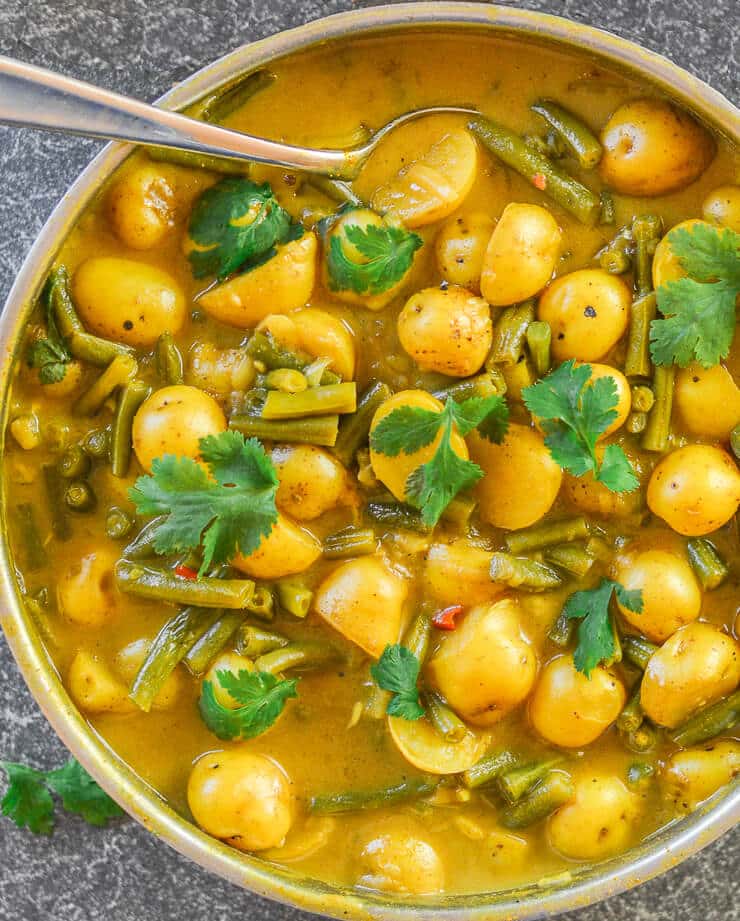 A really super simple Green Bean & Potato Curry that is budget friendly, only has 8 ingredients & needs no fancy-schmancy spices.
make this recipe
Budget friendly notes - Just 8 ingredients and no fancy spices. This curry is really simple and budget friendly.
---
Tofu in Purgatory (Shakshuka)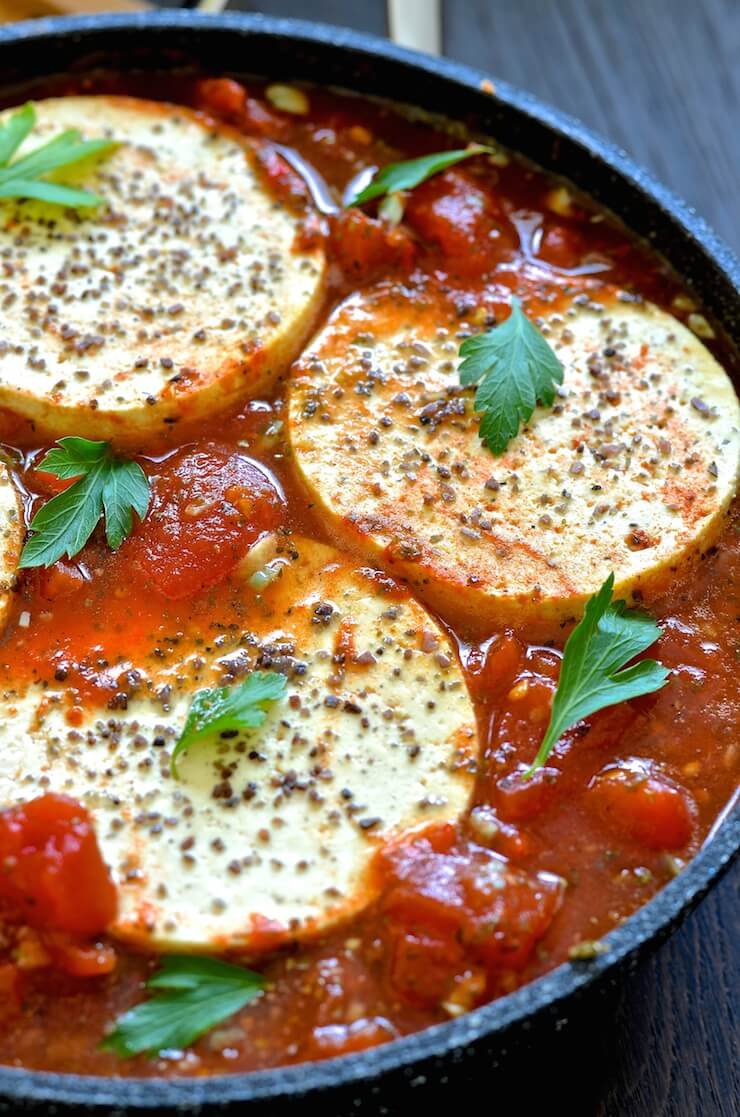 Silky, soft tofu rounds cooked gently in a fiery, garlicky and chunky tomato sauce. Tofu in Purgatory is the perfect brunch dish!
make this recipe
Budget friendly notes - Typically a brunch dish, but Shakshuka also makes a hearty dinner with lots of bread to sop up that spicy sauce!
---
Tomato Pasta Bake with Garlicky Crumb Topping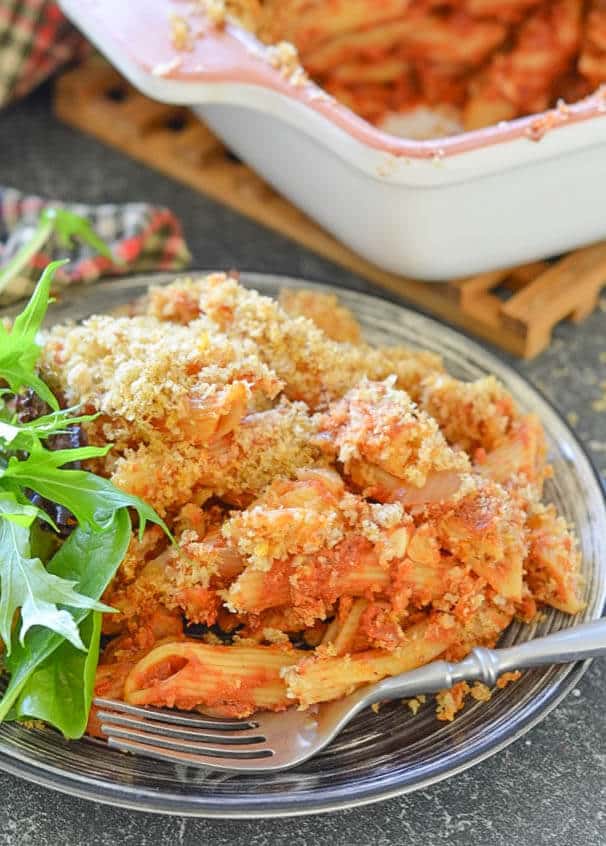 This Tomato Pasta Bake with Garlicky Crumb topping is a budget friendly, hearty & delicious meal that the whole family will love!
make this recipe
Budget friendly notes - Really hearty, filling and cheap and a fantastic way to use up stale bread. This one is really popular with kids! 
---
One-Pot Spicy Vegetable Rice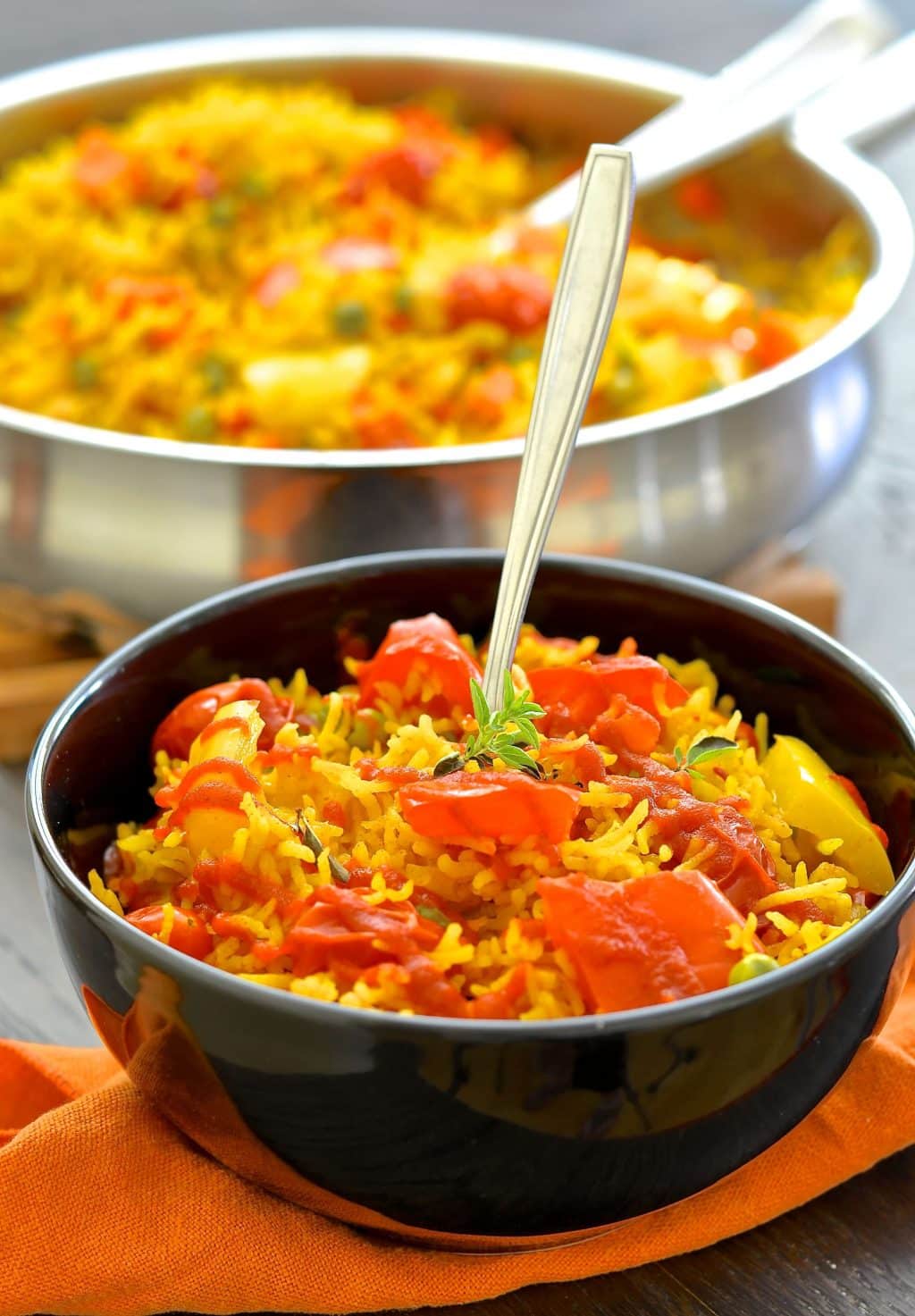 This One-Pot Spicy Vegetable Rice is our go to favourite mid-week dinner. 3o minutes & one pot is all that is standing between you & a big bowl full of deliciously spiced, flavourful rice studded with sweet, soft veggies.
make this recipe
Budget friendly notes - A really tasty one-pot dinner that is ready in 30 minutes. It's full of sweet vegetables and spices and is amazing with a drizzle of hot sauce! It makes a lot and reheats really well too. 
---
I hope this post full of cheap vegan meals helps you to put a comforting, filling and super delicious dinner that you actually really love on the table for your family with as little stress as possible. Remember, you got this!