This quick & easy Skinny Fettuccine Cauliflower Alfredo is rich, creamy & delicious. It also happens to be really low in calories & virtually fat-free!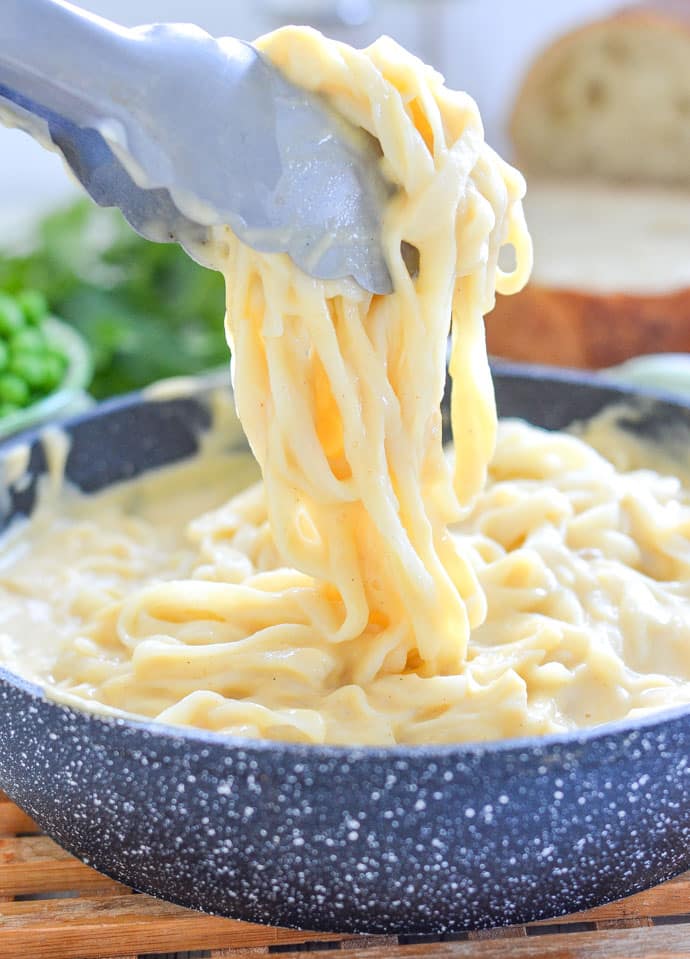 THIS RECIPE IS SPONSORED BY NUPASTA
Rich and creamy pasta dishes are one of my all time favourite things to eat, but let's be real. They don't do your waistline much good, especially if like me, your portions are probably a lot bigger than they should be! And even though with vegan versions you lose the butter, cream and parmesan, you often end up using vegan butter and blended cashew nuts as replacements which ends up packing in the calories. The answer? Skinny Fettuccine Cauliflower Alfredo.
It is made skinny by using steamed cauliflower as a base for the sauce. Yes...We are totally skipping the calorie-laden ingredients today and making a rich and creamy sauce from a big white vegetable!
Bear with me please. I haven't lost the plot...
NO HIGH POWERED BLENDER NECESSARY
Obviously the sauce doesn't taste quite like a traditional Alfredo but it is still super creamy, rich and delicious. You will be amazed at how creamy the blended cauliflower gets and because cooked cauliflower is soft, you don't need a high powered blender to make it silky smooth like you do with nut-based sauces. I've even tried it in my food processor and got a great result.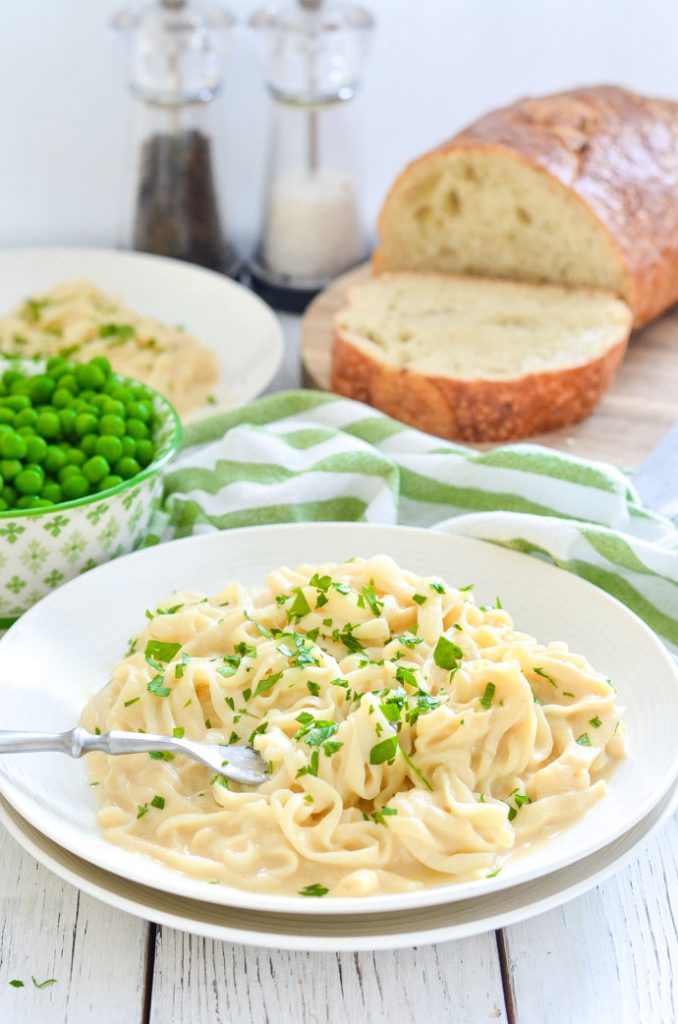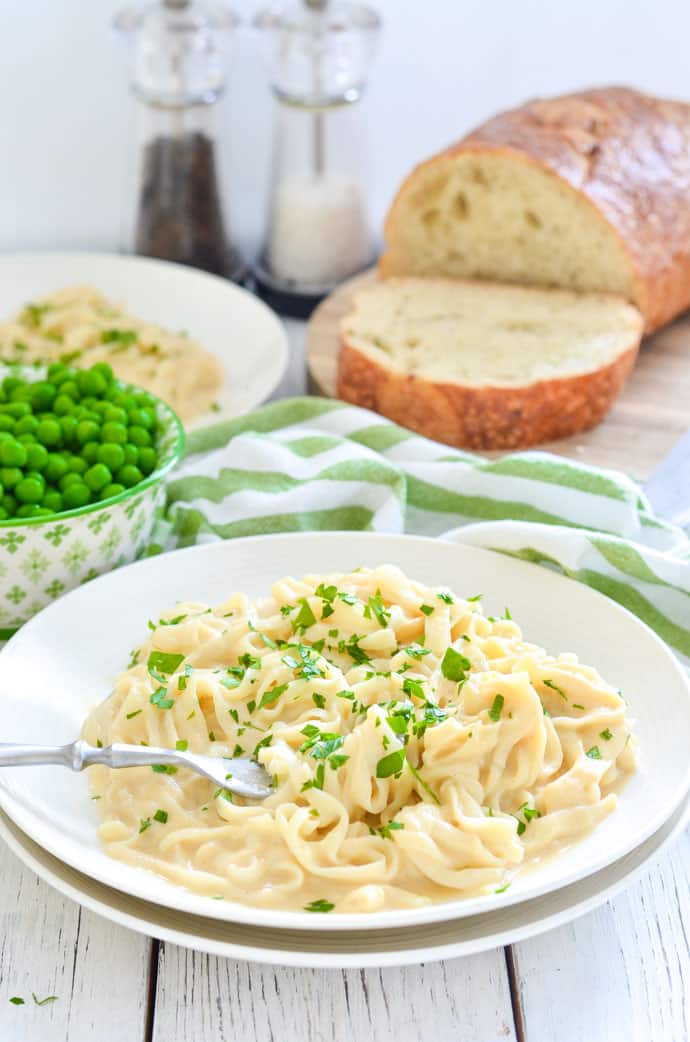 I'm not going to lie. It does taste of cauliflower. So, if you don't like cauliflower, please don't make it. If you want something more decadent and authentic tasting, give my Baked Vegan Mac and Cheese or my Vegan Carbonara a try instead.
It is super creamy, rich and delicious though, and coats and clings perfectly. Plus it is super-duper healthy. And, what a fun way to get your cruciferous veg in?!
VIRTUALLY FAT-FREE
This Skinny Fettuccine Cauliflower Alfredo is very low in calories and virtually fat-free. Obviously adding a pile of regular fettuccine into the mix raises the calories substantially so bear that in mind, but, if you are wanting to really cut calories and still eat a big ol' plate of pasta you could try nuPasta.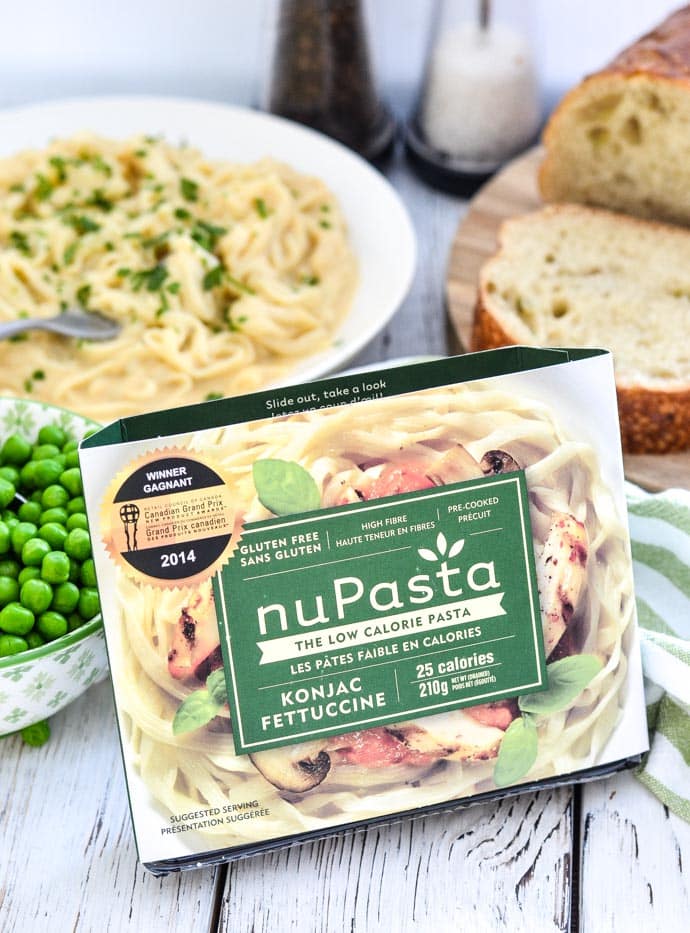 WHAT IS NUPASTA?
Unlike regular starch based pasta, nuPasta is fibre based. It is made with the konjac plant, a root vegetable whose main component is glucomannan, a water soluble dietary fibre. It comes pre-cooked in packages like the one in my photo above and is shelf-stable so does not need to be refrigerated. It is a perfect option for anyone who eats gluten-free or is diabetic, as well as anyone watching their weight or restricting carbs.
Get this? It has only 25 calories per portion. It is completely carb free and is packed with fibre. It's kind of unbelievable. I struggled to get my head around the idea that something with so much substance can be so low in calories. But it is, and combined with my Skinny Alfredo Sauce it makes for an extremely low calorie, low fat dinner.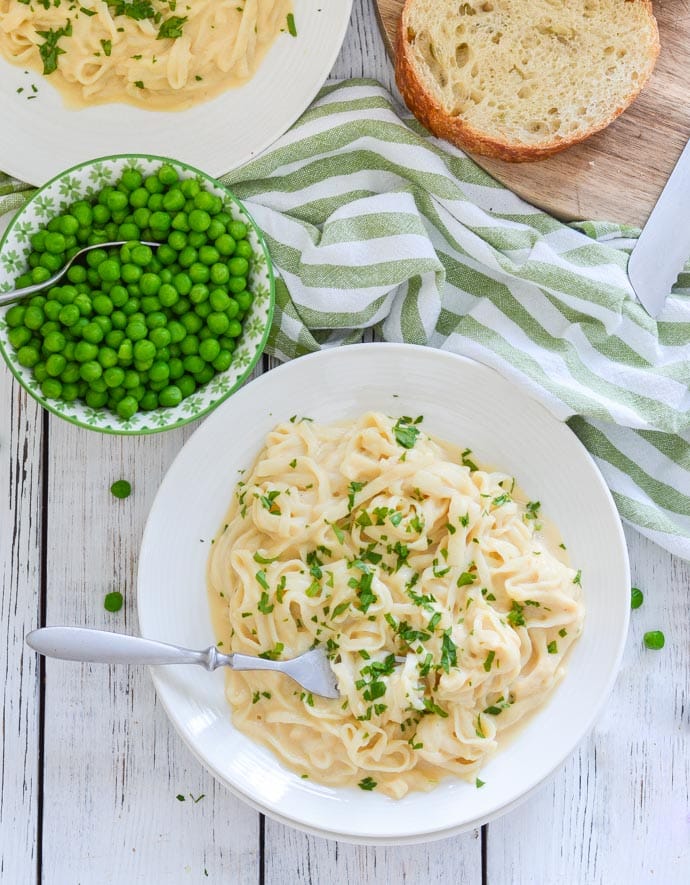 HOW TO SERVE
I love to serve this Skinny Fettuccine Cauliflower Alfredo with a side of peas. There is something about the pop of green colour and the little bursts of sweetness amongst the fettuccine tangles that I love. It also works well with a crisp green salad or just a sprinkle of fresh parsley. To add some healthy fats make yourself some vegan parmesan cheese to sprinkle on top.
Leftover sauce keeps well in the fridge for three or four days and can be used in lots of different ways:
Add more nutritional yeast and mix with macaroni for a quick mac and cheese
Drizzle over pizza or use on the base of a homemade pizza instead of pizza sauce
Use in place of Béchamel sauce in lasagne
Stir through risotto to make it super creamy
Use in place of canned soups in creamy casseroles
Stir a little through soups at the end of cooking to make them creamy
Hungry for more?
If you are enjoying this recipe then you might also like my Cherry Tomato Sauce and my Easy Vegan Cheese Sauce recipe.
Please check out my cookbook too and subscribe to my email list for a fabulous FREE eCookbook featuring my top 10 recipes. Being on the list means you will be first to see my new recipes and you'll be kept in the loop on all things new and exciting too!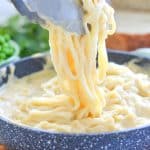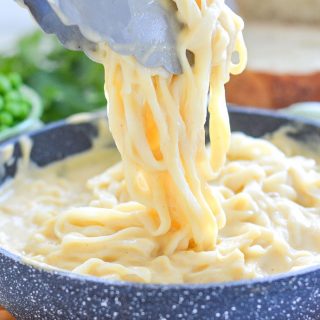 Skinny Fettuccine Cauliflower Alfredo
Author:
This quick & easy Skinny Fettuccine Cauliflower Alfredo is rich, creamy & delicious. It also happens to be really low in calories & virtually fat free!
Ingredients
350g / ½

medium

head of cauliflower

½

small

onion

, finely chopped (roughly golf ball size before halving)

2

large cloves

garlic

, finely chopped

¼

teaspoon

onion powder

½

teaspoon

salt

, plus more to taste if required

a

good grind of

black pepper

, plus more to taste if required

2 - 3

tablespoons

nutritional yeast

60mls / ¼

cup

vegetable broth

90mls / ¼ cup + 2

tablespoons

non-dairy milk

, use a much as you need to get the sauce the consistency you like . You might need a little more or less.

¼

teaspoon

smoked paprika or chipotle powder

1½

teaspoon

sweet white miso paste

, OPTIONAL

1

tablespoon

olive oil

, OPTIONAL

840g (4 small packages)

NuPasta Fettuccine

, or 400g / 14oz dried fettuccine

, (or other pasta of choice)
INSTRUCTIONS
Cook the cauliflower until fork tender. I like to steam it but you can boil it if you prefer. Drain and add to a blender.

While the cauliflower is cooking gently sauté the onion until transparent then add the garlic and carry on cooking until it is just starting to turn golden. Remove from the heat and add to a blender.

Add all of the other ingredients to the blender, EXCEPT the milk and fettuccine. The olive oil is optional but makes the sauce glossier if added. The miso is optional but helps the flavour so if you have some please use it. It's still good without though so don't worry too much.

When cooked, drain the cauliflower and add to the other ingredients in the blender then blend until completely smooth. This might take a few minutes, especially if you don't have a high powered blender. Add the milk gradually as needed until the sauce is the consistency you want. You might need slightly more or less than stated.
IF USING NUPASTA
Remove from the packaging and rinse in a sieve under a running tap for at least 20 seconds.

Add the sauce to a large pan and warm gently. Once hot add the nuPasta Fettuccine. It is already cooked so will only take a minute or two to warm through in the hot sauce. Serve immediately.
IF USING DRIED FETTUCCINE
Bring a large pan of salted boiling water to a rolling boil then drop in the fettuccine and cook as per the packaging instructions.

While it is cooking warm the sauce gently in a pan.

Cook the fettuccine until al dente then drain and return to the pan. Pour as much sauce as you need into the fettuccine and stir gently to coat. Serve immediately.

Alternatively serve with zoodles (zucchini noodles).
NOTES
Leftover sauce keeps well in the fridge for 3 - 4 days. Just warm gently in a pan when you want to use it. You might need to add a drop of vegetable broth or non-dairy milk to thin it out a little again.
See suggestions in post for other ways to use leftover sauce. 
NUTRITIONAL INFO IS CALCULATED ON THE SAUCE ALONE AND ASSUMES ¼ OF THE TOTAL AMOUNT MADE IS ONE SERVING. THIS IS A PRETTY GENEROUS AMOUNT AND YOU WILL MORE THAN LIKELY END UP WITH SOME LEFTOVER. 
NUTRITION
Serving:
1
serving
Calories:
33
kcal
Carbohydrates:
5
g
Protein:
3
g
Fat:
0.3
g
Sodium:
260
mg
Fiber:
2
g
Sugar:
1.5
g
Vitamin A:
50
IU
Vitamin C:
40.4
mg
Calcium:
30
mg
Iron:
0.5
mg
Nutritional information is provided for convenience & as a courtesy. The data is a computer generated estimate so should be used as a guide only.
Tried this recipe?
Rate it & leave your feedback in the comments section below, or tag @avirtualvegan on Instagram and hashtag it #avirtualvegan
This post is sponsored by nuPasta. Thank you for continuing to support the brands who help make this site possible.