This Swiss Chard Soba Noodle Stir Fry is super quick & easy to make & is tossed with the most delicious sweet, savoury & spicy 'instant' sauce!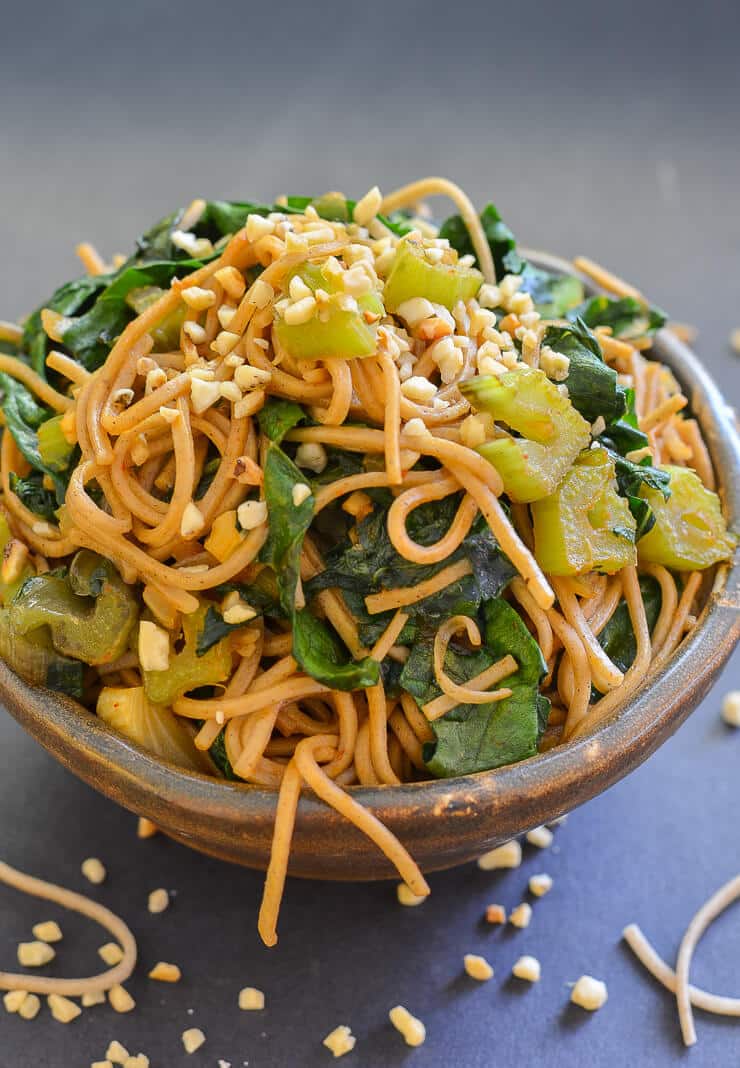 Because piles of tangled noodles and stir fried swiss chard in an 'instant' sauce are awesome......Even if I can't arrange noodles prettily to save my life so please excuse my pictures today ????.
Despite being a tangled mess, this Spicy Swiss Chard Soba Noodle Stir Fry is totally slurp-worthy and is incredibly easy to make with only seven ingredients, plus optional cashews for sprinkling ♡. It is super speedy too. A perfect midweek, budget friendly, healthy dinner.
STIR FRIES ARE YOUR FRIEND
If you are short on time or find cooking from scratch daunting, stir fries are the answer. They are easy, quick and healthy and within minutes you can have a tasty meal on the table with barely any effort.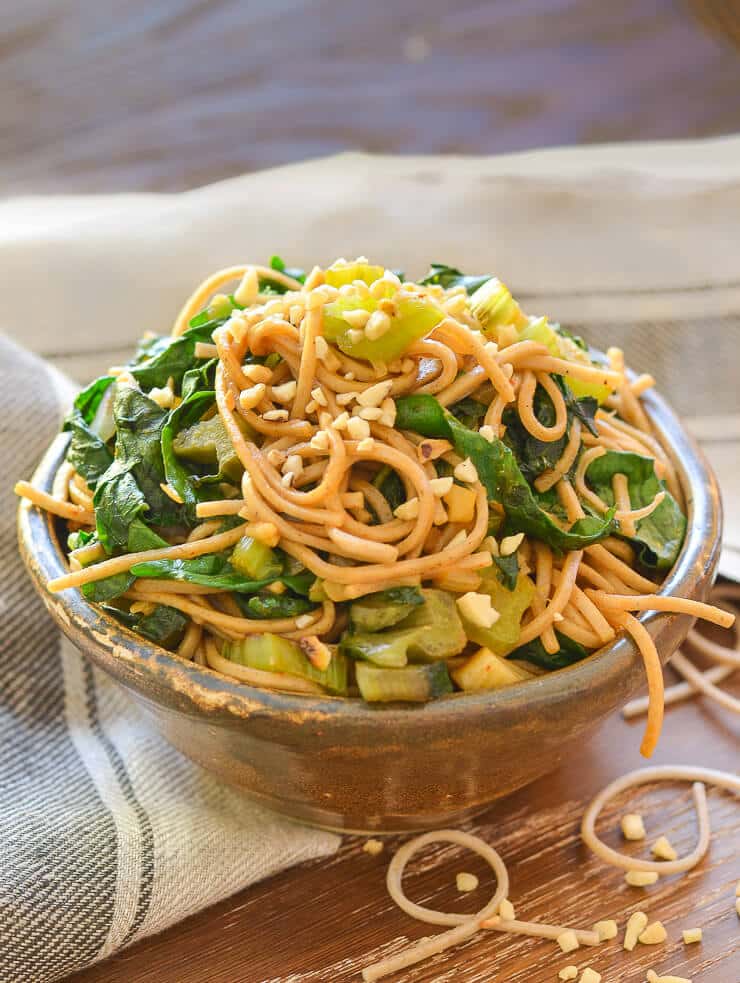 The only fresh ingredients you need for this recipe are swiss chard, onions and garlic. The rest are pantry ingredients which include:
Soba noodles (aka buckwheat noodles and one of my favourite kinds)
Sriracha (or other similar hot sauce)
Maple Syrup
Tamari (soy sauce will do as a sub but read my comments below first)
WHAT IS TAMARI?
If you have followed AVV for a while you will have noticed that Tamari makes an appearance in my recipes a lot. It is one of my favourite ingredients and one that I highly recommend you invest in.
You can use soy sauce instead, but Tamari's flavour is much better. It is deep and complex thanks to it's fermentation and is richer, thicker and less salty than soy sauce. (You can learn a bit more about the differences between the two here).
My favourite brand is made by Amino Foods. It is aged for one year before bottling and is incredibly delicious. Hopefully you will find it locally. It's available in almost all of my local stores but can't be found anywhere on Amazon which is pretty unusual as I thought they sold everything... If you can't find it though, there are many other good ones available.
Tamari works in a huge range of dishes, not just stir fry type recipes like this one. It gives a real umami depth of flavour that would be a struggle to achieve with anything else. I have used it in everything from my  Sticky Chili Ginger Tofu to my Lentil Shepherd's Pie and my 'Meatloaf'. It gives them all fantastic body and depth. If you have tried them you will know exactly what I mean.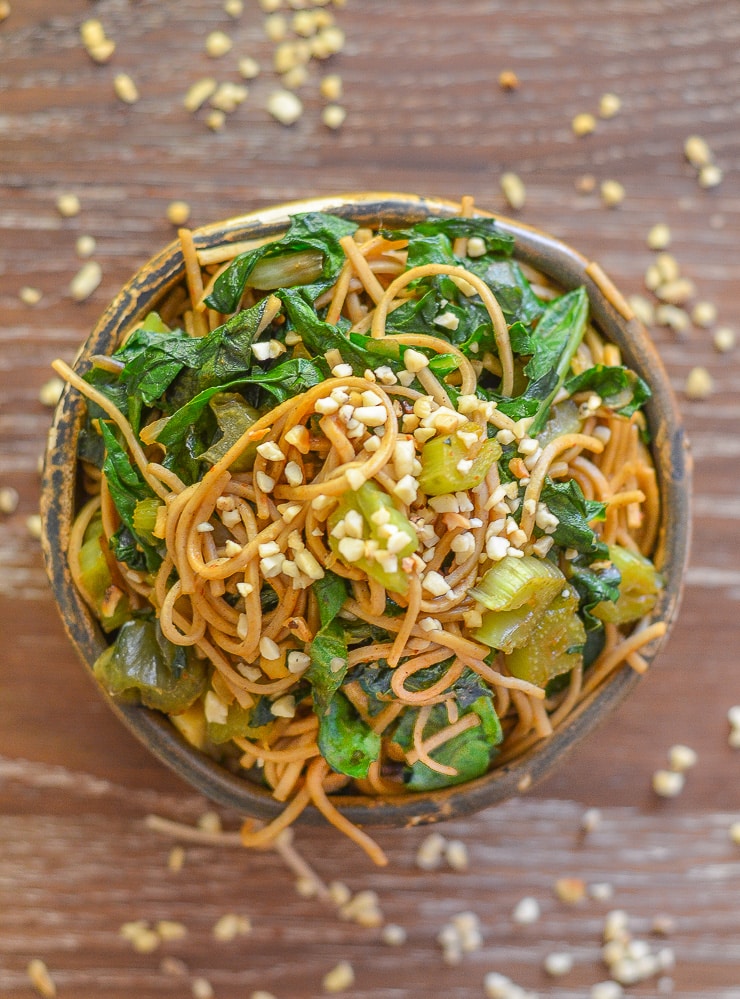 HOW TO MAKE SPICY SWISS CHARD SOBA NOODLE STIR FRY
It really is so quick and easy to make this Soba Noodle Stir Fry and the whole process takes less than 15 minutes.
Set some water to boil
Prepare the fresh veggies
Mix up the sauce ingredients in a small bowl
Cook noodles and stir fry onions, garlic and Swiss chard leaves and stems
Drain noodles and add to the pan then pour over sauce
Stir to coat and serve
That's it. Ready in under 15 minutes.
So what are you waiting for?
Whip some of this noodley deliciousness up stat, grab yourself a bowl and pile it high! Then once you've finished leave me a comment below to let me know what you think. You can even share a pic on Instagram. I would love to see! I am @avirtualvegan. Use the hashtag #avirtualvegan to be sure I don't miss it.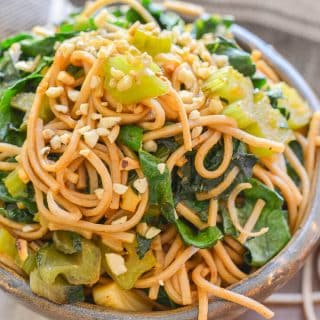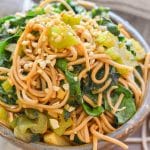 Spicy Swiss Chard Soba Noodle Stir Fry
Author:
This Swiss Chard Soba Noodle Stir Fry is super quick & easy to make & is tossed with the most delicious sweet, savoury & spicy 'instant' sauce!
Ingredients
1

tablespoon

toasted sesame oil

or to make oil-free use a couple tablespoons of water

1

medium onion

chopped finely

4

cloves

garlic

chopped finely

1

bunch

Swiss Chard

about 8ish big leaves but exact quantity isn't important (collard greens can be used instead and beet leaves also work very well. Lacatino Kale works well too but don't use it's stems as they are a bit tough for this recipe.

200

g

soba noodles

- if you need them to be gluten-free carefully read the packaging because a lot of brands include some wheat flour too. Udon noodles make a great sub
For the sauce
3

tablespoons

Tamari

be sure to buy a gluten-free variety if necessary. Can be subbed for soy sauce but read my advice in the post above first

3

tablespoons

maple syrup

2

tablespoons

Sriracha

or other similar hot sauce, Feel free to add an extra tablespoon if you like your food extra spicy

Optional

cashews or sesame seeds for garnish
INSTRUCTIONS
Fill a large pan of water and bring to the boil

Wash the Swiss Chard leaves then cut the leafy bits from the thick stem. I just lay the leaf flat on a chopping board and run a sharp knife down either side of the stem then remove it.

The stems kind of look like celery. Slice them up as you would celery and shred the leaves into bite sized pieces.

Mix the sauce ingredients up in a small bowl and set aside within easy reach.

Heat a

wok

or skillet over a high heat and add the water or oil then the onions and chopped chard stems.

Drop the noodles into the boiling water. Remember that soba noodles cook quickly (usually about 4 minutes) so make sure everything else is ready before you do this.

Stir the onions and chard stems around for about 2 to 3 minutes then add the garlic and shredded leaves. Cook for 1 more minute, stirring around frequently. If you used water and not oil, things might get a little sticky. If they do just add another drop or two of water as needed.

Quickly drain the noodles and throw them into the pan with the chard etc then pour over the sauce.

Stir to coat everything and give it a minute to warm through then serve immediately.

Serve sprinkled with some chopped cashews or sesame seeds.
NOTES
I am going to preempt comments/messages that I know I would have received about the sodium content in this recipe. It does have a high sodium content. Yes I realize that and no, one meal that is high in sodium isn't going to make you keel over and die as long as the rest of your diet is balanced.
The majority of the sodium in this recipe comes from the Swiss Chard. Strangely enough, Swiss Chard is a vegetable that is high in sodium with about 213mg per 100g. I personally view sodium from a vegetable differently than I would if I simply told you to pour a canister of salt into your meal. It might have a high sodium content but it has more than enough fantastic nutritional benefits to balance this negative out, such as containing a whopping 961mg  of potassium, 150g of magnesium and 3 times your daily requirement of Vitamin K in just 1 cup! It is also full of antioxidants, including betalains, which can help move toxins out of your body and it's rich in vitamins B, C, iron and heart healthy omega-3s.
Like all things, everything in moderation. ????
NUTRITION
Serving:
1
serving
Calories:
351
kcal
Carbohydrates:
76
g
Protein:
12
g
Fat:
1.6
g
Sodium:
1181
mg
Fiber:
6.5
g
Sugar:
19
g
Vitamin A:
7900
IU
Vitamin C:
76.7
mg
Calcium:
130
mg
Iron:
4.1
mg
Nutritional information is provided for convenience & as a courtesy. The data is a computer generated estimate so should be used as a guide only.
Tried this recipe?
Rate it & leave your feedback in the comments section below, or tag @avirtualvegan on Instagram and hashtag it #avirtualvegan