Spicy black beans. Hearty comfort food at it's best and so easy! Cook on the stove top or in a slow cooker for a really easy & tasty meal.
I hope you all had a good Mother's Day. I certainly did and was lucky enough to receive some wonderful gifts from my son including the Thug Kitchen:Eat Like You Give A F*ck book and a box of vegan chocolates from Pure Lovin' Chocolate. If you happen to live near Victoria BC,  I highly recommend you make a visit to this fabulous chocolate shop. Everything is fair trade, organic, soy free, gluten-free and vegan, oh and delicious!
I have had a pretty busy day in the kitchen making a couple of things from my new Thug Kitchen book and creating a brand new recipe myself. It's pretty darn good too. I will get round to adding that in a few days but first I wanted to share my Spicy Black Beans with you.
Just looking at this picture makes my mouth water!
This is another really easy recipe which you can just throw together in the slow cooker and leave for hours while you go off and do other things. You can also cook it in a pan on the hob but I would advise you to cook your black beans (or use tinned) if you are going to do this.
I have previously expressed my dislike of Daiya cheese but I must admit to using it on this recipe for the photograph. Nothing beats the look of a bit of melted cheese! If you enjoy Daiya then these beans will be great topped with it then broiled/grilled for a minute or two prior to serving. If like me you aren't a big fan then use another kind of cheese or just skip it altogether and top with some sliced avocado. That's my favourite way to eat them!
These beans are great served with some nutty brown rice, with a baked potato or as a filling for tacos.
This recipe makes a lot (probably enough for 6 – 8 people) but keeps well for a few days in the fridge or freezes very well. Freeze it in portion sized containers and when you have one of those days when you are late getting home from work, or you really can't be bothered to cook, just defrost and reheat and you have a healthy meal with no effort.
Another way to use up the leftovers is to dilute them with more vegetable stock or water to make a spicy black bean soup.
If you like this recipe then be sure to check out my Sweet Potato & Bean Chilli.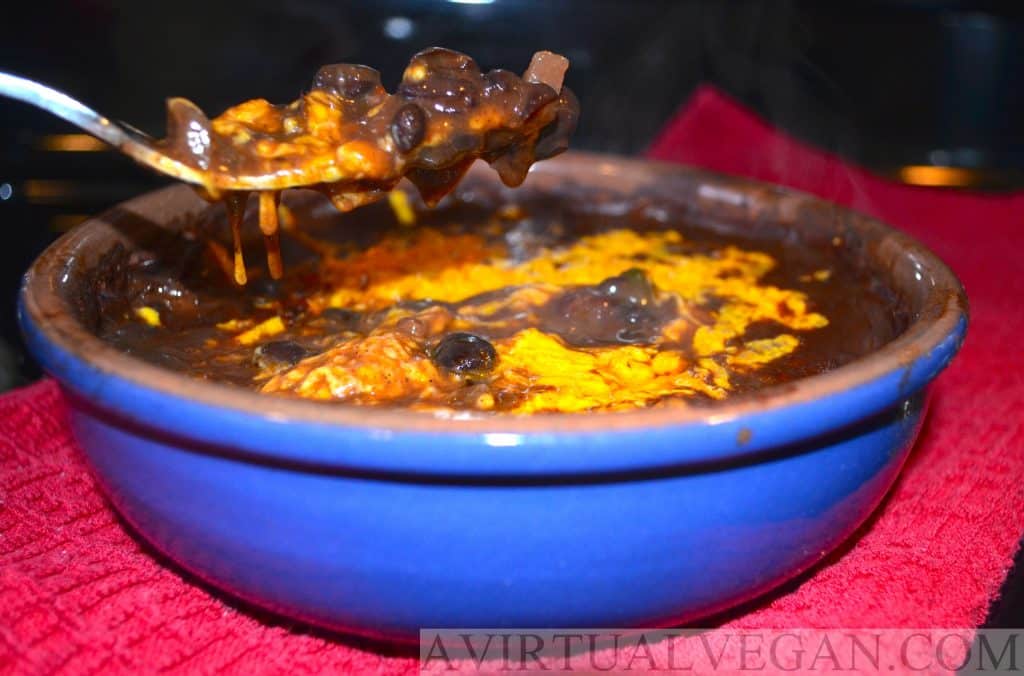 Spicy Black Beans
Spicy black beans. Hearty comfort food at it's best and so easy!
Total Time
5
hours
10
minutes
Ingredients
400g | 2

cups

of dried black beans soaked overnight

(or 6 cups canned beans)

1

small

onion

, chopped finely

3

cloves

garlic

1

jalapeño chilli pepper

1

tablespoon

ground cumin

1

teaspoon

ground coriander

1

large

bay leaf

1

teaspoon

dried mint

(optional)

960mls | 4

cups

vegetable stock

Juice of one lime
Instructions
Place all ingredients except the lime into a slow cooker.

Cook on high for 5 - 7 hours (if your slow cooker tends to dry things up a bit then cook on low. I use a

Crockpot

and I have left meals such as this one in it for 7 - 8 hours and they have been fine).

Just before serving squeeze in the juice of one lime and stir well.
If you do not have a slow cooker
Soften your onions in a little oil then add the spices and cook for a minute or two.

Add the rest of the ingredients (only using half the amount of stock) and simmer for at least an hour. The longer you cook it the more developed the flavour will be.

Just before serving squeeze in the juice of one lime and store well.
Nutrition Facts
Spicy Black Beans
Amount Per Serving (1 serving)
Calories 148
Calories from Fat 6
% Daily Value*
Total Fat 0.7g 1%
Sodium 189mg 8%
Total Carbohydrates 27.5g 9%
Protein 9g 18%
* Percent Daily Values are based on a 2000 calorie diet.