A healthy, protein-packed Vegan Meal Prep with Black Beans & Rice recipe that you can prep in advance in under 30 minutes & enjoy all week long!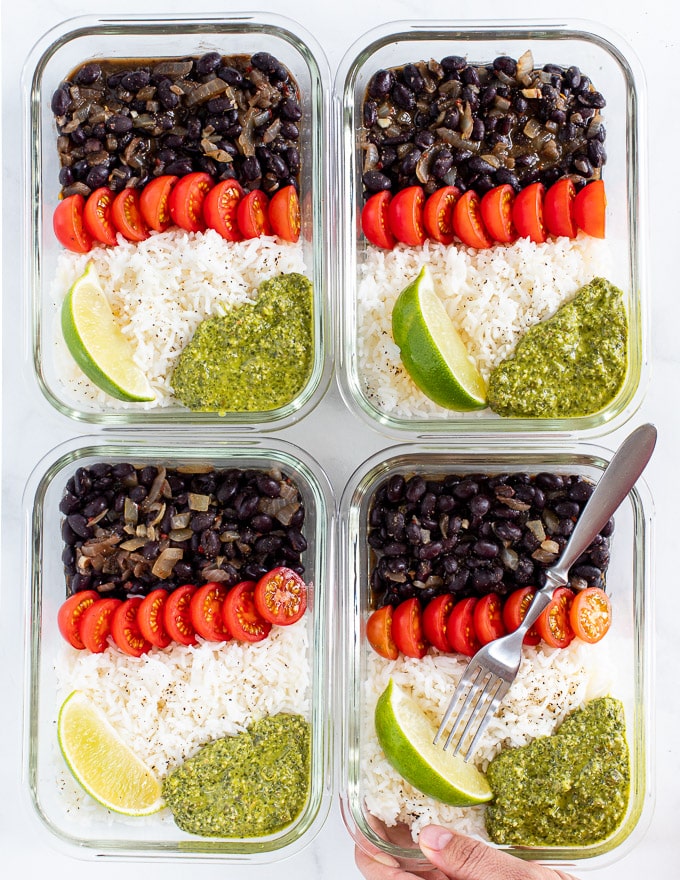 Um yes .... Vegan Meal Prep. You aren't in the wrong place. I know I'm not known for being highly organized, except for one week of my entire life when a neat row of Peanut Crunch Salad in a Jar graced the shelves of my fridge. But, I'm feeling inspired to try. I even just ordered an expandable kitchen drawer organizer and some pan organizers ... Who even is this person?
And that's what this Vegan Meal Prep with Black Beans & Rice is all about. It's me saying, meal prep, I see you, and I am going to make some healthy vegan dinners ahead of time, portion them out into cute little meal prep containers and feel virtuous when this new, organized version of myself makes an appearance at dinner time.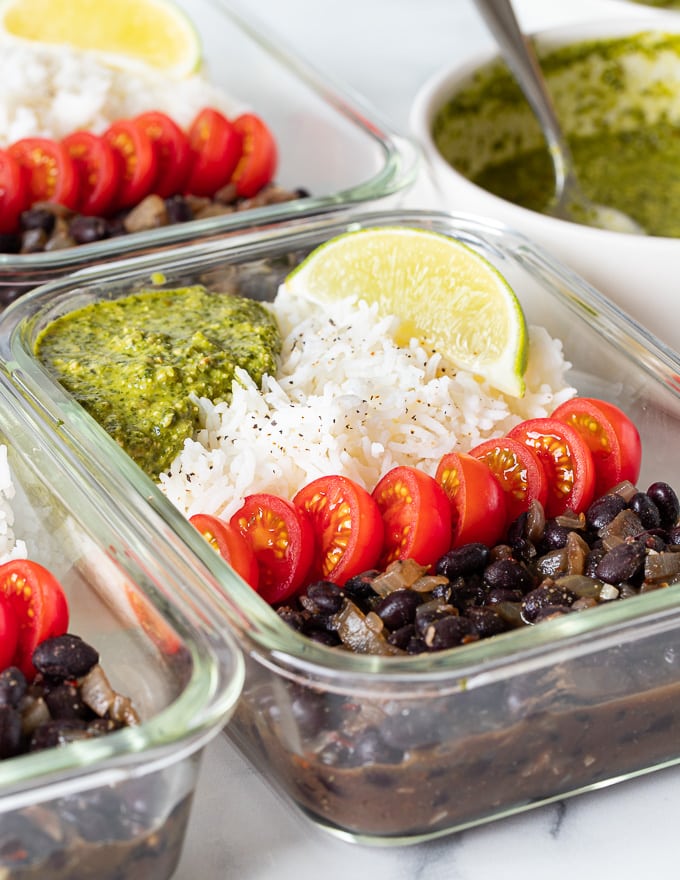 This black beans and rice recipe is inspired by my Instant Pot Black Beans and my Slow Cooker Black Beans. In fact, you could follow those recipes if you want to use an Instant Pot or a slow cooker, then just follow along with the rice and accompaniments parts of the meal prep instruction after.
As is though, this recipe takes no more than 30 minutes to prepare. Most of that is hands off ... like waiting for the rice to cook, simmering the beans etc.
It's a basic recipe that you can feel really good about, because it's super healthy, full of protein, low in fat and tastes delicious, especially with a hefty dollop of Green Sauce.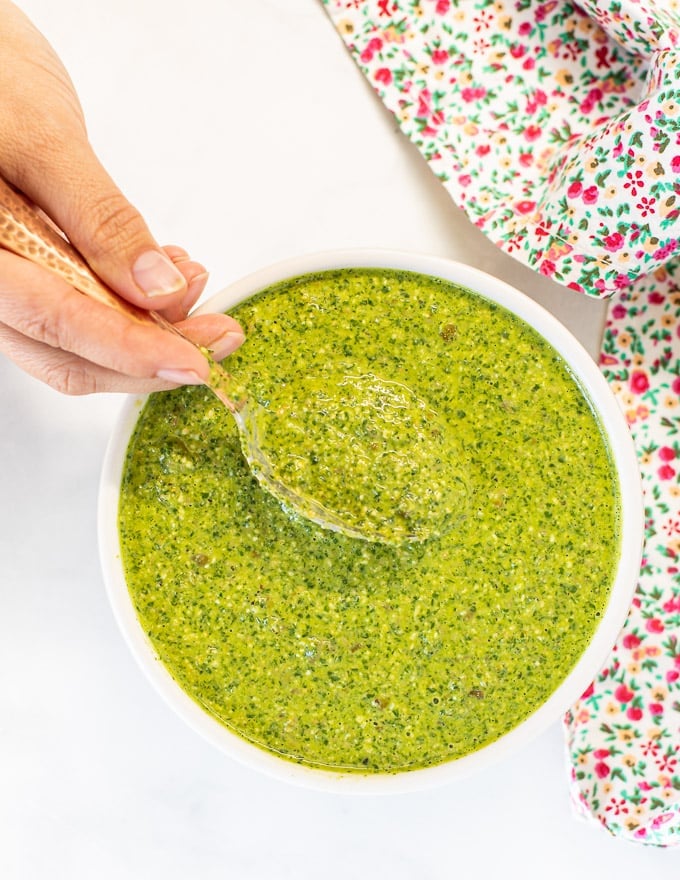 And maybe (or definitely) some sliced avocado. You could add some hummus, salsa or guacamole instead of the green sauce, or just some good ol' hot sauce from a bottle.
Best Meal Prep Containers
Before you make a start on your new-self, meal prepping journey, make sure you have some suitable containers. My favourite type of container for meal prep and for storing leftovers, is glass.
There are all sorts of glass meal prep containers on the market. With a divider, with multiple dividers, with no dividers. I personally find a lot of them ok for a small lunch portion, but too small for dinner, so make sure you check how much they hold prior to buying them.
I have a big appetite and need a good sized portion, so I found that for me, the best meal prep containers had no dividers and were a nice, roomy 34 oz size glass containers with locking lids. They are also freezer, microwave and oven safe. (Note that the lids cannot be used in the oven, microwave or dishwasher).
Glass containers like this aren't necessary for meal prep though. You can use any old containers. But, they do make it more fun, and seeing all of those neatly stacked, identical containers in the fridge when you open it, makes you feel like a bit of a super organized domestic god or goddess. And that's kinda nice!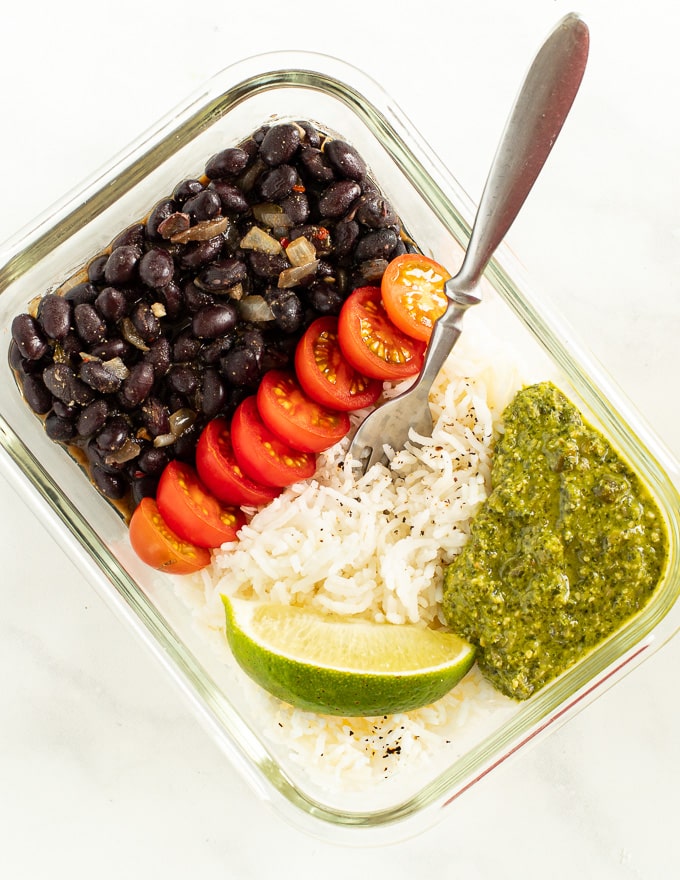 How to make my black beans & rice vegan meal prep recipe
---
FOR INGREDIENTS & FULL INSTRUCTIONS PLEASE SEE THE RECIPE CARD AT THE END OF THIS POST
---
First up we need to cook the rice. I love to use my Instant Pot for the rice part of the meal prep. It makes it so easy and means you don't have to worry about it boiling over or drying up.  If you don't have one though, don't worry. You can just boil some rice up on the stove top. Instructions are included.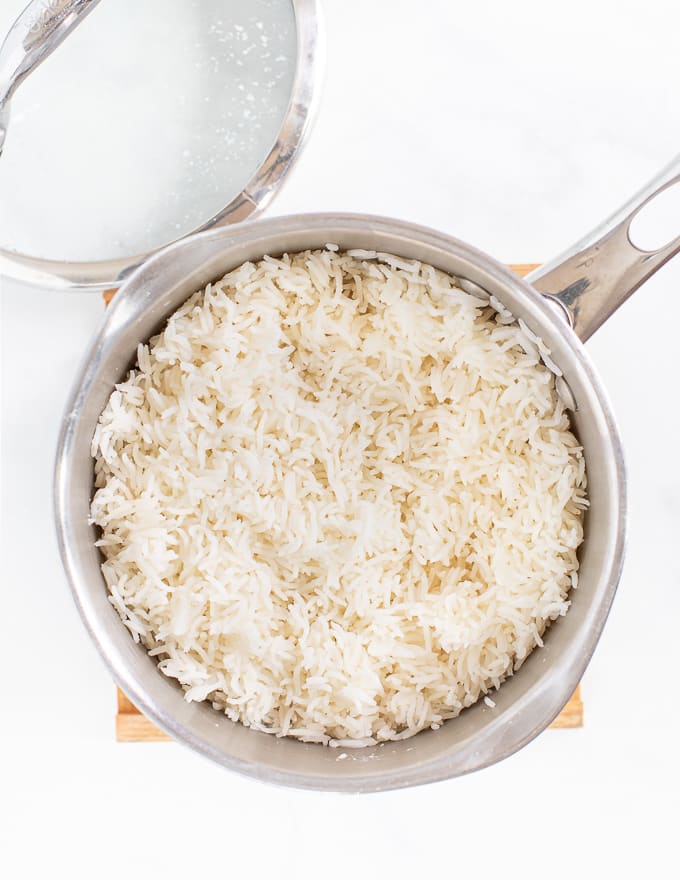 While the rice is cooking, sauté up those onions, garlic and spices.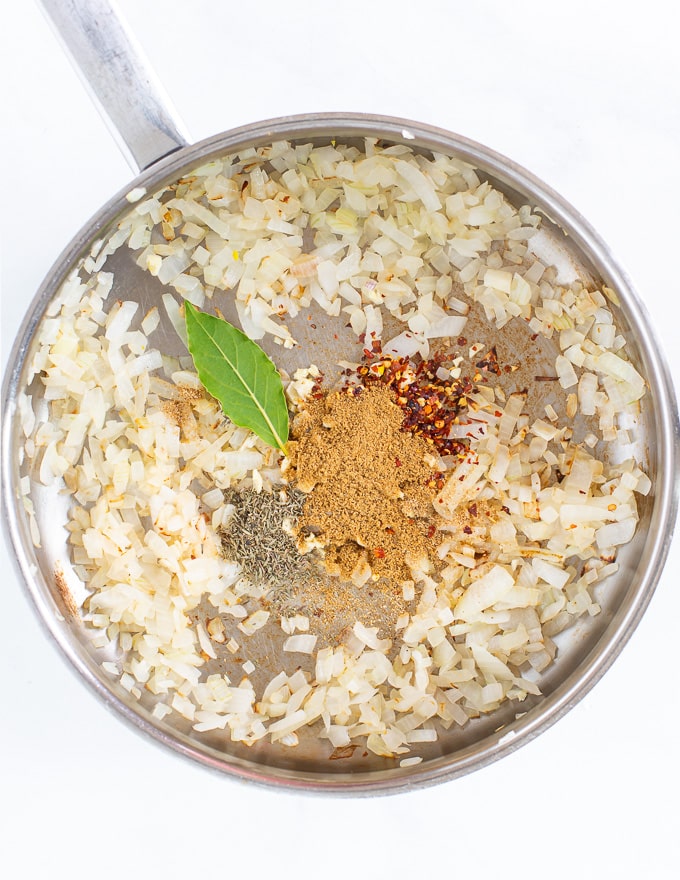 Then add the beans and stock and allow to simmer.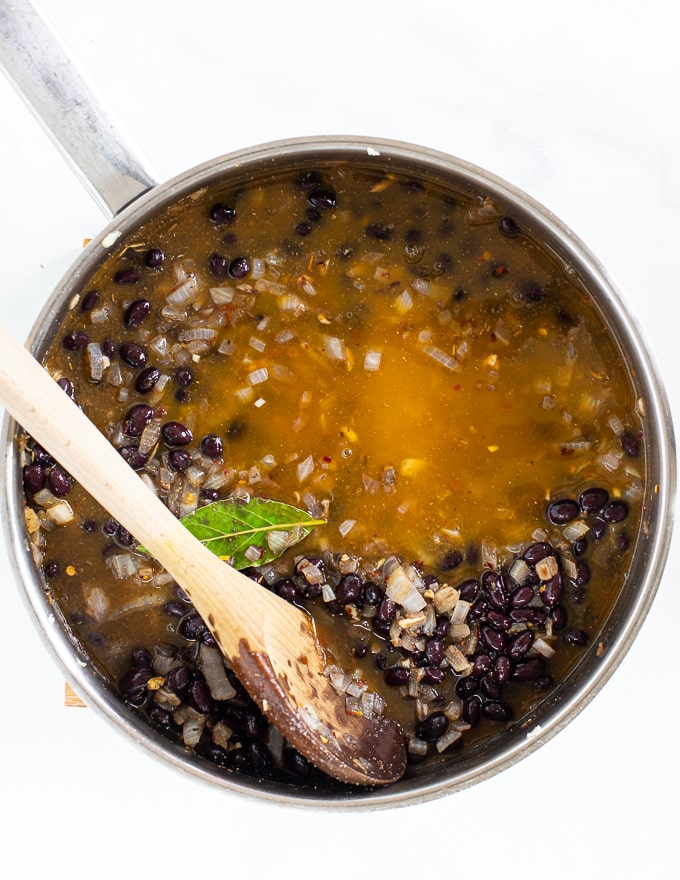 Prepare the Green Sauce, if you haven't already got a jar on the go in the fridge. When I say "prepare", I mean just throw all of the ingredients in a food processor and process. Easy as pie sauce.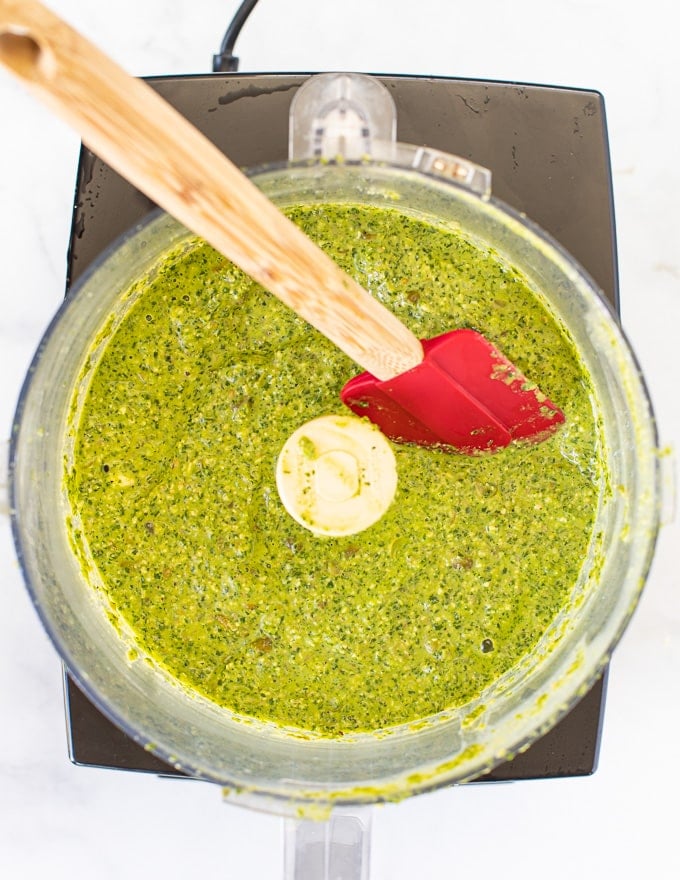 Chop some cherry tomatoes. Quarter a lime.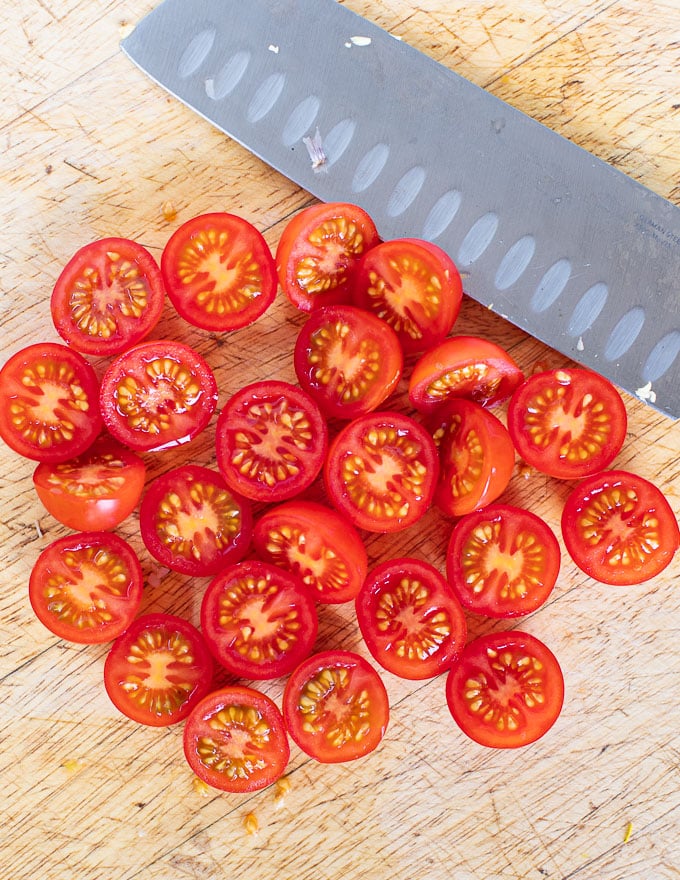 Divide it all evenly between your containers and dollop on some green sauce, or other accompaniment of choice.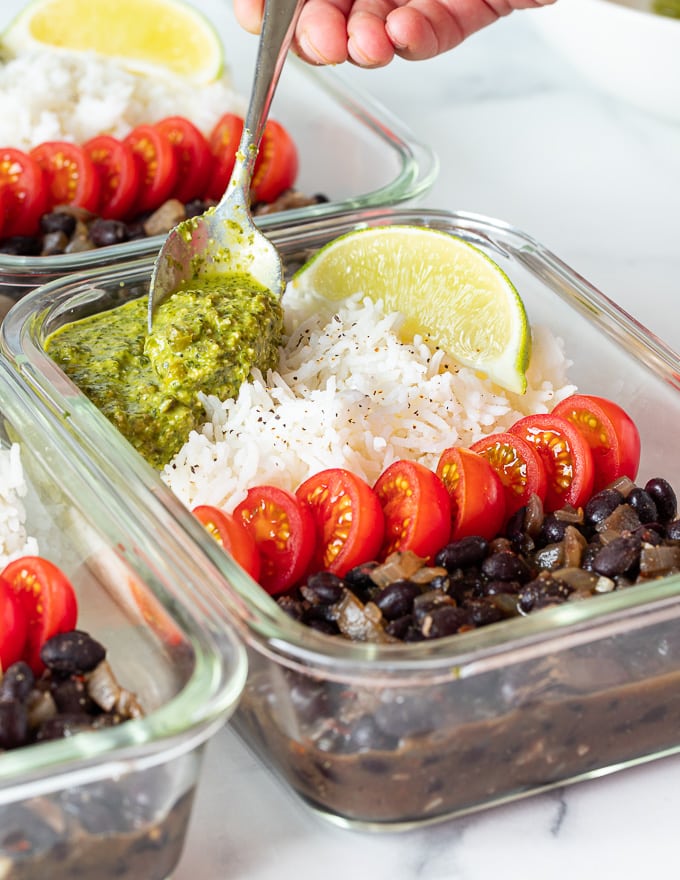 Stack them in the fridge and pat your organized self on the back ;O)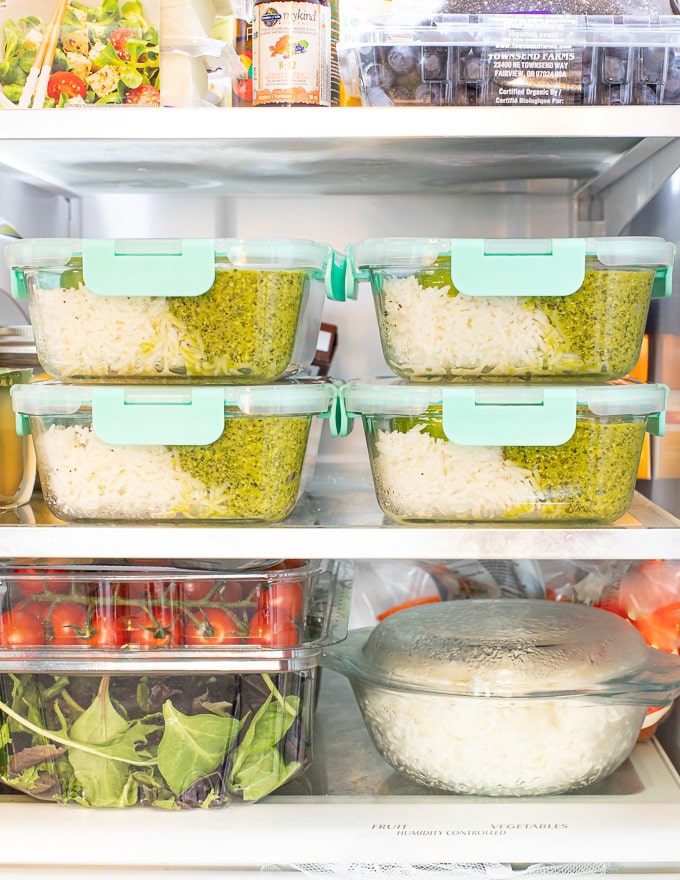 ---
Black Beans & Rice Vegan Meal Prep done!
Now you can pull out one ready-made dinner at a time from the fridge and enjoy, all while calling yourself a meal prep genius!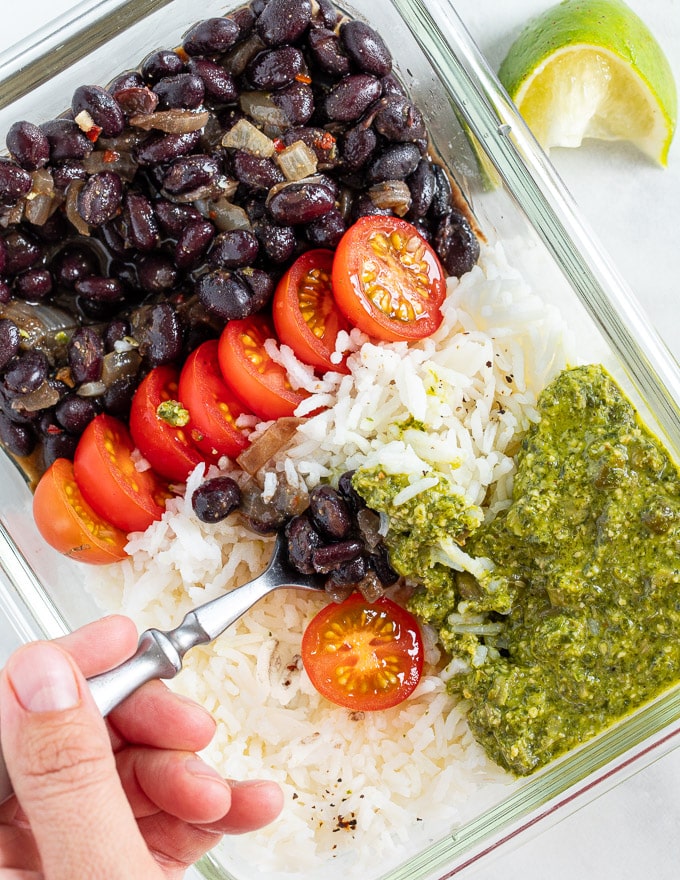 If you're really into vegan meal prep recipes and want some variety, you might like to make my Instant Pot Lentil Dal (or Creamy Red Lentil Dahl if you don't have an IP) or my Keema Lentils. They would work really well instead of the black beans in this high protein vegan meal prep situation!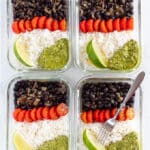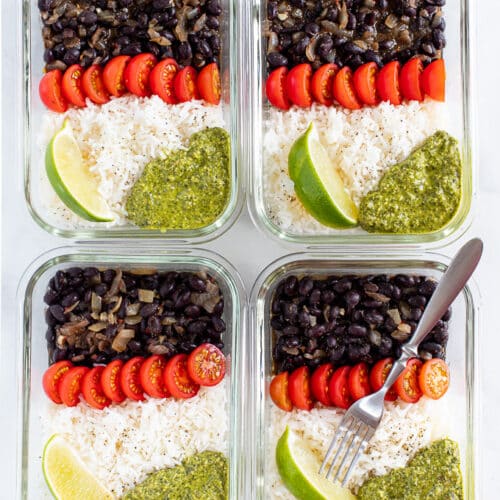 Vegan Meal Prep with Black Beans & Rice
Author:
A healthy, protein packed recipe for Vegan Meal Prep with Black Beans & Rice that you can prep in advance in under 30 minutes & enjoy all week long!
Ingredients
For the rice
1⅓ cup / 250

g

uncooked long grain white rice

, (or 4 cups if you have some ready cooked)

2⅔ / 640

ml

water

, in an Instant Pot use only 1⅓ cup / 320 ml of water

1

pinch

salt

, optional
For the black beans
1

tablespoon

olive oil

, OPTIONAL - use a few drops of water instead to make the recipe oil-free

1

medium

onion

, finely chopped

3

cloves

garlic

, finely chopped

½

teaspoon

chili pepper flakes

, or a chopped small fresh chili

2

teaspoons

ground cumin

½

teaspoon

ground coriander

1

bay leaf

½

teaspoon

dried thyme, mint or oregano

2 x 14oz / 398

ml

cans black beans

, about 3 cups

½

teaspoon

salt

, or to taste

1 - 1¼ cup / 240 - 300

ml

vegetable stock
To serve
1

fresh lime

16

cherry or grape tomatoes

Green Sauce

, see recipe notes for alternatives
INSTRUCTIONS
To make the rice
Rinse the rice well, then add to a large pan with the water and a pinch of salt if desired. Bring to a rolling boil then turn the heat down to the lowest setting, cover with a lid and simmer for 18 minutes. Turn off the heat (don't take the lid off) and leave to sit in the pan for another 5 minutes to steam undisturbed. Fluff with a fork and it's ready.

For brown rice use the same method but simmer on low until all of the water is absorbed. This will take about 30 minutes. Once it's reached that stage, turn off the heat and leave to steam for 5 minutes before fluffing with a fork.

In an Instant Pot, rinse the rice, then add it along with the water (using a reduced amount as per my note in the ingredients list) and a pinch of salt if desired, to the inner pot. Put the lid on and set the vent to the sealed position. Press the rice button and leave until the pressure has released naturally. Open the lid and fluff with a fork. For brown rice, cook on high pressure, manual setting for 22 minutes and leave the pressure to release naturally.
To make the beans
While the rice is cooking, in a medium sized pan, heat the olive oil over a medium heat. Use water to sauté with to make the recipe oil free and add a little more as needed to stop sticking. Add the onion and cook, stirring frequently for about 5 minutes until translucent.

Add the garlic, chili pepper flakes, cumin, coriander, bay leaf and dried herbs of choice to the pan and continue to cook for another minute, stirring frequently.

Drain the black beans and add them to the pan along with 1 cup / 240 ml of the stock and the salt. Bring to a gentle simmer and cook for 10 minutes. Turn off the heat, check the seasoning, add the remaining stock if you want a little more sauce and add more salt to taste if desired.
To portion out
Cut the cherry tomatoes in half and cut the lime into quarters.

Divide the rice evenly between the 4 meal prep containers, keeping it over to one side. Then add the black beans to the other side. Add the cherry tomatoes to the top as well as a generous dollop of green sauce (see notes if you are using something other than green sauce) and a quarter of lime in one corner on top of the rice and away from the sauce so it's easy to pick out before reheating. Put the lid on the containers and store in the fridge for up to 4 days.
NOTES
My Green Sauce works perfectly with this recipe, but you can use hummus, guacamole, salsa or hot sauce instead. Either homemade or store bought.  
The Green Sauce can be added when you divide the mixture between the containers as it heats nicely. If you are using an alternative like guacamole, hummus or salsa I recommend adding it after the meal has been reheated and just as you are about to eat it. You can do the same with the green sauce if you prefer to keep it raw and more fresh, herby tasting. 
Remove the lime  and reheat everything else in the microwave until piping hot. The tomatoes are fine to stay in there and will cook and become nice and sweet. It should take 3 to 4 minutes but will vary depending on how powerful your microwave is. If you don't have a microwave and have used glass, oven-safe containers, remove the lids (if they aren't oven-safe), cover with a piece of foil and warm in the oven after preheating to 350°F (175 °C) for about 10 - 15 minutes. Before serving, squeeze the juice from the lime wedge over the beans. 
This recipe makes generous "dinner sized" portions. Feel free to divide between more containers for smaller portions. 
Nutritional information is calculated with the optional oil and without the green sauce. 
NUTRITION
Calories:
460
kcal
Carbohydrates:
88
g
Protein:
17
g
Fat:
5
g
Saturated Fat:
1
g
Sodium:
568
mg
Potassium:
759
mg
Fiber:
14
g
Sugar:
4
g
Vitamin A:
547
IU
Vitamin C:
23
mg
Calcium:
89
mg
Iron:
5
mg
Nutritional information is provided for convenience. The data is a computer generated estimate and should be used as a guide only.
Tried this recipe?
Rate it & leave your feedback in the comments section below, or tag @avirtualvegan on Instagram and hashtag it #avirtualvegan