My take on the English classic - From scratch, super easy vegan lemon curd that's ready in only 10 minutes! It's deliciously, intensely, mouth-puckeringly tart, but sweet all at the same time and so lusciously smooth and creamy!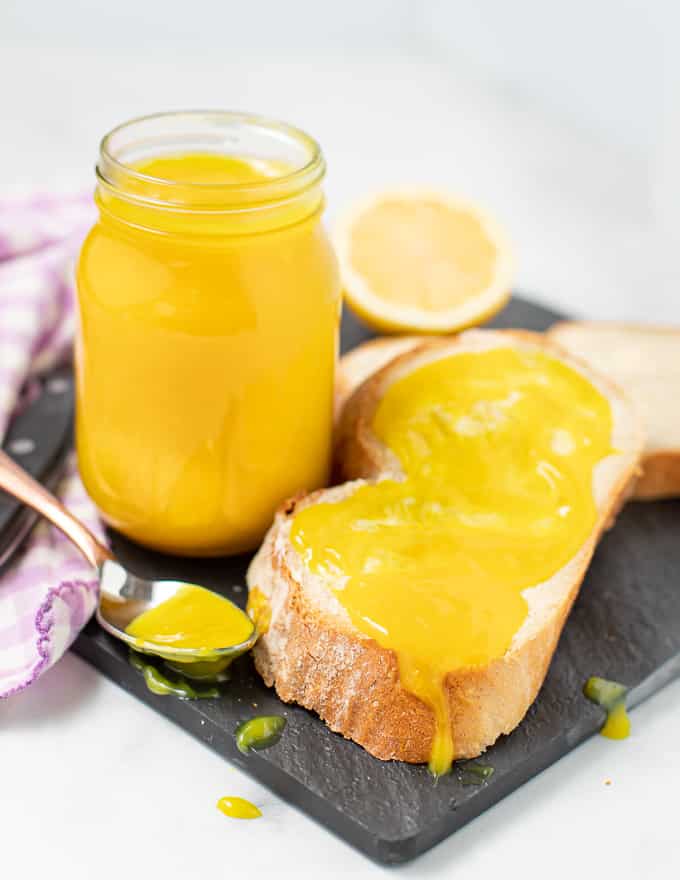 Dear friends. Let's talk. It's nearly the end of summer. Gone in the blink of an eye and I'm already contemplating turning the heat on low. But, before we move on to pumpkin spice and all things nice, let's have one last burst of bright yellow sunshine.
Enter Vegan Lemon Curd. It's amazing and takes literally 10 minutes to make. 2 of that is putting things in a pan, the other 7 or 8 is stirring it all gently until it's turned into luscious, lemon magic.
Jump to: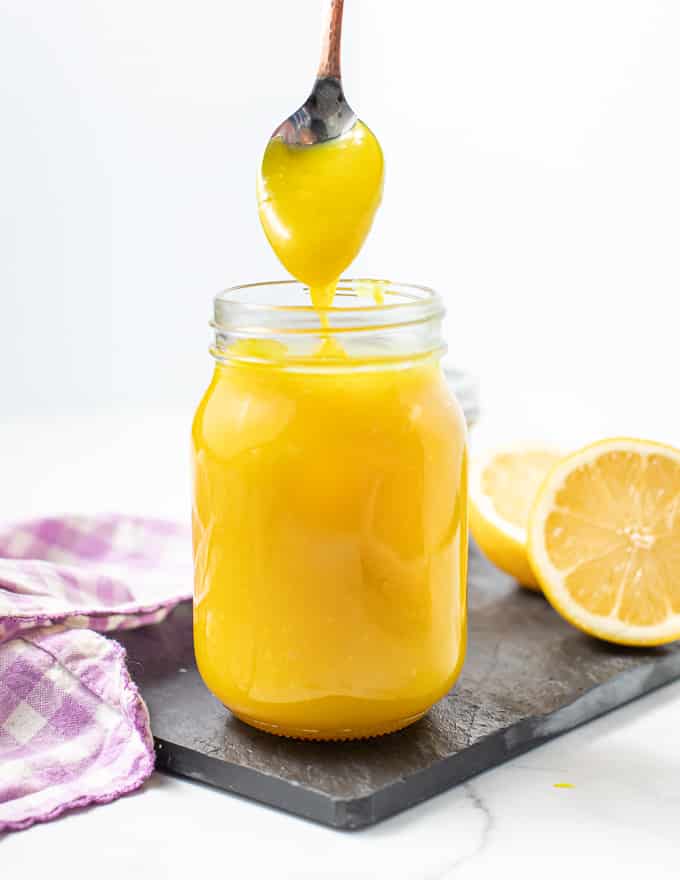 And the best part? Spreading a thick slice of crusty bread with lots of vegan butter, then generously dolloping on heaps of lemon curd and taking your first, dreamy, velvety, bite. Or serving it with my vegan lemon muffins, either spread on, or baked up inside. So good!
It's thick, rich, soft, smooth, mouth puckeringly tart but sweet all at the same time and it is OMG delicious. The absolute perfect combination of lightness and richness. I really cannot get enough.
What is lemon curd?
Lemon curd is an old fashioned English recipe that is thought to date back to the 1800s. It is a sharp, sweet, rich, creamy, decadent spread, that is traditionally made by cooking citrus fruit juice with egg yolks, butter and sugar. The flavour comes from the fruit juice and sugar and the eggs thicken it like they do when you make something like custard. The butter is added at the end to provide extra richness and silkiness.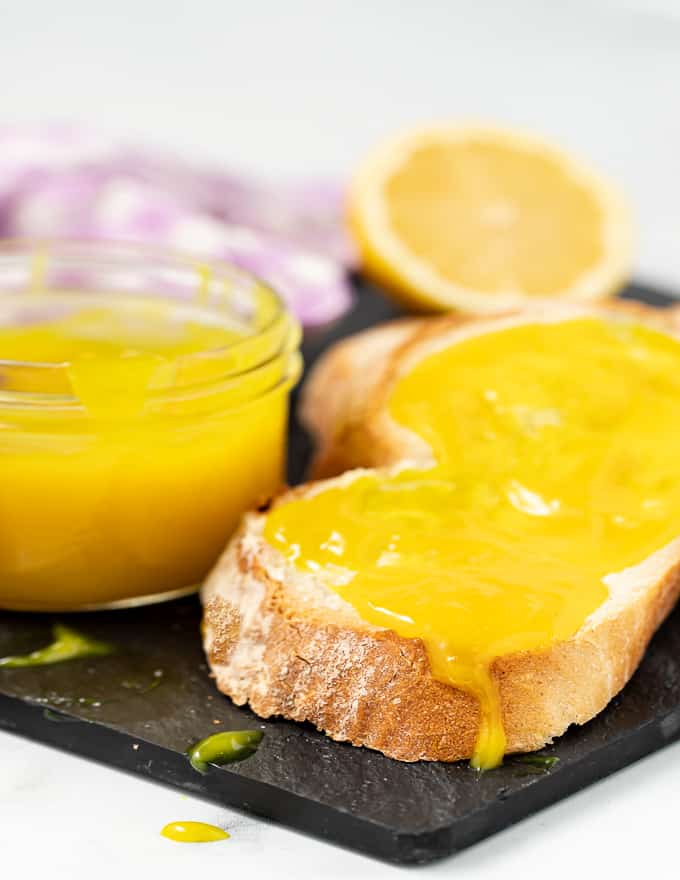 If you have been around for a while you will know that I am British, and I grew up eating lemon curd as an alternative to jam on bread, warm toast and crumpets. It was always one of my favourite things and I've been desperate to make a vegan version that tastes just as good as the original. And this is it!
Lemon curd ingredients
For detailed measurements and instructions, see the printable recipe card.
All you need to make vegan lemon curd are some basic ingredients.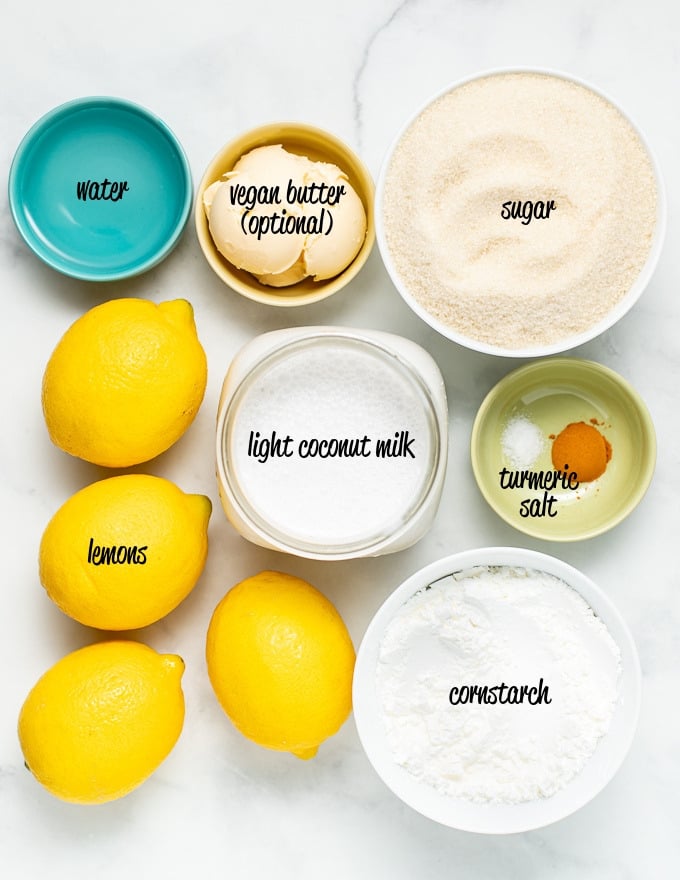 Here is what we've got going on and why:
Fresh lemon juice & zest - for zippy flavour and tartness.

Sugar - for sweetness and structure.

Corn starch (cornflour in the UK) - something you won't find in traditional recipes, but used here to replace the eggs and thicken the curd.

Light coconut milk - eggs not only thicken, they provide richness. Light coconut milk helps to replace that. Light because we don't want our curd to taste of coconut.

Turmeric - to boost that lovely yellow colour. You can't taste it at all in the finished curd.

Vegan butter

- Just like in traditional versions, butter is used to add extra richness and glossiness. In this recipe it is optional though. It's still really good without it but if you aren't watching your oil intake I highly recommend adding it for that extra bit of decadence.

Salt - because a pinch of salt makes everything better!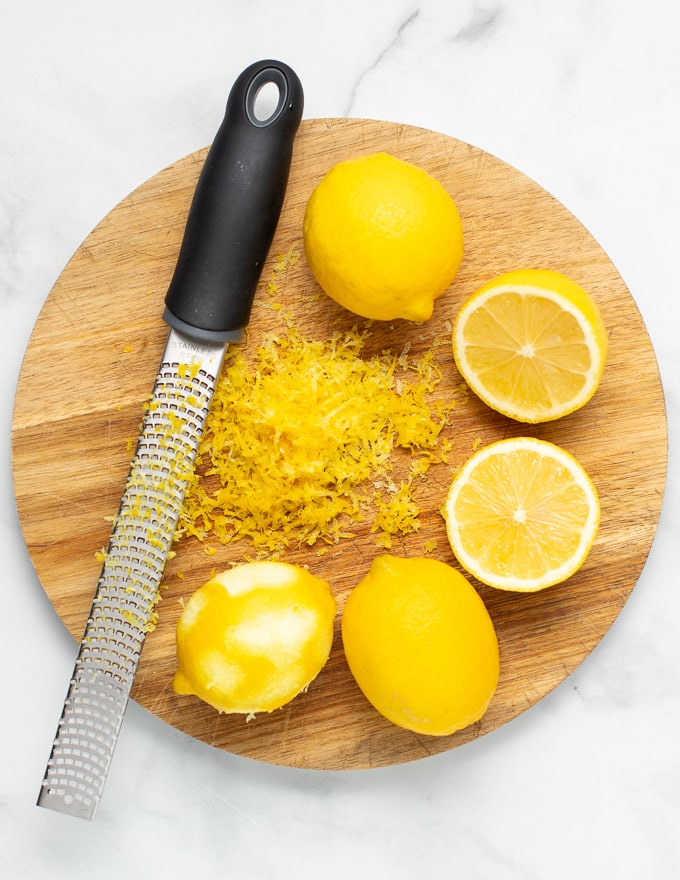 How to make Vegan Lemon Curd
Step 1 - Add the sugar and cornstarch to a pan. Add the lemon juice gradually, stirring to work out the lumps.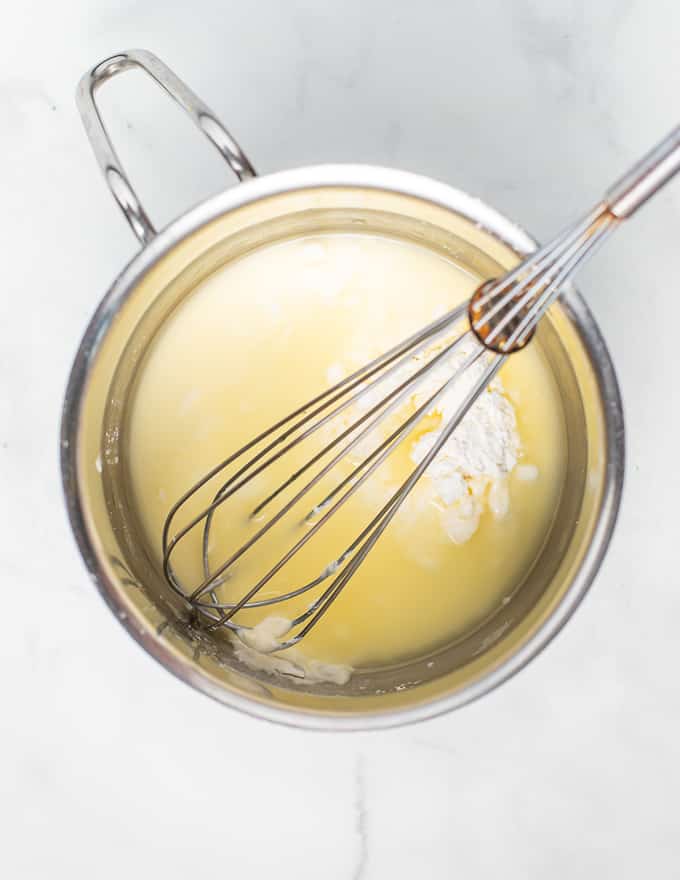 Step 2 - Then add everything else except the butter.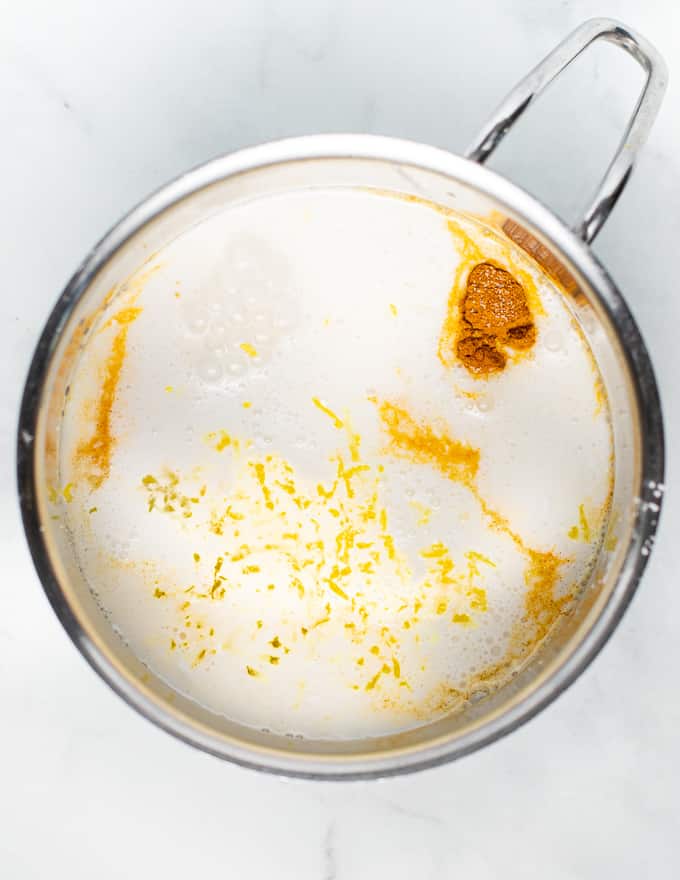 Step 3 - Whisk over low/medium heat until the curd starts to thicken and can easily coat the back of a metal spoon then remove from the heat and whisk in the optional vegan butter.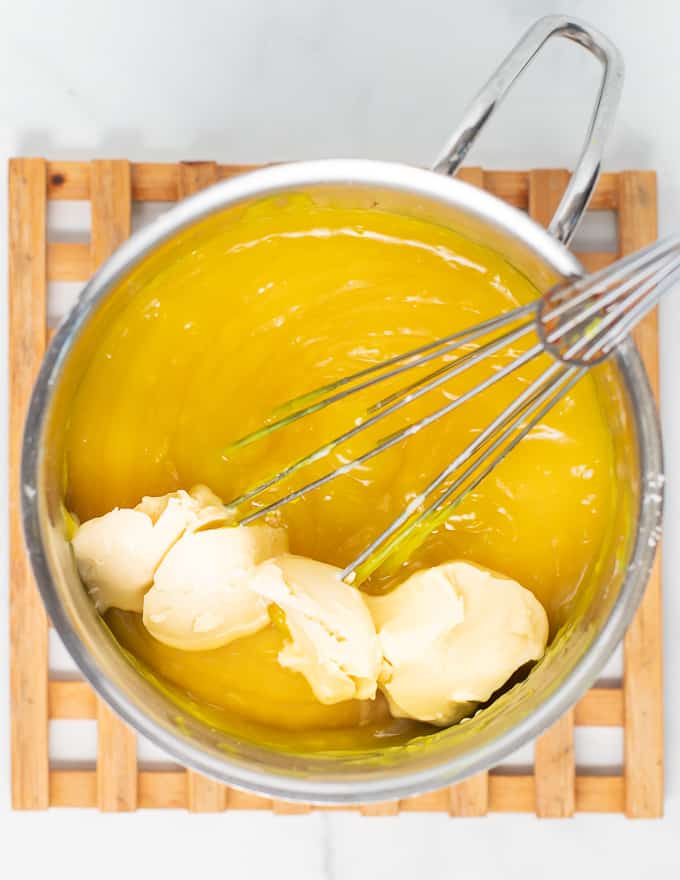 Step 4 - Pour into jars while it's warm then leave to cool.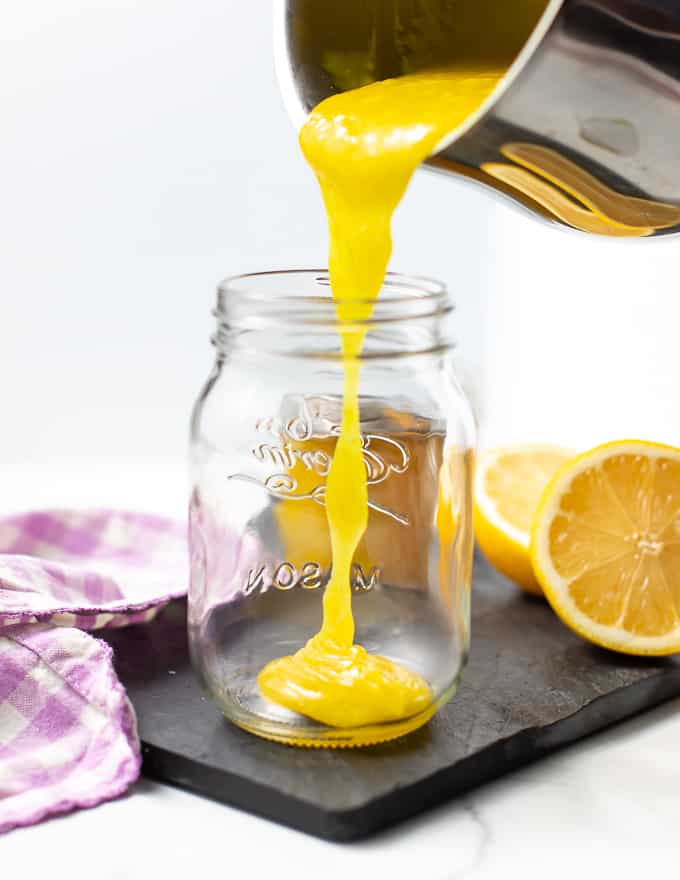 It's really hard not to eat it straight from the pan. Even hot it's incredibly good. Just be careful if you sneak a taste as with all of that sugar it is super hot and could burn your mouth.
How to store vegan lemon curd
Store vegan lemon curd in a sealed container in the fridge. Preferably a glass jar. It will thicken more as it cools and will keep well for about 2 weeks. Once it's been in the fridge for a while, a little watery looking liquid on the top on top is normal. You can pour it off or stir it in.
I haven't tried freezing the lemon curd. If you try it let me know in the comments how it fares!
Success tips
For optimum results:
- Use real lemons. The bottled juice is nowhere near as flavourful.
- Don't reduce the sugar. It provides, sweetness, flavour and structure.
- When you buy your lemons, don't refrigerate them - You'll get more juice and flavour if they stay at room temperature. Give them a firm roll under your hand, on the counter top before juicing them. This helps them to release more juice.
- Feel the lemons when you buy them. Choose the ones that feel heaviest. They contain more juice than the lighter ones.
- I recommend using organic lemons because non-organic lemons tend to be coated in wax and we are using a lot of zest in this recipe.
- Make sure the zest is very fine. I recommend using a microplane. If it's fine, once it's cooked you barely even notice it. Large pieces of zest might be a little unpleasant and would require straining.
- For best results add the optional butter. It makes this lemon curd unbelievably rich and creamy.
- Don't leave the curd unattended while it's cooking. It will go from smooth to lumpy in the blink of an eye. You must keep stirring it constantly.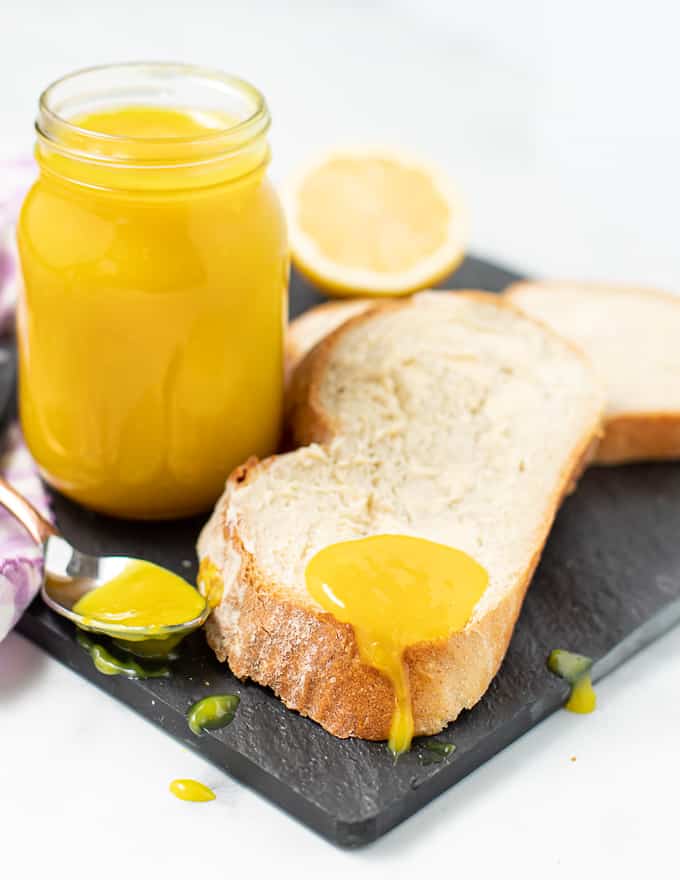 Ways to adapt my vegan lemon curd recipe
Swap the lemon for any other citrus fruit. Orange and lime both work really well.
Lemon curd uses
Lemon curd is guaranteed to brighten up any breakfast, tea or dessert. Here are some suggestions for ways to use it:
Spread on buttered bread or toast

As a filling for cakes, muffins and cupcakes. Try it in my Victoria Sponge Cake instead of jam (the recipe for the cake is in my cookbook

Vegan Comfort Cooking

).

As a filling for

Vegan English Pancakes

or crepes

Dolloped on American style thick, fluffy pancakes

On waffles

On scones

Stirred through vegan yogurt and top with raspberries, blackberries or strawberries for breakfast or dessert

Dolloped on vegan vanilla ice cream

In trifle

Stir through vegan cream cheese to make a delicious frosting

Dollop on aquafaba meringue or pavlova with whipped coconut cream for a decadent dessert

Use to make lemon meringue pie, lemon tart or Danish pastries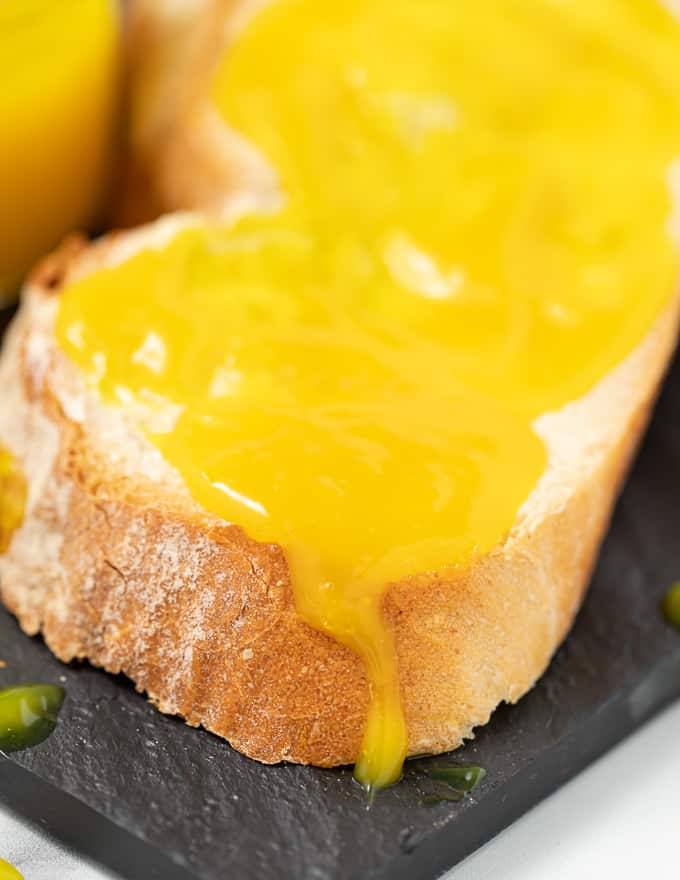 Whatever you dollop it on though, this ridiculously lemony treat is here to see your summer out, and my oh my …. What a way to go!
Hungry for more?
If you're really into zippy lemon flavours then check out my Earl Grey Vegan Cake with Lemon Frosting, Lemon Cheesecake Smoothie, Lemon Blueberry Loaf, Sticky Lemon Strawberry Sweet Rolls and my Quinoa Cranberry Salad with Lemon & Spinach.
Did you make this recipe?
Be sure to rate it and leave a review below!
📖 Recipe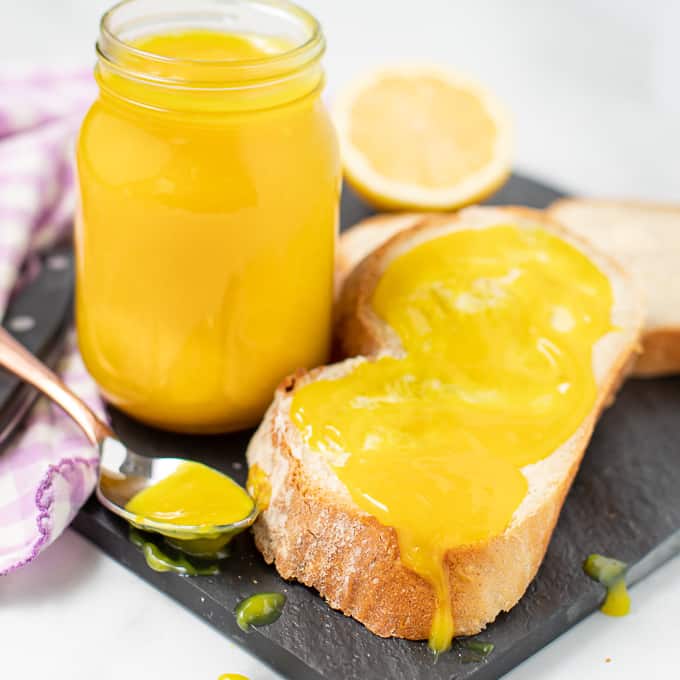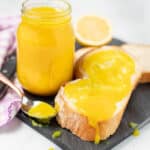 Vegan Lemon Curd
Author:
My take on the English classic - From scratch, super easy vegan lemon curd that's ready in only 10 minutes! It's deliciously, intensely, mouth puckeringly tart, but sweet all at the same time and so lusciously smooth and creamy! 
Ingredients
4 tablespoons / 32

g

corn starch

(cornflour in the UK)

1½ cup / 300

g

sugar

, either white granulated or cane sugar

1 cup / 240

mls

lemon juice

, freshly squeezed not from a bottle (roughly about 5 or 6 lemons)

1 cup / 240

mls

light canned coconut milk

, not full fat

½ cup / 120

mls

water

2

lemons

zest of

¼

teaspoon

fine salt

½

teaspoon

ground turmeric

4

tablespoons

vegan butter

, OPTIONAL
INSTRUCTIONS
Add the sugar and cornstarch to a pan and gradually add the lemon juice, stirring as you go to work out any lumps.

Add all of the other ingredients except the butter.

Get a metal spoon and place it somewhere within reach of your stove top.

Place the pan over a medium low heat and whisk constantly (don't stop as otherwise lumps will form) until it starts to thicken. Use the metal spoon to test it. Dip the spoon in then lift it out, and once the curd can easily coat the back of the spoon and not just run off it is done. Turn off the heat as soon as it reaches that stage otherwise it will end up too thick.

With the pan still off the heat, add the optional butter and whisk in until well combined then immediately pour into jars and allow to cool.
NOTES
Store vegan lemon curd in a sealed container in the fridge. Preferably a glass jar. It will thicken more as it cools  and will keep well for about 2 weeks.
Nutritional information is calculated with the optional vegan butter. 
NUTRITION
Calories:
80
kcal
Carbohydrates:
15
g
Protein:
1
g
Fat:
2
g
Saturated Fat:
1
g
Sodium:
48
mg
Potassium:
10
mg
Fiber:
1
g
Sugar:
13
g
Vitamin A:
89
IU
Vitamin C:
4
mg
Calcium:
1
mg
Iron:
1
mg
Nutritional information is provided for convenience & as a courtesy. The data is a computer generated estimate so should be used as a guide only.
Tried this recipe?
Rate it & leave your feedback in the comments section below, or tag @avirtualvegan on Instagram and hashtag it #avirtualvegan