Learn how to make homemade cashew milk. It's rich and creamy and super quick and easy with no straining involved! Easily customize the thickness to suit your needs by adding more or less water when blending.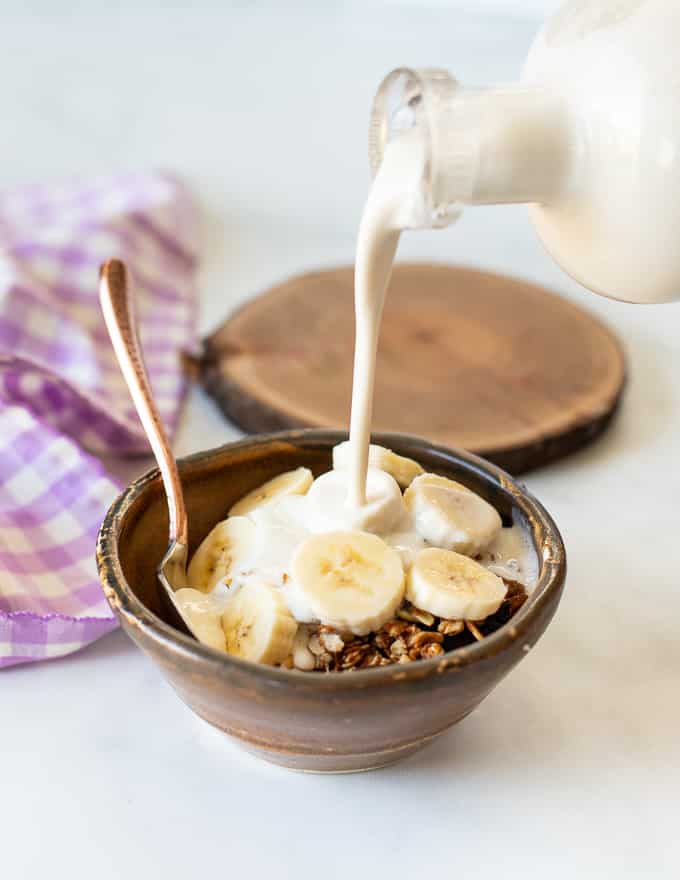 Move over Oat Milk and Almond Milk. There's another plant milk in town. Enter Cashew Milk.
My trusty and versatile friends: weird lookin, buttery, raw cashew nuts, are not only good for making cashew cheese sauce. You can also blend them with water so they magically become super creamy, silky-smooth, delicious Cashew Milk.
It's incredibly quick and easy to make and tastes so good. And a major bonus to making it yourself over buying it is that you can make it as thin or thick as you like depending on how you like it or plan to use it.
Did I mention that when you make cashew milk, there is absolutely no straining involved? I love that! The cashew nuts are soft enough to blend up completely and utterly smoothly in the water.
So, this is homemade plant-based milk for people who have zero time for hanging around watching milk strain through a bag or sieve. Because, let's face it, if you can make milk without any mess or fuss, why the heck wouldn't you?
And because there is no straining, there is no leftover pulp, which means no waste. And no leftover pulp means that all the goodness and and fibre from the nuts remains in the milk. That can only be a good thing.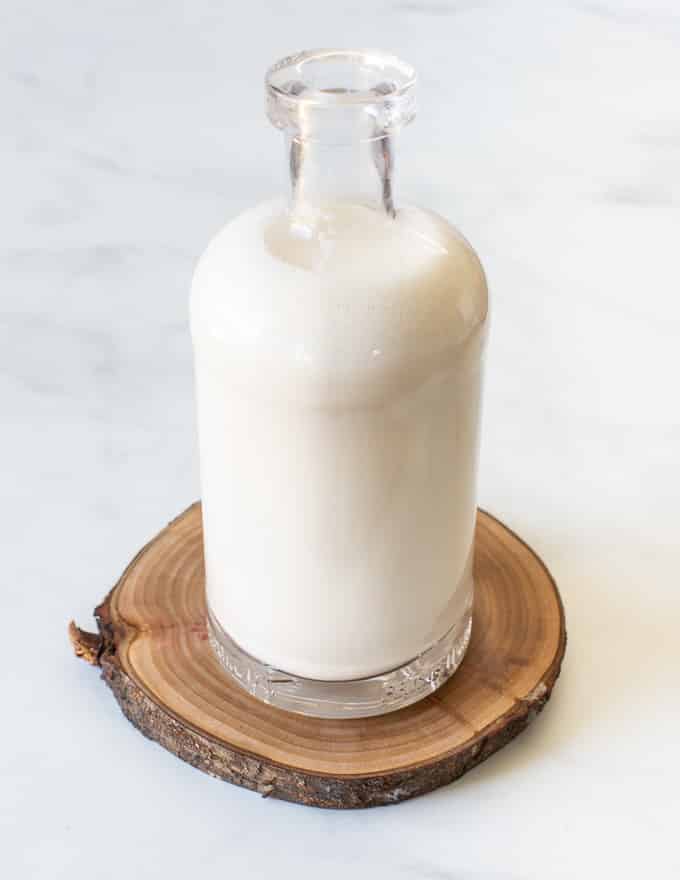 What is cashew milk?
Cashew Milk is a plant-based milk made from a blend of cashew nuts and water. It has a creamy texture and a mild, nutty flavor. It is popular with vegans, and people who are lactose intolerant. It can be used to replace cow's milk in recipes as well as being used for drinking and making hot beverages.
What is cashew milk made of?
(For detailed measurements and instructions, see the printable recipe card).
To make Cashew Milk, you only need 2 ingredients: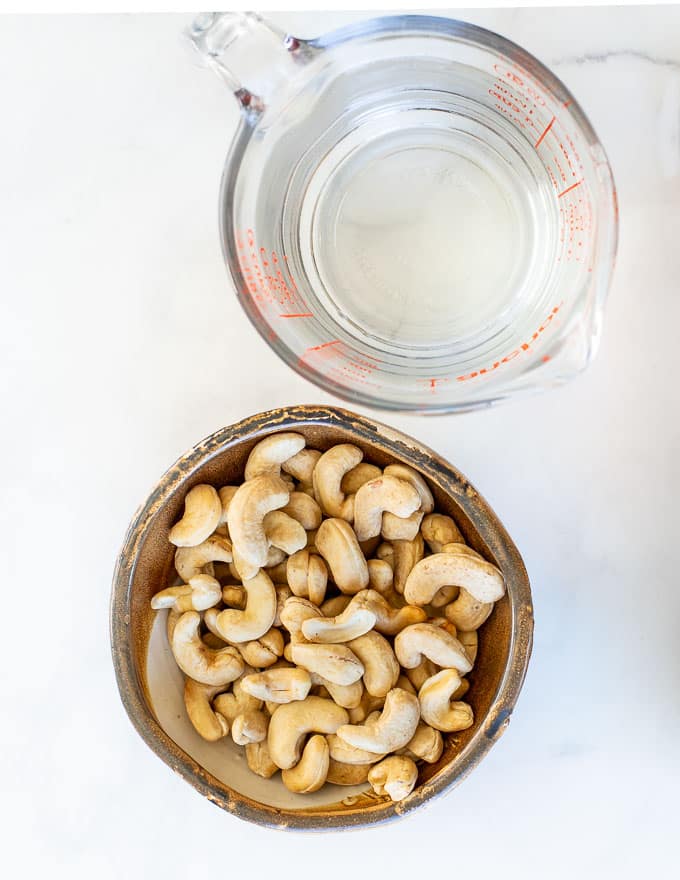 But there are some optional extras which can be added to make it even better:
Salt
Vanilla
Maple syrup or one or two dates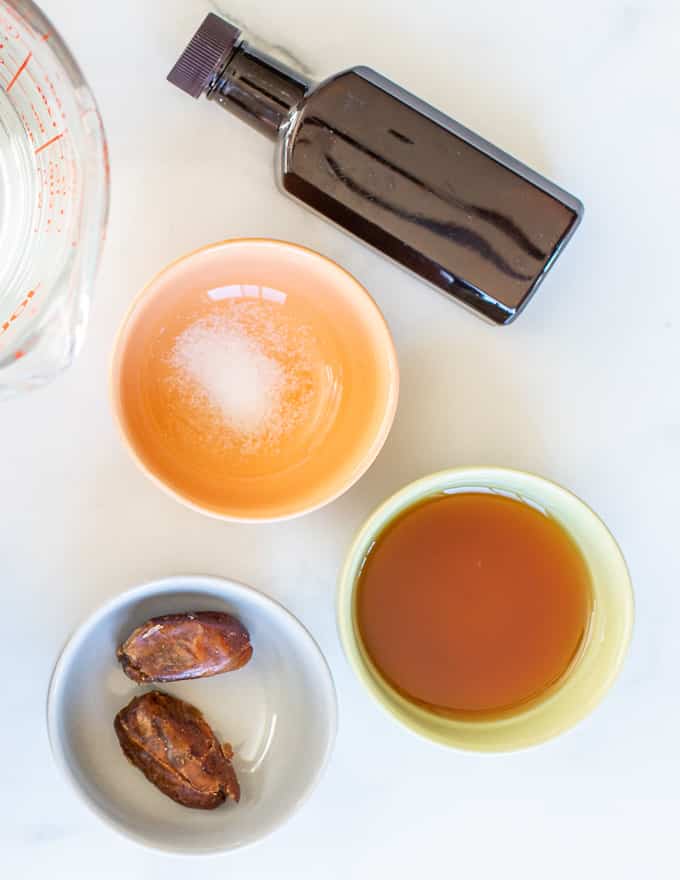 I really like to add a pinch of salt, because a tiny bit of salt makes everything better.
If you like your milk sweetened, you can add one or two dates and blend them up in the milk, or you can use a drop of maple syrup instead. And if you like a hint of vanilla, feel free to add a little vanilla extract too.
How to make Cashew Milk
Cashew Milk is incredibly easy to make at home. Here's how:
Step 1 - First you need to soak the cashew nuts. Put them in a jar or other container and cover with cold water. Leave them for 4 hours or overnight in the fridge. If you forget to soak your cashew nuts in advance, simply cover them in boiling water from a kettle and leave them for 30 minutes before proceeding with the recipe. The soaking step isn't essential if you have a high powered blender, but it does result in a smoother, creamier milk so is recommended.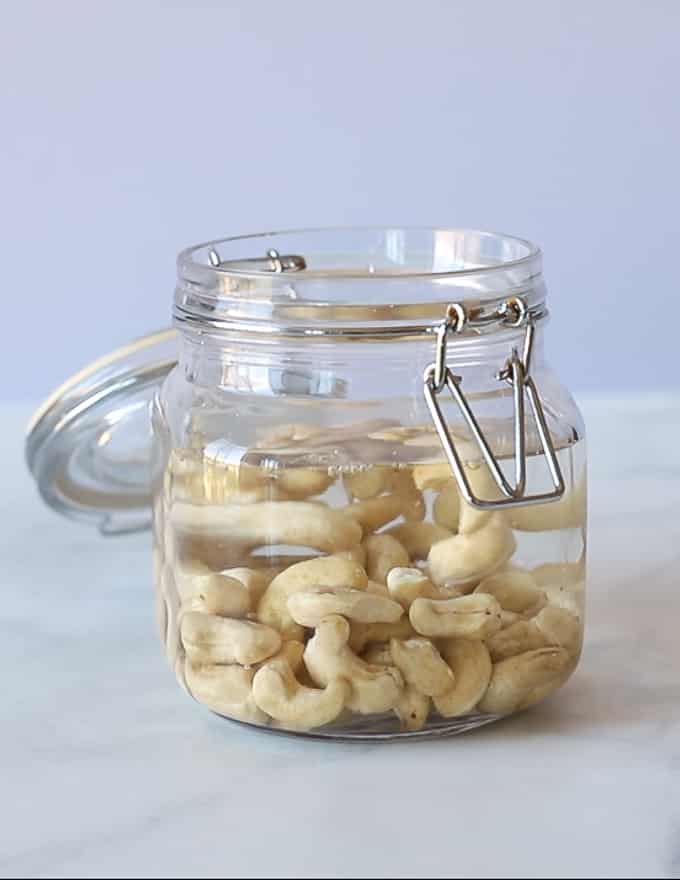 Step 2 - Blend the soaked nuts up with the water until completely smooth. Add sweetener (maple syrup or a date or two) and some vanilla extract if desired.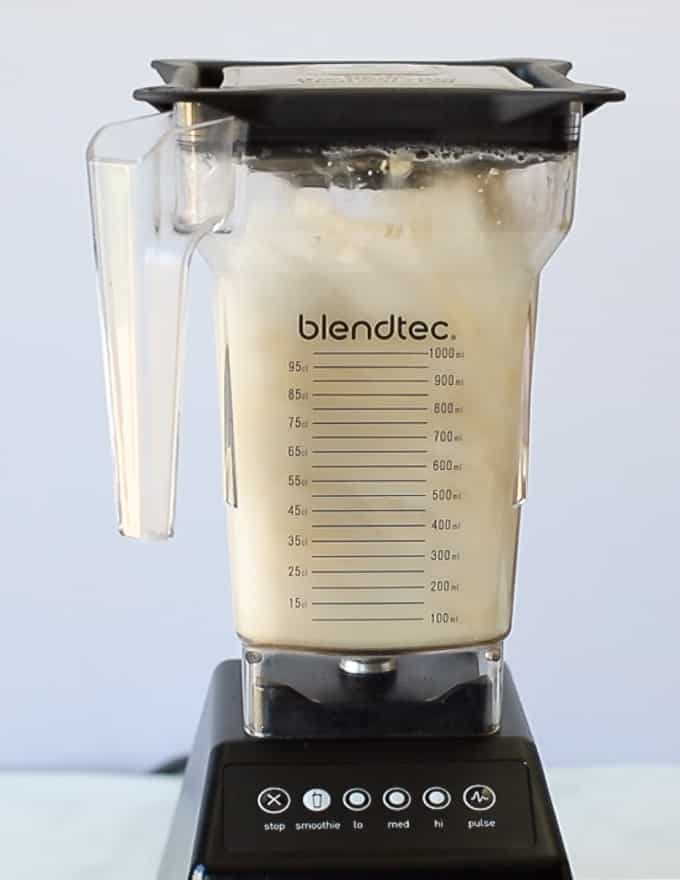 Step 3 - Pour the milk into a bottle or container and store in the fridge.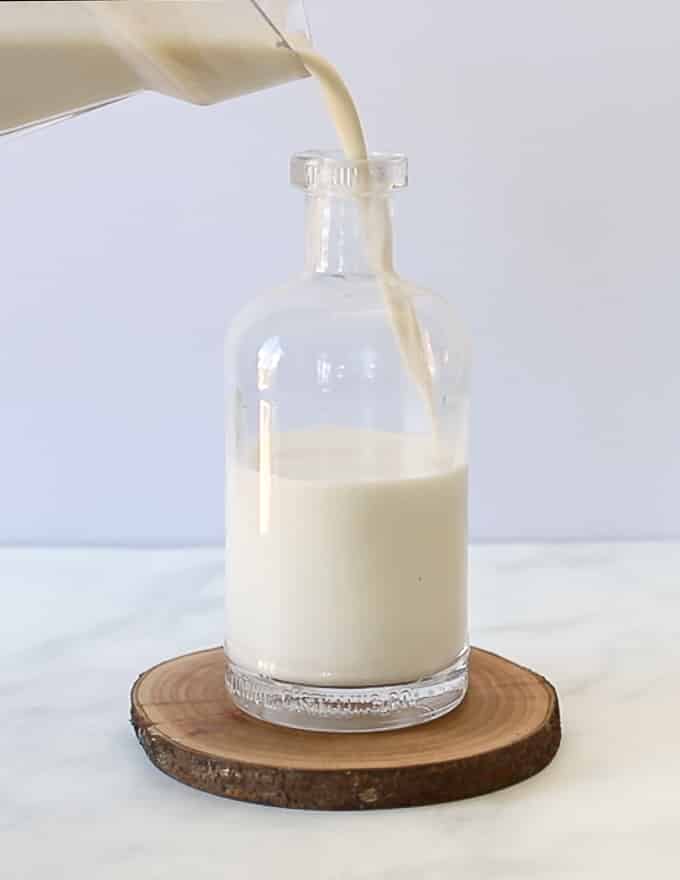 Success Tips
Raw cashew nuts are best for making cashew milk.
Play around with the optional extra flavorings, and the thickness (or thinness) to find what works for you. It's simple to adjust by increasing or decreasing the amount of water used when blending. Sweetened or unsweetened, thick or thin, it's all down to you. Make it your own!
Cashew milk separates when stored. Simply shake it up before you use it and it will be back to its creamy, dreamy self.
Homemade plant-based milks don't last as long as store bought milk because they don't contain any preservatives. This cashew milk will keep for about 5 days in the fridge but can be easily halved if necessary. Just make as much as you will need.
If you do accidentally make too much Cashew Milk, freeze the remainder in ice cube trays. Then you can pop out a cube or two at a time and thaw for coffee/tea, or add the cubes straight into your blender for extra creamy smoothies.
What equipment do I need?
To make homemade cashew milk you need a blender. Because the cashews are soft after soaking, a high powered blender isn't essential. If your blender isn't particularly powerful though, you might just need to blend the milk a little longer to get it nice and smooth.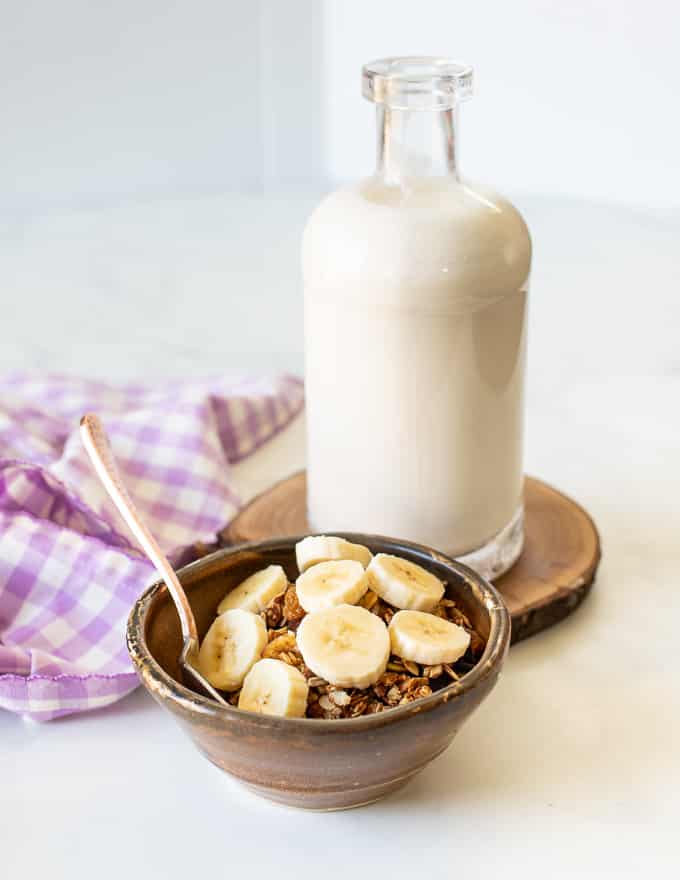 Does cashew milk taste good?
In my opinion cashew milk tastes great. It is mildly flavored, with a rich, mildly nutty, cashew-y flavor and a really creamy mouth feel. Its texture is pretty similar to cow's milk. Smooth and fluid and not viscous like oat milk.
Can cashew milk be heated?
Homemade cashew milk heats really well in a saucepan on the stove top or in a microwave and doesn't split in hot sauces like some plant milks do. It's a much better choice for heating than homemade oat milk which becomes extremely thick and gloopy when heated.
It's also great added to hot drinks. It won't split if you pour it straight from the fridge into hot drinks like tea and coffee.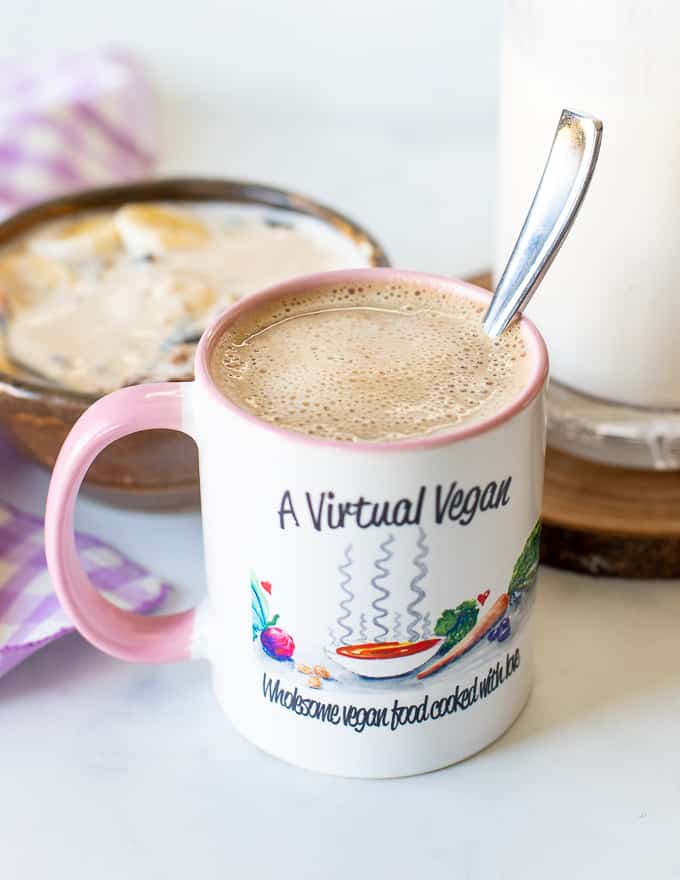 Is cashew milk or almond milk better?
Both cashew milk and almond milk are great but personally I prefer cashew milk because it's nutty flavor is a little more subtle and it is creamier. I find that when I use almond milk in recipes I can often detect it in the finished recipes. With cashew milk I can't.
Cashew milk is also much easier and less fussy to make than almond milk or oat milk because it doesn't need straining. For that reason cashew milk is always my go to.
What is cashew milk good for?
Cashew Milk can be used in any way you would use regular milk and it heats really well. Use it in:
How to store
Once you have blended up your homemade cashew milk decant it into a bottle or container with a lid and store it in the fridge.
How long does cashew milk last?
Cashew milk will keep for up to 5 days if stored in the fridge. Simply give it a quick shake before you use it.
It can also be frozen for up to 3 months. I like to keep some in an ice cube tray so that I can pop a few cubes out to add to smoothies, especially in the summer so they are extra cold, thick and creamy.
Variations
Love plain cashew milk, but want to try something new?
How about some of these ideas to switch it up? Simply add them as you blend the cashew milk up.
Vanilla cashew milk - Add 1 teaspoon of vanilla extract and some maple syrup or a couple of dates to sweeten
Chocolate cashew milk - Add 1 or 2 tablespoons of cocoa powder with 1 teaspoon of vanilla extract and a dash of maple syrup or a couple of dates
Cashew Milk Coffee - Use brewed coffee (either hot or cold) instead of the water in this recipe to make really great cashew coffee. Add a drop of maple syrup or a date or two to sweeten.
Mocha - Use cold coffee instead of water when making the cashew milk and add 1 or 2 tablespoons of cocoa powder, ½ teaspoon of vanilla extract and a dash of maple syrup or a couple of dates to sweeten
Pumpkin Spice - Add 1/2 tsp pumpkin spice, 1 teaspoon of vanilla extract and a dash of maple syrup or a couple of dates for sweetness
Golden Milk - Add 1 teaspoon of turmeric, ¼ teaspoon ground ginger, ¼ teaspoon of cinnamon and a pinch of black pepper, plus a couple of dates or a dash of maple syrup for sweetness
Chai - Simply use cold, chai tea instead of water to make the milk, and add a dash of maple syrup or a couple of dates to sweeten
Strawberry - Make my Vanilla Roasted Strawberries and add ½ - 1 cup of them to the blender when you make the cashew milk. Start off with only 2 cups of water this time though as the juicy strawberries will thin it out. You can always add more water afterwards to thin if necessary.
Make it your own. There are so many possibilities!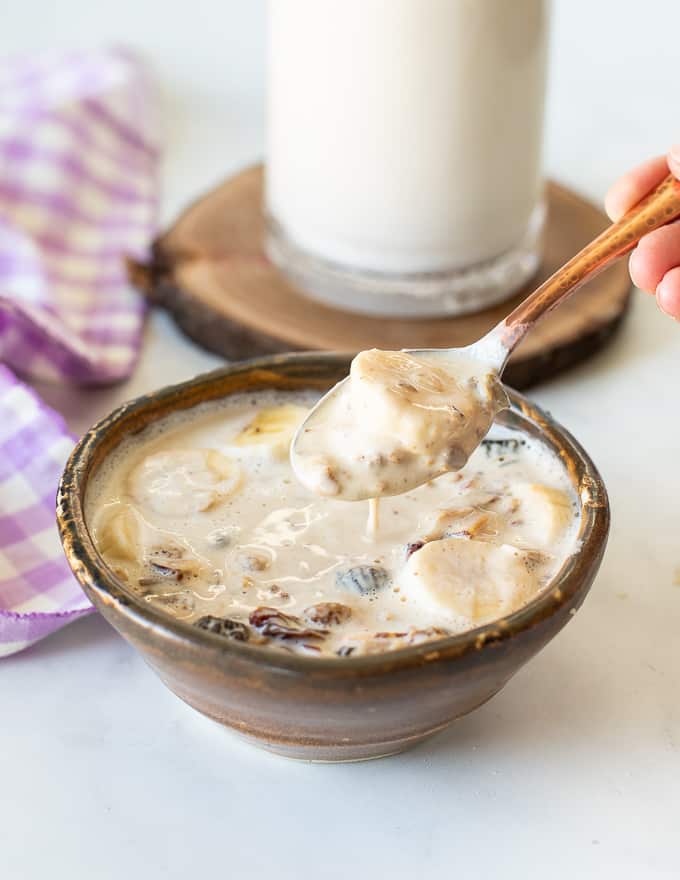 But aren't cashew nuts really expensive?
Cashew nuts do tend to be a little pricey, but 1 cup of cashew nuts makes up to 6 cups (1.4 litres) of cashew milk (depending on how thick or thin you make it).
I tend to buy Yupik Organic Cashew Nuts from Amazon because they are really good value.
To save some dollars, you can buy large bags of cashew nut pieces or broken cashew nuts. Some wholesale stores sell them as do Amazon. By buying them in pieces, or broken rather than whole you can save quite a lot.
Cashew milk benefits
The benefit of making your own milk at home is that you get to control exactly what goes into it.
Store bought cashew milk contains less fat, protein and fibre than homemade cashew milk, and that's because it contains less nuts than homemade versions. Commercial operations use smaller amounts of nuts to keep costs down, and then use ingredients like locust bean gum to thicken the milk. When made at home the nuts are what naturally thickens the milk.
Store bought milk tends to be fortified with vitamins and minerals, and because of that it has a higher amounts of some nutrients compared to homemade cashew milk. But it also almost always contains oil, preservatives, gums for thickening and often sugar too. It also contains way more sodium. I did a quick comparison, and Silk Cashew Milk contains over 10 times the sodium per cup than my recipe.
Because there is no straining involved when making cashew milk, the finished milk retains all of the nutrients, healthy fats and fibre from the nuts. Cashew milk is also naturally vegan, lactose free, dairy free, soy free and gluten free.
If you try this recipe, let me know how you like it by leaving a comment and rating below! And be sure to join my mailing list for more deliciousness!
Recipe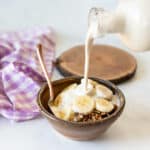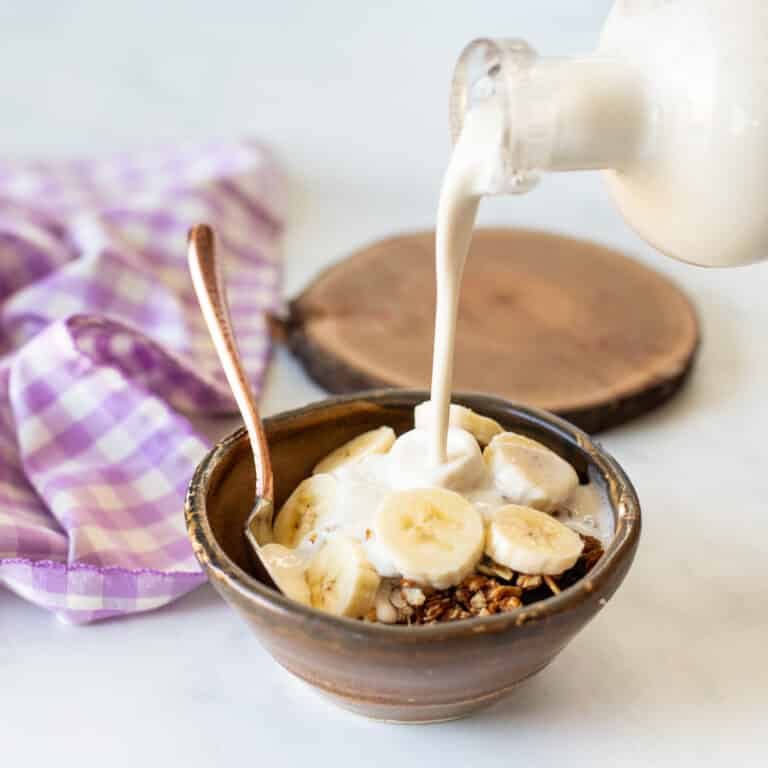 Cashew Milk
Author:
Learn how to make homemade cashew milk. It's rich and creamy and super quick and easy with no straining involved! Easily customize the thickness to suit your needs by adding more or less water when blending.
Ingredients
1 heaping cup / 140

g

raw cashew nuts

(dry measurement)

Up to 4½

cups

water

, use only as much as you need to get the thickness you like
INSTRUCTIONS
I recommend soaking the cashews for the ultimate, creamy texture, but if you are in a hurry and you have a high powered blender, you can skip the soaking. If you don't have a high powered blender, soaking is essential.

To soak, put the cashew nuts in a lidded container or jar, cover with water and place the lid on top. Soak for at least 2 hours or overnight. If soaking for an extended period like overnight, put them in the fridge. If you forget to soak the cashews, you can do a rush soak, by covering the nuts with boiling water and letting them soak for 15 - 30 minutes. 

Drain the cashews then give them a quick rinse. Put them in a blender. Add 2 cups of water. If you want to add any optional add-ins like a date or 2, maple syrup or salt, add them now then blend until completely smooth. Start on a low setting and gradually work up to high for ultimate smoothness. 

Check the texture. It will be quite thick. Like this it is great as a coffee creamer. Add more water gradually as needed, giving it a quick blend in between each addition. Once it is as you like it decant into a bottle and store in the refrigerator. It will keep for up to 5 days. 
NOTES
A 4 to 1 ratio of water to cashews yields a cashew milk that is similar to 2% cow's milk in thickness. 
Nutritional information is calculated without the optional add-ins and assumes a 4 to 1 ratio of nuts to water. 
NUTRITION
Serving:
1
cup
|
Calories:
129
kcal
|
Carbohydrates:
7
g
|
Protein:
4
g
|
Fat:
10
g
|
Saturated Fat:
2
g
|
Sodium:
12
mg
|
Potassium:
154
mg
|
Fiber:
1
g
|
Sugar:
1
g
|
Calcium:
14
mg
|
Iron:
2
mg
Did you make this recipe?
Rate it & leave feedback in the comments section below. I love seeing your remakes too. Tag @avirtualvegan on Instagram! 🌟