Say hello to my best vegan smoothie recipes! They're all dairy-free, packed with good-for-you ingredients, made in less than 5 minutes, and so delicious you'll be jumping out of bed in the morning to enjoy them. Also included are tips for making your own amazing plant-based smoothie blends!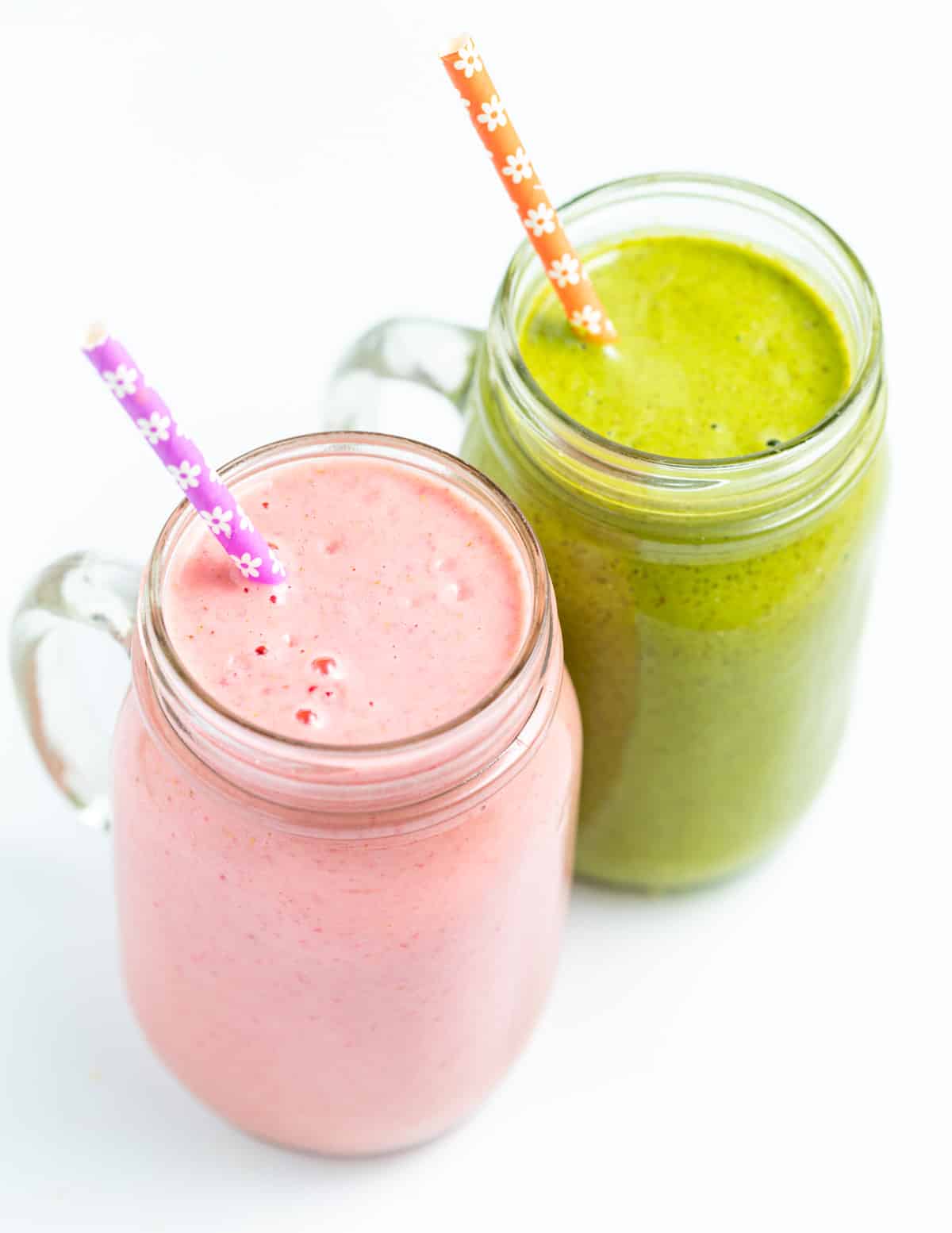 Vegan smoothies make such a healthy and convenient breakfast or snack. They are quick to make, easy to consume and travel with and are a great way to boost your fruit, vegetable and healthy fat intake each day.
Below you'll find my best vegan smoothie recipes, but first, you'll find some tips for making your own great vegan smoothies, including how to make smoothies banana-free, because that's something I get asked a lot.
Use the handy menu below to jump to where you want to be.
Jump to: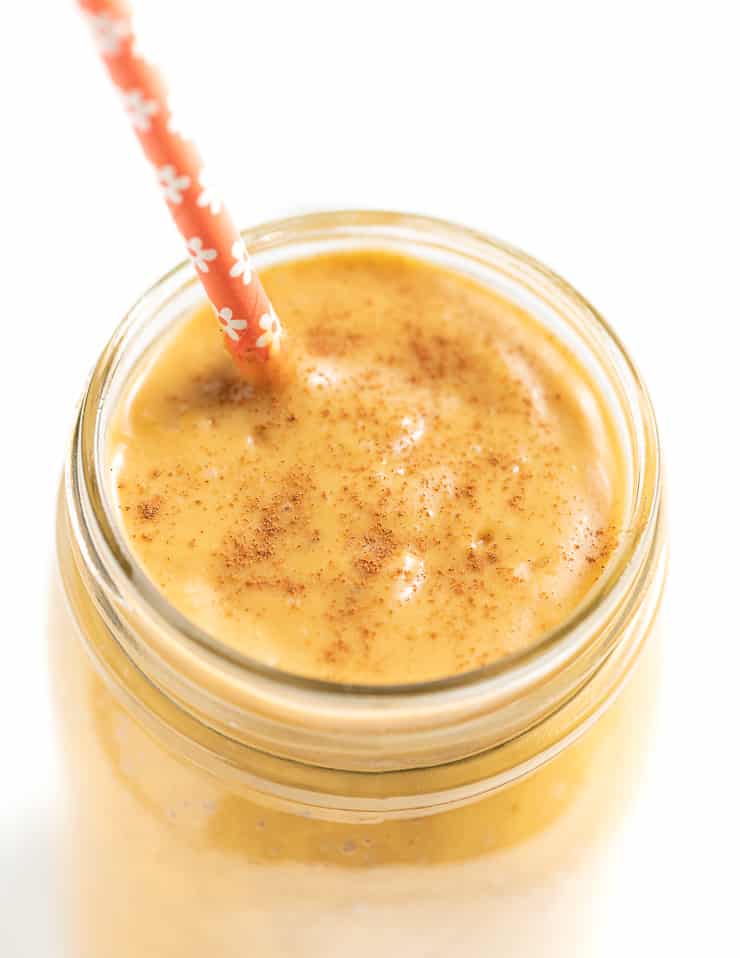 How to make a smoothie
Don't overthink your plant-based smoothies. Some of my best have been the result of improvising with what I've had on hand and throwing in what needs using up.
First, you need to gather your ingredients. A combination of the following is a good place to start when making a healthy breakfast smoothie:
A liquid base - You can use any plant milks such as almond milk, oat milk, soy milk or cashew milk, or you can use water, coconut water, canned coconut milk, fruit juice or even cold coffee or matcha. My preference is almost always plant milk .. whatever one I happen to have in the fridge. I personally don't like using water or coconut water because they make smoothies too ... you guessed it ... watery, and I don't usually use fruit juice because usually my smoothies are already loaded up with fruit.
Frozen fruit - Whether you use one variety or a mixture, frozen fruit will chill your smoothie and make it thick and creamy. You can use store-bought frozen fruit, or chop and freeze fresh fruit. Frozen banana is almost always my go-to frozen fruit because it makes smoothies extra creamy in a way that other fruits don't. I alway buy double the bananas I need so that I have plenty of overripe ones to freeze for my smoothies. If you aren't a banana fan though, don't worry, it's perfectly possible to make a great smoothie without them. Check out my banana-free smoothie making tips!
Fresh fruit - I like to use a combination of fresh and frozen fruit. Frozen to thicken and chill, and fresh for its great flavor. As far as smoothies are concerned any fresh fruit will work.
Some healthy fats. This can come in the form of nut or seed butter (like peanut butter, almond butter or sunflower seed butter), coconut, avocado, chia seeds, flax seeds, hemp hearts or hemp seeds, nuts, sunflower seeds or pumpkin seeds.
Greens - Fresh leafy greens such as spinach or kale are great in smoothies. Unless you really like green-tasting smoothies be careful with how much green stuff you add. Start with a small amount and work your way up until you get to the level of greenness you enjoy. Personally I don't like my smoothies to taste too green.
Other vegetables - To pack in extra nutrients and fibre and lower sugar content try adding frozen zucchini and cauliflower, sweet potato (raw or cooked), fresh or frozen carrots, beets, pumpkin or squash.
Sweetener - I like to either add a medjool date or a tiny drop of maple syrup. Of course whether any sweetener is necessary depends on the other contents of your smoothie. Some fruits are sweeter than others. If you aren't sure whether it is needed or not it's wise to blend your smoothie without any, give it a quick taste then add some after iif necessary, then blend again to combine.
Extra optional add-ins - As per the list below for more flavor/nutrition.
A good rule of thumb for a medium-thick vegan smoothie is to go for 2 cups of frozen ingredients and 1 cup of liquid. You can also add up to 1 cup of fresh fruit too. Everyone has their own smoothie thickness preference though so adjust accordingly to suit you. Also, bear in mind that any add-ins you include will thicken the smoothie so you will need to adjust the liquid to compensate for them.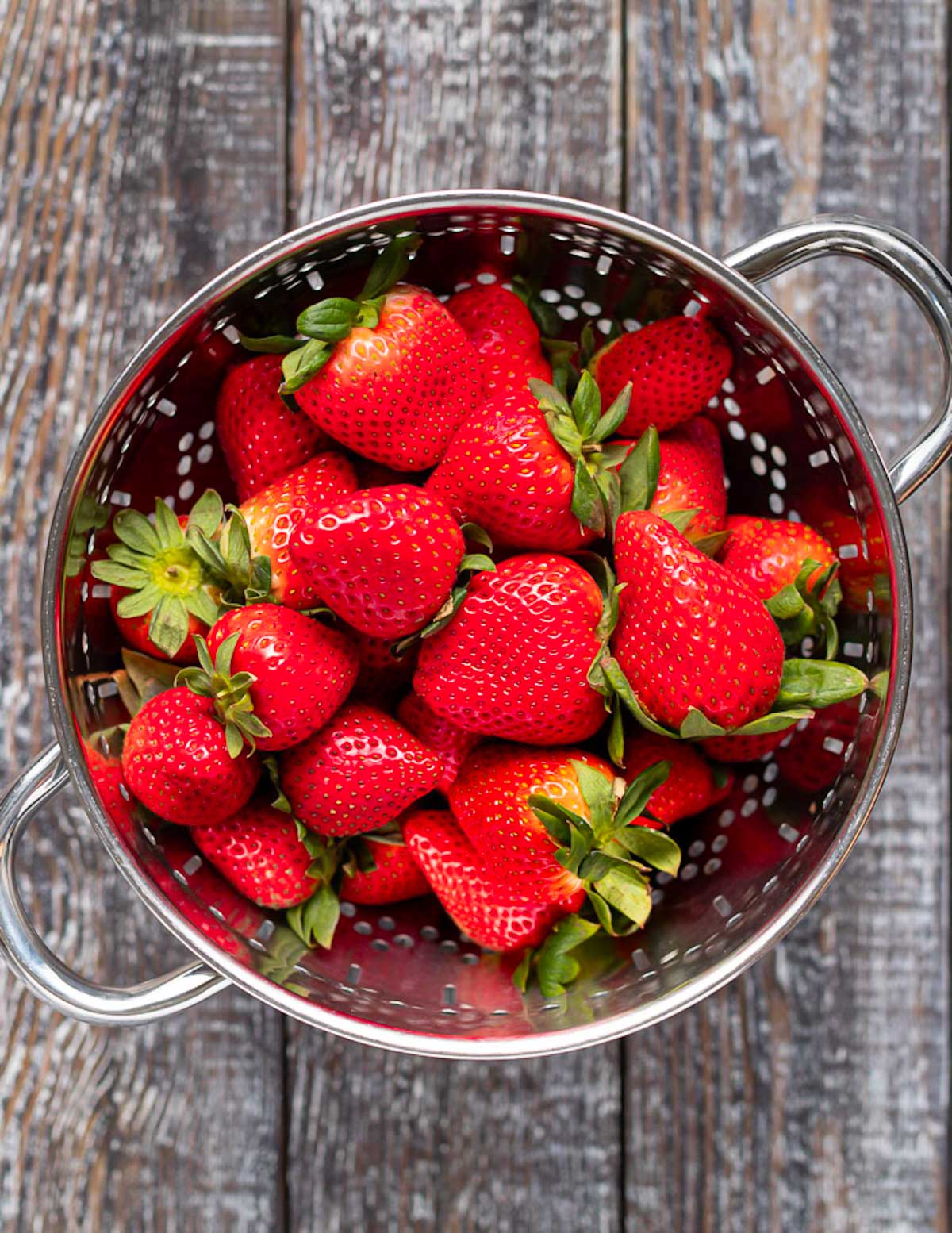 Smoothie add-ins
If you are looking to add extra nutrition, healthy fats or flavor to your vegan smoothie recipes, try including one or more of these add-ins:
Nut or seed butter
Oats
Cooked quinoa
Seeds like chia, flax and hemp
Avocado
Cacao or cocoa powder
Matcha
Vanilla or almond extract
Protein powder
Raw nuts like walnuts or pecans
Acai
Spices like turmeric, ginger, cinnamon, pumpkin spice and allspice
Superfood powders such as spirulina, chlorella, moringa, camu camu, adaptogens.
A squeeze of lime juice tends to brighten most smoothies
Why I don't use ice in smoothies
I never use ice in my smoothies. That's because it dilutes the flavor and makes them taste watery. Frozen fruit is a much better choice because it chills the smoothie, provides loads of flavor and it thickens.
How to make a smoothie without banana
If you want to make a delicious vegan smoothie without bananas check out my:
Or try subbing these ingredients for banana in other vegan smoothie recipes:
Vegan yogurt and ice- About half a cup of yogurt and a handful of ice. If the yogurt is unsweetened you might need to add a date or some maple syrup to make up for the sweetness a banana would have.
Raw zucchini - It adds amazing creamy texture when blended into smoothies and has a really mild flavor. You can add it fresh or frozen although you'll get the best thickening and creamy effect if it's frozen.
Frozen cauliflower - Your first thought might be "Ewwww" but cauliflower is really mild and when frozen it adds amazing creaminess when blended into your smoothie. Its flavor is easily overpowered and hidden by your other smoothie additions.
Frozen avocado - It is super-creamy when blended up and makes a great banana sub. You can buy it ready chopped and frozen these days or cut ripe avocados into chunks and freeze them yourself. It's a great way to use up overripe avocados.
Cooked sweet potato - It adds substance to smoothies and makes them really smooth and velvety. When replacing banana it's best used frozen for ultra-creaminess. Try freezing it in ice cube trays so you can pop some out when you need it.
Frozen mango - Pretty easily available in bags at the grocery store, it thickens really well and gives a nice creamy texture. It also has a really gentle flavor so won't overpower whatever else you've got going on.
Cooked or canned pumpkin/squash - You can use butternut, acorn, kabocha squash, pumpkin or any other squash. Like cooked sweet potato, it adds substance and makes your smoothie creamy and velvety but is best used frozen when replacing banana and for the best ultra-creamy, thickness.
Cooked carrots - They have a hint of sweetness that makes them a great option for smoothies. They work particularly well with orange or spiced, fall-type flavors. Think carrot cake! Try steaming them then freezing them ready for when you need them.
Cooked beetroot - Beets have a really sweet taste and a smooth creamy texture when blended that works perfectly in smoothies and they make your smoothie look extra pretty too!
Chickpeas - Sounds weird I know but if you've tried my amazing Lemon Cheesecake Smoothie you'll know how well they work in it. You can add them straight from the can or freeze them first. They thicken, add creaminess and provide a massive protein boost!
Canned fruits like pineapple, peaches or pears.
When using these ingredients in place of banana be sure to choose the one that works best with the other flavors in the smoothie and use an equivalent to a banana amount. With most, you will get the best results if they are frozen. That way you are really replicating the effect a frozen banana has in a smoothie.
Are vegan smoothies healthy?
Vegan smoothies can be extremely nutritious and are a great way to pack a good percentage of your daily quota of fruit, vegetables, healthy fats and protein into a quick and convenient meal. They are especially good for people who find it difficult to eat enough of these throughout the day.
To make a balanced, nutrient-dense plant-based smoothie, rich in antioxidants and filling fiber, "the perfect recipe includes sources of fiber, protein, and healthy fats," says Kylie Ivanir, MS, RD. See her tips for building a healthy plant-based smoothie here.

Smoothie bowls
Smoothies in a glass are great but smoothie bowls are even more fun because you can top them with all of your favourite things! To turn a smoothie recipe into a smoothie bowl, simply reduce the liquid to make it extra thick. A good rule of thumb is to start with about half, blend, see how you go and a little more as necessary to get things blending smoothly but staying nice and thick so that your toppings stay on the top and don't sink.
Smoothie bowl toppings
If you do make a smoothie bowl you might be wondering what you can top it with. Here are some of my favourites:
A dollop of nut or seed butter
Shredded coconut or coconut flakes
Sliced fresh fruit
Fresh or frozen berries like blueberries, raspberries and strawberries
Broken up cereal bars or protein balls
Nuts
Seeds
Dried fruit like raisins, cranberries, dates or sour cherries
Cacao nibs
Chocolate chips or chunks
Blenders
I've owned my fair share of blenders. All super cheap ones until I invested in a Blendtec blender.
When it comes to blenders I've learned that quality really does matter. My smoothies have never been so good. My Blendtec pulverizes everything and my smoothies turn out really smooth, creamy and luscious.
My blender is old now and the model is no longer available but here is the present-day equivalent. I wouldn't hesitate to buy another.
Vitamix is also a great brand to look out for though, and it's worth knowing that both Blendtec and Vitamix sell reconditioned models on their websites that come with a full warranty. It's a great way to save some dollar bills!
---
Vegan smoothie recipes
Now that you know how to make great plant-based smoothies, let me share with you some of my most popular, tried and true vegan smoothie recipes. Whether you like berry smoothies, chocolate smoothies, or green smoothies, I've got you covered!
---
If you've been looking to up your vegan smoothie recipe game then I hope this guide to plant-based smoothies has been helpful. Happy blending!