Learn how to make your own almond butter with my easy one-ingredient Almond Butter Recipe. It's drippy, delicious, and full of nutty, roasted almond flavour!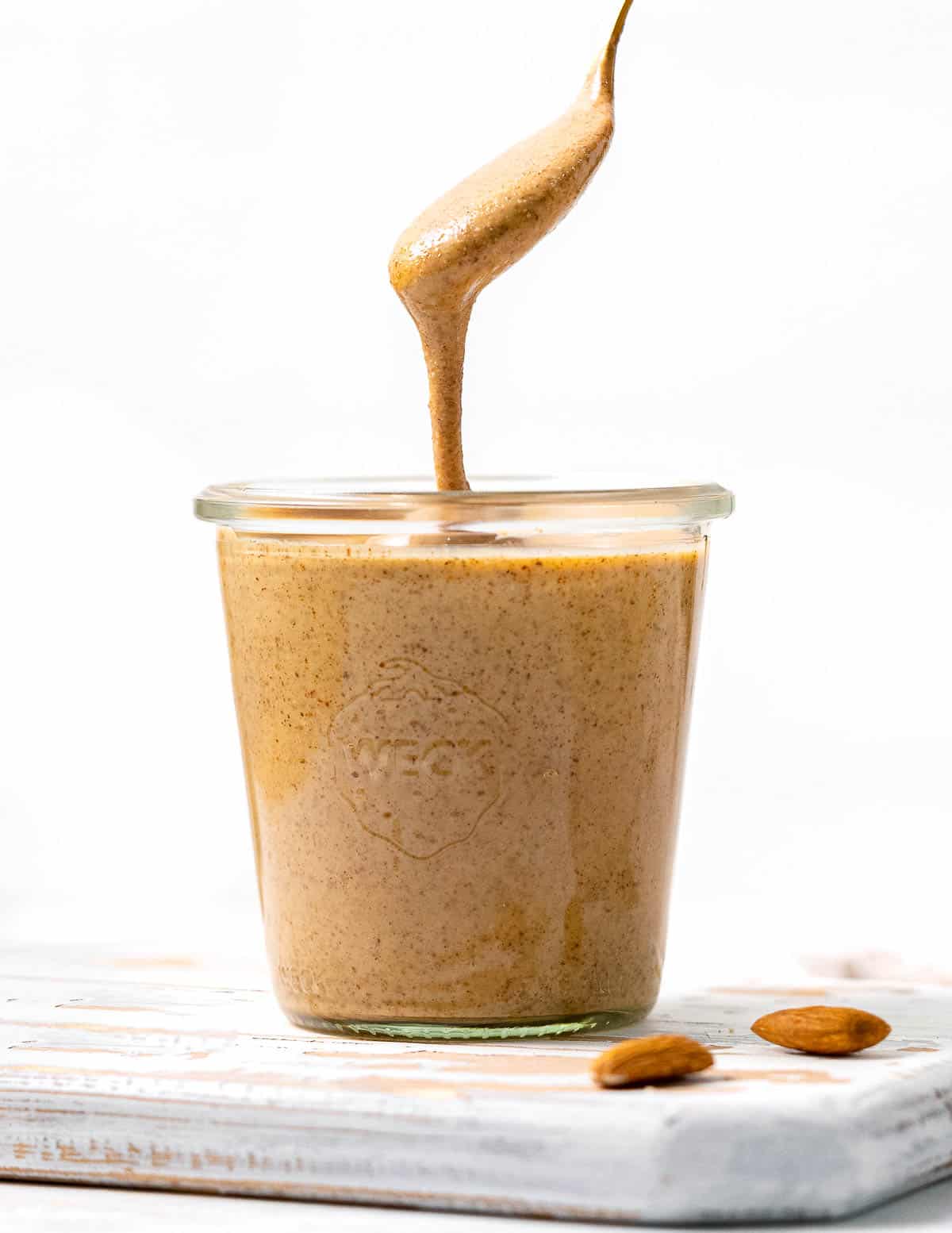 We've made our own delicious Almond Milk and now we are moving on to Almond Butter!
With this super easy almond butter recipe you have your own jar of drippy, nutty, toasty, deliciousness in under 30 minutes!
In this post - Everything you need to make the best almond butter:
Jump to:
Ingredients
To make almond butter you need just one ingredients. Almonds!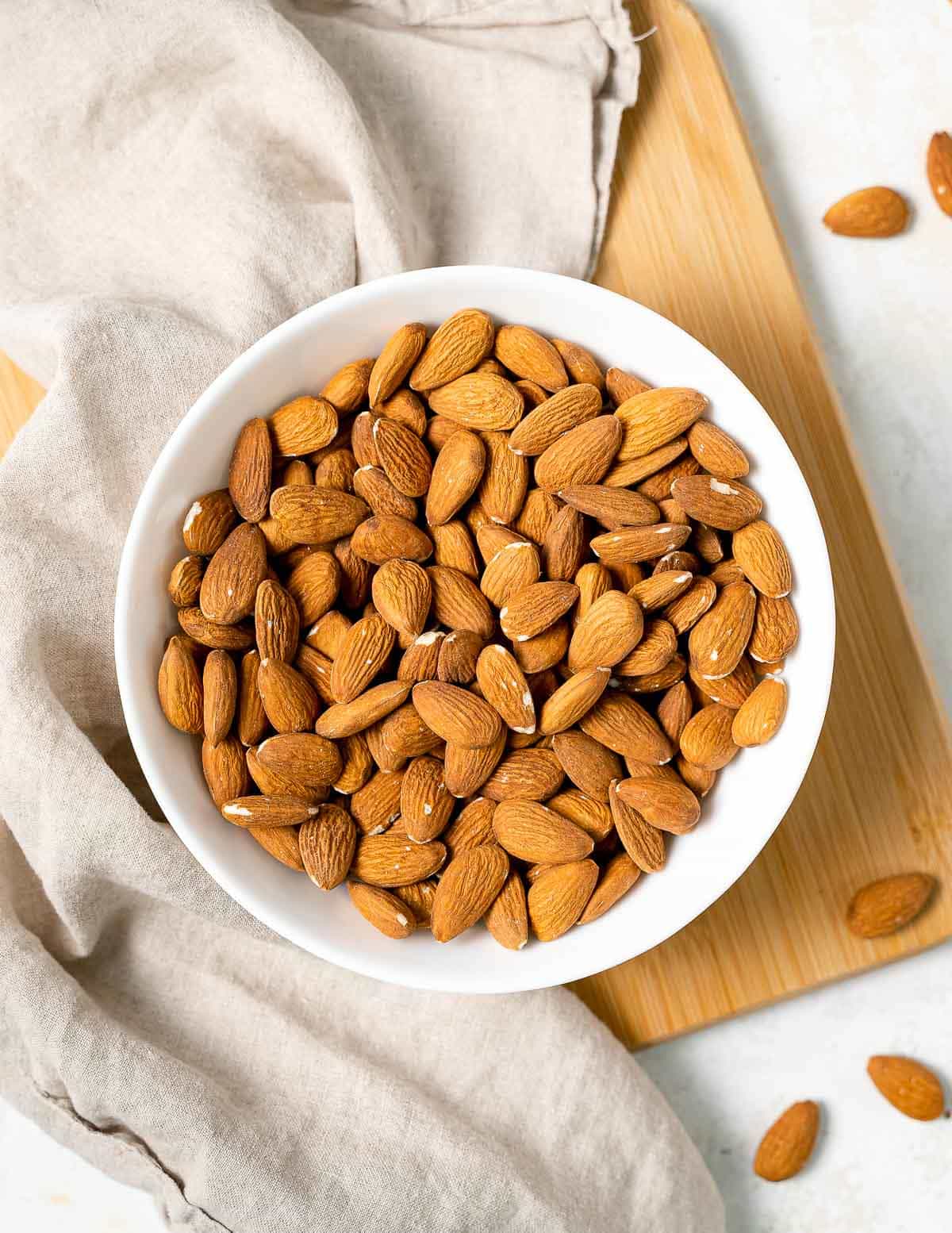 How To Make Almond Butter
First up, as with my tahini recipe where we toast the sesame seeds first, for the very best flavour and the drippiest consistency, I recommend roasting the almonds. This enhances their flavour and helps to release their natural oils, making blending much easier.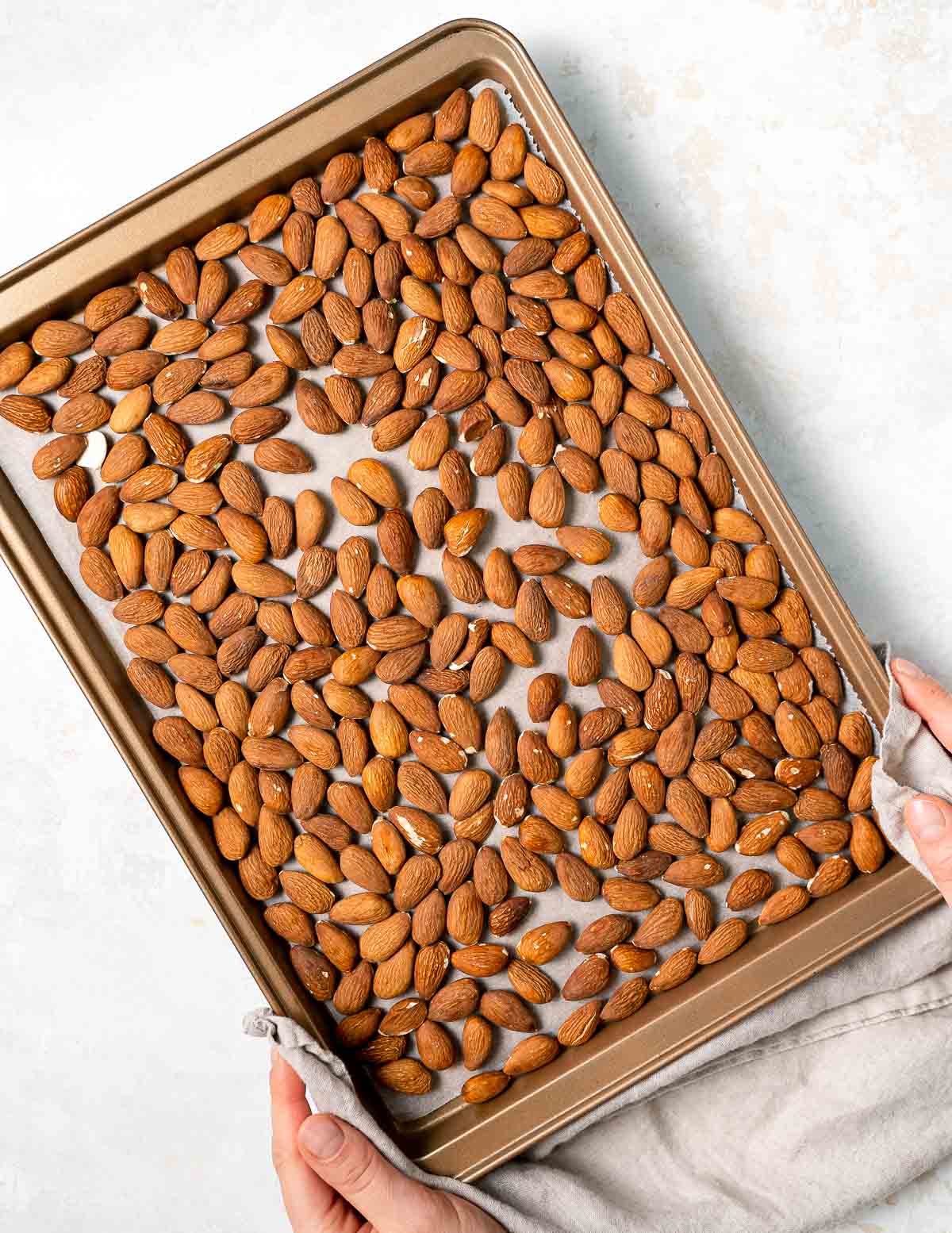 Spread the almonds out on a baking tray and roast them for 10 minutes. Let them cool down a bit before adding to a food processor, then you can process until they become drippy and smooth almond butter.
Expert tip - Do not put the almonds straight from the oven into your blender/food processor. Nuts contain lots of oil which heats to temperatures far above something like soup and you risk melting your canister or overheating your machine. Let them cool for a few minutes until warm, not hot.
Here you can see the stages your almond butter will go through while blending: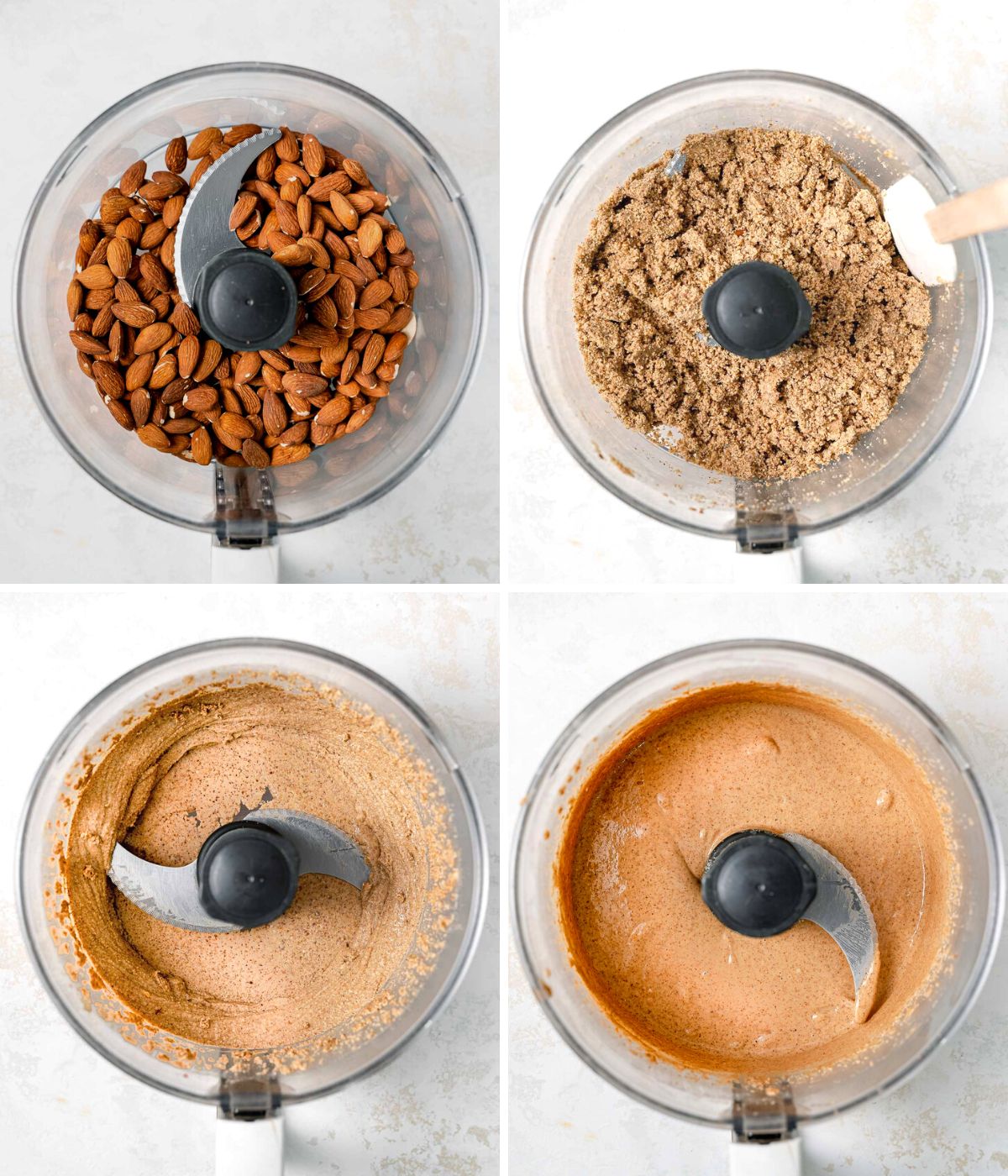 First it will become sandy, then it will become a grainy, thick paste, and then suddenly it will become really creamy and smooth.
The key is patience and to push through the grainy phase. Don't give up. Magic will happen! The time it takes will depend on the power of your blender/food processor. In my powerful Cuisinart food processor it takes about 10 minutes.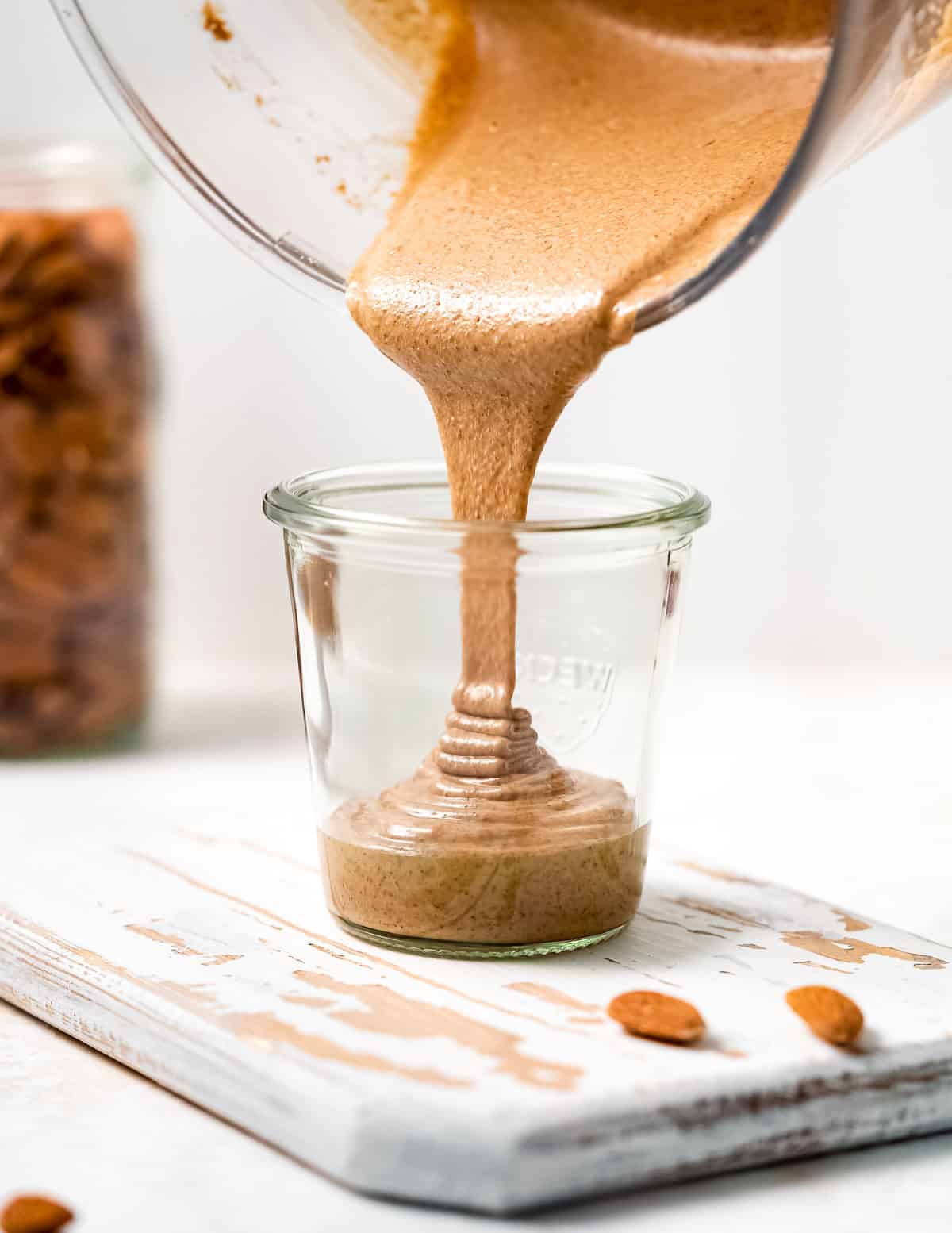 Adding Flavourings/Sweetener
If you want to add other flavourings such as salt, sugar, cocoa or spices when making this almond butter recipe, add them after the nuts have been processed into a smooth creamy almond butter.
I don't recommend adding any liquid flavourings/sweeteners because of the risk of seizing. This includes vanilla extract and maple syrup.
If adding brown sugar or coconut sugar which have a tendency to absorb moisture from the air, be sure to use a brand new unopened bag so you know it is completely moisture-free. Don't use one that's been opened before.
When almond butter seizes it will not develop a creamy texture. Instead it will become clumpy, lumpy or grainy and no matter how long you blend it will never become drippy or smooth. Definitely a scenario you want to avoid.
Why I Recommend Using a Food Processor Not a Blender
I recommend using a food processor rather than a blender when making nut butter. It is possible in a blender but even high powered machines like Vitamix and Blendtec can struggle when there is no oil being added. To get a creamy nut butter lots and lots of scraping down and tampering will be needed.
Food processors are definitely more of a work horse and cope with jobs like this much better. They easily turn nuts into butter. Not to mention how much easier it is to scoop the finished almond butter out of a shallow food processor with a removable blade, compared to a tall narrow blender canister with the blade in situ.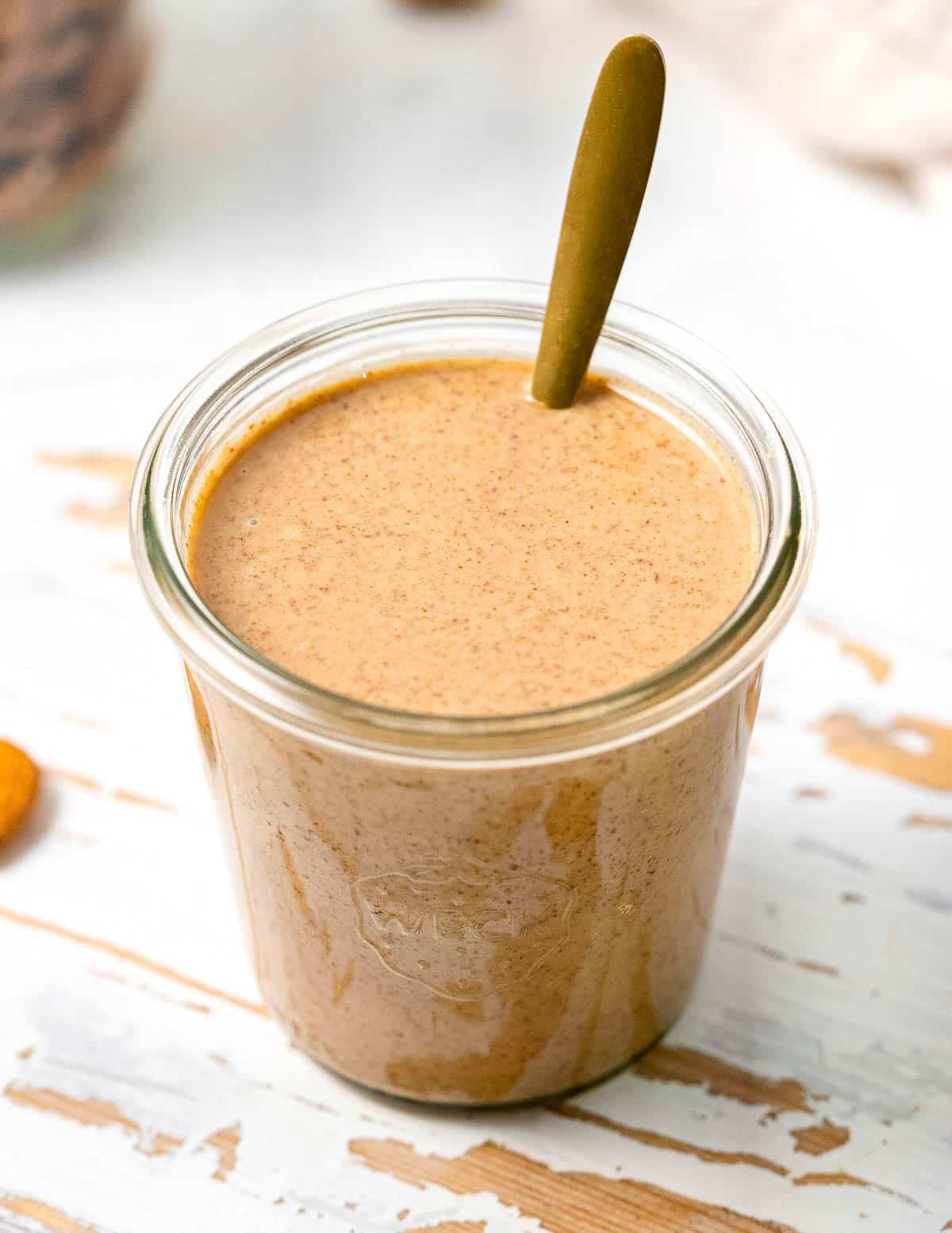 Storing Homemade Almond Butter
Store homemade almond butter in a glass jar in the pantry or the refrigerator. In the pantry it will stay creamier and looser and will keep for about 3 weeks. In the fridge it will become a little firmer but will keep for a few weeks longer.
Bear in mind that the length of time it stays fresh will depend on many factors such as the freshness of the almonds used, temperature, humidity, and cleanliness of utensils when serving.
I haven't tried freezing almond butter but according to Pantry & Larder who have tested this, it freezes very well. They have lots of helpful info and tips in their Can You Freeze Almond Butter article.
How To Use Almond Butter
Wondering what you can do with almond butter? It's a pantry staple here at AVV HQ! Enjoy it spread on toast (I love it with some jam too), English muffins, banana bread, or homemade sourdough, or with fruits and veggies like apple, celery and banana, in smoothies, or dolloped on your pancakes, oatmeal, yogurt, or overnight oats.
You can also use it in dips, sauces, curries, or any recipe that calls for almond butter or peanut butter. It's delicious in my Peanut Noodles and Peanut Sauce! Such a versatile ingredient.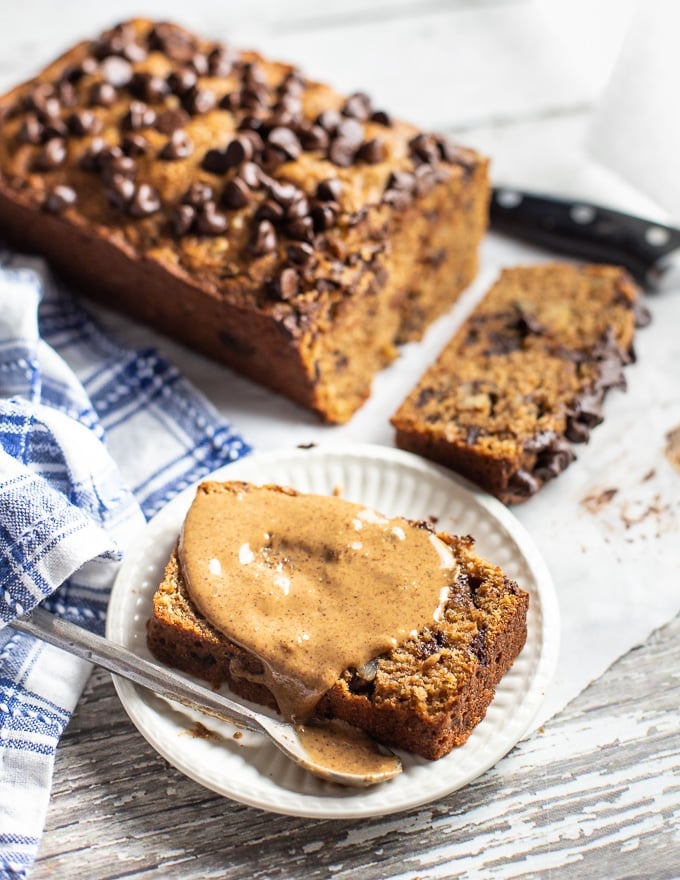 Homemade Almond Butter Recipe FAQs
My almond butter won't become smooth. What should I do?
As long as you've followed all of my advice in the post above and haven't added any liquids or flavourings which could have made it seize, then don't worry, it's salvageable! Problems blending can happen if your food processor/blender isn't quite up to the job, if the almonds haven't been roasted, or due to the quality of the almonds used. Quality, environment during distribution and storage, and packaging varies hugely and this can affect how they blend. If you are struggling, add a little neutral oil to the blender or food processor 1 tablespoon at a time until things get going and it starts turning creamy.
Can I make this recipe without roasting the almonds?
Roasting helps to release the natural oils in the almonds which makes blending a lot easier. If using a good food processor you should be able to get away without roasting them. If you are using a blender I do not recommend not roasting the almonds unless you are ok with adding a tablespoon or two of oil to help get things going.
Should I soak the almonds?
Don't soak the almonds before using them. Any presence of water will make the almond butter seize, and even if you dry them thoroughly in the oven after soaking you will have washed away precious natural oils which are necessary for effective blending.
Can I use this method to make nut butter with other nuts?
Yes. This method will work with any nut such as peanuts, walnuts or pecans.
If you try this recipe, let me know how you like it by leaving a comment and rating below! And be sure to join my mailing list for more deliciousness!
Recipe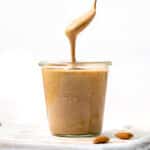 Almond Butter Recipe
Author:
Learn how to make almond butter with my easy one ingredient Almond Butter Recipe. It's drippy, delicious and full of nutty, roasted almond flavour!
Ingredients
3 cups (432

grams)

raw almonds
INSTRUCTIONS
Preheat oven to 350°F (176°C).

Spread almonds out on a rimmed baking sheet and bake for 10 minutes. They should smell nutty and toasty. Leave them in the pan to cool for 5 minutes before continuing. They should be warm but not hot when blending.

Make sure the food processor bowl, blade, and any spatula used is completely dry. One tiny drop of water could make your almond butter seize.

Add the warm roasted almonds to a food processor (do not add anything else) and process until completely smooth and creamy.

Scrape the sides and the bottom with a spatula as needed for even mixing and if your food processor or blender starts getting a little warm give it a break for a few minutes. It could take anything from 7 to 20 minutes depending on your food processor/blender.

Patience is key here. It will go through several stages. First it will look like coarse almond flour, then wet sand, then a very thick grainy paste, and then magic will happen and it will suddenly become completely smooth and creamy.

Once the almond butter is smooth and creamy you can add a pinch of salt if desired (or other dry flavourings) and give it a quick blend to combine before spooning into jars for storage.

DO NOT add anything liquid and if using brown/coconut sugar open a brand new bag. Don't use one that has previously been opened. See the section in the post above about adding flavourings/sweetener for more info.
NOTES
Store homemade almond butter in a glass jar in the pantry or the refrigerator. In the pantry it will stay drippier and looser and will keep for about 3 weeks. In the fridge it will become a little firmer but will keep for a few weeks longer.
NUTRITION
Serving:
1
cup
|
Calories:
103
kcal
|
Carbohydrates:
4
g
|
Protein:
4
g
|
Fat:
9
g
|
Saturated Fat:
1
g
|
Polyunsaturated Fat:
2
g
|
Monounsaturated Fat:
6
g
|
Trans Fat:
0.003
g
|
Sodium:
0.2
mg
|
Potassium:
131
mg
|
Fiber:
2
g
|
Sugar:
1
g
|
Vitamin A:
0.2
IU
|
Calcium:
48
mg
|
Iron:
1
mg
Did you make this recipe?
Rate it & leave feedback in the comments section below. I love seeing your remakes too. Tag @avirtualvegan on Instagram! 🌟