Vegan Cream Cheese frosting that's smooth as silk, decadently creamy, sweet and tangy. It's easy to make, spreads onto baked goods with ease, holds its shape when piped, and has endless uses!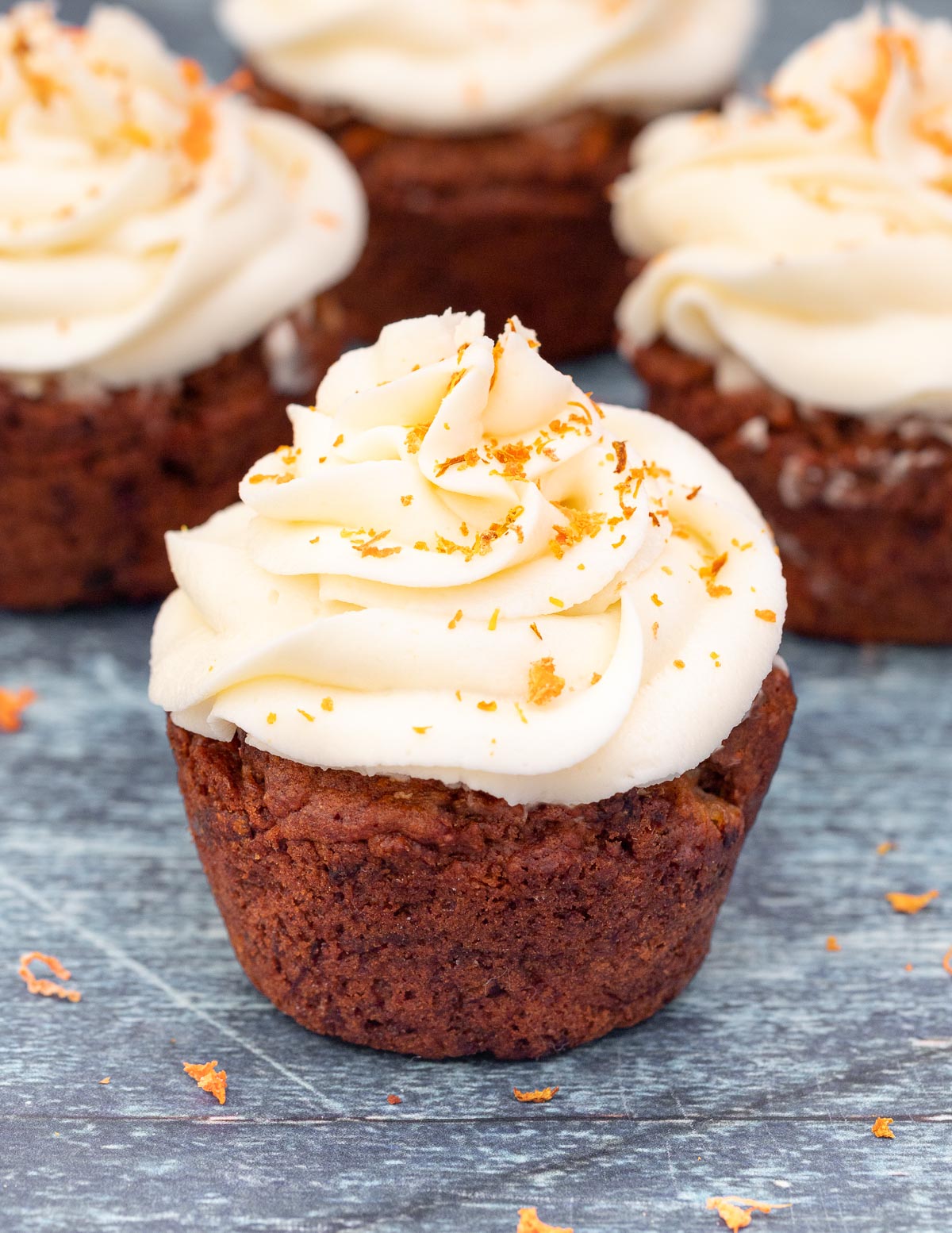 Vegan Cream Cheese Frosting! We're talking legit silky, creamy, buttery, tangy and decadent and 100% as delicious as any non-vegan version.
It's able to hold its own when being piped or sandwiched between cake layers (hello Vegan Hummingbird Cake), and won't squirt out the sides and leave you with no filling in your cake.
Ingredients
Here are the ingredients you need to make vegan cream cheese frosting: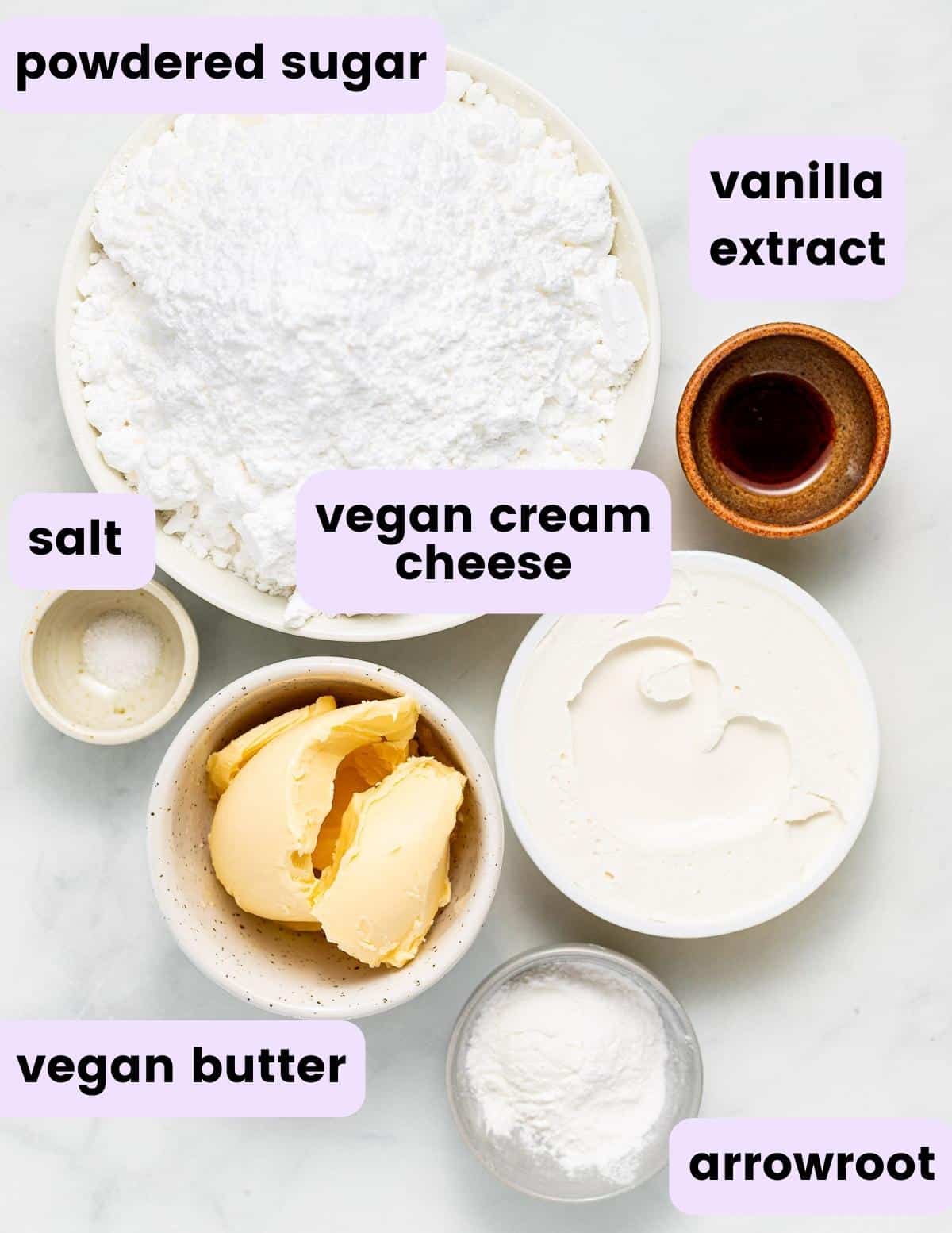 And some important ingredient notes:
Vegan cream cheese - I've tried many vegan cream cheese brands when making this recipe and Tofutti creates a WAY better textured frosting than any other I have tried. As much as I love Violife usually, I don't recommend using their cream cheese for this recipe. For some reason it creates a grainy and pretty sloppy frosting.
Vegan butter - The firmer the vegan butter you use, the firmer your frosting will be so make sure you use one appropriate to your needs. They vary in texture so much, from very hard to very soft like margarine. If you're just topping a single layer cake like my banana cake then a softer, looser frosting is fine, but if you're sandwiching a cake, then you need your frosting to be firmer so it doesn't just squirt out when you put the top layer on. This means you need to choose your butter variety accordingly. My favourites are Earth Balance or Miyokos.
Powdered sugar - A lot of powdered sugar is necessary to create a stable frosting with a good, thick texture. My favourite brand of vegan powdered sugar is Wholesome Sweeteners.
Arrowroot - Unlike non-vegan cream cheese and butter, vegan versions contain a lot of water. This can make for a really loose frosting. Arrowroot helps to absorb some of the moisture and firms the frosting. This means it will be sturdier for piping and won't squirt out the sides of your cake when you add the top layer.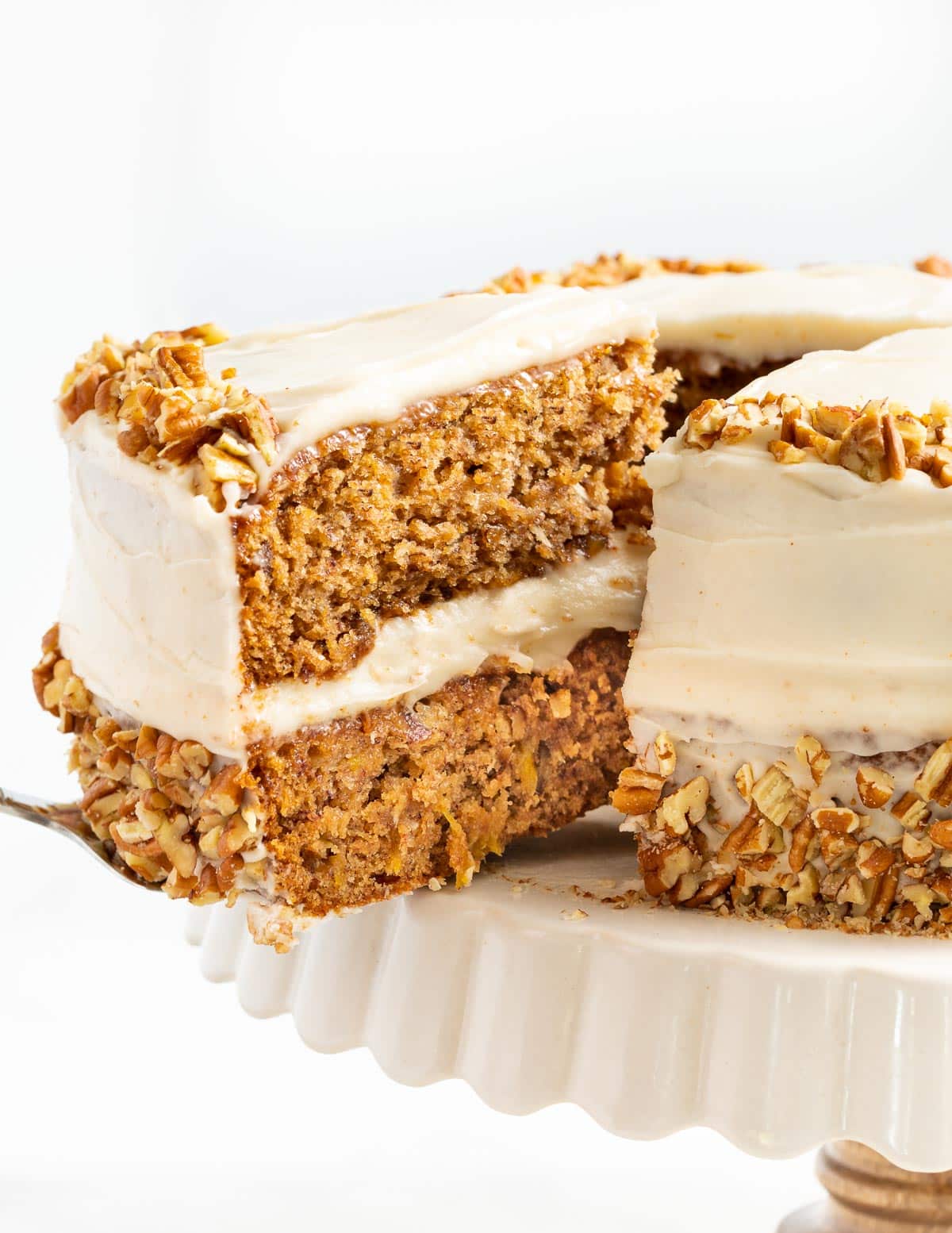 How To Make Vegan Cream Cheese Frosting
Vegan Cream Cheese Frosting is really easy to make. Here's how: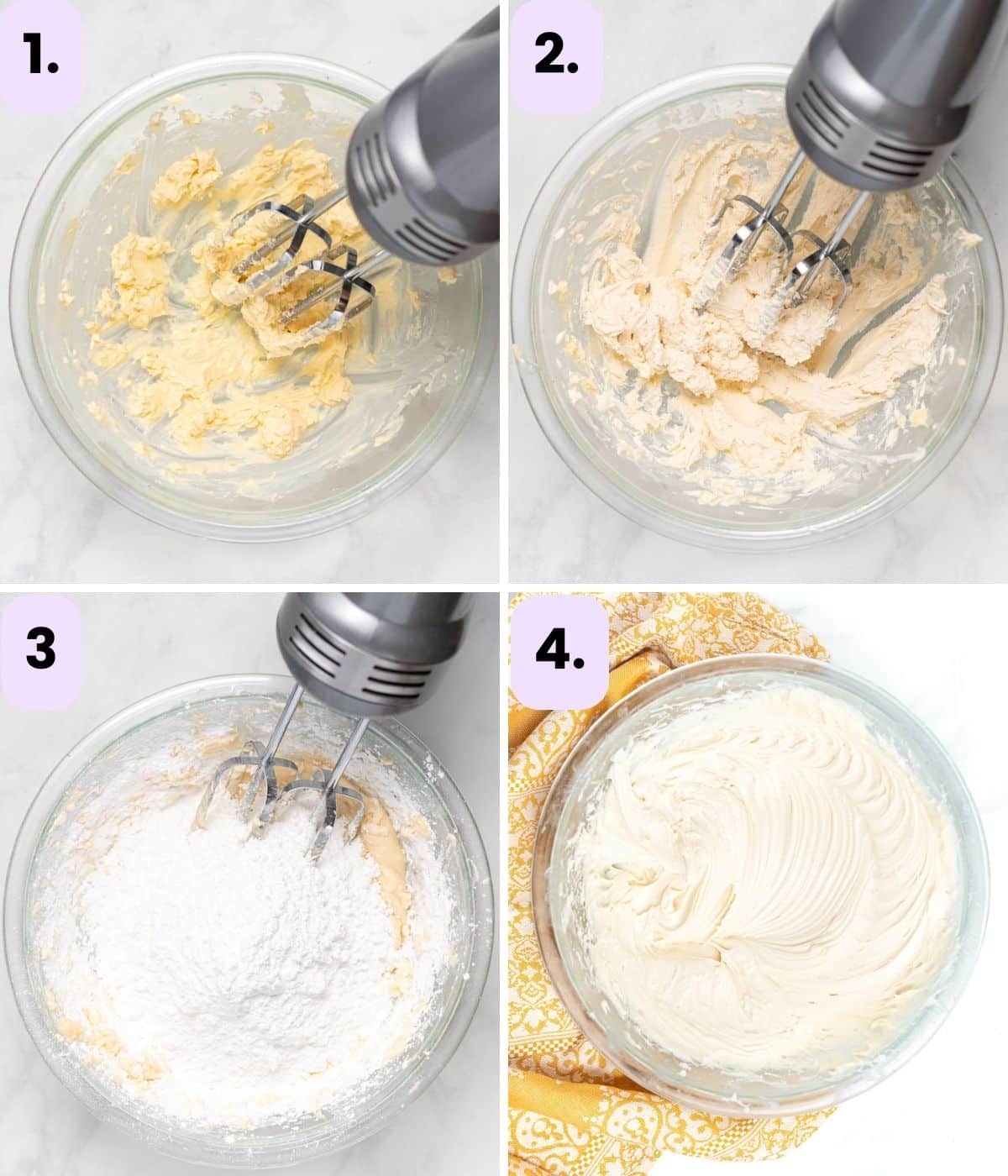 Beat the butter either with a hand held electric mixer or in a stand mixer, until soft, fluffy and creamy.
Add the cream cheese and beat again until well incorporated.
Add the vanilla and salt and then gradually add the powdered sugar a cup or so at a time, beating on low between each addition.
Once it's all added turn up to medium-high and beat until thick, smooth and creamy.
Success Tip - Don't over-beat the cream cheese. When over-beaten it can become runny and once you hit that stage it's really hard to bring it back. Even adding more and more powdered sugar doesn't help much to thicken it. I start this recipe by beating the vegan butter on its own then introducing the cream cheese once the butter is soft and fluffy. That helps avoid the cream cheese being beaten too much.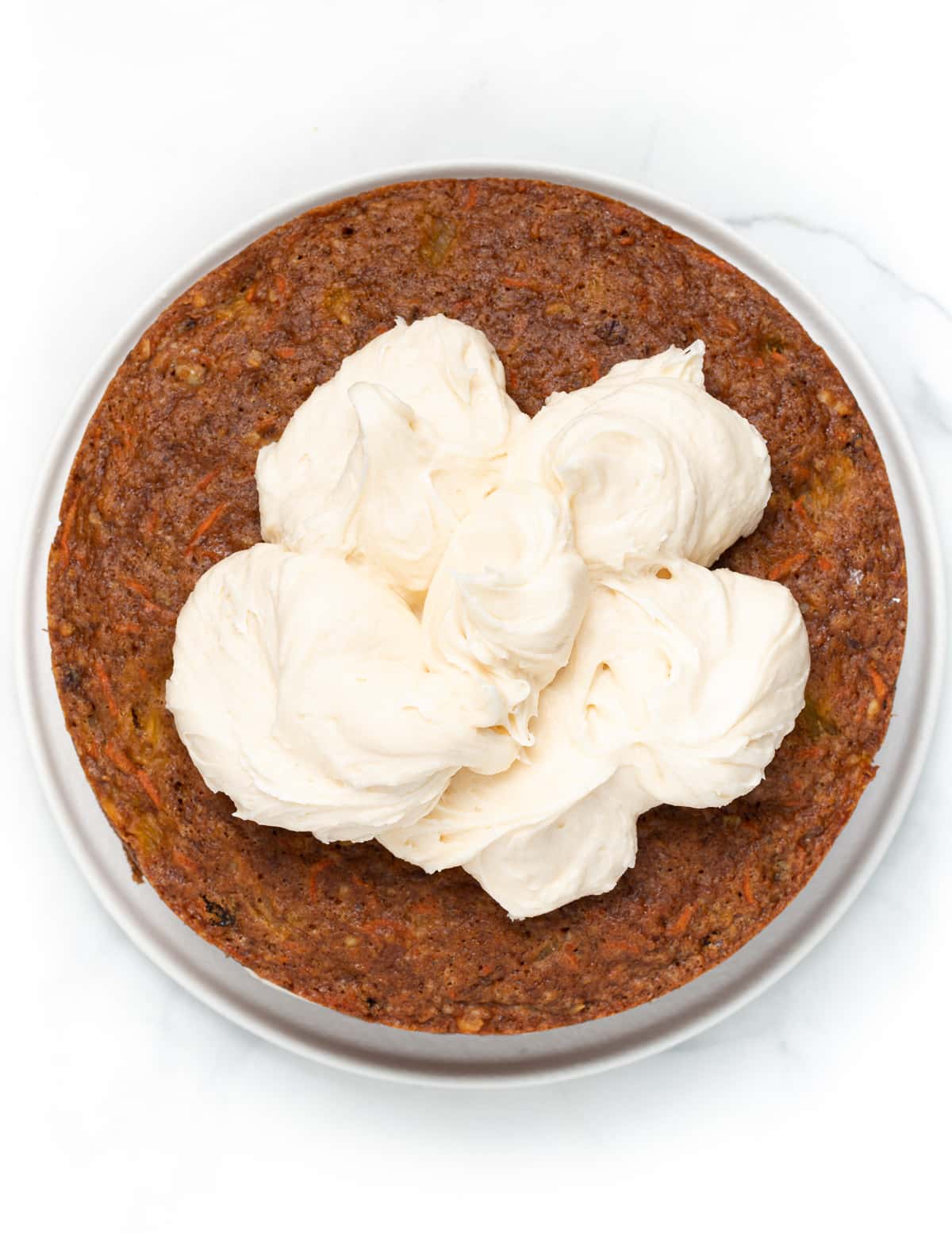 How To Use Dairy-Free Cream Cheese Frosting
Ways to use this vegan frosting recipe include:
Slathered on hot vegan cinnamon rolls or strawberry rolls
Piping onto desserts, cupcakes, cookies or birthday cakes
And for frosting cakes like this:
Expert Tip - When you frost a cake, cover it in a very thin layer of frosting first and allow it to set a bit before you add the rest of the frosting. This helps to stop crumbs getting caught up and being visible.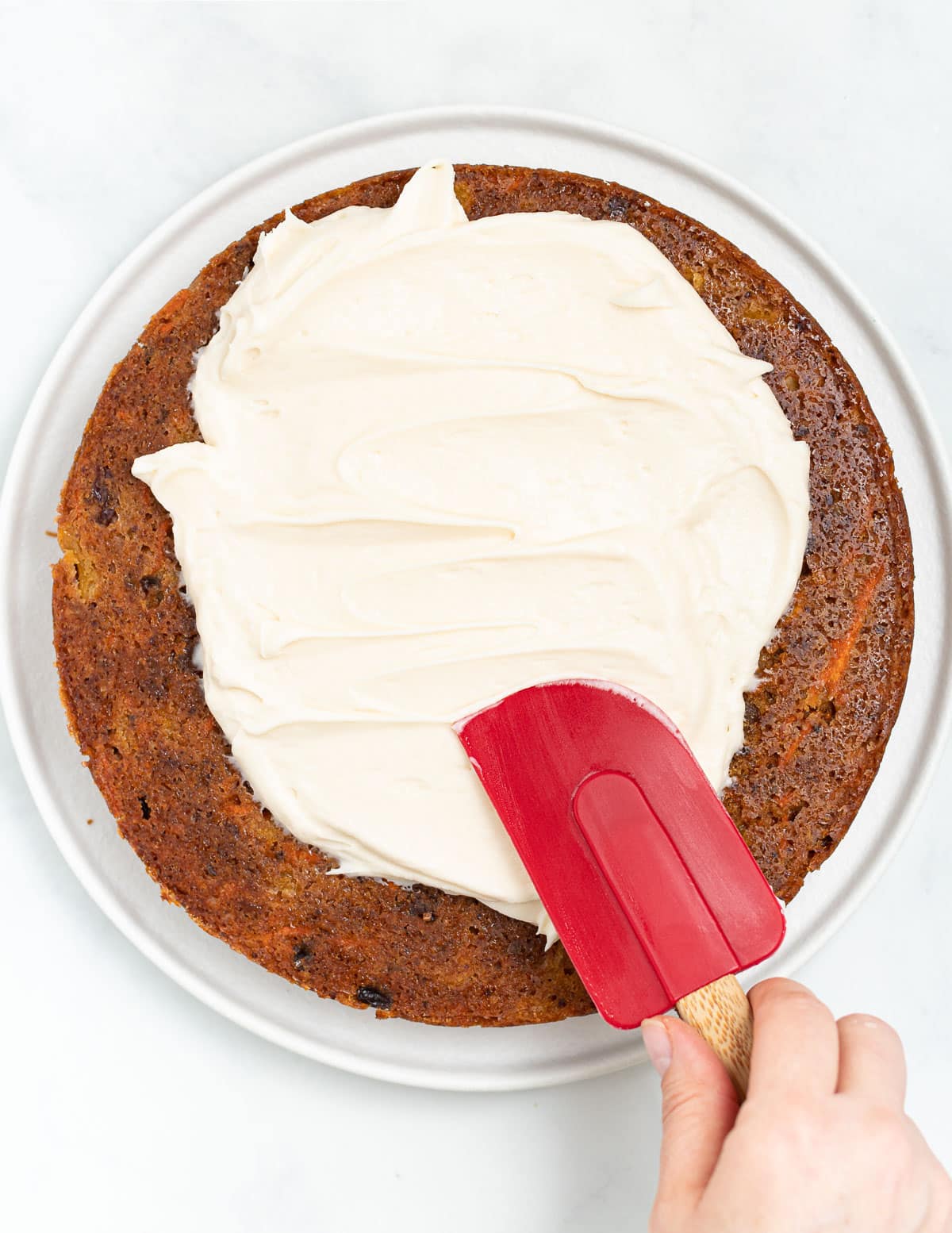 Making Ahead & Storage
Frosting can be made ahead and stored in an airtight container in the refrigerator for up to a week. When you need it, take it out of the fridge and give it a quick beat with an electric mixer to fluff it up again before using.
Flavour Variations
This vegan cream cheese frosting recipe tastes super delicious and works with just about any flavor so feel free to have some fun!
However it is really important to not add any extra liquid. In this recipe there is 1 teaspoon of vanilla extract. That is all the liquid that can go in there. You can swap the extract for another flavor if you want to, but you shouldn't add more than 1 teaspoon of liquid total.
Any other flavorings that you might want to put in there need to go in as powder, for example cocoa powder for chocolate cream cheese frosting or ground freeze dried strawberries for strawberry cream cheese frosting.
Some ideas are:
Use chilled vegan brown butter instead of regular vegan butter for a more complex flavour.
Lemon, coconut, almond or coffee extract instead of the vanilla
Chai Spice
Cinnamon or pumpkin spice
Cocoa powder
Ground up freeze dried strawberries or raspberries
So there we are. Go forth and slather it on everything!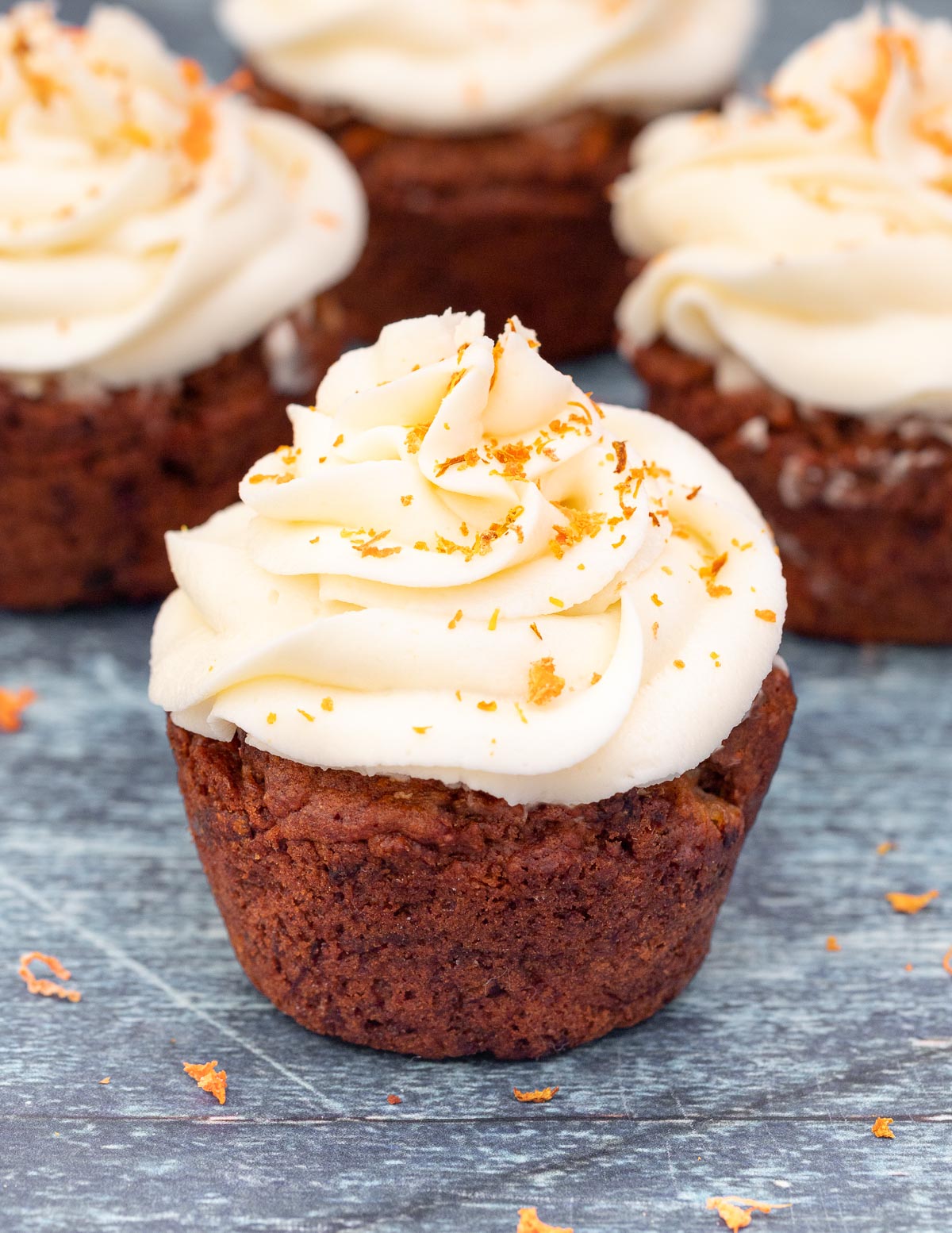 Recipe FAQs
Can I pipe with it?
Yes you can pipe with this cream cheese frosting. I recommend filling the piping bag with the frosting, then popping it in the fridge for 30 minutes before you attempt piping. You might also need to return it to the fridge during piping if it's particularly warm in your kitchen or if you have warm hands.
If you try this recipe, let me know how you like it by leaving a comment and rating below! And be sure to join my mailing list for more deliciousness!
Recipe Video
Recipe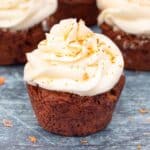 Vegan Cream Cheese Frosting
Author:
Vegan Cream Cheese frosting that is smooth as silk, decadently creamy, sweet and tangy. It's easy to make, spreads onto baked goods with ease, holds its shape when piped and has endless uses!
Ingredients
8 oz (227

g)

vegan cream cheese

, straight from the fridge (I don't recommend using Violife - see post for details)

½ cup (110

g)

vegan butter

, hard & straight from the fridge

4

teaspoons

arrowroot powder

⅛

teaspoon

fine salt

1

teaspoon

vanilla extract

, Do not use more

4 to 5 cups (500 to 625

g)

powdered sugar

, (icing sugar in the UK)
INSTRUCTIONS
Add the vegan butter to a large bowl and beat it with an electric mixer on a medium high speed until soft and fluffy.

Add the cream cheese and beat again until combined and smooth but don't over-beat. As soon as it's combined stop.

Now add the arrowroot powder, salt, vanilla and about 2 cups of the powdered sugar. Beat on the lowest speed for about 20 seconds until the powdered sugar has stopped flying around, then add another 2 cups. Beat again on low until it's mostly combined then turn the speed up to medium high again and beat until smooth and creamy, scraping down the edges with a spatula as needed to get any dry powdered sugar off the sides and into the mix.

Add the remaining powdered sugar to thicken as needed. Using it all makes the frosting much easier to handle, spread and pipe.

As soon as it's nice and smooth stop. It's important not to over-beat.

Do not be tempted to add any more liquid to the frosting at any stage because it will become too runny. Once done, cover the bowl and put in the fridge until needed.
NOTES
Quantity:This recipe makes about 3 cups of frosting. Enough to sandwich a 9-inch double layer cake and cover the tops and sides. 
NUTRITION
Serving:
1
full recipe / about 3 cups
Calories:
1104
kcal
Carbohydrates:
179
g
Protein:
5
g
Fat:
46
g
Saturated Fat:
13
g
Sodium:
630
mg
Fiber:
5
g
Sugar:
166
g
Vitamin A:
1400
IU
Calcium:
49
mg
Iron:
1
mg
Tried this recipe?
Rate it & leave your feedback in the comments section below!