Homemade English Muffins. Nothing can beat them straight off the griddle or gently toasted. They are soft, slightly chewy & perfect for breakfast or snacks. No oven is required & they are so much nicer than store-bought!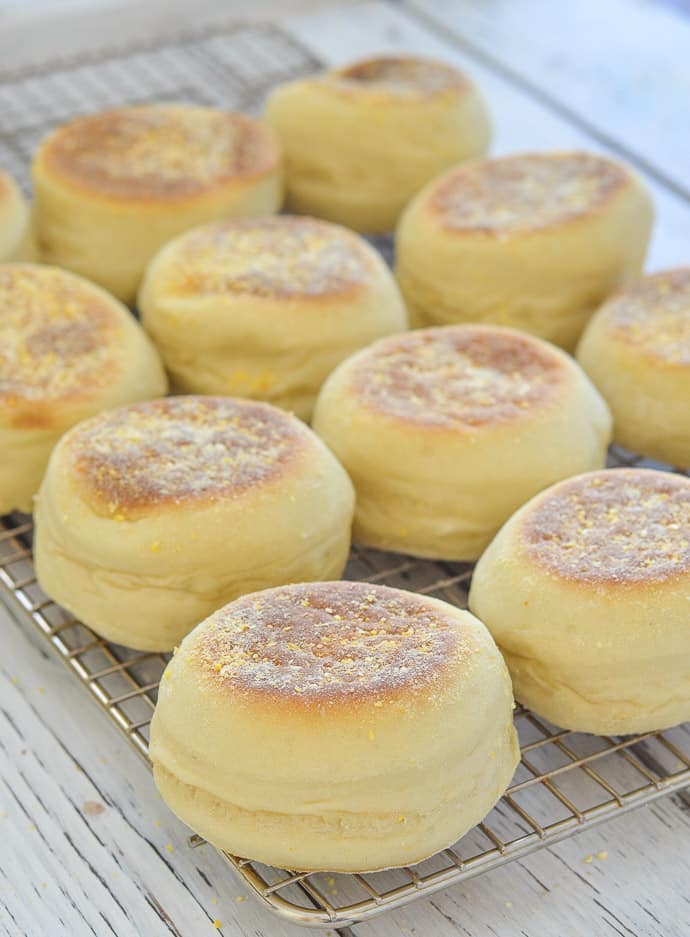 Picture for one minute, one of these homemade English Muffins, straight off the griddle, spread thickly with my Easy Vegan Butter and topped with a dollop of vegan lemon curd ......
I have been eating these English Muffins like they are going out of fashion recently and even I stopped in my tracks at the thought. They are quite simply, irresistible.
They really aren't all that difficult to make either. They do however take a bit of time but almost all of that is hands off time and it is so, SO, worth the wait. See my video below for a step by step guide.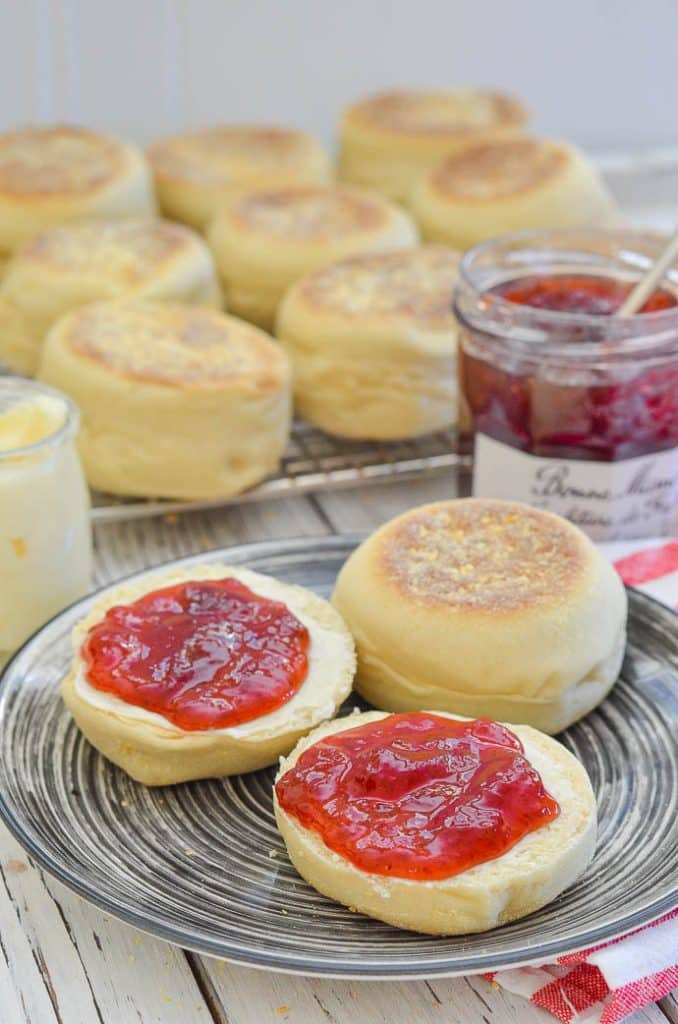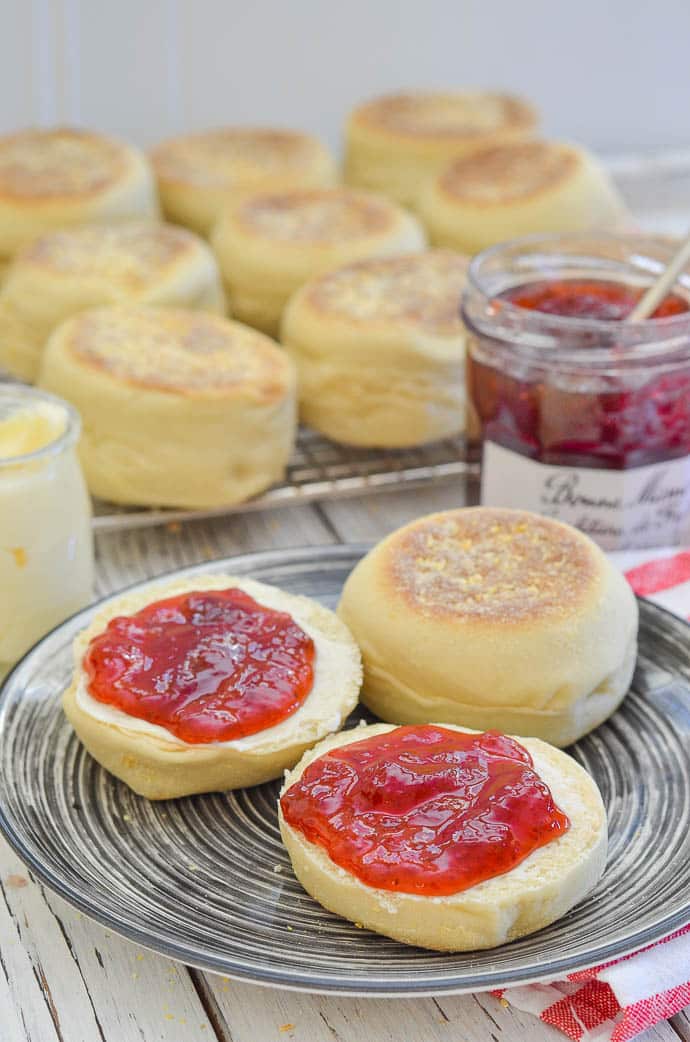 You can also make the dough for these English Muffins in a bread machine if you have one. Directions are given below.
No oven is required. They get cooked on a griddle or in a skillet. That's what gives them their beautifully golden tops and bottoms. And those beautifully golden tops and bottoms give them their distinctive chewiness. Watching them grow on the griddle is so fun too. They really are like little puffy clouds!
They are just perfect while very fresh, eaten just as they are. Nothing can beat them right off the griddle! However, they really come into their English Muffin-ness properly when split and toasted. Their little nooks and crannies get all crispy and golden and they are the perfect vehicle for all sorts of toppings.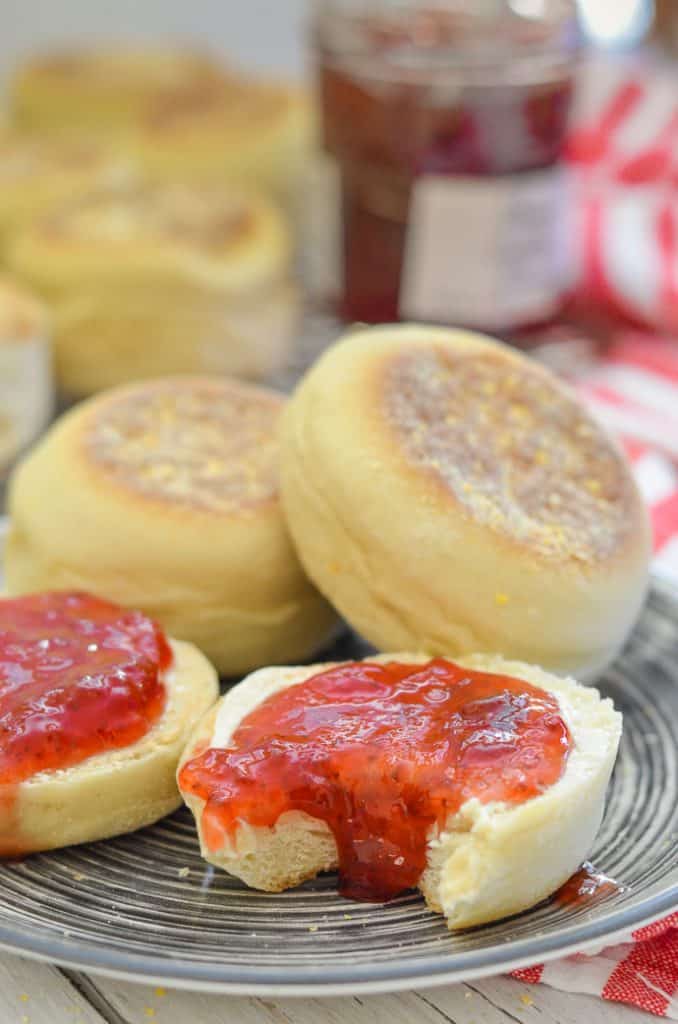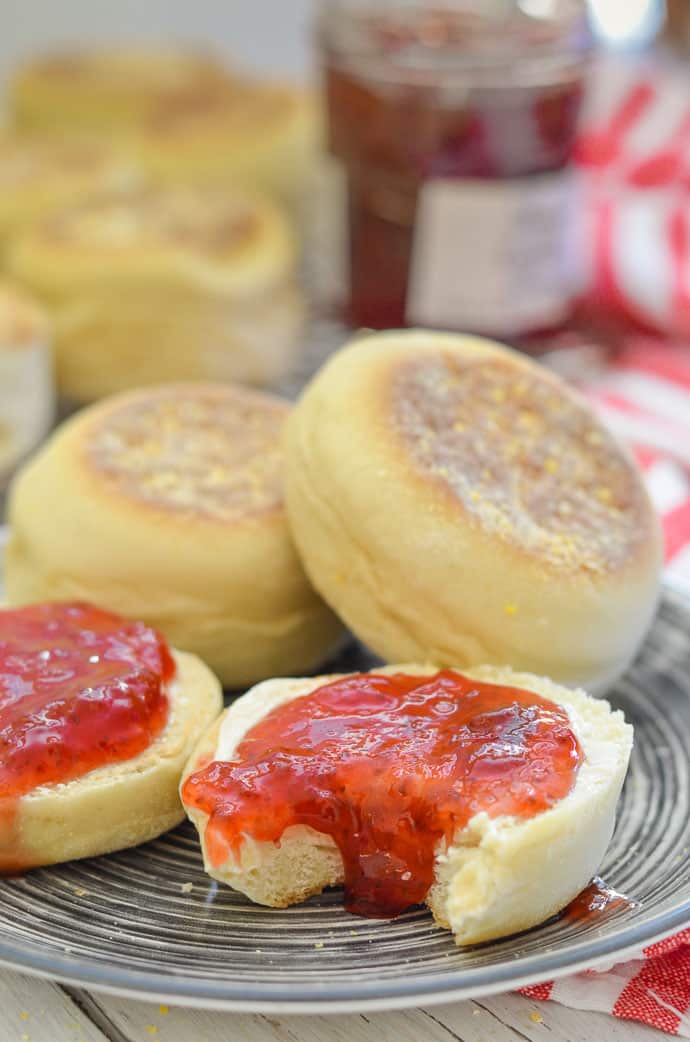 Serving Suggestions
Vegan butter and jam is my favourite topping for these muffins, but they also work incredibly well with all sorts of other accompaniments. Try them:
Topped with your favourite tofu scramble
Used as a base for a vegan eggs benny (there is a recipe in my cookbook)
Turned into mini pizzas for the kiddos
Used instead of bread for sandwiches or as an alternative to burger buns
Toast and top with your favourite toast toppings (avocado, grilled tomatoes, mushrooms etc).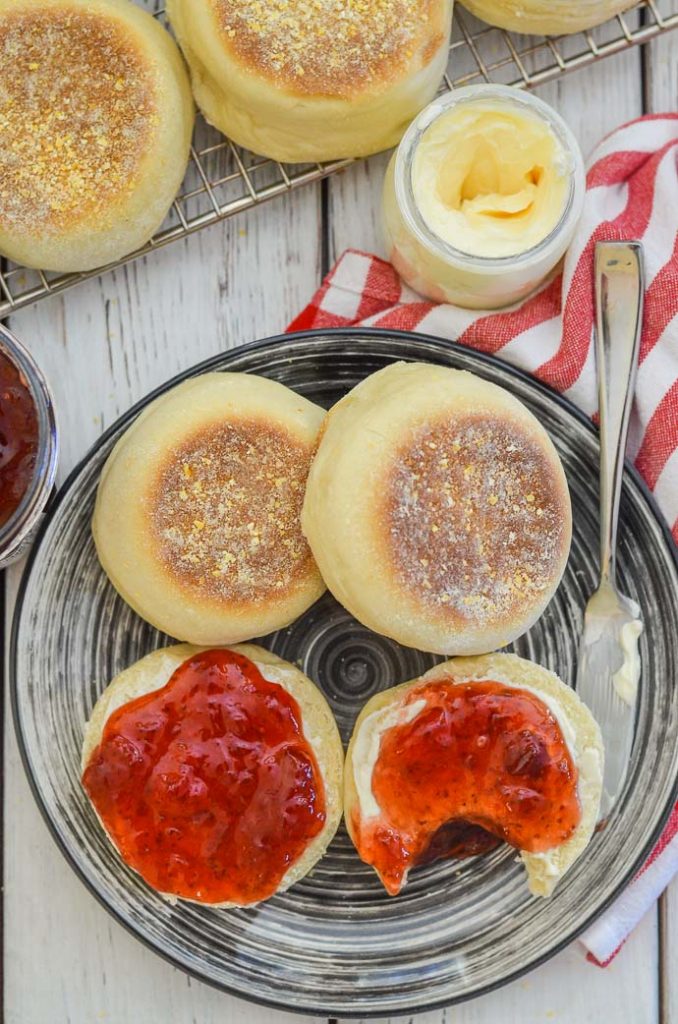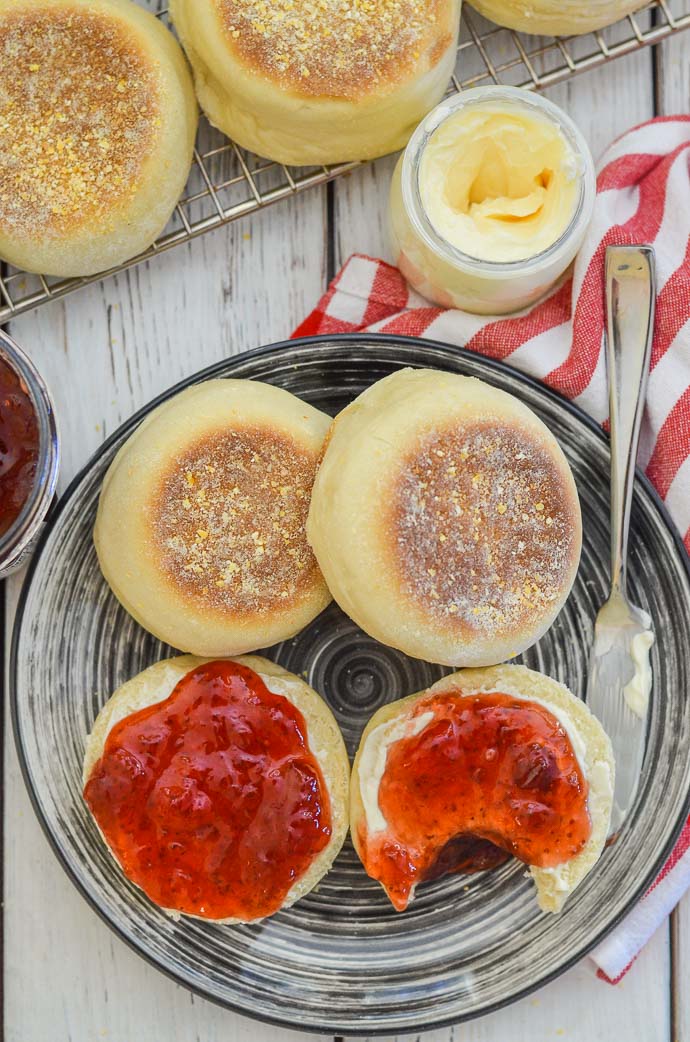 Fork splitting
What the heck is fork splitting? Well, if you want maximum nooks and crannies for superior butter catching, use a fork to split your muffins rather than using a knife. I really should have shown you how in my video but I didn't think about it until afterwards. I might make a quick add-on next time I make them but until then, here is a pretty rudimentary video that shows how.
More English style recipes
If you try this recipe, let me know how you like it by leaving a comment and rating below! And be sure to join my mailing list for more deliciousness!
Recipe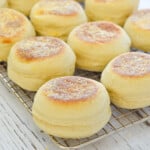 Homemade English Muffins
Author:
Homemade English Muffins. Nothing can beat them straight off the griddle or gently toasted. Soft, slightly chewy, full of nooks and crannies, & perfect for breakfast or snack. No oven is required and they are so much nicer than store-bought!
Ingredients
3 cups (375

grams)

all purpose flour

, (strong in the UK). Plus a little more for rolling.

2

teaspoons

instant yeast

, sometimes called quick or fast action yeast

2

teaspoons

sugar

½

teaspoon

salt

½

teaspoon

baking soda

2 tablespoons (30

mls)

liquid oil

, such as vegetable, canola, sunflower, or light olive oil.

Approx 1 cup + 2 tablespoons (270

mls)

warm water

⅓ cup (53

grams)

cornmeal

, or use more flour
INSTRUCTIONS
If you have a stand mixer with a dough hook, add all ingredients (except the cornmeal) to the bowl and mix for around 7 - 10 minutes until the dough is smooth and elastic. Once it starts coming together give it a little poke and add a drop or two more water if it feels dry, giving it a chance to mix in between additions. You are looking for it to become a very slightly tacky-to-touch smooth, elastic, and pliable dough. 

If you don't have a stand mixer, add all of the dry ingredients to a large bowl. Mix then pour in the water and oil. Stir briefly adding more water drop by drop as required to form into a shaggy dough. Then tip out onto a clean surface rubbed with some oil (not flour). Rub some oil onto your hands and knead for about 10 minutes until the dough is smooth, elastic, and pliable. When kneaded properly, if you put your hands on either side of the ball of dough and squeeze inwards, it should bounce back slowly when you let go.

Place the dough ball in a lightly oiled bowl and cover with a wet tea towel. Leave in a draft-free area until it has doubled in size (this usually takes about 1 hour in my kitchen). You will get the best flavor by not rushing it so I advise just leaving it on the kitchen counter and not moving it somewhere really warm to speed it up. 

While you're waiting line a large baking sheet with parchment paper and sprinkle it generously with cornmeal.

Once doubled in size, turn the dough out onto a lightly floured surface and roll it out with a rolling pin until it's1 inch thick. Make sure it is even all over. If it keeps springing back and is hard to roll, leave it to rest and relax for 5 minutes then try again.

Use a 3-inch cookie cutter to cut rounds and place them gently on the prepared baking sheet. If you don't have a cookie cutter use the top of a glass or mug. Be sure to cut carefully and get as many as you can out of the first batch of rolled dough because the muffins are always slightly better than those made with the remaining dough.

When you have cut as many as you can, ball up the remaining dough as gently as you can and re-roll it then cut out the remaining muffins. 

Sprinkle the tops of the muffins with more cornmeal (or flour) then cover with the damp tea towel and leave again until almost doubled in size. It won't take as long this time. Usually about 30 minutes. 

Heat a griddle, large cast iron pan, or large skillet/frying pan over medium-low heat. Leave it to preheat for a good 5 minutes. Don't use any oil.

Place as many muffins as will fit comfortably (with sufficient room to turn them easily), VERY gently on the griddle. It's important to be as gentle as possible because you don't want to knock any of the air out of them.

Cook for 5 to 7  minutes until beautifully golden on the bottom. They will puff up like little balls as they are cooking. Then VERY gently turn them over and cook for another 5 - 7 minutes on the other side. Keep checking and when they are a deep golden brown transfer to a wire rack.

Repeat with the remaining muffins.
NOTES
Store in an airtight container or plastic bag at room temperature for 3 to 4 days or freeze for up to 3 months.
NUTRITION
Serving:
1
muffin
|
Calories:
216
kcal
|
Carbohydrates:
38
g
|
Protein:
6
g
|
Fat:
4
g
|
Saturated Fat:
0.4
g
|
Polyunsaturated Fat:
1
g
|
Monounsaturated Fat:
2
g
|
Trans Fat:
0.01
g
|
Sodium:
218
mg
|
Potassium:
79
mg
|
Fiber:
2
g
|
Sugar:
1
g
|
Vitamin C:
0.01
mg
|
Calcium:
9
mg
|
Iron:
2
mg
Did you make this recipe?
Rate it & leave feedback in the comments section below. I love seeing your remakes too. Tag @avirtualvegan on Instagram! 🌟