The ultimate guide to vegan pancakes! Get all of my best tips for how to make the best dairy & egg-free pancakes that still taste amazing.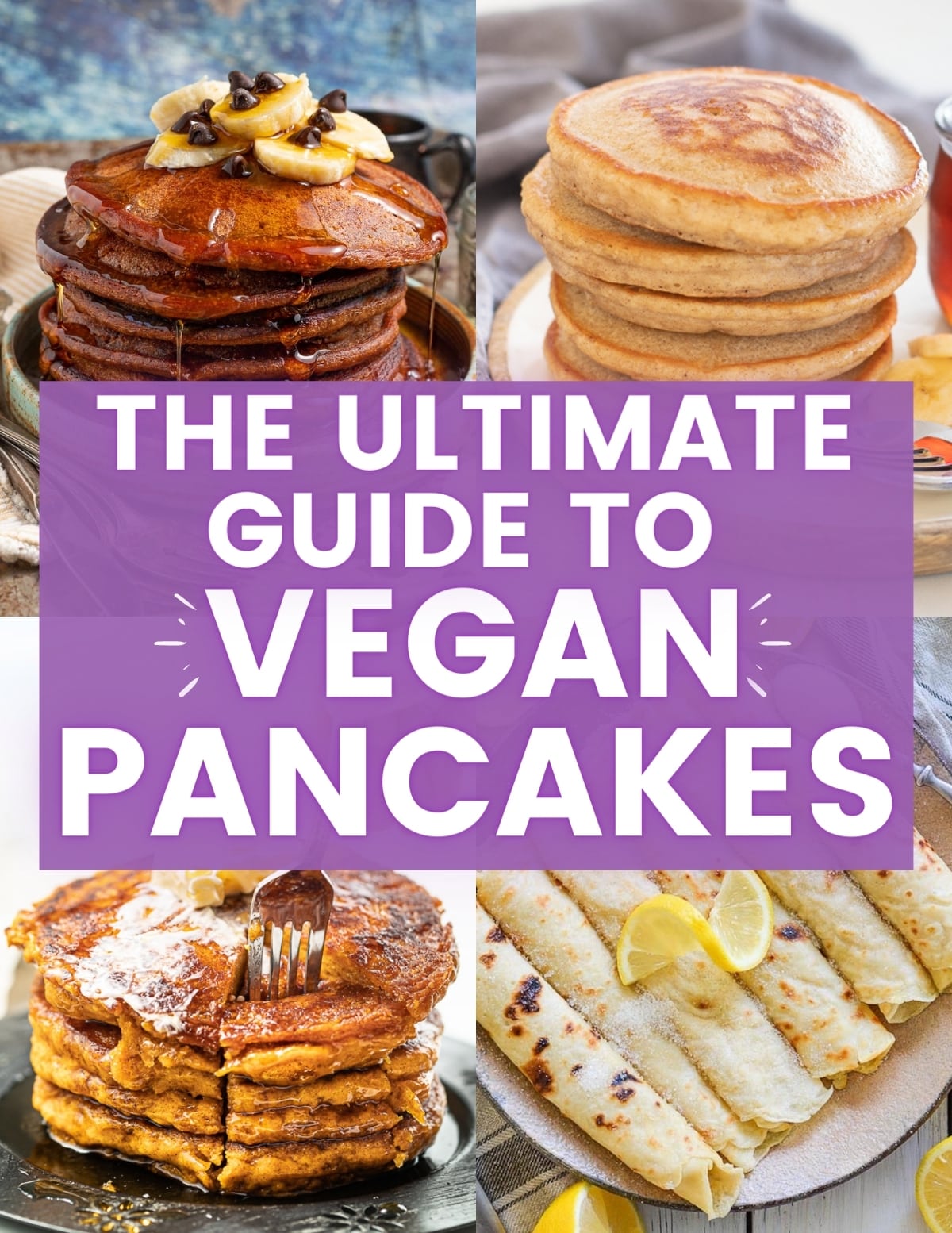 If you've ever wondered if it's possible to make vegan pancakes and want to learn how to make them without eggs and milk, or you have had an epic vegan pancake fail, then this is the guide for you. I'll be giving you all of my tips and tricks for the best vegan pancakes as well as the common reasons they can go wrong and how to avoid it happening to you.
I take my vegan pancake game very seriously and have my technique perfected, as you will know if you have ever made any of my pancake recipes. I'll be sharing some of my best recipes for vegan pancakes at the end of this post.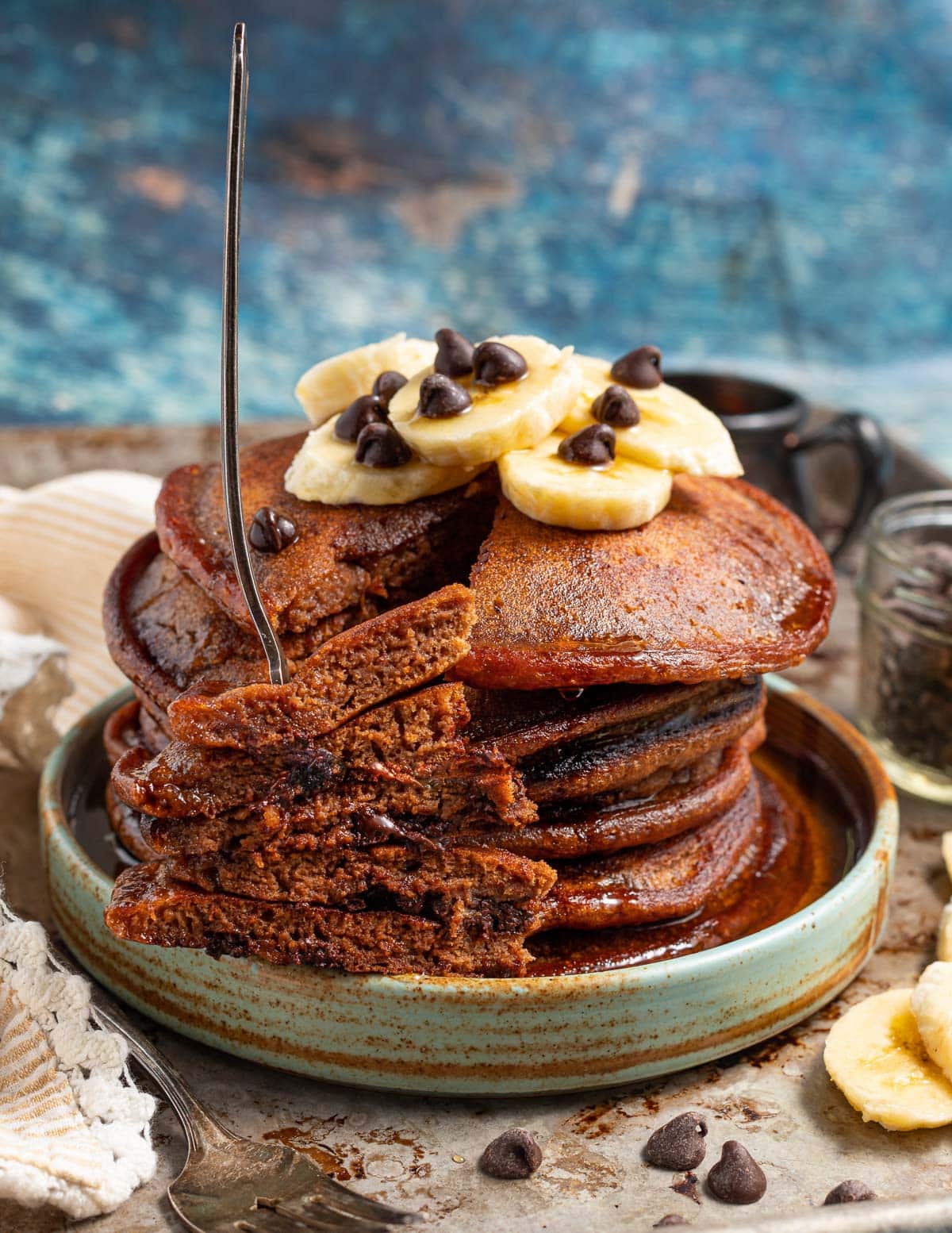 Best Pancake Making Equipment
Set yourself up for success by using the correct equipment and a good recipe. My must have pancake making items are:
A good heavy non-stick pan (or griddle) that is big enough for you to be able to get in there with a spatula and flip the pancakes comfortably. If your pan isn't the greatest, chances are your pancakes won't be either. Buying a good frying pan or skillet is an investment. I personally love the results that cast iron gives when cooking pancakes and I use a seasoned cast iron griddle for making mine.
Two mixing bowls. One large and one smaller one. One for mixing the dry ingredients and one for mixing the wet ingredients. You'll learn why doing this is crucial later.
A digital kitchen scale to weigh the flour.
Measuring spoons for measuring out the baking powder, salt, vinegar etc accurately. Just using regular old spoons from your cutlery drawer is not an accurate way to do it. They are not designed to be used as measuring spoons.
A spatula for flipping the pancakes and removing them from the pan.
A balloon whisk or a spoon for mixing the ingredients.
Something to scoop the pancake batter out of the bowl and into the pan. A ladle or a ⅓ or ½ cup measuring cup works, depending on how large you want your pancakes.
How To Make Your Vegan Pancakes Extra Fluffy
How To Measure Flour Correctly
Why It's Important Not To Over-Mix The Batter
There is a really fine line between mixing just enough and mixing too much. If you do over mix the batter your pancakes will turn out thinner, less fluffy, heavier and a little chewy.
The aim when mixing batter is to combine the ingredients by mixing or folding as gently as you can until your ingredients are just incorporated and there are no dry or floury bits remaining. Stop as soon as you reach that point. Some small lumps are fine. You shouldn't spend time trying to beat them out because then you will be developing the gluten more and more and deflating air bubbles in the batter. I promise you won't notice them when the pancakes are cooked. I try to mix my pancake batter in 10 or fewer strokes.
When To Flip Vegan Pancakes
How To Avoid Gummy Vegan Pancakes
What Fat To Use For Cooking Vegan Pancakes
How To Keep Pancakes Warm
If you don't want your pancakes to go cold while you're finishing up cooking the entire batch, simply turn your oven on to its lowest setting and put a plate or baking sheet on one of the oven shelves. As you cook the pancakes, slide them from the pan onto the plate with a spatula and they will stay nicely warmed until you've finished up the cooking.
What To Serve With Vegan Pancakes
Tips For Storing Leftover Pancakes
If you have leftover pancakes you can wrap them well and keep them in the fridge for a couple of days or freeze them for up to 3 months. Reheat straight from the freezer.
To reheat pancakes you can pop them into a skillet or frying pan over medium-low heat until they are heated through. You can also microwave them for about 30 seconds (a bit longer if they were frozen) or pop them into a toaster for 1 or 2 cycles.
Vegan Pancake Recipes
So now you've read all of my tips it's time to put what you've learned into action with my best vegan pancake recipes:
Got any vegan pancake related questions or tips? Drop them in the comments!