The ultimate guide to vegan pancakes! Get all of my best tips for how to make the best dairy & egg-free pancakes that still taste amazing!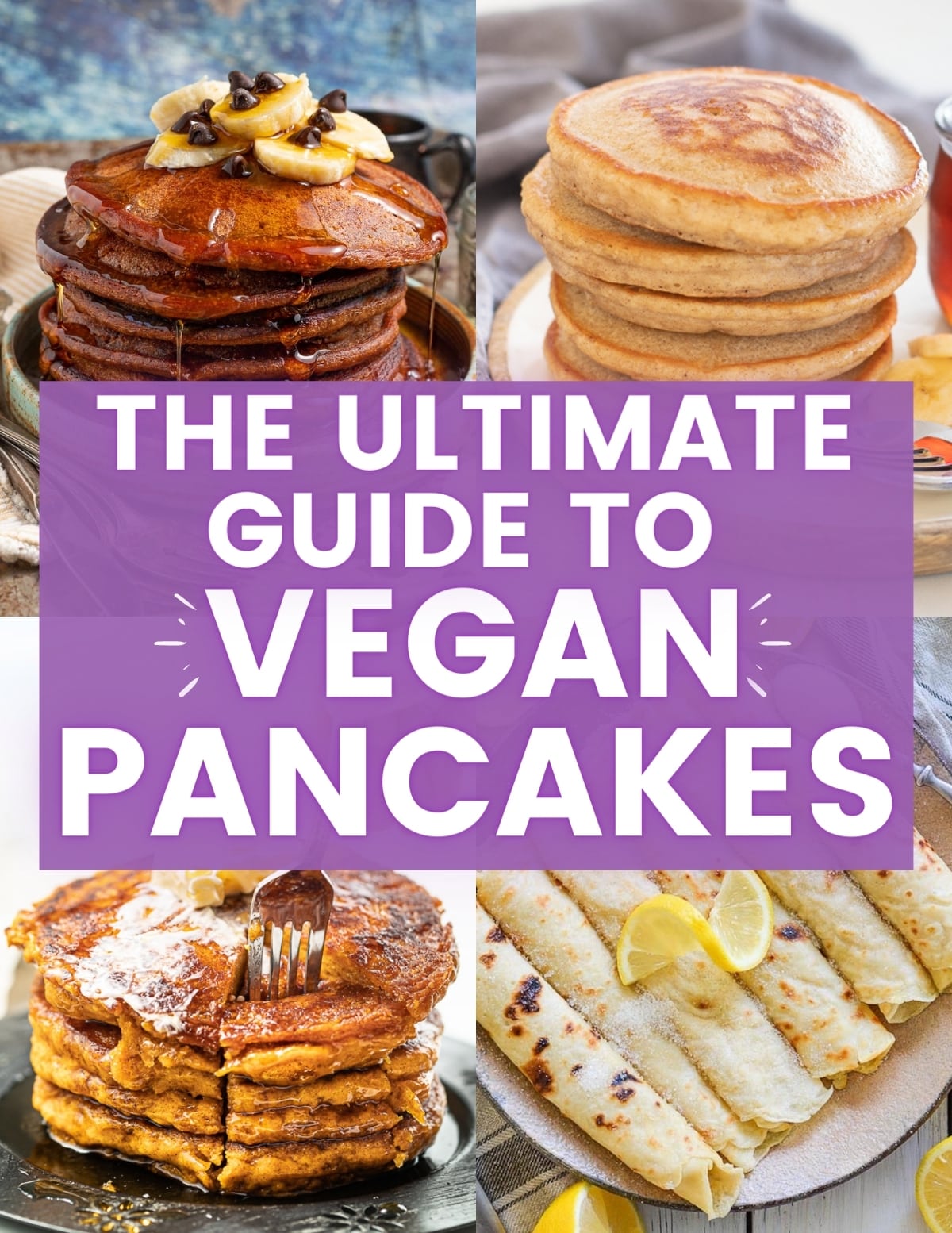 Everyone deserves perfect vegan pancakes and I am here with my tips and tricks for getting it right every single time.
In this post: Everything you need to make amazing vegan pancakes.
Use this menu to jump to the section you are interested in:
If you've ever wondered if it's possible to make vegan pancakes and want to learn how to make them without eggs and milk, or you have had an epic vegan pancake fail, then this is the guide for you. I'll be giving you all of my tips and tricks for the best vegan pancakes as well as the common reasons they can go wrong and how to avoid it happening to you.
I take my vegan pancake game very seriously and have my technique perfected, as you will know if you have ever made any of my pancake recipes. I'll be sharing some of my best recipes for vegan pancakes at the end of this post.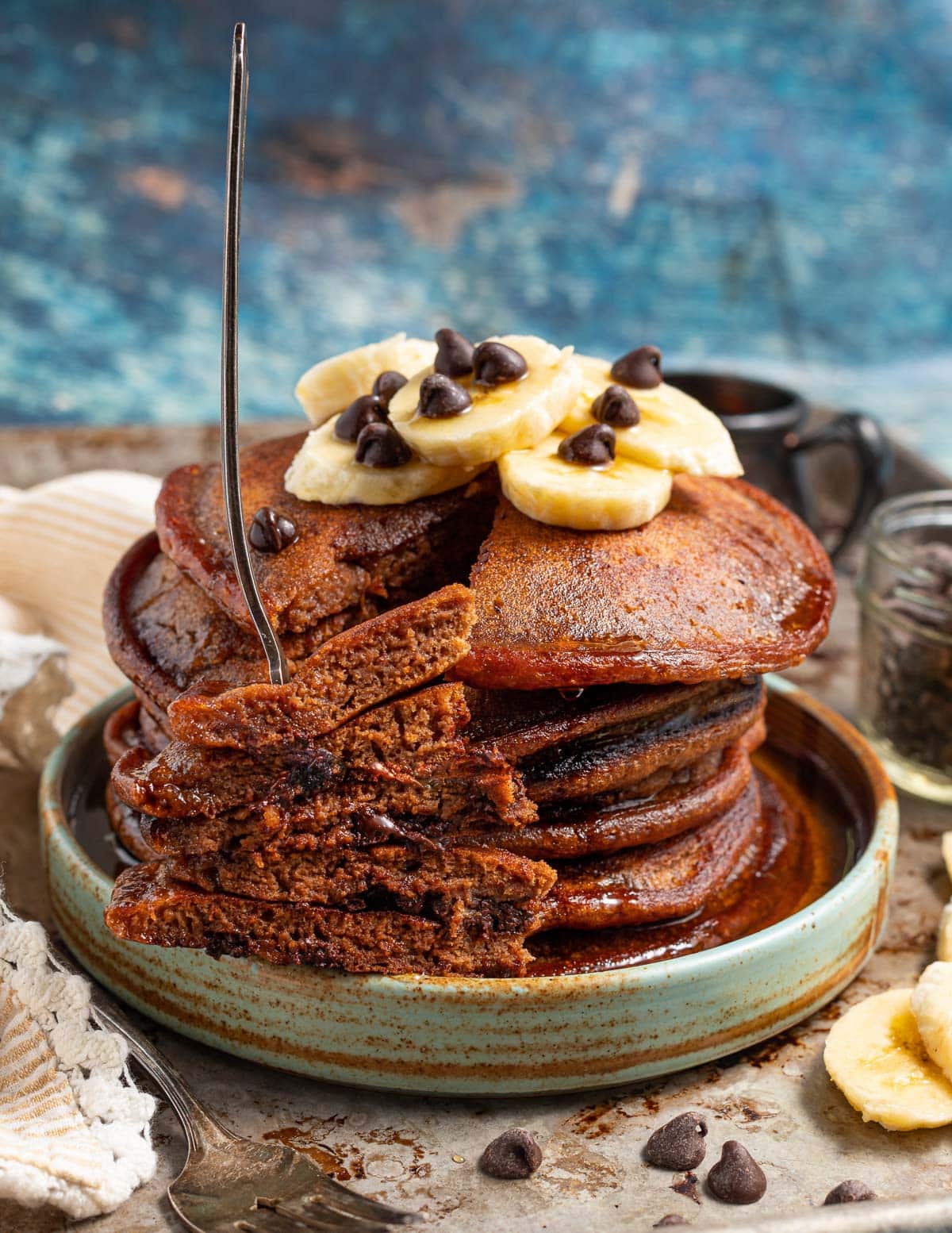 Best pancake making equipment
Making perfect vegan pancakes is easy if you have suitable equipment and a good recipe. My must have pancake making items are:
A good heavy non-stick pan (or griddle) that is big enough for you to be able to get in there with a spatula and flip the pancakes comfortably. If your pan isn't the greatest, chances are your pancakes won't be either. Buying a good frying pan or skillet is an investment. I personally love the results that cast iron gives when cooking pancakes and I use a seasoned cast iron griddle for making mine.
Two mixing bowls. One large and one smaller one. One for mixing the dry ingredients and one for mixing the wet ingredients. You'll learn why doing this is crucial later.
A digital kitchen scale to weigh the flour.
Measuring spoons for measuring out the baking powder, salt, vinegar etc accurately. Just using regular old spoons from your cutlery drawer is not an accurate way to do it. They are not designed to be used as measuring spoons.
A spatula for flipping the pancakes and removing them from the pan.
A balloon whisk or a spoon for mixing the ingredients.
Something to scoop the pancake batter out of the bowl and into the pan. A ladle or a ⅓ or ½ cup measuring cup works, depending on how large you want your pancakes.
How to make vegan pancakes without eggs and milk
It is really easy to make pancakes without eggs or milk. The milk is the easiest component to replace. Simply use your favourite non-dairy milk instead of regular milk. Any will do although I recommend you use an unsweetened and unflavoured one if you can. Homemade milk like my almond milk, cashew milk or oat milk are fine to use as are storebought non-dairy milks.
It's really important to remember that eggs in pancakes don't just bind. They also provide leavening along with the baking powder that is in the recipe. That's why when you replace the eggs in a traditional pancake or cake recipe with many of the vegan substitutes, you won't get such good results. When replacing the eggs you also need to replace the leavening they would produce and most vegan egg substitutes don't do that.
My favourite way to make egg-free pancakes and by far the most effective method, is to either just use some extra baking powder or use a combination of extra baking powder with a bit of baking soda and an acid like vinegar or lemon juice.
By using this combination you replace the leavening that the raising agent and the eggs would otherwise provide and your results should be just as good as they would be with a batter made with eggs.
Of course getting the measurements of each of these exactly right is incredibly important so I always recommend you follow an already vegan recipe with good ratings, rather than trying to convert a non-vegan recipe. That way someone else has done all of the experimenting for you and you are more or less guaranteed a good result as long as you follow the recipe exactly.
Commonly used vegan egg replacers like chia seeds, ground flaxseed, applesauce, vegan yogurt etc will not replace the leavening that eggs provide so your results will not be as good if you use them. Many of these also add unnecessary extra liquid to the recipe which will affect the texture of the finished pancakes unless you adjust the amount of milk being added too.
How to make vegan pancakes fluffy
Vegan pancakes can be just as fluffy as non-vegan pancakes. Just look how thick and fluffy these are: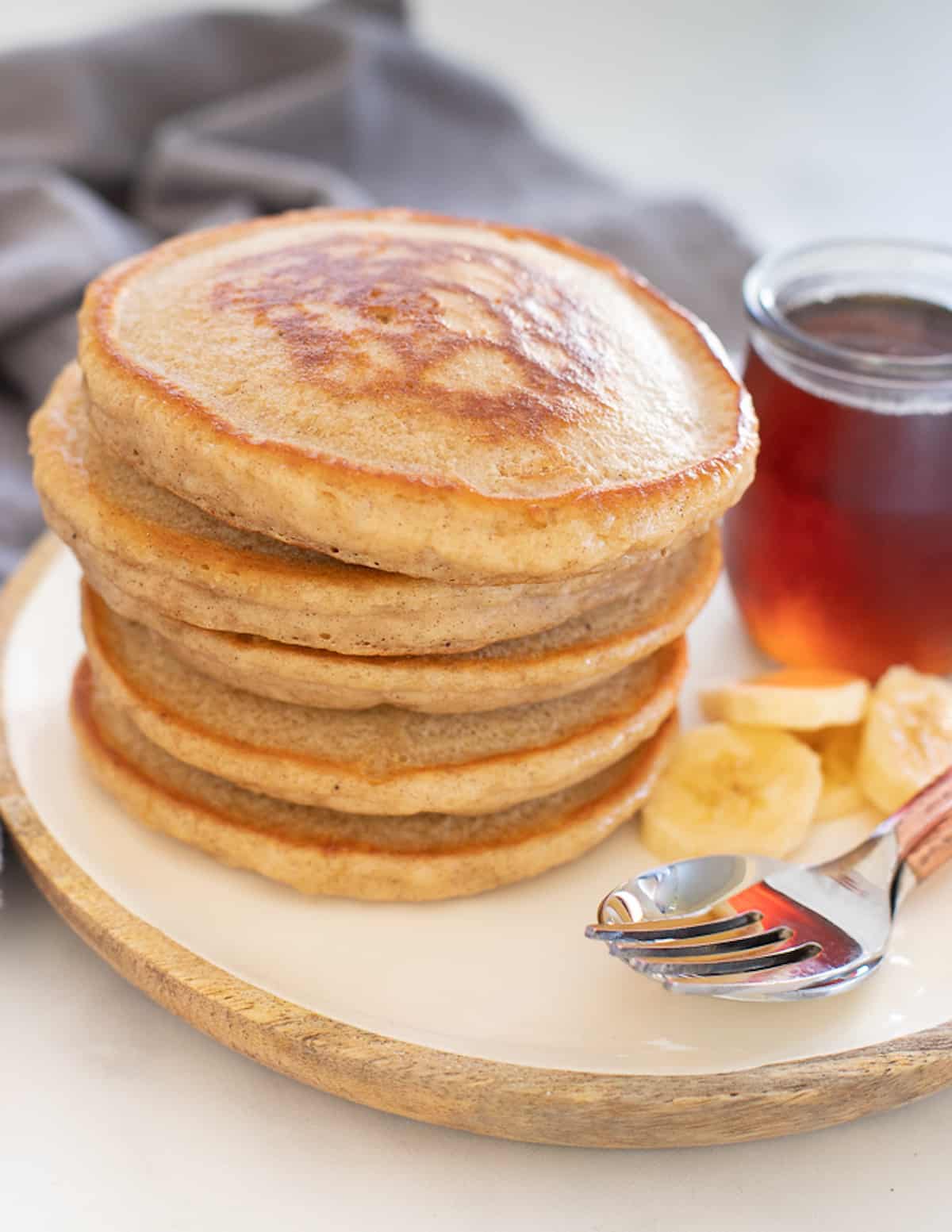 It's no wonder these are my most popular pancake recipe.
Here are my tips for getting the best and fluffiest vegan pancakes:
Use plenty of baking powder. You might look at vegan pancake recipes and think they are calling for a lot of baking powder, and you're right, a lot is used compared to recipes that use eggs. This extra leavening is necessary for fluffy vegan pancakes.
Measure the flour correctly.
Make sure your baking powder and baking soda is fresh. It shouldn't be older than 6 months old as it will begin to lose its power after that time.
In some recipes some baking soda and vinegar (or another acid like lemon juice or cocoa) are necessary. The acid reacts with the baking soda and creates a chemical reaction. They fizz together and create lots of bubbles. These bubbles aerate your pancake batter, making it fluffy. Don't substitute baking powder for baking soda or vice versa. It's important to use whichever one the recipe calls for.
The batter needs to be thick. Much thicker than pancake batter made with eggs. Don't be alarmed by its appearance. Spoon it into the pan and spread it a little with the back of a spoon or a knife if it stays in a dollop. Don't spread it thin though. Keep it a decent thickness for maximum fluff.
Don't overmix the batter. Stir it together gently just until the flour is incorporated and no more. When you overmix you activate the gluten in the flour which can make your pancakes less fluffy and tender.
Let the pancake batter rest for 5 to 10 minutes before cooking it. This allows the gluten strands to relax and will give you fluffier, more tender pancakes.
After resting the batter, don't mix or whisk it up again or you will break all of the little air bubbles that have appeared and aerated your batter. Just scoop it up gently out of the bowl and into the pan.
Cook the pancakes slowly. Ideally no higher than medium-low. With no eggs in the mix, they take longer to set and become fluffy. If you rush them the outsides will be too browned before the insides are fluffy and ready. They take longer to cook but it's so worth it.
Only flip the pancakes when bubbles have appeared all over the surface and started popping. Not before.
Treat them gently! Don't push the pancakes down with a spatula when they are cooking or you will squash the developing fluff and ruin the texture.
How to measure flour
One very common mistake people make when making pancakes is not measuring the flour correctly. Using too much or not enough seriously affects how the pancakes turn out.
The number one reason this happens is that they use cups to measure the flour. Cups are not an accurate measure of flour and it is impossible to get good and consistent results when using them. Every single time you fill a cup with flour you will have a different amount/weight in there. Sometimes up to a third more than the recipe intended.
Weighing is the only way to make sure you get the same amount every single time and it's a gamechanger for pancake and baking recipes. Digital kitchen scales can be really inexpensive to buy. You can pick up a decent one for under $20.
If you absolutely have to use measuring cups, do not scoop the flour into the cup. This will give you a wildly inaccurate amount. Instead, aerate the flour with a fork then spoon it gently into the cup without shaking or compacting it down, then level with a knife. This will give you roughly the correct amount.
Why it's important not to over mix the batter
Another reason pancakes don't turn out well is over-mixing of the batter. Flour contains gluten and when liquid is added to flour and agitated you activate that gluten. The more you mix the batter the more you develop the gluten and developed gluten is not your friend if you want super-soft, fluffy and tender pancakes.
Also when mixing too much, you deflate air bubbles in the batter. Stirring gently maintains as much air as possible which as a result will make your pancakes lighter and fluffier.
There is a really fine line between mixing just enough and mixing too much. If you do over mix the batter your pancakes will turn out thinner, less fluffy, heavier and a little chewy.
If you've ever wondered why pancake recipes ask you to mix the dry ingredients in one bowl and the wet ingredients in another, here is your answer. It is to help you avoid activating the gluten too early and overmixing the batter.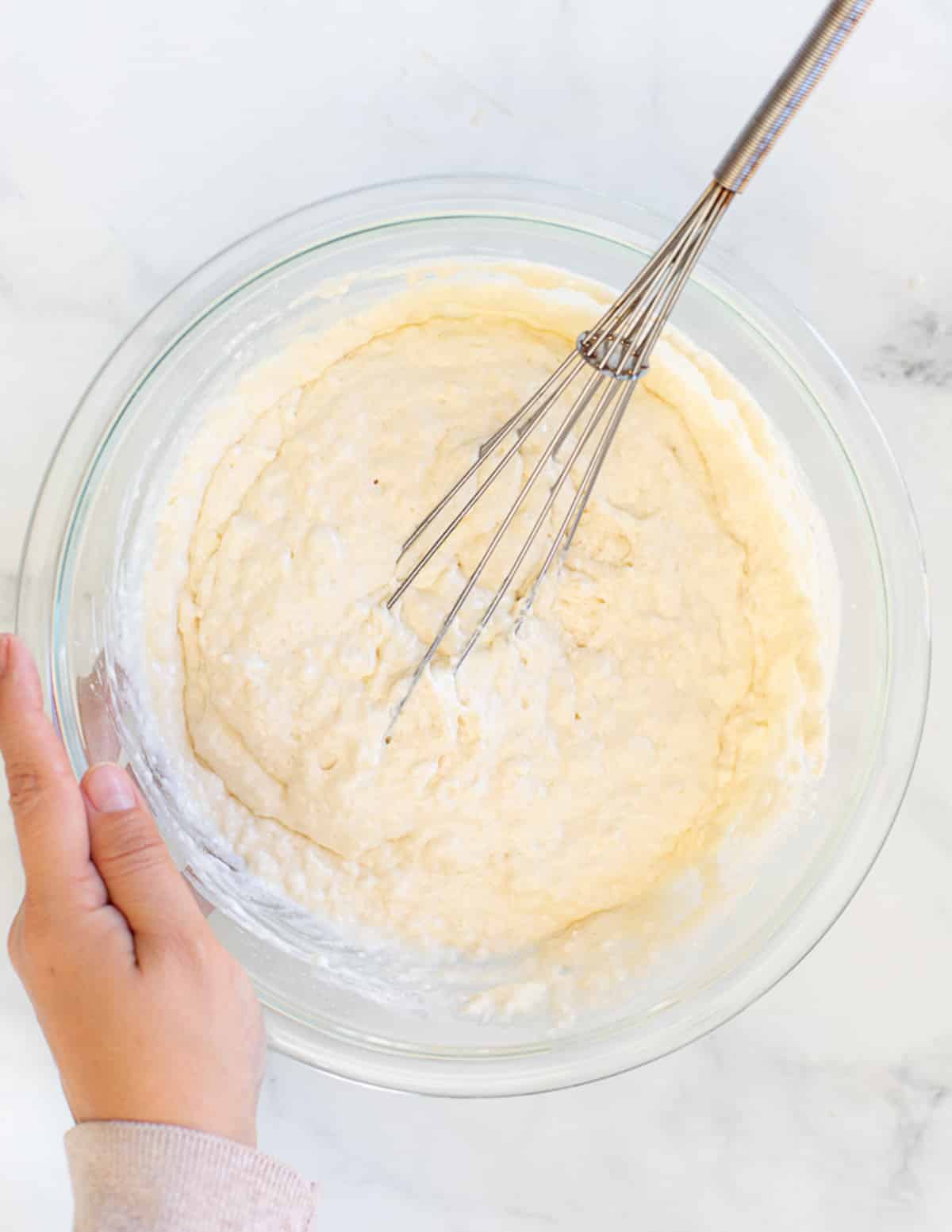 The aim when mixing batter is to combine the ingredients by mixing or folding as gently as you can until your ingredients are just incorporated and there are no dry or floury bits remaining. Stop as soon as you reach that point. Some small lumps are fine. You shouldn't spend time trying to beat them out because then you will be developing the gluten more and more and deflating air bubbles in the batter. I promise you won't notice them when the pancakes are cooked. I try to mix my pancake batter in 10 or fewer strokes.
In a recipe like my vegan banana pancakes where you can make the batter in a blender, the same applies. Don't over blend. Use a fairly low power setting and blend only until you can't see any dry flour. Don't leave the blender running past that point.
When to flip pancakes
When making pancakes it is important not to flip them too soon. Here are step by step photos of a pancake cooking: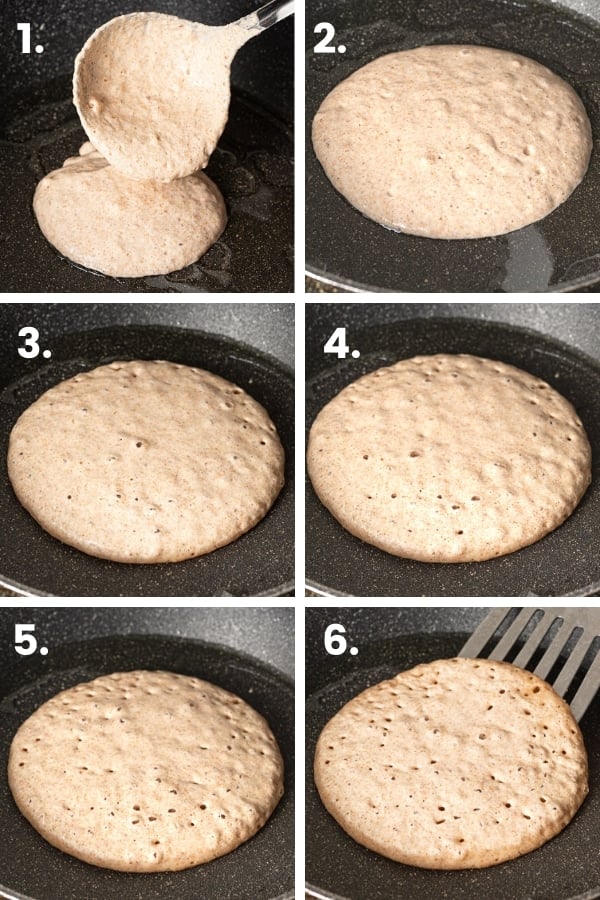 Only flip the pancakes when bubbles have appeared all over the surface and started popping as demonstrated in image number 6. You can see that all of the bubbles around the edges have popped and look like little holes. Doing it this way ensures that most of the bubbles inside the pancake are set enough to not burst when you flip it which in turn ensures you get fluffy, airy pancakes.
How to avoid gummy vegan pancakes
Over-mixing, not resting the batter, cooking too quickly, not making the pancake batter thick enough and not using a good recipe could all be reasons your vegan pancakes come out gummy.
To avoid it happening again follow all of the tips in this post and give one of my vegan pancake recipes a try.
Looking after your pancake pan
Try not to ever use spray oil like Pam in your non-stick pans or waffle irons. These sprays are not pure oil and have ingredients in them that leave an invisible coating that is impossible to remove by washing. This residue will quite quickly render your non-stick surface ineffective.
If you don't want to add too much oil to the pan, pour a drop of your oil of choice onto a piece of kitchen paper and swipe that around the pan, or buy a spray bottle that you can fill with oil yourself. You'll be amazed at how much longer your non-stick pan lasts!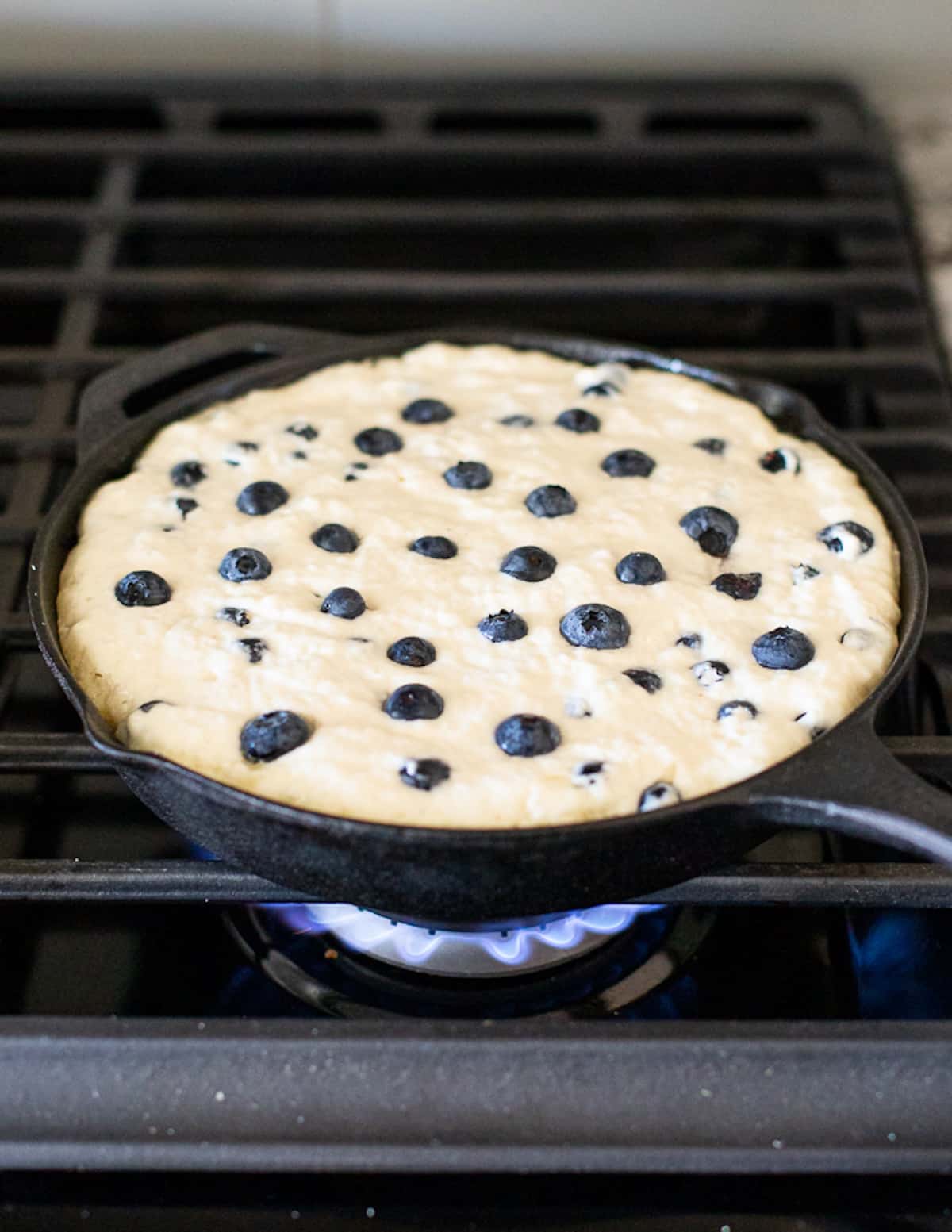 What fat to use when cooking pancakes
If you have a great pan that you look after well you don't need much grease at all when cooking your pancakes. If your nonstick surface is really good you can often get away with using none at all.
Any mildly flavoured liquid oil like avocado oil, canola oil, vegetable oil, mild olive oil or sunflower oil, is fine to cook your pancakes in. For the very best flavour and really golden pancakes with slightly crispy-edges, vegan butter is key.
Use a heatproof pastry or silicone brush to swish the oil or butter around the pan, or carefully use a thickly folded up piece of kitchen paper to wipe around the pan, but be careful not to burn your fingers.
How to keep pancakes warm
If you don't want your pancakes to go cold while you're finishing up cooking the entire batch, simply turn your oven on to its lowest setting and put a plate on one of the oven shelves. As you cook the pancakes, slide them from the pan onto the plate with a spatula and they will stay nicely warmed until you've finished up the cooking.
What to serve with pancakes
My favourite way to eat vegan pancakes is with a generous amount of vegan butter and lots of real maple syrup. Other things that go well with pancakes are:
fresh fruit like berries or sliced banana
defrosted frozen fruit or fruit compote
vegan whipped cream
whipped vegan ricotta
lemon juice and sugar (if you're making vegan English pancakes)
vegan bacon
tempeh strips
grilled tomatoes
hashbrowns or breakfast potatoes
jam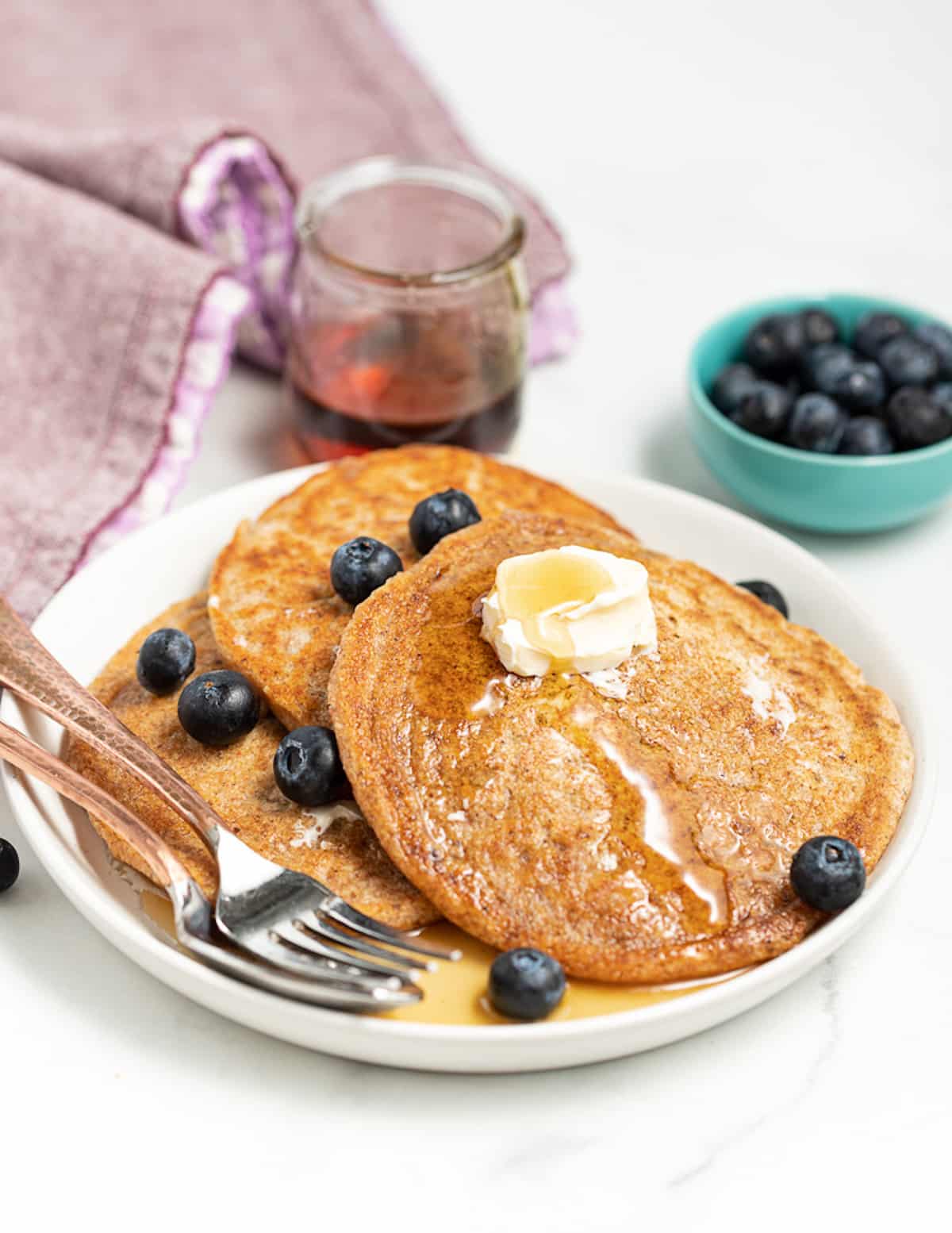 Storage, freezing & reheating tips
In the unlikely event that you have some leftover pancakes, you can wrap them well and keep them in the fridge for a couple of days or freeze them for up to 3 months. Reheat them straight from the freezer.
To reheat pancakes you can pop them into a skillet or frying pan over medium-low heat until they are heated through. You can also microwave them for about 30 seconds (a bit longer if they were frozen) or pop them into a toaster for 1 or 2 cycles.
Vegan pancake recipes
So now you've read all of my tips it's time to put what you've learned into action with my best vegan pancake recipes:
Chocolate Banana Pancakes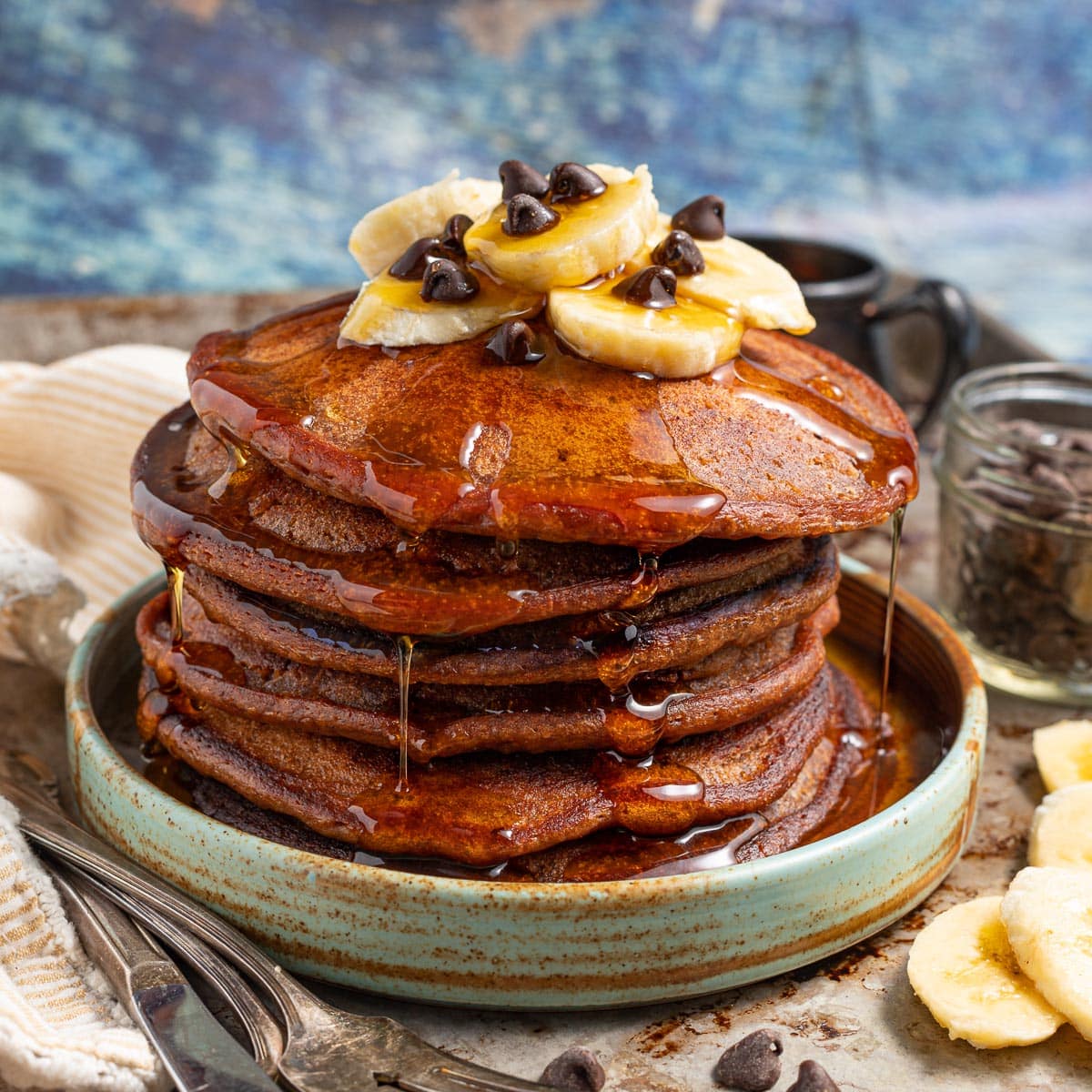 Treat yourself to a stack of my super soft and fluffy Chocolate Banana Pancakes for breakfast or brunch. They are melt in your mouth delicious with amazing, rich banana chocolate flavour!
make this recipe
Vegan Spelt Pancakes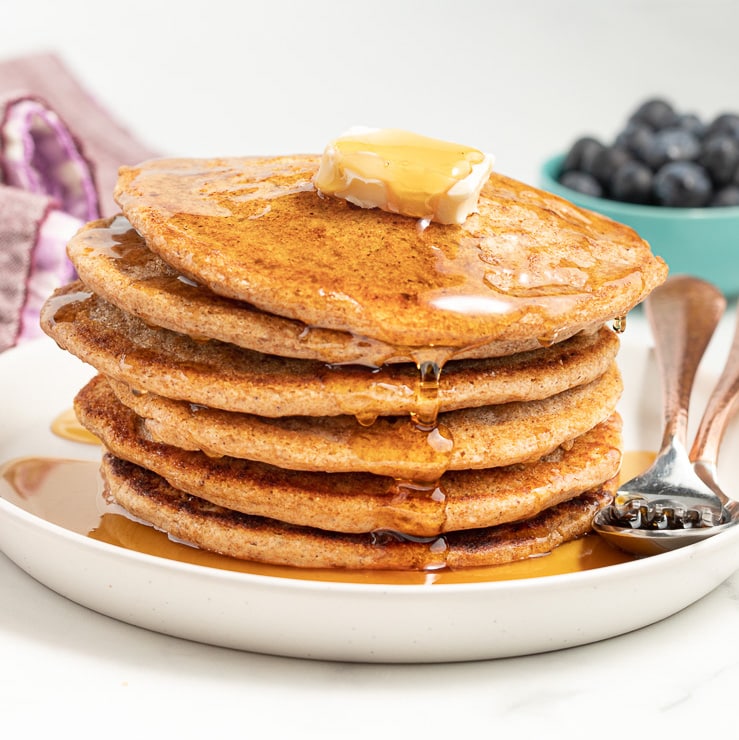 Light and fluffy Vegan Spelt Pancakes. Whole grain, sugar free & simple, but also super tasty and satisfying. Quick to make too!
make this recipe
Vegan Banana Pancakes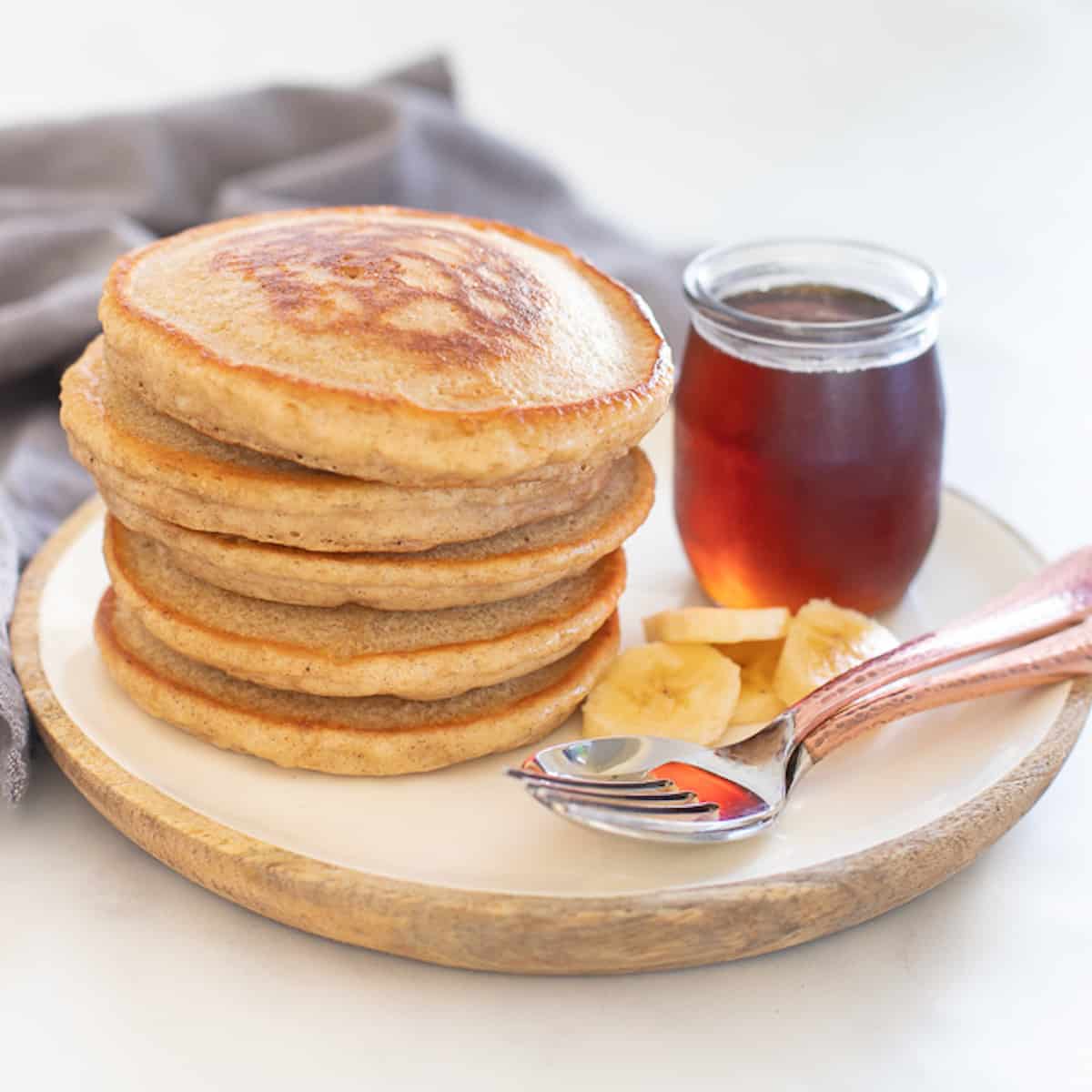 Hands down THE best Vegan Banana Pancakes. Made from pantry staples, they are quick and easy to make and so soft and fluffy!
make this recipe
Gingerbread Pancakes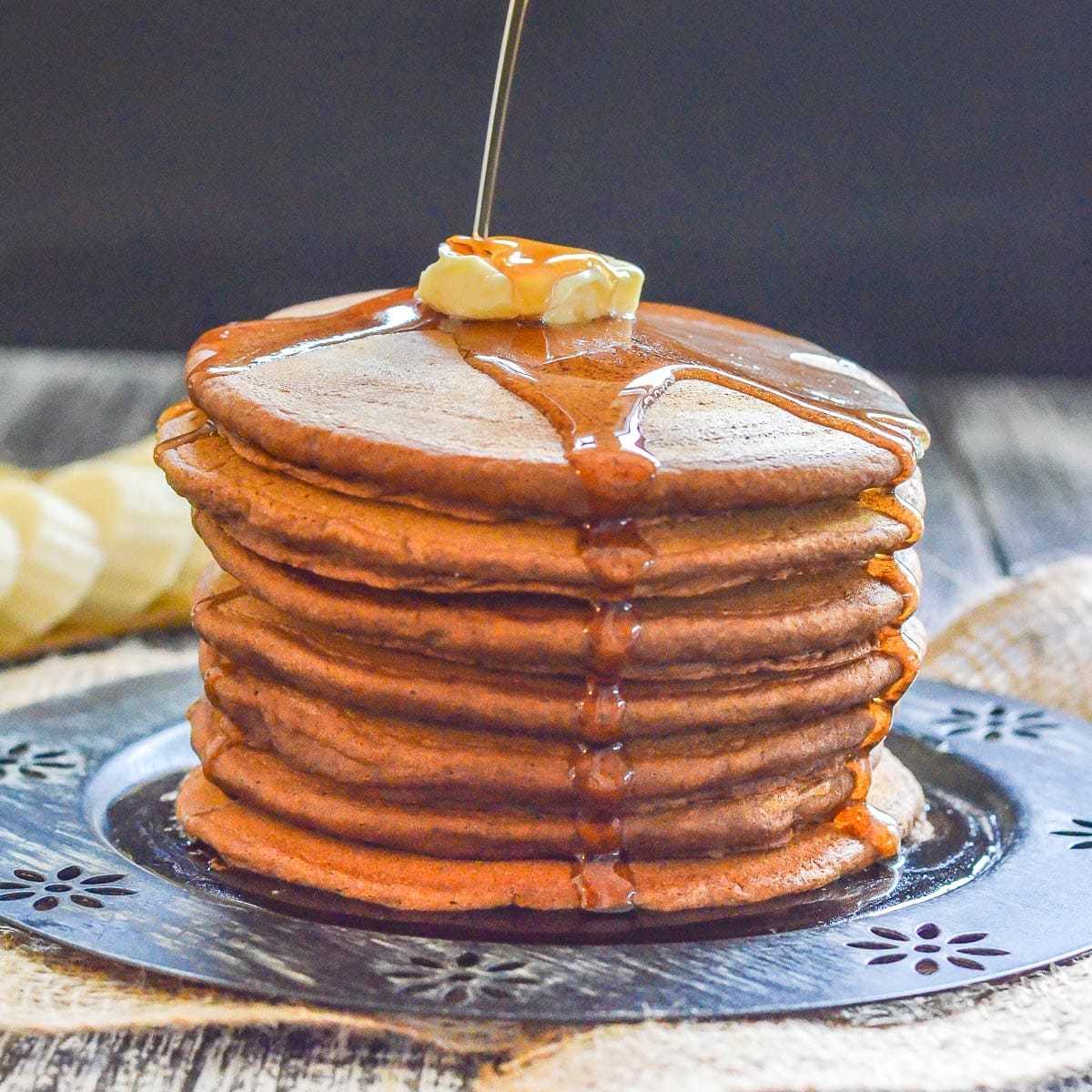 Soft & fluffy Vegan Gingerbread Pancakes. Full of rich, festive gingerbread flavour and melt-in-your-mouth delicious!
make this recipe
Vegan Sweet Potato Pancakes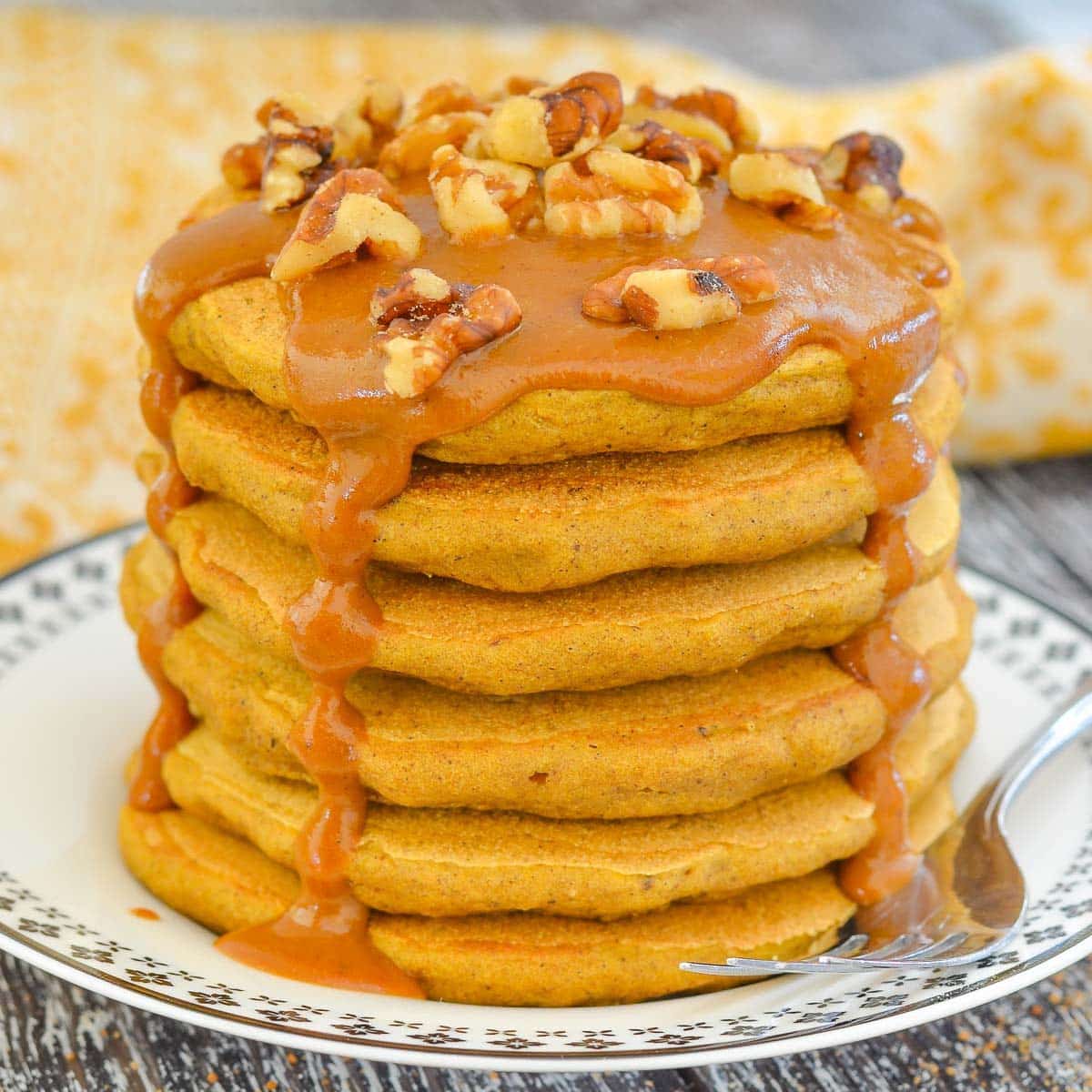 Light and super-fluffy, perfectly spiced Vegan Sweet Potato Pancakes drizzled in the most delicious Caramel Sauce! Perfect for fall!
make this recipe
Vegan Blueberry Pancake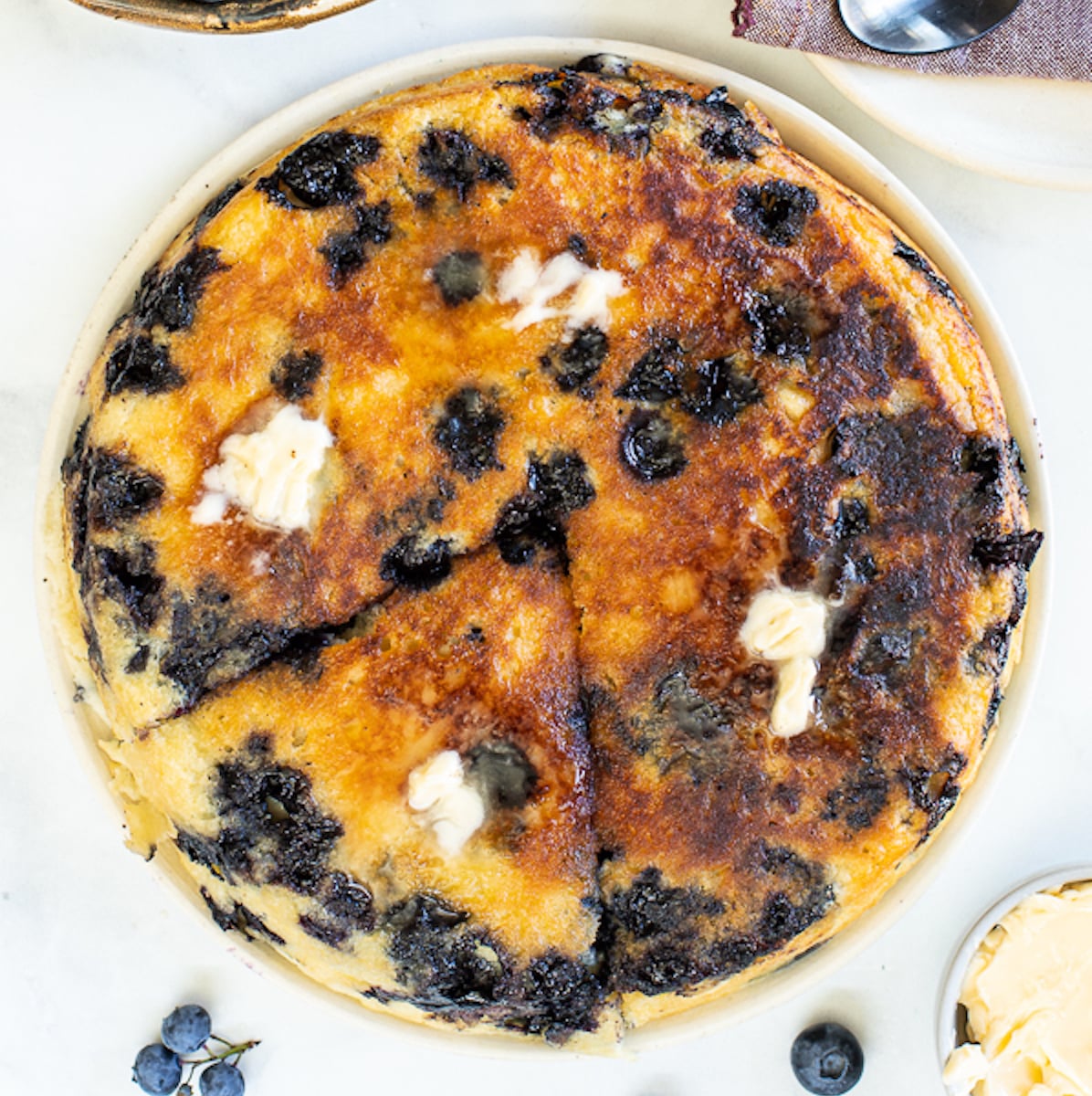 A super thick and fluffy, giant, no flip, giant Vegan Blueberry Pancake that is melt in your mouth golden and bursting with juicy blueberries. Perfect for feeding a family without having to stand over the stove for ages! 
make this recipe
Vegan English Pancakes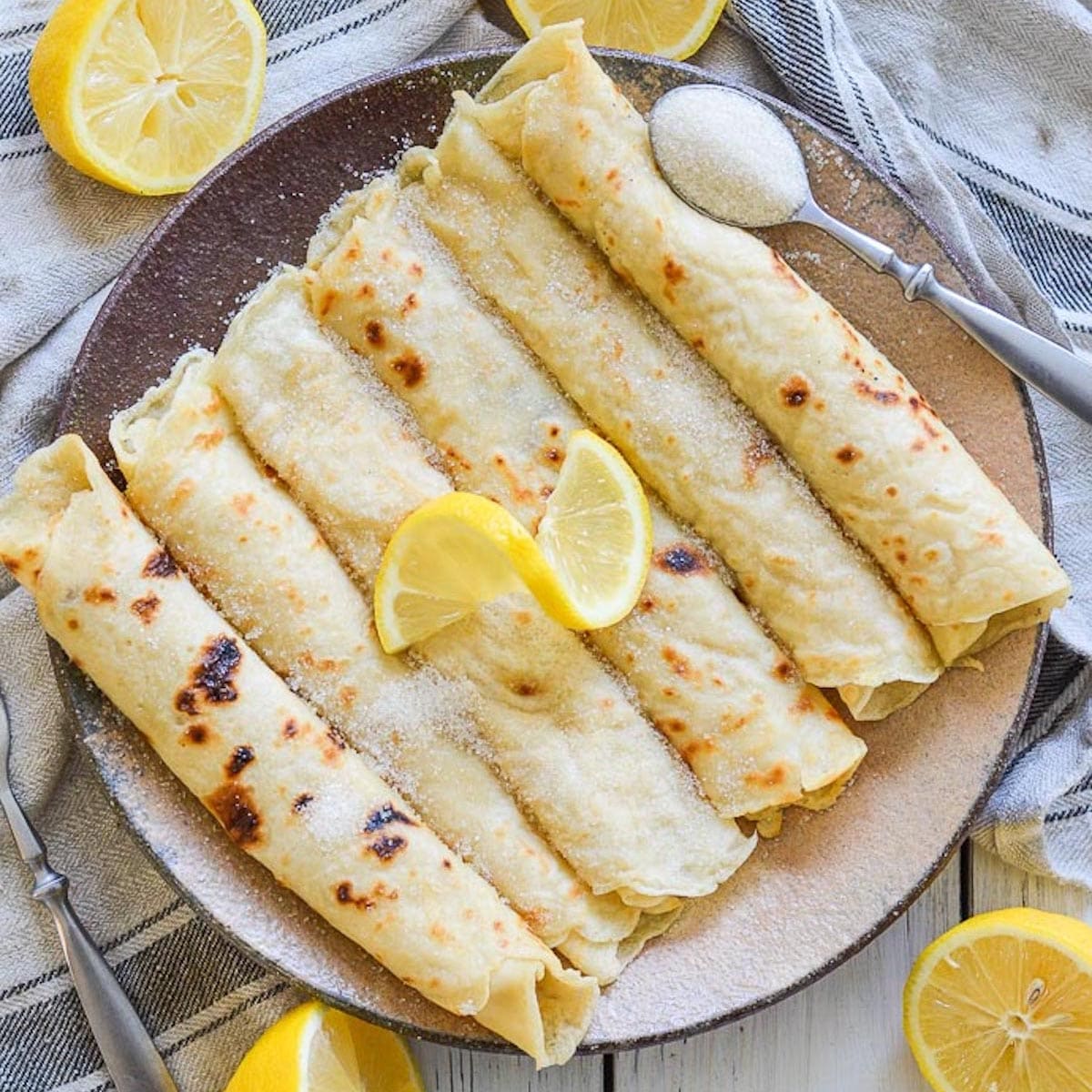 Foolproof Vegan English Pancakes. Quick & easy to make & great for dessert or brunch! They are beautifully freckled and so good straight from the pan, served glistening with fresh lemon juice & sugar.
make this recipe
Vegan Pumpkin Pancakes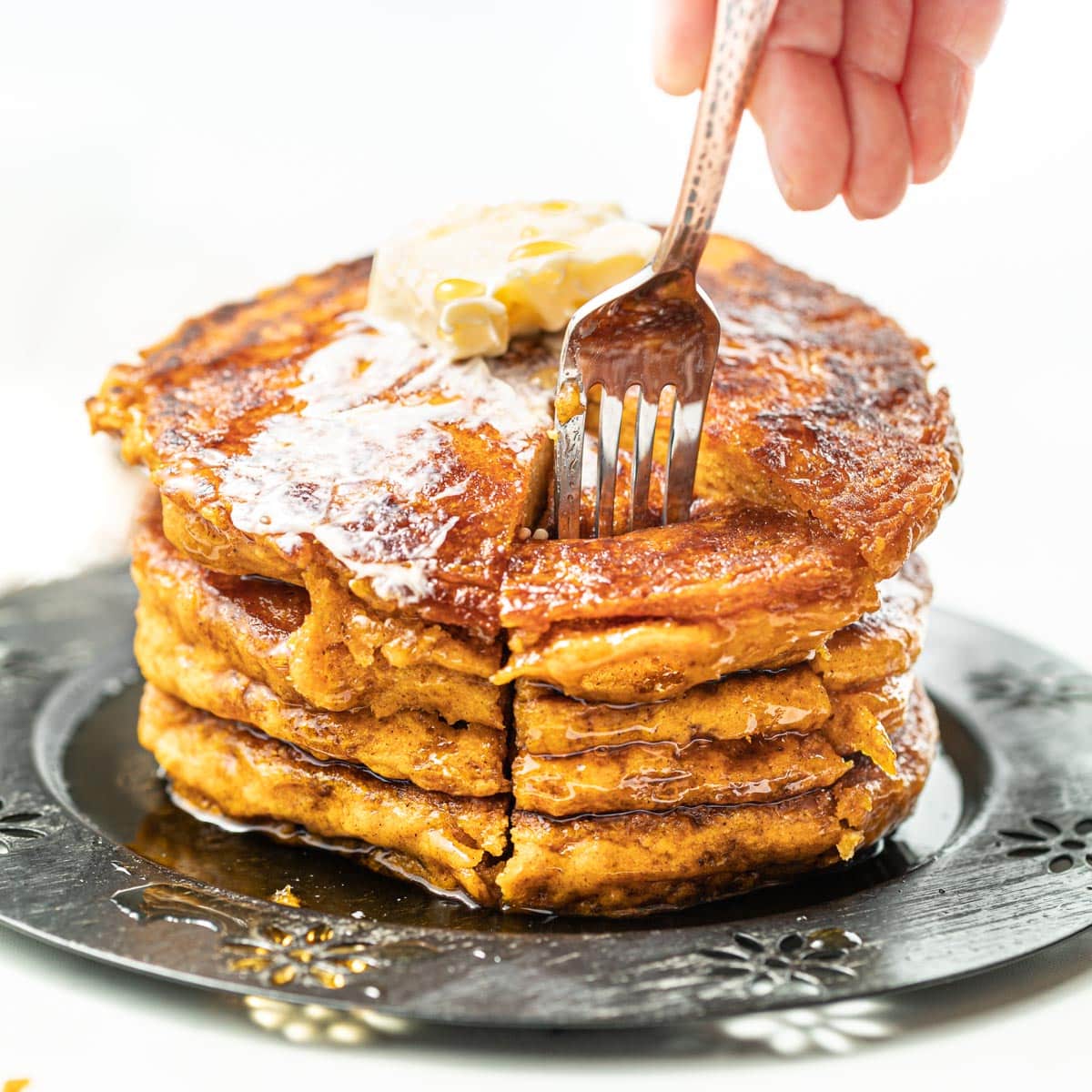 Golden and super fluffy Vegan Pumpkin Pancakes! They are packed with pumpkin flavour, perfectly spiced and just perfect served with copious amounts of vegan butter and maple syrup!
make this recipe
Corn Flour Pancakes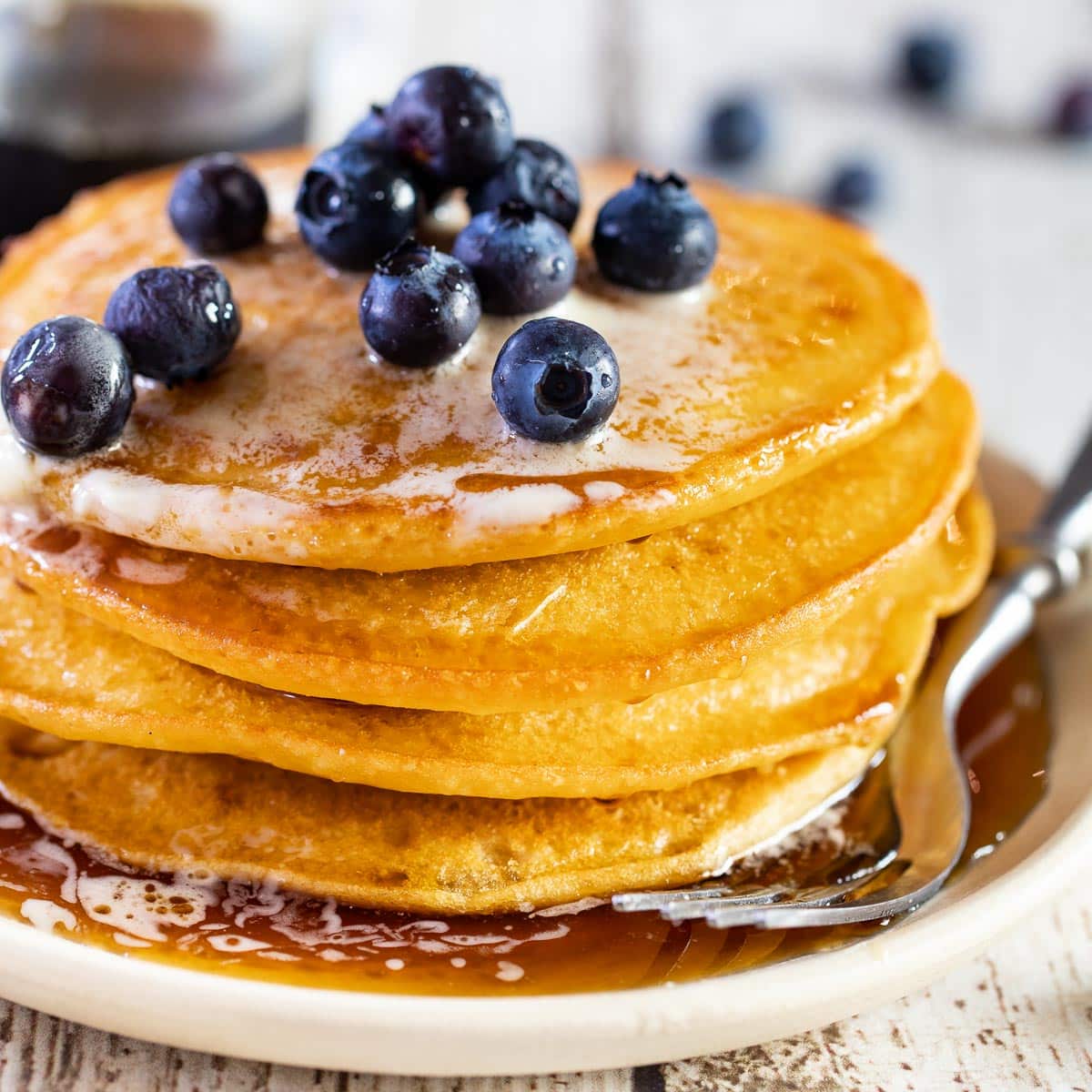 Super quick and easy 5 ingredient Corn Flour Pancakes. They are golden, fluffy, and can be mixed up & on your plate in under 15 minutes!
make this recipe
Healthy Oil-Free Vegan Pancakes For One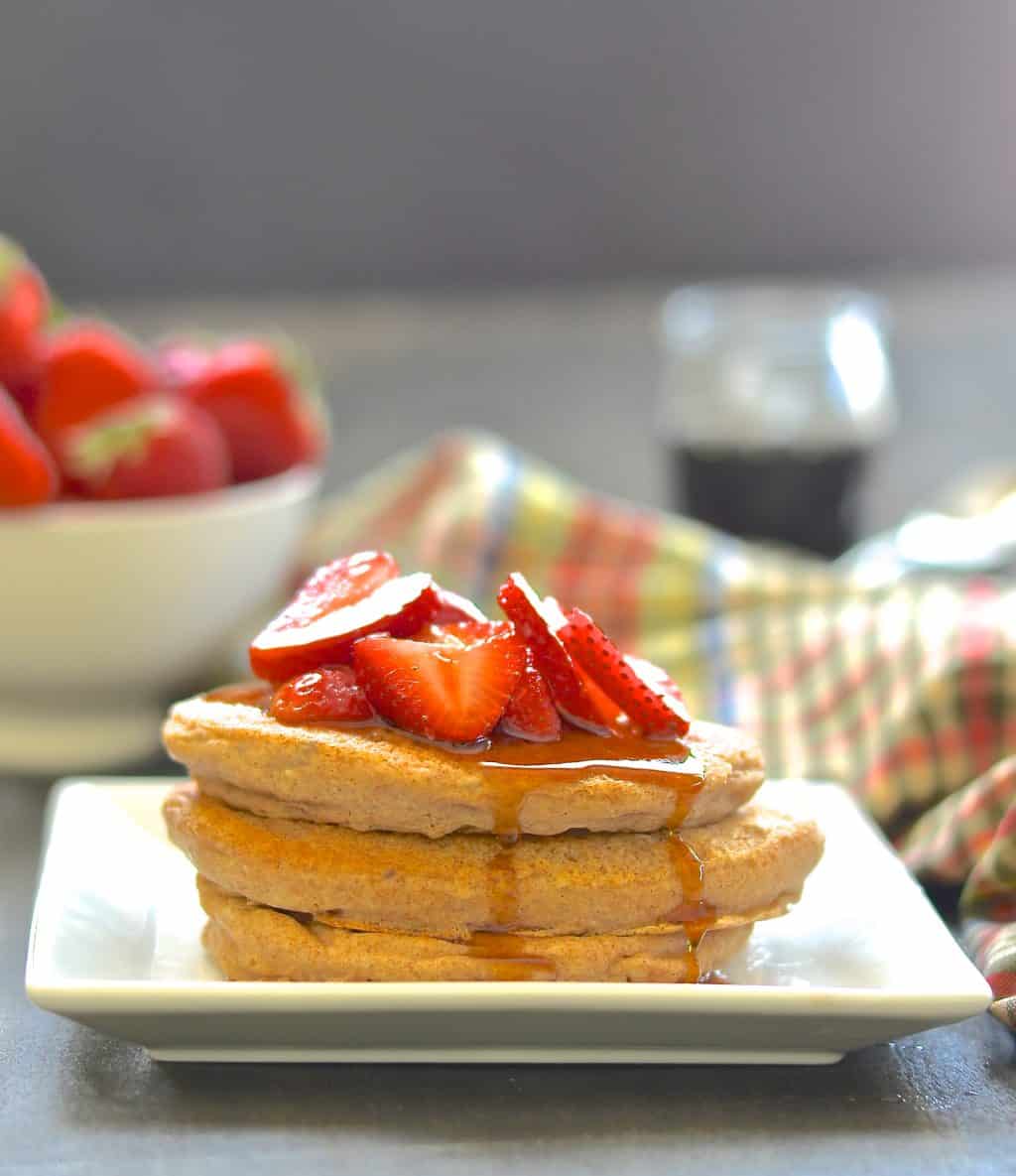 Make your breakfast special with these healthy but very delicious, beautifully soft, very fluffy, oil-free vegan pancakes.
make this recipe
---