With just a handful of pantry staples, these Vegan Banana Oatmeal Pancakes can be mixed up quickly and easily in a food processor or blender. Made with old-fashioned rolled oats they are hearty and nutritious, and can easily be customized with your favourite mix-ins!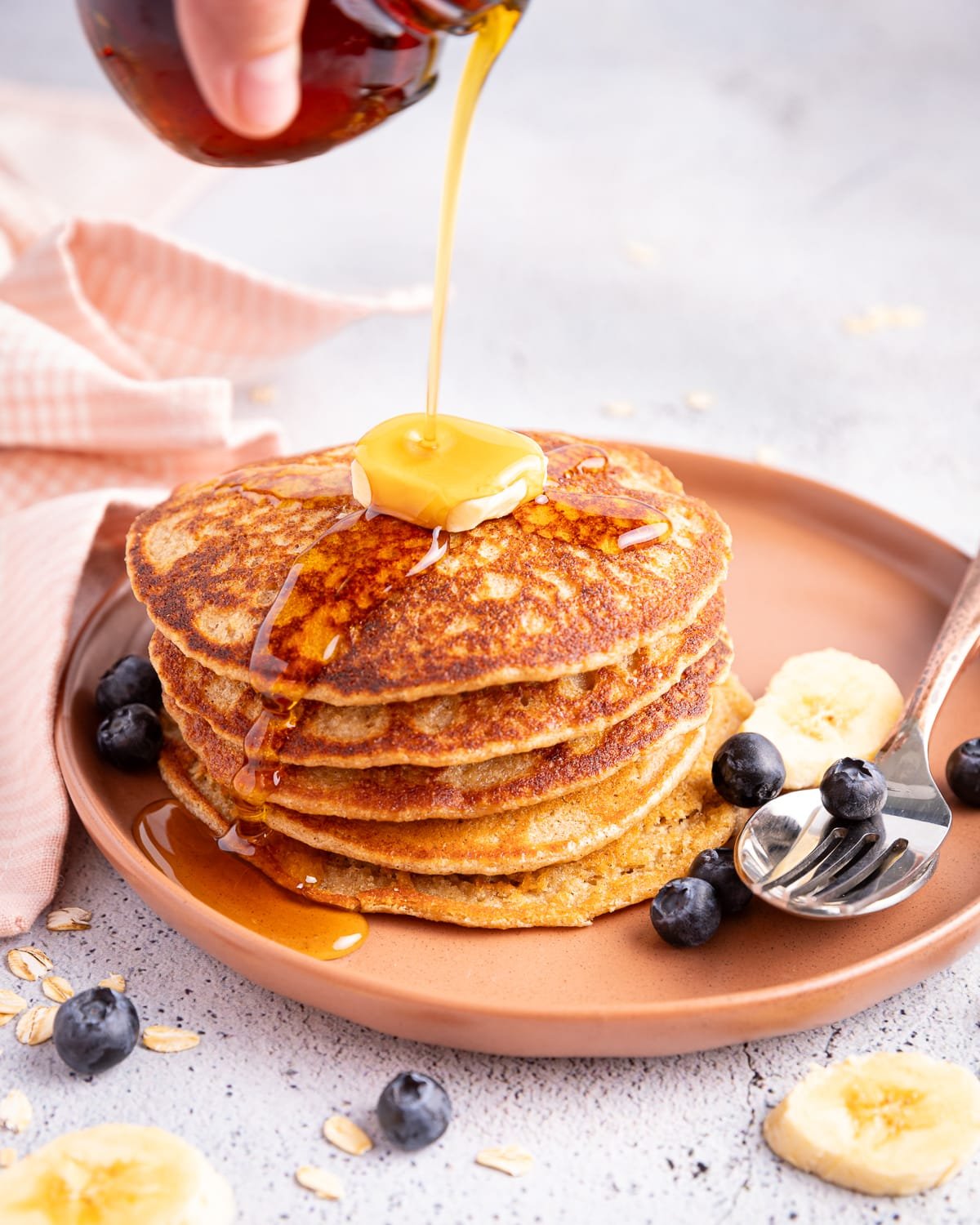 Need a vegan breakfast recipe that will use up that one random overripe spotty banana in your fruit bowl? I've got you covered with these Vegan Banana Oatmeal Pancakes!
I take my vegan pancake game very seriously and with hundreds of 5-star reviews across my many vegan pancake recipes, you can rest assured that you're in safe hands.
I'm going to show you how to make delicious, hearty, and healthy vegan banana oat pancakes, really quickly and easily in your blender or food processor, using simple and wholesome ingredients that you probably already have at home.
Ingredients
These easy vegan pancakes are made with pantry staples and are really budget and family-friendly. No eggs are required!
Here's exactly what you need at a glance, along with some ingredient notes and substitution ideas: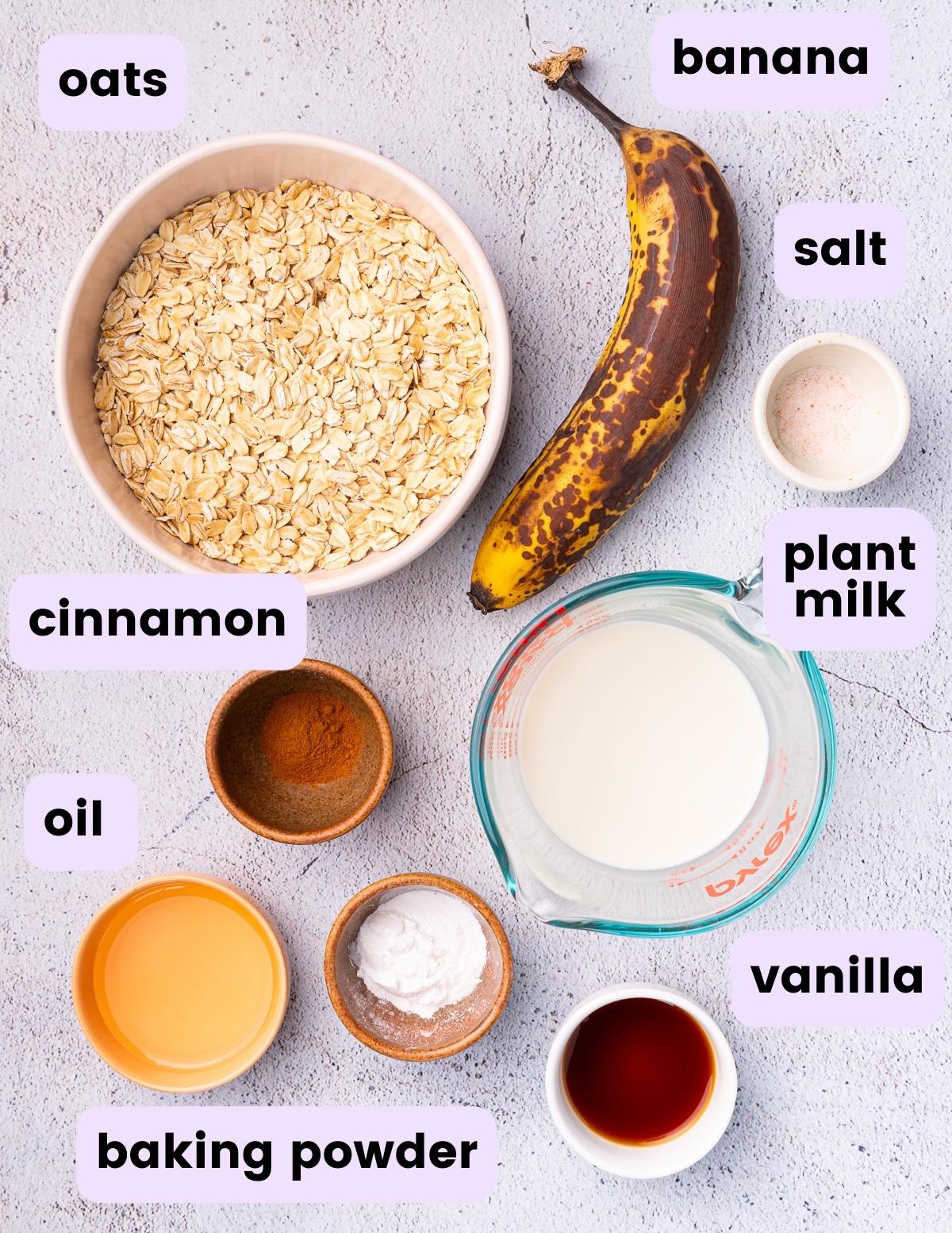 Banana - A really ripe banana is essential. It should be soft and spotty. You can use a defrosted frozen banana if you don't have a fresh one.
Oats - These naturally gluten-free and flour-free vegan banana oat pancakes are made with rolled oats or old-fashioned oats. Use certified gluten-free oats of necessary. You could use quick oats instead but be careful when pulsing in the whole oats as you don't want to lose too much texture.
Non-dairy milk - Any dairy-free milk will do such as oat milk, soy milk, cashew milk, or almond milk.
Oil - Any liquid oil will do in this recipe such as olive oil, avocado oil, sunflower oil, vegetable oil, or melted coconut oil. See the FAQs if you're wondering how to make them oil-free.
Cinnamon - Complements the banana flavour and adds interest and warmth. You could use the same amount of pumpkin spice instead.
Do you have bananas that aren't quite ripe enough? See my tip in the FAQs for how to ripen them quickly!
How To Make Vegan Banana Oatmeal Pancakes
Can't wait to make them? Here's a quick rundown of how it's done. See the recipe card for the full and detailed version, and if you're a visual learner check out my recipe video.
Add everything (except ¼ cup of the oats) to a blender and blend until combined and a thick batter is formed. It won't be completely smooth and will look grainy, but the oats should be no longer visible.
Add the remaining oats and pulse a couple of times to combine and break up just a little bit while keeping some texture.
Let the mixture rest and thicken up while you preheat a nonstick skillet.
Scoop portions of batter into the skillet and cook gently until bubbles form over the surface and start to pop. This is important. Don't have the heat too high and don't rush them. When they look like this and are nicely golden brown underneath you can flip them: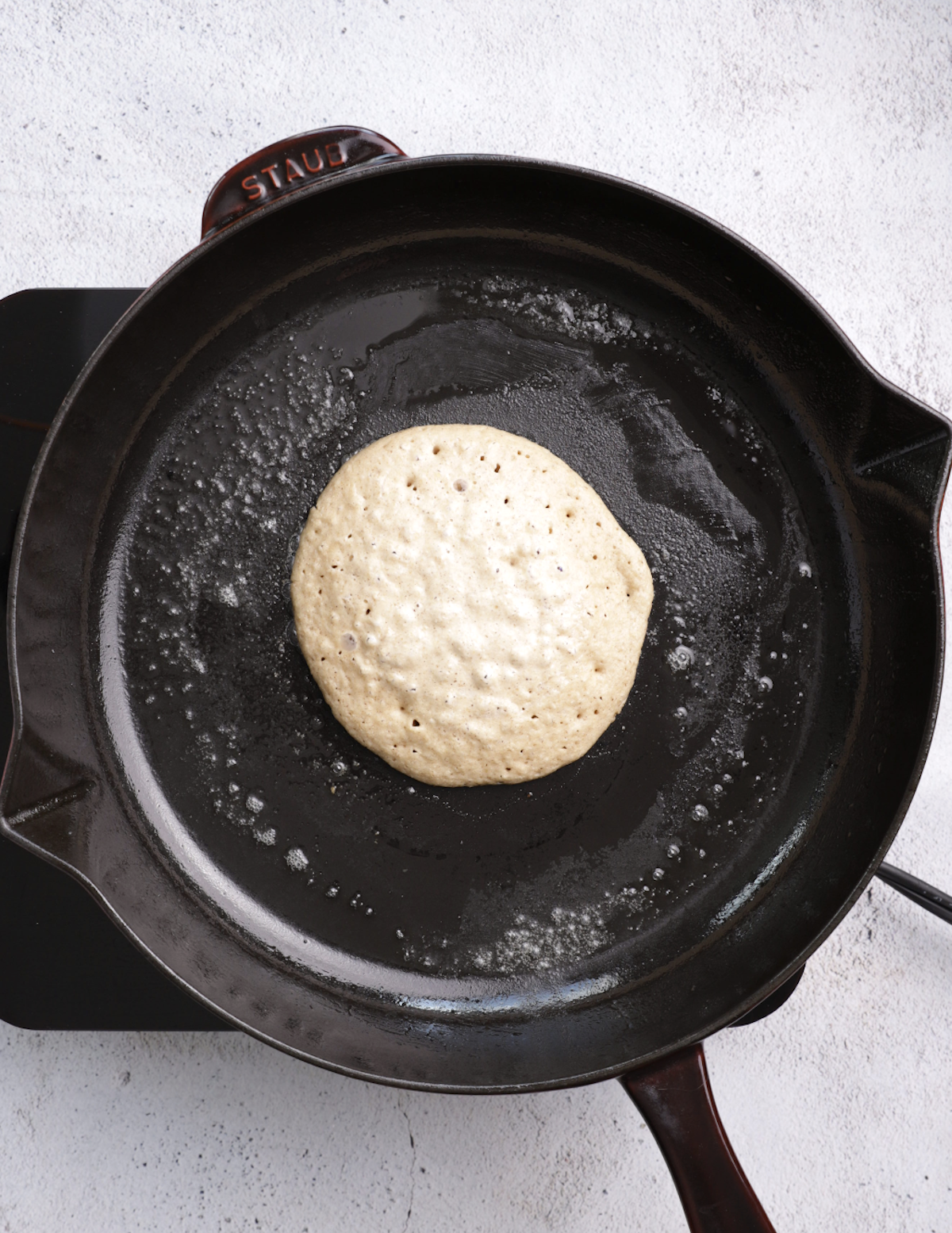 Remove from the pan once the other side is a lovely golden brown colour, like this:
Repeat until all of the pancakes are cooked. I like to pop them on a small baking tray in the oven on its lowest setting to keep them all warm until I'm done.
IMPORTANT VEGAN PANCAKE COOKING TIP - Cook the pancakes low and slow. Do not rush them. This is important for all vegan pancake recipes and not just this one. Pancakes made without eggs need a little longer to cook through so patience is key. Rush them and the outsides will cook before the middle does and you'll end up with mushy pancakes.
Mix-In Ideas
I love these pancakes with chocolate chips! Isn't banana and chocolate the best combo? Banana slices, chopped nuts, blueberries, or dried fruit also work well.
TIP FOR ADDING MIX-INS - Don't stir mix-ins through the batter. Instead, make the pancakes as directed then sprinkle the mix-ins over the pancake batter once it's in the pan but before they have set up. This ensures they don't come into contact with the very hot bottom of the pan for too long and accidentally burn (especially important with anything sweet like chocolate chips or dried fruit).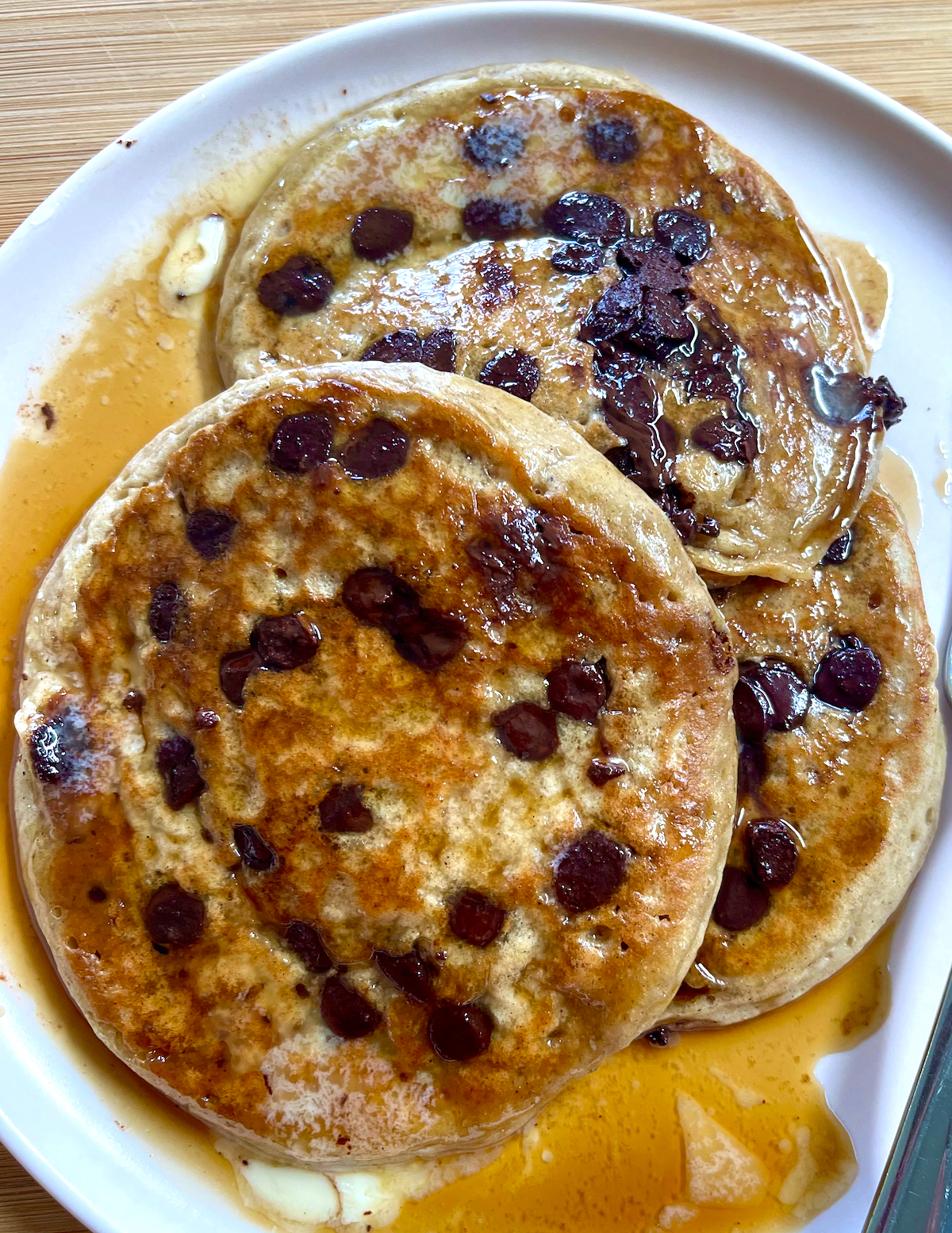 Serving Suggestions
Serve simply with vegan butter and maple syrup, or get fancy with vegan chocolate syrup, jam, caramelized bananas, stovetop candied pecans, fresh fruit, vegan brown butter, frozen berry compote, peanut butter, almond butter or tahini.
FAQs
My bananas aren't ripe enough yet? What can I do?
Ripen them quickly by placing your unpeeled whole bananas on a lined baking tray. Bake them in a 300ºF (150°C) oven for 20 to 25 minutes, or until the skins are completely black. Remove from the oven and allow to cool on the tray. Once cool you can use them in any recipe that calls for ripe, spotty bananas. Simply slit the skins with a sharp knife and scoop the soft flesh out with a spoon.
How can I make this recipe oil-free?
Some fat in the batter is necessary for a good texture but if you are WFPB you can replace the liquid oil with the same amount of any seed or nut butter. I recommend adding an extra 2 tablespoons of milk to the batter as well.
How do I store and reheat leftovers?
Allow leftover pancakes to cool completely. I like to do this on a wire rack so they don't get damp from condensation. Once cool you can place pancakes in a freezer bag or airtight container and store them in the fridge for 2 to 3 days. Or you can separate them with parchment paper and freeze them for up to 3 months.
Pop the refrigerated pancakes into a toaster, microwave, or hot skillet to reheat. If frozen allow them to defrost (they don't take long) then reheat them in the same way.
Can I use oat flour instead of oats?
You won't get quite the same results because in this recipe a small portion of the oats are pulsed into the batter to provide some lovely texture in the finished pancakes. In tests I felt like they needed that texture. If you still want to use it though, I recommend using 1¼ heaping cups of oat flour (130 grams) and keeping everything else the same.
Can I use all purpose flour instead of oats?
This recipe has only been tested with oats. It likely won't work well if you use flour instead without some major tweaks. If you are looking for a more traditional banana pancake recipe though I recommend giving my 5-star vegan banana pancakes a try!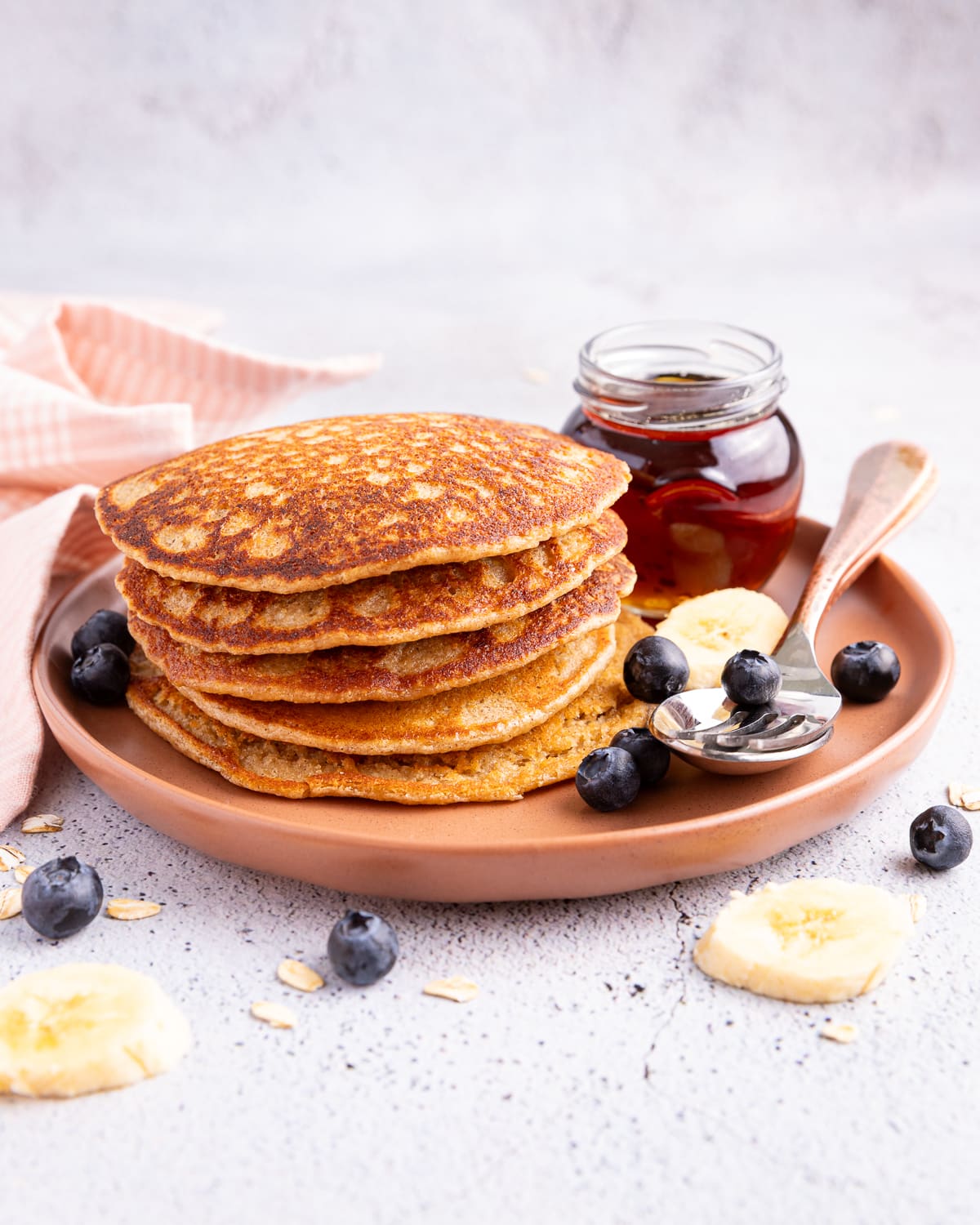 If you try this recipe, let me know how you like it by leaving a comment and rating below! And be sure to join my mailing list for more deliciousness!
Recipe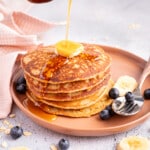 Vegan Banana Oatmeal Pancakes
Author:
With just a handful of pantry staples, these Vegan Banana Oatmeal Pancakes can be mixed up quickly and easily in a food processor or blender. Made with old-fashioned rolled oats they are hearty and nutritious, and can easily be customized with your favourite mix-ins!
Ingredients
1½ cups (150

grams)

rolled or old fashioned oats

, divided (certified gluten-free if necessary)

1

medium

banana

, ripe & spotty & about 7 to 8 inches long (about 130g/4.5oz once peeled)

1

tablespoon

baking powder

1

teaspoon

ground cinnamon

½

teaspoon

fine sea salt

1

tablespoon

vanilla extract

3

tablespoons

oil or melted vegan butter

, plus more for frying

¾ cup (180

mls)

non-dairy milk
OPTIONAL
⅓ cup (60

grams)

mix-ins of choice

, such as chopped nuts or chocolate chips
INSTRUCTIONS
To a high powered blender add 1¼ cup (125 grams) of the oats, the peeled banana, baking powder, cinnamon, salt, vanilla, oil and milk. Be sure to add the milk to the blender last to stop the powdery ingredients flying around. Blend until a slightly grainy looking batter is formed.

If you don't have a high powered blender or are using a food processor, first blend the oats on their own until they look like coarse flour and then add everything else before blending it all together.

Add the remaining oats and pulse a few times to combine so they break up a little bit but most of their texture is kept. Let the batter rest and thicken while you preheat the pan.

Add oil or vegan butter to a griddle or skillet place over medium-low heat (no higher) to preheat.

Use ¼ to ⅓ cup of batter per pancake depending how big you want them. Pour or add scoops of batter to the pan (It will be thick and will get thicker as it sits. Don't be tempted to thin it). Once in the pan, if needed, spread it out a little on top so the top is level, and if adding any mix-ins sprinkle them over now.

Leave the pancakes to cook without disturbing them until bubbles form across the top and they are golden brown on the bottom. Do not rush them or turn the heat up. This will take a good 4 to 5 minutes.

Flip the pancakes and cook on the other side for a couple of minutes until golden.

Serve them as they are ready, or transfer to a large plate and keep warm in your oven on the lowest heat setting until you've finished making the whole batch. Brush the pan with a little more oil between batches.
NUTRITION
Serving:
1
pancake
|
Calories:
143
kcal
|
Carbohydrates:
17
g
|
Protein:
3
g
|
Fat:
7
g
|
Saturated Fat:
1
g
|
Polyunsaturated Fat:
1
g
|
Monounsaturated Fat:
4
g
|
Sodium:
157
mg
|
Potassium:
302
mg
|
Fiber:
3
g
|
Sugar:
2
g
|
Vitamin A:
58
IU
|
Vitamin C:
1
mg
|
Calcium:
107
mg
|
Iron:
1
mg
Did you make this recipe?
Rate it & leave feedback in the comments section below. I love seeing your remakes too. Tag @avirtualvegan on Instagram! 🌟