This rustic Vegan Soda Bread is such an easy vegan bread recipe. It's a yeast, dairy, and egg-free bread that is really quick to make with no kneading or complicated shaping involved. Enjoy it fresh from the oven, slathered with vegan butter and dipped in some Vegan Irish Stew!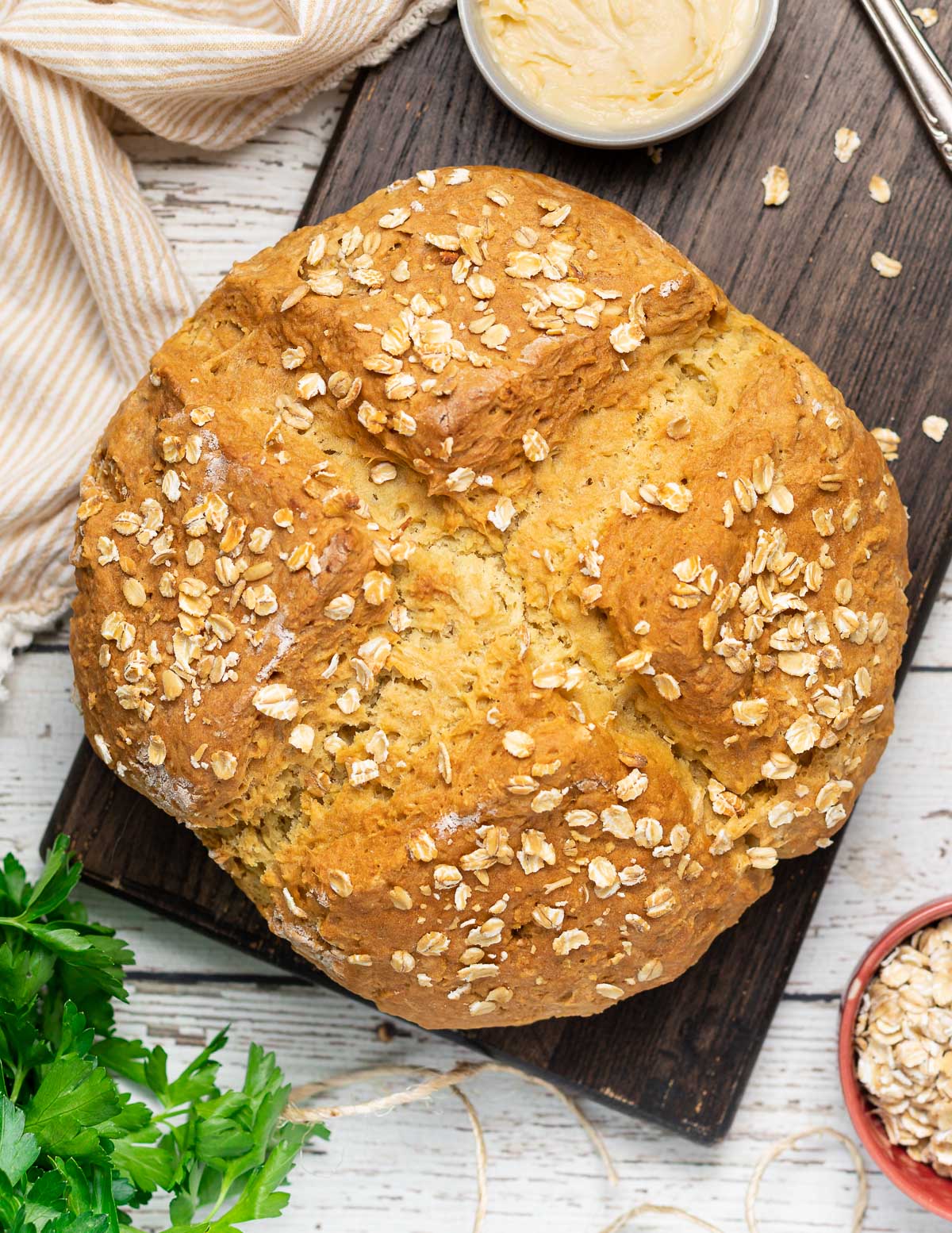 Carb lovers unite because here is my super tasty Vegan Soda Bread recipe. If you've been wondering how to make soda bread vegan I've got you. And this is a great recipe to master because it's made with budget and pantry-friendly ingredients and is super quick and easy with no yeast or kneading.
Just like my no yeast white-bread, you can have this Vegan Irish Soda Bread made and in the oven within 10 minutes. Simply mix the dough up in a bowl (no kneading required), shape roughly (the more rustic the better) and bake. It doesn't get much easier than that!
In this post - Everything you need to make perfect Vegan Soda Bread:
Jump to:
We're talking a hearty, crusty, craggy crust and a dense but soft crumb which makes it perfect for serving up with hearty bowls of soup or vegan Irish stew. I'm not going to lie though... My favourite way to eat it is slathered in vegan butter and strawberry jam for breakfast!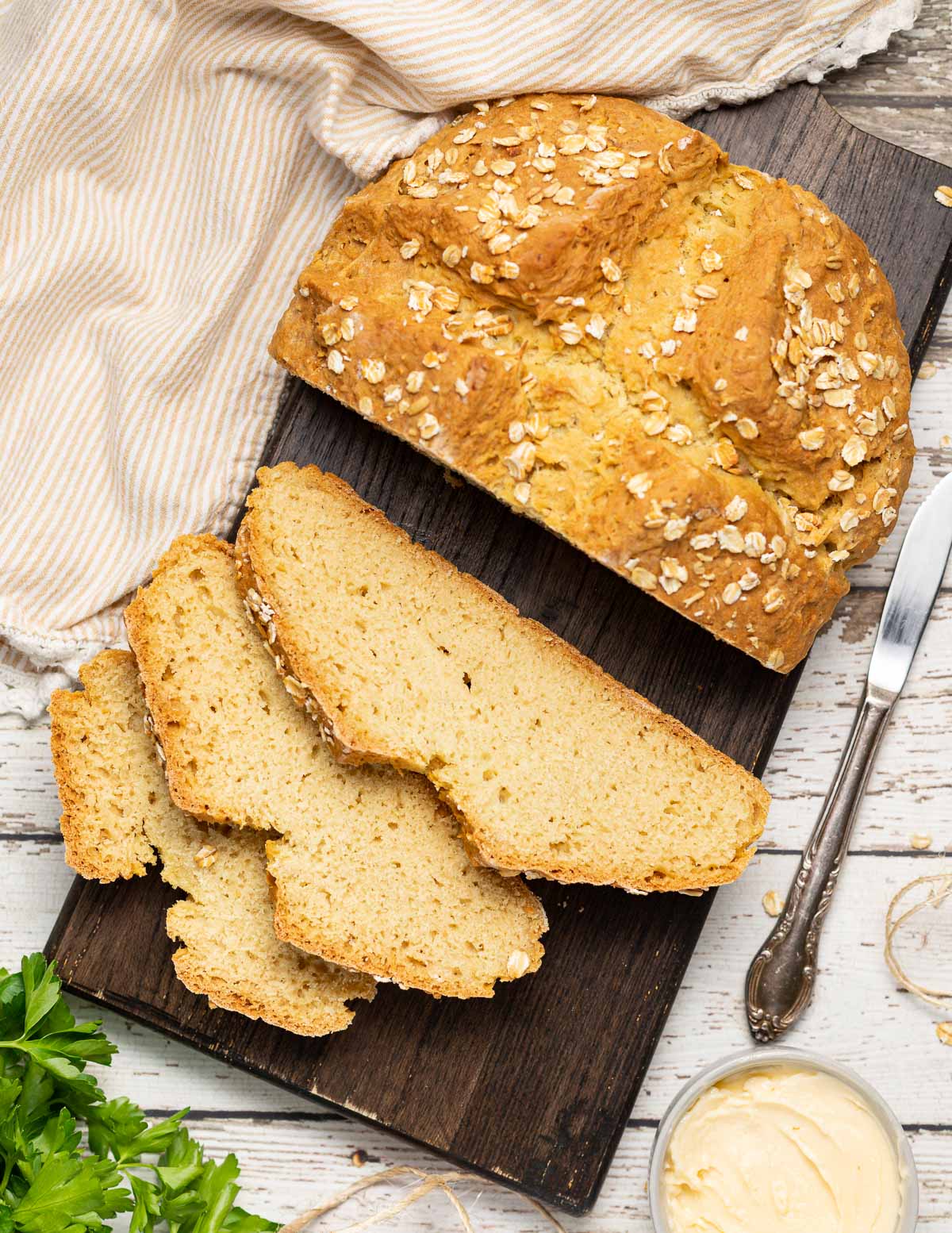 What Is Soda Bread?
Soda bread is a quick bread that is baked in many different cultures, and although it's commonly attributed to Ireland, it was actually first created in America. It is called soda bread because baking soda (or bread soda or bicarbonate of soda as it's know in Ireland) is used to leaven it.
Soda bread became a staple in Ireland in the mid-1800s, largely as a result of the potato famine and was turned to as a filling and cheap alternative to potatoes. It was the perfect solution because most of the flour the Irish had access to at that time was more suited to quick bread than yeast bread, baking soda was relatively cheap, sour milk was easily available, and the bread was easy to cook in a cast-iron pot over an open fire.
The use of baking soda instead of yeast, and buttermilk (or a clever buttermilk substitute as is the case in my vegan take of a traditional Irish soda bread recipe) is what gives soda bread its unique appearance, texture and flavour.
Is Irish Soda Bread Vegan?
Traditional Irish soda bread is made using buttermilk which is not vegan. However, my vegan version replaces the buttermilk with soy milk, vegan yogurt, and vegan butter. This combination emulates the action and flavour of thick, tangy, buttermilk perfectly and makes for a really delicious loaf. So if you're wondering if vegans can eat soda bread, then yes they can with a few modifications and to be very honest, you really can't tell the difference.
Ingredients
To make this recipe, you will need :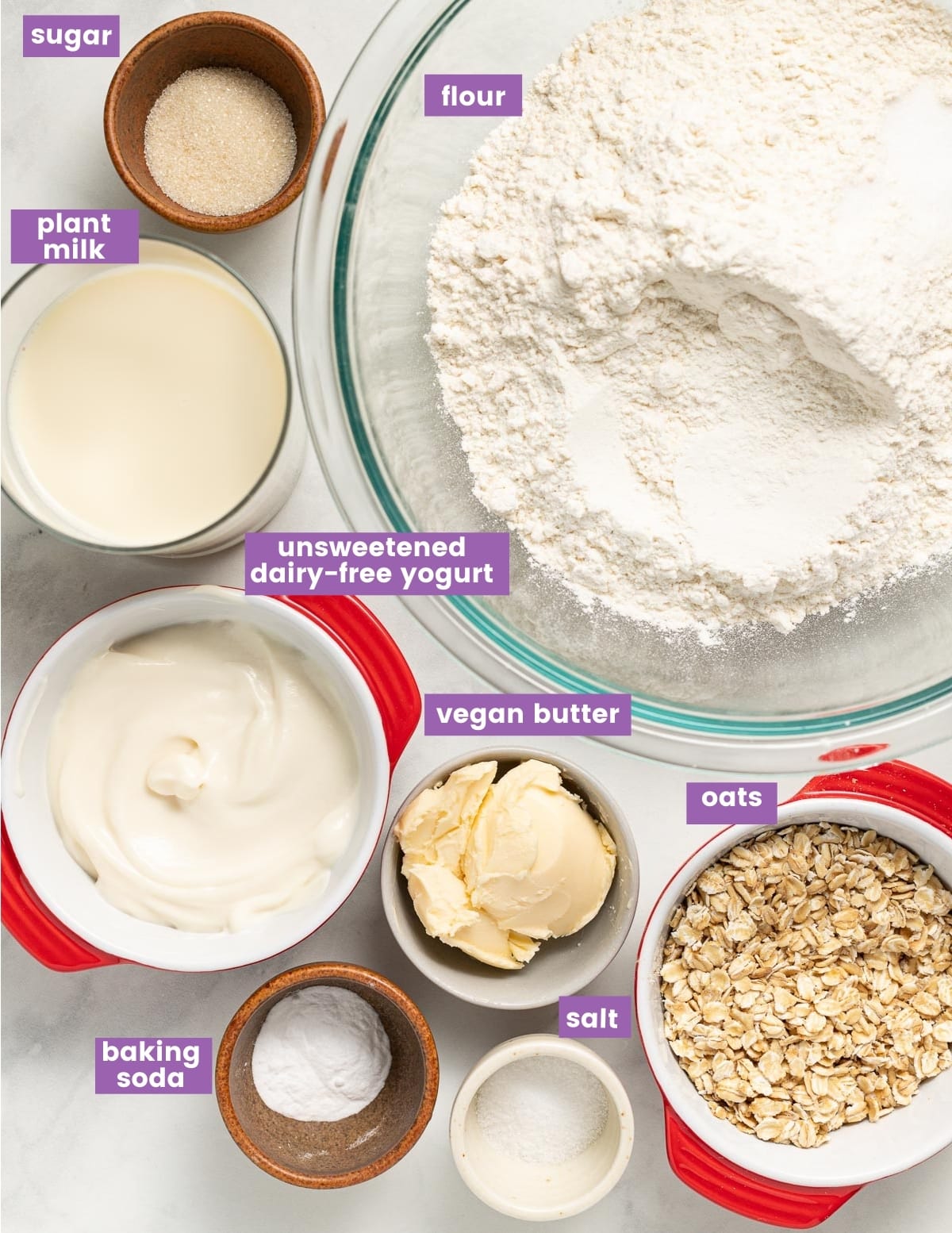 And some ingredient notes:
All-purpose flour - For the best texture and flavour. It gives a better texture than bread flour in this recipe. If you are in the UK use plain flour. You can replace up to 50% of the flour with wholewheat flour if you want to.
Natural vegan yogurt, soy milk and vegan butter - A.K.A your "buttermilk". They aren't traditional ingredients in soda bread, but the combination of the 3 in this vegan soda bread recipe make a fantastic buttermilk replacement and adds so much flavour and colour to the bread and crust. The acidity of the yogurt also helps the rise. The yogurt and milk used need to be unflavoured and unsweetened. I used soy milk which is always my preference in savoury recipes, and Maison Riviera plain coconut milk yogurt. Lots of unsweetened natural vegan yogurts are available though, such as So Delicious and Silk. I do give details of how to make the recipe without yogurt in the recipe notes.
Sugar - Just a touch for a very subtle hint of sweetness.
Apple cider vinegar - The yogurt provides some acidity and the vinegar adds more. This acid reacts with the baking soda to rise the bread.
Baking soda - To help the bread rise and fluff up. Otherwise known as bicarbonate of soda or sodium bicarbonate in the UK. It is an essential ingredient in soda bread. It's more powerful than baking powder and also reacts with the acid in the recipe creating the lift required.
Rolled oats - For rustic decoration, added to the top of the dough. They are optional.
Expert Tip - if you have a cast-iron skillet I recommend you cook the bread on that as it makes the crust crustier, more golden, and more delicious. If you have the black Dutch oven I recommended in my Vegan Kitchenware Essentials post, the lid works perfectly for baking this bread on. A baking tray is fine if you don't have a cast iron skillet though.
How To Make Vegan Soda Bread
Here's how to make yeast-free soda bread in just a few steps: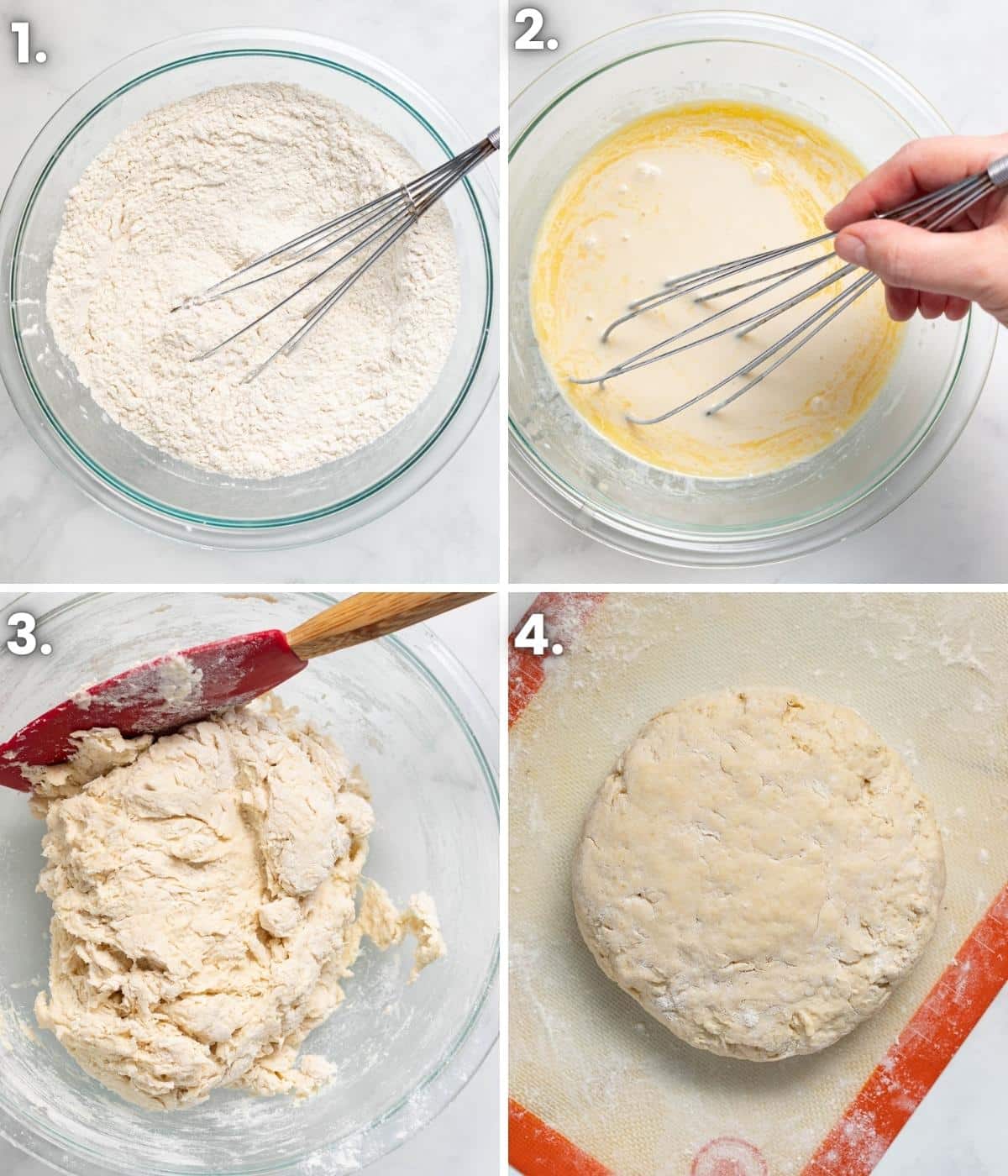 Whisk the dry ingredients together in a bowl.
Mix the wet ingredients a separate bowl.
Pour the wet ingredients into the dry and stir them together to form a shaggy dough.
Turn out on a floured surface and shape into a flat disc (like a big scone or biscuit).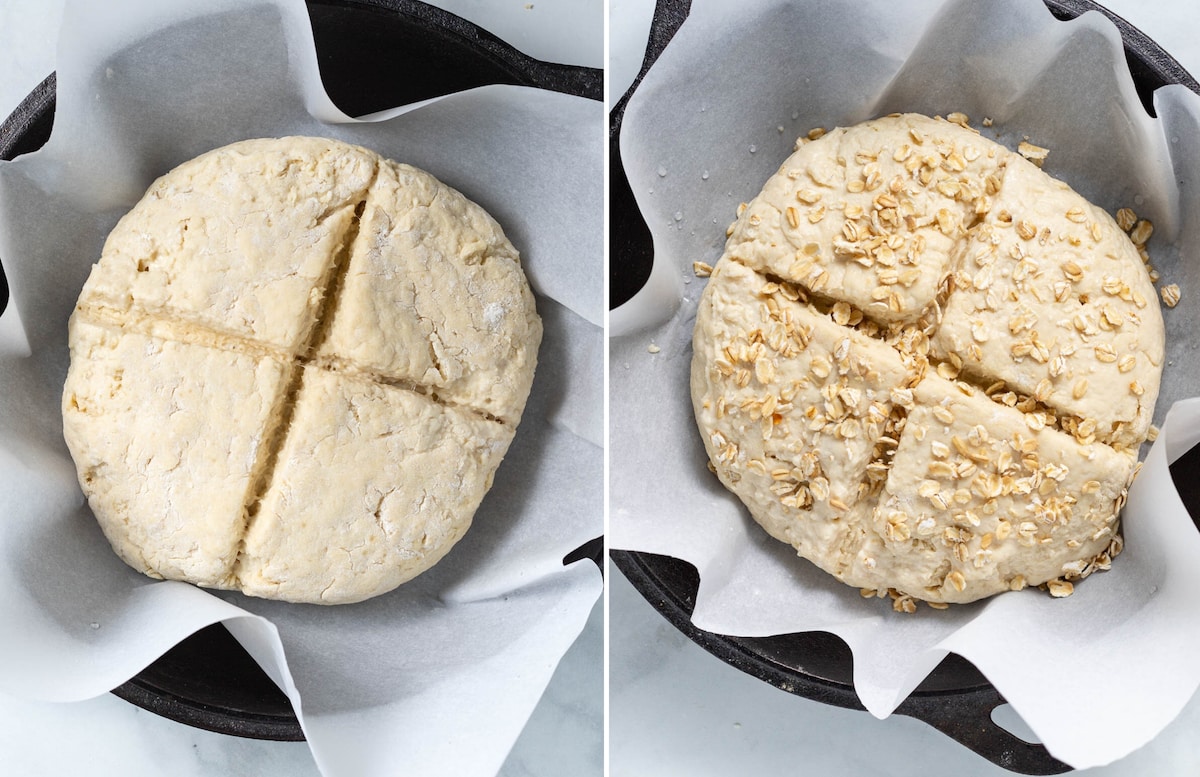 Transfer to a tray or skillet, wet your knife and score the top.
Brush some water on the top and sprinkle on some rolled oats.
Bake then leave to cool for at least 30 minutes on a cooling rack before slicing.
Success Tips
To get the very best results take note of these tips:
Use a digital scale to measure the dry ingredients if you can. Measuring cups aren't nearly as accurate and won't give you consistent results.
Vegan yogurt substantially improves this bread's rise, texture and flavour. I highly recommend you use it if at all possible.
You'll want to work quickly with this one. As soon as you add the liquid to the dry ingredients the baking soda gets to work, so you need to mix it, shape it and get it in the oven as fast as you can. I tested making 2 loaves and baking one 5 minutes after the other. The rise of the 2nd one was significantly affected, so don't hang about!
If you have a cast-iron skillet use it to bake the loaf in. It gives it a lovely golden crusty bottom! A baking tray is fine if you don't though.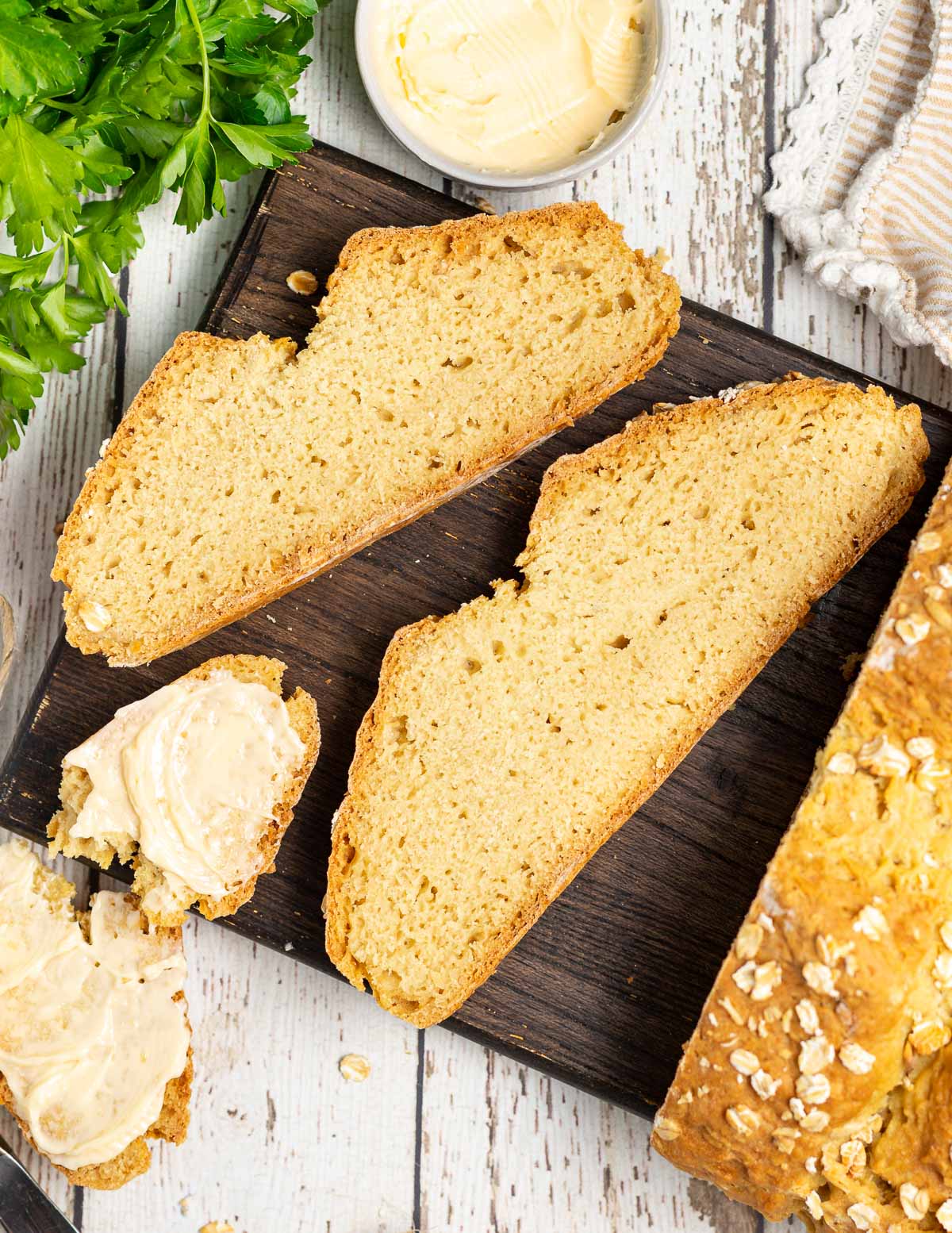 Why Is There A Cross In Irish Soda Bread?
The cross in Irish Soda Bread is a form of scoring which creates a weakness in the surface so the bread can expand as it bakes. If you don't score it, you could get some bursting out in other places, such as the bottom and sides, ruining the appearance of your bread. It also allows the heat to penetrate into the deepest part of the loaf more easily, ensuring it cooks quickly and evenly.
Functional purpose aside though, legend has it that the cross was cut to allow the devil to escape while it baked. Also, being a Christian country, the cross is thought to symbolize the crucifix. By cutting the cross you are giving thanks. The cross also helps the "breaking of the bread" into 4 easy pieces once it's baked.
And a tip for scoring dough, I find it so much easier to wet the knife. That goes for scoring any bread, not just this soda bread. It helps stop the blade dragging the dough and gives a cleaner cut. I run the blade under the tap or dip it into a tall glass of water between each cut.
Variations
It's perfect as it is but feel free to make it your own! Additions I love to add sometimes are:
vegan shredded cheese
a few handfuls of dried fruit such as currants, raisins, or cranberries
more sugar for a sweeter bread.
seeds like flaxseeds, pumpkin seeds, sesame seeds, sunflower seeds, caraway seeds, or poppyseeds, will add flavour and crunch.
chopped jalapeno, garlic, red pepper flakes or fresh/dried herbs to the bowl as you add the wet ingredients.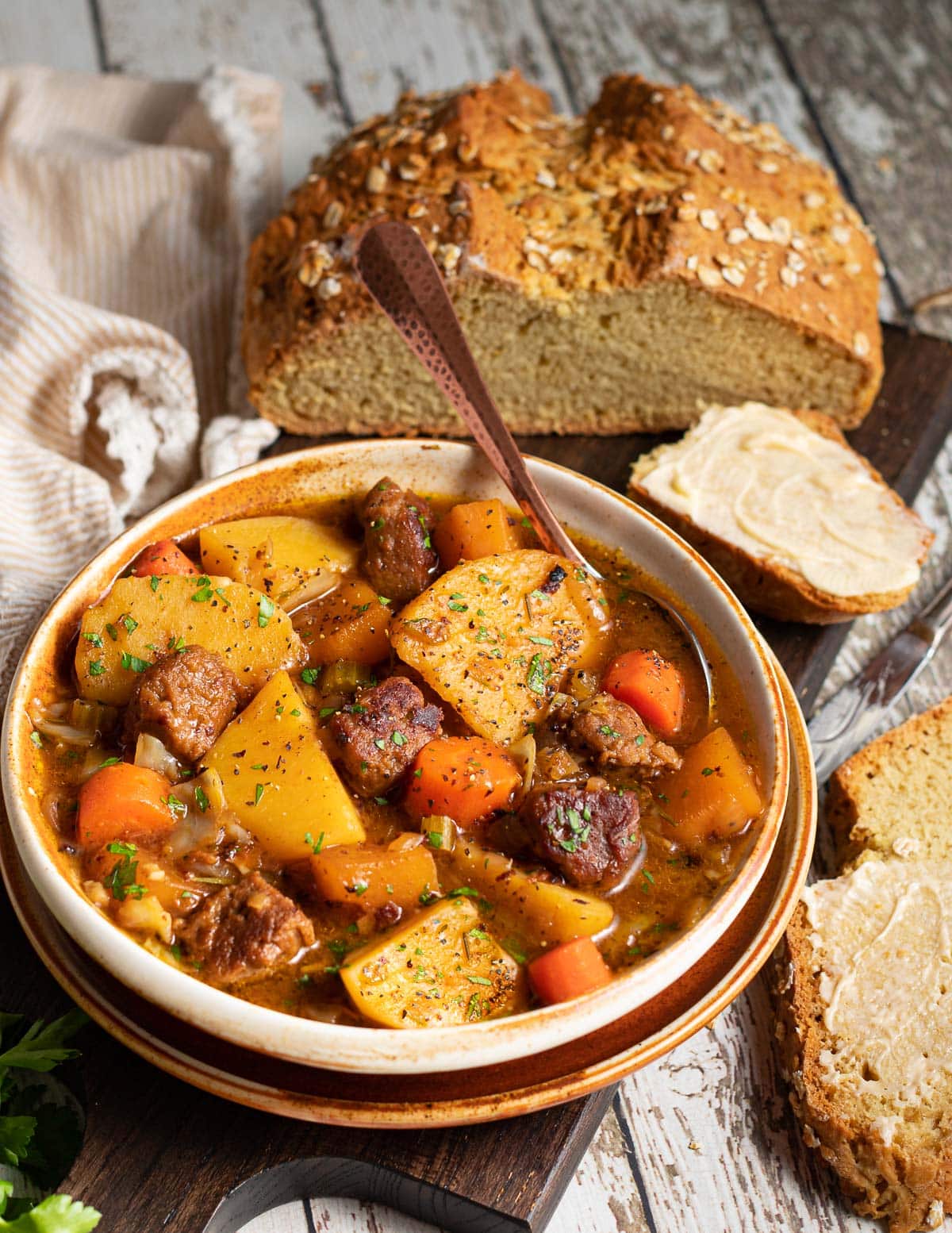 Storage & Freezing Tips
Vegan Irish soda bread keeps well for a few days and also freezes and reheats well. Here's how to do it:
Storing: This bread will stay fresh for up to 3 days when stored in an airtight container or bag. Keep it on your kitchen countertop or in the pantry. Don't refrigerate it.
Freezing: To freeze Irish soda bread, put it into a freezer bag or airtight container and freeze for up to 3 months. Let it thaw on the countertop for a few hours or overnight.
Reheating: This bread reheats really well. Pop the whole loaf directly on the oven racks and bake at 350°F (175°) for about 20 minutes. You can also reheat quarters of the bread in the same way on 350 °F for about 8 to 10 minutes.
Serving Suggestions
Irish soda bread can be used in any way you would regular bread although its hearty texture makes it especially great for dipping in soups and stews like my Vegan Irish Stew.
You can also use it for sandwiches, toast it, spread it with butter and jam or peanut butter for breakfast, or eat with delicious vegan cheese, I also love using it for avocado toast and toasted as a base for my vegan scrambled eggs!
Hungry for more?
Love this vegan soda bread recipe? You might also enjoy these delicious no yeast vegan bread recipes:
If you try this recipe, let me know how you like it by leaving a comment and rating below! And be sure to join my mailing list for more deliciousness!
Recipe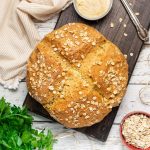 Vegan Soda Bread
Author:
This rustic Vegan Soda Bread is such an easy vegan bread recipe. It's a yeast, dairy, and egg-free bread that is really quick to make with no kneading or complicated shaping involved. Enjoy it fresh from the oven, slathered with vegan butter and dipped in some Irish Stew!
Ingredients
4 cups (500 g

grams)

all purpose flour

, (plain flour in the UK). Don't use bread flour.

1

tablespoon

white or cane sugar

1½ teaspoons

fine sea salt

1¾

teaspoons

baking soda

, (bicarbonate of soda in the UK)

1 cup (240

mls)

soy milk

, because it curdles best. Other plant milks will work but you won't get the best buttermilk flavour

½ cup (120

mls)

natural vegan yogurt

, it must be unsweetened and unflavoured (see recipe notes for alternative)

4 tablespoons (60

mls)

melted vegan butter

1

tablespoon

apple cider vinegar

1

handful

rolled oats for sprinkling

, OPTIONAL but looks pretty
INSTRUCTIONS
Preheat oven to 400 ° F (200 °C) and line a baking tray or a minimum of 10 to 12 inch cast iron skillet with parchment paper.

To a large mixing bowl add the flour, sugar, salt and baking soda. Give them a quick whisk or stir to combine.

In another bowl or jug add the soy milk, natural yogurt, melted butter and the vinegar. Whisk to combine.

Lightly flour a spot on your work surface ready for shaping the loaf and if you want to decorate the top of the loaf with a sprinkle of oats, have them, and a small bowl of water and pastry brush handy too. Don't mix up the dough until all of this is ready.

Pour the wet mixture into the dry ingredients and stir them together with a spatula to form a shaggy dough. Keep stirring until it gets too difficult. If it's dry add a tiny drop or two of milk and stir until absorbed.

Turn the shaggy dough out onto the floured surface along with any bits that didn't incorporate well. Dust your hands well with flour and bring the dough together into a ball. If it is really sticky sprinkle on a bit more flour. Shape into a 7-inch disc shape about 2 inches high. It doesn't need to look perfect. The beauty of soda bread is it should be rustic!

Don't take too long doing this. The quicker you are the more the bread will rise.

Once it's shaped transfer it onto the parchment-lined tray/skillet. Get your sharpest knife and wet it by either running it under the tap or dipping it in a glass of water, then slice a cross shape about ¾ inch deep into the top. In between each knife cut, run the knife under the tap to wet it again. It helps you get a clean, smooth cut without dragging the dough.

If you want to decorate with oats, brush the top of the loaf lightly with water then sprinkle the oats over the top. The water helps them stick.

Immediately put in the oven and bake for 50 mins. or until a firm golden crust has formed and it sounds hollow when tapped on the bottom.

Once done, remove from the oven and place on a cooling rack. Allow to cool for at least 30 minutes before cutting.
NOTES
No yogurt? - Use more dairy-free milk instead. A total of 330 mls (1 cup and 6 tablespoons). For the best flavour and texture though I highly recommend using yogurt. Storage & freezing - Keeps well for up to 3 days. Store in an airtight container or bag. Freezes well for up to 3 months. Defrost overnight or for a good few hours on the counter. Once defrosted it can be reheated. Place on a baking tray and bake at 350°F for about 20 minutes. 
NUTRITION
Serving:
1
of 10 slices
|
Calories:
195
kcal
|
Carbohydrates:
34
g
|
Protein:
5
g
|
Fat:
4
g
|
Saturated Fat:
1
g
|
Trans Fat:
1
g
|
Sodium:
466
mg
|
Potassium:
65
mg
|
Fiber:
1
g
|
Sugar:
2
g
|
Vitamin A:
227
IU
|
Vitamin C:
2
mg
|
Calcium:
37
mg
|
Iron:
2
mg
Did you make this recipe?
Rate it & leave feedback in the comments section below. I love seeing your remakes too. Tag @avirtualvegan on Instagram! 🌟