Deep purple Blueberry Lavender Sauce with a sweet, floral aroma & unmistakable herbal undertones of lavender. Great with so many things!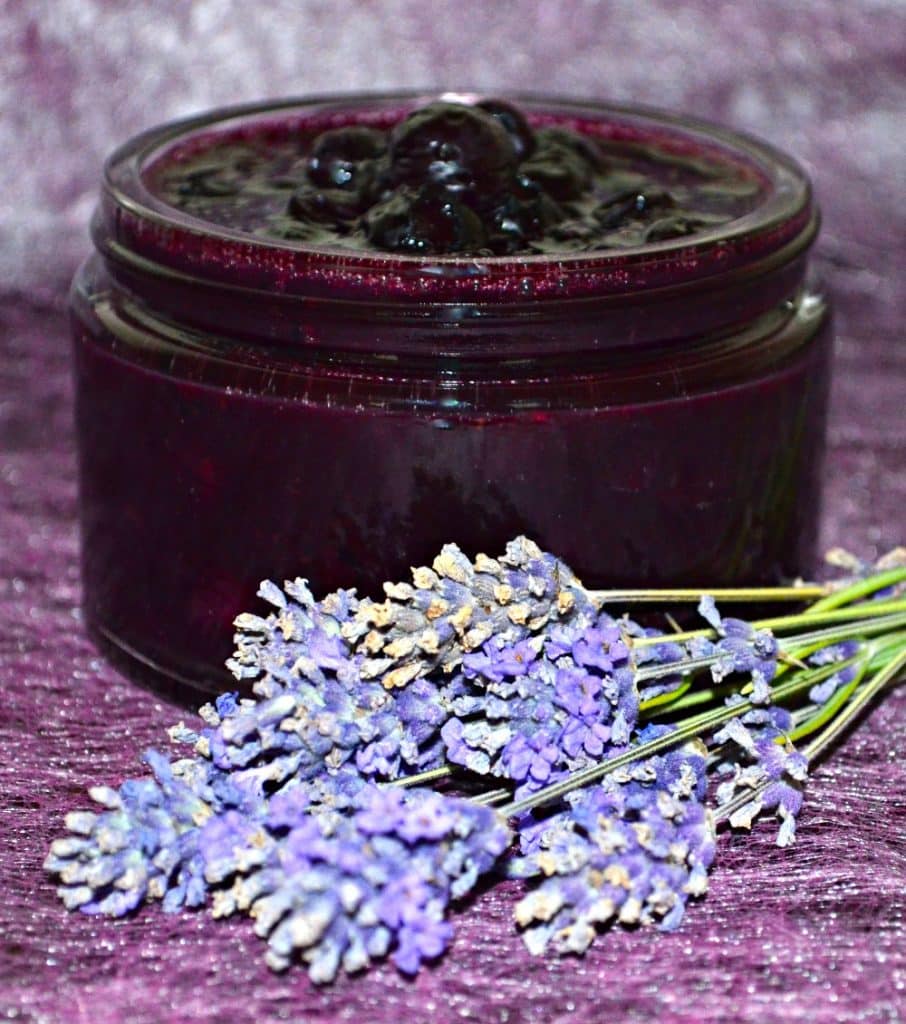 I am preparing this post in advance to schedule whilst I am away on vacation. By the time you are reading this I will have travelled half way round the world to England, where we are going to visit family who we haven't seen for two and a half years.
How exciting! (Or it will be once the dreaded packing is out of the way!)
So whilst you will still be getting new recipes from me, I might not be quite as responsive to comments or questions as I usually am for the next couple of weeks. I will check in whenever I have access to some wifi though.
Now onto todays recipe which is this rather beautiful Blueberry Lavender Sauce.
Blueberries are so plentiful at the moment which is great as I just love them. I have been making my Blueberry Breakfast Bites a lot over the last few weeks as they are the perfect grab and go breakfast or snack. At the weekend though I found some waffles in the freezer that had been stashed away a while ago and I decided to make something nice to accompany them.
I just so happened to have some blueberries in the fridge. I was going to serve the waffles with raw blueberries and maple syrup but as we are going away in a few days and the blueberries needed to be used up, I decided to make a blueberry sauce. The idea of adding lavender didn't actually occur to me right away. You have the mailman to thank for that! He left some mail and it was when I went out to get it that I noticed the beautiful flowers all over the lavender plant outside.
That's when it came to me...........Blueberry Lavender Sauce!
This Blueberry Lavender Sauce
has the most beautiful deep purple hue
is rich and syrupy
and has a sweet, floral aroma with the unmistakable herbal undertones of lavender.
You can enjoy this sauce in many ways. Serve it poured over a stack of pancakes or waffles, warm atop cold ice cream, stirred through freshly made oatmeal or drizzled over a wedge of Vegan New York Cheesecake.
Get the idea?
I'm sure you can come up with a few of your own too.
If you love blueberries as much as me then check out my Lemon & Blueberry Cornmeal Muffins and my Blueberry Breakfast Bites or for more lavender have a look at my wonderful Lemon Lavender Shortbread Cookies.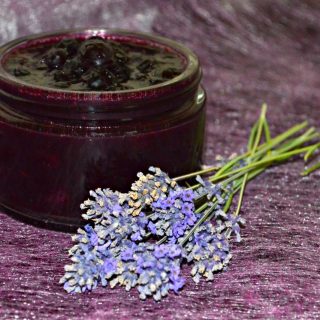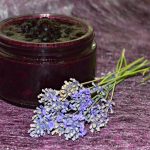 Blueberry & Lavender Sauce
Author:
This deep purple Blueberry & Lavender Sauce has a sweet, floral aroma with unmistakable herbal undertones of lavender. Perfect for topping pancakes, waffles, ice cream or oatmeal.
Ingredients
125g | 1

heaping cup

fresh blueberries

, or frozen

1

tablespoon

arrowroot powder

120mls | 1/2

cup

of orange juice

2

tablespoons

of water

100g | ½

cup

of sugar

(any granulated sugar is fine)

¼

teaspoon

almond extract

¼

teaspoon

lavender flowers

, finely chopped , (you can usually find lavender plants pretty easily around the neighbourhood but if not grocery stores tend to sell the dried flowers with the herbs and spices)

Pinch of salt
INSTRUCTIONS
Wash blueberries and add to a small pan.

Put the arrowroot power into a small bowl or cup and stir the orange juice in very gradually. Start with a tiny bit of orange juice and keep stirring to avoid lumps forming.

Pour the orange juice mixture over the blueberries.

Throw in all the other ingredients.

Place over a medium heat and simmer, stirring frequently, until it starts to get nice and thick.

The orange juice will gradually change from orange to purple as the blueberries break down.

If you find it is getting too thick, add a tablespoon or two of extra water.

Once the sauce is dark purple and thick and the blueberries have broken down remove from the heat. This should take between10 - 15 minutes.

Either serve warm or let it cool.

Will keep for about a week in a jar in the fridge. It also freezes well.
NUTRITION
Serving:
1
serving ¼ cup
Calories:
139
kcal
Carbohydrates:
35
g
Protein:
0.5
g
Fat:
0.2
g
Sodium:
1.2
mg
Fiber:
1
g
Sugar:
31
g
Vitamin A:
100
IU
Vitamin C:
26.4
mg
Calcium:
10
mg
Iron:
0.2
mg
Nutritional information is provided for convenience & as a courtesy. The data is a computer generated estimate so should be used as a guide only.
Tried this recipe?
Rate it & leave your feedback in the comments section below, or tag @avirtualvegan on Instagram and hashtag it #avirtualvegan