Foolproof Vegan English Pancakes. Quick & easy to make & great for dessert or brunch! They are beautifully freckled and so good straight from the pan, served glistening with fresh lemon juice & sugar.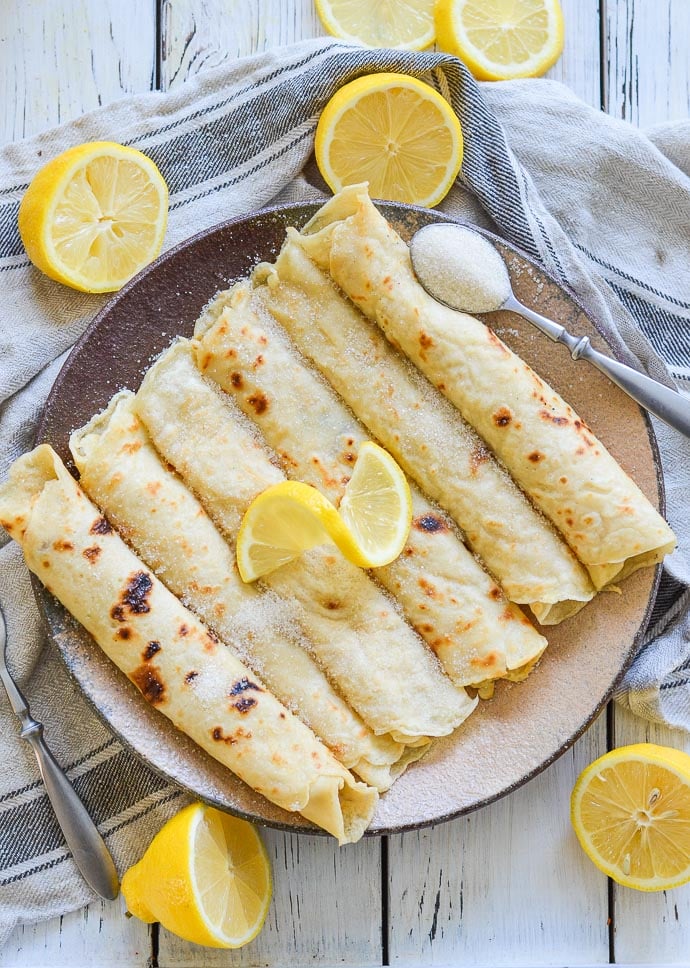 I could not let Shrove Tuesday, or Pancake Day as it's more affectionately known, go by without sharing a recipe for traditional Vegan English Pancakes.
I have quite a few pancake recipes here on AVV (like my Vegan Banana Pancakes and my Vegan Spelt Pancakes), but they are all American style pancakes. Being a Brit I thought it time I shared the pancakes I grew up eating every year, without fail, on Pancake Day and any other day my Sister and I could persuade my Mum to make them.
How are English Pancakes different to crepes and American Pancakes?
English Pancakes are very different to American Pancakes. They are flat, much bigger and do not use any raising agent. Because of this they are thin (but not as paper-thin as a crepe) and they are not cakey in texture like American Pancakes.
Although traditionally English Pancakes do not use raising agent, they do have egg in the batter and eggs provide a little leavening action. That is why in this version I use aquafaba (liquid from a can of chickpeas) and a little bit of baking powder. They both work together to do what eggs would otherwise do.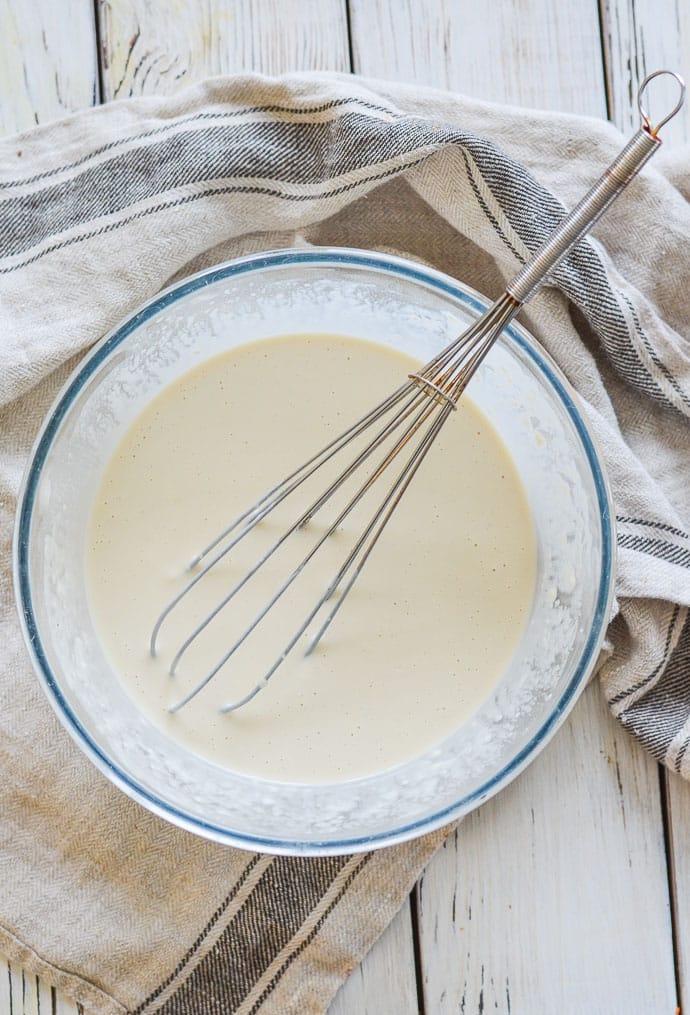 My Vegan English Pancakes are just as good as their non-vegan counterparts. They are beautifully pliable and soft with crispy lacey edges. Their surface is freckled with little brown spots and they have a subtle vanilla flavour.
How to make Vegan English Pancakes
Vegan English Pancakes are really easy to make. Here's how:
Mix everything together to make a thinnish batter then leave it to rest for at least 10 minutes, although longer is fine
Heat a large fry pan/ crepe pan over a medium/high heat and once it's really hot add some oil
Quickly pour in enough batter to cover the whole base of the pan and swirl it around to coat evenly
Leave for a minute or or so then turn it over and cook on the other side
Remove and repeat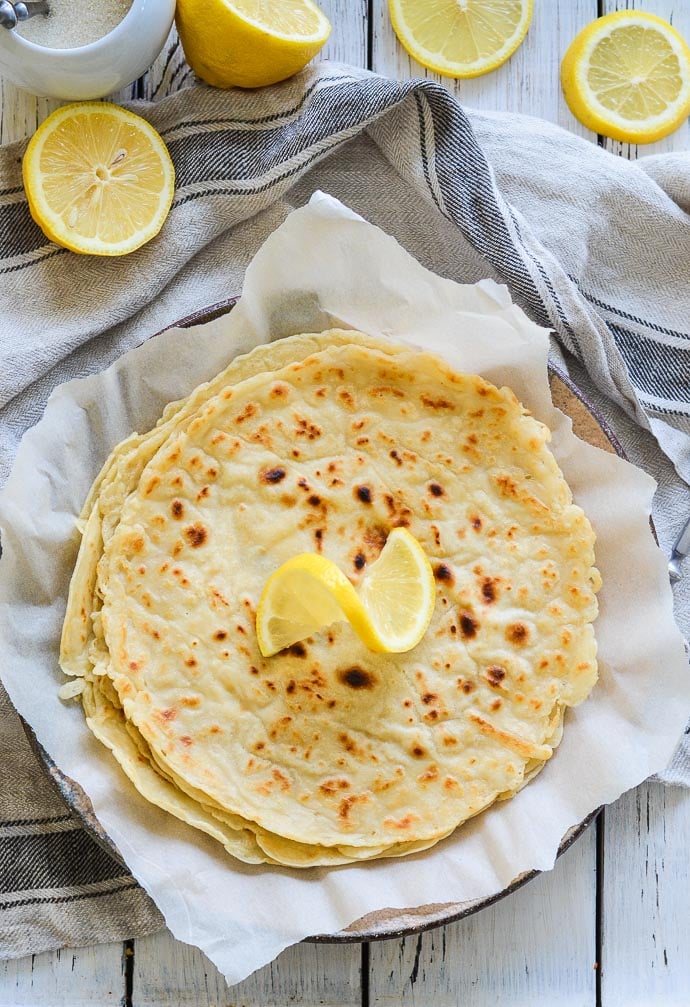 It's traditional to flip the pancake in the air to turn it over. I however have had, and witnessed, far too many pancakes accidents so am boring and use a turner in the pan now. In the past I have had many pancakes meet their death on the kitchen floor!
To flip or not to flip...that is the question.....I will let you decide. It's a very personal decision...just don't blame me if it all goes wrong!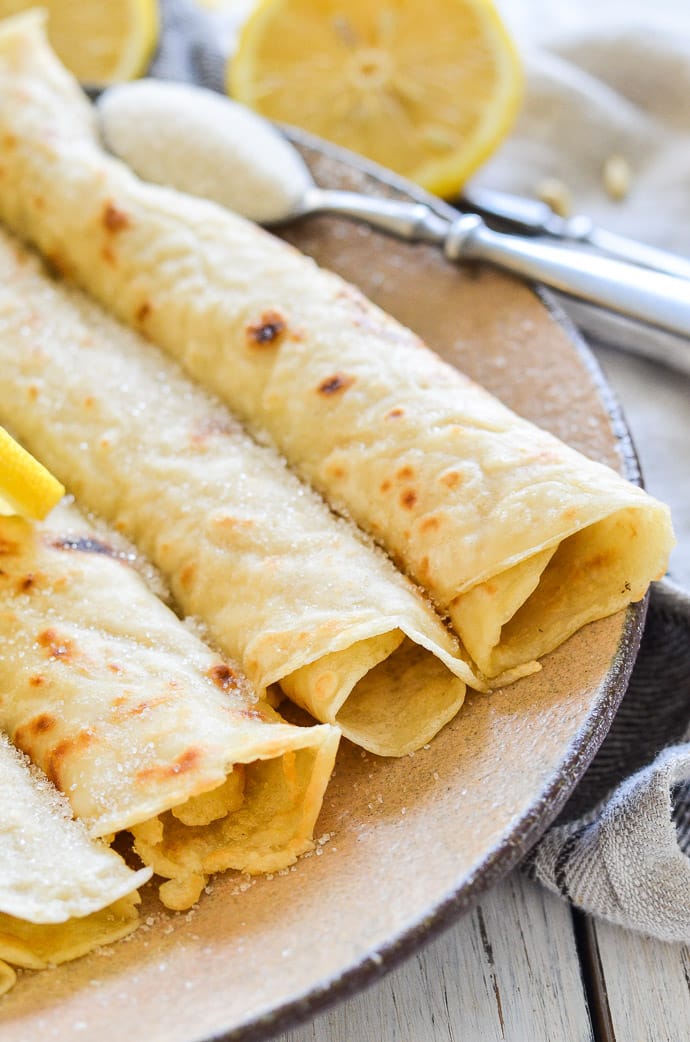 How to serve English Pancakes
The traditional way to serve English Pancakes is with fresh lemon juice and sugar. Sprinkle the sugar all over the pancake, squeeze lemon juice over it, then roll it up and sprinkle a bit more sugar on the outside. I know I'll get comments all over about the refined flour and the sugar. Unfortunately they aren't the healthiest thing in the world but they are so good and a great treat every once in a while.
If you don't want to be quite so traditional there are all sorts of different ways to serve Vegan English Pancakes. My son's favourite way to eat them is with vegan chocolate syrup, berry compote, roasted strawberries or jam spread all over them then rolled up. You could do the same with homemade vegan lemon curd.
You could also fill them with fresh fruit, fruit compote, chocolate spread, banana and chocolate, coconut cream or drizzle them with maple syrup. You can even omit the vanilla from my recipe and use savoury fillings. I've even been known to make a lasagne type dish with them instead of pasta sheets. Use your imagination and have fun!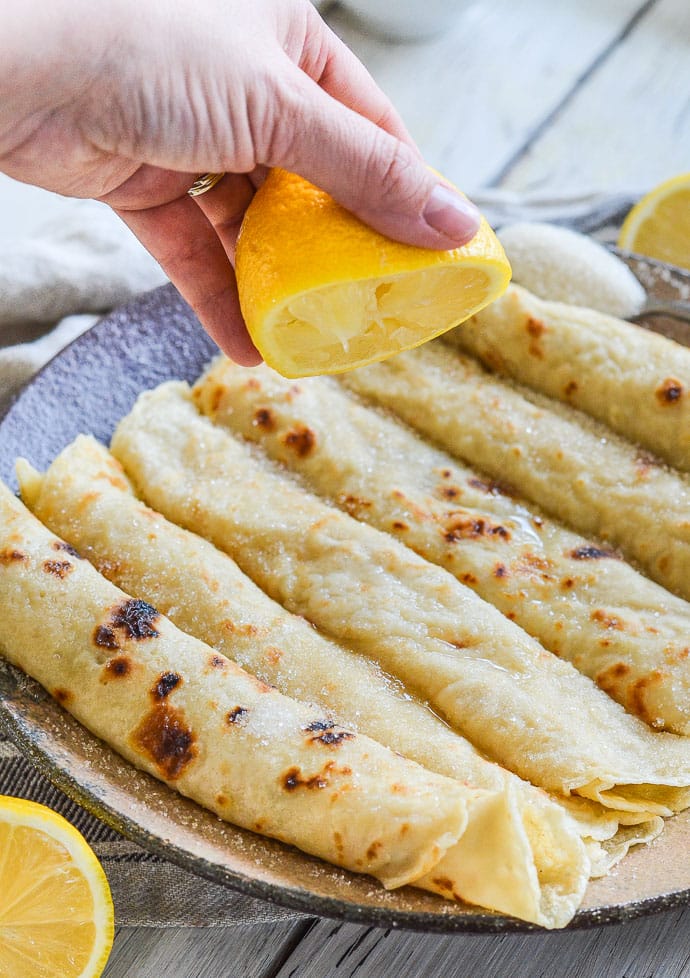 This is why I am loving these Vegan English Pancakes:
They remind me of my childhood
Making them is such fun!
They are super cheap and filling
You can get creative with fillings and toppings!
They freeze perfectly (just place a sheet of parchment between each one)
And they are just as good as English Pancakes made with eggs!
Hungry for more British recipes?
And if you love this recipe, please do check out my cookbook, and subscribe to my email list for a fabulous FREE eCookbook featuring my top 10 recipes. Being on the list means you will be first to see my new recipes and you'll be kept in the loop on all things new and exciting too!
Recipe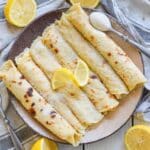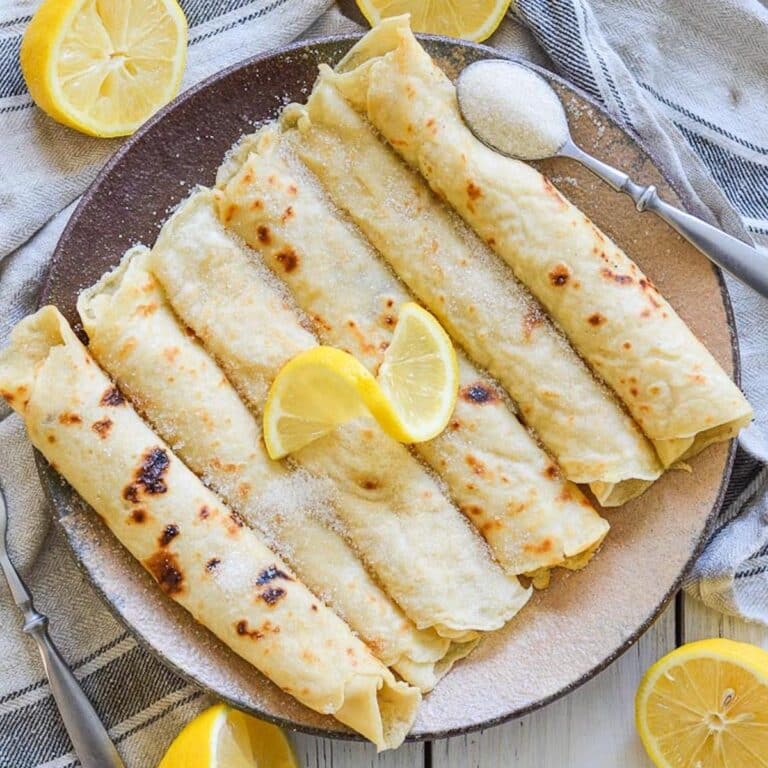 Vegan English Pancakes
Author:
Foolproof Vegan English Pancakes. Quick & easy to make & great for dessert or brunch! They are beautifully freckled and so good straight from the pan, served glistening with fresh lemon juice & sugar.
Ingredients
210g (1½

cups)

all purpose flour

, plain flour in the UK

¼

teaspoon

salt

¾

teaspoon

baking powder

9

tablespoons

aquafaba

, (liquid from a can of chickpeas)

420mls (1¾

cups)

unsweetened plant milk

2

tablespoons

oil

, plus extra for frying (a neutral oil such as mild olive oil, vegetable, canola or sunflower oil)

1

teaspoon

vanilla extract
INSTRUCTIONS
Add the flour to a large mixing bowl along with the salt and baking powder. Whisk to combine them. 

Add the aquafaba, oil and vanilla to the bowl, then gradually add the milk whisking as you go to work out any lumps (a few little tiny ones won't hurt). Once all the milk has been added and the batter is smooth, set aside and leave to rest for at least 10 minutes. DO NOT use a blender to mix the batter. Over-mixing will affect the texture of the pancakes. 

Heat a large non-stick frying pan or crepe pan (mine is 10 inches wide - if you use a smaller one you will get more pancakes, a larger one a few less) over a medium high heat until very hot, then add a drop of oil and swirl it around the pan to coat. The better your pan the less oil you can get away with using.

Pour into the middle of the pan, enough batter to coat the bottom of the pan. I have a large frying pan and needed just less than ½ a cup. You need to do this quickly, then lift the pan off the heat and swirl it so the batter coats the entire bottom of the pan.

Leave the pancake to cook for between 30 seconds to a minute. Turn back a little outside edge to look under and flip or turn it when lots of nice brown spots have appeared. Cook for a further 30 seconds to a minute until that side is spotty too then remove from the pan.

Please note that it is completely normal for the first pancake of the batch to be a bit of a flop. It never turns out as well as the rest. Its job is to season the pan and it is compulsory for the chef to stuff their face with it while they cook the rest of the pancakes ;O)

Repeat until all of the batter is used. If your pan isn't a great one like mine you will need to add a tiny drop of oil before cooking each one. I wipe the oil around my pan carefully with a piece of kitchen paper (be sure not to burn your fingers).

You can feed the pancakes to the waiting hoards as you cook them, or you can keep a plate in a very low oven and place each pancake in there as they are cooked so they keep warm until you are all done.
NOTES
Success tip
I highly recommend using a digital scale to weigh the flour if at all possible. Cups are not an accurate measure because every single time you fill a cup you end up with a slightly different amount of flour. Sometimes up to a third more than the recipe intends. This makes getting the best and consistent results impossible.  If you absolutely have to use cups, aerate the flour with a fork, spoon the flour into the measuring cup gently without shaking it down or compacting it, then level the top with a knife. Never scoop the flour up. 
Storing leftovers
Store leftovers layered up with parchment paper between them. Reheat in a hot frying pan for 30 seconds or so. They also freeze very well. Layer them up with a piece of parchment paper between each one and slide them into a freezer bag. Defrost when you need them again and warm each one quickly on each side in a frying pan or in a microwave for a few seconds.  
NUTRITION
Serving:
1
of 8 pancakes
|
Calories:
124
kcal
|
Carbohydrates:
19
g
|
Protein:
3
g
|
Fat:
4
g
|
Saturated Fat:
0.6
g
|
Sodium:
150
mg
|
Fiber:
1
g
|
Sugar:
0.4
g
|
Vitamin A:
100
IU
|
Calcium:
90
mg
|
Iron:
1.4
mg
Did you make this recipe?
Rate it & leave feedback in the comments section below. I love seeing your remakes too. Tag @avirtualvegan on Instagram! 🌟