Make your breakfast special with these healthy but very delicious, beautifully soft, very fluffy, oil-free vegan pancakes.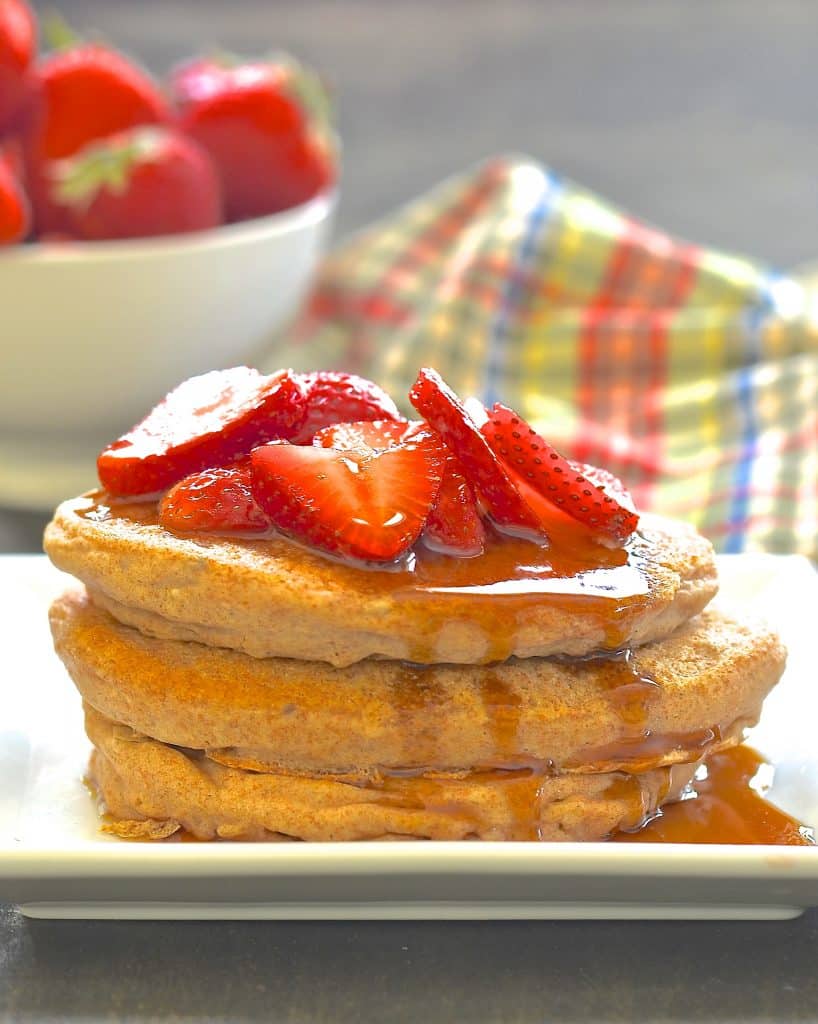 I couldn't be one of those people who eats the same thing for breakfast everyday. It would drive me insane. It is my favourite meal of the day and I always make sure I have time to sit down and enjoy it properly before my day gets properly underway.
Pancakes aren't something I eat often but every now and again a craving hits.
In the past, if I have been home alone, I have avoided making them as I usually end up with far too many just for me due to the fact that most recipes are designed to feed multiple people.
I also only have one small pan that is good enough for pancakes so when there are a whole bunch to make it takes a little while. As much as I like to make time to sit and enjoy my breakfast, I don't usually have the time to take ages preparing it.
Pancake cravings happened here a couple of weeks ago and I just had to have them. I got to thinking that if I sometimes wish I could make pancakes just for me, then plenty of you probably do too. That was when I decided to come up with a recipe that serves just one person.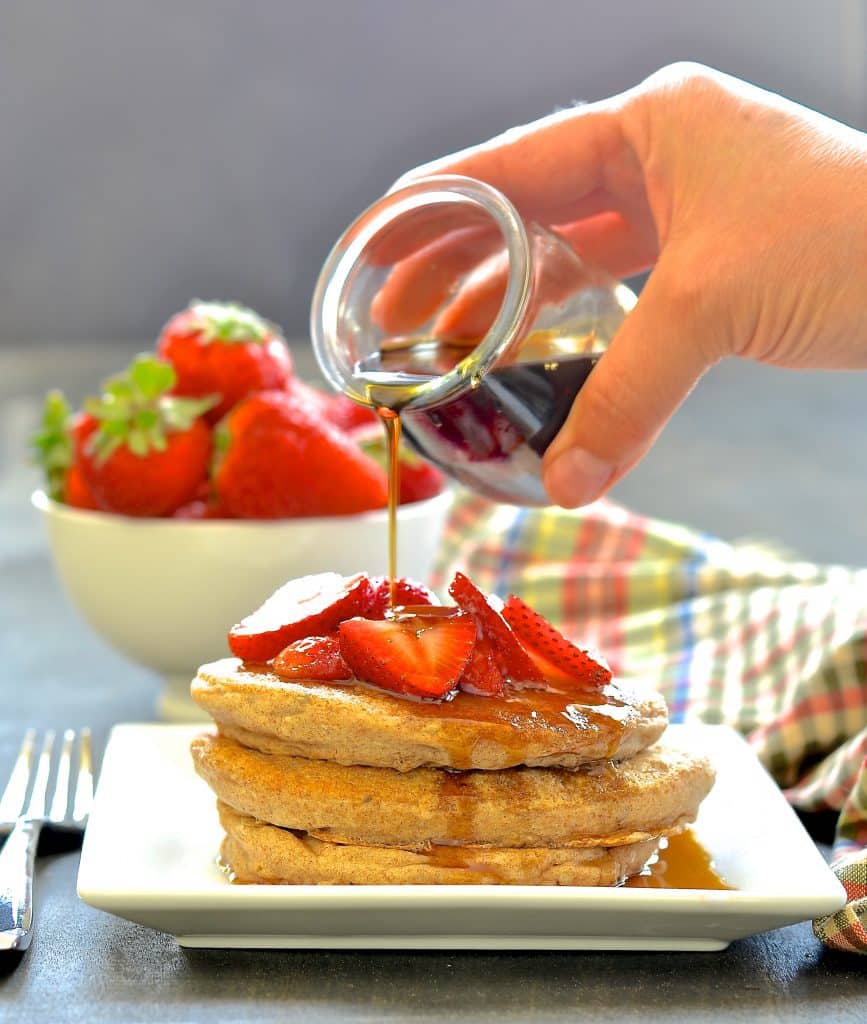 I started playing around with a recipe and was getting great results, then I started getting emails from some of you guys asking for more oil-free recipes. The pancake recipe I had been practicing was pretty healthy as far as pancakes go, but it did include a little coconut oil. I decided to modify the recipe slightly to make the pancakes oil-free.
The recipe didn't take long to perfect and I am so pleased with it. These Healthy Oil-Free Vegan Pancakes For One are so soft, fluffy and delicious. You do not miss the oil in this recipe at all. They are every bit as good as pancakes made with oil and they are healthier with less calories!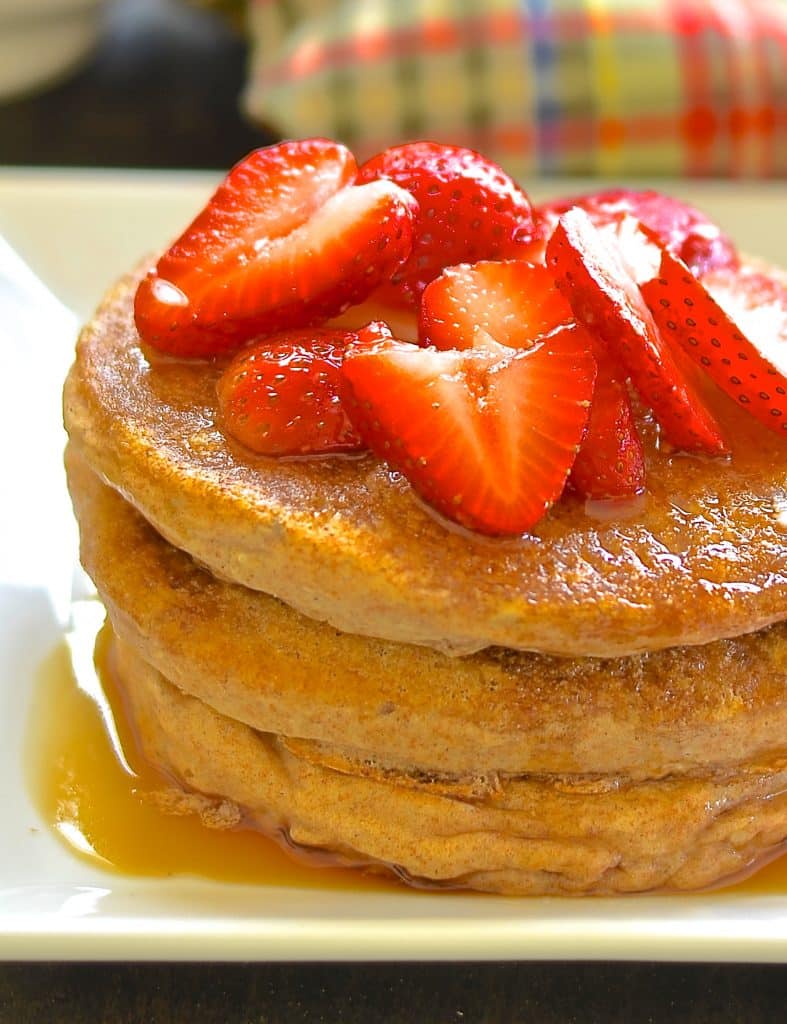 When I was working on creating this Oil-Free Vegan Pancakes recipe, I asked on Instagram and Twitter:
"How many pancakes you would expect to get if you were making a recipe for one?"
It turns out that most of you are as greedy as me when it comes to pancakes and said three would be good. Some people said two was enough though. Because of the mixed response I have given measurements for making two or three pancakes. That way you can decide at the time you are making them whether you are just hungry enough for two, or greedy enough for three! ;O)
To be perfectly honest, two is enough to feel satisfied, but if you don't eat pancakes often, it's not going to hurt to push the boat out and eat three once in a while, especially when they are oil-free and healthy!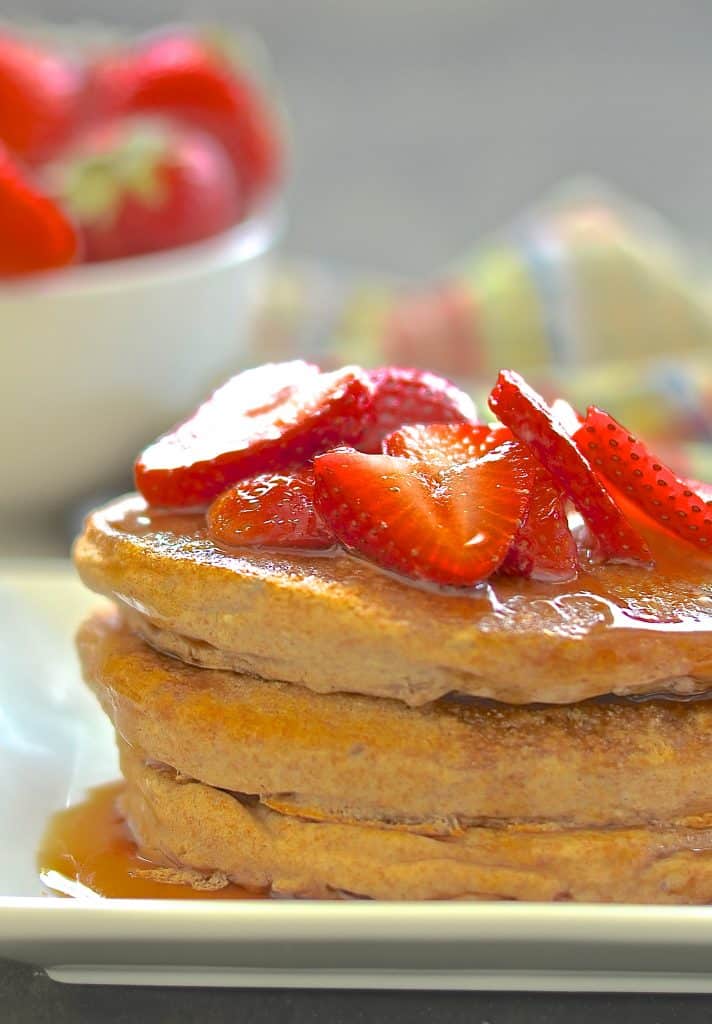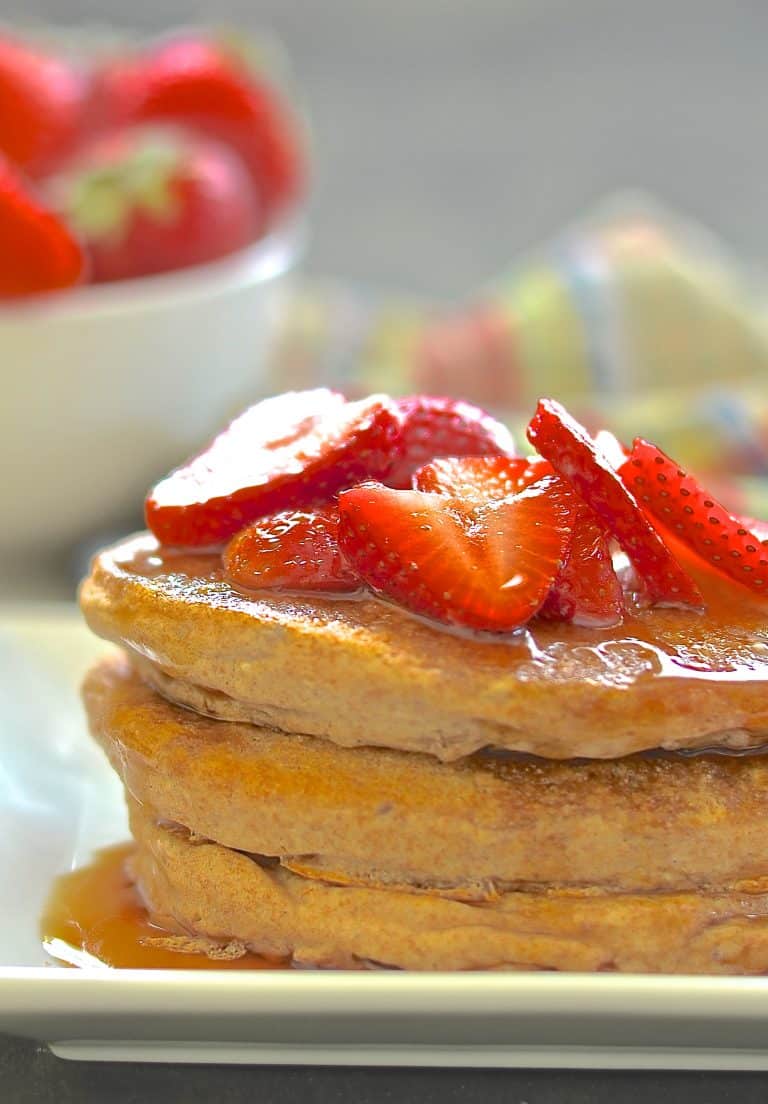 These are pancakes that you do not need to feel guilty about eating. As long as you don't go mad with butter and syrup they are actually pretty good for you.
I use spelt flour in these pancakes because I love the taste and because it is a much healthier option than white flour. If you have never tried spelt flour then I highly recommend you buy yourself a bag next time you are at the store. It is just fabulous for baking, and pancakes or waffles, with none of the heaviness that you might get with wholewheat flour. Readers have told me they work well with an all purpose gluten free flour too although I haven't tried that myself. You are welcome to try, or just hop on over to my Vegan Gluten Free Pancakes and give them a try instead.
If you don't have spelt flour to hand and want to try this recipe, then all purpose white flour works very well. Wholewheat flour did not give the same results in my trials. Don't get me wrong, they were ok and perfectly edible, but they were a little heavy and they didn't have quite the same soft and fluffy texture as they do when spelt or all purpose flour is used.
I have not included sugar of any kind in this recipe because I figure that whatever you add as a topping is usually sweet anyway. If however you do want your pancakes sweet feel free to add some to the batter. About one tablespoon should be enough.
These pancakes can be served with whatever you enjoy most but are particularly good with vegan yogurt, fresh strawberries, Vanilla Roasted Strawberries, vegan butter and maple syrup, easy frozen berry compote or my Blueberry Lavender Sauce.
For more vegan pancakes recipes, check out these great options:
And if you love this recipe, please do check out my cookbook, and subscribe to my email list for a fabulous FREE eCookbook featuring my top 10 recipes. Being on the list means you will be first to see my new recipes and you'll be kept in the loop on all things new and exciting too!
Recipe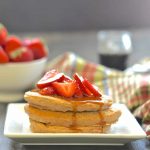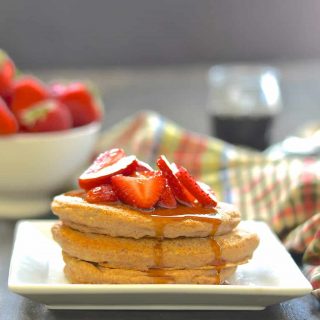 Healthy Oil-Free Vegan Pancakes For One
Author:
Make your breakfast special with these healthy but very delicious, beautifully soft, very fluffy, oil-free vegan pancakes.
Ingredients
For 2 pancakes
42g / 1/3

cup

spelt flour

(all purpose flour (plain flour in the UK) can also be used)

1

level teaspoon baking powder

a tiny pinch of salt

80mls / 1/3

cup

non-dairy milk

¾

teaspoon

chia seeds

(White Chia seeds look best but black or white work equally well)

½

teaspoon

apple cider vinegar

½

teaspoon

vanilla extract
INSTRUCTIONS
Start by putting the milk and chia seeds in a jug or bowl. Stir well.

Add the vinegar and vanilla and stir again.

Add the flour, baking powder and salt to a separate bowl and mix to combine.

Pour the liquid into the dry ingredients and stir to combine (just enough to combine everything and so that you can't see any dry flour). DO NOT over mix or beat it. A few little lumps won't hurt. Leave to rest for 10 minutes.

Get a pan ready on a medium heat while you wait. I cooked my pancakes with no oil and you can too if your fry pan is a good nonstick one. If you are at all concerned that it might not be then use a teaspoon or two of oil to ensure the pancakes don't stick.

Check your pan is hot and then spoon the pancake batter into it. Make the pancakes about 4 inches in diameter.

Once the batter is in the pan turn the heat down to half way between medium and very low. The trick to good pancakes is not rushing them so be patient.

Watch and wait until you see some bubbles start to form on the top of the pancakes.

When you see bubbles flip them over gently and cook for another 2 minutes.

Remove from the pan and serve immediately.
NOTES
There is no sweetener in these pancakes because the recipe is intended to be a healthier one, and also because whatever you put on them tends to be sweet anyway so it isn't really necessary.  If you do prefer sweeter pancakes, feel free to add one or two tablespoons of sugar to the batter. 
NUTRITION
Serving:
2
pancakes
|
Calories:
170
kcal
|
Carbohydrates:
31
g
|
Protein:
6.5
g
|
Fat:
2.4
g
|
Sodium:
501
mg
|
Fiber:
5.1
g
|
Sugar:
3.3
g
|
Vitamin A:
150
IU
|
Calcium:
450
mg
|
Iron:
2.9
mg
Did you make this recipe?
Rate it & leave feedback in the comments section below. I love seeing your remakes too. Tag @avirtualvegan on Instagram! 🌟