Behold these fluffy, golden pancakes in all of their whole-grain, vegetable containing, coconut sugar, spiced glory.......Yes my friends, these are Vegan Sweet Potato Pancakes drizzled in THE most delicious Caramel Sauce.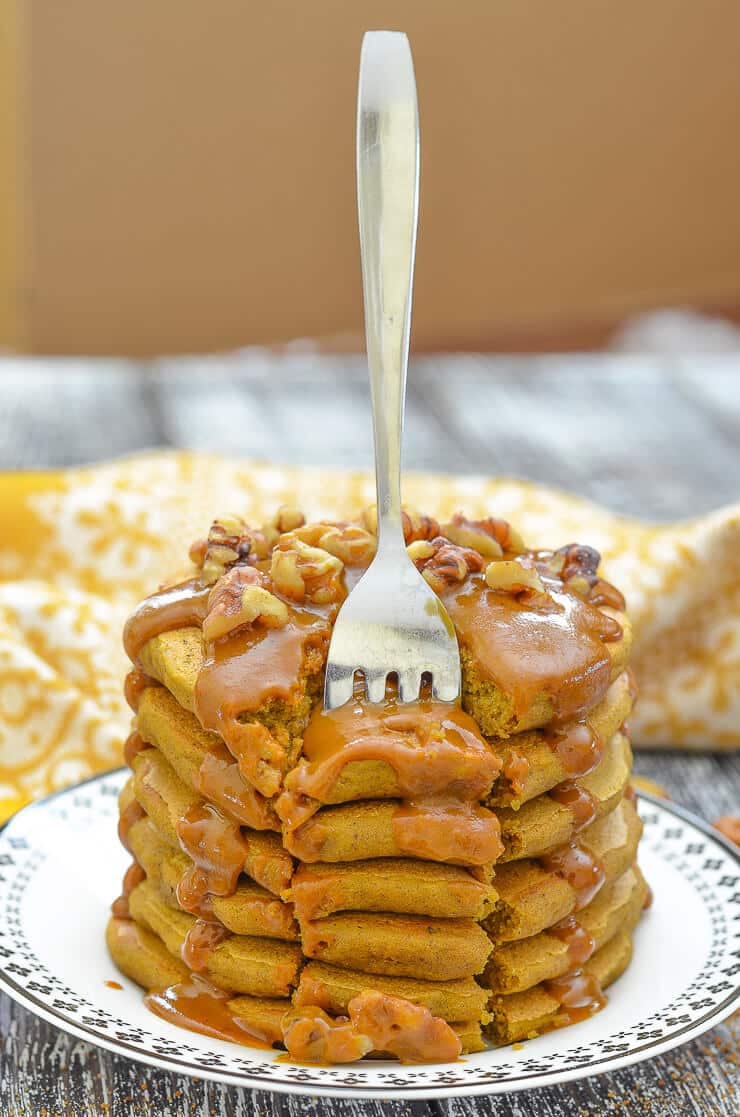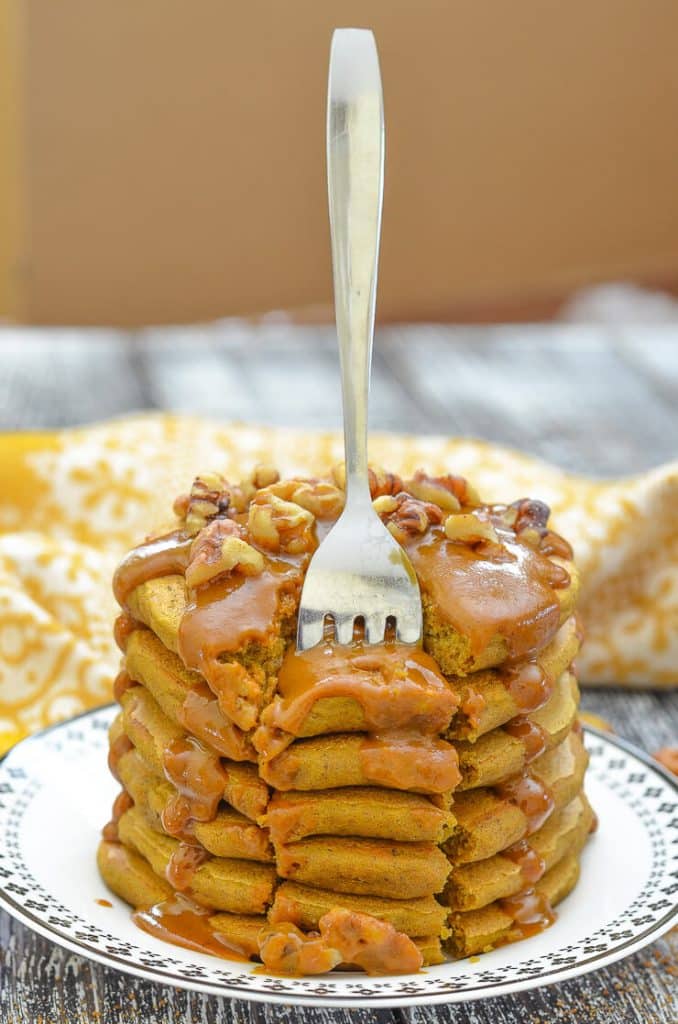 These amazing Vegan Sweet Potato Pancakes are brought to you thanks to Lantic-Rogers who are kindly sponsoring this post....
Griddles at the ready......
Who doesn't love pancakes? Breakfast, brunch or dbrinner......Whatever the time of day, pancakes are just perfect, even more so when they have hidden veggies in them!
You know that I like to healthify things up a bit if I can, which is why in these fluffy, oh so delicious, golden pancakes you will find sweet potato, whole-grain spelt flour, no refined sugar, no dairy and no eggs. Plus even the rich, dreamy caramel sauce contains sweet potato. And let me tell you. that sauce....It's so good it's hard not to eat it straight from the pan! ♡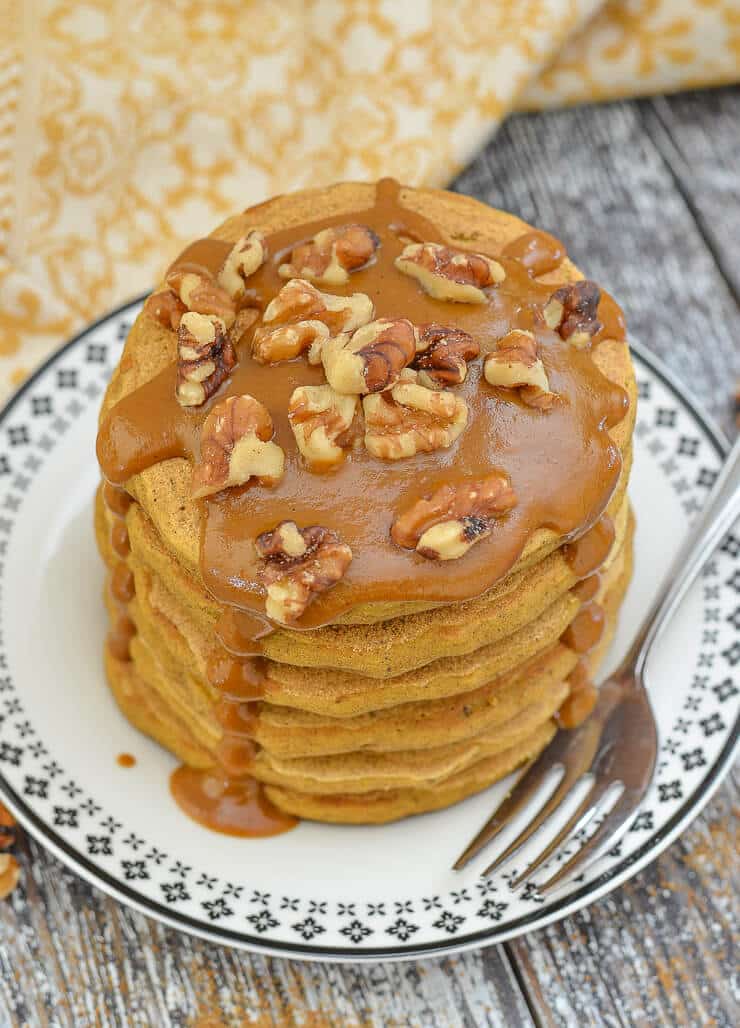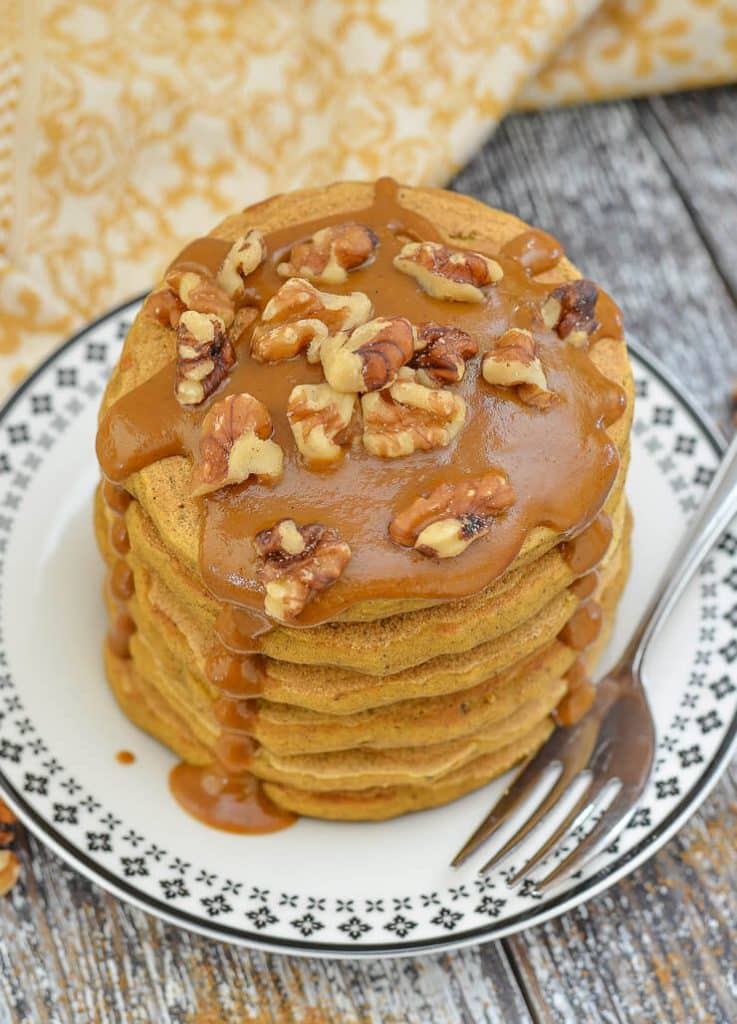 Coconut sugar is my sweetener of choice in both the Vegan Sweet Potato Pancakes and the caramel sauce. It's rich, deep, caramel flavour works so beautifully with the sweet potato and the whole-grain spelt flour plus it makes a fantastic base for the caramel sauce. It also happens to be my favourite variety of sugar. I could literally eat it by spoon from the bag given half the chance, so when I was offered the opportunity to work with Lantic-Rogers newest nature-inspired sweetener solutions I didn't need any persuading.
Lantic-Rogers Coconut Sugar is produced from the sweet sap of tropical coconut blossoms and was recently voted Product of the Year in Canada's Consumer Survey of Innovation. It is 100% natural and does not contain any artificial flavours or preservatives, plus it is organically grown and sustainably farmed which is important to me where sugar is concerned. It is the perfect sugar to use in these Vegan Sweet Potato Pancakes.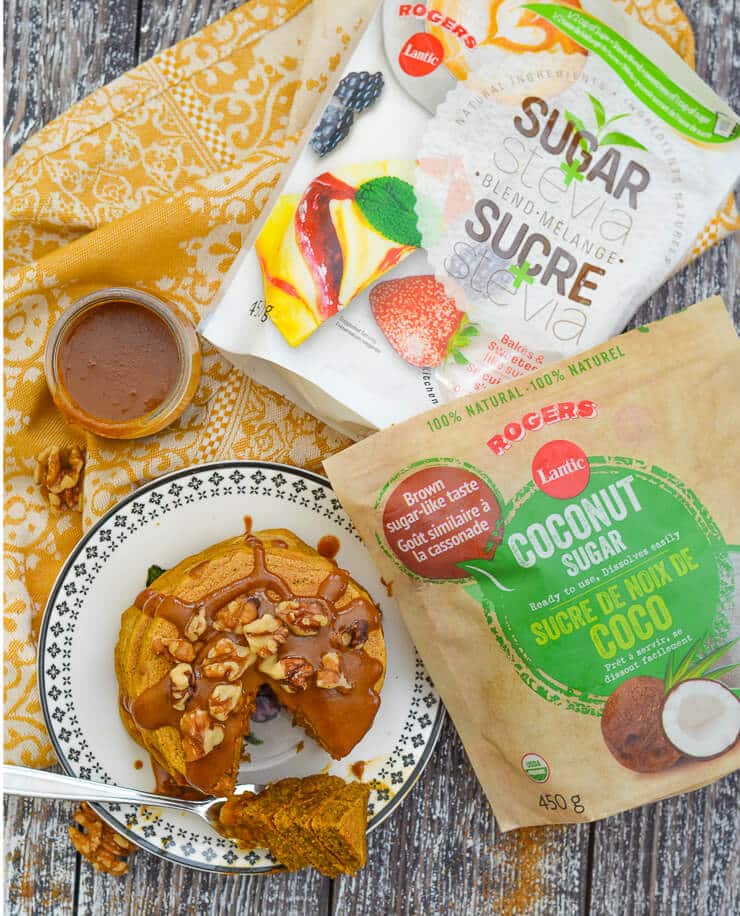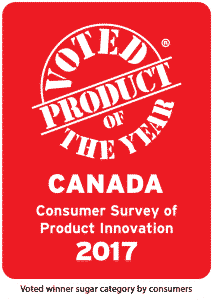 Lantic-Rogers other brand new addition is a Smart Sweetener Blend Sugar + Stevia. It is twice as sweet as sugar so you don't need as much, thus reducing calories, and it can be used in just the same way that regular sugar can be, including in baked goods. So far I have been using it to sweeten my oatmeal in the mornings. Just a teaspoon of it is enough in each bowl and it has no artificial Stevia type taste like some brands I have tried in the past. I am looking forward to experimenting with it some more.
HOW TO MAKE VEGAN SWEET POTATO PANCAKES WITH CARAMEL SAUCE
These pancakes aren't complicated to make at all. There is just the extra step of blending the sweet potato into the milk that makes them different from regular pancakes. That takes all of an extra 2 seconds, so no hardship at all.
Like all pancakes the dry ingredients are placed in a bowl, the wet in another, then they are combined. It is really important to only just mix. Don't go mad and blend it all together or beat it like mad. When you mix too well, it activates the gluten and you will end up with not so fluffy and light pancakes. The trick is to mix until the flour is just combined and you can't see any dry bits. Then stop, and lay down that spoon. Pancake perfection is imminent!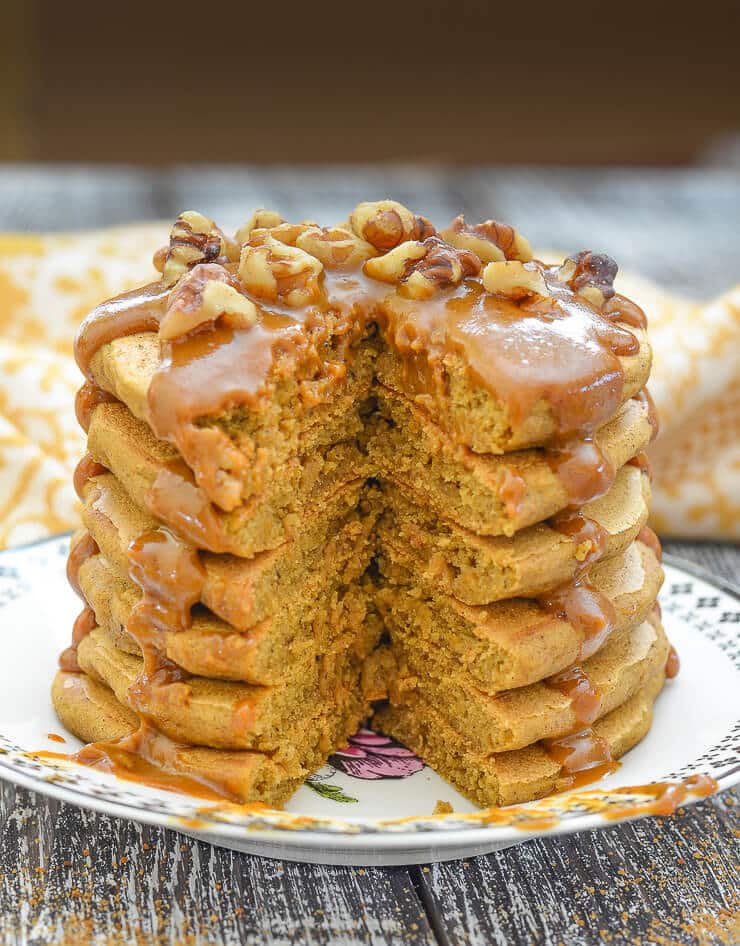 The accompanying sauce is a modified version of my Five Minute Vegan Caramel Sauce and takes quite literally 5 minutes, probably less. Both the pancakes and the sauce are flavoured with sweet potato, and either cinnamon or Jamaican Allspice. I started making them with cinnamon and it works beautifully, but then during my trials I ran out and replaced it with Jamaican All Spice. Both work extremely well and can be used interchangeably in this recipe.
So, what are you waiting for?
Get that griddle griddling, those pancakes mixing and that sauce drizzling....You guys are in for a treat! Life doesn't get any sweeter than having a great big stack of whole-grain, perfectly spiced fluffy pancakes drenched in caramel sauce plonked down in front if you! ♡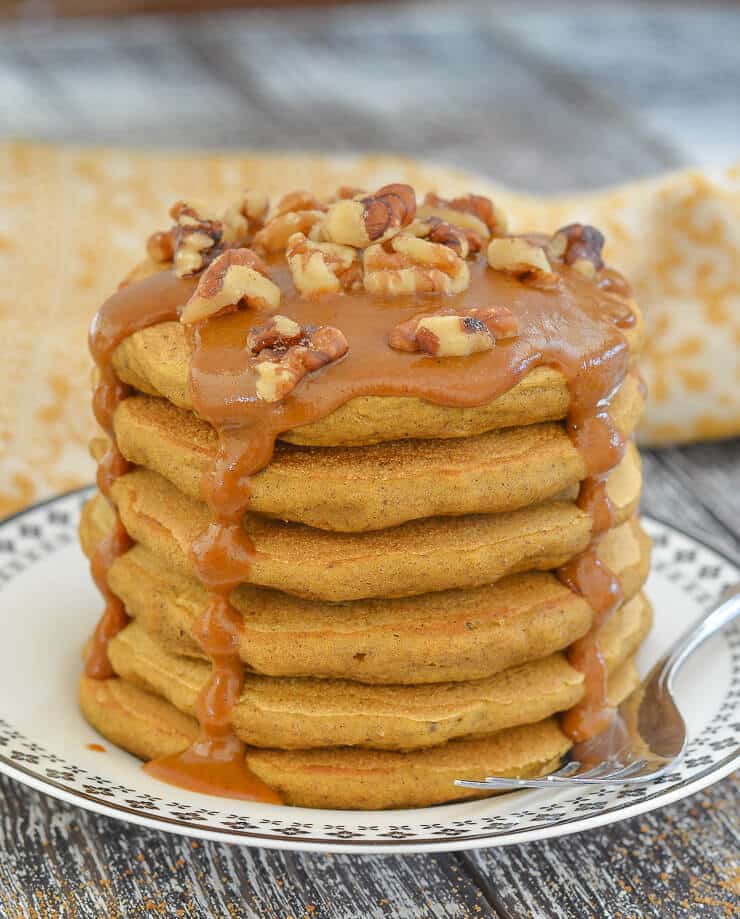 For more vegan pancakes recipes, check out these great options:
And if you love this recipe, please do check out my cookbook, and subscribe to my email list for a fabulous FREE eCookbook featuring my top 10 recipes. Being on the list means you will be first to see my new recipes and you'll be kept in the loop on all things new and exciting too!
Vegan Sweet Potato Pancakes with Caramel Sauce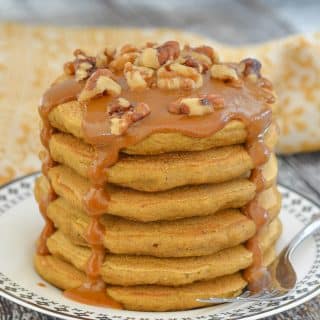 Behold these fluffy, golden pancakes in all of their whole-grain, vegetable containing, coconut sugar, spiced glory…….Yes my friends, these are Vegan Sweet Potato Pancakes drizzled in THE most delicious Caramel Sauce.
Ingredients
For the pancakes
200g | 1.5

cups

spelt flour

, wholewheat will work too but the pancakes will turn out a little heavier

3

tablespoons

Coconut Sugar

3

teaspoons

baking powder

¼

teaspoon

baking soda

½

teaspoon

salt

1

teaspoon

ground cinnamon

, or Jamaican Allspice

240mls | 1

cup

non-dairy milk

¼

cup

water

85g | ⅓

packed cup

cooked orange sweet potato/yam

2

tablespoons + 1 teaspoon

vegan butter

, gently melted, any neutral tasting oil can be used instead, if using coconut oil be sure it is in a liquid state, for an oil-free option you can sub the oil for cashew or almond butter but the texture will become a little heavier and not quite as fluffy. If you do use nut butter add an extra 2 tablespoons of water or milk

3

teaspoons

ground flax seed

1

teaspoon

apple cider vinegar

, or lemon juice

1

teaspoon

vanilla extract

oil for cooking the pancakes

, optional. I use a newish griddle and do not need to use any oil but if your pan or griddle tends to stick be sure to grease it with a little oil
For the caramel sauce
75g | ½

cup

Lantic-Rogers Coconut Sugar

, coconut sugar really does give the best results so please think twice before using a different kind of sugar

2

tablespoons

water

½

teaspoon

salt

2

tablespoons

cashew butter

, or almond butter

128g | ½

packed cup

orange sweet potato/yam

, cooked

30 - 60 mls | ⅛ - ¼

cup

non-dairy milk

, depending how thick you want the sauce

¼

teaspoon

ground cinnamon

, or Jamaican Allspice (use whatever you put in the pancake batter).
INSTRUCTIONS
Add the flour, coconut sugar, baking powder, baking soda, salt and cinnamon to a bowl and stir together well.

Add the milk, water, sweet potato, butter, flax, vinegar and vanilla extract to a blender and blend until completely smooth.

Mix the blended liquid with the dry ingredients gently, and do not over mix. Just stir it together until you cannot see any dry flour. Do not beat it or use the blender. As soon as everything is incorporated, stop and set aside. Leave to rest for 5 - 10 minutes.

Heat your griddle or a heavy bottomed fry pan over a medium heat (I set my griddle to 375°F).

Make the caramel sauce while the batter rests. In a small sauce pan add the coconut sugar and water and heat over a medium heat until it is liquid and you cannot see any grains of sugar. Remove from the heat.

Rinse your blender out and add the sweet potato, cashew butter, salt,

¼

cup milk and the cinnamon. Pour in the melted sugar mixture and blend everything up until smooth. Add extra milk to thin to desired consistency. Return to the pan and warm gently for a few minutes before serving with the pancakes.

Check the griddle/pan is hot, then scoop ¼ cup (around 60ml) amounts of batter on to it. Leave well alone until the edges are looking firm and the top is either starting to bubble a little or beginning to solidify (they don't always bubble). It takes about 5 minutes. Flip then cook for another 4 minutes.

Serve immediately drizzled with the warm caramel sauce.
NOTES
OPTIONAL EXTRA -  Add a handful of chocolate chips to the batter 
Great served as they are but also lovely with a sprinkling of walnuts or pecans. Sliced banana also goes extremely well with them as does vanilla ice-cream if you are serving them for dessert. 
NUTRITION
Serving:
1
serving
Calories:
602
kcal
Carbohydrates:
105
g
Protein:
14
g
Fat:
17
g
Potassium:
473.6
mg
Fiber:
11.3
g
Sugar:
47
g
Vitamin A:
13650
IU
Vitamin C:
19
mg
Calcium:
510
mg
Iron:
5
mg
Nutritional information is provided for convenience & as a courtesy only. The data is a computer generated estimate so should be used as a guide only.
Tried this recipe?
Rate it & leave your feedback in the comments section below, or tag @avirtualvegan on Instagram and hashtag it #avirtualvegan
This is a sponsored conversation written by me on behalf of Lantic-Rogers. I only ever recommend products that I truly enjoy & use myself & the featured recipe, opinions & text are all my own.