Light and fluffy Vegan Spelt Pancakes. Whole grain, sugar-free & simple, but also super tasty and satisfying. Quick to make too!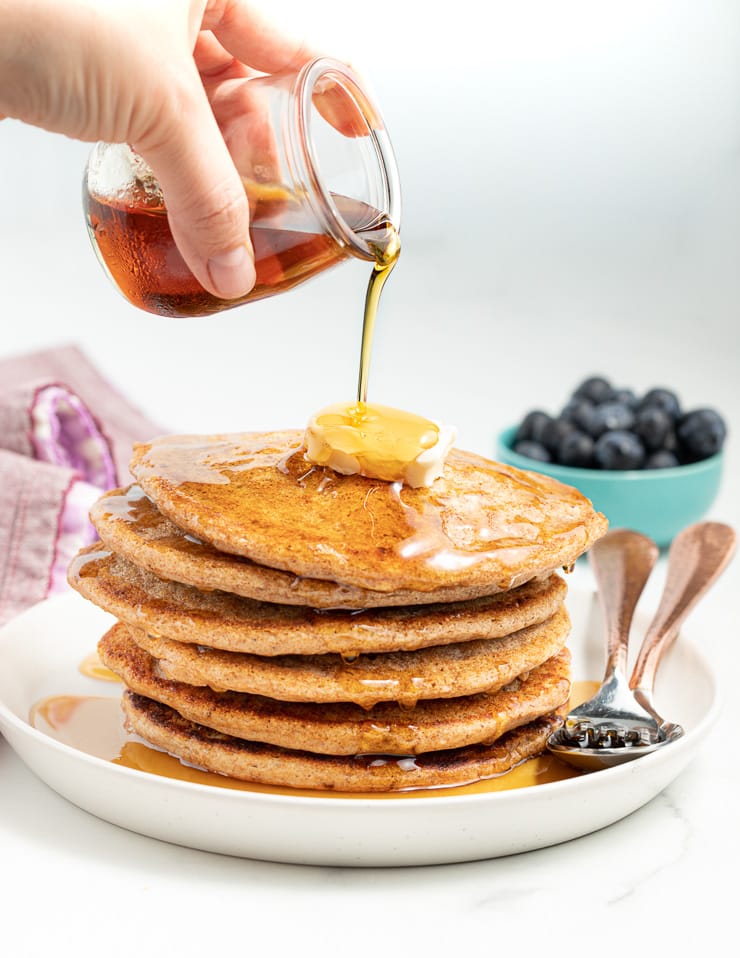 So you want to start your day with a big stack of delicious pancakes but you also don't want to completely jump off the healthy train?
I got you! These Vegan Spelt Pancakes are vegan, sugar free, and made with nutty, wholesome spelt flour. They also happen to be super light and fluffy, golden, delicious and cozy in a way that only pancakes can be.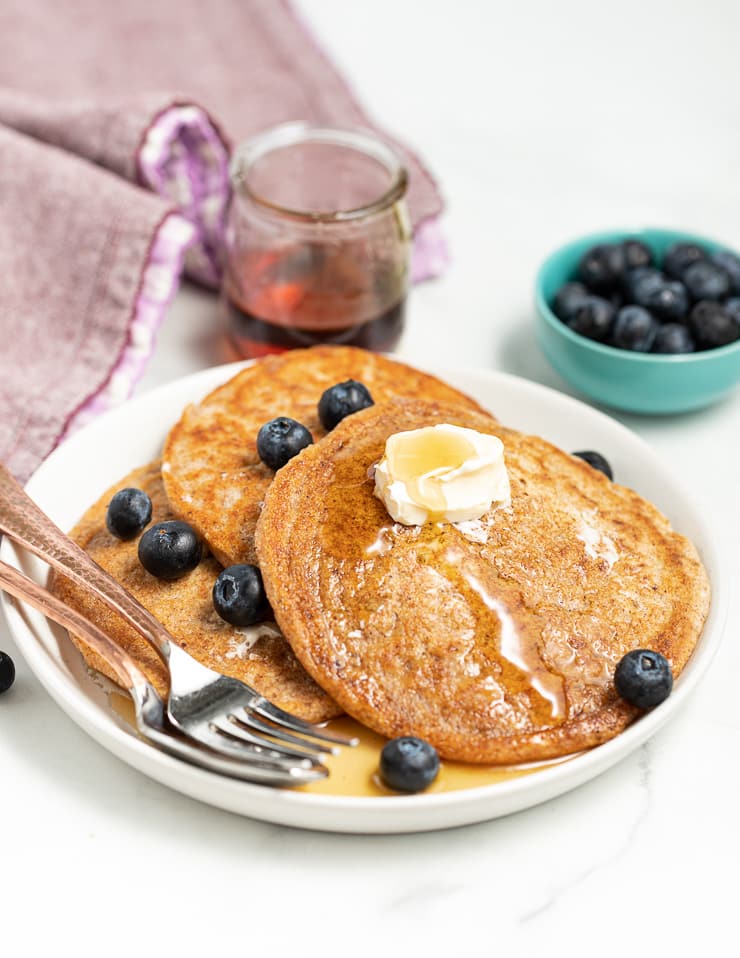 These pancakes have 5 grams of protein in a single pancake and can be really healthy if you top them with healthier toppings like fresh fruit and unsweetened dairy-free yogurt, or you can go all out like me and drown them in maple syrup and vegan butter. Sorry - when it comes to pancakes - I just can't resist.
How to make fluffy Vegan Spelt Pancakes
(For detailed measurements and instructions, see the printable recipe card).
Step 1: Mix the ground flax seed and water together and leave to gel.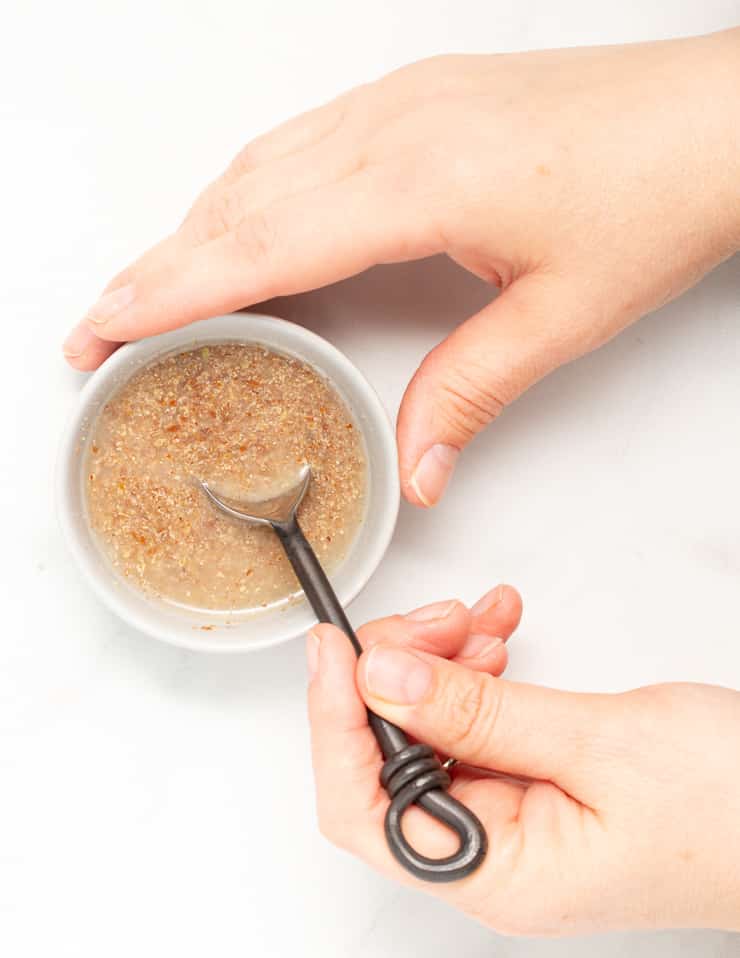 Step 2: Add the vinegar to the plant-based milk (I tend to use my cashew milk for most recipe), and set aside for a few minutes.
Step 3: Add all of the dry ingredients to a bowl and mix them up.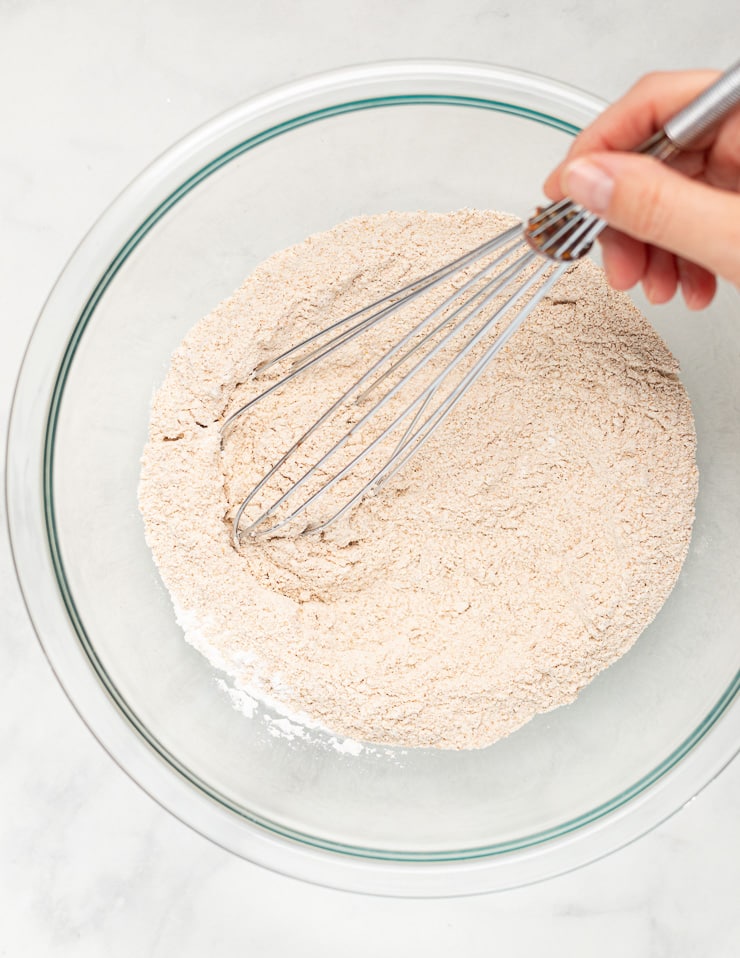 Step 4: Add the rest of the wet ingredients including the flax egg to the milk/vinegar mixture and whisk together.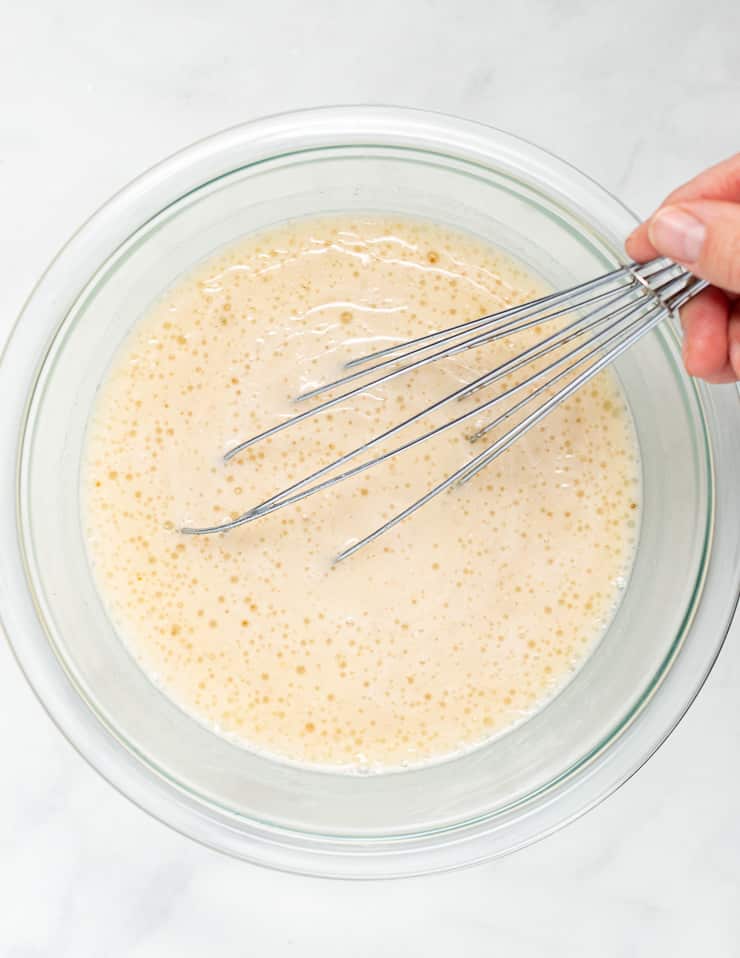 Step 5: Pour the wet ingredients into the dry and gently whisk or stir together.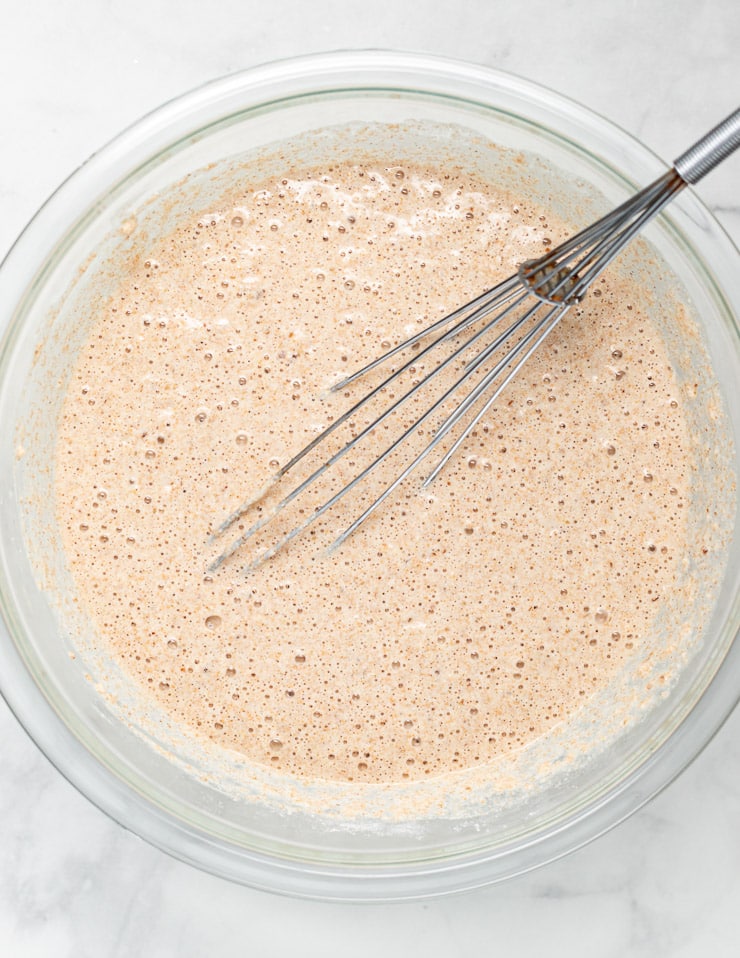 Step 6: Cook the pancakes in a pan or on a griddle.
When to flip a pancake
Once you have added the batter to the pan, you should wait until the surface of the pancake is covered with bubbles that have popped more or less all over the surface, not just around the edges. The outside edge of the pancake should also have firmed up and turned darker like in pictures 5 and 6 below.
Here is a collage showing a pancake as it cooks so that you know what to expect and when your pancake should be flipped.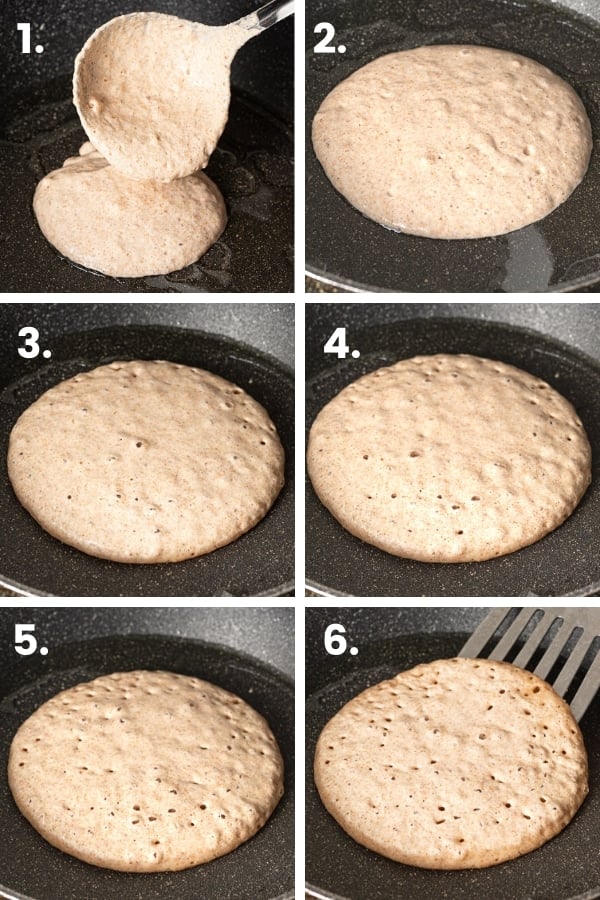 Once it looks like the pancake in picture 6, get your spatula and gently flip it. Be sure to use a spatula big enough to support the entire pancake. You then just need to continue cooking for a few minutes until that side has turned golden brown then remove it from the pan.
Patience is key and if you wait until they are bubbly like this on top your pancakes will be perfectly light and fluffy inside.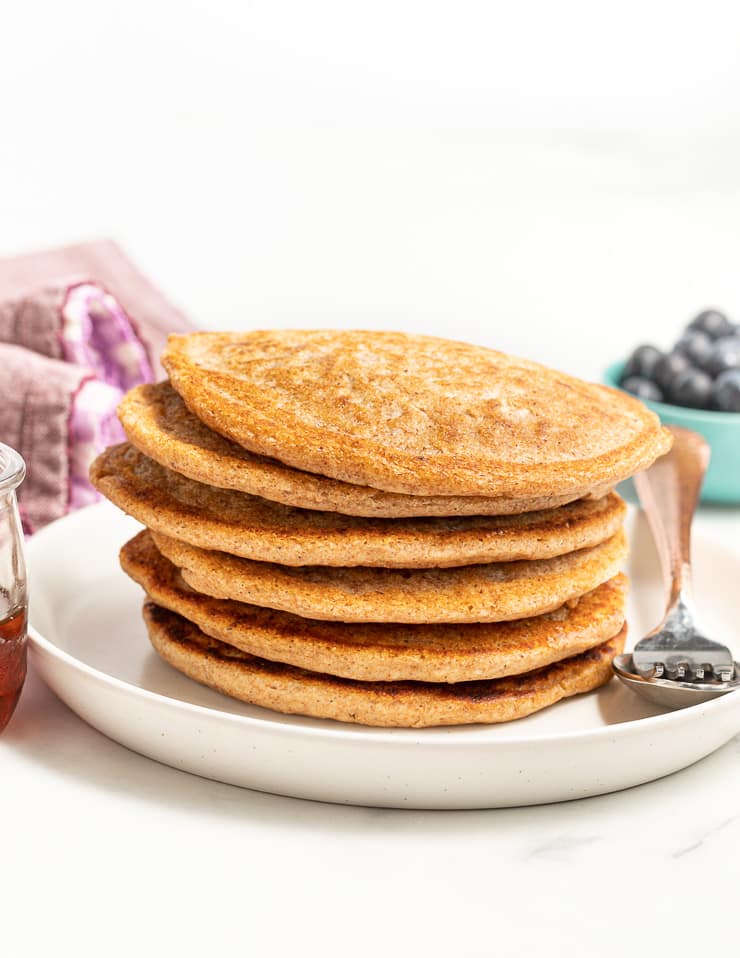 Success Tips
Weigh the flour to get the best and consistent results.
Don't over-mix the batter. Just stir gently until you can't see anymore dry flour.
Don't cook the pancakes too fast. Vegan pancakes do best when cooked slowly on a medium-low setting. That way you will get nice fluffy insides!
Only flip when the tops of the pancakes are speckled with little bubbles all over. See my tips and pancake cooking process shots above to know exactly when is the right time.
I don't recommend skipping the oil in the batter. There isn't much used but it makes a big difference to the finished pancakes texture.
For thicker pancakes reduce the amount of milk added to the batter. The thicker the batter, the fatter your pancakes will be.
If you want to sit down and enjoy the pancakes with everyone else, keep the oven on its lowest setting and put the pancakes in there on a plate to keep warm while you finish making the whole batch.
What to serve with Spelt Pancakes
Nothing else is needed here except a big dollop of vegan butter and a very big drizzle of real maple syrup. Oh and maybe a large coffee too. But if you want to switch things up here are some other topping ideas: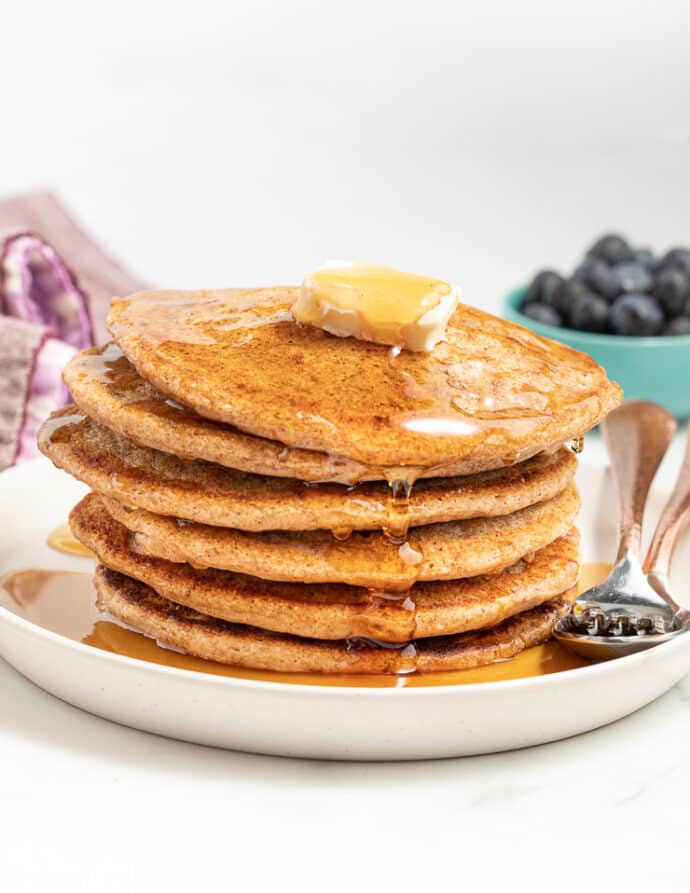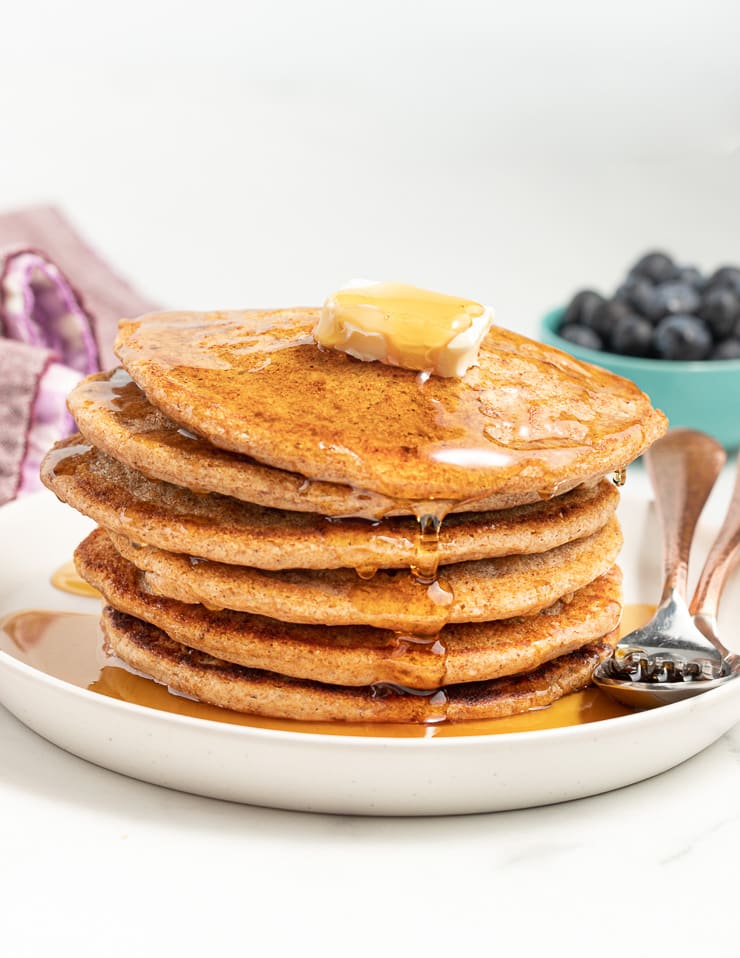 Pancake Mix-ins
These simple pancake recipe is great just as it is but feel free to do you and switch it up a bit. Here are some ideas:
Add a few tablespoons of sugar to the batter to make the pancakes sweet.
Add chocolate chips, blueberries or raisins - spoon the batter into the pan and scatter them over the top before they start setting up and need flipping.
Add a teaspoon of cinnamon or pumpkin spice to the batter.
Add small pieces of diced apple along with some cinnamon to the batter.
Add a tablespoon or two of cocoa to the batter to make the pancakes chocolate flavour. Some chocolate chips added too would make them double chocolate!
Vegan Marshmallows. I like Dandies.
Add some lemon zest and poppy seeds to the batter.
If you try this recipe, let me know how you like it by leaving a comment and rating below! And be sure to join my mailing list for more deliciousness!
Recipe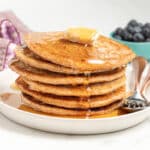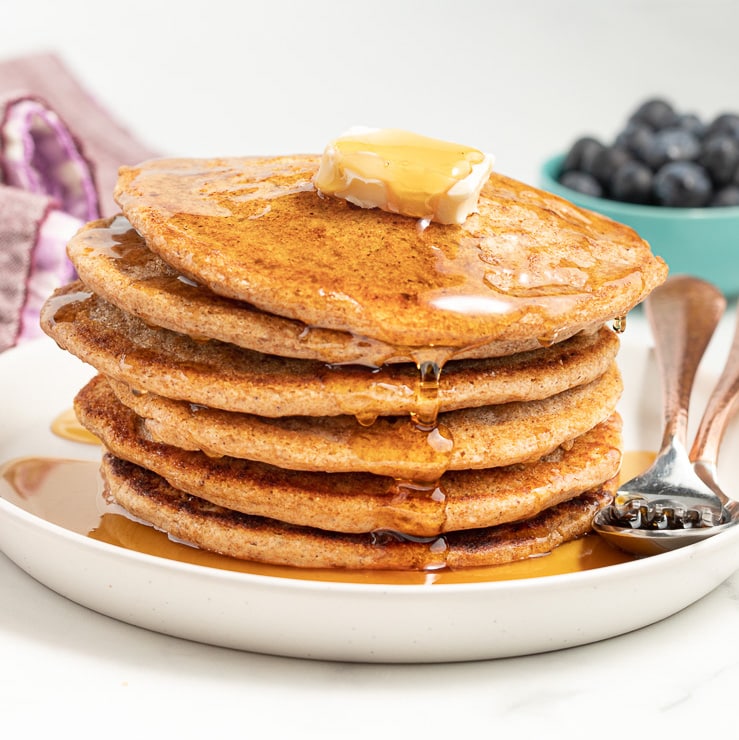 Vegan Spelt Pancakes
Author:
Light and fluffy Vegan Spelt Pancakes. Whole grain, sugar free & simple, but also super tasty and satisfying. Quick to make too!
INSTRUCTIONS
Mix the flax seed with the water and set aside to gel.

Pour the milk into a medium bowl and add the vinegar. Leave for a couple of minutes while you get the dry ingredients ready.

Put the flour, the baking powder, baking soda and salt into a mixing bowl and whisk them together to combine.

Add the vanilla extract, oil and the flax mixture to the milk mixture and whisk well together.

Pour the liquid mixture into the dry ingredients and stir or whisk gently together. Don't over mix. Just enough so that no dry flour is visible.

Heat a pan/griddle over a medium-low heat and add a little oil or vegan butter.

When the pan is hot pour the batter into the pan in rounds, leaving at least an inch of space around each one because they do expand a bit and you also need to be able to get in there easily to flip them when they are ready too. To keep them all the same size use a ladle or a measuring cup. ⅓ of a cup per pancake is a nice amount for a decent sized pancake but you could use ¼ cup to make them smaller.

Leave the pancakes well alone until you start to see lots of small bubbles appearing and popping all over the top, not just on the edges. See my pictures in the post above for what that looks like. When you see popped bubbles all over, flip the pancakes gently.

Cook for another minute or two until the bottoms are golden then remove from the pan. Repeat until all of the batter is used up.
NUTRITION
Serving:
1
pancake
|
Calories:
178
kcal
|
Carbohydrates:
24
g
|
Protein:
5
g
|
Fat:
6
g
|
Saturated Fat:
1
g
|
Sodium:
235
mg
|
Potassium:
270
mg
|
Fiber:
5
g
|
Sugar:
1
g
|
Vitamin A:
93
IU
|
Calcium:
147
mg
|
Iron:
2
mg
Did you make this recipe?
Rate it & leave feedback in the comments section below. I love seeing your remakes too. Tag @avirtualvegan on Instagram! 🌟
This recipe was originally published in 2015, but the post was updated and new photos and a video were added on February 8th 2020. The recipe remains the same.