Super basic, ridiculously easy, crazy delicious Vegan Gluten Free Pancakes. They are beautifully golden, fluffy on the inside, irresistibly crunchy on the outside, with a lovely gentle sweetness. You need only 4 ingredients (plus a pinch of salt) and there is no batter resting time so they can be mixed up & on your plate in record time!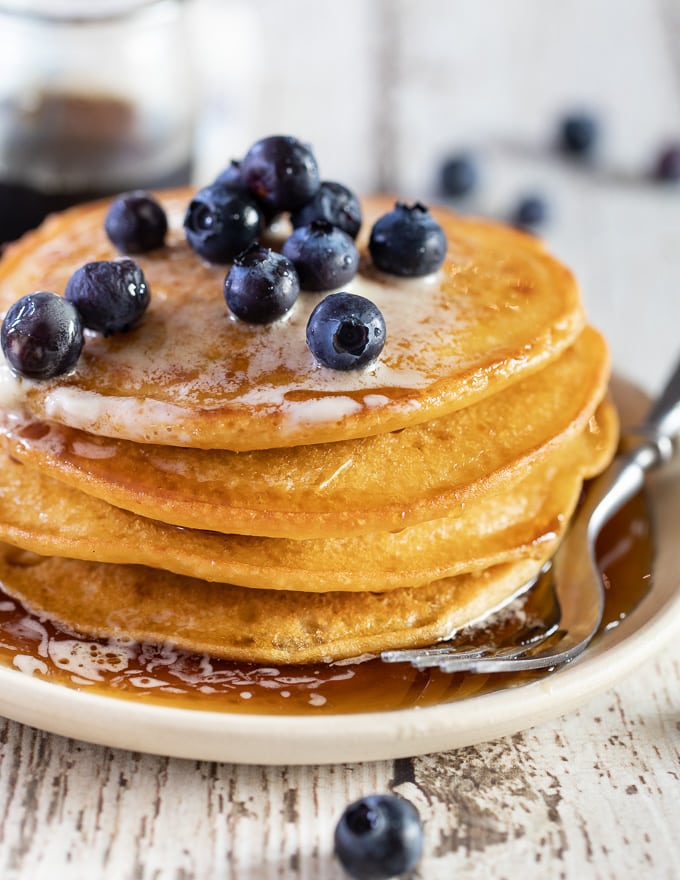 Oh my these Vegan Gluten Free Pancakes are so good. They might not be as thick as my Vegan Banana Pancakes, but what they lack in height, they made up for in taste and texture.
They are everything you want and need in a pancake. Golden and slightly crispy on the outside, and super fluffy on the inside, with no gumminess or damp insides like many vegan pancake recipes that you find when searching Google or Pinterest.
Jump to:
They also have a really lovely, mellow sweetness. And what's really nice about them is they are super light. Much lighter than pancakes made with regular all-purpose flour. You don't walk away after eating them feeling really stuffed and weighed down.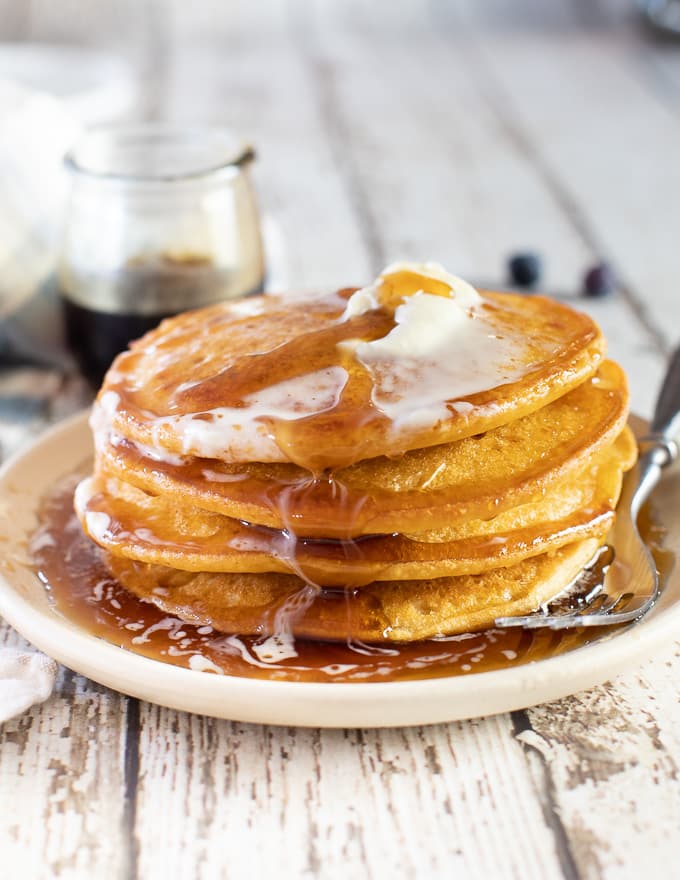 They are my new absolutely favourite pancake recipe and I have been making them on repeat.
Add a blob of vegan butter and a drizzle of maple syrup and it's like all your perfect vegan breakfasts have come at once.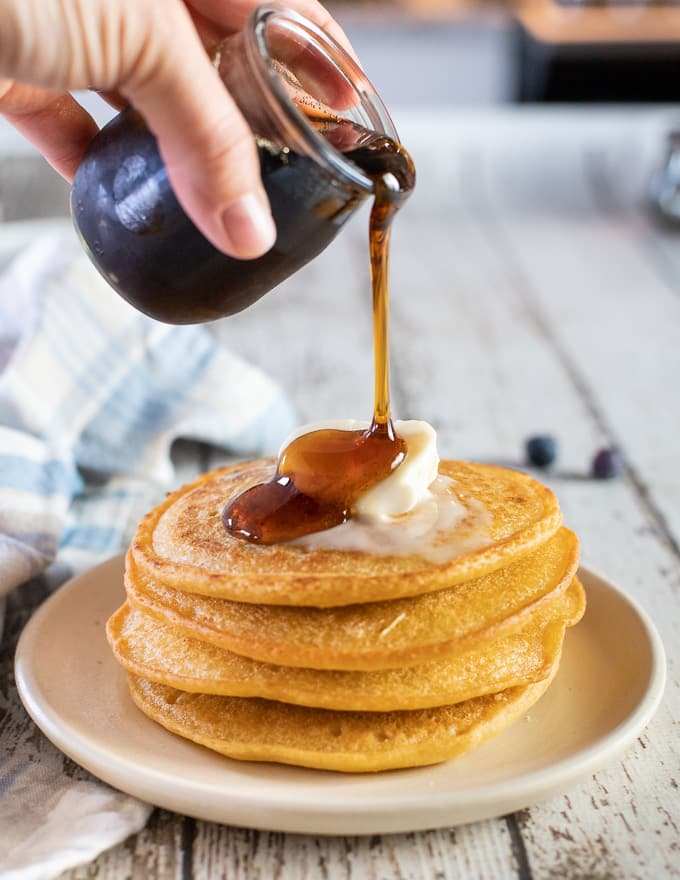 What is corn flour?
These pancakes are gluten-free because they are made with corn flour.
Corn flour is a fine flour made from ground dried corn kernels. This is the corn flour I used to make this recipe but other brands are available:
This corn flour is not to be confused with Masa Harina which is made from corn that has been soaked in lime water, then rinsed, dried and ground.
Also not to be confused with corn starch (corn flour as it's known in the UK), which is also made from corn but is produced by grinding, washing and drying the endosperm of the corn only, hence the reason it's really starchy and great for thickening.
So the message is, make sure you get the right kind of corn flour. Here in BC it's available just about everywhere, so hopefully it will be where you are too. If not there's always Amazon.
How to make your own corn flour
If you have a pantry full of corn meal, it is really easy to make your own corn flour from it. They are basically the same thing. One is just more finely ground than the other.
All you need to be able to do this yourself is a blender.
I have a Blendtec  and it makes flour from coarse cornmeal in less than a minute.
All you need to do is:
Add the corn meal to the blender
Blend on high until it looks fine
Sieve
Use the finely sieved part as your flour, and save the courser bits left inside the sieve for another recipe, like cornbread.
You can use the same method to make flour from other things like oats or quinoa too.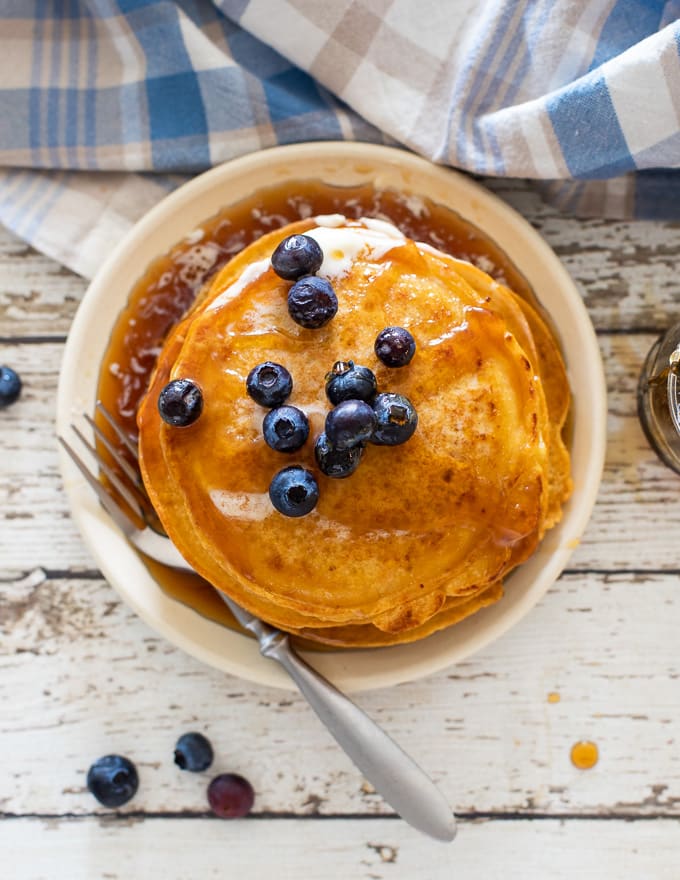 Ingredient & equipment notes
No special equipment is needed to make these pancakes. All you need is:
And these are the ingredients you need (note that the sugar is optional):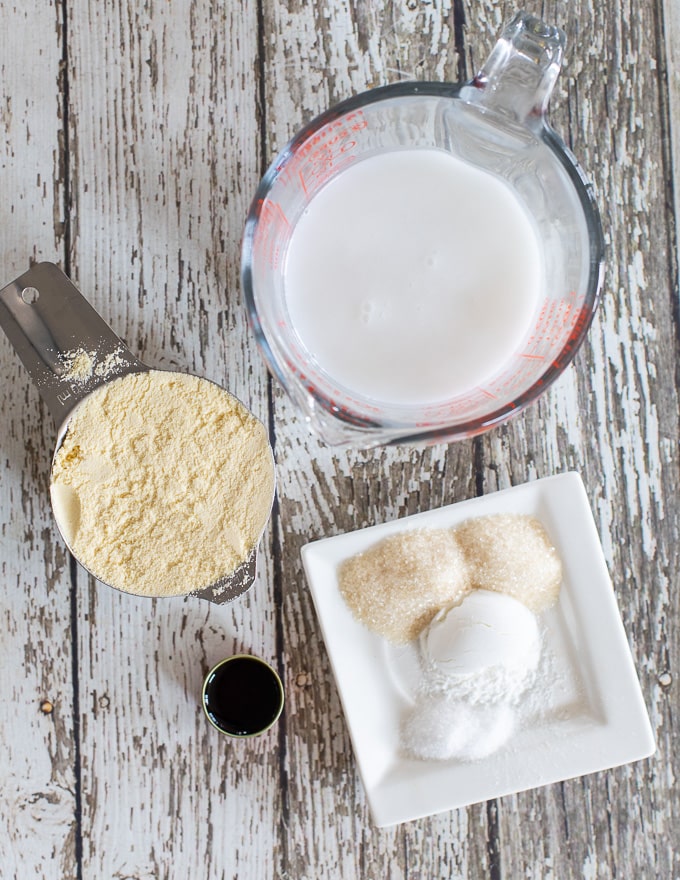 As well as being vegan and gluten free the batter is also oil-free.
If you have a really good pan or griddle you will be able to get away without using any oil to cook them, although if you aren't following an oil-free diet, I strongly recommend using some oil as then you will get ultimate outside crispiness going on which is super good.
How to make vegan gluten-free pancakes
This has got to be one of the easiest and quickest pancakes recipes to make EVER.
Unlike most pancake recipes, there is no resting time for the batter. It really is a case of mixing the ingredients together and cooking the pancakes immediately.
Here's how:
STEP 1 - Add all of the dry ingredients to a bowl.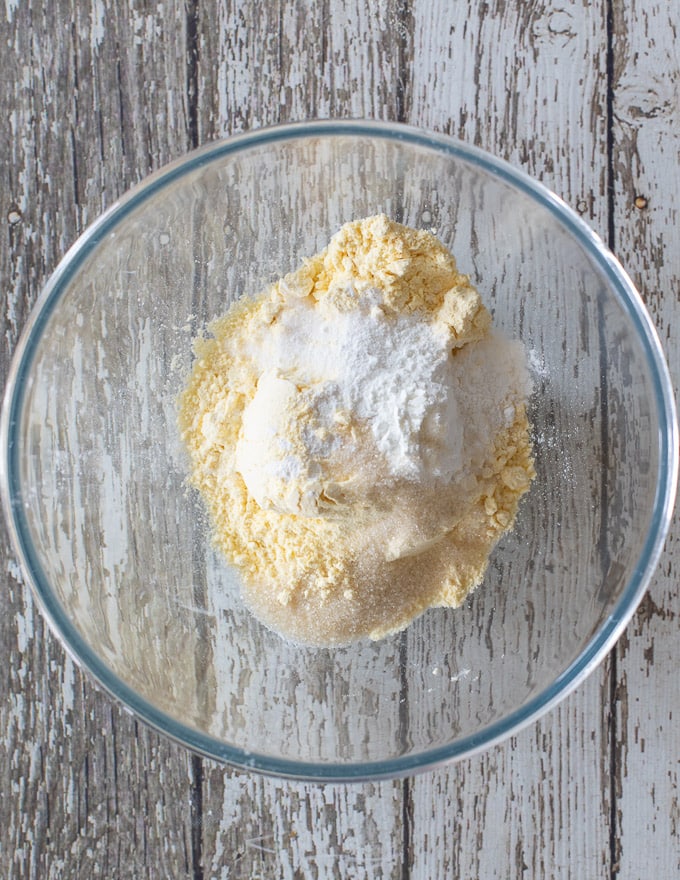 STEP 2 - Whisk them together.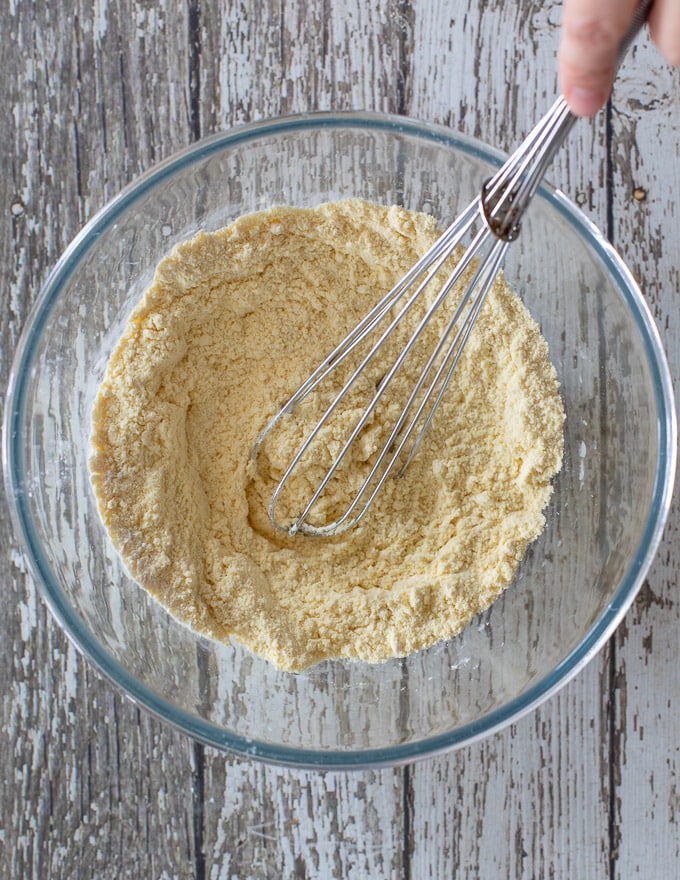 STEP 3 - Add the milk and vanilla and whisk together until smooth.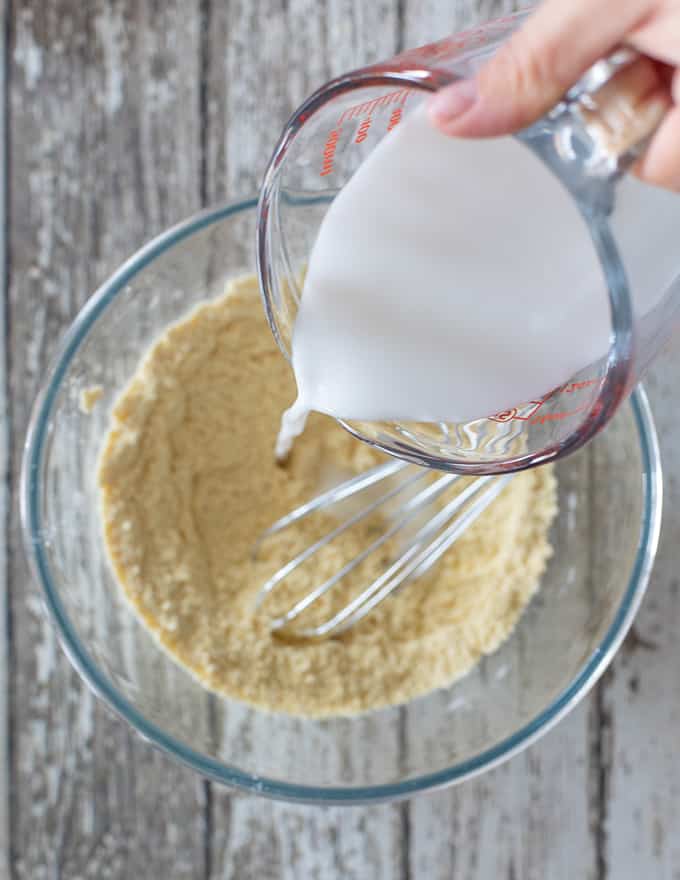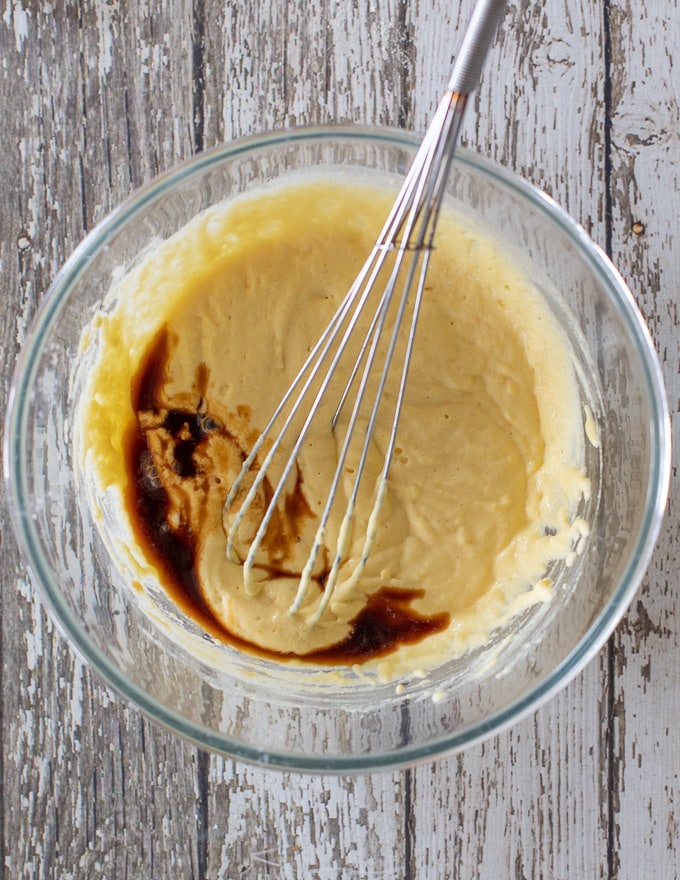 STEP 4 - Warm a griddle or a pan and cook the pancakes, turning them over when bubbles appear.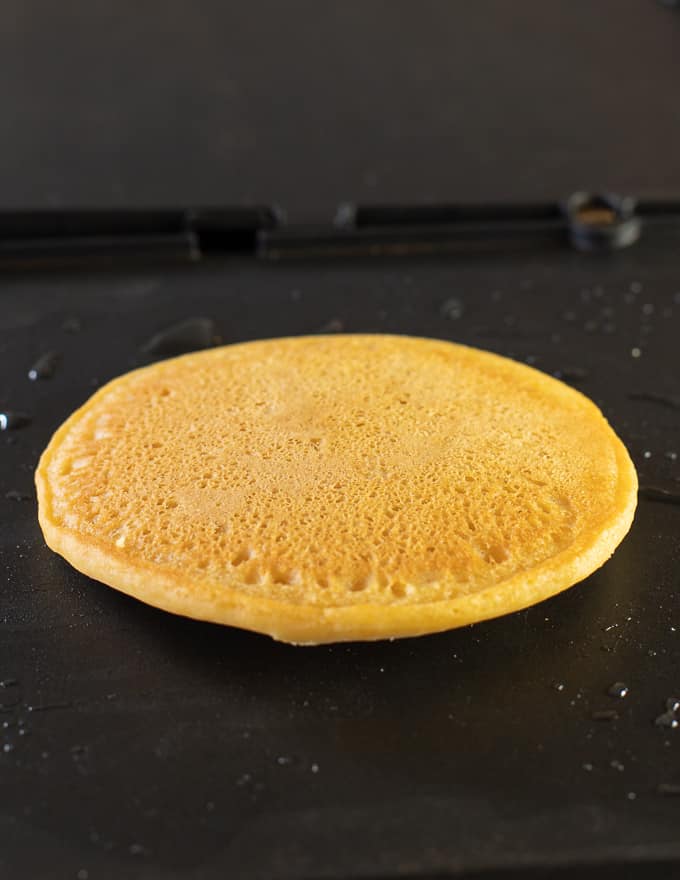 The whole process takes less than 10 minutes...unless you decide to make heaps and heaps of them that is.
How to serve
The very best way to eat these pancakes is with vegan butter and maple syrup.
They are also really good with berries, particularly strawberries or blueberries (try adding a handful of blueberries to the batter)!
And you can even go for a more savory feel by adding some corn kernels to the batter, then serve with vegan sausage and vegan bacon.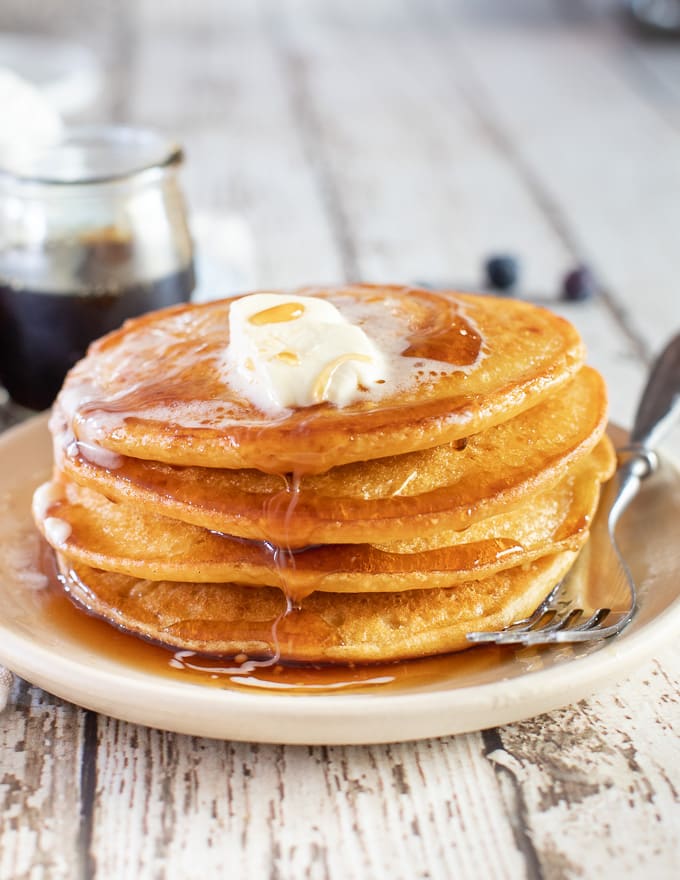 And so to recap:
Vegan, gluten-free pancakes that taste amazing!
A batter that is totally oil-free
Super simple to make
Fluffy
Crispy
With a lovely natural sweetness from the corn flour.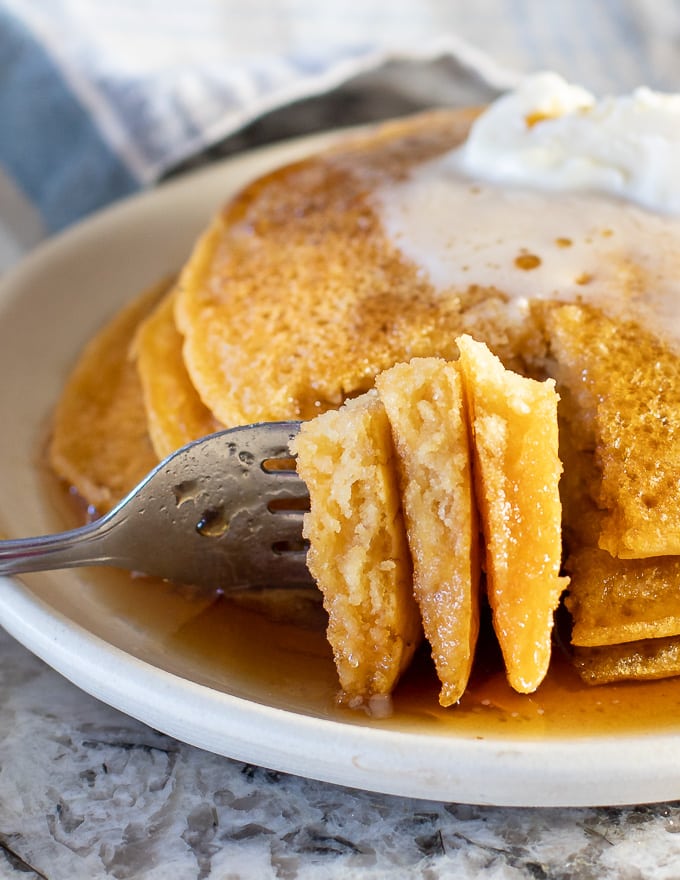 Weekend brunches just got a whole lot better!
Hungry for more?
For more vegan pancakes recipes, check out these great options:
Subscribe to my email list for a fabulous FREE eCookbook featuring my top 10 recipes. Being on the list means you will be first to see my new recipes and you'll be kept in the loop on all things new and exciting too. Also, be sure to check out my cookbook Vegan Comfort Cooking for even more recipes!
📖 Recipe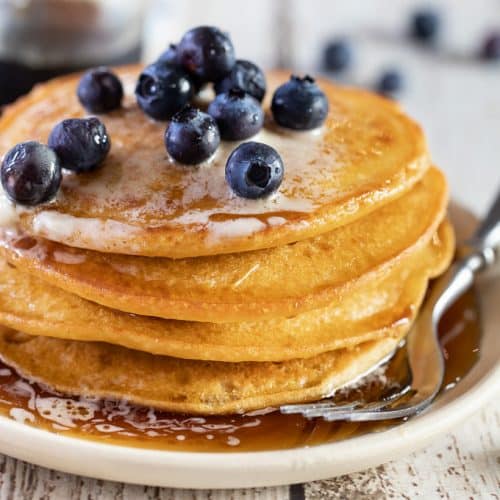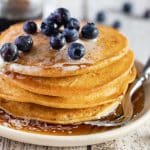 Vegan Gluten Free Pancakes
Author:
Super basic, ridiculously easy, crazy delicious Vegan Gluten Free Pancakes. They are beautifully golden, fluffy on the inside, irresistibly crunchy on the outside, with a lovely gentle sweetness. You need only 4 ingredients (plus a pinch of salt) and there is no batter resting time so they can be mixed up & on your plate in record time!
Ingredients
165 g / 1

very packed cup

corn flour (sometimes called maize flour or maize atta

, Scoop it into the cup and pack it down tight with a spoon until you can't possibly fit anymore in. Note that corn flour is not masa harina, or corn starch or what's known as cornflour in the UK. It needs to be fine flour made from dried corn kernels, like corn meal but much finer. Bob's Red Mill is a popular, widely available brand. See notes in the post above for more info and tips for making your own.

3 teaspoons / 1

tablespoon

baking powder

½

tsp

fine salt

4

tsp

sugar

, optional

4

teaspoons

vanilla extract

220 mls / ¾ cup + 2 tbsp + 2

tsp

unsweetened milk of choice
INSTRUCTIONS
To a medium bowl, add the corn flour, baking powder, salt and optional sugar. Whisk them together.

Add the milk and vanilla to the dry ingredients and mix them together well.

Heat a griddle, skillet or frying pan over a medium/low heat. Add a drizzle of mildly flavoured oil or some vegan butter and allow to melt/spread around the pan. If you have a good non stick pan/griddle you can cook them oil-free.

Once hot add the batter about 1/3 cup (80 mls) at a time. Allow them to cook undisturbed, until they are starting to set around the edges and bubbles start forming on the top. Flip gently and cook them on the other side for about 1 minute or until slightly golden.

Remove from the pan and serve immediately.
NOTES
NUTRITIONAL INFORMATION IS CALCULATED INCLUDING THE OPTIONAL SUGAR 
NUTRITION
Serving:
1
of 6 pancakes
Calories:
95
kcal
Carbohydrates:
19
g
Protein:
1.5
g
Fat:
1.3
g
Sodium:
400
mg
Fiber:
1.4
g
Sugar:
3
g
Vitamin A:
100
IU
Vitamin C:
0.8
mg
Calcium:
150
mg
Iron:
0.7
mg
Nutritional information is provided for convenience & as a courtesy. The data is a computer generated estimate so should be used as a guide only.
Tried this recipe?
Rate it & leave your feedback in the comments section below, or tag @avirtualvegan on Instagram and hashtag it #avirtualvegan