Crush those weeknight goals, eat well & still have time to put your feet up, with these 25 quick vegan meals that take 30 minutes or less.

Monday to Friday. Life is hectic. Everyone's hungry and you don't have the time or energy to spend ages in the kitchen cooking dinner. I get it.
So, I've put together this collection of Quick Vegan Meals for Weeknights, from my own tried and trusted recipes, so that you can crush those quick vegan dinner goals, eat really well and still have time to put your feet up and enjoy your evening.
These quick vegan meals are fast and easy but still really good. Because we never want to sacrifice taste! And they are all ready in under 30 minutes. Some much less.
Remember too, that most of these recipes can easily be doubled so that you can reheat them later in the week. It's something I do all the time and it helps keep me sane at dinnertime. When you are stressing about what to make for dinner, it's lovely to go to the fridge and find a meal that you stashed away and forgot about!
Easy Vegan Cheese Sauce (no nuts!)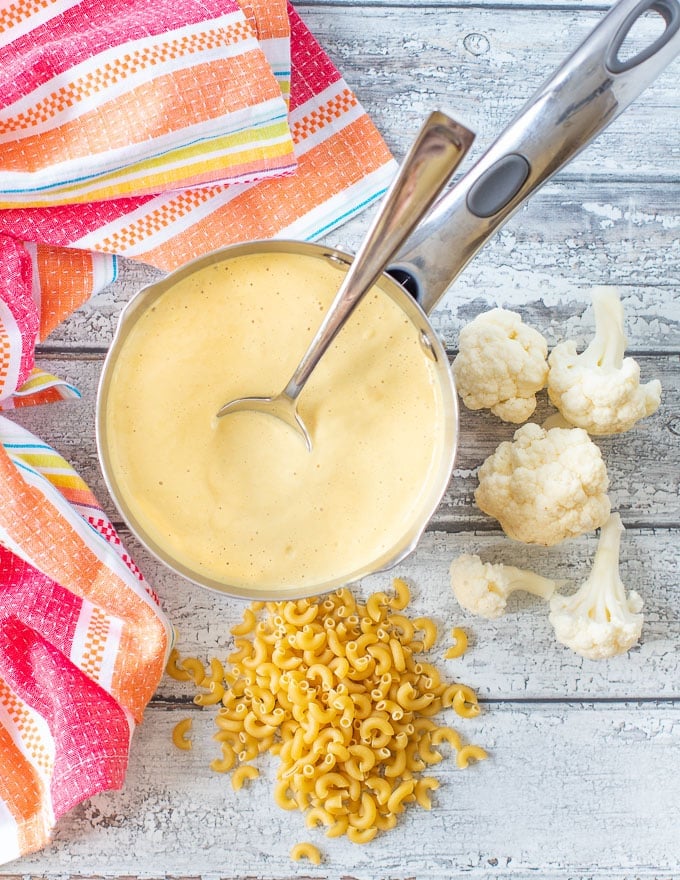 A silky smooth, lusciously creamy, Vegan Cheese Sauce that is nut-free, gluten-free, low in fat, high in protein and can be whipped up in your blender in minutes! It's one of my favourite super quick dinners. Toss it through freshly cooked pasta and serve alongside some veggies or a salad. Dinner done fast!

make this recipe
Cherry Tomato Sauce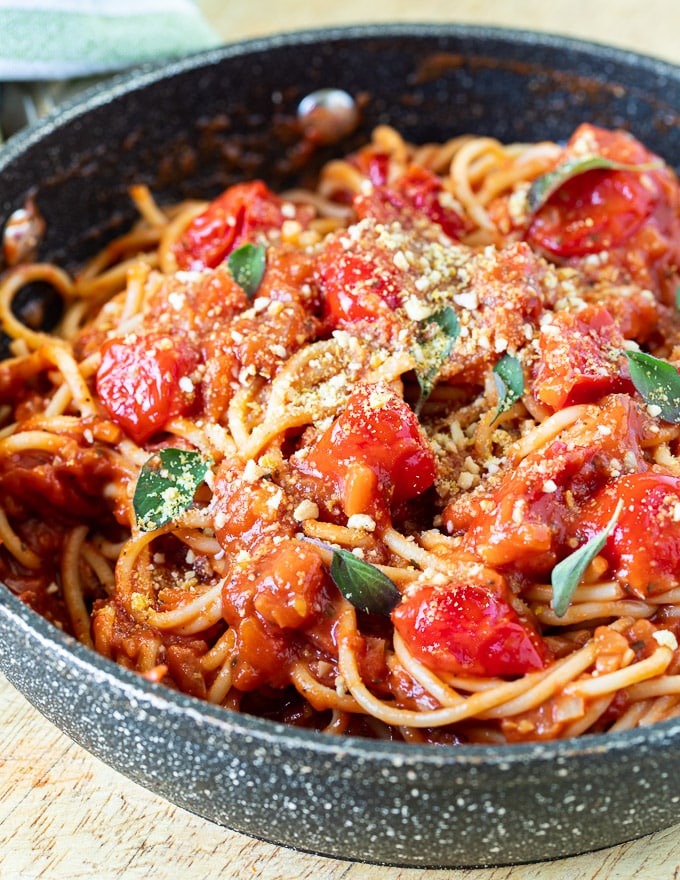 A rustic, creamy, thick and full of flavour Cherry Tomato Sauce, that's perfect for serving over pasta. It's made with only 6 ingredients and is easy enough for midweek, yet worthy of company too. 

make this recipe
Vegan Meal Prep with Black Beans & Rice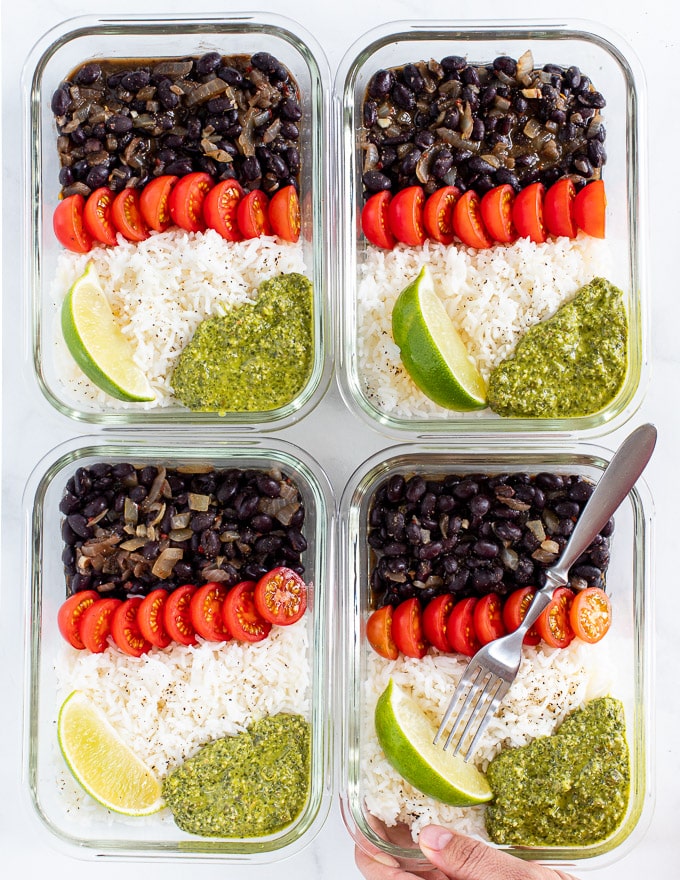 A healthy, protein packed recipe for Vegan Meal Prep with Black Beans & Rice that you can prep in advance in under 30 minutes & enjoy all week long!

make this recipe
Vegan Pea Soup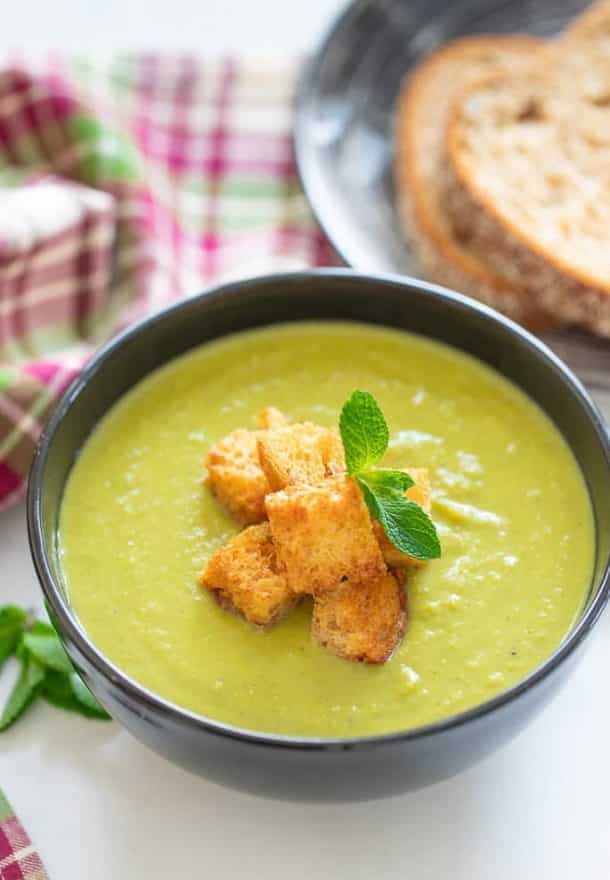 A bowl of brilliant green goodness to warm your soul! This Vegan Pea Soup with a generous handful of optional mint for good measure, is healthy, low calorie, packed with protein and super simple to make. With only 6 ingredients (plus salt & pepper) you probably already have everything you need to make it too!

make this recipe
Easy Butternut Squash Curry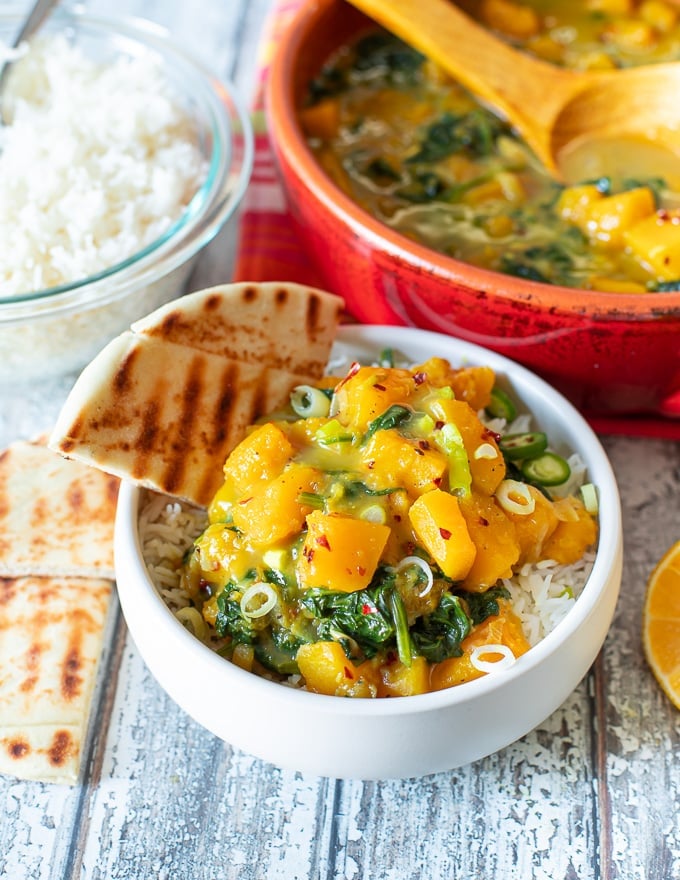 Creamy, sweet Butternut Squash Curry served over piles of steaming rice. Quick, healthy, easy, totally delicious and ready in only 30 minutes!

make this recipe
Creamy Vegan Gnocchi with Garlic & Kale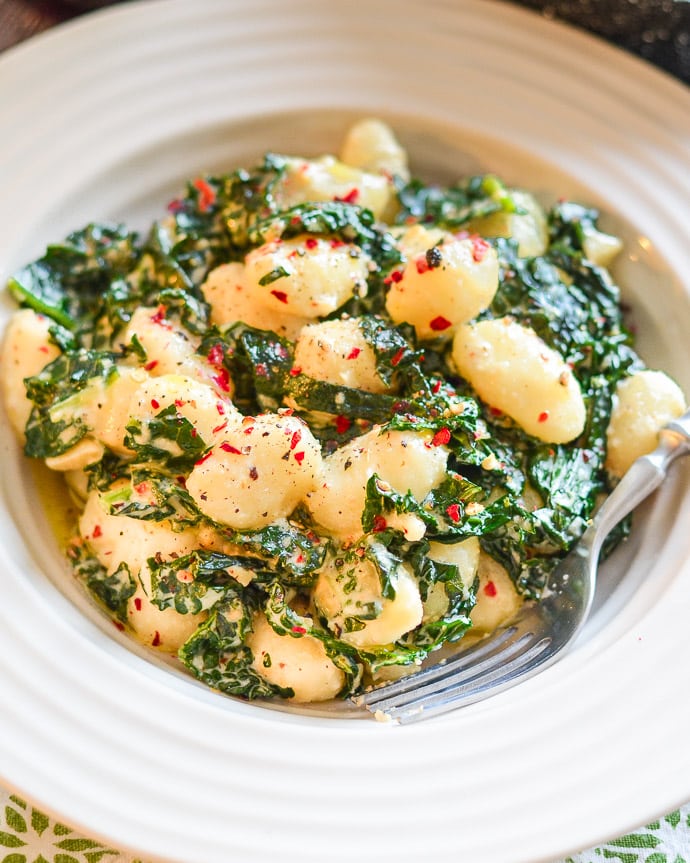 Soft fluffy pillows of store-bought gnocchi (almost always accidentally vegan) & tender, sautéed kale, tossed in a creamy, garlic infused sauce. This Creamy Vegan Gnocchi with Garlic & Kale is dinner party worthy but incredibly easy to make, taking less than 15 minutes from start to finish and that includes prep time too! 

make this recipe
Teriyaki Instant Pot rice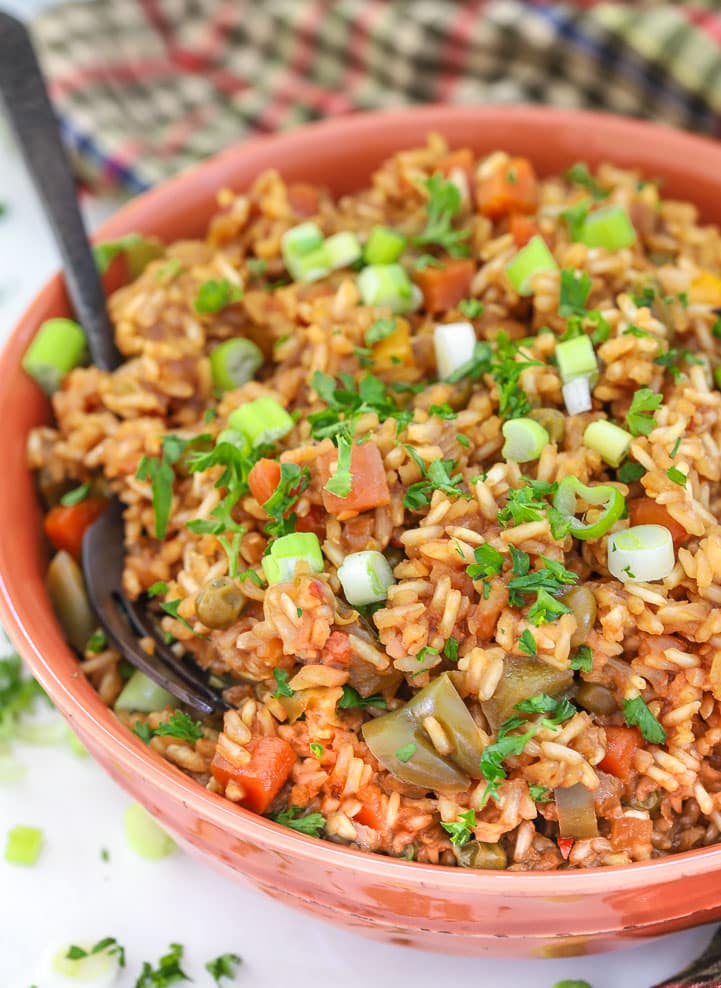 A complete meal made in one-pot, this Teriyaki Instant Pot Rice will be a great addition to your mid week dinner rotation. It's so easy! Stovetop instructions are included too in case you don't have an Instant Pot.

make this recipe
Peanut Noodles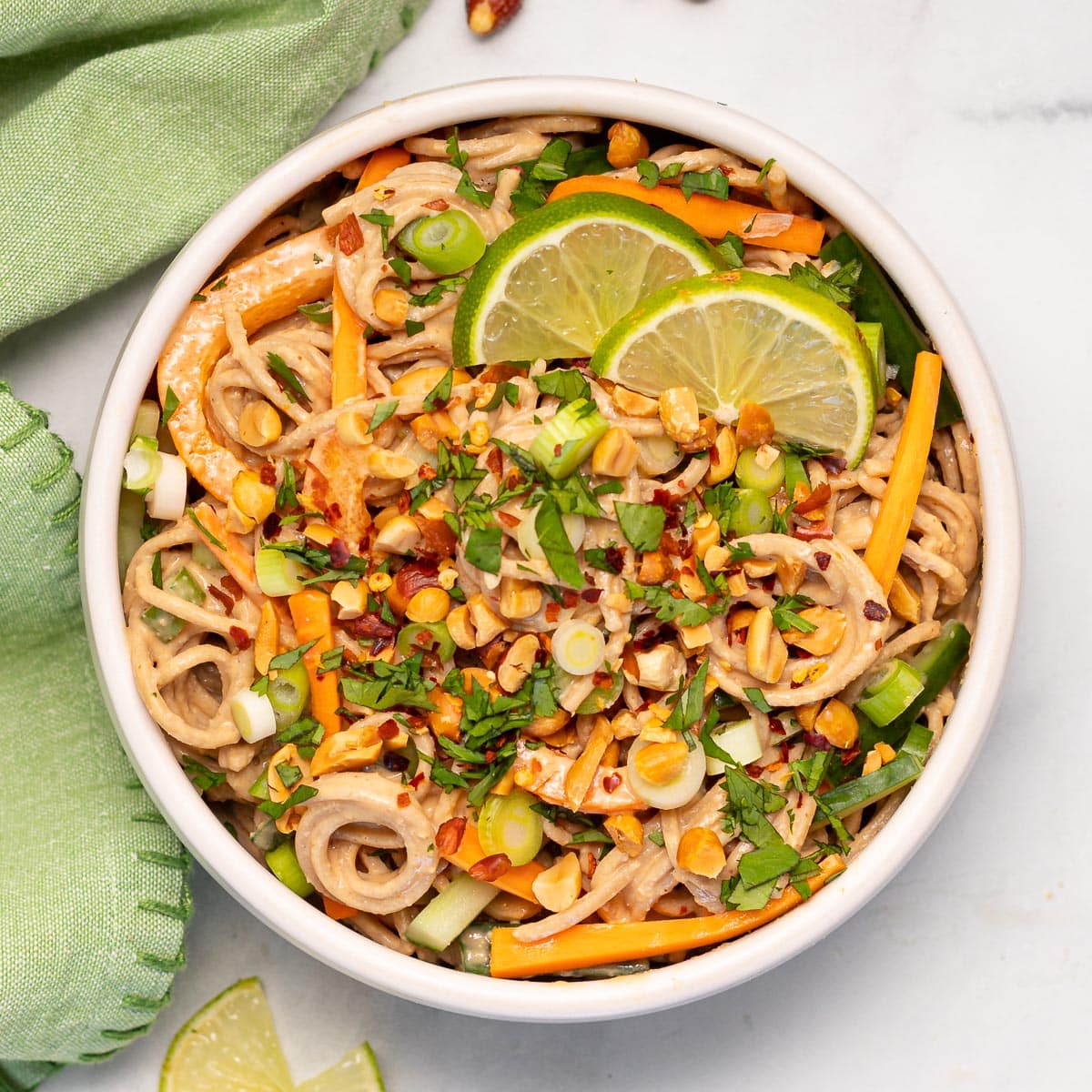 Quick, easy, versatile and very slurpable Peanut Noodles! Perfect for midweek dinners and meal prep and the only cooking required is boiling the noodles!

make this recipe
Skinny Fettuccine Cauliflower Alfredo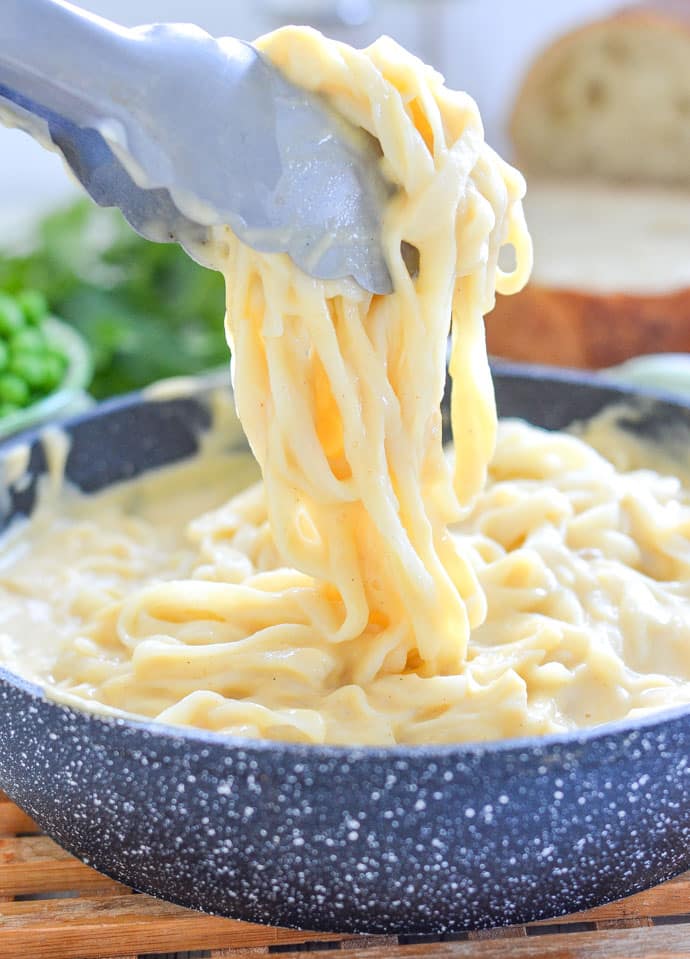 This quick & easy Skinny Fettuccine Cauliflower Alfredo is rich, creamy & delicious. It also happens to be really low in calories & virtually fat free!

make this recipe
Sweet Potato Breakfast Boats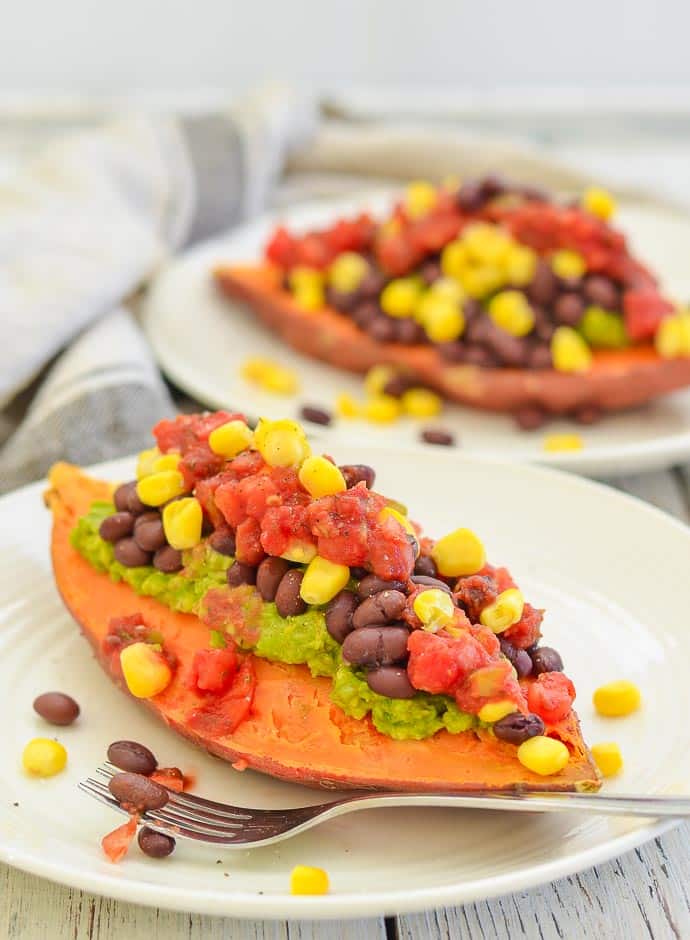 Sweet potatoes are a delicious and versatile, yet often overlooked, breakfast food. They can stand in for toast when sliced thin, cooked on a cast-iron skillet and topped with avocado, and they offer a healthier way to do hash browns. Here, we make them into boats we can fill with our favorite toppings. We went with a Southwest theme for this recipe, but you can really use anything you have sitting in your pantry or fridge. Chickpeas, broccoli, bell pepper, spinach—get creative!

make this recipe
Easy Vegan Ratatouille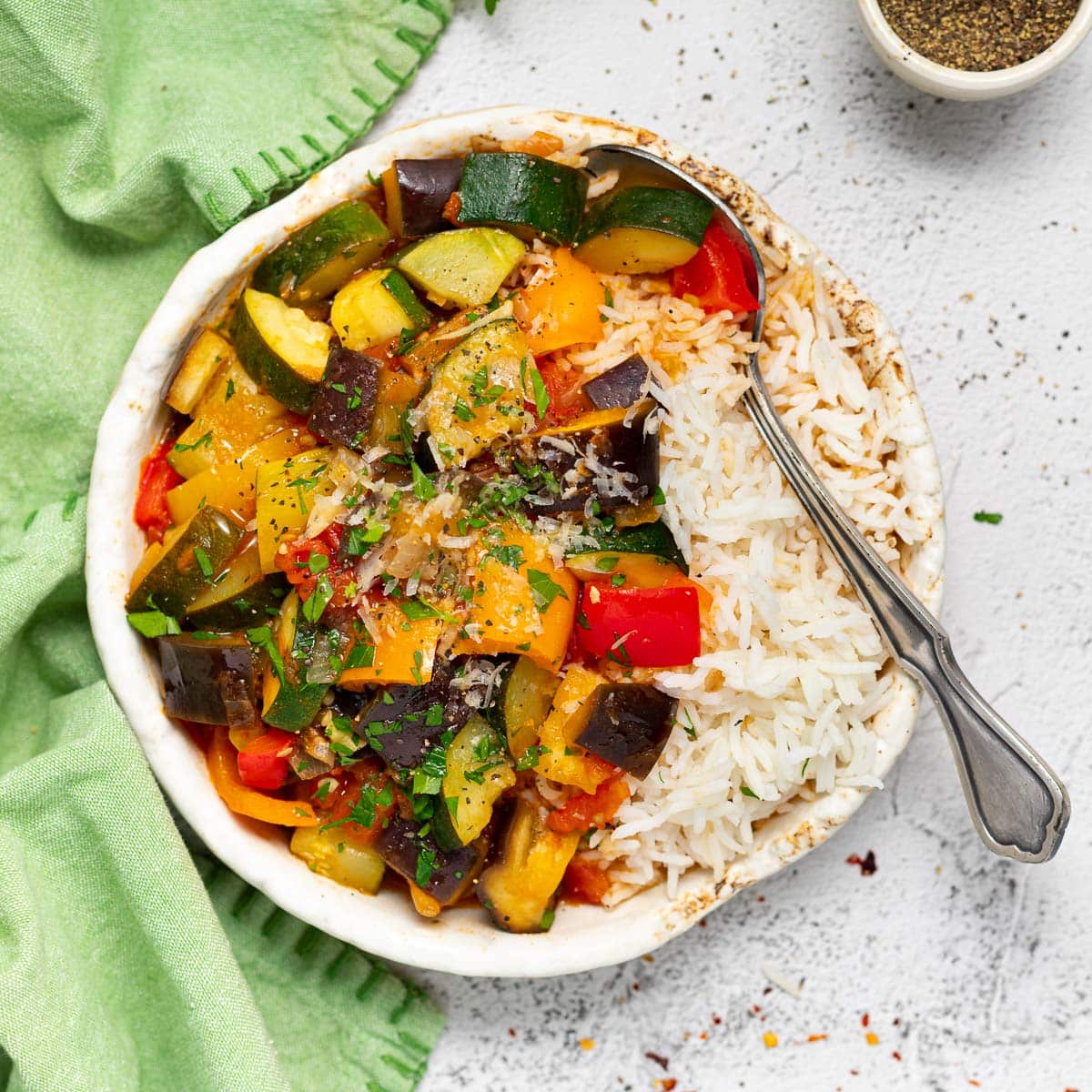 This quick and easy vegan ratatouille is a colourful, naturally gluten-free one-pot meal that's ready to eat in about 30 minutes. It's a really good way to use up surplus or past their best vegetables and makes a lovely dinner or side that reheats and freezes perfectly.

make this recipe
Peanut Crunch Salad in a Jar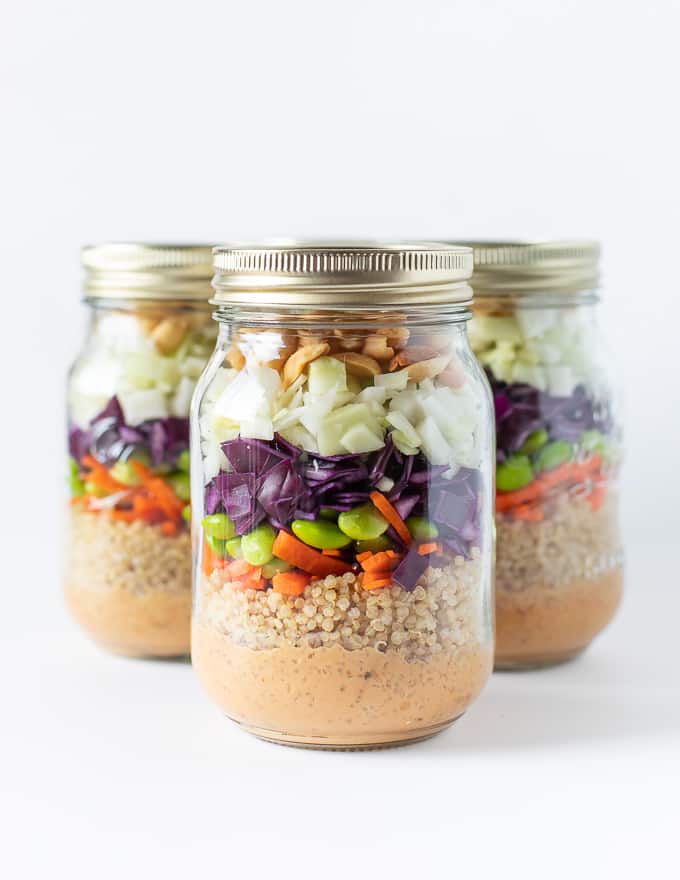 A healthy, super tasty lunch doesn't get any easier than this Peanut Crunch Salad in a Jar. Make up a bunch of them while meal prepping on Sunday and you will have grab-and-go lunches all ready in the fridge for your week ahead!

make this recipe
Vegan Scrambled Eggs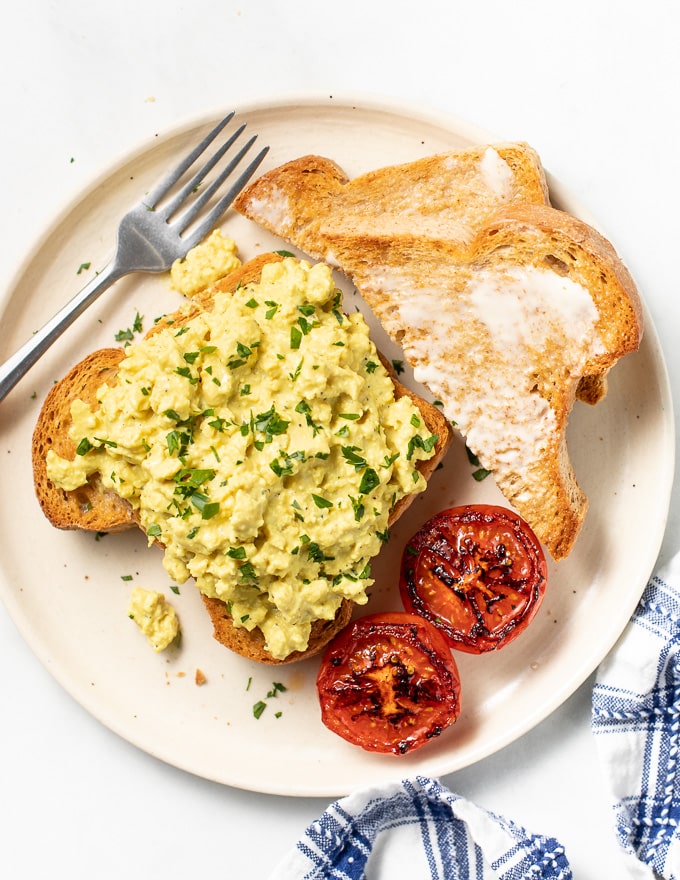 This easy foolproof recipe will get you perfect Vegan Scrambled Eggs every time!. We're talking soft, rich, buttery, on the verge of custardy and just perfect for piling on thick, hot, buttered toast. And as an added bonus, it packs a massive protein punch! 

make this recipe
Super Simple Green Bean & Potato Curry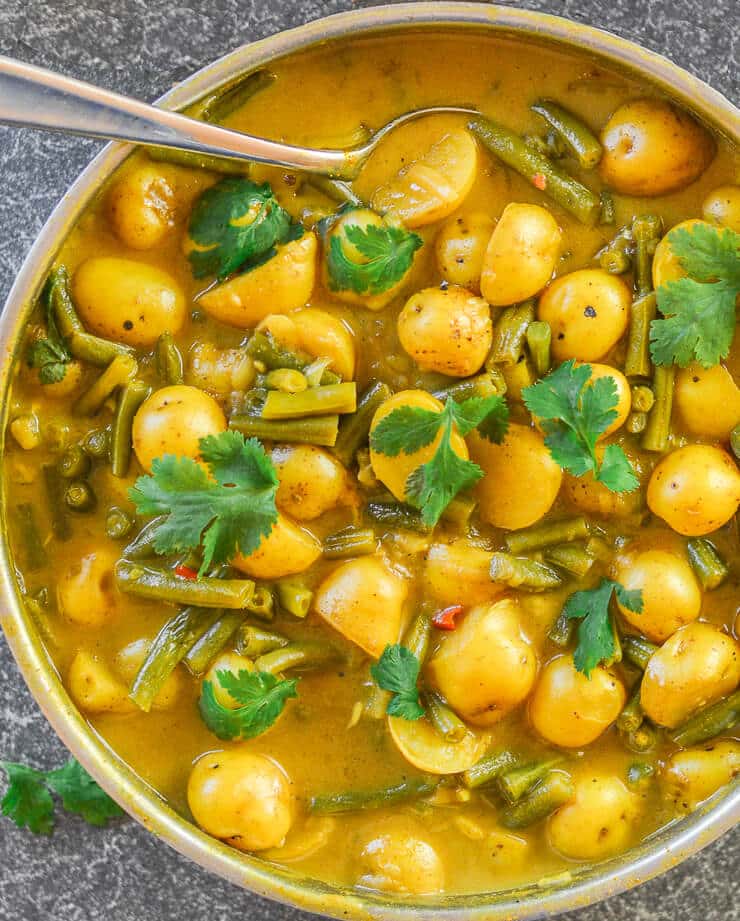 A really super simple Green Bean & Potato Curry that is budget friendly, only has 8 ingredients & needs no fancy-schmancy spices.

make this recipe
Chili Soup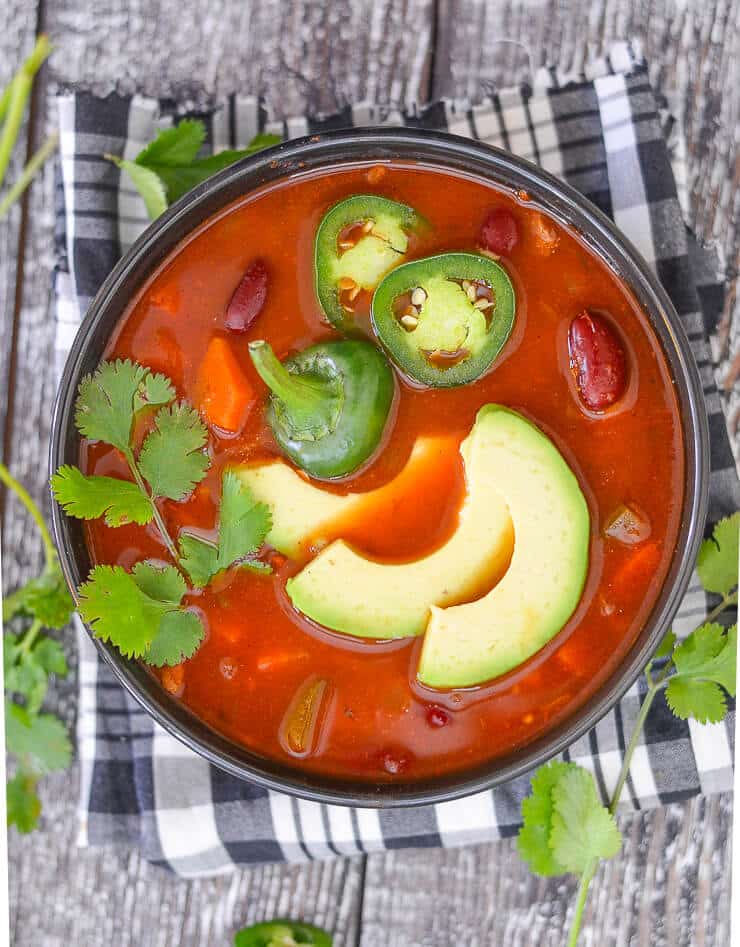 Super tasty Chili Soup that can be made quickly on the stove-top or more slowly in a slow cooker. Simple, comforting & delicious with only 8 ingredients (plus water & salt)!

make this recipe
Vegan Black Bean Burgers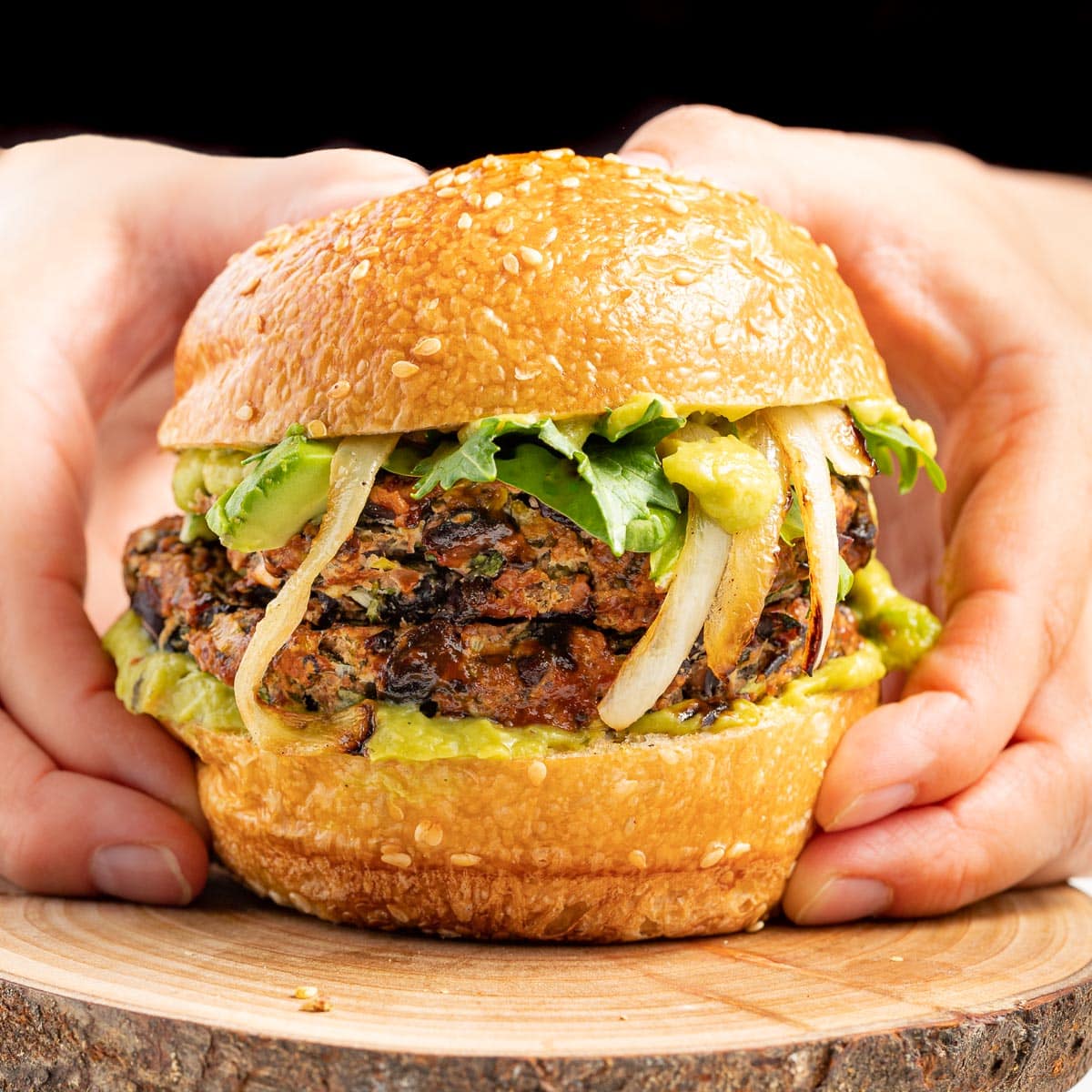 Easy to make Vegan Black Bean Burgers that are loaded with flavour and not mushy. They are satisfying, delicious and a tried & true reader favourite!

make this recipe
Tofu in Purgatory (Shakshuka)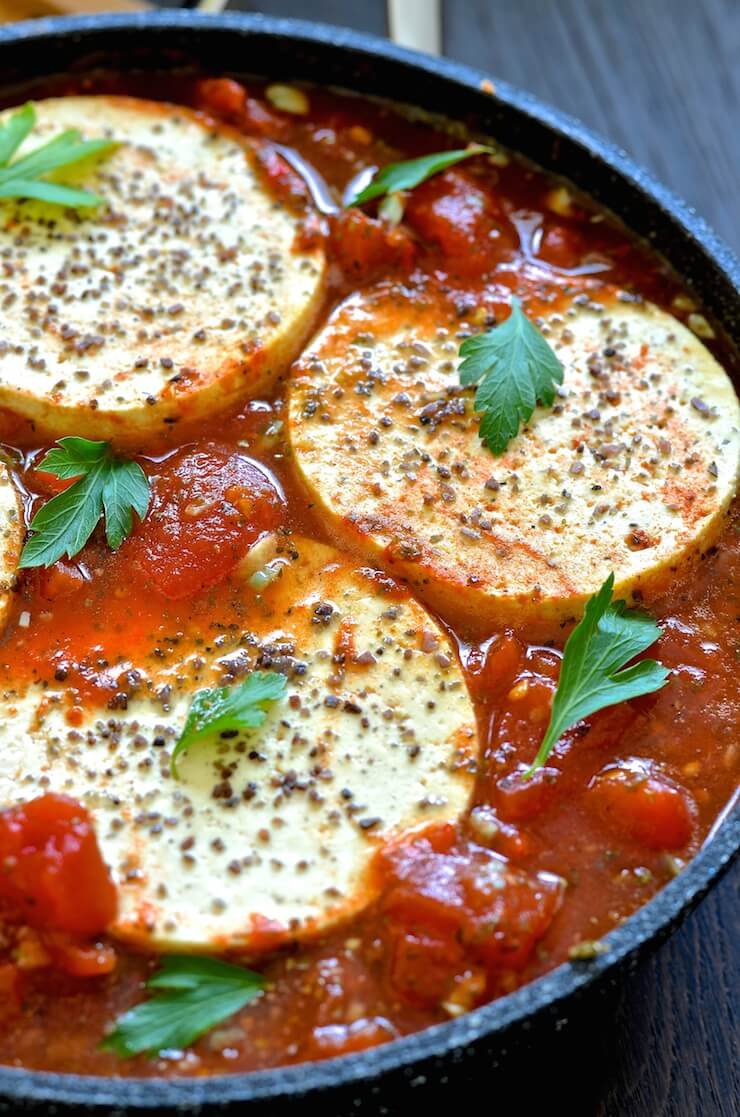 Silky, soft tofu rounds cooked gently in a fiery, garlicky and chunky tomato sauce. Tofu in Purgatory is the perfect brunch dish!

make this recipe
Kale Almond Pesto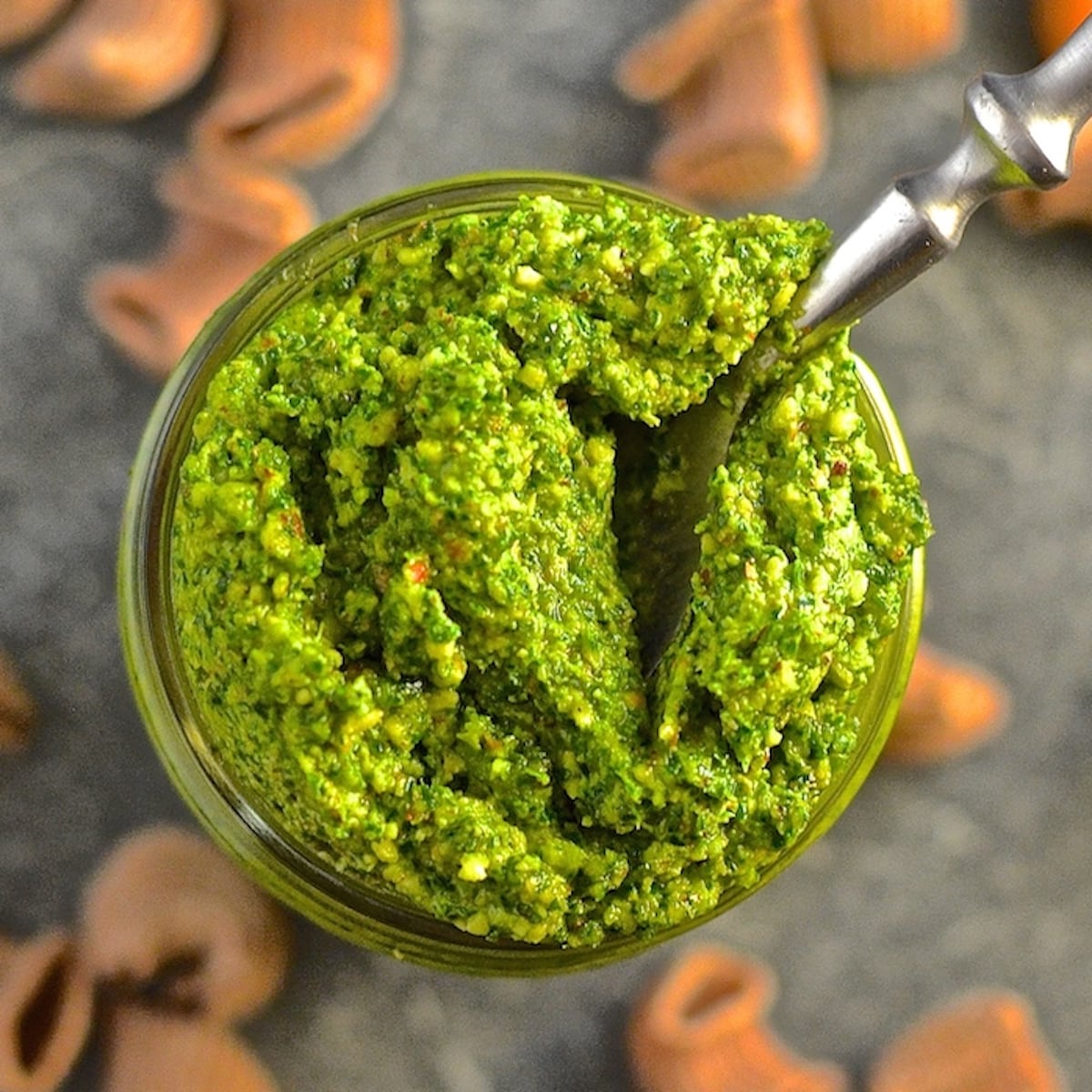 This Kale Almond Pesto makes a wonderful alternative to traditional basil pesto plus it's cheaper to make & it's dairy free. Stir through freshly cooked pasta for a super fast & nutritious meal!

make this recipe
One-Pot Spicy Vegetable Rice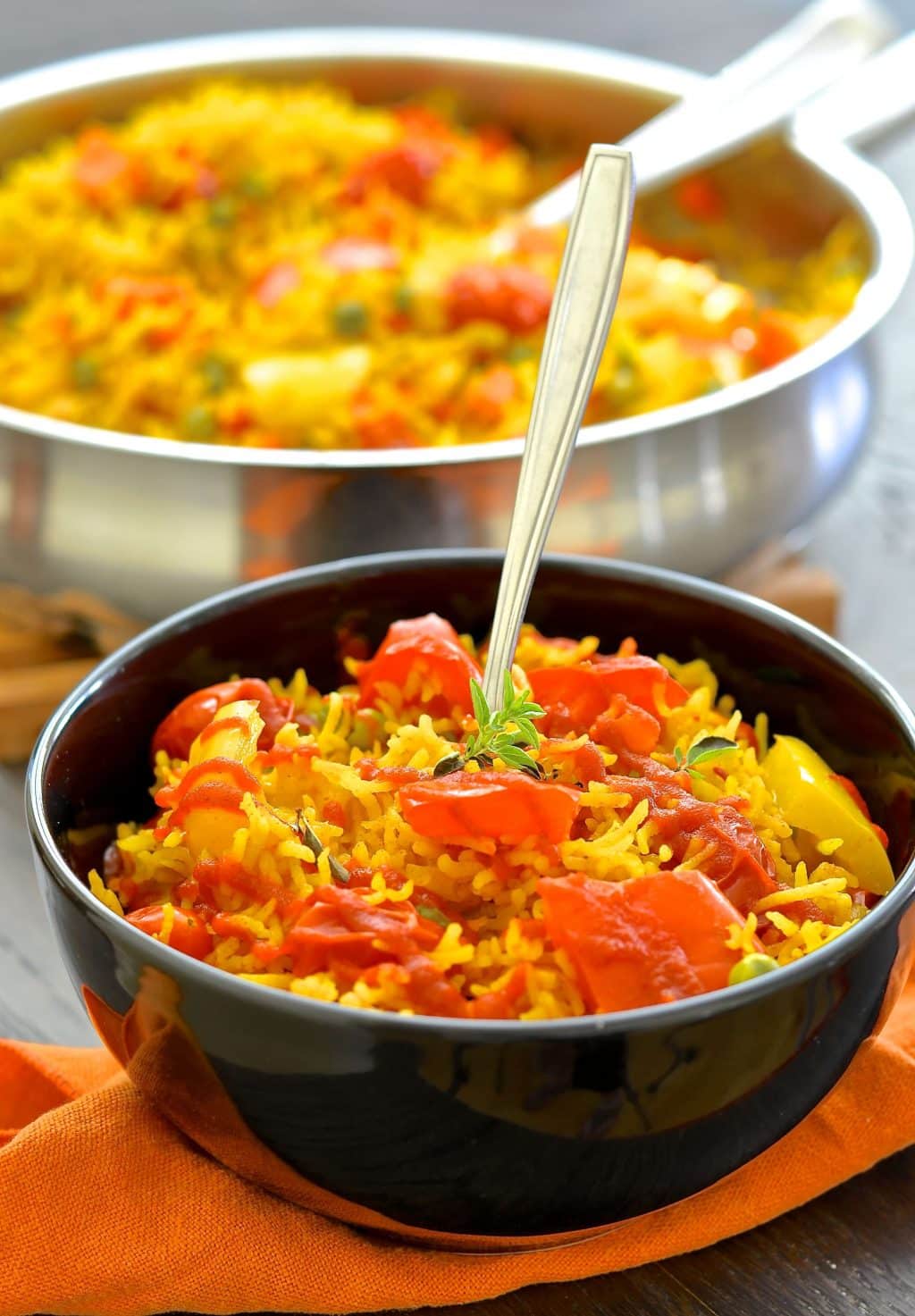 This One-Pot Spicy Vegetable Rice is our go to favourite mid-week dinner. 3o minutes & one pot is all that is standing between you & a big bowl full of deliciously spiced, flavourful rice studded with sweet, soft veggies.

make this recipe
Lemon Kale & White Bean Stew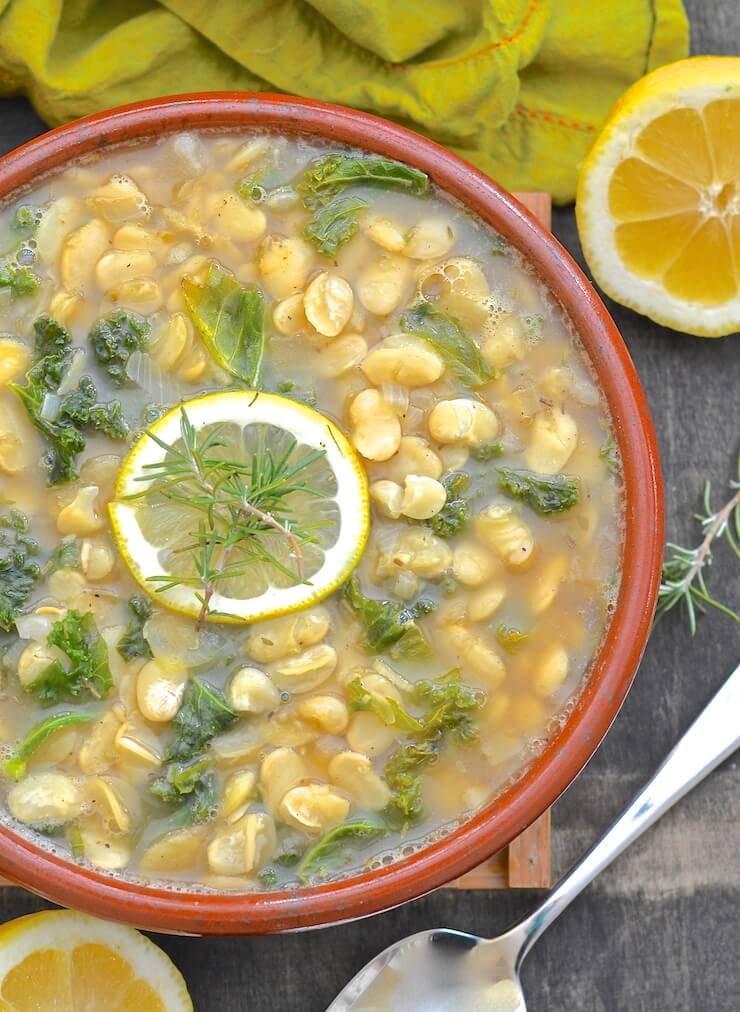 A simple, light & summery white bean stew made with everyday ingredients. Full of fresh lemony, garlicky flavour & ready in under 30 minutes!

make this recipe
Miso Zucchini Noodles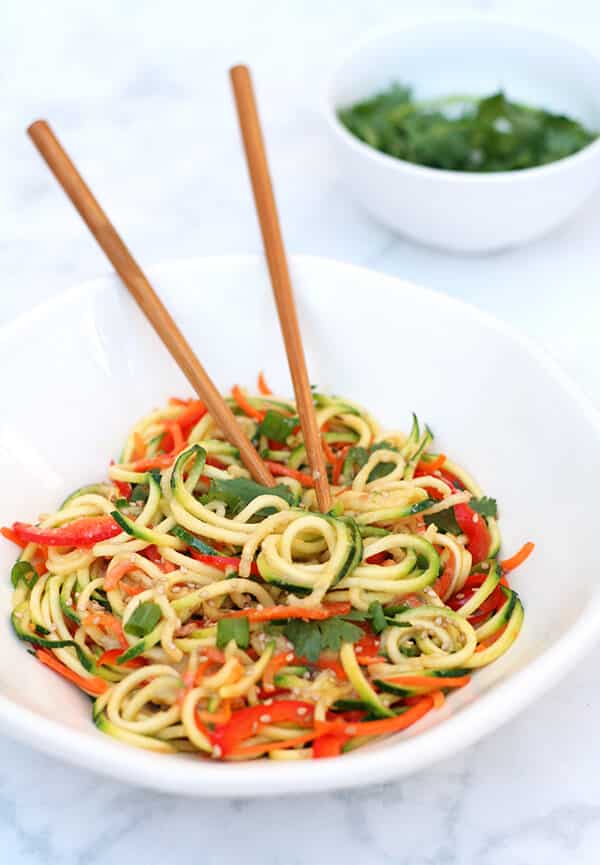 Summery, light, healthy & delicious Miso Zucchini Noodles. Ready from start to finish in under 15 minutes & no cooking required!

make this recipe
Easy Tomato Basil Soup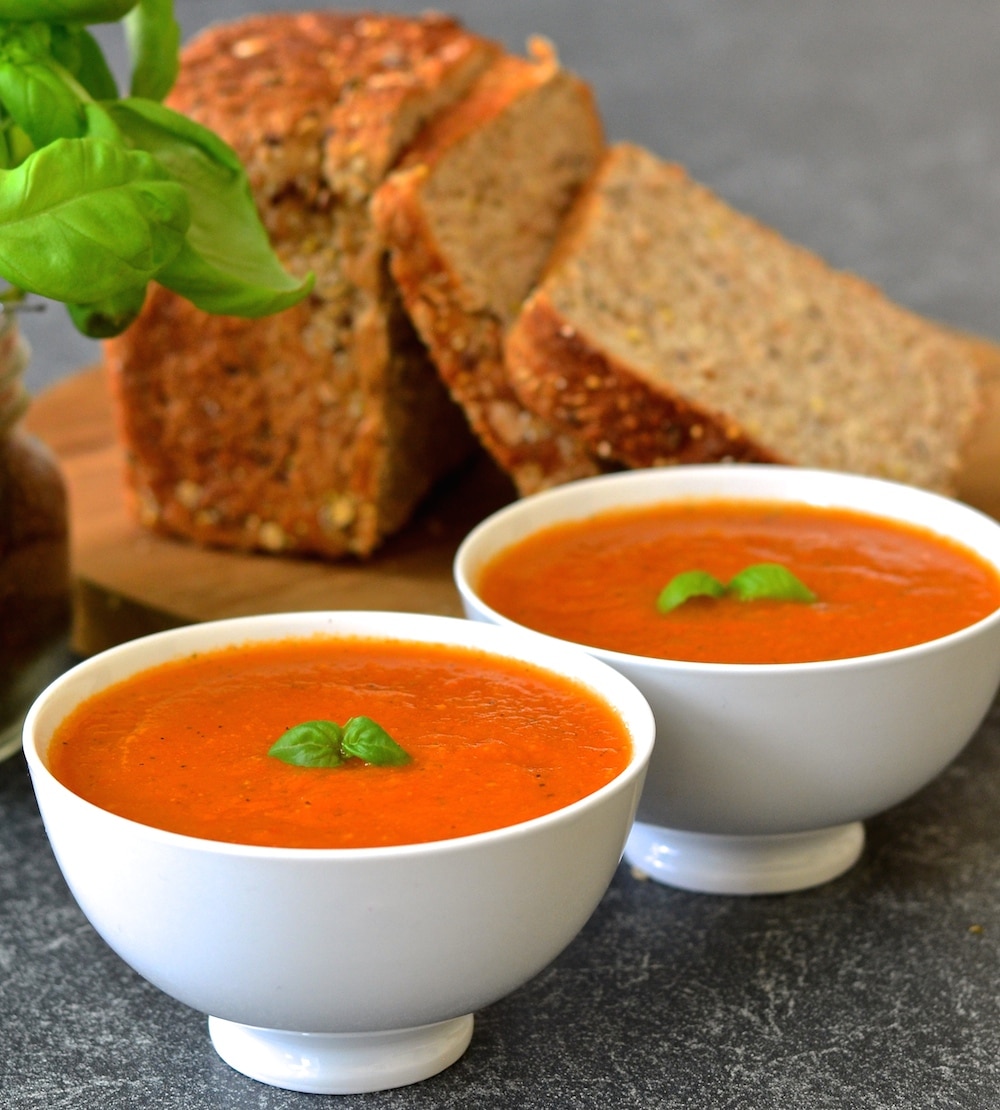 Juicy, plump tomatoes & aromatic fresh basil come together beautifully in this simple, fresh and vibrant soup which takes only ten minutes to make.

make this recipe
Keema Lentils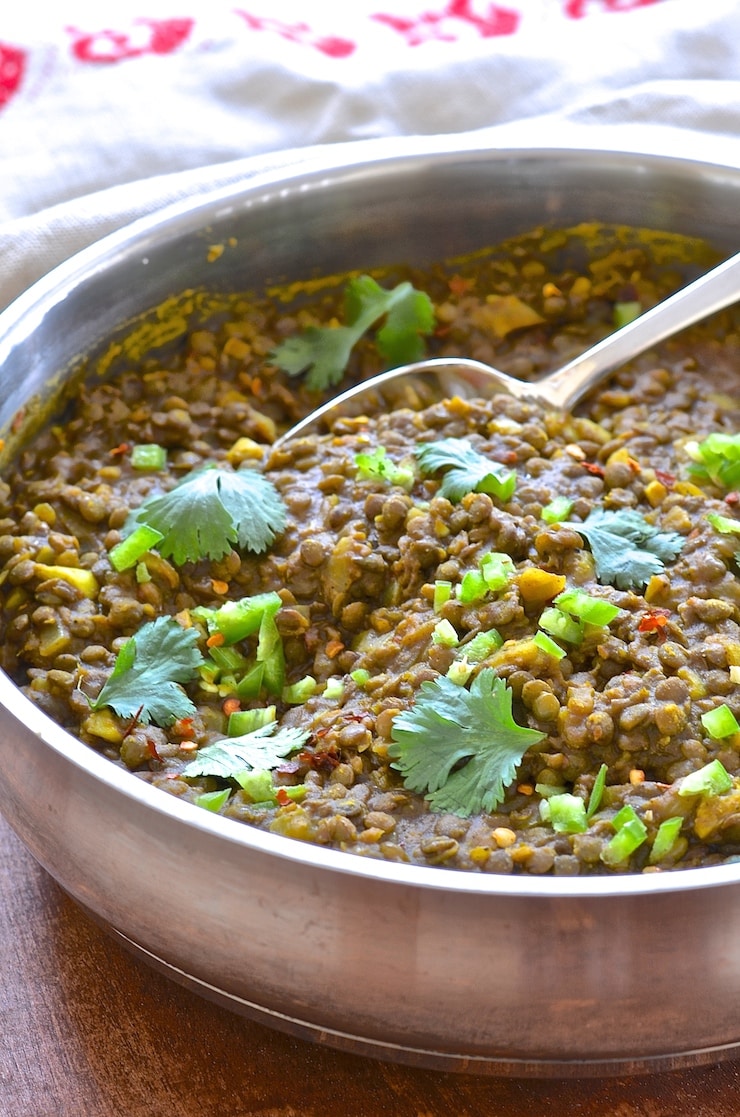 These spicy & flavourful Indian style Keema Lentils are ridiculously easy to make. Cook in a pan for a speedy dinner or use a slow cooker for a more leisurely approach. Serve with some rice for a delicious & satisfying meal.

make this recipe
Five Spice Tofu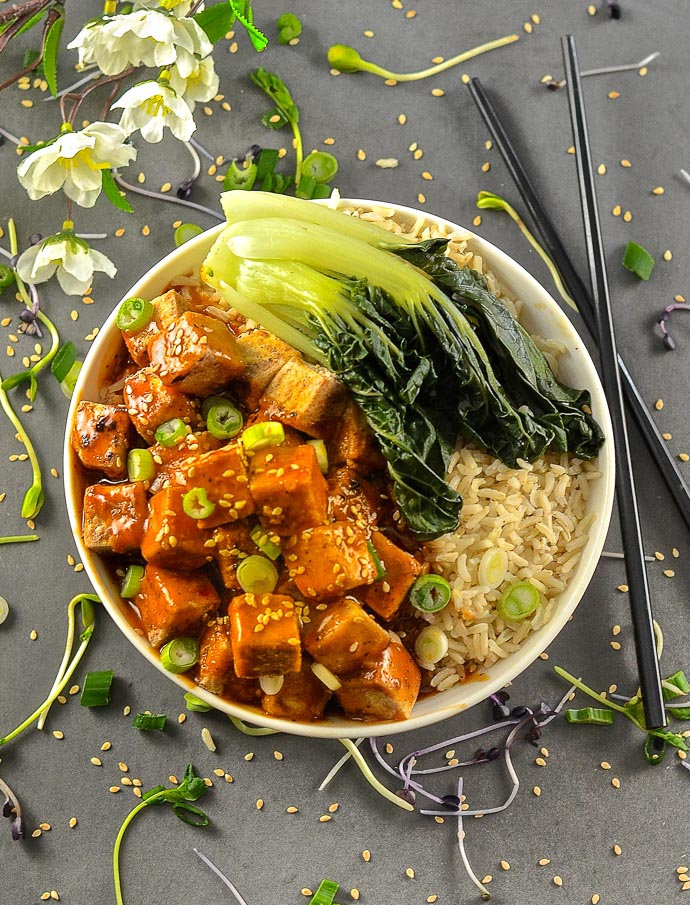 This Five Spice Tofu is so fast and easy to make. It's sweet, sticky & spicy with amazing depth of flavour. A perfect mid-week meal!

make this recipe
Creamy Curry Chickpea Soup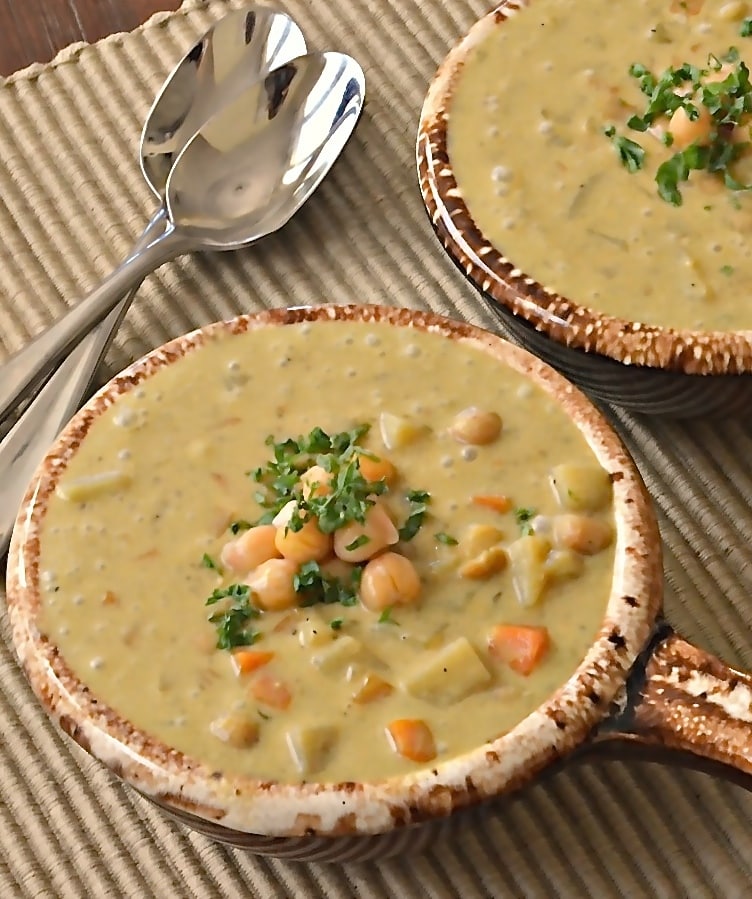 This lightly spiced Creamy Chickpea Curry Soup is easy to make and can be cooked from scratch in less than 30 minutes. Healthy, comforting and perfect with fresh, crusty bread or warm naan.

make this recipe
---
I hope this has given you some much needed inspiration. Be sure to bookmark or pin it so that you can come back to it when you're needing a dinner solution fast!