Get into the spirit of fall with my favorite vegan pumpkin recipes! With pumpkin spice & all things nice they will satisfy your fall cravings.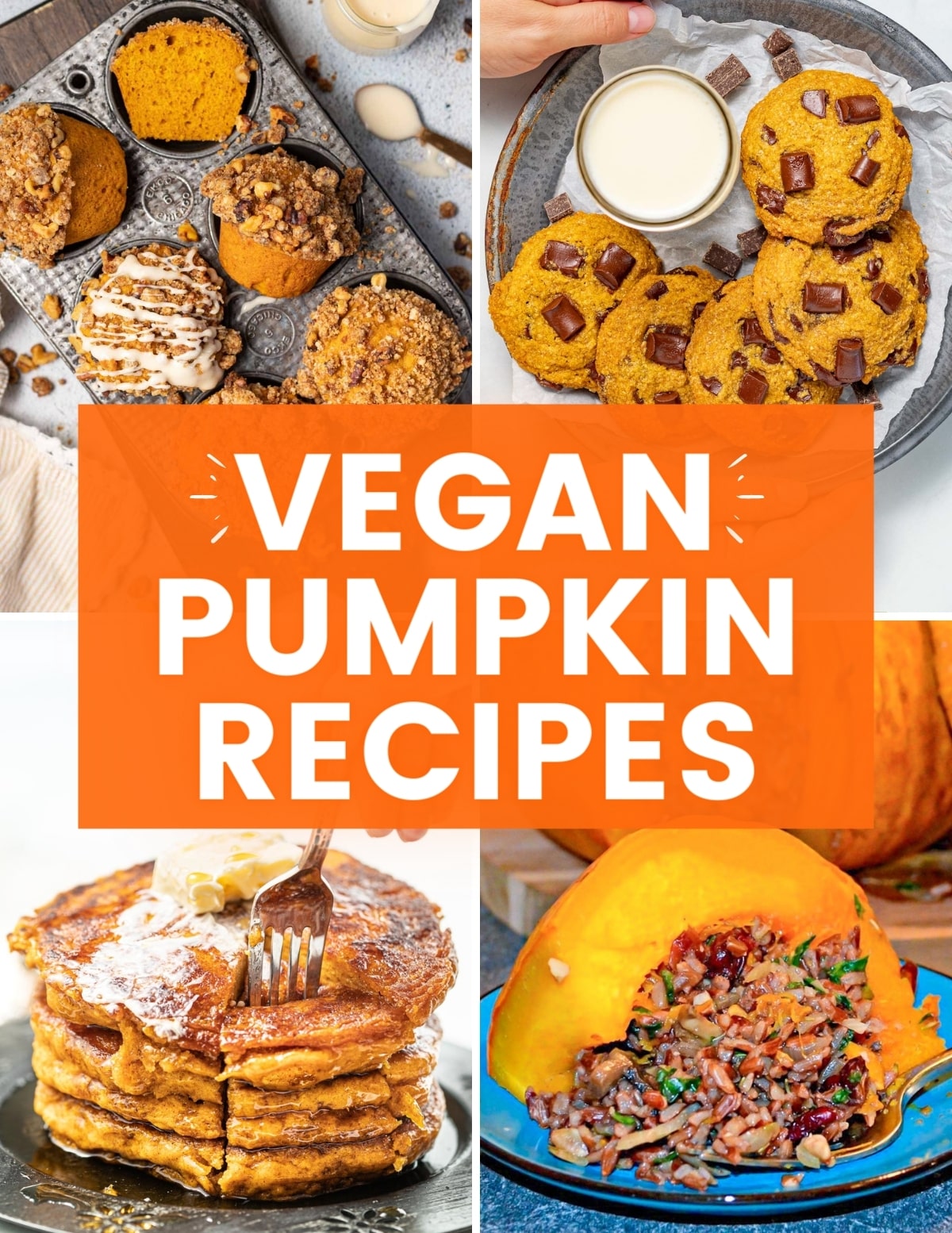 It's fall and nothing marks its arrival more than pumpkins! Bring on cozy sweaters, sitting in front of the fire in the evening and pumpkin, pumpkin spice and warming cinnamon-scented recipes. There's nothing I love more!
I've got quite a collection of vegan pumpkin recipes here on AVV, and I thought it might be useful to put them all in one place so that you can find and refer to them easily.
So with a pumpkin spice latte in hand, grab a can of pumpkin puree, choose the dairy-free/vegan dish that takes your fancy, and get cooking up some pumpkin deliciousness!
Jump to:
---
What is pumpkin spice?
When looking at pumpkin-centric recipes, particularly those you bake, you will see lots of references to pumpkin spice. It's also sometimes known as pumpkin pie spice. It is a blend of spices usually consisting of cinnamon, ginger, cloves and nutmeg. Its warming, spicy undertones compliment pumpkin perfectly and it is a common ingredient in sweet pumpkin recipes like pies, muffins and cakes.
If you live in North America you should find pumpkin spice fairly easily. It will be with the other dried spices in most grocery stores. If you are located elsewhere in the world it can be hard to get hold of but don't worry because it's really easy to make yourself.
How to make your own pumpkin spice
Make your own pumpkin spice mix by combining:
4 teaspoons ground cinnamon
2 teaspoons ground ginger
1 teaspoon ground cloves
½ teaspoon ground nutmeg
Feel free to double, triple or quadruple the recipe. Add to a jar, seal it and give it a shake to mix everything together.
What can I use instead of pumpkin?
If at the last minute you find you are running short of pumpkin, it's perfectly fine to use any other squash puree (like butternut squash for instance) instead of pumpkin and even (orange) sweet potato puree usually works well too.
---
Delicious Vegan Pumpkin Recipes
---
---
---
---
---
---
---
---
---
---
---
---
---
---
I realize I don't have many savory vegan pumpkin recipes and I need to work on that ready for next fall. In the meantime check out these inventive pumpkin dinner recipes put together by Brit+Co. You'll find all sorts from pumpkin curry and pumpkin pasta to pumpkin soup.
And that's all for now. Happy fall and I hope you enjoy my vegan pumpkin recipes!
This recipe was originally published on October 15th, 2020. I've since rewritten the post and now I am republishing it for you. I hope you enjoy it. Thank you for following A Virtual Vegan.