Fall dreams are made of these fudgy and perfectly spiced, DOUBLE Chocolate Pumpkin Muffins.  Whole-grain, oil-free and no mixer required!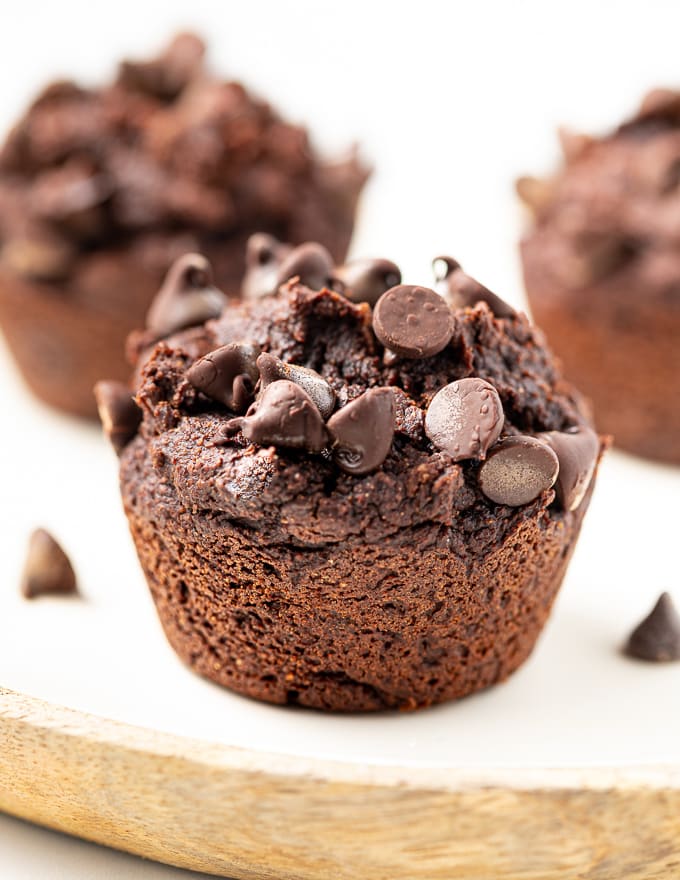 Step away from the Vegan Pumpkin Pancakes and use that pumpkin puree in this Double Chocolate Pumpkin Muffins recipe instead.
Or make both. I might have and I'm not sorry.
A pumpkin spice latte in one hand, a double chocolate pumpkin muffin in the other ... Isn't that what fall dreams are made of?
If you happen to be a lover of my Healthy Chocolate Banana Muffins, which I know so many of you are, then this one's for you because it's an adaptation of that very recipe. We are simply switching the banana for pumpkin puree and adding a bit of spice. Fall-ifying them up shall we say?
These Double Chocolate Pumpkin Muffins are rough and bumpy and not the prettiest muffins in the world, but they are also rich, fudgy and delicious. Looks aren't everything people.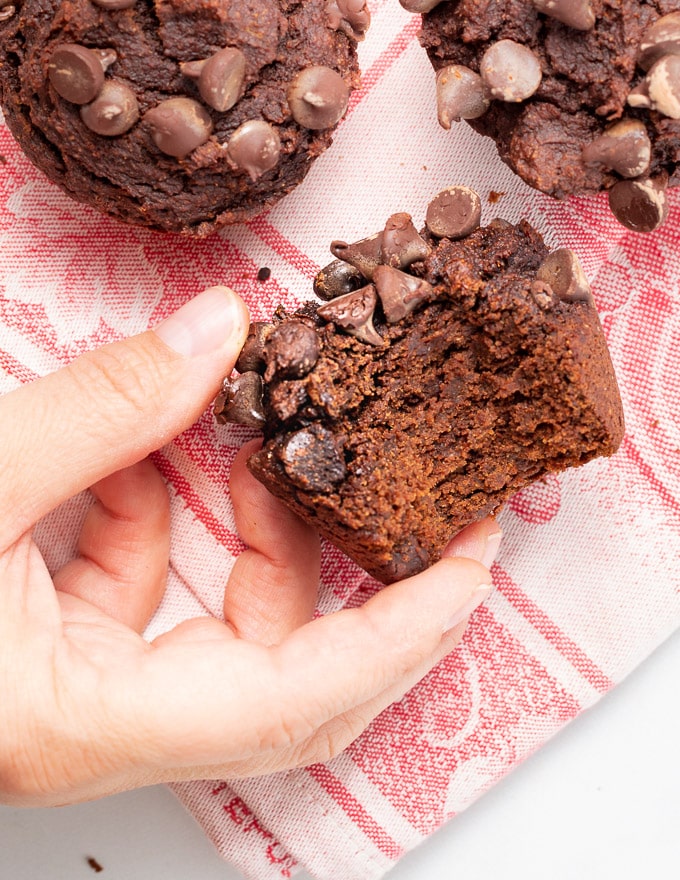 And they also happen to be double chocolate. Because if you are going to eat chocolate you might as well eat MORE chocolate.
This is what's for breakfast, snack and more snacks indefinitely, or at least for the remainder of pumpkin spice season.
So, here's the run down on what's going on here and why:
Pumpkin - Pretty essential in a pumpkin muffin. You could use any squash-based puree instead though.
Maple syrup - Keeps them moist and fudgy
Baking powder and soda - These help the muffins rise
Nut/seed butter - Provides fat, richness and moistness. it also helps make them fudgy in texture. Any nut or seed butter will work but I prefer cashew butter or almond butter for baking as the flavour is mellower and not detectable.
Vanilla & salt - Flavour
Spelt flour - My flour of choice for these. It gives great texture and flavour. You can use all purpose flour if you prefer though but be sure to weight it rather than measure with cups so you get the correct amount.
Cocoa powder - Um .. chocolate. Makes the sponge super chocolate-y.
Chocolate chips - Necessary to make these double chocolate and how can you have a chocolate muffin without chips?
Pumpkin spice - It's fall so pumpkin spice is mandatory ;O)  And it works so well with the other flavours, bringing a lightly spiced warmth to the sponge (see recipe notes for an alternative).
To make them all you need is a muffin pan and a bowl and spoon, although a food processor makes it all even quicker and easier.
I am loving this muffin pan. I use no liners, just a little oil instead, and they release perfectly every single time.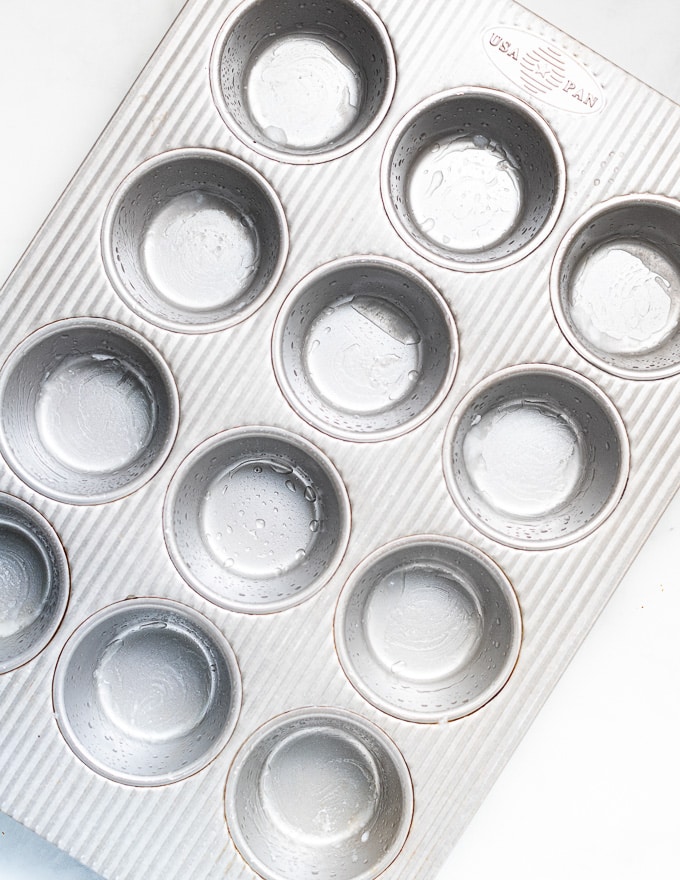 And this is how it's done:
Combine the pumpkin, nut butter, maple syrup and vanilla. You can do this by hand or in a food processor.


Add the dry ingredients and process/mix again to make a very thick batter.


Add the chocolate chips and mix/pulse once or twice to combine then divide the mixture evenly into a muffin pan.


Then you can top with even more chocolate chips to make them look pretty, and sprinkle over a small pinch of flaky salt on each one too if you want to walk on the wild side. Then  bake.
Nothing complicated. Nothing fancy. But everything delicious.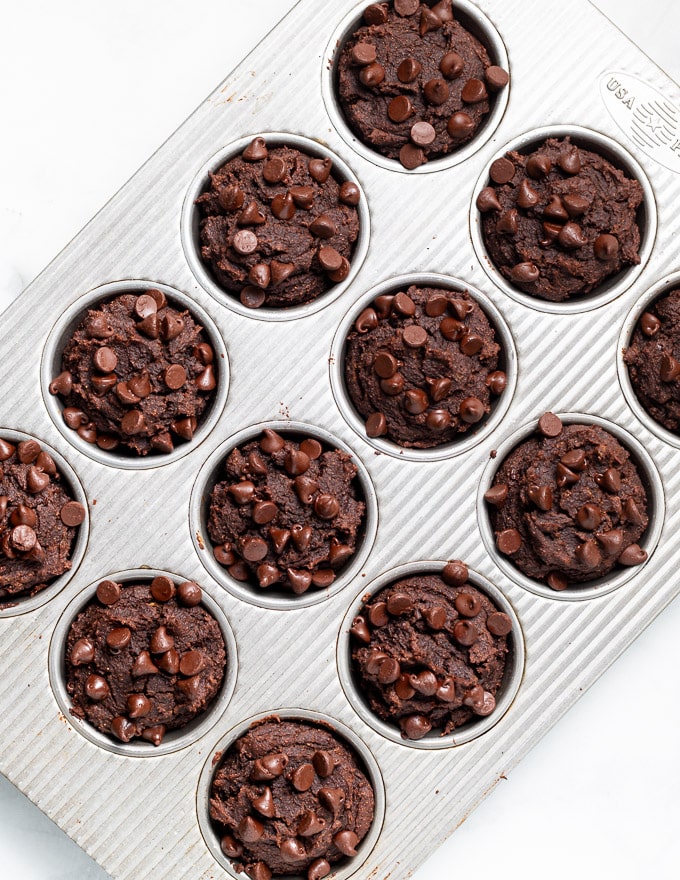 Success Tips
Follow the recipe closely and as always with recipes involving flour, I highly recommend that you use a kitchen scale. Cup measurements are not accurate enough to get the best and consistent results. Digital kitchen scales are available at most big superstores now and you can pick one up for around $10. They are a great investment and are so worth having! If you do need to use cups, spoon the flour into the cup then level off the top with a knife without compacting it or shaking it down. By doing it like this you will get roughly the correct amount and make your chances of success better. Do not scoop the flour up into the cup as you will end up with much more than intended and it will affect the outcome of the recipe.
Do not over mix the batter. As with all cakes/muffins, the more you mix, the more you activate the gluten in the flour which really affects the texture and rise of the finished cake.
Mix the wet and dry ingredients separately as instructed, before adding them all together. This helps avoid accidentally over-mixing.
You know how most recipes and "muffin experts" say to only fill the wells two thirds or three quarters full? Well we are breaking all the rules and are going to fill them all the way to the top. Ain't no-one got time for tiny muffins. If you're going to muffin you need to go big or go home. Plus it helps with the afore-mentioned muffin tops.
How can you tell when they are cooked properly? You can use the toothpick test. Stick one in the centre of a muffin and if it comes out clean (except for maybe a little melty chocolate),  then its done.
Follow my instructions and tips and you will be graced with perfectly fudgy Double Chocolate Pumpkin Muffins!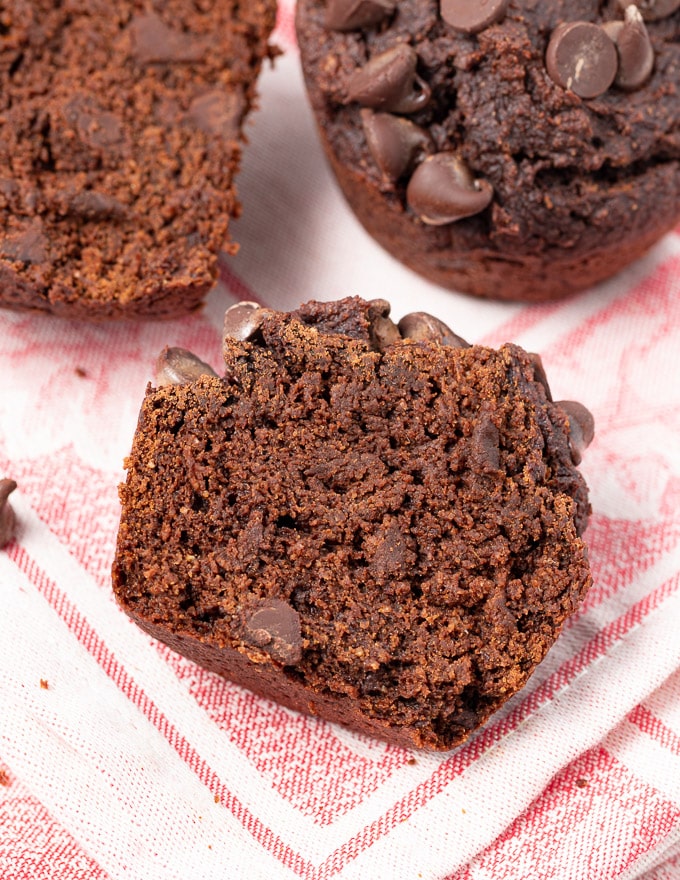 How to store & refresh
You went to the trouble of baking your own muffins, and if you have leftovers it's important you know how to store them for optimum freshness.
The most important thing is to let them cool completely on a wire rack before storing them. If there is any warmth in them at all, as soon as they go into a sealed container condensation will happen, and that means damp muffins.
Once they are completely cool, you will need an airtight container and some paper towels. As muffins age, the moisture inside them rises to the surface and can make them wet. By packing them up with some paper towels laid out underneath and another layer on top, you can avoid this. Just keep an eye on them and if the paper towels get a little moist, replace them with fresh.
If they do get a little damp or stale, you can refresh them in the oven on 350°F (175 °C) for about 6 minutes. They will come out good as new!
How to freeze
These muffins are really moist and keep really well for 3 or 4 days. If however you need to store them longer than that, the freezer is your best option. Muffins freeze extremely well for up to 3 months. Pop them into a freezer bag or a freezer safe container and place carefully in the freezer. When you want them, remove from the freezer and let them defrost for a couple of hours at room temperature. You can make them tasted newly baked by warming them gently in the oven on 350°F (175 °C) for about 6 minutes.
---
So there we have it. Enjoy. Like seriously, take a break, make a cuppa, breathe in that pumpkin-y chocolate-y muffin in front of you, and then devour in this cozy, fall moment.
Hungry for more?
If you're into this fall pumpkin baking type situation, then you might also enjoy my Vegan Pumpkin Pie and my Vegan Pumpkin Bread.
And if you love this recipe, please do check out my cookbook, and subscribe to my email list for a fabulous FREE eCookbook featuring my top 10 recipes. Being on the list means you will be first to see my new recipes and you'll be kept in the loop on all things new and exciting too!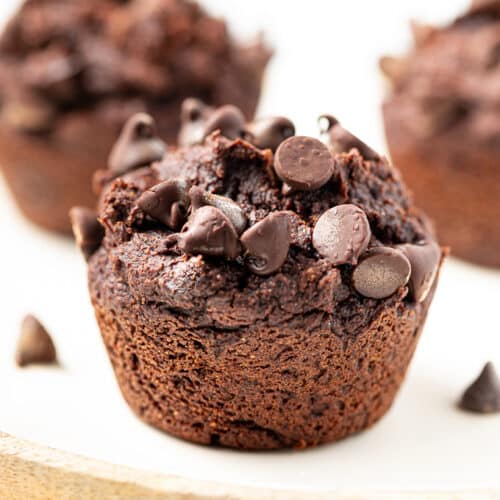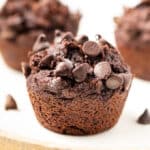 Double Chocolate Pumpkin Muffins
Author:
Fall dreams are made of these fudgy and perfectly spiced, DOUBLE Chocolate Pumpkin Muffins.  Whole-grain, oil-free and no mixer required!
Ingredients
2 cups / 450

g

pumpkin puree

, NOT pumpkin pie filling

6

tablespoons

natural nut or seed butter

*

¼ cup / 60 mls

maple syrup

, real maple syrup and not pancake syrup

2

teaspoons

vanilla extract

¾ cup / 150

g

sugar

, any works here, white, brown, cane, turbinado, coconut..just use whatever you have.

¾

teaspoon

fine salt

1¾ cup / 210

g

spelt flour

** see notes for alternative

2

teaspoons

baking powder

¾

teaspoon

baking soda

, (bicarbonate of soda in the UK)

½ cup / 50

g

cocoa powder

2

teaspoons

pumpkin spice

*** see notes for alternative

½ cup / 85

g

dairy-free chocolate chips
INSTRUCTIONS
Preheat the oven to 425 °F (218 °C) and line a 12 hole muffin tin with liners.

In a food processor or large bowl, add the pumpkin puree, nut butter, maple syrup and vanilla and whisk/blend together until well combined and no lumps of nut butter remain.

If making by hand without the aid of a food processor, mix the flour, baking powder, baking soda, cocoa powder and pumpkin spice together in another bowl, then add them to the pumpkin mixture. If using a food processor just add the dry ingredients to the bowl of the food processor then pulse until combined and no dry flour is present.

Whichever method you use, do not over-mix.

Add the chocolate chips and fold them in or pulse once or twice in a food processor, just enough to distribute evenly, then spoon the batter evenly into the prepared muffin pan and sprinkle the tops of each with a few more chocolate chips. 

Place them in the oven and set a timer for 5 minutes. Once the 5 minutes has passed, immediately turn the oven down to 375°F (190°C) without peeking or opening the door and cook for a further 13 - 14 minutes. Check them with a toothpick and if it comes out mostly clean then they are done. It is important not to over-bake these muffins. If anything they are better very slightly underdone to keep their moist fudginess.

Remove from the pan and place on a wire cooling rack and allow to cool, although I do recommend eating one (very carefully) while still hot...Purely for research purposes of course....
NOTES
*Any nut or seed butter will work but cashew butter or almond butter have the mildest flavour. 
** Spelt flour gives the best texture and flavour but you can use all purpose flour or wholewheat flour if you prefer. Please weigh them though, rather than cup measuring, as all flours have slightly different volumes. Weighing is the only way to get an accurate amount. 
*** If you don't have pumpkin spice use:
1 teaspoon ground cinnamon
½ teaspoon ground ginger
¼ teaspoon ground cloves
¼ teaspoon ground nutmeg
or you can omit the spices completely. 
NUTRITION
Calories:
245
kcal
Carbohydrates:
42
g
Protein:
6
g
Fat:
8
g
Saturated Fat:
3
g
Sodium:
255
mg
Potassium:
275
mg
Fiber:
6
g
Sugar:
22
g
Vitamin A:
5836
IU
Vitamin C:
2
mg
Calcium:
66
mg
Iron:
3
mg
Nutritional information is provided for convenience & as a courtesy. The data is a computer generated estimate so should be used as a guide only.
Tried this recipe?
Rate it & leave your feedback in the comments section below, or tag @avirtualvegan on Instagram and hashtag it #avirtualvegan