Perfectly sweet and seasonally spiced Vegan Pumpkin Chocolate Chip Cookies. Quick to make in one bowl with no chill time, they are soft and chewy on the inside, crunchy on the outside and not cakey!
We're celebrating pumpkin season with lots of vegan pumpkin recipes, including these super soft and chewy Vegan Pumpkin Chocolate Chip Cookies!
Seasonally spiced and perfectly sweet, these pumpkin cookies make a great fall dessert, snack or mid-afternoon treat. Like my vegan pumpkin muffins, they are a great option for when you need to make something quick and easy to take to a holiday celebration or you have friends or family coming to visit at short notice and want to make the house smell amazing!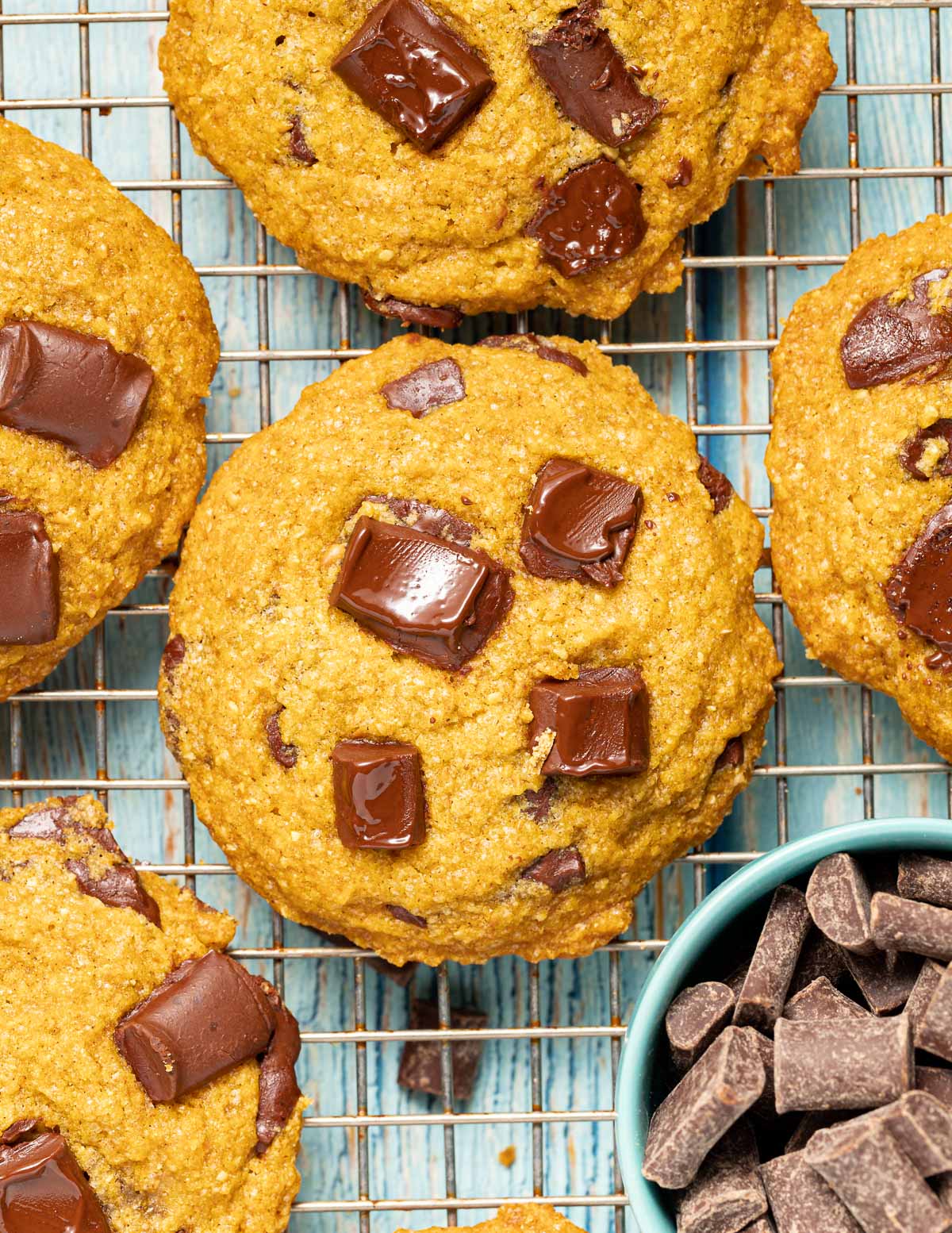 Ingredients
Here's what you'll be needing to make Vegan Pumpkin Chocolate Chip Cookies: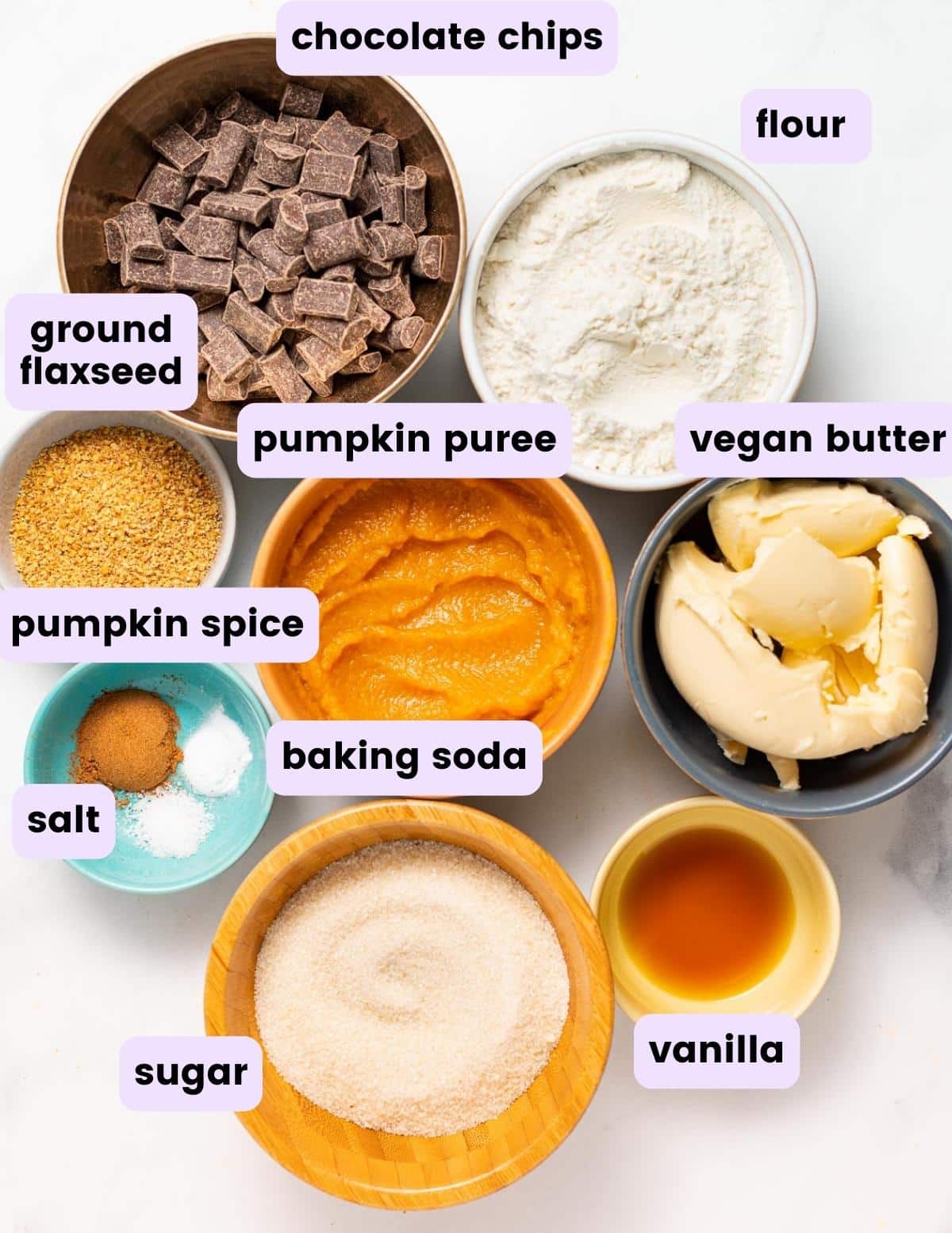 And a few ingredient notes:
Pumpkin purée- Canned or homemade. Don't use pumpkin pie filling or the cookies will be way over-sweetened/seasoned. Squash puree also works.
Pumpkin spice - Sometimes called pumpkin pie spice. For that seasonal fall flavor! You can buy pumpkin spice online or at most grocery stores, or make your own blend from spices you probably already have in your pantry. Details for how to do that are in the FAQs.
Ground flaxseed - The secret ingredient that will bind everything together and give these cookies the perfect cookie texture. Don't try using anything else. I tested this recipe every which way and flax really is the best option.
Baking soda - Not baking powder. This is really important in this recipe because cakey cookies are not good. Baking soda delays the setting process which means your cookies will spread perfectly and it also speeds up the Maillard reaction. This means your cookies will brown better, taste better and have the perfect cookie crispy, soft and chewy cookie texture.
Vegan butter - A harder vegan butter like my vegan butter recipe or Earth Balance works much better than softer more margarine style ones like the tub Becel/Flora. You can also use vegan brown butter for even more amazing flavor. Just be sure to make it and give it time to set before using.
Sugar - It's important to keep the quantity exact for the cookies to spread and have the best texture. White granulated or cane sugar works better than brown sugar in this recipe.
Vegan chocolate chips - I have been loving the Enjoy Life Mega Chunks for this recipe but any dairy-free chocolate chips will do.
Success Tip - I highly recommend weighing the ingredients with a digital scale for the best results. The balance of flour to fat has to be absolutely spot-on for cookies to turn out perfectly and cups are not an accurate measure. If you absolutely have to use cups, aerate the flour with a fork, then spoon it gently into the cup without compacting it or shaking down, then level the top with a knife. Do not scoop the flour up into the cup or you will end up using WAY more than intended.
How To Make Vegan Pumpkin Chocolate Chip Cookies
Let's make vegan pumpkin cookies! Here's how: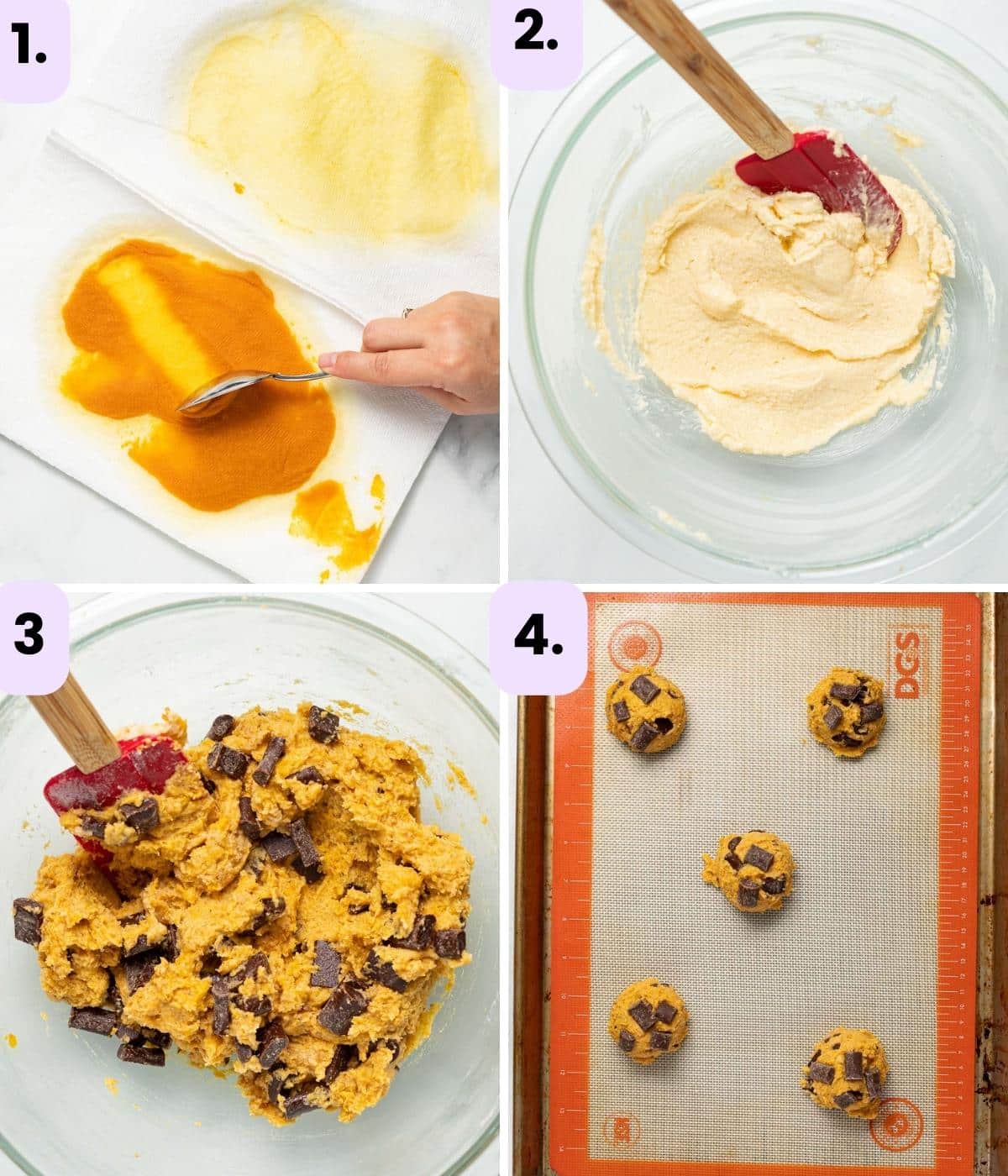 Blot the pumpkin on some kitchen paper to soak the excess moisture out. This is really important and stops the cookies from becoming "cakey".
Cream the butter and sugar together in a large bowl or a stand mixer.
Add the dry ingredients and vanilla, then the pumpkin, to the butter and mix together to form the cookie dough then add the dark chocolate chips.
Scoop balls of dough out onto a lined baking sheet then bake, making sure to bang the cookie tray part way through cooking as per the details instructions in the recipe.
Enjoy your delicious cookies with a glass of cold almond milk!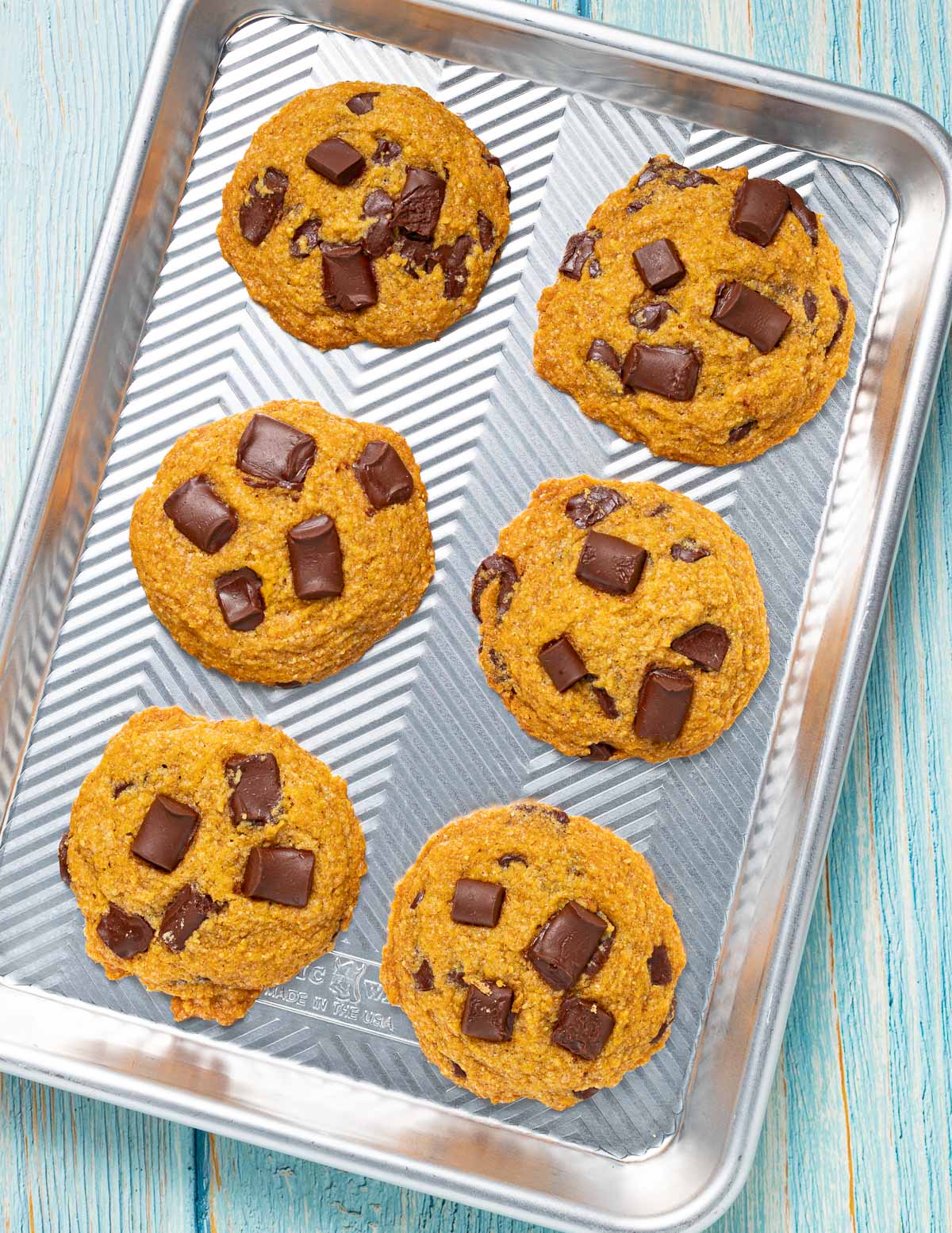 Success Tip - Trust me: the tray dropping/tapping trick really works! You may feel crazy while you're doing it, but it's for the sake of the best cookies ever! I got the cookie banging idea from The New York Times although my technique is simplified a bit.
Recipe FAQs
What can I use instead of pumpkin pie spice?
Make your own blend to keep in the pantry. Combine:
4 teaspoons ground cinnamon, 2 teaspoons ground ginger, 1 teaspoon ground cloves and ½ teaspoon ground nutmeg. Add to a jar, seal it and give it a good shake to mix everything together. Use whenever pumpkin spice is called for in a recipe.
Can I freeze the cookie dough?
Yes. Scoop out balls of cookie dough onto a lined baking tray. Place the whole tray in the freezer until the cookie dough balls are hard, then transfer them to a freezer bag or freezer-safe container. They will keep for up to 2 months. When it's time to bake, remove the cookie dough from the freezer, place on a lined baking tray, and cook as per the instructions but add on an extra minute or two. Don't defrost it.
Do these cookies spread while baking?
Yes they do spread while baking. You do not need to squash the cookie dough down on the baking sheet. Just scoop them out and leave the oven to do the work.
If you try this recipe, let me know how you like it by leaving a comment and rating below! And be sure to join my mailing list for more deliciousness!
Recipe Video
Recipe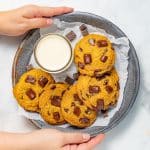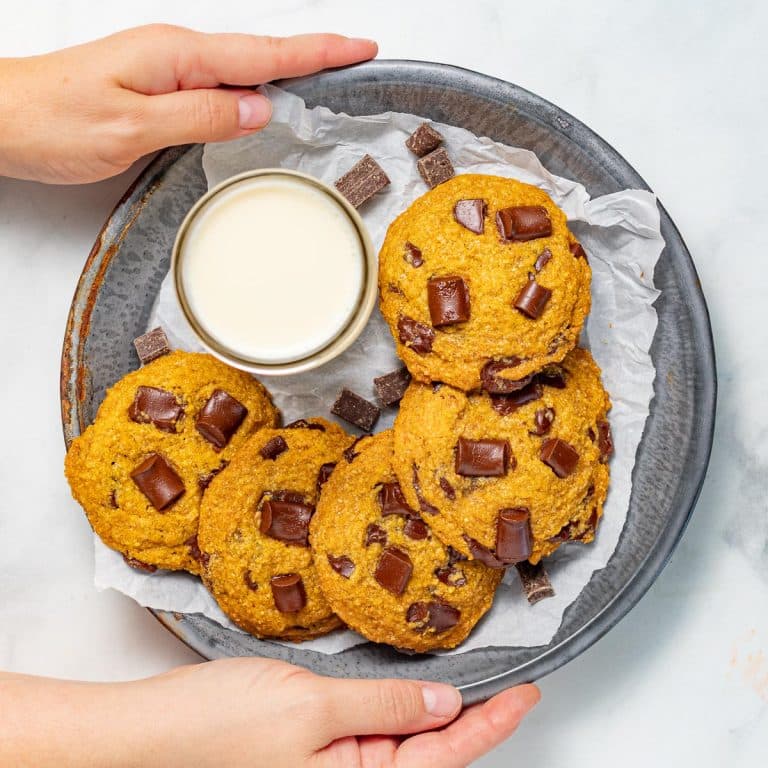 Vegan Pumpkin Chocolate Chip Cookies
Author:
Perfectly sweet and seasonally spiced Vegan Pumpkin Chocolate Chip Cookies. Quick to make in one bowl with no chill time, they are soft and chewy on the inside, crunchy on the outside and not cakey!
Ingredients
½ cup + 2 tablespoons (135

grams)

vegan butter

, slightly softened

½ cup (100

grams)

sugar

, cane or granulated white

1 cup (125

grams)

all purpose flour

, (plain flour in the UK)

3 tablespoons (17

grams)

ground flax seed

, (don't use anything else. It's crucial for the texture)

⅓ cup (80

grams)

pumpkin puree

, not pumpkin pie filling

1

teaspoon

pumpkin spice

, (see the FAQs for alternative)

1

teaspoon

vanilla extract

¼

teaspoon

fine sea salt

½

teaspoon

baking soda

, (bicarbonate of soda in the UK)

¾ cup (135

grams)

dairy-free chocolate chips
INSTRUCTIONS
Preheat oven to 350° F (176 °C) and line a baking tray with parchment paper or a silicone baking mat.

Take some kitchen paper or a clean lint-free dish towel (that you don't mind getting stained), and spoon the pumpkin puree onto one side of it. Spread it out quite thin with a spoon then fold the paper towel or dish towel over the top. Press down on it a bit to encourage the liquid from it to absorb then set aside and leave it for a few minutes. This step is important to remove excess moisture from the pumpkin puree.

To a mixing bowl add the softened butter and sugar. Mix together until combined.

Add the flour, ground flax, pumpkin spice, vanilla, salt and baking soda to the bowl.

With a metal spoon, scrape the pumpkin puree off the kitchen paper and add to the bowl. Mix everything together then add the chocolate chips and gently fold them through.

No chilling of the dough is required so you can bake right away. Using a lever ice cream scoop or a cookie scoop, scoop out the dough onto the prepared baking tray leaving them at least 3 inches apart. My scoop holds 3 tablespoons of cookie dough. If yours is significantly different your cookies could take more or less time to cook so adjust accordingly.

Bake in the preheated oven for 7 minutes then lift the tray (using oven gloves) a good 4 inches above the oven shelf and let it fall with a bang back onto the shelf. This will knock the air out of the cookies and improve the texture. Bake for another 6 to 7 minutes until just starting to get a golden hint around the edges.

Remove from the oven and give the tray a really sharp tap on either the oven shelf, the stovetop or a cutting board, then allow the cookies to cool on the tray.
NOTES
Store cooled cookies in an airtight container at room temperature.
For freezing instructions see the FAQs. 
NUTRITION
Serving:
1
cookie
Calories:
247
kcal
Carbohydrates:
29
g
Protein:
3
g
Fat:
14
g
Saturated Fat:
5
g
Sodium:
202
mg
Potassium:
51
mg
Fiber:
2
g
Sugar:
17
g
Vitamin A:
1761
IU
Vitamin C:
1
mg
Calcium:
28
mg
Iron:
2
mg
Tried this recipe?
Rate it & leave your feedback in the comments section below!