Tender, sweet, baked stuffed pumpkin with a delicious mixture of rice, vegetables, nuts & cranberries. A beautiful centrepiece for your Thanksgiving or Halloween gathering!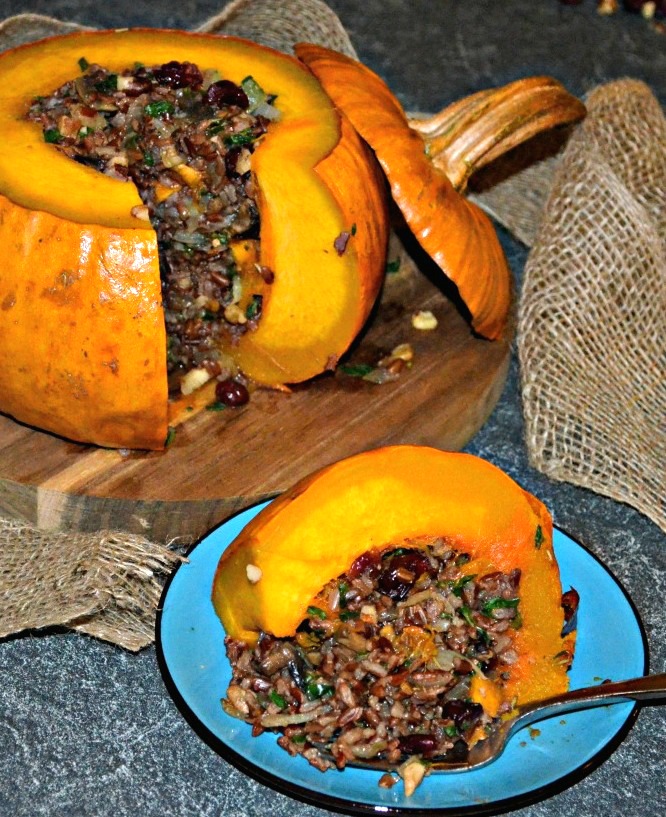 Being relatively new to Canada, Thanksgiving is still a novelty for us. In England, although we kind of celebrate with harvest festivals etc, there is no national holiday like in Canada or the US. As you can probably imagine, I am always open to celebrations which involve copious amounts of food and drink so I now fully embrace Canadian Thanksgiving! An extra day off work and more time to spend with my family is an added bonus!
This will be my third Thanksgiving and my first vegan one so I have been busy creating a couple of great festive recipes to share with you. I am sharing this savoury recipe today and then later in the week will come a glorious dessert....
Vegan food is often stereotyped as being bland and boring. This magnificent looking Roast Stuffed Pumpkin centrepiece is anything but! Filled to bursting with a delicious mixture of rice, vegetables, nuts and cranberries, this pumpkin in all it's orange rotund glory is just beautiful.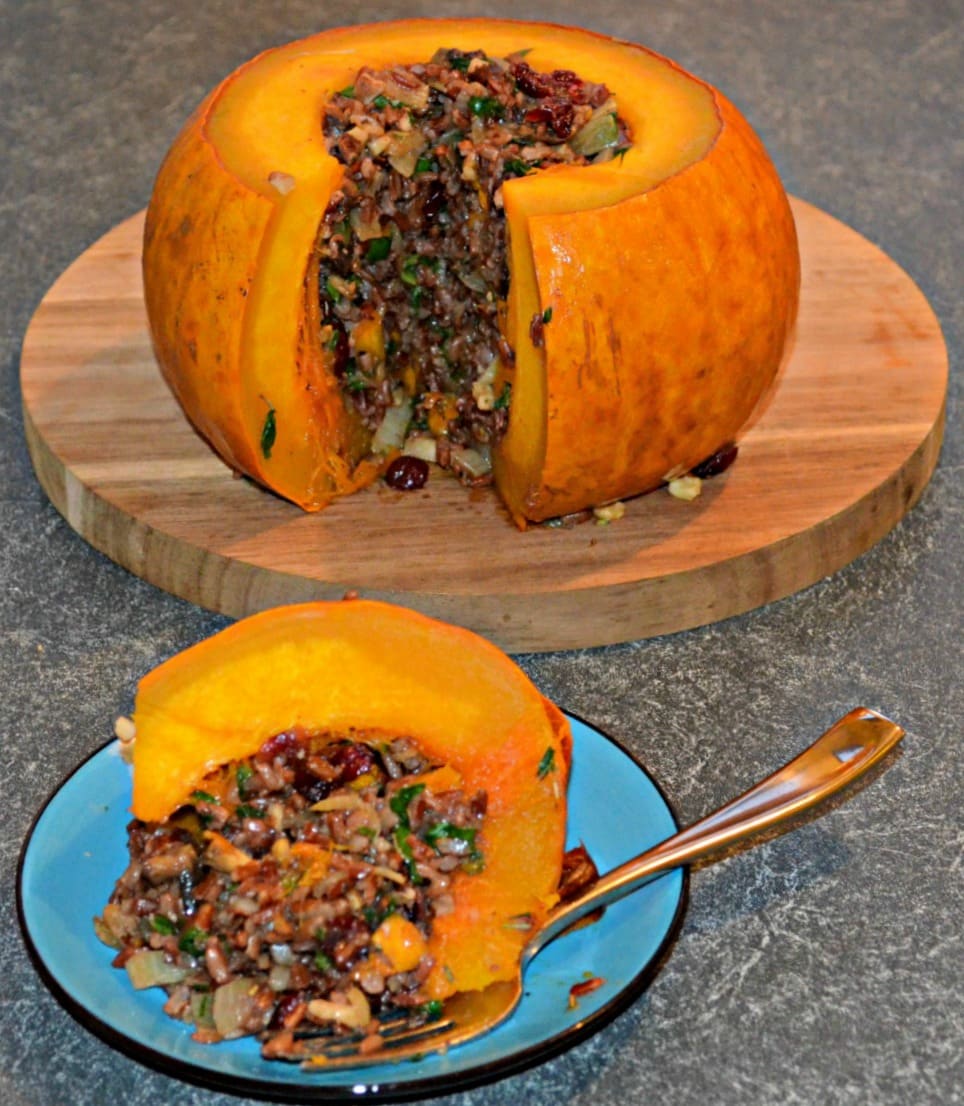 This Roast Stuffed Pumpkin is deceptively easy to put together and can even be made in advance, wrapped in foil and stored in the fridge until you are ready to roast it. How great is that? A totally stress free day with no messy prep work!
Because of this it is also perfect if you are invited to a gathering where meat of some kind is going to be served up and you know there will not be much for you to eat. You can prepare this pumpkin, wrap it up in foil and take it along with you to bake and serve. Just watch those non vegans beg for a slice! You can have your portion and the rest can be used as a side for everybody else to share (if you can bear to part with it!)
As well as being great for Thanksgiving this Roast Stuffed Pumpkin makes a fantastic Halloween dinner centre-piece and if you love Halloween as much as me then you might want to check out this round up post which I wrote for Parade's Community Table. It features 20 Frightfully Spooktacular Vegan Halloween Recipes and is sure to please your little (and big) monsters!
I would love to see you serving my Roast Stuffed Pumpkin at your Thankgiving celebrations, so please share your pictures on Instagram (@avirtualvegan) and add the hashtag #avirtualvegan so I don't miss them! Or you can post a comment on my Facebook page. It would also be great if you could leave some feedback in the comments section below . I love to know what you think of my recipes and a positive comment helps others see that my recipes are reliable.
If you love pumpkin then you might also enjoy my Pumpkin, Pecan & Chocolate Granola Bars.
Roast Stuffed Pumpkin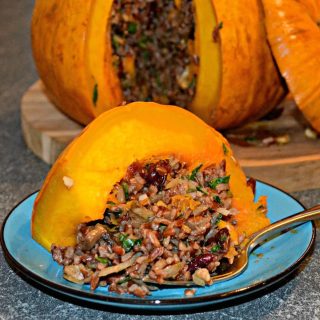 Tender, sweet, baked pumpkin stuffed with a delicious mixture of rice, vegetables, nuts & cranberries. A beautiful centrepiece for your Thanksgiving gathering!
Ingredients
1

medium

pumpkin

, or round squash, ( approximately 8 inch diameter - If your pumpkin is very different in size then please see the recipe notes)

1

cup

cooked & cooled rice

, any kind of rice is fine although there will be more flavour/texture if you use wild rice

2

teaspoon

olive oil

, optional

1

medium

onion

, chopped finely

3

large cloves

garlic

, chopped finely

10

mushrooms

, chopped into small pieces

60g | 1/2

cup

walnut pieces

60g |m1/2

cup

dried cranberries

1

large handful

spinach

, chopped

1

teaspoon

dried oregano

1

teaspoon

dried thyme

1

teaspoon

ground cumin

salt & pepper
INSTRUCTIONS
Preheat your oven to 400 degrees F.

Toast the walnuts in a fry pan over a medium heat for a minute or two moving constantly.

Remove from heat, pour into a small bowl and set aside.

Sauté the onions and garlic in one teaspoon of the oil (in the same pan) until just starting to turn golden. If you wish to keep the recipe oil-free use a tablespoon or two of water to sauce instead.

Add the mushrooms and cook for 1 minute longer then remove from the heat and allow to cool.

Carefully cut the top off the pumpkin (about the top third).

Set the top aside.

If you can't see the seedy innards then just use a small sharp knife to cut a circle out of the flesh at the top and pull it out like a plug.

Remove the stringy innards and discard. You can also discard the seeds although I recommend roasting them (see recipe notes).

Brush the inside of the pumpkin with the remaining 1 teaspoon of olive oil. Omit if you want the recipe to be oil-free.

Season the inside generously with salt and pepper.

Place all the filling ingredients into a bowl and mix well, adding the sautéd onions, garlic and mushrooms.

Spoon into the pumpkin cavity, pressing down well as you go. You want it packed in very tightly.

Keep going until full.

Place the pumpkin top back on.

Wrap completely and tightly in tin foil. At this stage the pumpkin can be stored in the fridge for a day or two before baking if you want to get it ready ahead of time.

Place on a tray and bake for around 1 hr 30 mins or until tender. Check it by pulling back some foil and inserting a knife or a fork into the side. If it is soft then it is ready.

Remove from the oven and leave for at least 15 - 30 minutes before slicing.
NOTES
If your pumpkin is significantly different in size to mine then there is a trick for you to work out how much rice you need to fill it. Just cut the top off and remove the stringy innards and seeds as per my directions. Place a plastic bag inside the cavity and put enough rice in the bag to fill a little under half of the pumpkin. remove the bag, add the rice to a pan and cook as per directions on packet. You may also need to adjust the other ingredients slightly to suit your either smaller or larger pumpkin.
This pumpkin reheats very well. Just wrap your leftovers in tin foil and bake for 20-30 minute at 400.
Roasted pumpkin seeds are delicious. You can save the seeds from your pumpkin and roast them quickly and easily. Rinse them with water until they look pretty clean. Don't worry about a few stringy bits. Let them dry completely. Toss in a teaspoon or two of oil, sprinkle generously with salt and pepper and spread on a baking tray. Roast in the oven on 400 for about 15 - 20 minutes or until crispy. Delicious!
NUTRITION
Serving:
1
servingg
Calories:
194
kcal
Carbohydrates:
27
g
Protein:
5.2
g
Fat:
8
g
Sodium:
404
mg
Fiber:
4.4
g
Sugar:
13
g
Vitamin A:
12300
IU
Vitamin C:
22.3
mg
Calcium:
60
mg
Iron:
2.3
mg
Tried this recipe?
Rate it & leave your feedback in the comments section below, or tag @avirtualvegan on Instagram and hashtag it #avirtualvegan