Moist, soft & fluffy, oil-free Baked Pumpkin Orange Donuts. Baked to perfection then rolled in sugar. So easy to make & no mixer required! All you need is a spoon & a bowl. No donut pan? Don't worry, I've got you covered, but just so's you know....everything tastes better in donut shape! ;O)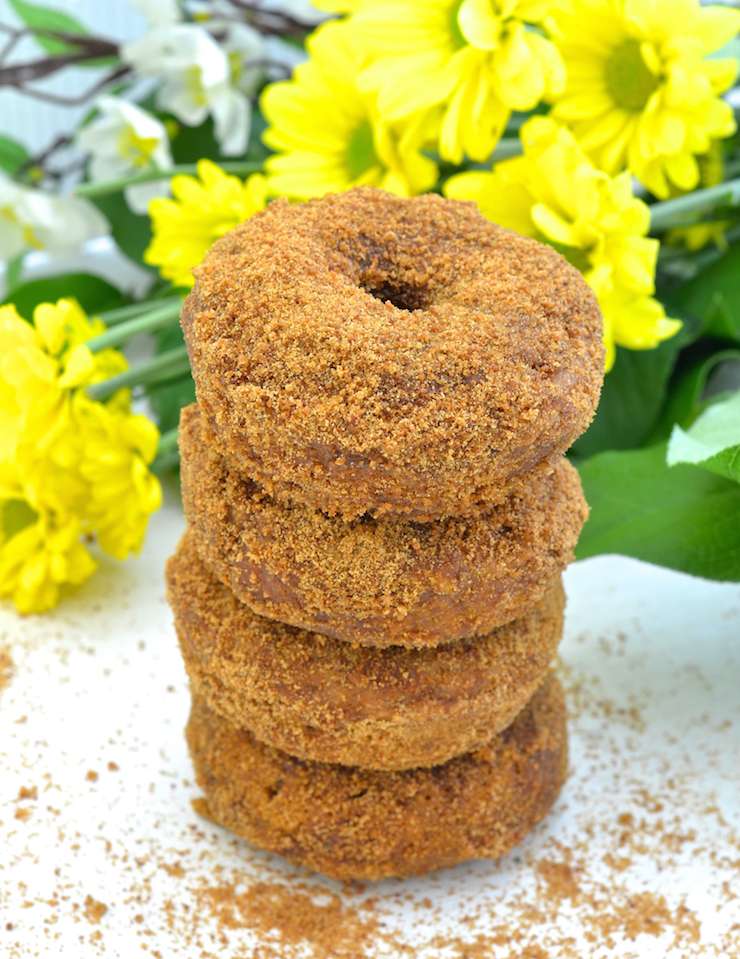 You can always tell when fall has arrived as everywhere you turn there are pumpkin and pumpkin spiced recipes. I have done my fair share of pumpkinny baking and creating recently. I gave my Pumpkin Pie with Caramel Sauce a revamp a few weekends ago, replacing the old and rather unappealing pictures with lovely new ones, and I published my Chocolate Tahini Pumpkin Smoothie. Have you tried that one yet? It's a seriously good way to start the day!
I also dusted off my neglected donut pan and put it to good use again by baking these Pumpkin Orange Donuts.
Is pumpkin orange a flavour combination you have tried before?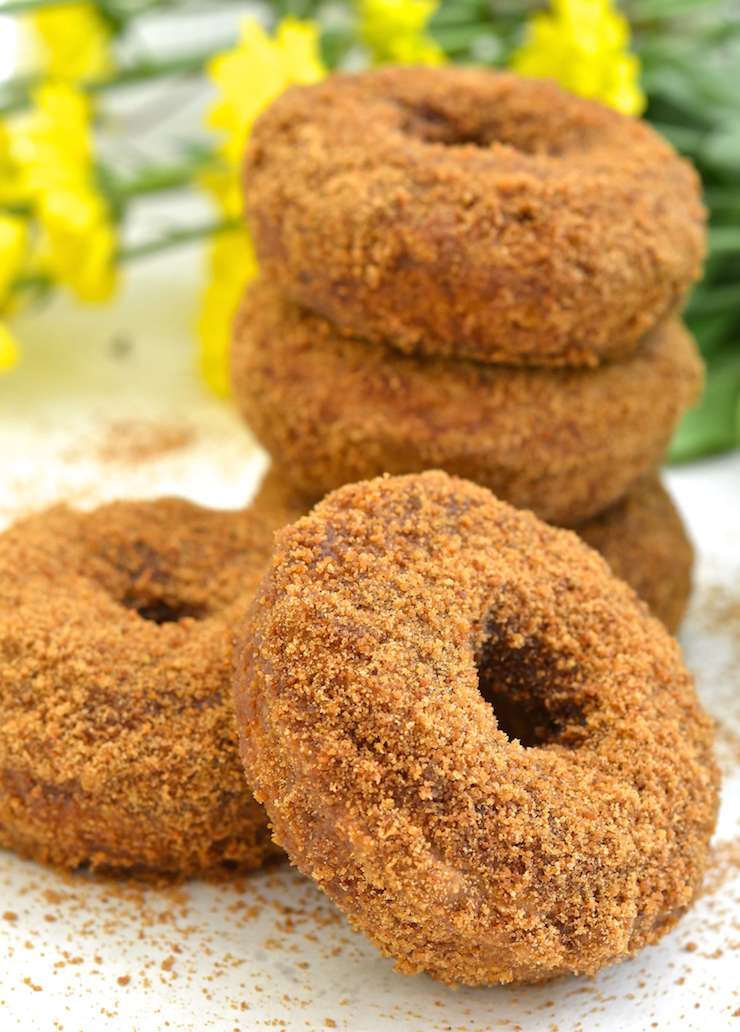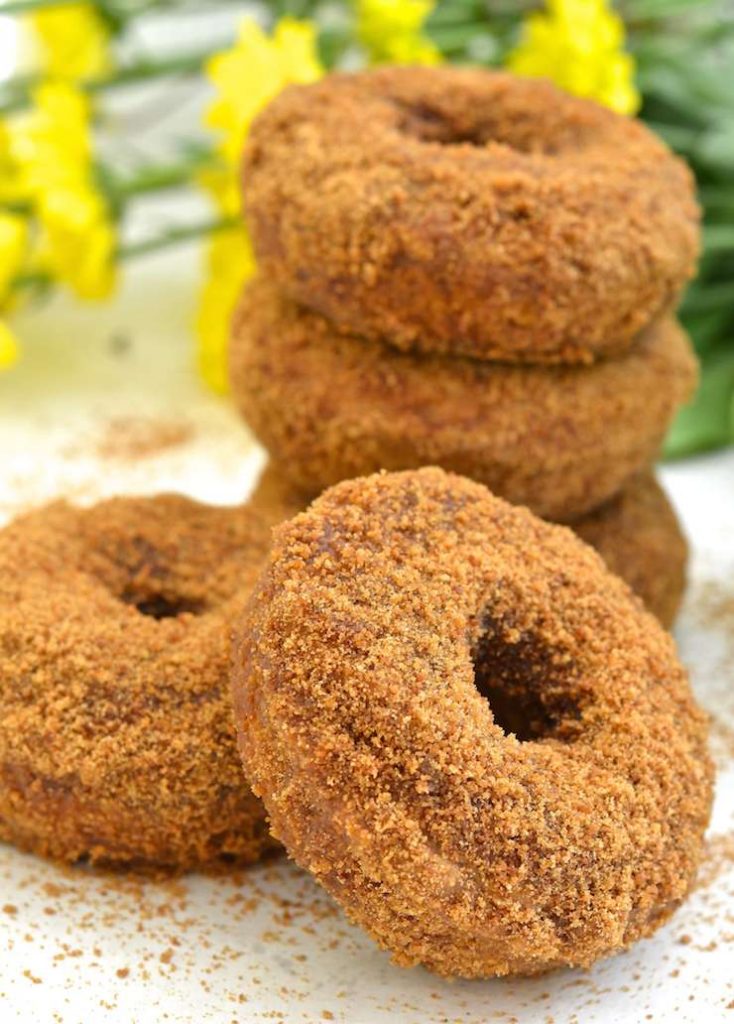 I hadn't until now, but the two work absolutely perfectly together. Just the zest is used and the flavour cuts through the pumpkin and the sugar, adding a refreshing citrus burst. It's a truly irresistible combo!
These donuts come together really quickly and easily. All you have to do it put the dry ingredients in one bowl, the wet in another, then combine. Just like making muffins. They bake up really quickly too and are fantastic eaten fresh from the oven!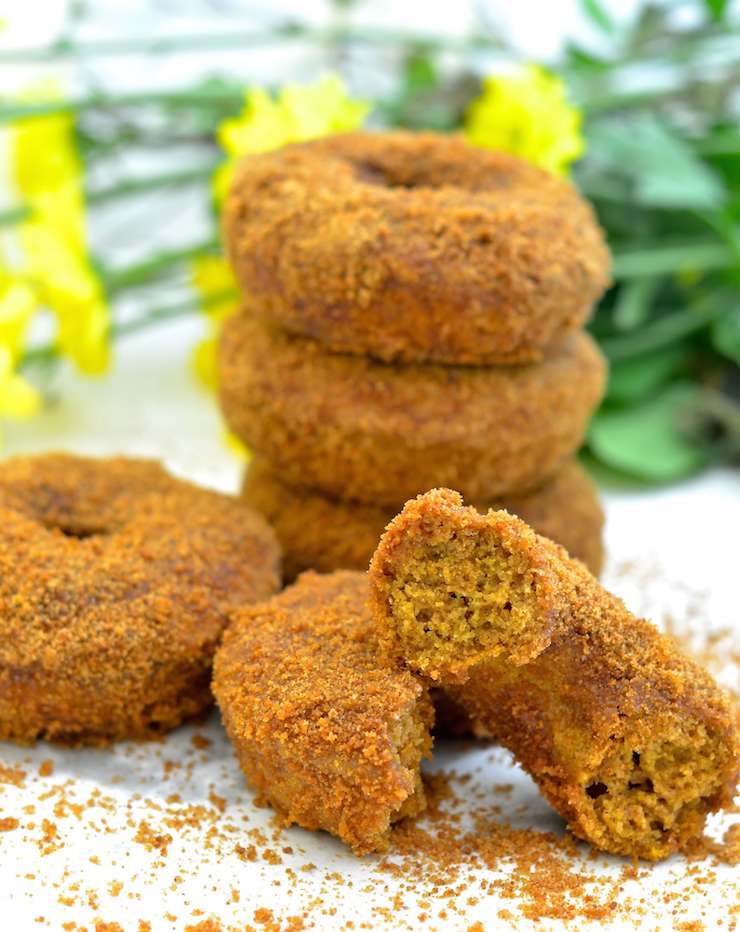 The recipe for these Baked Pumpkin Orange Donuts is oil-free but to get the sugar to coat really well I found the most effective way is to brush them with a little melted coconut oil. You could easily skip this step if you really need to keep them completely oil-free. They will still taste amazing, the sugar just won't stick quite as well.
I hope you enjoy these delicious, sugary Pumpkin Orange Donuts. Let me know what you think in the comments below or share a pic on Instagram and tag me @avirtualvegan. Use the #avirtualvegan to be sure I won't miss them.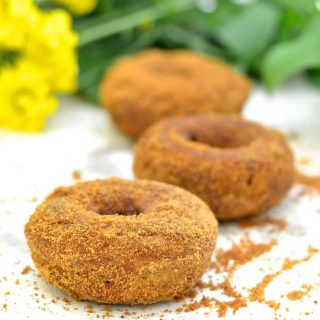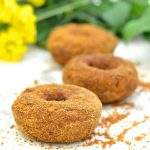 Vegan Pumpkin Donuts
Author:
Soft & fluffy Vegan Pumpkin Donuts, baked to perfection and then rolled in copious amounts of sugar. So easy to make & no mixer required!
Ingredients
Dry ingredients
200g / 2

cup

spelt flour

(spooned into the cup NOT scooped)

75g / ½

cup

coconut sugar

(you can sub this for any other sugar you have)

½

teaspoon

salt

1

teaspoon

baking powder

¾

teaspoon

pumpkin spice

(see recipe note)
Wet ingredients
60g / ¼ packed cup

g

cashew butter

(almond, pecan or macadamia can be subbed but don't use peanut butter. the flavour is too strong.)

185mls / ¾

cup

non-dairy milk

75g / ⅓

cup

pumpkin puree

, (not pumpkin pie filling)

1

large

orange

, zest only
For coating
1 - 2

tablespoons

coconut oil

, in liquid form & measured as liquid, (optional - can be omitted)

coconut sugar

(I tried lots of different sugars & coconut sugar compliments the flavours best and looks the best)
INSTRUCTIONS
Preheat oven to 350°F

Grease a

donut pan

lightly with oil (coconut oil or light olive oil are both ok) - If you don't have a donut pan see recipe notes

Add the cashew nut butter and the pumpkin to a small bowl or jug and stir until well combined.

Add the milk and orange zest to the pumpkin mixture and stir until smooth

Pour the liquid into the dry ingredients and stir to combine. Don't over stir. Just enough that everything is combined and you can't see any dry four.

Carefully spoon into the prepared pan

Bake for 13 - 15 minutes or until a tooth pick comes out clean.

Leave to cool just long enough that you can handle the pan and donuts without burning yourself, then turn them out onto a

cooling rack

.

Coat in sugar (see recipe notes)
NOTES
Pumpkin spice isn't something that is readily available in Europe. It is a mix of a few different spices and you can easily make your own. Here is a great quick recipe. If you do not have a donut pan you can use a mini muffin pan to make donut holes instead. You can also bake asfull size muffins . Just be sure to adjust the cooking time to suit the different volume of batter.
If you would prefer to not use the coconut oil to make the sugar stick, roll the donuts in sugar while they are hot. Just leave them to cool until they are comfortable to handle first.
If you want a lot of sugar to stick then lightly brush the donuts with coconut oil before rolling in the sugar. It is best to do this as you want to eat them as they tend to go a bit damp if stored once coated.
Store the donuts in an airtight container. They are best eaten the same day but are ok the day after too.
These donuts freeze very well as long as you don't coat them in sugar first.
NUTRITION
Serving:
1
donut
Calories:
198
kcal
Carbohydrates:
42
g
Protein:
5
g
Fat:
1
g
Sodium:
296
mg
Potassium:
1
mg
Fiber:
1
g
Sugar:
18
g
Nutritional information is provided for convenience & as a courtesy. The data is a computer generated estimate so should be used as a guide only.
Tried this recipe?
Rate it & leave your feedback in the comments section below, or tag @avirtualvegan on Instagram and hashtag it #avirtualvegan