This healthy Vegan Pumpkin Bread is made with wholewheat flour & is completely oil-free. It is heartily stuffed with juicy chewy cranberries & crunchy pumpkin seeds & is perfect for breakfast or snacking!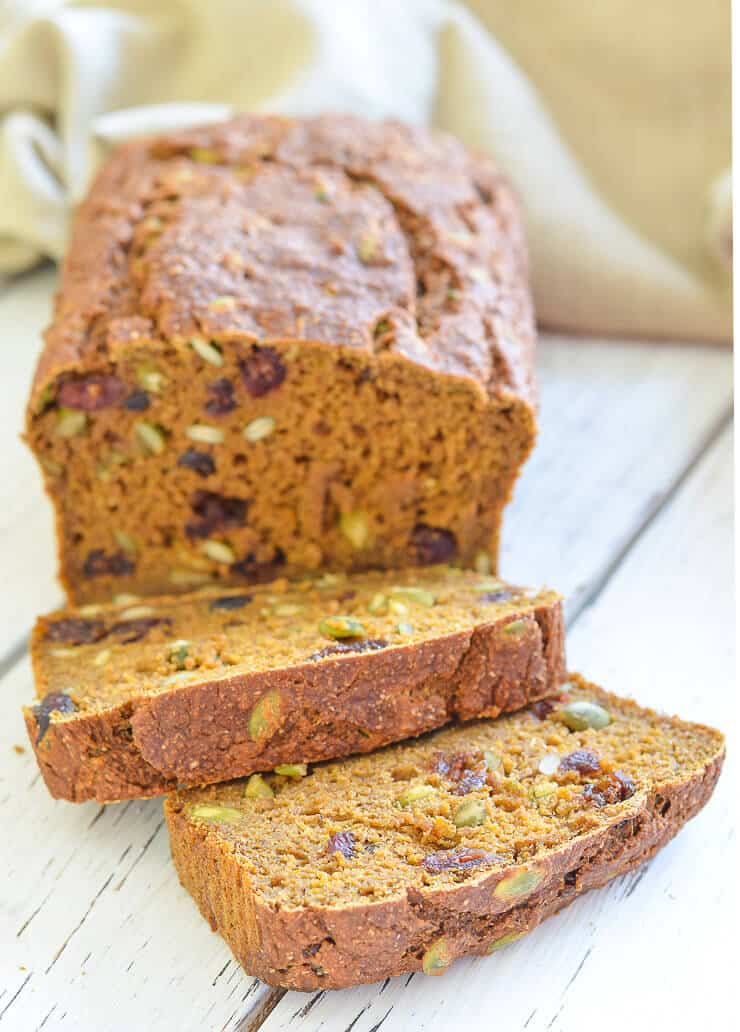 This Vegan Pumpkin Bread is perfect for when you really want cake but are trying to be healthy......That's like all the time if you're anything like me.
I've made this bread again and again because we enjoy it so much, and now it's here because you folks deserve to be enjoying it too. Plus pumpkin is super good for you and shouldn't just be restricted to a few weeks around Halloween.
Jump to: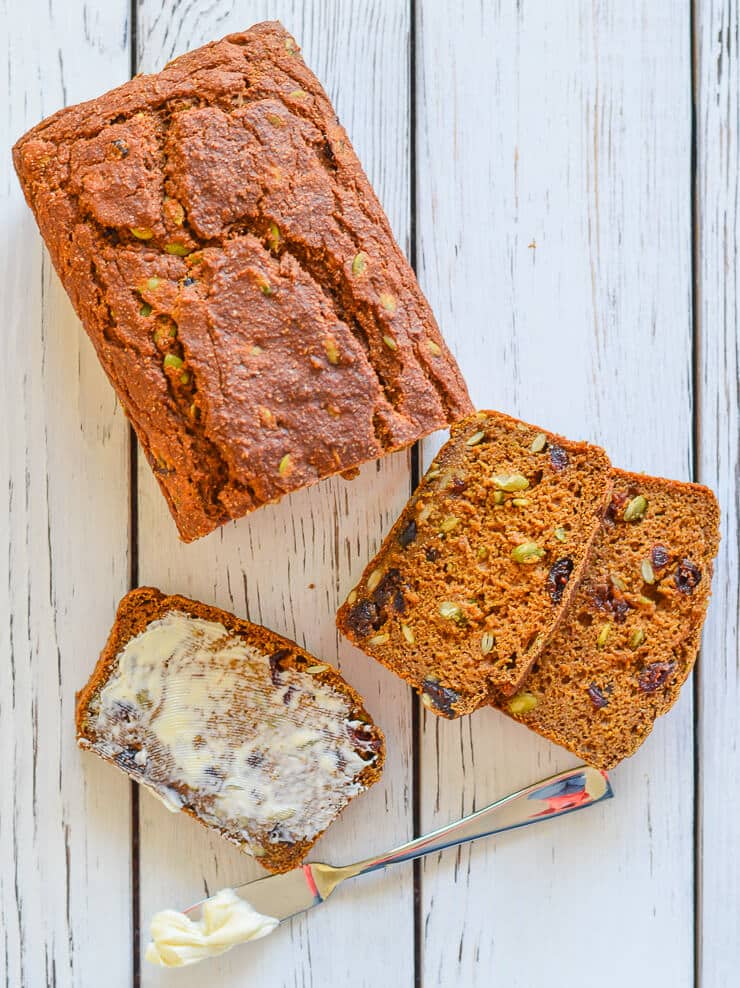 This Vegan Pumpkin Bread is hearty and delicious. It is just sweet enough without being 'cake sweet' and the optional pumpkin seeds and dried cranberries add a great texture.
Try smearing it with some of my Easy Vegan Butter or some nut butter for breakfast, general snacking or packed lunches.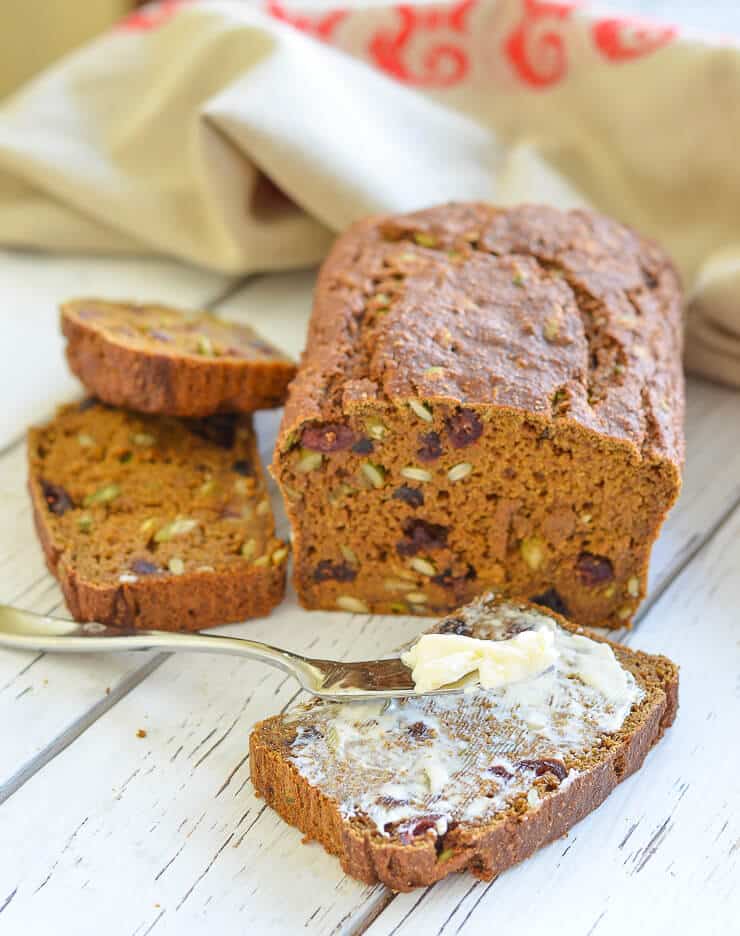 How to make vegan pumpkin bread
For detailed measurements and instructions, see the printable recipe card.
My Healthy Pumpkin Bread is very easy to make. All you need is a loaf pan, a mixing bowl, a small bowl or jug and a spoon/spatula. Then:
Step 1 - Add all of the dry ingredients to one bowl and mix them together, then add the two wet ingredients to another bowl and mix them together.


Step 2 - Pour the wet into the dry and mix then spoon into the pan and bake


You can also make it in a stand mixer if you prefer. I trialled it by hand and in a mixer as I am still crushing on the new Kitchen Aid my lovely hubby brought me for Christmas. Any excuse to use it is a good thing! ♡ If you do use a stand mixer be sure you don't over-mix. The flour should be just combined so there are no dry spots.
Success Tips
When you mix this together it will be stiff. It is not like a cake batter. It's more like a dough. It takes a bit of elbow grease to mix it all up. Just sayin' so you know and don't get all weirded out and pour in a gallon of liquid to remedy it or something!
Follow the recipe closely and as always with recipes involving flour, I highly recommend you use a kitchen scale. Cup measurements are not accurate enough to get the best and consistent results, but if you do need to use them, spoon the flour into the cup then level off the top with a knife without compacting it or shaking it down. By doing it like this you will get roughly the correct amount. If you scoop the flour up into the cup, you will end up with much more than is needed and it will affect the outcome of the recipe. Digital scales are available at most big superstores now and you can pick one up for around $10. They are a great investment and are so worth having
Even if your loaf pan is non stick, I recommend lining the bottom of it with a strip of parchment paper. One long strip that goes along the bottom and overhangs the ends is fine, then it can act as handles for you to easily lift the loaf out once it's baked.
How can you tell when it's cooked properly? You can use the toothpick test. Stick it in the centre and if it comes out clean then its done, or gently press down on the center of the loaf. If it bounces back completely, it is done. If your finger leaves a dent in the loaf it needs a little more time.
Let the loaf cool completely before you cut it. I know it's tempting to break into it when it's still warm, but if you let all of the steam inside escape, you will affect the quality of the crumb. It won't be as moist and it won't keep as well.
Ways to adapt my Pumpkin Bread
- Switch out the pumpkin seeds and cranberries for chocolate chips
- Switch out the pumpkin seeds and cranberries for chopped nuts of choice
- Use pureed butternut squash or sweet potato instead of pumpkin puree
- Add some grated orange zest. The orange flavour works really well with pumpkin.
- Make it as muffins instead of bread
Hungry for more?
If you are loving my Pumpkin Bread then you might also enjoy my:
Vegan Zucchini Bread
Lemon Blueberry Loaf
Best Vegan Banana Bread
Vegan Chocolate Banana Bread
Healthy Banana Bread
📖 Recipe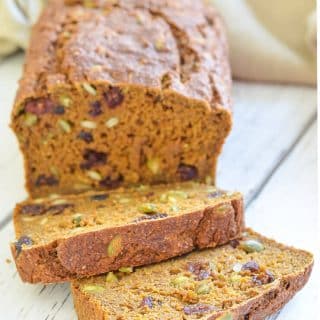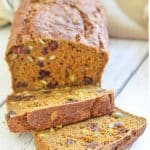 Vegan Pumpkin Bread
Author:
This healthy Vegan Pumpkin Bread is made with wholewheat flour & is completely oil-free. It is heartily stuffed with juicy chewy cranberries & crunchy pumpkin seeds & is perfect for breakfast or snacking!
Ingredients
Dry ingredients
1 ¾ cup / 240

g

wholewheat flour

, all-purpose & spelt flour work too

¾ cup / 150

g

coconut sugar

, or brown sugar (lighter sugars like cane and granulated white work well too, but the darker sugars are best flavour-wise.

1

teaspoon

baking soda

½

teaspoon

baking powder

¼

teaspoon

salt

1

teaspoon

ground ginger

1

teaspoon

ground cinnamon

1

teaspoon

ground all spice

, if you don't have all spice use an extra ½ teaspoon cinnamon with ½ teaspoon ground cloves and a big pinch of nutmeg or just sub the all spice for pumpkin pie spice

⅔ packed cup / 100

g

dried cranberries

, OPTIONAL

½ cup / 75

75g

pumpkin seeds

, OPTIONAL
Wet ingredients
1 slightly heaping cup / 260

g

pumpkin puree

, NOT pumpkin pie filling! (Pureed orange sweet potato works well too)

½ cup / 120

ml

unsweetened plant-based milk
INSTRUCTIONS
Preheat oven to 350°F and lightly grease a

1lb loaf tin

( mine measures 8.5 x 4.5 x 2.75 inches). If there is a chance your tin will stick lay a strip of baking parchment down the length of the pan with some overhang each side to make it easier to remove when cooked)

Add all of the dry ingredients to a bowl and stir to combine.

Add the pumpkin puree and milk to another bowl or a jug and stir together.

Add the wet ingredients to the dry and mix until just combined. It is a very stiff batter, almost like a dough so do not be concerned.

Spoon the batter into the prepared tin and smooth out so it's level.

Bake for 55 minutes then check it. It might need an extra 5 minutes or so. Insert a tooth pick or a skewer and if it comes out clean it's ready.

Remove from the tin immediately and cool on a cooling rack.

Leave it to cool completely before cutting.
NOTES
Serve the loaf as it is or with butter or nut butter.
Store in a sealed container for up to 4 days. Freezes well.
NUTRITION
Serving:
1
slice
Calories:
196
kcal
Carbohydrates:
37
g
Protein:
5.4
g
Fat:
4.4
g
Sodium:
220
mg
Fiber:
4
g
Sugar:
18.5
g
Vitamin A:
4050
IU
Vitamin C:
1.7
mg
Calcium:
50
mg
Iron:
1.4
mg
Nutritional information is provided for convenience & as a courtesy. The data is a computer generated estimate so should be used as a guide only.
Tried this recipe?
Rate it & leave your feedback in the comments section below, or tag @avirtualvegan on Instagram and hashtag it #avirtualvegan