Buttery, moist, soft Vegan Cherry Muffins. Full of almond flavour & bursting with juicy cherries in every bite!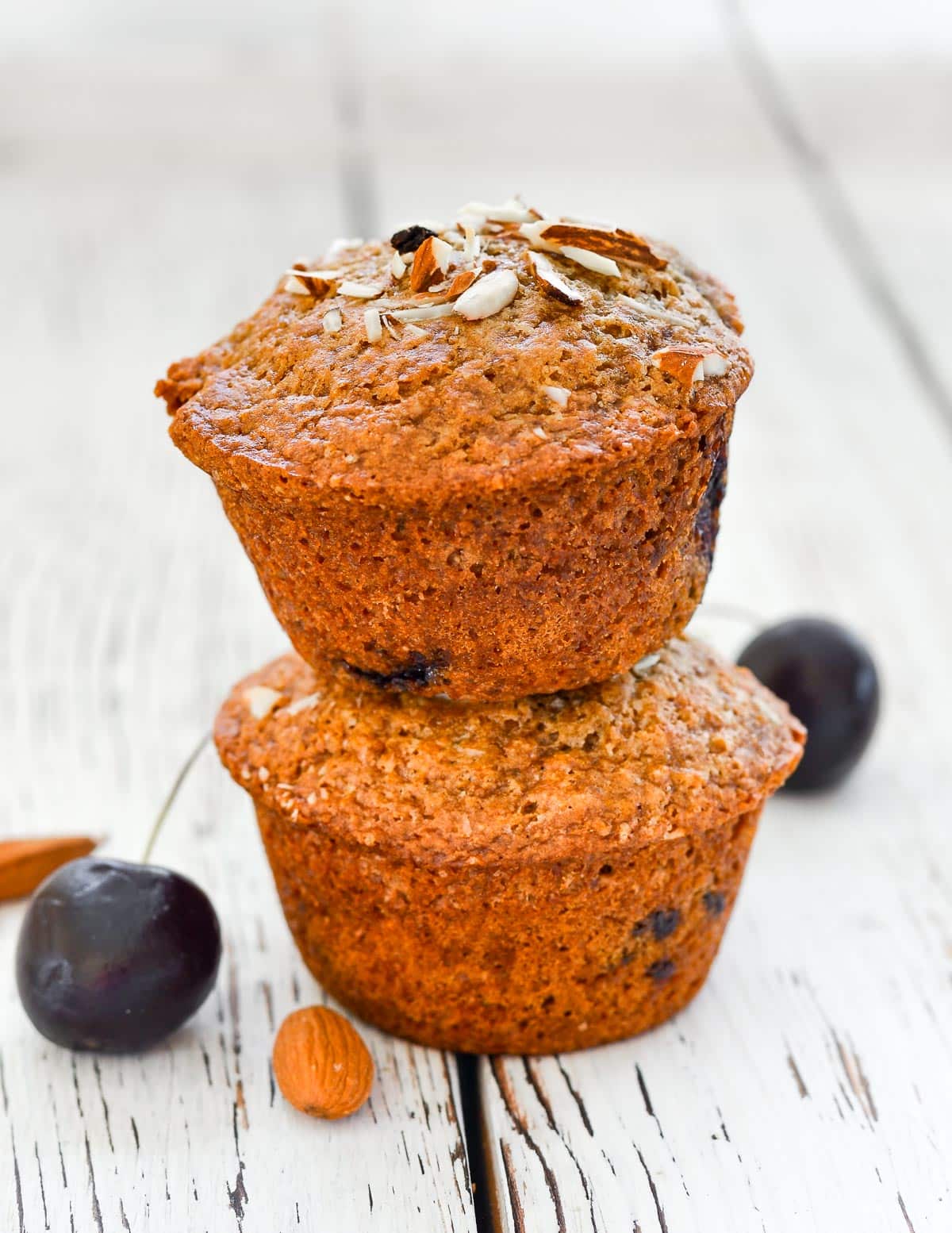 Almonds and cherries are the perfect marriage and you're going to love them in these soft and fluffy vegan cherry muffins.
And the good news is you can also use dried or frozen cherries if you don't have fresh. That means you can make them even when cherries aren't in season.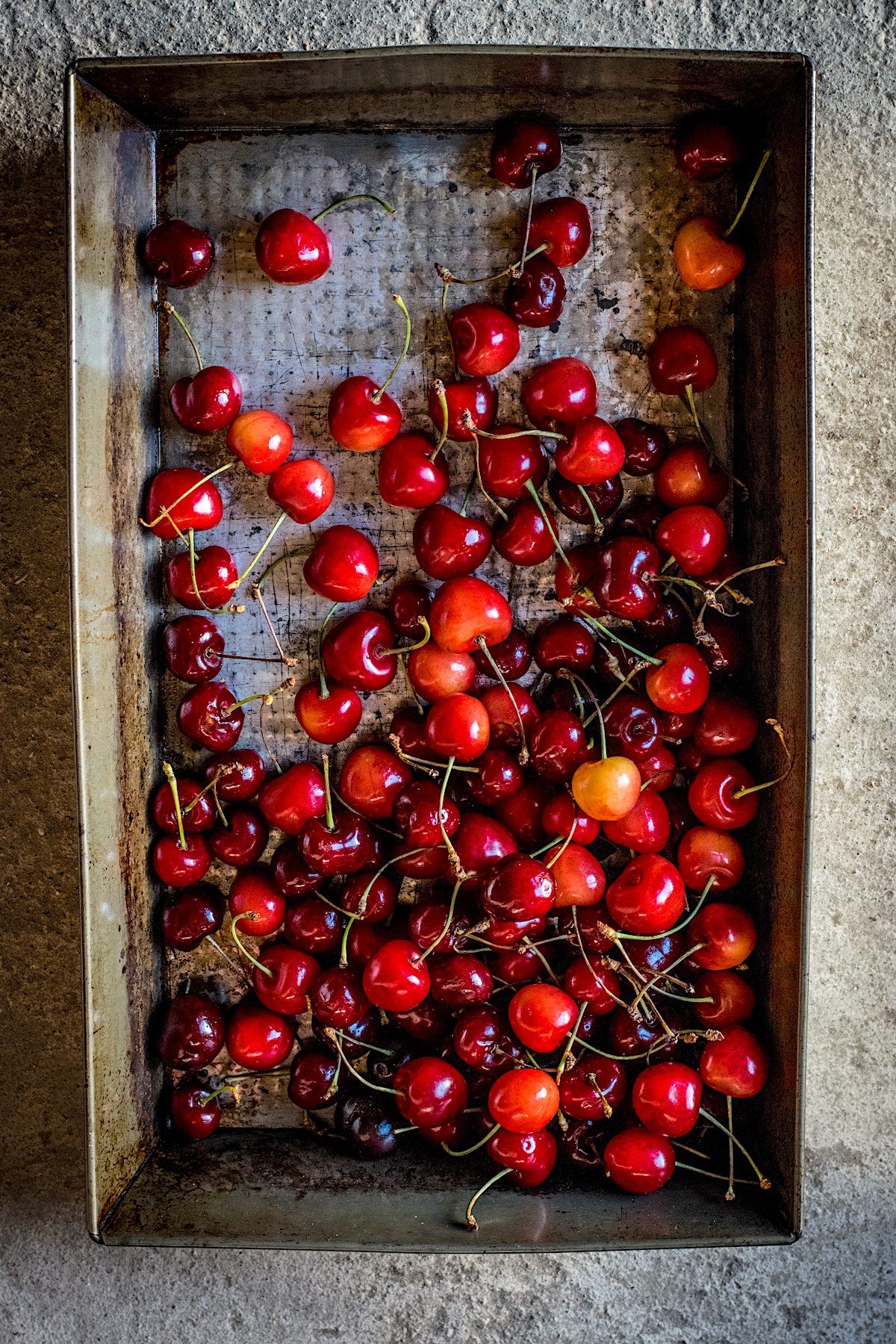 Ingredients
This is what you will be needing to make my vegan cherry muffins and why:
All-purpose flour or oat flour - You can use regular all-purpose flour or you can use oat flour. Both give great results. (The muffins in my photographs are made with oat flour). The quantity of flour varies slightly for each so make sure you take note of that when making them.
Almond flour - Just like my vegan almond cake, these muffins are made with almond flour. It gives the muffins a lovely buttery flavour. It also acts as the "fat" in this recipe. There is no other fat source so it is really important it isn't subbed for anything else.
Sugar - It must be a light coloured sugar for this recipe or it will take away from the lovely cherry and almond flavours. Sugar is important for structure as well as sweetness in cakes/muffins so don't omit it.
Baking soda and baking powder - In egg-free recipes it's important to use both to make up for the leavening eggs would otherwise provide.
Apple cider vinegar - Reacts with the baking soda to create lift.
Salt & almond extract - Flavour!
Applesauce and non-dairy milk - For moisture and binding.
Slivered almonds - For decoration and texture.
As for equipment, nothing more than a 12 well muffin pan is required. I love my USA Pan Muffin Pan. No liners are required because it releases so well. A cherry pitter would be nice too if you're using fresh cherries to avoid stained fingers.
How to make Vegan Cherry Muffins
(For detailed measurements and instructions, see the printable recipe card).
Wondering how to make eggless cherry muffins? Here's how:
Step 1 - Add the dry ingredients to a large bowl and mix them together.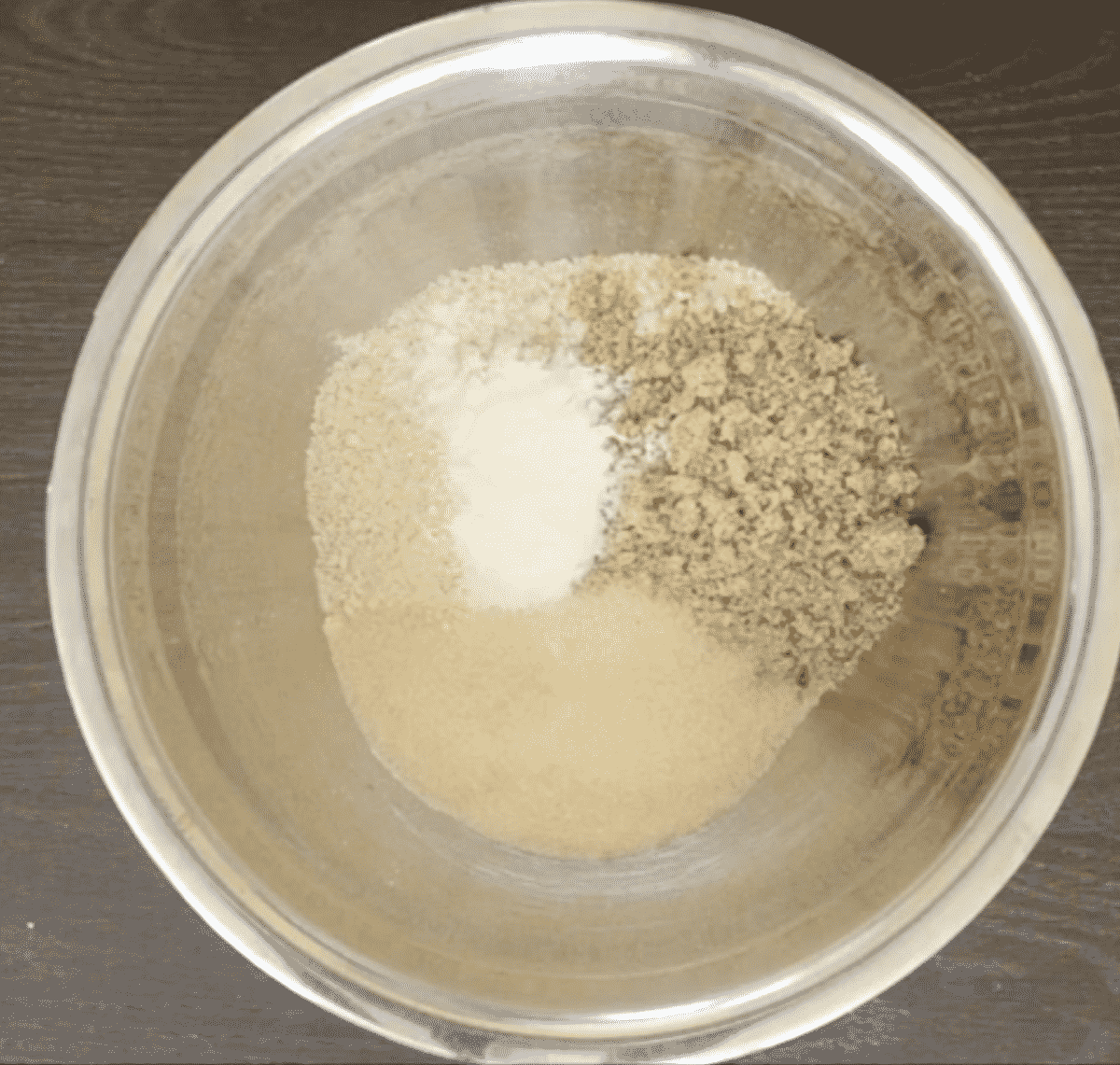 Step 2 - Mix the wet ingredients together in another bowl then pour into the dry ingredients.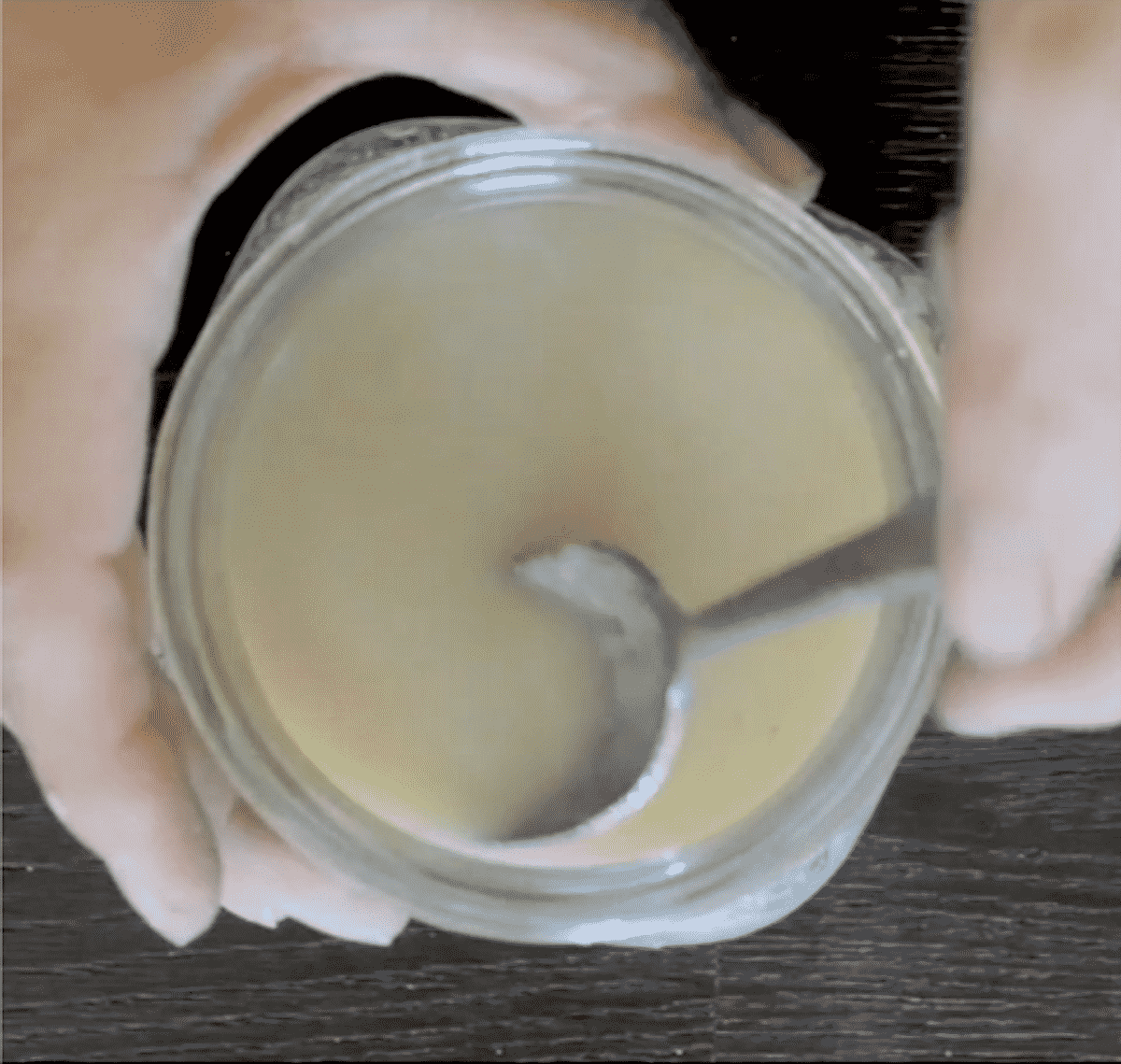 Step 4 - Mix then add the cherries and stir them through.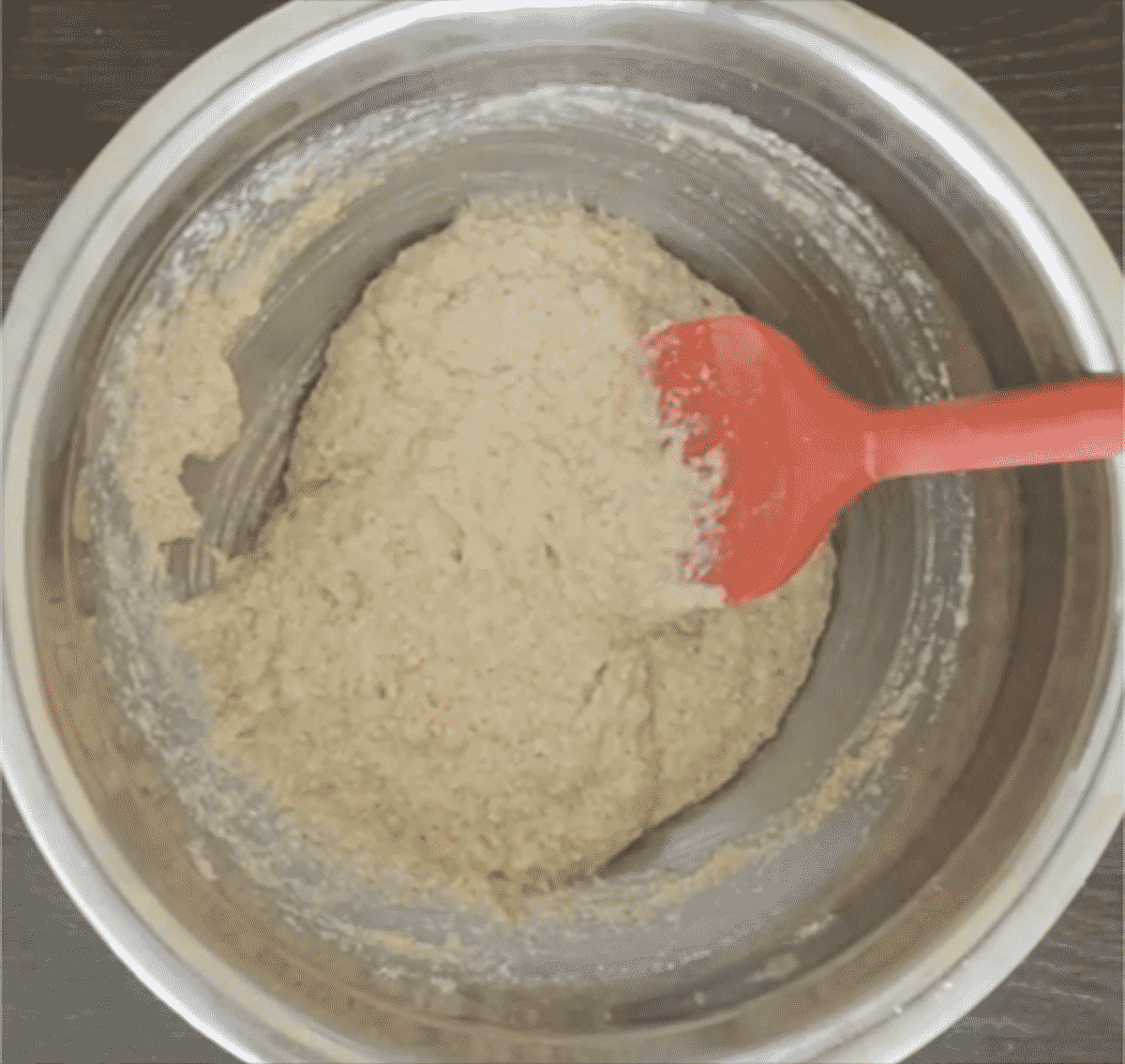 Step 5 - Spoon into a prepared muffin pan, top with almonds and bake.
Success Tips
Follow the recipe closely and as always with recipes involving flour, I highly recommend that you use a kitchen scale. Cup measurements are not accurate enough to get the best and consistent results. Digital kitchen scales are available at most big superstores now and you can pick one up for around $10. They are a great investment and are so worth having! If you do need to use cups, spoon the flour into the cup then level off the top with a knife without compacting it or shaking it down. By doing it like this you will get roughly the correct amount and make your chances of success better. Do not scoop the flour up into the cup as you will end up with much more than intended and it will affect the outcome of the recipe.
Check your baking powder and make sure it does not contain aluminum. That's because the aluminum can react with fruits like cherries and raspberries and turn everything a lovely shade of blue. it can also affect the flavour a little.
Do not over mix the batter. As with all cakes/muffins, the more you mix, the more you activate the gluten in the flour which really affects the texture and rise.
Be sure to follow my tip about starting the oven really high and turning it down after 5 minutes. It helps make muffins extra light and fluffy!
How can you tell when they are cooked properly? You can use the toothpick test. Stick one in the centre of a muffin and if it comes out clean (except for maybe a little cherry juice), then it's done.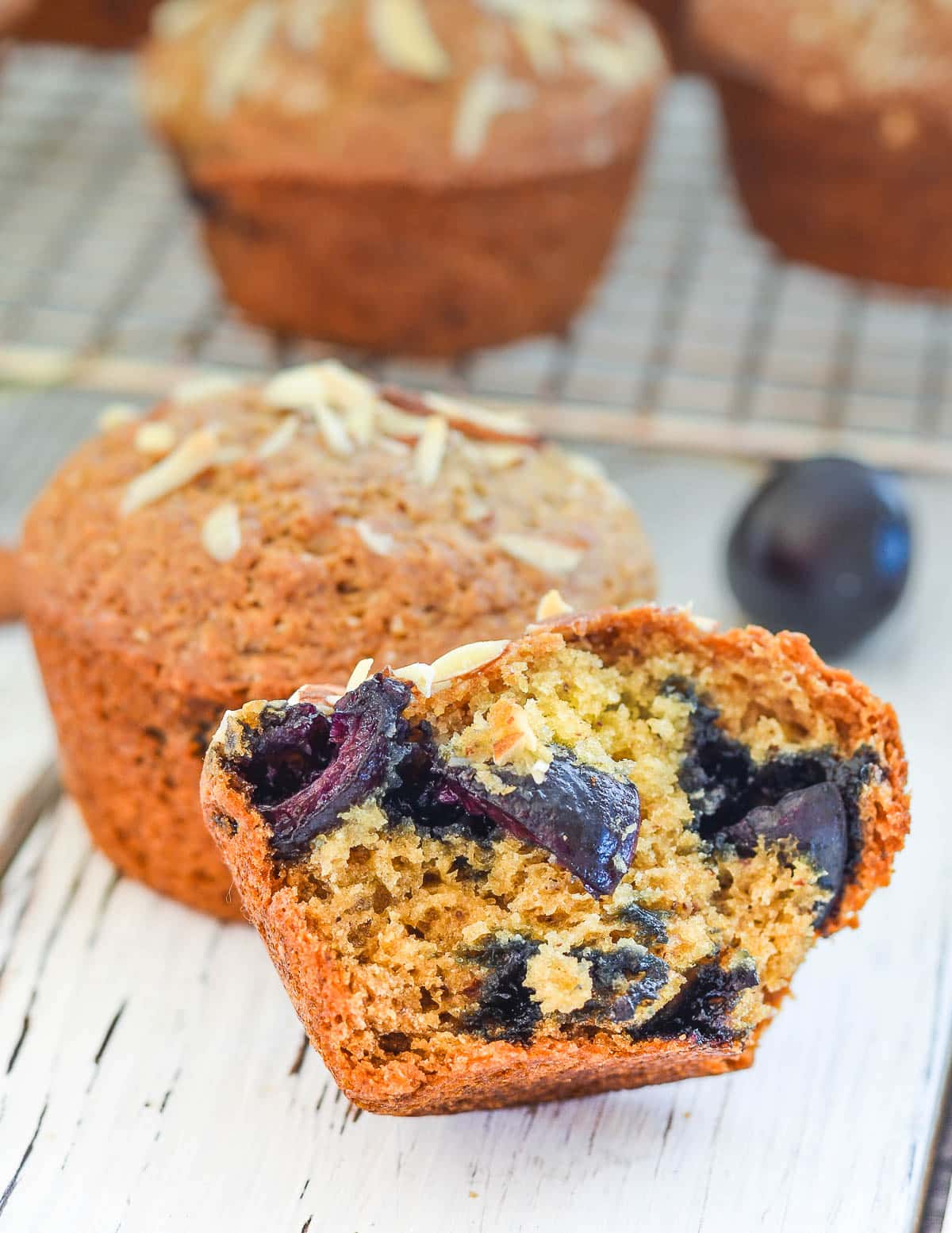 Variations
Some ideas for making this vegan cherry muffin recipe your own:
omit the almond extract and add some chocolate chips
use blueberries or raspberries instead of cherries
use spelt flour instead of all-purpose flour
make gluten-free cherry muffins by using oat flour (instructions are in the recipe notes)
make orange cherry muffins by adding orange zest and orange extract instead of almond extract
fancy them up with piped vegan cream cheese frosting
drizzle on a simple powdered sugar glaze. Mix half a cup of powdered sugar with 2 to 3 tablespoons of water or non-dairy milk. Just enough milk to make a thick drizzle-able glaze. Stir until smooth then drizzle over the cooled muffins.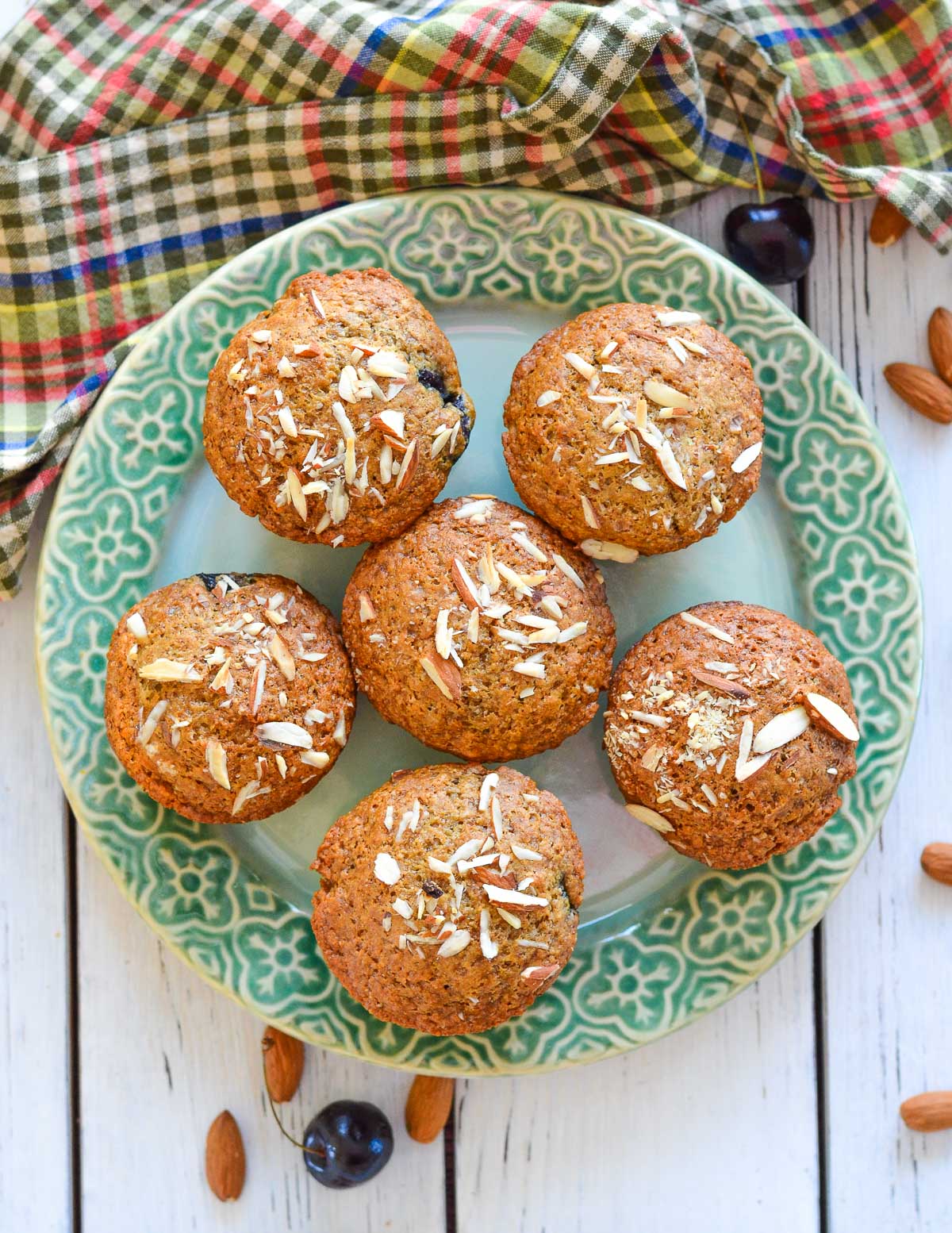 Storage, freezing & reheating tips
To store vegan cherry muffins- Once they are completely cool, store in an airtight container with some paper towels top and bottom to soak up any moisture.
To refresh vegan cherry muffins - If the muffins do get a little damp or stale, you can refresh them in the oven at 350°F (175 °C) for about 6 to 8 minutes. They will come out good as new!
To freeze vegan cherry muffins - These muffins are really moist and keep well for 3 or 4 days. If however, you need to store them longer than that, the freezer is your best option. Cherry muffins freeze extremely well for up to 3 months. Pop them into a freezer bag or a freezer-safe container and place them carefully in the freezer. When you want them, remove from the freezer and let them defrost for a couple of hours at room temperature. You can make them tasted newly baked by warming them gently in the oven at 350°F (175 °C) for about 6 minutes. 
Recipe video
Recipe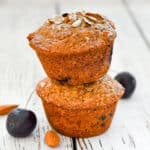 Vegan Cherry Muffins
Author:
Buttery, moist, soft Vegan Cherry Muffins. Full of almond flavour & bursting with juicy cherries in every bite!
Ingredients
250g / 2

cups

all purpose flour

, see recipe notes for gluten-free option

60g / ½

cup

almond flour

200g / 1

cup

sugar

, white or cane

1

teaspoon

baking soda

3

teaspoons

baking powder

, it must be aluminum free for this recipe or your muffins will turn blue.

½

teaspoon

salt

2

teaspoon

natural almond extract

2

tablespoon

apple cider vinegar

254g / 1

cup

apple sauce

, unsweetened

120mls / ½

cup

plant-based milk

1½ cups / 336

grams

fresh pitted, frozen or dried cherries

40g / ½

cup

flaked or slivered almonds
INSTRUCTIONS
Preheat oven to 425°F and prepare a muffin tin. Either grease it or line with liners.

Add the flour, almond flour, sugar, baking soda, baking powder and salt to a bowl. Mix together well. 

Add the almond extract, vinegar, apple sauce and milk (use milk ONLY if using all purpose flour and not oat flour), to another small bowl or jug and mix thoroughly. 

Pour the wet ingredients into the dry ingredients and stir gently until it is just combined. Do not overmix.

Add the cherries and stir them gently through, then spoon the batter evenly into the prepared muffin tins so they are about ¾ full. Sprinkle the tops with the flaked/slivered almonds and get into the oven as quickly as you can. 

After 5 minutes in the oven turn the temperature down to 375°F (don't open the door) and cook for another 12 - 15 minutes. A tooth pick inserted into one of them should come out clean after that time. If it doesn't give them a minute or two more.

Once cooked leave for 5 minutes in the pan, then remove and transfer to a cooling rack.
NOTES
For gluten-free -  Use 150g (1 ½ cups) of oat flour in place of the all-purpose flour and omit the milk. Everything else remains the same.  To make almond flour - Blend almonds in a blender or food processor until they are a fine flour. Be sure to stop as soon as they are flour otherwise they will turn into almond butter. For this recipe, it is fine to leave the skins on the almonds.  To make oat flour - Blend rolled or quick oats in a blender or food processor until they are a fine flour then sieve. Use the fine part for the muffins and save the coarser part to add to oatmeal, granola, or baked goods where fluffiness isn't too important.  If using frozen cherries - Add them to the batter while frozen.  Why aluminum-free baking powder? -  Because the aluminum can react with the fruit and turn everything a strange blue colour. 
NUTRITION
Serving:
1
muffin
Calories:
231
kcal
Carbohydrates:
44
g
Protein:
5
g
Fat:
5
g
Saturated Fat:
1
g
Sodium:
290
mg
Potassium:
302
mg
Fiber:
2
g
Sugar:
24
g
Vitamin A:
45
IU
Vitamin C:
2
mg
Calcium:
114
mg
Iron:
2
mg
Tried this recipe?
Rate it & leave your feedback in the comments section below!
This recipe was originally published on September 22nd 2016. I've updated it with some new content and a video and am now republishing it for you. I hope you enjoy it. Thank you for following A Virtual Vegan!