Soft & delicious homemade pita bread. These puffy little pillows are ready from start to finish in a little over 1 hour & taste so much better than store-bought varieties!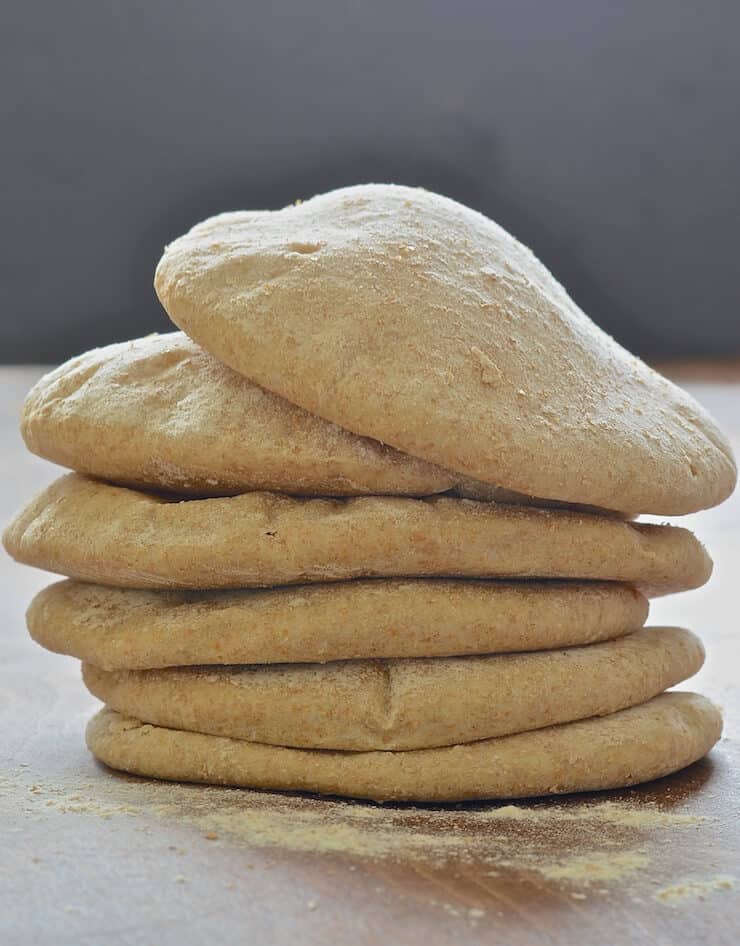 I have been making my own bread for as long as I can remember but my usual pita bread recipe involves lots of kneading, resting and proving and although the end result is amazing I realize that most people don't have the time or the patience for this. I decided that I wanted to simplify the process and come up with a Quick & Easy Homemade Pita Bread recipe that could be made from start to finish in a little over one hour.
The resulting pita breads are so easy to make and pretty quick as far as bread-making goes. Don't let the fact you need to use yeast put you off. It's not as scary as it sounds and the results are so worth the effort.
These quick and easy homemade pita breads taste so much better than store-bought varieties and make a perfect accompaniment to falafel, hummus, Greek salad with vegan feta cheese and dips. They also split easily so can be stuffed.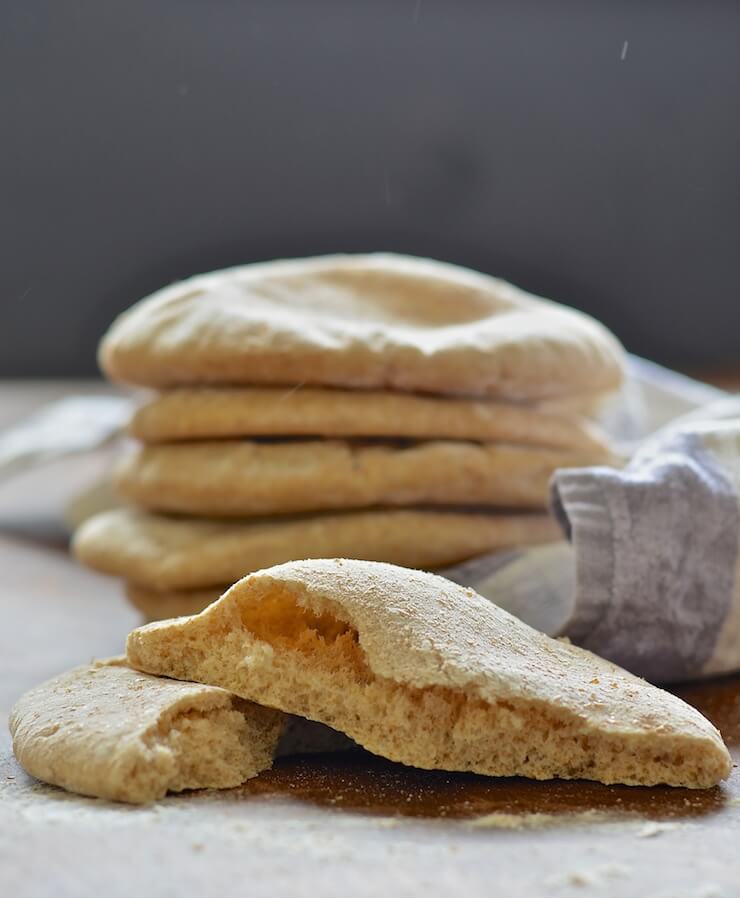 When you make these Quick & Easy Homemade Pita Breads, be sure to watch them for the five minutes that they are in the oven. They puff up dramatically within a few minutes and it is great to see this happen. If you have children helping you to make this recipe then they will love to watch them through the oven door.
When they are done and you remove them from the oven you will have little puffy pillow like pita breads. They deflate as they cool and end up resembling pita breads as you see in the store, only they taste so much better! Cover them with a clean dish towel while they cool to keep them nice and soft.
Want more easy bread recipes?
For more great bread recipes, check out these very popular reader favourites: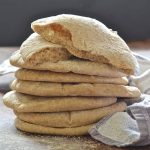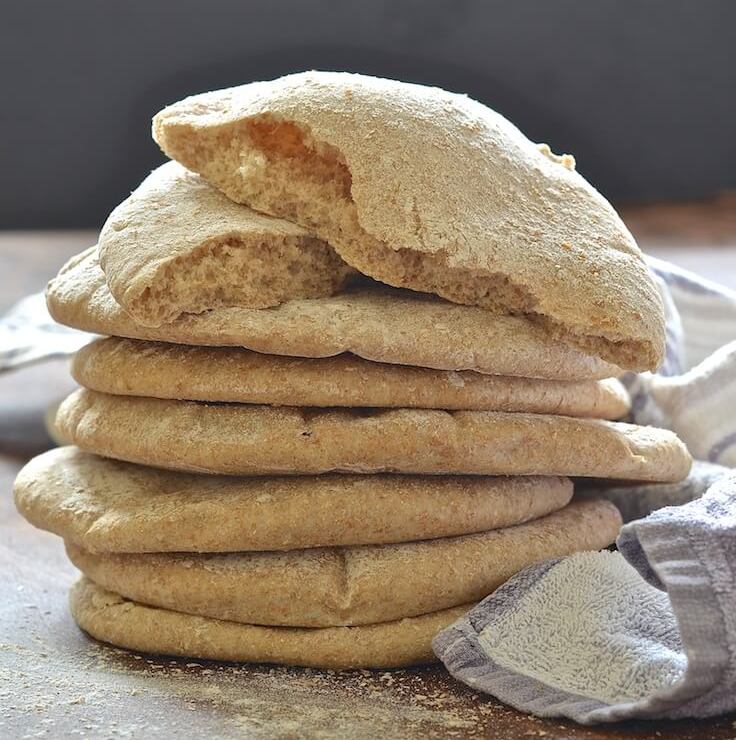 Quick & Easy Pita Bread
Author:
Make your own soft & delicious pita bread. These puffy little pillows are ready from start to finish in a little over 1 hour & taste so much better than store bought varieties!
Ingredients
I highly recommend using a scale to measure the flour. Cups are not accurate enough when making bread.
325g (2 ½

cups)

wholewheat flour

, strong wholemeal in the UK

165g (1⅓

cup)

all purpose flour

, strong white flour in the UK

2½

teaspoons

instant yeast

, or quick yeast

1

teaspoon

salt

1

tablespoon

olive oil

(optional - see recipe notes)

Between 360 mls (1½ cups) and 400mls (1⅔

cup)

lukewarm (tepid) water
INSTRUCTIONS
Add all the dry ingredients to a large bowl. Add the olive oil and enough water to bring together into a firm dough. I used 400 ml of water. You might not need all of it or you might need a few drops more. It depends on the flour you are using, how you store it and the humidity etc.

Stir well with a spatula until the flour is absorbed and you have a shaggy dough. If the mixture looks a little dry add a few more drops of water very gradually.

Scrape your mixture onto a clean and dry surface. If you think you will find kneading like this difficult then grease your surface and your hands with some olive oil. This will make it easier to handle. Try not to use more flour to knead on or add more flour during the process. If you do you risk your pita bread becoming dense and tough.

Knead for 10 minutes. Your dough will start out a little bit sticky but the more you knead the smoother and less sticky it will become. Keep going until it feels smooth and when it is in a ball shape and you squeeze it together on each side, it bounces slowly back to shape when you let go. You can use a mixer on a low speed for 7 minutes instead of doing it by hand if you like.

Let the dough rest for 30 minutes then, then divide into 8 even pieces. Roll each piece out into a circle or oval shape about 3mm thick.

Place on a couple of lightly floured baking sheets and cover gently with clean, damp dish towels. Leave to rest again for 30 minutes.

Preheat oven to 500 °F (260 °C) whilst you are waiting.

After 30 minutes uncover your pitas and gently flip each one over. You will need to peel them off the tray but this should be pretty easy to do because of the flour underneath.

Place into the hot oven and watch through the door (it's entertaining ;o)

Bake for 5 - 6 minutes. They should puff up nicely but don't allow them to colour.

When you remove them from the oven they may feel a little hard but place them on a wire rack and cover with a clean dish towel. They will soften up as they cool.
NOTES
These Quick & Easy Pita Breads keep well for a couple of days but can also be frozen. Place in a freezer bag and seal tightly. They do not stick together and it is easy to just pull one or two out as they are needed.
You can either let them defrost if you want to eat them cold or pop them straight in the oven from frozen on 350 for about 5 minutes or until they are warm through.
The oil in this recipe is optional. If you omit it then add an extra tablespoon of water to compensate. If you are not worried about the fat content or calories then please add the oil as you will get a softer result. If you do not add the oil the recipe will work just fine but the pita bread won't be quite as soft and will stale slightly quicker than it would if it had oil in it. Because of this if you don't add the oil and you won't eat them all on the day or day after they are baked then keep them in the freezer as per my note above.
NUTRITION
Serving:
1
pita bread
Calories:
235
kcal
Carbohydrates:
44
g
Protein:
9
g
Fat:
2.5
g
Sodium:
290
mg
Fiber:
6.5
g
Calcium:
20
mg
Iron:
2.3
mg
Nutritional information is provided for convenience. The data is a computer generated estimate and should be used as a guide only.
Tried this recipe?
Rate it & leave your feedback in the comments section below, or tag @avirtualvegan on Instagram and hashtag it #avirtualvegan
This recipe was originally published on Aug 25th 2015 but has since been updated with new photographs.