Power up your day with this ridiculously thick and creamy Sweet Potato Smoothie. It's naturally gluten-free, healthy and full of sweet, perfectly spiced, pie-like flavours!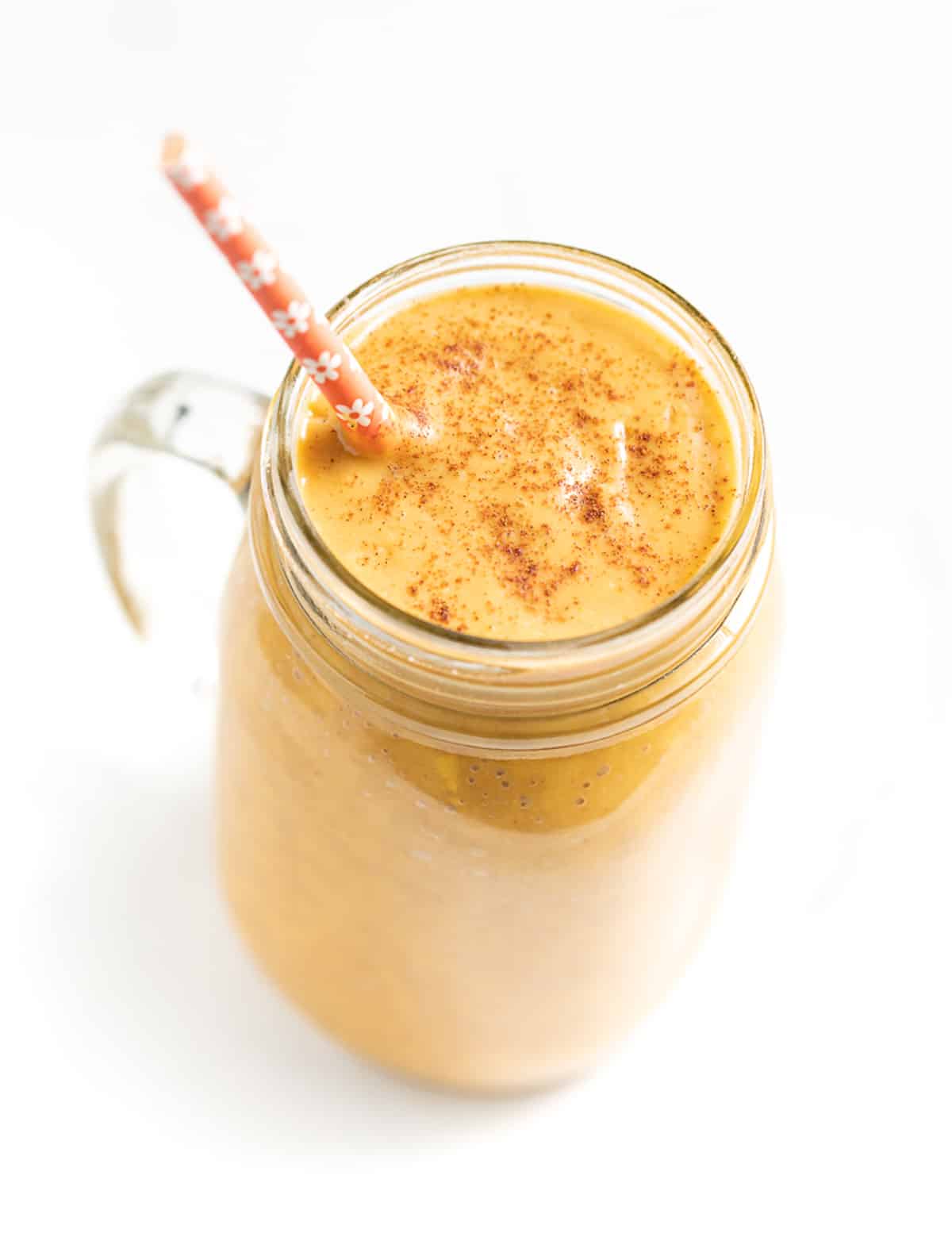 Sweet Potato Smoothie on REPEAT. Because when breakfast involves sweet potatoes and other deliciousness blended up into a silky, velvety, puddingy smoothie you know you're doing your morning right.
And this smoothie. Or pudding. It's kind of both because the best kind of smoothies are THICK!
We are checking all of the breakfast boxes today:
✅ tastes like dessert
✅ quick & easy
✅ rich and creamy
✅ nutritious & satisfying
✅ high in fibre
✅ very, very delicious
✅ it's super adaptable
Jump to:
What ingredients do I need?
So now you know what's up, here's what you'll be needing to make this smoothie and why:
Cooked sweet potato - the orange kind for maximum sweet flavour and velvety texture. You can also switch it for pumpkin (see my vegan pumpkin smoothie recipe here) or butternut squash. Sweet potato, IMO has the best flavour in this though. Got leftover cooked potato? Check out my Sweet Potato Chocolate Pudding!
Frozen banana - for its natural sweetness and creaminess when blended. I ALWAYS keep some frozen bananas in the freezer. 
Plant milk - Any will do. I usually use oat milk or cashew milk.
Spices - warm spicy undertones that compliment the sweet potato and also make it taste like sweet potato pie .. (and if you want real sweet potato pie check out my cookbook because there is a super delish recipe for it in there!)
Sweetener of choice -  Either a date or two or a tablespoon or two of maple syrup. You don't need much because sweet potato and banana are pretty sweet anyway. Add a bit, pulse in the blender, taste and add a little more if necessary. 
Nut or seed butter - Extra creaminess, richness and flavour, as well as healthy fats to see you through the morning. 
Salt - A tiny pinch of salt makes everything, sweet or savoury, better! 
How to make a Sweet Potato Smoothie
(For detailed measurements and instructions, see the printable recipe card).
It doesn't get any easier than making a smoothie. Just throw the ingredients into a blender.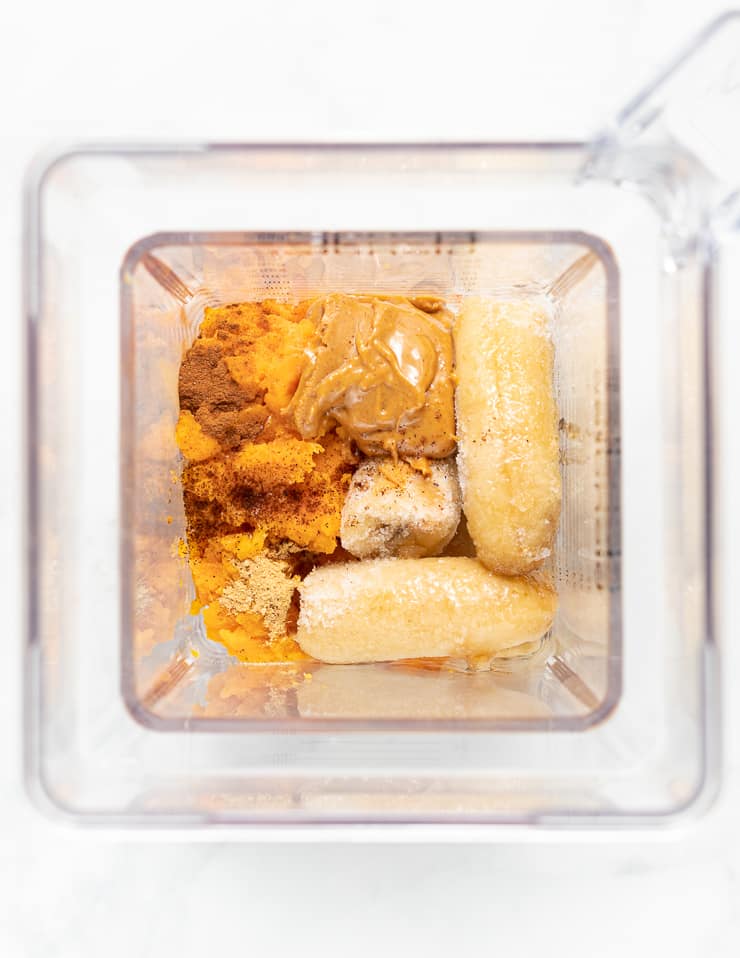 The only caveat to that is to not add all of the milk at once. About ¾ of the full amount is good to start with then once it's blended fully you can adjust the thickness by adding a little more gradually, giving it a quick pulse between additions. That way you ensure that you won't end up with a smoothie that's too thick or thin for your tastes.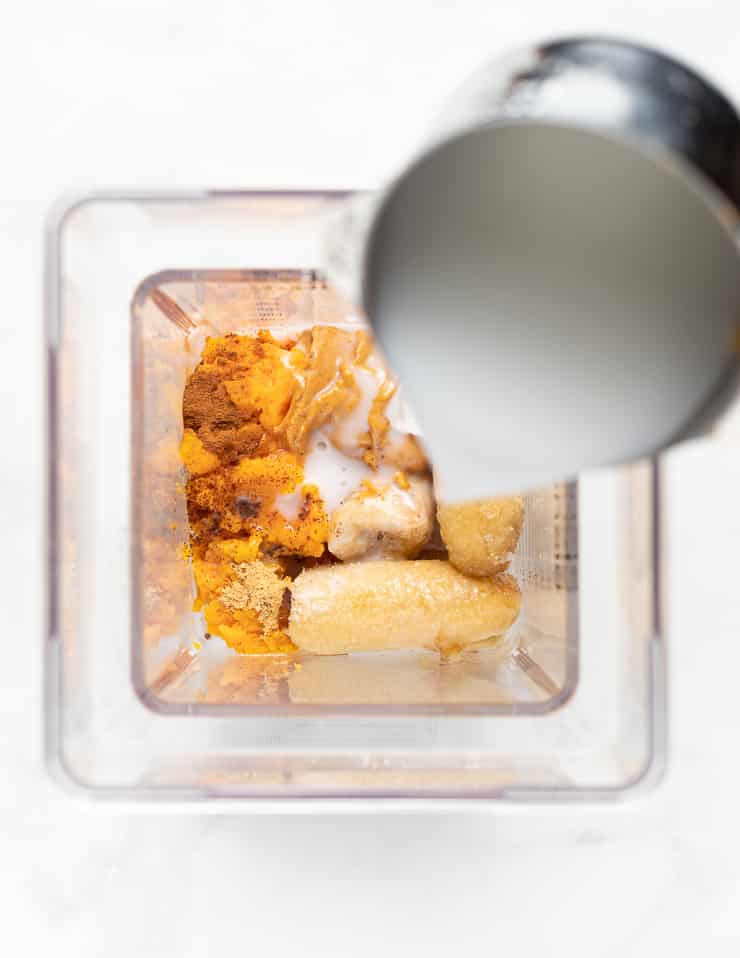 Blend everything up and add more milk as needed to get the thickness you prefer.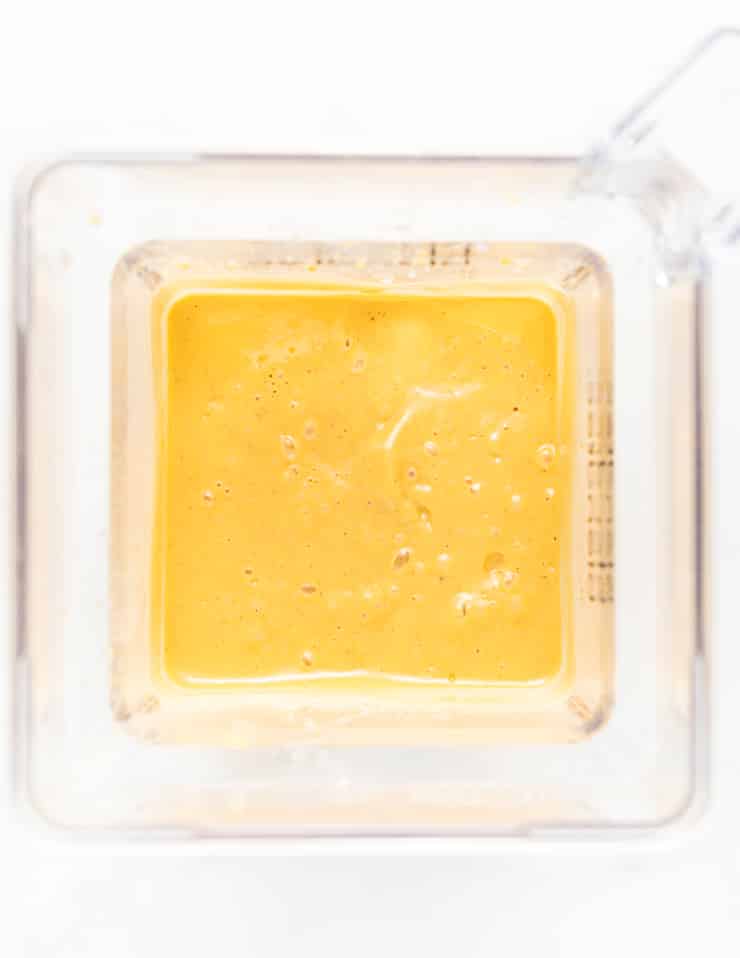 Success Tips
Cook the sweet potatoes yourself. It's not as nice from a can. I always have a couple of them cooked and waiting in the fridge because I use them a lot, and my dogs Charlie and Chester love them. They usually have some with their dinner and in their Sweet Potato Dog Treats and I use them to make my Vegan Sweet Potato Biscuits and other recipes.
Don't add all of the liquid right away when you blend it up. Reserve some and pulse it in after to adjust the thickness to suit you. That way you avoid it accidentally becoming too thin.
Sweeten to taste so you get it just right for you.
Ways you can adapt this recipe
Ok people. You've got choices here. Smoothies are so flexible. You could add :
oats
flax seed
chia seeds
hemp seeds
greens
protein powder
orange juice
cacao powder
a handful of nuts (pecans would be awesome!)
coconut butter or coconut cream
swap out the spices and use ginger and turmeric instead (or as well as)
maca powder for a nutritional boost and a caramel flavour
omit the banana and use some frozen sweet potato instead
use butternut squash or pumpkin instead of sweet potato
and of course, there's always chocolate too. In the form of cocoa powder. If that floats your boat then my Healthy Chocolate Smoothie which also features sweet potato will be your best friend!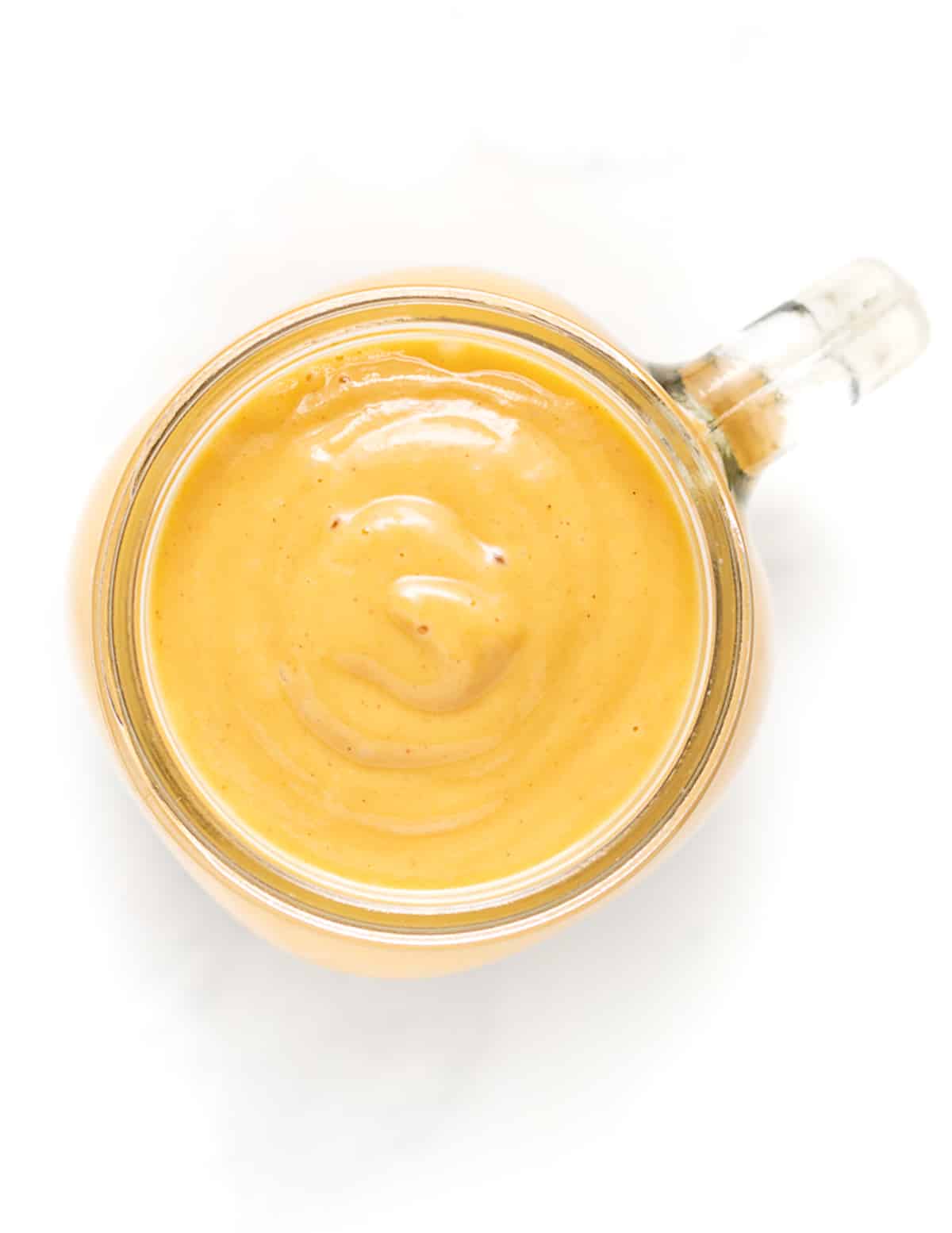 How to make a smoothie bowl with this recipe
When you make a smoothie bowl you need an extra thick, puddingy smoothie so that your toppings stay nicely on the top and so that it's easy to eat with a spoon and well ... not like soup.
This smoothie is naturally really thick, and for a smoothie bowl, I would recommend following my tip above which says to add only three-quarters of the milk the first time you blend. You likely won't need any more milk for a nice smoothie bowl texture but can always add a little more if necessary.
So then once it's blended what do you top it with? Here are some smoothie bowl topping ideas:
Roasted sweet potato cubes
Shredded coconut
Nuts & seeds
Dried Fruit
Stewed apple or applesauce
Fresh fruit
Nut or seed butter
Shaved chocolate or chocolate chips
Cacao nibs
A sprinkle of cinnamon
Feasting on Fruit's Oat Rawnola
How to freeze bananas for smoothies
Line a baking tray with some parchment paper or a silicone baking mat.
Peel the bananas and break/cut them up into pieces. I generally break them into three even-ish pieces then I know that 3 pieces always equals a full banana.
Lay the banana pieces out on the baking tray so they aren't touching each other and place the whole tray in the freezer uncovered.
As soon as they are solid, remove the tray from the freezer and transfer the hard pieces of banana to freezer safe containers/bags and return to the freezer. They will keep in the freezer for 3 to 4 months.
Use them for smoothies, making Easy Banana Peanut Butter Ice Cream Bars, and also defrost them to use in my Best Vegan Banana Bread.
Why put sweet potato in a smoothie?
Sweet potatoes are incredibly nutritious and full of fibre. When sweet potato is paired with some banana and spices in a smoothie like this one it adds lots of flavour, natural sweetness, and helps keep you feeling full for longer.
When pureed it has a really silky, velvety mouthfeel. It thickens too and is naturally sweet. It makes your smoothie feel like pudding and taste like pie!
It's also a great smoothie addition for when you don't have a high-powered blender. When cooked, it blends really easily just like a banana does.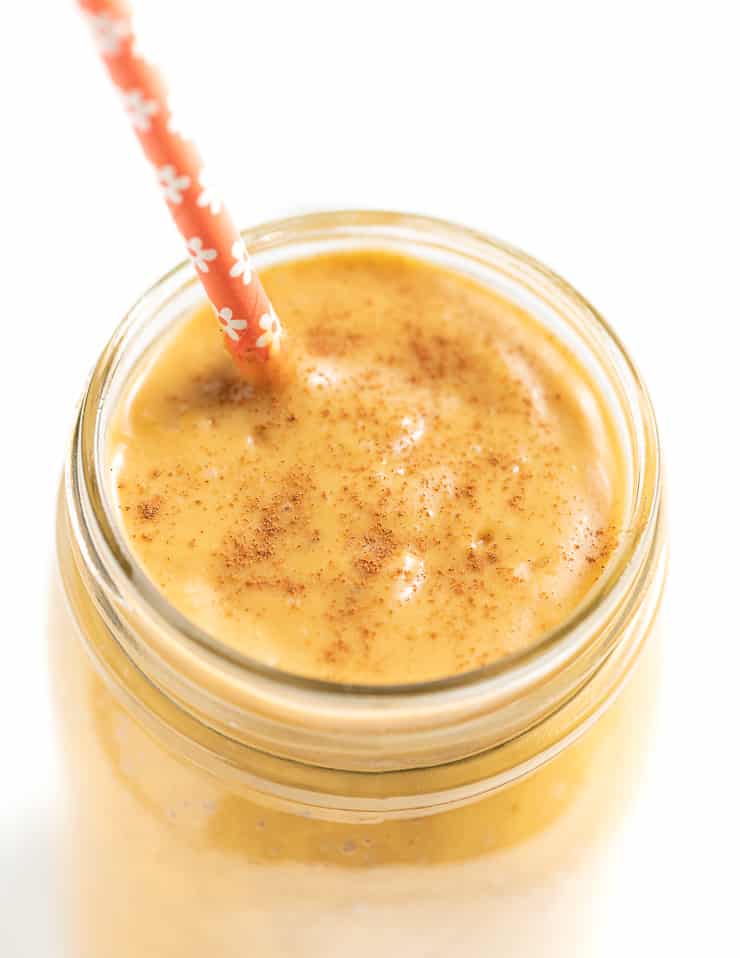 How to cook sweet potato for a smoothie
There are many ways to cook sweet potatoes.
Instant Pot - Pour a cup of water into the bottom of your Instant Pot and sit the potatoes on the trivet. There is no need to pierce them. Put the lid on, seal and cook on high pressure. Times vary somewhat depending how big your sweet potatoes are. I really like this guide. It gives timings for all the different sizes and I've found it to be pretty accurate when I'm cooking mine. Once they are done, remove, allow to cool and store in the fridge until needed.
Microwave - Pierce the sweet potatoes several times all over and place on a plate in the microwave. Cook on full power for 5 minutes then check to see if it's tender with a fork. Add on more incremental time if it's not tender. The total time it takes will vary depending on how big the potatoes are.
Oven - Pierce the potatoes several times all over and place on a baking tray. I like to line my tray with baking parchment or a silicone mat because juice tends to come out and makes the potatoes stick to the tray otherwise. Put in a preheated to 425°F (215°C) oven and bake until tender. The time it takes will vary depending on the size of the potato but for a medium one it's usually about 45 minutes. Check with a fork after that time and return to the oven if they aren't tender.
Once they are cooked, remove, allow to cool and store in the fridge until needed. They will keep for 4 to 5 days in a sealed container.
If you are a smoothie addict like me then you might also enjoy these smoothie recipes:
Recipe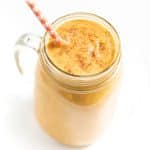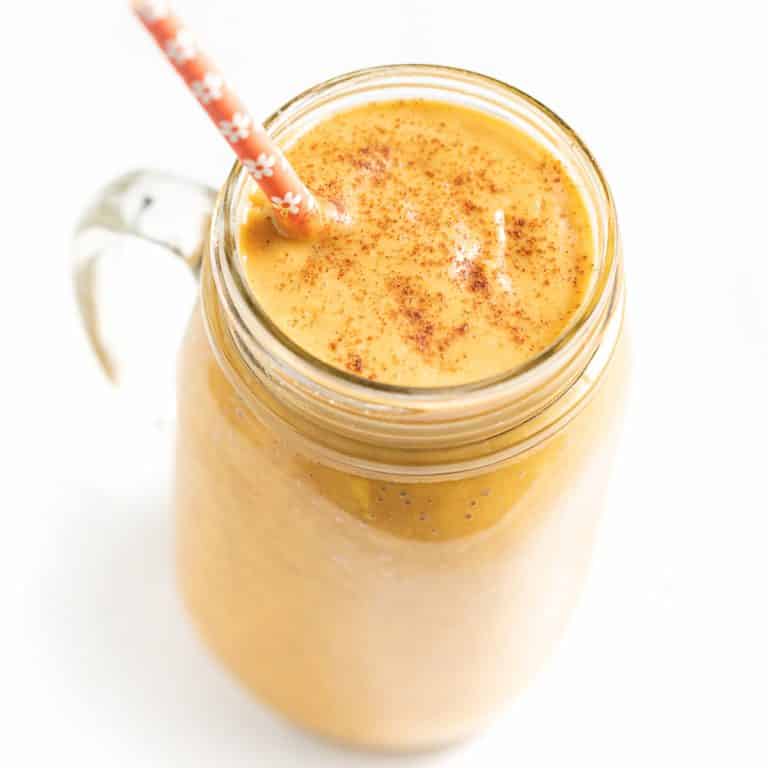 Sweet Potato Smoothie
Author:
Power up your day with this ridiculously thick and creamy Sweet Potato Smoothie. It's naturally gluten-free, healthy and full of sweet, perfectly spiced, pie-like flavours!
Ingredients
1 cup (218

grams)

cooked sweet potato (skin removed)

, see post for how to cook

1

medium

frozen banana

1 cup (240

ml)

plant-based milk

, plus more to thin if necessary (it's especially nice with canned light coconut milk)

½

teaspoon

pumpkin spice

, or ¼ teaspoon of cinnamon, ⅛ teaspoon nutmeg & a pinch cloves

1

heaping tablespoon

nut or seed butter

, and kind (peanut, cashew, almond, sunflower, pumpkin etc).

1 - 2

tablespoons

maple syrup

, or 1 to 2 medjool dates

1

small pinch

salt
INSTRUCTIONS
Add all ingredients to a blender and blend until smooth and velvety. I recommend reserving about ¼ of the milk when you first blend everything up, then check the thickness and add a bit more milk, and pulse to thin as necessary.

Please note that if you don't have a high powered blender you might need to add all of the milk to get things going.
NOTES
*The cinnamon, nutmeg and cloves can all be replaced by ½ teaspoon of pumpkin pie spice.
The smoothie is still great with just cinnamon and none of the other spices so feel free to omit them if you don't have them in your pantry. 
NUTRITION
Serving:
1
large smoothie
|
Calories:
389
kcal
|
Carbohydrates:
87
g
|
Protein:
6
g
|
Fat:
3
g
|
Saturated Fat:
1
g
|
Sodium:
284
mg
|
Potassium:
1508
mg
|
Fiber:
11
g
|
Sugar:
41
g
|
Vitamin A:
42163
IU
|
Vitamin C:
53
mg
|
Calcium:
105
mg
|
Iron:
2
mg
Did you make this recipe?
Rate it & leave feedback in the comments section below. I love seeing your remakes too. Tag @avirtualvegan on Instagram! 🌟