Do you love the idea of packing the green stuff into your smoothie but always hate the taste? Then you need to try this Going Green Smoothie! It's stuffed full of healthy ingredients including spinach but is creamy, sweet & delicious. It really doesn't taste green!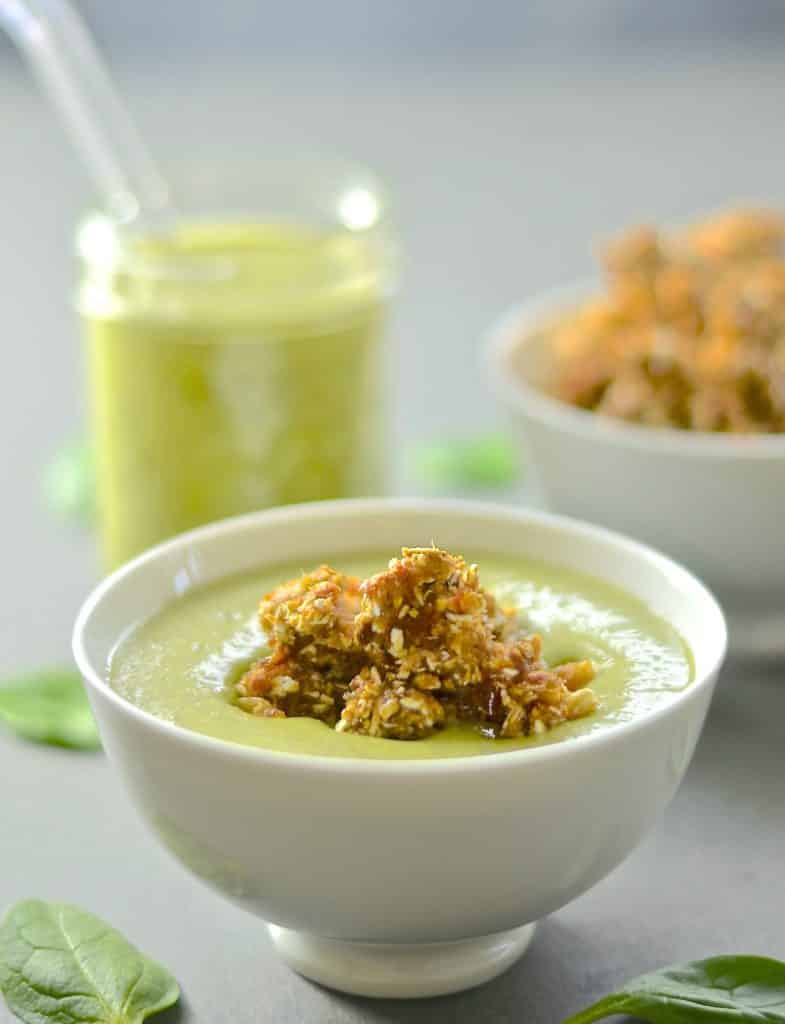 I traded in my knackered old $27 blender for a Blendtec just after Christmas. I struggled on with my old one for years because I hate to give up on something while it's still actually working but when I saw a Blendtec in a fantastic sale I couldn't resist snapping it up. My trusty old blender was rehomed and I instantly fell in love with it's replacement.
I have been making smoothies for years but have always had the cheapest of the cheap blenders. I am very frugal and hate spending a lot of money on things like that. However, I must have got used to lumps and bits in my smoothies and sauces because when I got my Blendtec I noticed such a huge difference. Everything is smooth and I mean completely smooth. Not a grainy bit, or tough leafy bit in site. My smoothies are now light and airy and deliciously creamy. It's just amazing. I am a complete convert and in the case of blenders it has proved that you certainly get what you pay for.
Since I have had my new blender I have gone blending mad. I am pretty sure I have used it every single day since I have had it and with all this blending, lots of new smoothie concoctions have come to fruition. Todays recipe is one of them.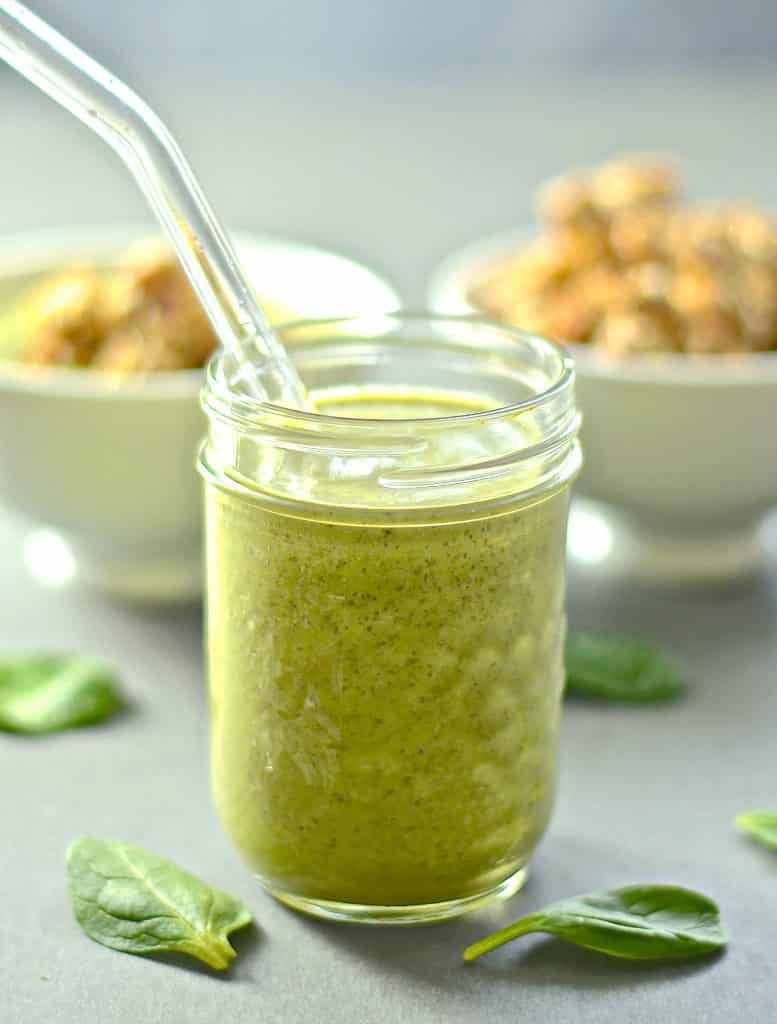 This recipe didn't start off green. It was actually created without the spinach and has been a regular breakfast of mine for a while. Then one day I had some spinach that needed using so just threw it in. The colour was just beautiful but I expected it to taste 'green'. I was so surprised when I tried it and it didn't. The banana and peanut butter flavours do a fantastic job of masking the spinach flavour. So it's there but not there if you get my drift.
As much as I like drinking my smoothies the regular way from a glass, I also enjoy indulging in smoothie bowls from time to time. They give you the perfect opportunity to pile up lots of different delicious toppings on your smoothie. If you're one of those people who never feels completely satisfied after a smoothie then smoothie bowls might be an option for you. You can use whatever you fancy. Fruit pieces, nuts, seeds, chocolate or granola. With this particular smoothie I didn't think fruit would be a good match unless it was banana and there is already one of them in it. There is a limit to the number of bananas one person can consume and I eat more than my fair share. Nuts and seeds would be great with it, as would granola. Chocolate would also be awesome.
I stumbled across something different though and it is just the perfect partner for this smoothie. The flavours go so incredibly well together but as well as that it adds texture and sweetness and another boost of nutrition. The combo is just totally awesome. Trouble is it's somebody else's recipe.
That somebody else is the wonderful Natalie from the awesome blog Feasting On Fruit. If you have never visited then take this opportunity to hop on over and check it out. Why not make a nice Going Green Smoothie to give you sustenance while you browse?
My green smoothie is just bursting with good stuff including banana, peanut butter, spinach, flax seeds and chia seeds. Add to that Natalie's simple but amazing Rawnola and you have a nutritional powerhouse on your hands. I bet Popeye wishes he could have got his hands on a big bowl of this!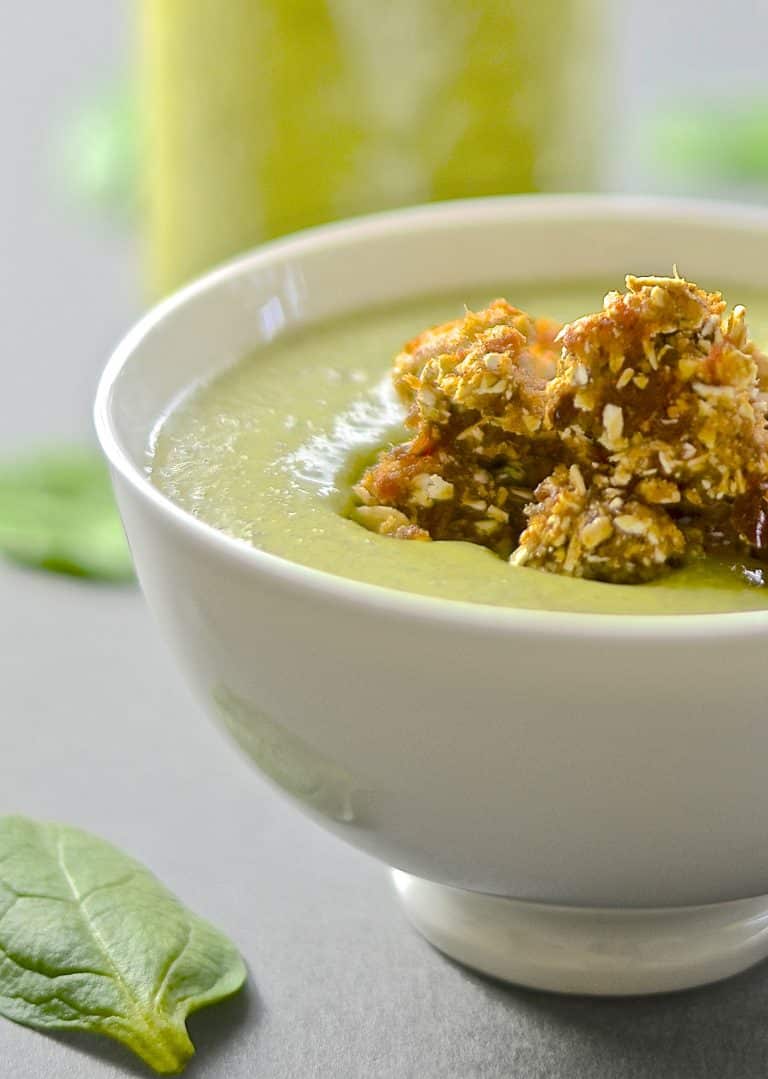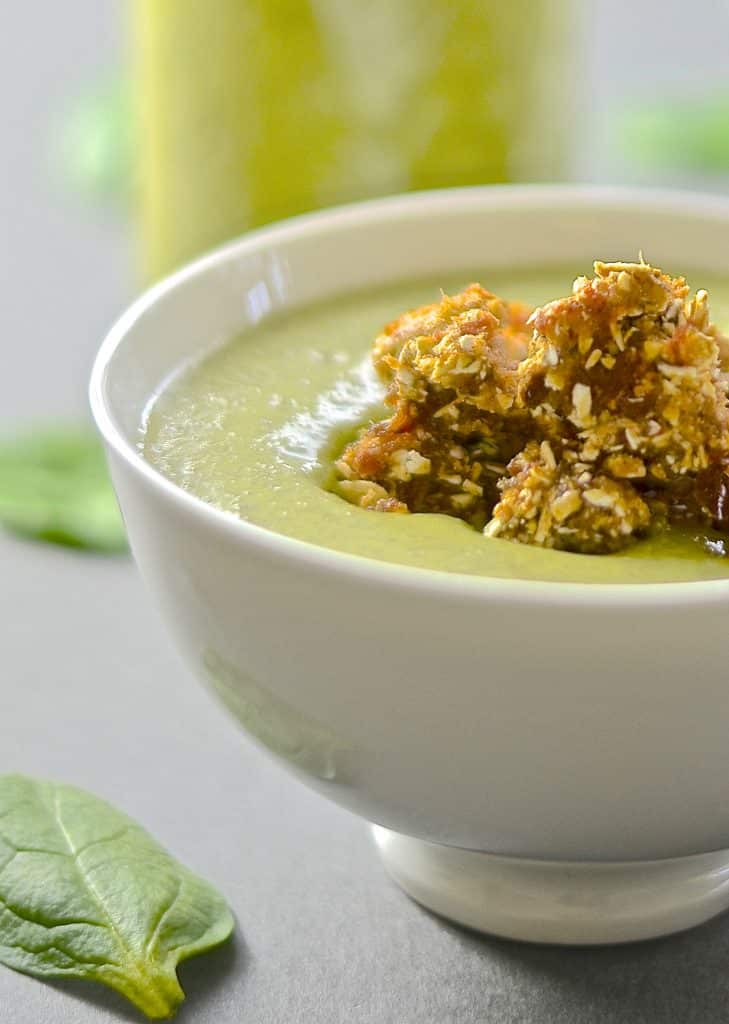 My Going Green Smoothie is lusciously smooth and creamy and tastes of peanut butter and banana.  I swear that if you were wearing a blindfold (I hope not many of you do this at breakfast time) you would not know this smoothie was green. The Rawnola is chewy, sticky and delicious. I added a little vanilla bean powder and a touch of salt to the recipe and the results were amazing. Kind of like chewy, oaty cookie dough.
Any day that starts with a big bowl of this is going to be a good one!
I really hope you enjoy this smoothie. Please let me know what you think in the comments section below. You can also share your pictures with me on Instagram. I am @avirtualvegan. Use the hashtag #avirtualvegan so I can find them easily. I love to see your versions of my recipes!
If you are a smoothie lover then be sure to try my Cranberry Walnut & Apple Smoothie. It is so very delicious!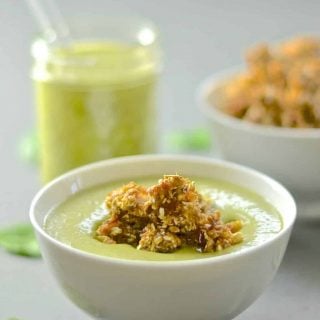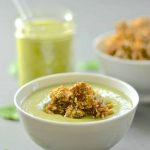 Going Green Smoothie with Rawnola
Author:
Do you love the idea of packing the green stuff into your smoothie but always hate the taste? Then you need to try this Going Green Smoothie! It's stuffed full of healthy ingredients including spinach but is creamy, sweet & delicious. It really doesn't taste green!
Ingredients
For the Going Green Smoothie
1

frozen banana

, or 1 fresh banana and 4-5 ice cubes

2

tablespoons

peanut butter

1

tablespoon

ground flax seed

1

tablespoon

chia seeds

1

tablespoon

maple syrup

, or 1-2 medjool dates, (add one, taste then add another if not quite sweet enough)

1 large handful | 1/2

packed cup

spinach leaves

240mls | 1

cup

non-dairy milk
For the Rawnola
1/4

teaspoon

salt

(optional)

1/2

teaspoon

vanilla bean powder

(optional - Vanilla Bean powder may seem expensive but one jar or packet lasts for absolutely ages as you only ever use a little bit).
INSTRUCTIONS
Add all the smoothie ingredients to a blender.

Blend until smooth and creamy

Serve the smoothie in a bowl with generous amounts of Rawnola piled up on top
NOTES
You will have more Rawnola than you need for this smoothie but leftovers will keep well in a sealed container in the fridge for a week or two. It's great for snacking & sprinkling on a whole host of things!
NUTRITION
Serving:
1
smoothie (does not include rawnola)
Calories:
440
kcal
Carbohydrates:
56
g
Protein:
14
g
Fat:
24
g
Sodium:
196
mg
Fiber:
11
g
Sugar:
30
g
Vitamin A:
3400
IU
Vitamin C:
25.6
mg
Calcium:
590
mg
Iron:
4.3
mg
Nutritional information is provided for convenience & as a courtesy. The data is a computer generated estimate so should be used as a guide only.
Tried this recipe?
Rate it & leave your feedback in the comments section below, or tag @avirtualvegan on Instagram and hashtag it #avirtualvegan