A simple Banana Smoothie that is healthy, easy to make & packed with protein & fibre. It's rich, thick, creamy, tastes like banana bread & will keep you full for ages!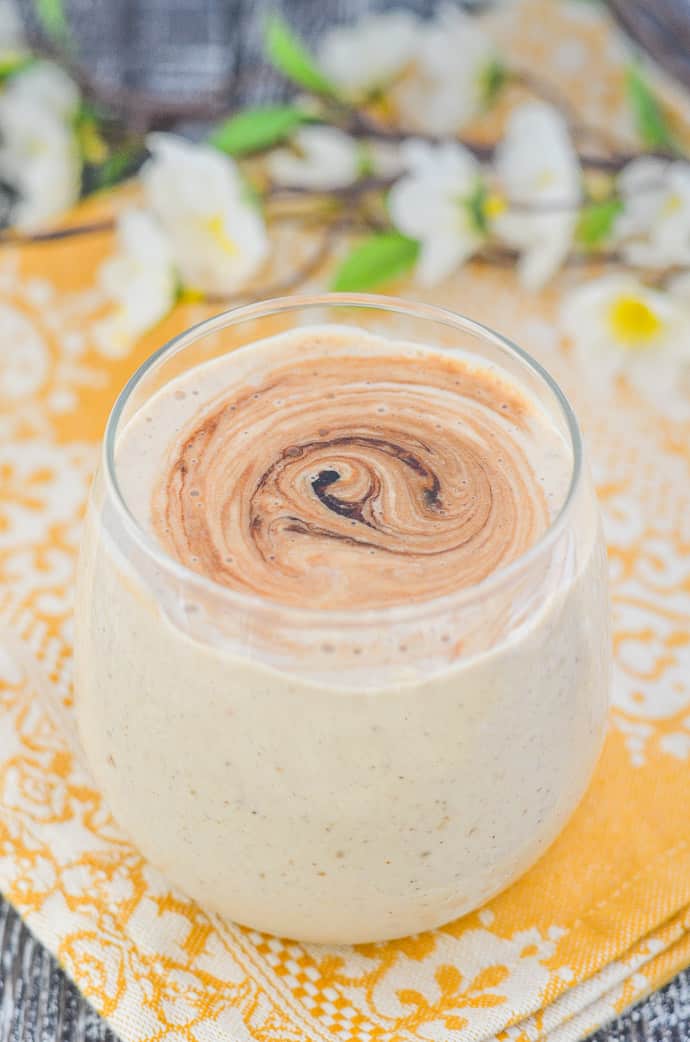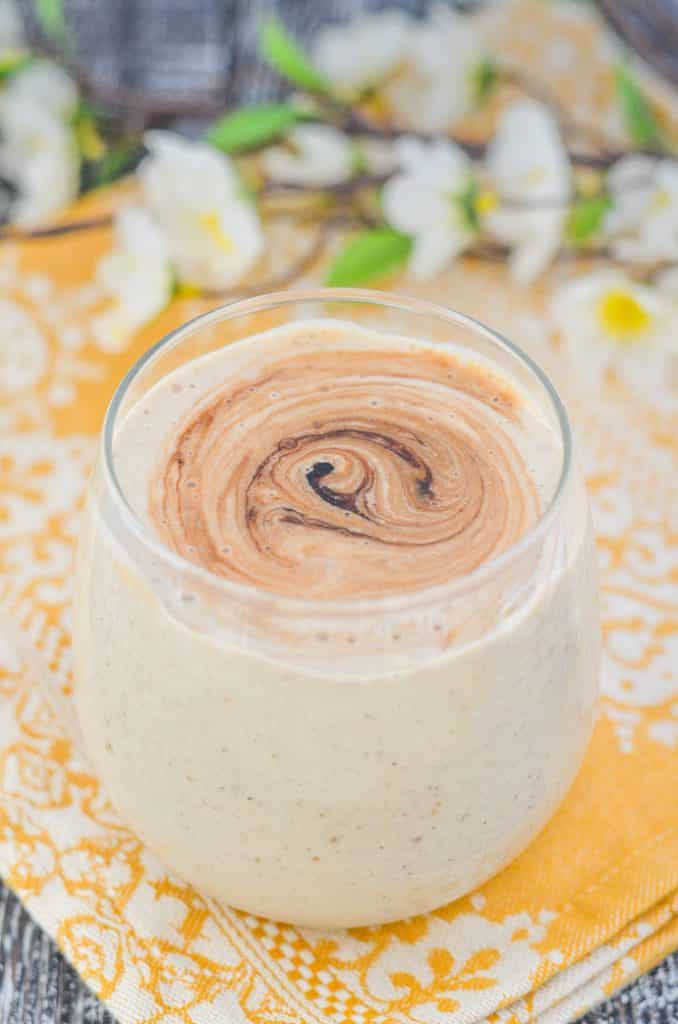 Simple is the name of the game today. Often it is the easy, uncomplicated recipes that end up being the best, and that is certainly the case with this Creamy Banana Smoothie.
It's ridiculously thick, creamy and smooth. Decadently so. Not slushy or icy at all. And it tastes like Vegan Banana Bread.
No matter what, I always have a stash of overripe bananas in the freezer, so even when the grocery situation is dire, we can still enjoy this easy smoothie for breakfast or snacks.
It's a pretty flexible recipe. I like to use:
banana
oats
walnuts
medjool dates
vanilla
oats
nutmeg
cinnamon
sea salt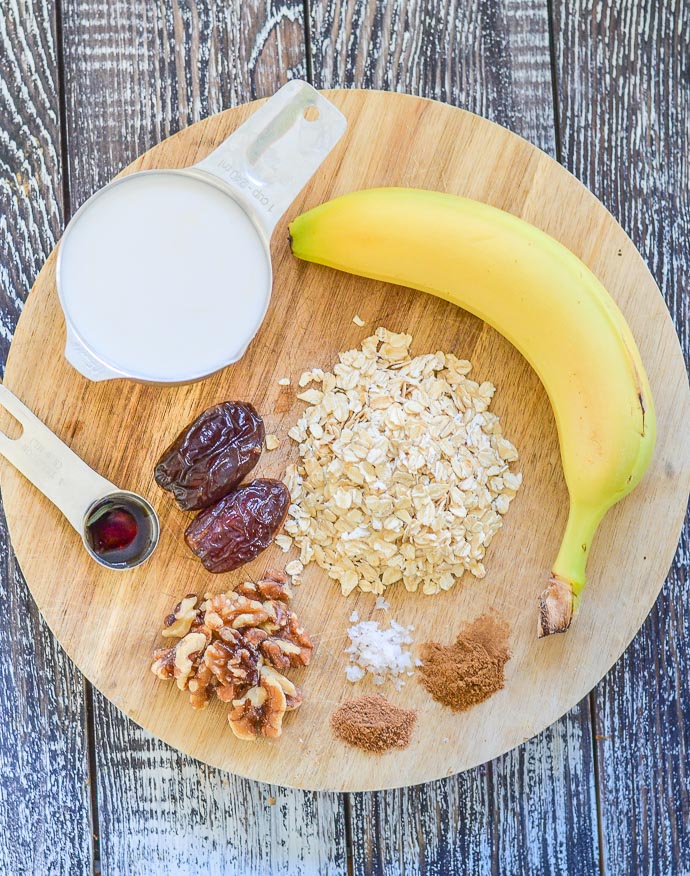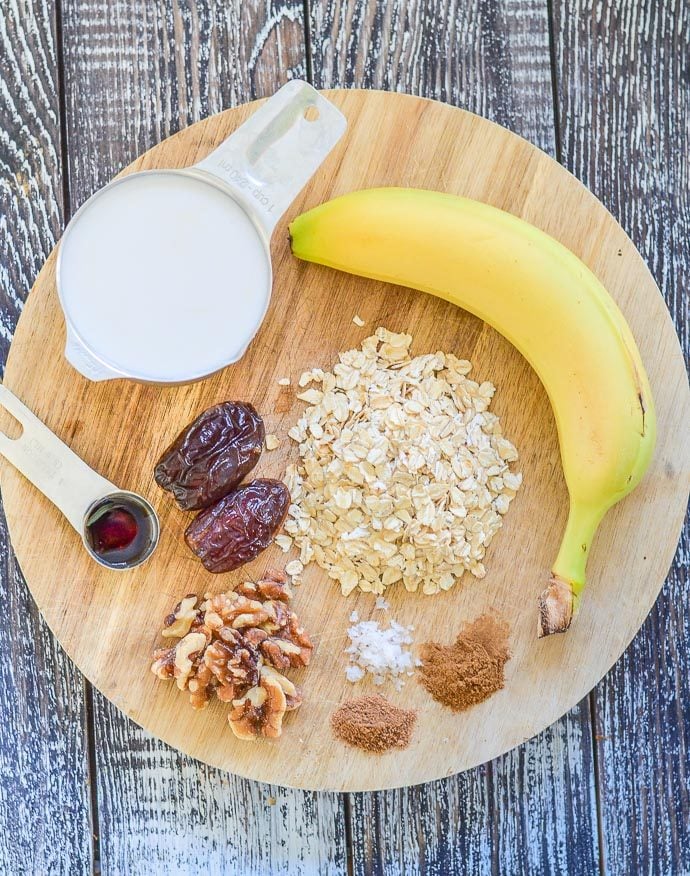 However, feel free to switch it up to suit your tastes. You can use whatever nuts you happen to have on hand, use maple syrup or date syrup instead of medjool dates and cardamom, ginger, turmeric or some cocoa powder instead of the nutmeg and cinnamon. You can even add some flax or chia seeds for an extra nutritional boost. There are so many different combinations that would work really well.
What's also really great about this Banana Smoothie is that you can prep it all in advance if you want to. Just add all of the ingredients to a bag and pop it in the freezer until needed. You could prep multiple bags if you are really organized.
I wish I could be that organized....
Then, when you want it, tip everything out and into a blender, add your milk of choice (I like to use nutty milks for this recipe) and blend until lusciously smooth and creamy.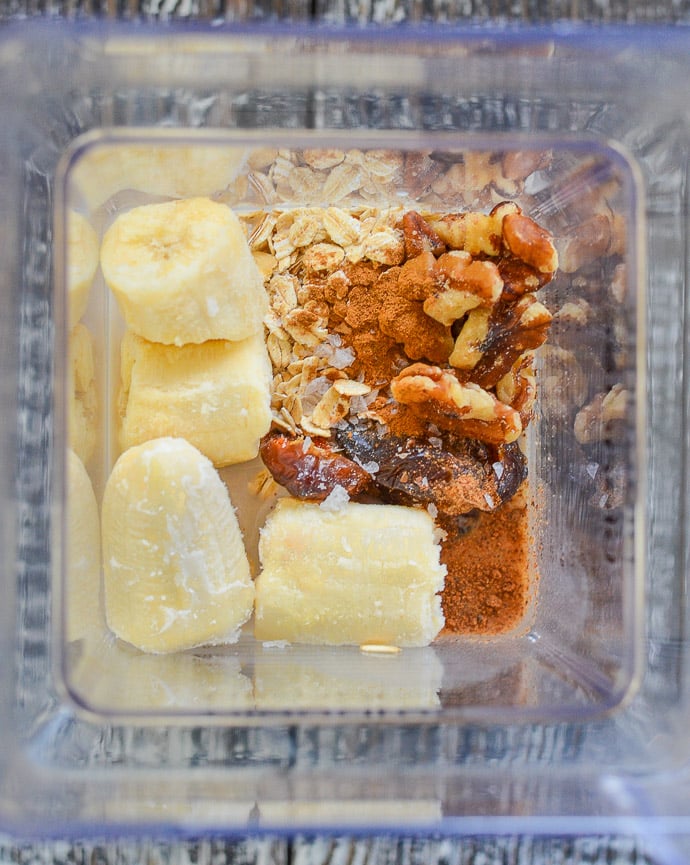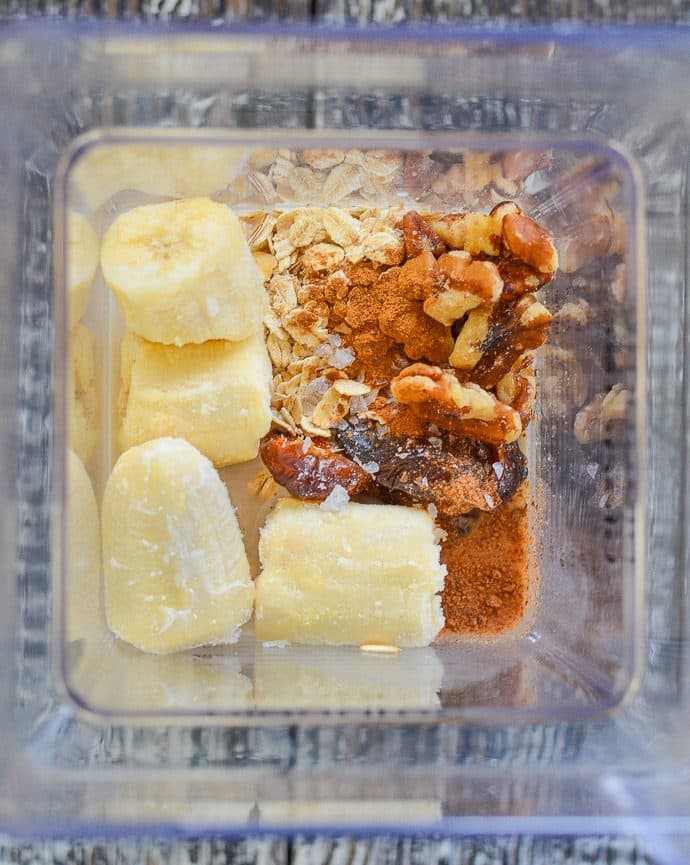 A high powered blender makes such a difference when you make smoothies. I struggled along with my super cheap, old blender until pretty recently and I thought my smoothies were ok. Then it died and my husband talked me into replacing it with a Blendtec like this one:
Wow. The difference is really incredible and it makes smoothies so much more enjoyable.
I hate splashing out on expensive appliances but it kind of shows that you get what you pay for.
HOW TO FREEZE BANANAS
I mentioned earlier that I always have some bananas in the freezer. They really come in handy for smoothie emergencies and for baking Vegan Chocolate Banana Bread, muffins or Chester's Peanut Butter Banana Treats. Any bananas in the fruit bowl that get a little overripe get frozen and I often buy double the bananas we actually need so that we end up with plenty of overripe ones to freeze. I also look out for the bananas marked down for quick sale at the store and stock up to save a few dollars.
To freeze bananas:
peel them
break them up into chunks
lay them in a single layer on a baking sheet covered in parchment paper or a Silpat
put the baking sheet in the freezer being careful to keep it level
when the banana chunks are hard (they don't take long), transfer them to a freezer bag
If I am feeling lazy, sometimes I skip the laying them out on a baking sheet part and just throw the chunks straight in a freezer bag. If you do this though, be prepared to have to prise them apart when you need them as they will stick together. Laziness doesn't always pay off but I never learn ????
This is why I am loving this Creamy Banana Smoothie:
it's quick and easy
you don't need any fresh fruit
the oats make it really filling
it's really thick and creamy
it's full of protein, fibre and healthy fats
the ingredients are flexible and can be changed to suit what you have in the pantry
you can prep the whole thing in advance, store in the freezer then just add milk of choice when you need it
WANT MORE OVERRIPE BANANA RECIPES?
If you have more overripe bananas that need using up, how about giving my Vegan Banana Pancakes or Best Vegan Banana Bread a try too?
And for more smoothies, check out these great options:
And if you love this recipe, please do checkout my cookbook, and subscribe to my email list for a fabulous FREE eCookbook featuring my top 10 recipes. Being on the list means you'll be kept in the loop on all things new and exciting too!
Ok, so are we ready to go bananas? Let's do this!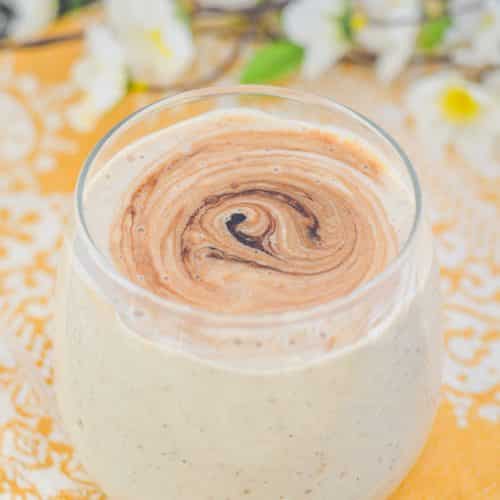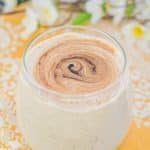 Creamy Banana Smoothie
Author:
A simple Banana Smoothie that is easy to make & packed with healthy, filling ingredients. It's rich, thick & creamy & tastes almost like banana bread!
Ingredients
1

large

frozen banana

33 g / ⅓

cup

oats

, rolled or quick oats

4

tablespoons

walnuts

, or pecans or a combo of the 2

¼

teaspoon

ground cinnamon

⅛

teaspoon

ground nutmeg

1

pinch

sea salt

1 - 2

medjool dates

, or 1 -2 tablespoons maple syrup

½

teaspoon

vanilla extract

180 - 240mls / ¾ - 1

cup

milk of choice

, nut based milks work the best in this recipe
INSTRUCTIONS
Add all of the ingredients to a blender and blend until completely smooth.

Use 2 dates or 2 tablespoons maple syrup if you have a very sweet tooth. Otherwise one will be enough. If your bananas are really spotty and ripe you might get away with no sweetener at all.

Start with ¾ cup of milk, blend and see how the texture is for you. If you want it thinner add the rest of the milk and blend again for a couple of seconds.
NOTES
I like to serve this smoothie with a drizzle of date syrup on the top (as per my photograph). It makes it look really pretty! 
TIP - Prep the ingredients in advance and keep in a bag in the freezer. Then when needed, just tip into a blender, add milk of choice and blend. 
________________________________________________________
DID YOU MAKE THIS RECIPE?
If you did, be a ☆ and let me know what you think by rating it and commenting below. Tag me on Instagram too. I am @avirtualvegan and my hashtag is #avirtualvegan 
________________________________________________________
NUTRITION
Serving:
1
smoothe
Calories:
531
kcal
Carbohydrates:
73
g
Protein:
11
g
Fat:
24
g
Saturated Fat:
2.8
g
Sodium:
206
mg
Fiber:
10
g
Sugar:
34
g
Vitamin A:
500
IU
Vitamin C:
16.5
mg
Calcium:
300
mg
Iron:
3.2
mg
Nutritional information is provided for convenience & as a courtesy. The data is a computer generated estimate so should be used as a guide only.
Tried this recipe?
Rate it & leave your feedback in the comments section below, or tag @avirtualvegan on Instagram and hashtag it #avirtualvegan