This banana-free, Luscious Lemon Cheesecake Smoothie is the most decadent smoothie I have ever tasted. It is like dessert in a glass & tastes just like lemon cheesecake in thick, amazingly delicious, liquid form. It also happens to be super healthy!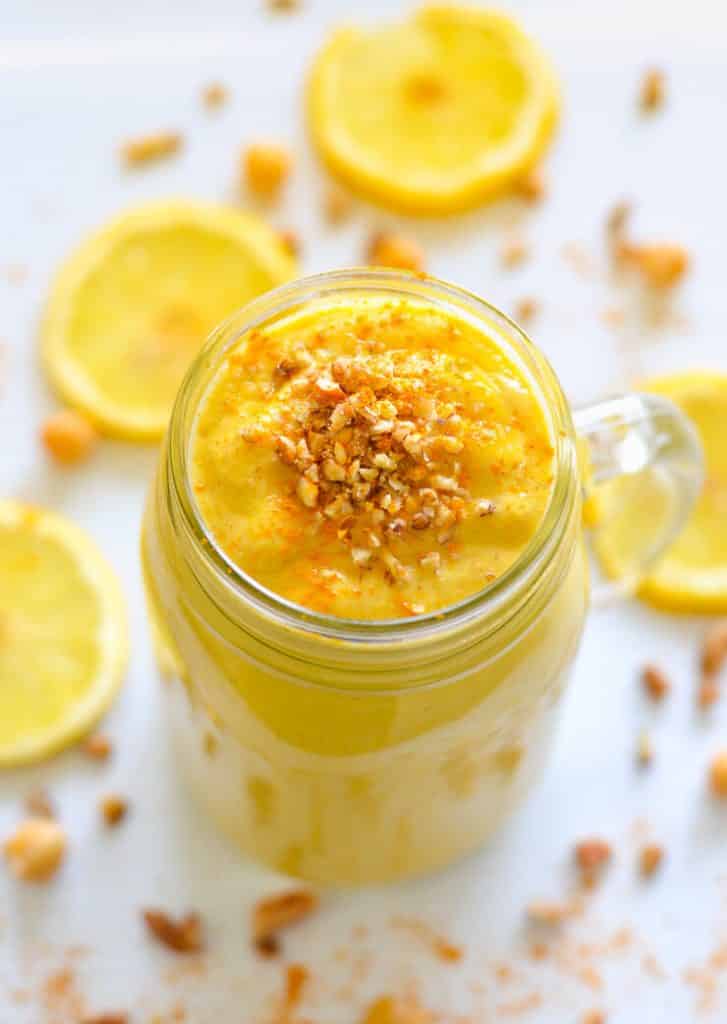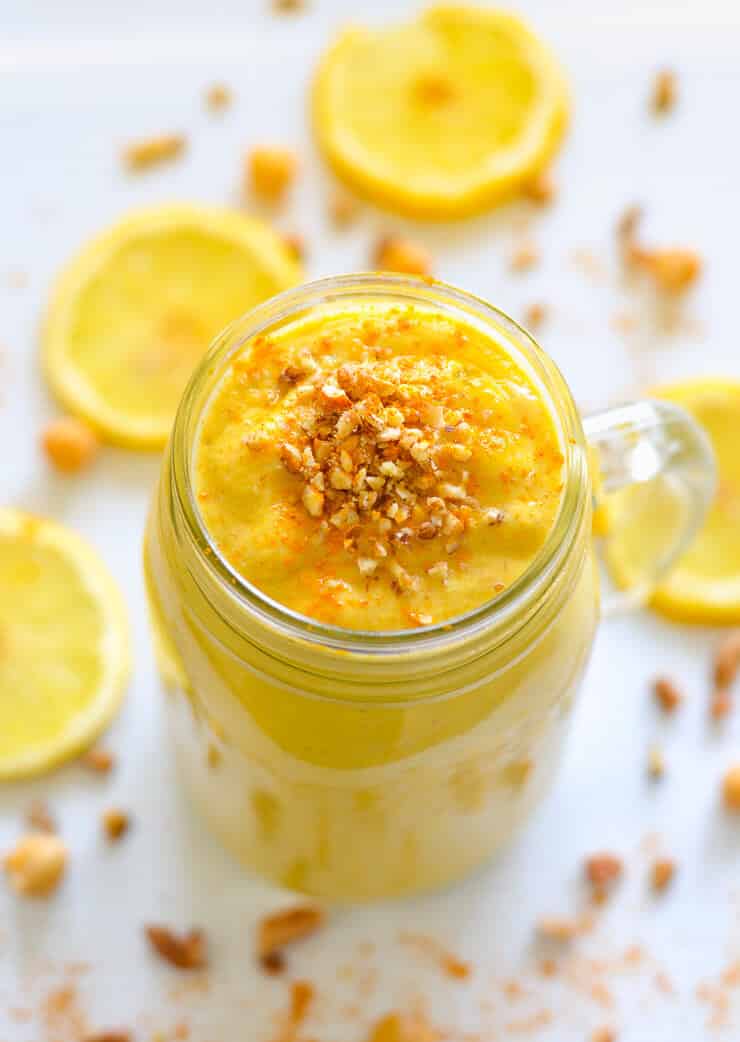 Oh my word! I get excited about all of my recipes, but this Luscious Lemon Cheesecake Smoothie has me really excited. It is so amazingly delicious. I could literally bathe in it, it's so good. I mean cheesecake for breakfast? It's like a dream come true!
I love cheesecake ♡. I would eat it every day if I could, and ever since I created my New York Cheesecake and tasted the batter before baking it, I have wanted to emulate its flavour in a lemon cheesecake smoothie.
Banana-free smoothie
I have been trying on and off for months to get this smoothie right. I knew right away that I didn't want to use a banana in it. As much as I love banana, I am not a fan of it with citrus flavours and I really didn't feel it had a place in my Lemon Cheesecake Smoothie. This left me with a problem because banana (in particular frozen banana), is often what gives smoothies their thick creaminess.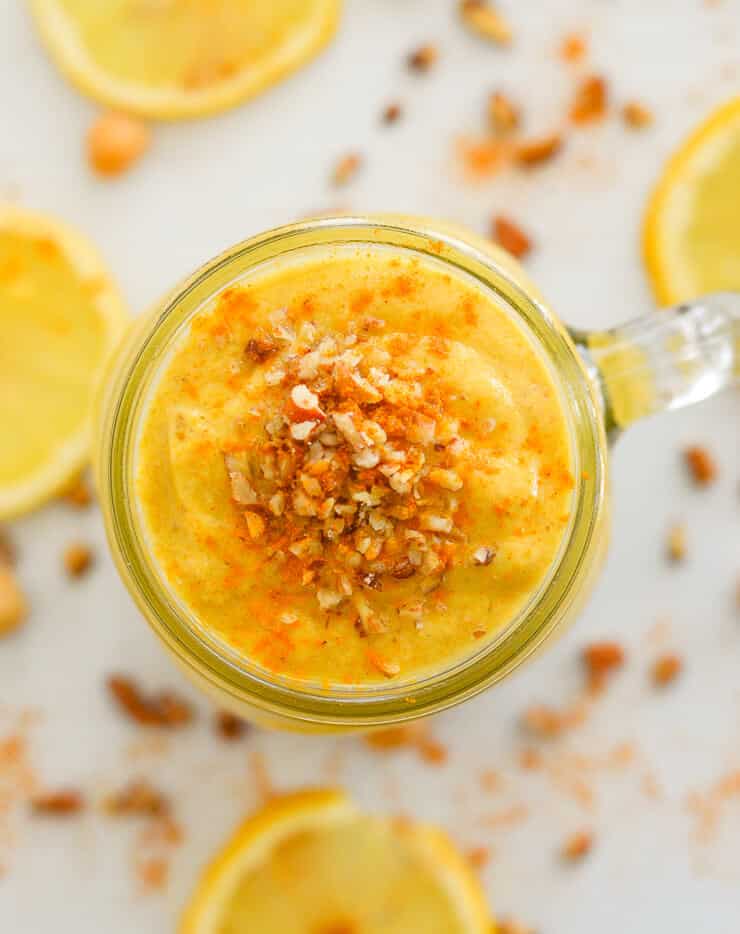 Mango for the win!
I started playing around with different combinations of ingredients and just couldn't get it quite right. I drank so many imperfect, mildly unpleasant smoothies for breakfast along the way and thought I would never get there. Without the banana it needed something to give it some substance and I particularly wanted to use something that wouldn't impart much flavour and that couldn't be detected over the lemon. I discovered that frozen mango did the trick perfectly. The flavour was totally undetectable against the lemon. I was halfway there!
A boost of protein from chickpeas
To give it creaminess (and an added protein boost), I also added some chickpeas. I think they give this smoothie some staying power, which otherwise it would not have. You really don't know they are there. They do their job tastelessly in the background. I used them in my New York Cheesecake too to get that characteristic cheesecake texture. They work brilliantly and are definitely my favourite ingredient of the moment.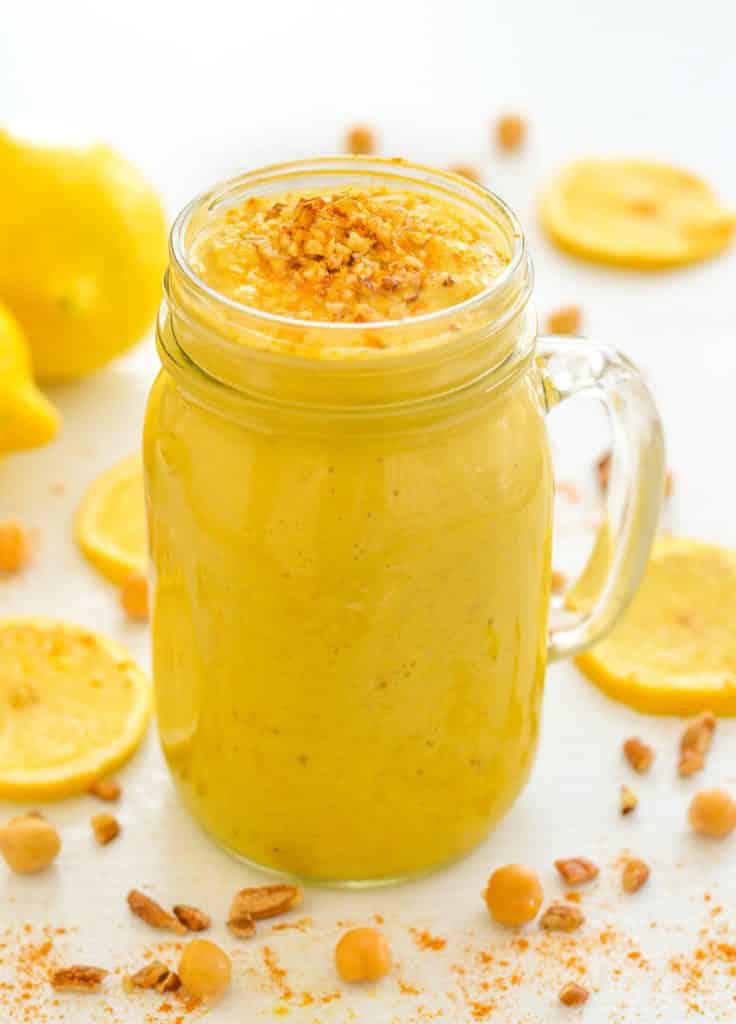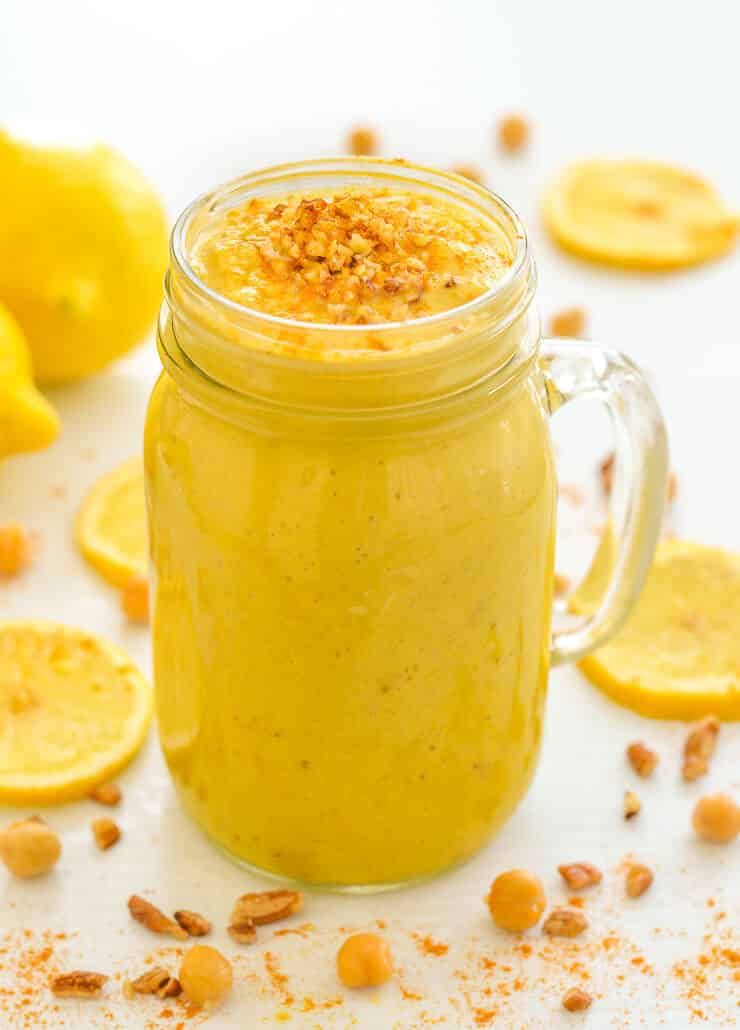 I already had the cheesecake tang kind of worked out after making my New York Cheesecake, so once I had perfected the lemon flavour, I then had to inject the cookie crust flavour. I could have added one of my digestive biscuits. I am sure that would have worked but we don't always have them on hand and I really didn't want to have to ask you to cook a batch of cookies before making a smoothie for breakfast. That would be a bit too much to ask!
Instead, I used a combination of pecan nuts and dates. Pecan nuts have a lovely buttery, almost cookie-like flavour. A lot of raw vegan cheesecakes use them in combination with dates as a crust and when blended up in this smoothie, you end up with little brown flecks that look like cookie crumbles. It also tastes pretty spot on.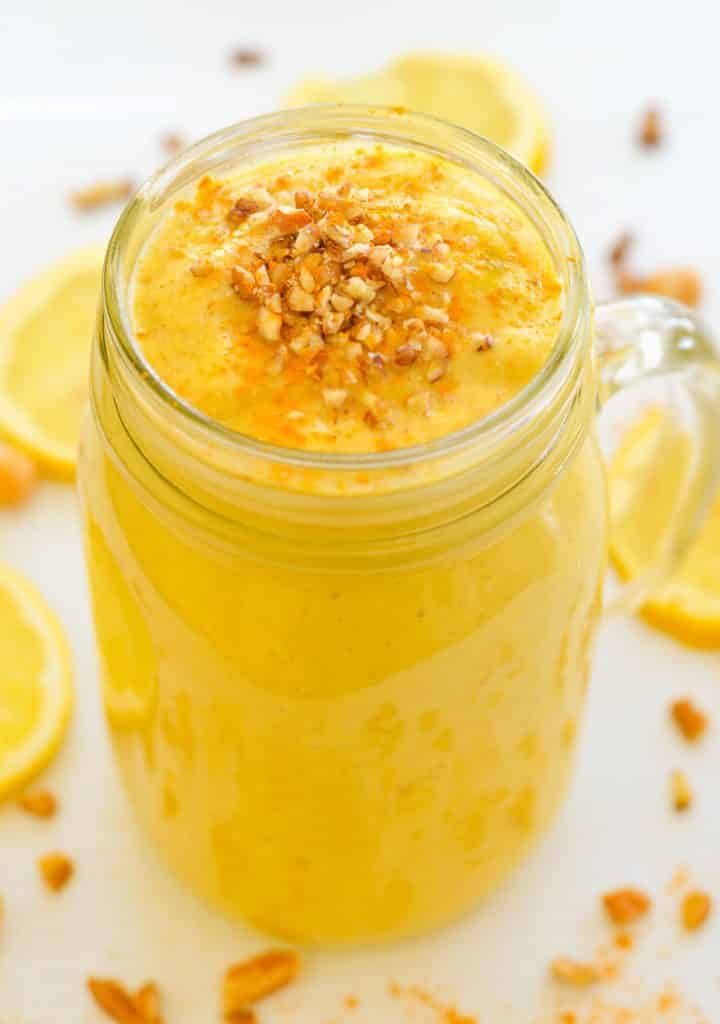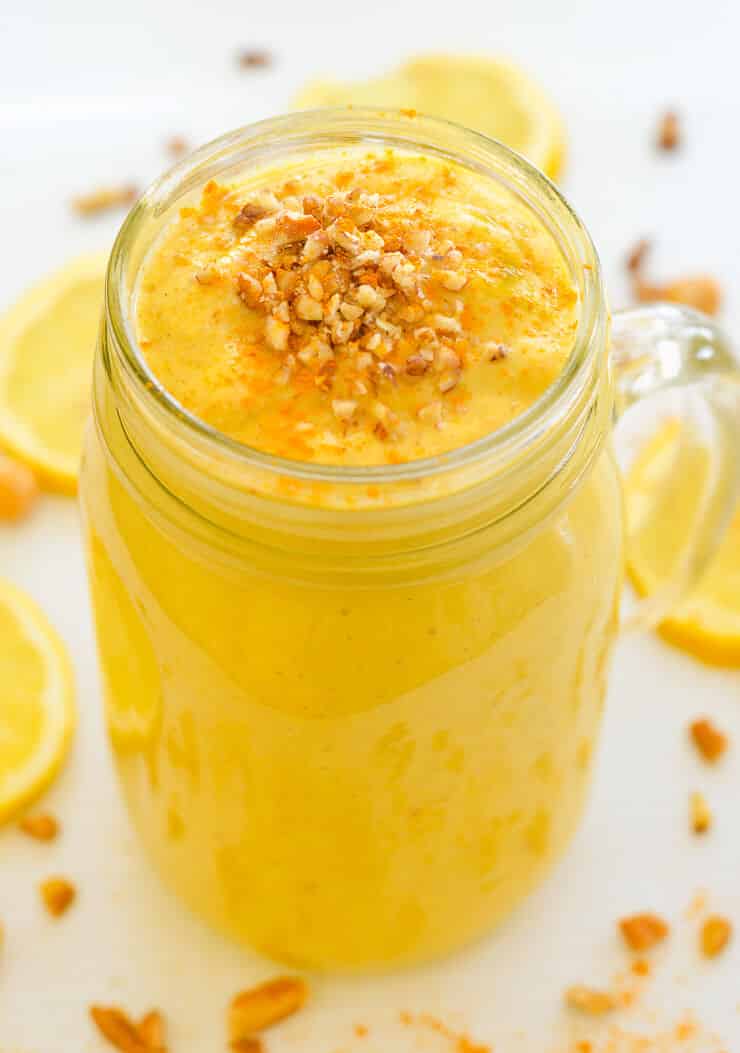 This Luscious Lemon Cheesecake Smoothie is incredibly rich, sweet and zingy all at the same time. It is absolutely packed with nutrition. I mean, it is really good for you. The combination of lemon, mango, chickpeas, nuts, turmeric, apple cider vinegar and coconut contains so much goodness. What an amazing combo!
If you aren't a fan of rich foods or desserts then it might not be for you, but if you are, then you will love it, especially if you are a bit of a cheesecake freak like me!
So what are you waiting for? Get that blender on stand-by and whip yourself up some Luscious Lemon Cheesecake Smoothie magic!
Love Lemon?
If you try this recipe, let me know how you like it by leaving a comment and rating below! And be sure to join my mailing list for more deliciousness!
Recipe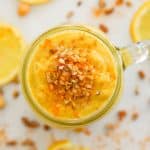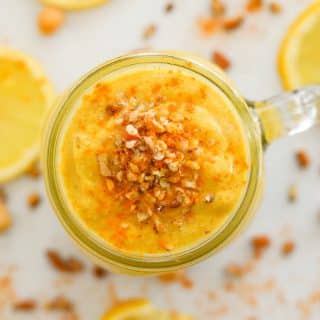 Luscious Lemon Cheesecake Smoothie
Author:
This banana-free, Luscious Lemon Cheesecake Smoothie is the most decadent smoothie I have ever tasted. It is like dessert in a glass & tastes just like lemon cheesecake in thick, amazingly delicious, liquid form. It also happens to be super healthy!
Ingredients
1

medium

juicy lemon

1 cup (240

mls)

light canned coconut milk

¼ heaping cup (50

grams)

cooked chickpeas

1 to 2

medjool dates

¼ cup (25

grams)

chopped pecan nuts

measured in pieces not whole

1 cup (150

grams)

frozen mango pieces

¼

teaspoon

ground turmeric

¼

teaspoon

salt

½

teaspoon

apple cider vinegar

1

tablespoon

maple syrup

optional
INSTRUCTIONS
Begin by zesting the lemon. Put the zest in the

blender

then cut the remaining peel and pith (the white stuff) off the lemon. I do this by cutting both of the pointy ends, then I stand the lemon up on the board. Then I use a sharp knife to cut all the way around it just down far enough to remove the pith and leave the flesh intact.

Once done throw the whole lemon in the blender and discard the pith and peel.

Add all of the other ingredients except the maple syrup.

Blend until completely smooth. It makes quite a thick smoothie. If you prefer it a bit thinner you can add a little more coconut milk, or a drop of water to thin it out a bit.

Taste a little bit and add the maple syrup if you want a touch more sweetness. I like it with the maple syrup. Blend on low for a second to distribute then pour into a glass and enjoy.
NUTRITION
Serving:
1
entire smoothie
|
Calories:
549
kcal
|
Carbohydrates:
68
g
|
Protein:
6.5
g
|
Fat:
30
g
|
Sodium:
296
mg
|
Fiber:
8.5
g
|
Sugar:
39
g
|
Vitamin A:
1400
IU
|
Vitamin C:
47.9
mg
|
Calcium:
50
mg
|
Iron:
3.1
mg
Did you make this recipe?
Rate it & leave feedback in the comments section below. I love seeing your remakes too. Tag @avirtualvegan on Instagram! 🌟