Ok, your brunch dreams are about to come true with THE best Vegan French Toast ever! It's soft, sweet, vanilla scented, golden perfection & all you need to make it are a few simple ingredients & 15 minutes.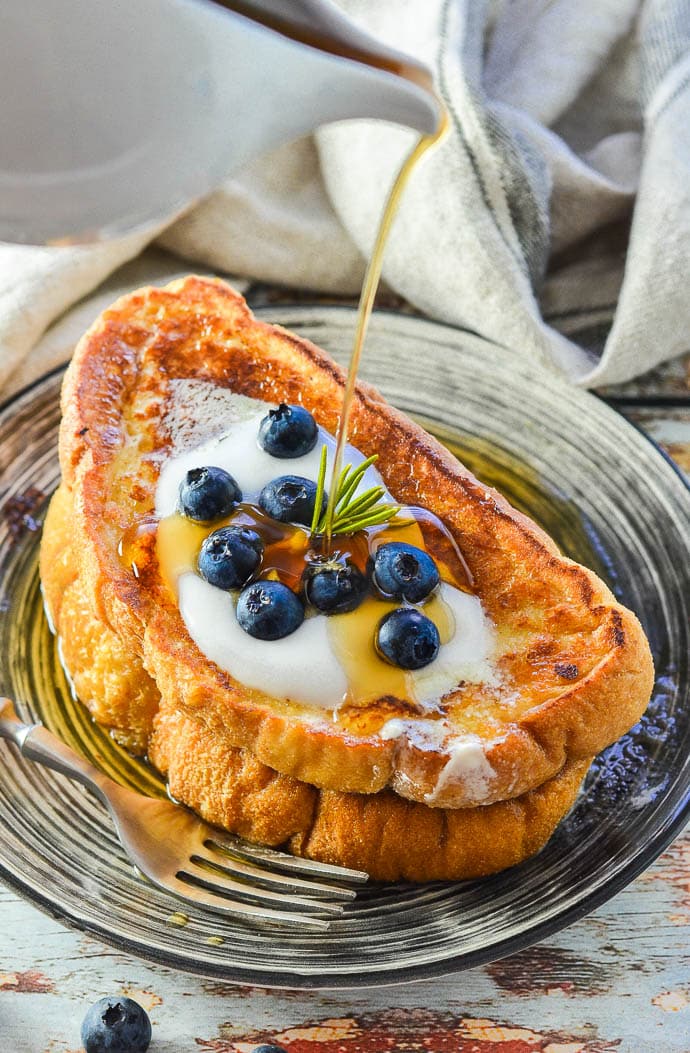 Raise your hands if you love French Toast? *me! me! me!*
So why have I not created a Vegan French Toast recipe until now? I think I've been failing as a vegan food blogger and today I am putting it right and bringing you THE most amazing Vegan French Toast EVER!
We are talking thick, crusty bread, dunked in thick, sweet custard then pan-fried or griddled until it reaches fluffy, golden perfection.
A couple of slices stacked up with a knob of Vegan Butter and some maple syrup, or some vegan yogurt and berries of choice is quite literally brunch perfection.
Some Vegan French Toast truths
Do you want to know why I haven't tried to work on a Vegan French Toast recipe before?
I have tried many recipes, from some excellent vegan bloggers but at the end of the day their recipes are always bread dipped in sweet plant-based milk, or a mixture of plant-based milk and chia seeds. Sometime even chickpea flour makes an appearance. All of these are ok, but the results are nowhere near as good as proper eggy French Toast. Sweet milk or sweet milk with some chia seeds stirred in is not custard and just doesn't do it for me. If I can't make it as good as the original then I'm not making it at all.
Years of French Toast disappointment and longing have passed. Seriously, it was my favourite brunch prior to becoming vegan. Then, a couple of weeks ago I woke up in the middle of the night with an idea.
Yes, I'm weird. I keep a notebook beside my bed because I often wake up with ideas and if I don't write them down, by the morning they have disappeared into recipe oblivion.
So anyway, my idea worked and here we are.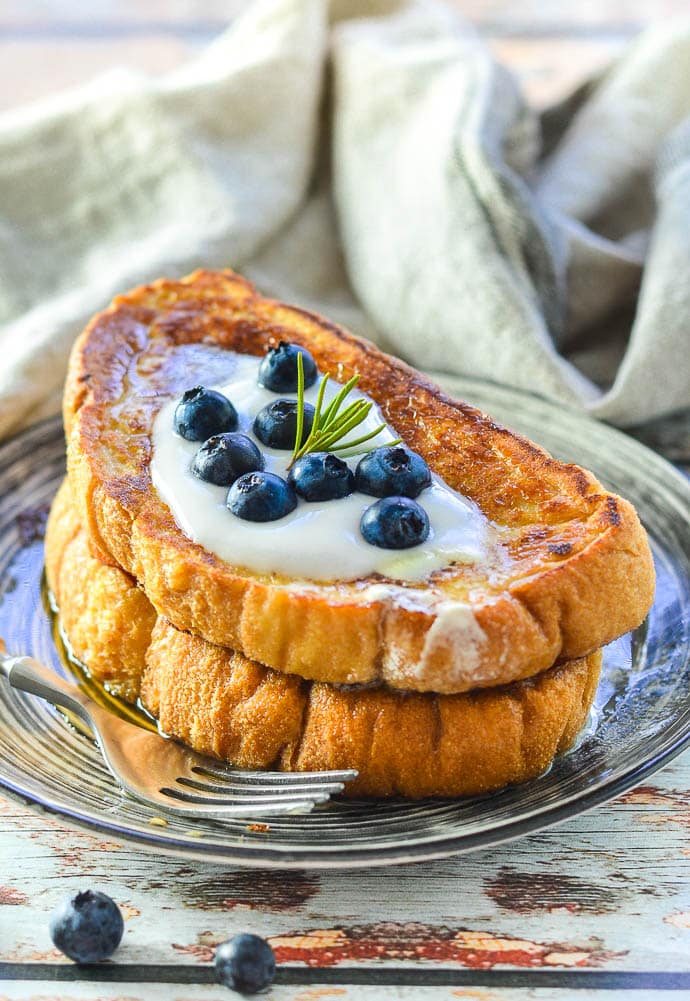 How to make Vegan French Toast?
When you make French Toast with eggs, the eggs cook in the custard and start to set. That's what gives you the soft, melting, custardy centre.
My Vegan French Toast uses tofu instead of eggs and as the French Toast cooks in the pan, the custard starts to set a little and you end up with the same texture as you would if using eggs.
To make the "custard" all you have to do is:
Add the tofu, plant-based milk, vanilla, sugar, salt and cinnamon to a blender and blend until smooth.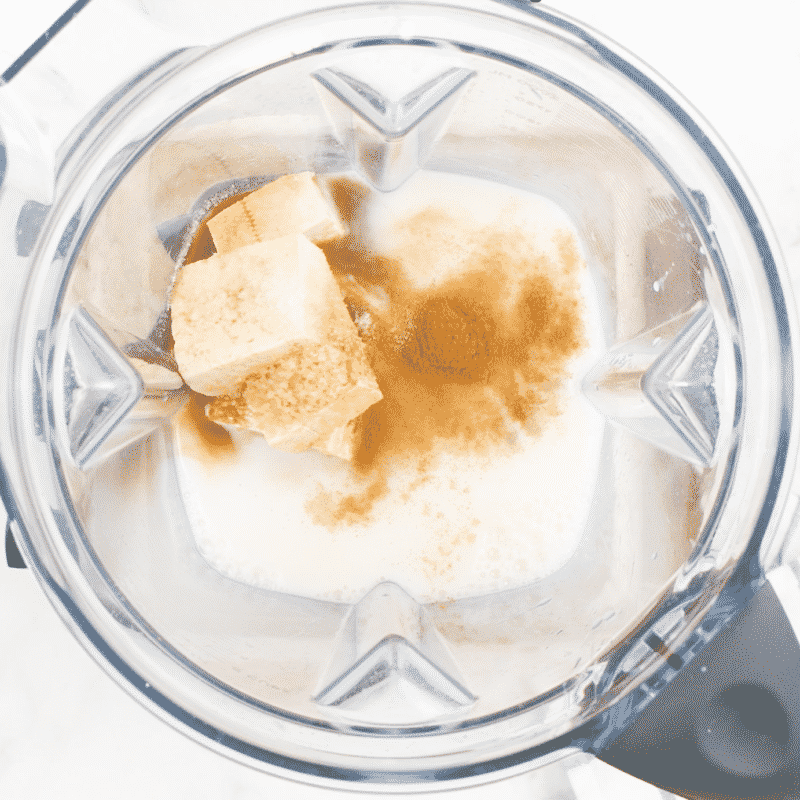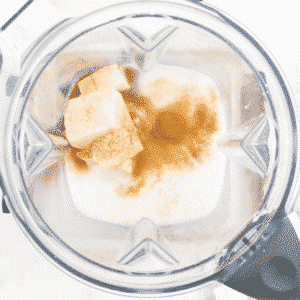 It does need to become silky smooth so make sure your blender is up to the job. The last thing you want are lumps of tofu in your custard. I use a Blendtec blender similar to this one: (<<affiliate link)
Then you are going to cut some big thick slices of
slightly stale, crusty white bread. Using a good quality loaf makes all the difference to the finished result and using bread that is a little dry or even really stale gives the best results. Fresh bread ends up too soggy.
Get those slices and drench them in the custard.


Then pan-fry or griddle until absolutely golden brown and crispy around the edges.


Serve up immediately or keep warm in a very low oven until you have finished cooking the entire batch.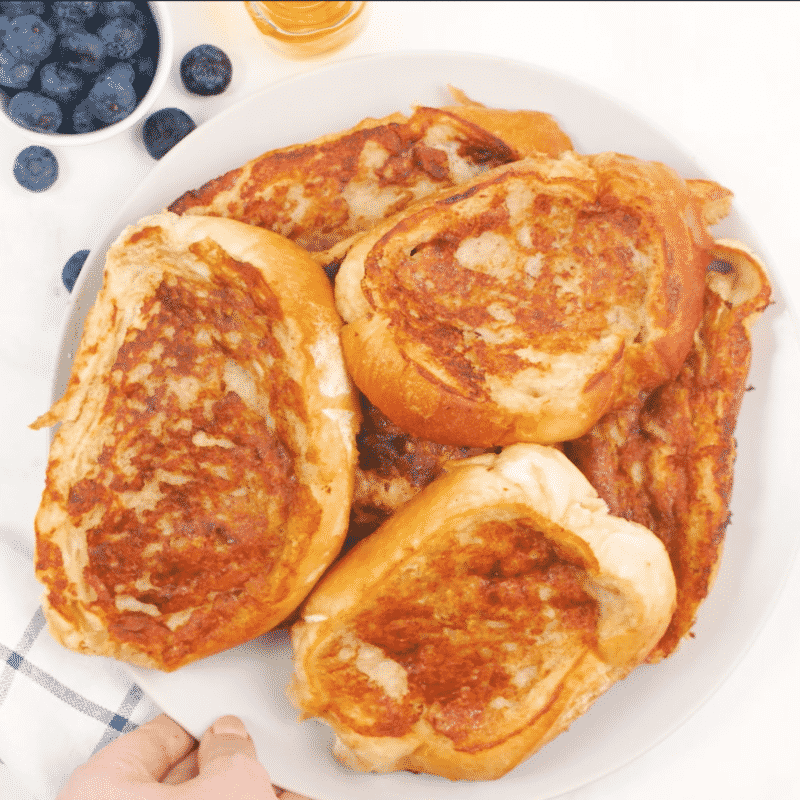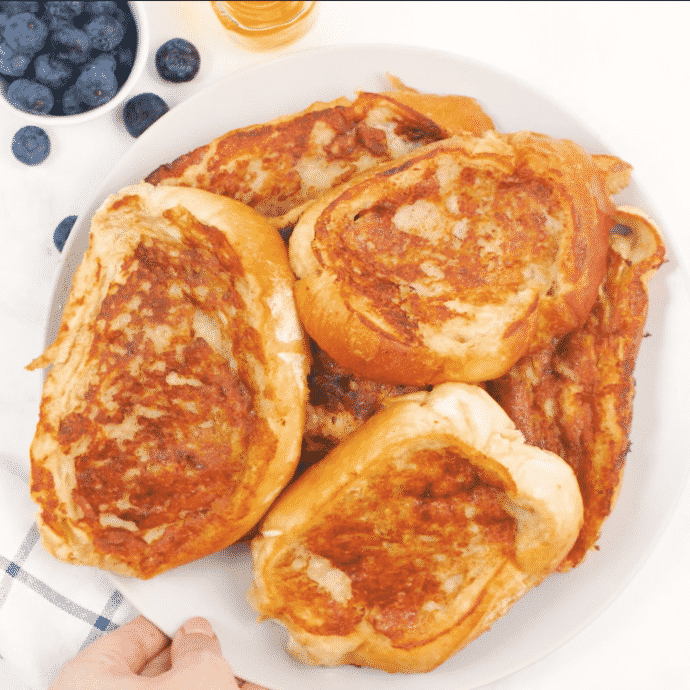 Success Tips
Use stale bread. Fresh bread doesn't soak up the custard so well. It should be at least 2 days old. If you only have fresh bread, slice it up and leave it out on the counter for a few hours to dry out.
Use crusty bread and not cheap white sliced bread. Heartier bread holds it's shape better, it looks better, it tastes better and the crust part is lovely once cooked up in the custard.
Don't change any of the custard ingredients.
Blend the custard until absolutely smooth.
Don't leave the bread to soak for too long in the custard. 20 seconds each side is plenty. Any longer and it will get too soggy and you will risk breakage as you transfer it to the pan.
Use a really good non-stick pan to avoid sticking.
Cook until really golden.
Can I make it in advance?
You could make the custard in advance and keep it in the fridge ready to dunk bread in at a moments notice. It's not possible to make this recipe totally in advance though, but if that is something you would like to do, then I recommend you check out my Vegan French Toast Casserole. That can be made the night before, then left to soak up all of the yummy custard in the fridge overnight. Then when you get up the next day you can pop it in the oven. It's ultra-convenient for lazy weekend or holiday brunches.
How to serve
Of all of my vegan tofu recipes, this Vegan French Toast is my favourite. It is absolutely incredible just as it is with a generous glug of real maple syrup. Take it up a notch with a big knob of vegan butter to melt over it too.
It is also amazing with a dollop of vanilla vegan yogurt and berries of choice and a glug of maple syrup too if you are feeling generous!
Or try serving it with my Vanilla Roasted Strawberries or Blueberry Lavender Sauce .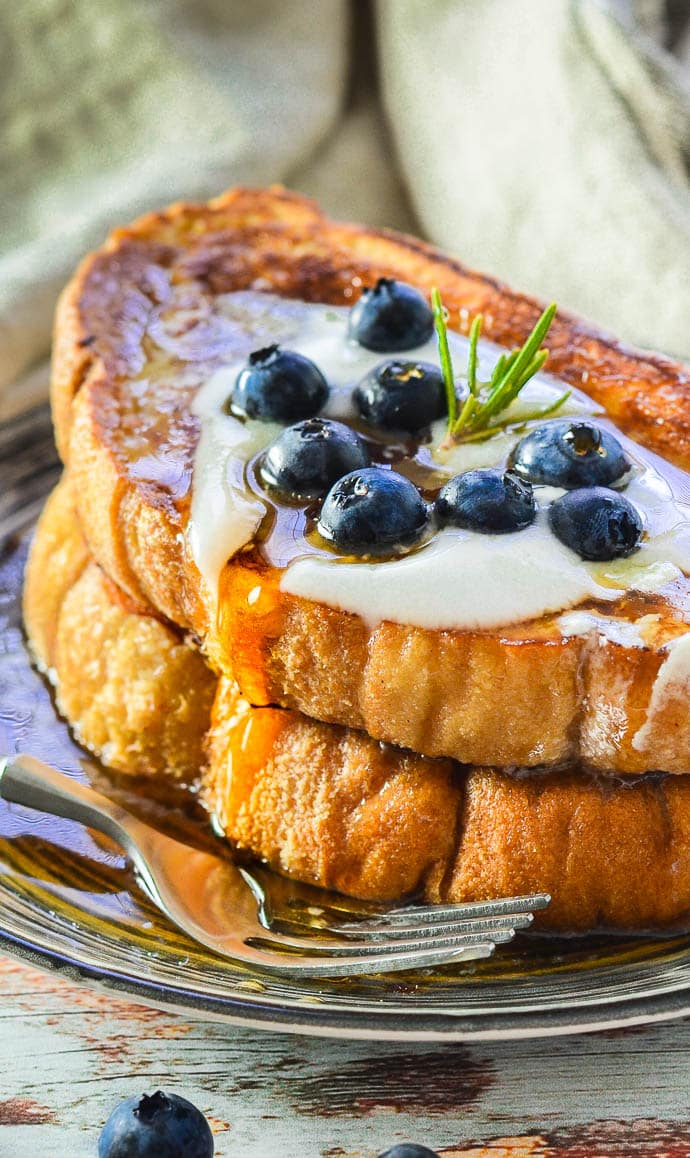 This is why I am loving this recipe:
The texture is perfection. It's like proper eggy French toast only without the eggs!...<Thank you tofu>
It's so tender and rich
That colour! It's so golden brown. I did not touch up the goldenness in my photos at all (note that I did brush a little vegan butter on the griddle plates and if you don't use butter then yours might not turn out quite as golden).
It is not soggy like many other Vegan French Toast recipes I have tried
It tastes amazing! (promise you can't taste the tofu!)
It's really high in protein at 10g per slice!
It's really filling and keeps you feeling that way for hours!
Ok, time to make all of your brunching dreams come true....Let's do this!
And if you really like vegan brunch type situations, check out my Giant Blueberry Vegan Pancake, The Best Vegan Banana Pancakes, Vegan Scrambled Eggs and my Banana Waffles.
Step By Step Photos Above
Most of my recipes come with helpful step by step photos, success tips & a video so you can make them perfectly first time!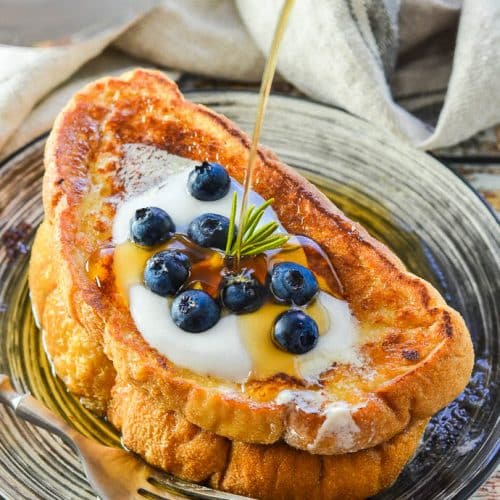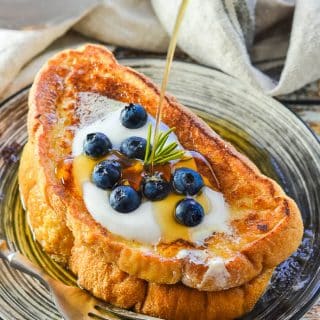 Vegan French Toast
Ok, your brunch dreams are about to come true with THE best Vegan French Toast ever! It's soft, sweet, fluffy, vanilla scented, golden perfection & all you need are a few simple ingredients & around 15 minutes of your time.
Ingredients
240mls / 1

cup

plant-based milk

*

130g / 4½ oz / ½

heaping, very packed cup

extra firm tofu

**

2

teaspoons

vanilla extract

2

tablespoons

cane sugar

***

¼

teaspoon

ground cinnamon

⅛

teaspoon

salt

1

tablespoon

OPTIONAL vegan butter

**** , plus a little extra for brushing on the griddle/pan

6

thick (around 1 inch)

slices of crusty white bread (a couple of days old)

*****
INSTRUCTIONS
Add everything except the bread to a blender and blend until completely smooth.

Preheat a griddle or a pan over a medium/low heat. I set my griddle to 350°F.

Brush the griddle/pan with a little vegan butter (even if it's non stick I recommend doing this as it makes it much easier to keep the golden crust that develops on the bread intact when turning it).

Pour the blended 'custard' into a wide bowl and dip the bread in it. Leave it to sit for around 20 seconds then turn over and leave for another 20 seconds. Make sure all areas are covered, then lift it out and quickly dip the crust around the edges.

Carefully place the custardy bread slices onto the hot griddle or pan. Cook for around 4-5 minutes then flip carefully and cook for another 4-5 minutes on the other side. Try to leave it alone and not peek while it's cooking. If you move it too early the golden surface can get damaged and not look quite so pretty. Keep an eye on it while cooking and if there is any sign of it getting too dark turn it earlier or turn the heat down a little.

Once it is very golden on each side, remove from the pan and serve immediately.
NOTES
*choose a neutral tasting milk. Almond milk has a really strong flavour and doesn't work well in this recipe. If you use sweetened milk omit the sugar or use a little less. I like to use cashew milk or soy milk. 
**extra firm tofu works best. Firm will be ok if that's all you have. Medium and soft are not advised.
***cane sugar is best, turbinado sugar is 2nd best. Do not use brown sugar or coconut sugar. 
****the butter is optional but recommended. It makes it slightly richer in flavour and helps with the browning. 
*****for the best results the bread you use must be a rustic, crusty white loaf that is slightly stale. Soft sandwich bread does not yield good results, nor does really fresh bread. 
Leftover 'custard' will keep in a sealed container in the fridge for 3-4 days. It does thicken up and go a little jelly like. Just add a little milk, put the lid on and give it a good shake or a quick whisk until it's smooth again and the consistency it was originally. Then use again as before.  
NUTRITION
Serving:
1
thick slice
Calories:
238
kcal
Carbohydrates:
38
g
Protein:
10
g
Fat:
5
g
Sodium:
420
mg
Fiber:
1.5
g
Sugar:
7
g
Vitamin A:
100
IU
Calcium:
120
mg
Iron:
2.9
mg
Tried this recipe?
Rate it & leave your feedback in the comments section below, or tag @avirtualvegan on Instagram and hashtag it #avirtualvegan
LOOKING FOR MORE RECIPES?
Be sure to check out my recipe index where you can browse and filter recipes by meal type, category and dietary preference.