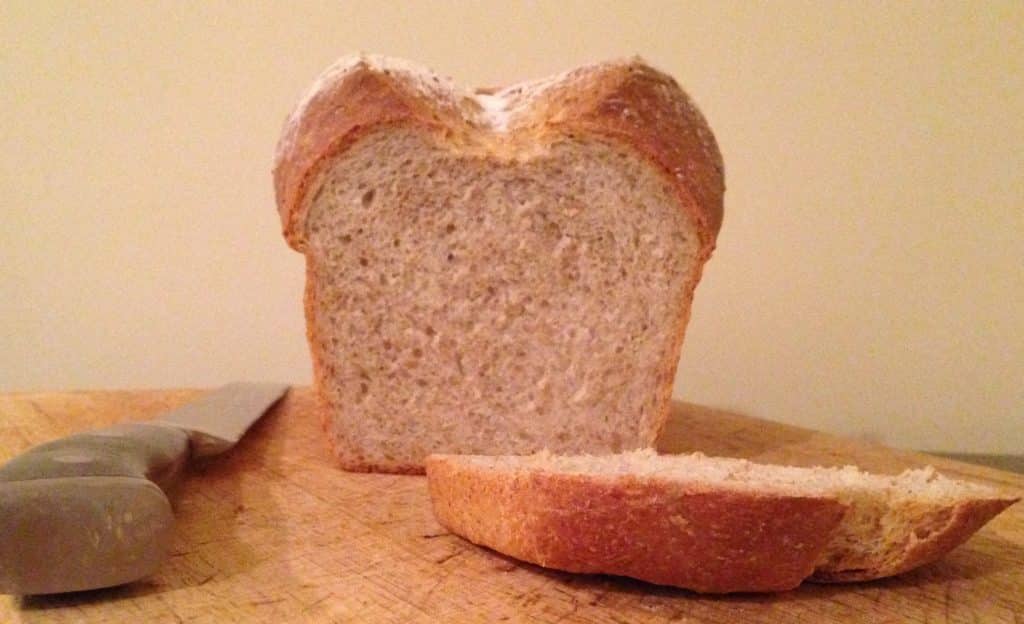 There is nothing more satisfying than baking your own bread. The whole process is so therapeutic and the smell of the dough and the bread baking in the oven is just amazing! My husband loves nothing more than coming in from work to a fresh, warm loaf of bread (except me of course :O)) and often devours half of it before it has even cooled!
Baking bread is so much easier than most people think. I have friends and family who won't even attempt it because they think it is too difficult or too time consuming.  It really isn't. You can adapt the process to fit around your life and I can easily knock up a quick basic loaf after work (I get home at 6pm) and have it ready and cool to make packed lunches before I go to bed.
So here is a basic light whole wheat bread recipe. I started with this one because when making 100% whole wheat bread it is very easy to end up with a brick unless you know what you are doing. This loaf is light and fluffy and a good one to start with. As you become more experienced you can increase the ratio of whole wheat flour to white if you like.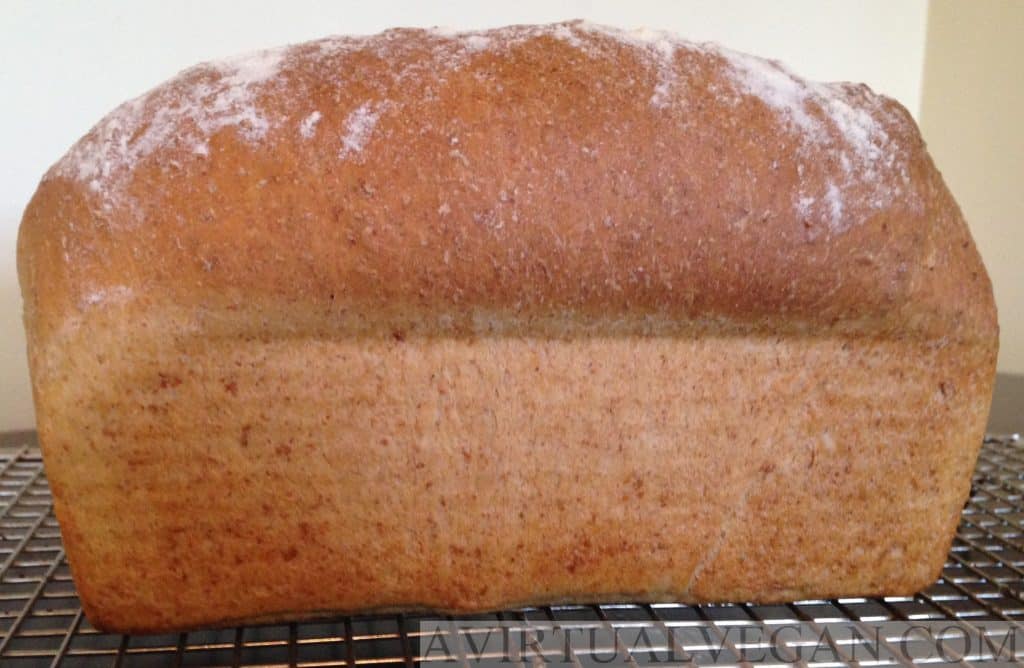 Light Whole Wheat Bread
Beautiful, fluffy whole wheat bread!
Prep Time
2
hours
55
minutes
Total Time
3
hours
30
minutes
Ingredients
300g | 2 + 1/3

all purpose white flour

162g | 1 + 1/4 cups | 162g

cup of wholewheat flour

1

tablespoon

instant yeast or quick rise yeast

standard yeast is good too but you will need to activate it in water before using

2

teaspoons

salt

3

tablespoons

olive oil

or any other oil you prefer

310mls | 1+1/3

cup

tepid water

you might need an additional couple of tablespoons
Instructions
Add both flours, the yeast and the salt to a mixing bowl making sure to put the yeast on the opposite side to the salt.

Add the olive oil and the water. Stir it with a spatula until the flour is absorbed. If it looks particularly dry add a couple of extra tablespoons of water.

Scrape your mixture onto a clean and dry surface. If you think you will find kneading like this difficult then grease your surface and your hands with some olive oil. This will make it easier to handle. Do not use more flour to knead on or add more flour during the process! If you do you risk your bread becoming dense and brick like!

Start kneading. If you are not experienced in kneading dough I recommend you

watch a video on youtube

to help perfect your technique. You will need to knead for about 10 minutes. Your dough will start out quite sticky but the more you knead the smoother and less sticky it will become. After roughly ten minutes your dough will be smooth and if you try to squeeze the ball of dough flat between your two hands it will bounce back into it's ball shape quite readily.

Use a little bit of olive oil to grease your mixing bowl and put your dough in it and twist around to ensure the surface area is coated in oil.

Cover with a damp dish towel, cling film or a shower cap and leave in a draft free area until doubled in size. The time this takes will vary depending on how warm your kitchen is but bear in mind that the longer it takes to rise, the more flavour there will be so unless you are in a hurry you don't want to rush it by cranking up the heating or putting it somewhere very warm. Mine took about 90 minutes. If you needed bread quick you could increase the quantity of yeast up to a maximum of 2 tablespoons. This will make the bread rise more quickly but you will lose out on flavour so it should only be done in a bread emergency!!

Once your dough has doubled scrape it onto your work surface again (a

dough scraper

is a great investment and makes life so much easier!) and knead gently for a few turns to remove any excess air bubbles.

Now you are ready for shaping. I made my loaf in a traditional loaf shape but you can bake yours in whatever shape you prefer. Just remember though that shaping well is not just for aesthetics. It really makes a massive difference to how your loaf turns out, even down to it's texture so it is worth doing right. I recommend watching some videos on You Tube.

This one

for a traditional loaf shape.

Once shaped put into a greased pan I love

USA loaf pans

. Any pan that is roughly 8 - 9 inches long though will be fine. If you want to make a round loaf shape it and put it onto a greased baking tray. Cover again with a damp dish towel, cling film or a shower cap and leave in a draft free area until doubled in size again.

While you are waiting for your loaf to rise preheat your oven to 450 degrees F.

Once your loaf has doubled you can slash the top if you have a sharp enough knife, razor blade or other implement. It needs to be super sharp though or it will drag the dough and ruin your loaf. If you do not have anything suitable then don't worry and leave out this step. You can slash anyway you like, one slash straight down the middle, or two or three width ways. The slashing enables the dough to expand a bit more and you will get slightly better oven spring than you will if you do not slash.

Sprinkle the top of your loaf with a little flour (this just makes it look nice so feel free to omit if you don't want to).

Place in your oven, close the door and immediately turn the heat down to 400 degrees F.

Bake for 35 - 40 minutes.

Your loaf is done when it looks golden and crusty and when you tap it on the bottom it sounds hollow.

As hard as it is to resist eating it when fresh out of the oven it really is best to leave it to cool completely before cutting. Cutting while still warm affects the crumb and might make it slightly damp and doughy. I sometimes make two. One for eating while warm and one for sandwiches etc!
Nutrition Facts
Light Whole Wheat Bread
Amount Per Serving (1 slice)
Calories 193
Calories from Fat 41
% Daily Value*
Total Fat 4.5g 7%
Sodium 490mg 20%
Total Carbohydrates 34.6g 12%
Protein 5g 10%
* Percent Daily Values are based on a 2000 calorie diet.