This is what happens when a beautiful chocolate brownie and a handsome can of chickpeas have a secret love child……Yes it's Dessert Chocolate Hummus….Yes it is amazingly delicious….And yes dessert hummus is a thing!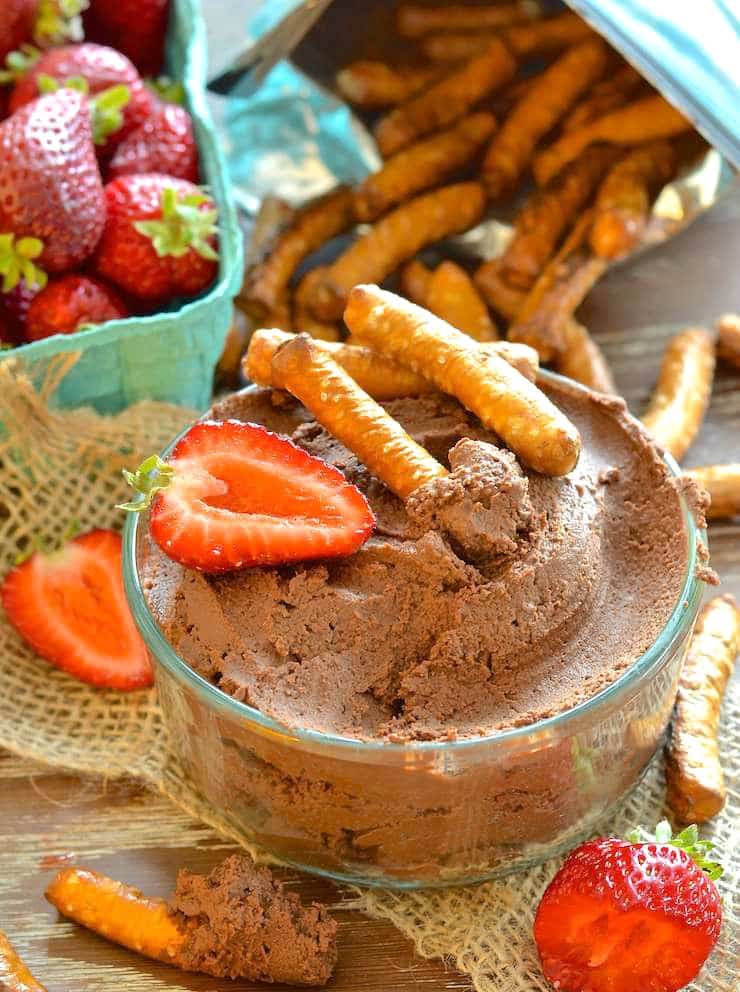 It's only Dessert Chocolate Hummus! The two loves of my life, chocolate and chickpeas, combined in a blissful and extremely delicious union. This is what I was trying to make when I accidentally ended up with my Healthy Raspberry Chocolate Fudge Tart last week.
A HAPPY ACCIDENT
I was trialling the recipe and added coconut oil to the chocolate hummus without thinking about what would happen to it when it went in the fridge. The next day I wanted to eat some and found that it had set up overnight and was sliceable rather than dip-able like hummus should be. I instantly realized that it would make an amazing tart filling and well, you know the rest of the story.
Recipe trials continued on the Dessert Chocolate Hummus and the result is this wonderfully rich, chocolatey multi-purpose dip/spread. It is so easy to make. Throw everything in a food processor or powerful blender and process until smooth. It takes minutes. Here's a quick video to show you just how easy it is!
PERFECT WITH PRETZELS
This Dessert Chocolate Hummus is extremely versatile. It is wonderful as a dip. My favourite dippers are pretzels. There is just something about the combination of crunchy, salty pretzels and the cool, soft, extra chocolatey hummus. It is magic. We all know that salted chocolate is great, but this combo is even better and I found the most perfect pretzels for the job. I hope they are available where you are because they are just the best dippers for this hummus. They are called Neal Brothers Organic Pretzel Rods and they are extra thick and sturdy so there will be no breakages in your hummus. Aren't bits falling off and into the hummus annoying, especially when you are sharing with other people?! (I am not affiliated with Neal Brother's in anyway and haven't been paid to say this, I just love their product as a partner with this hummus :O)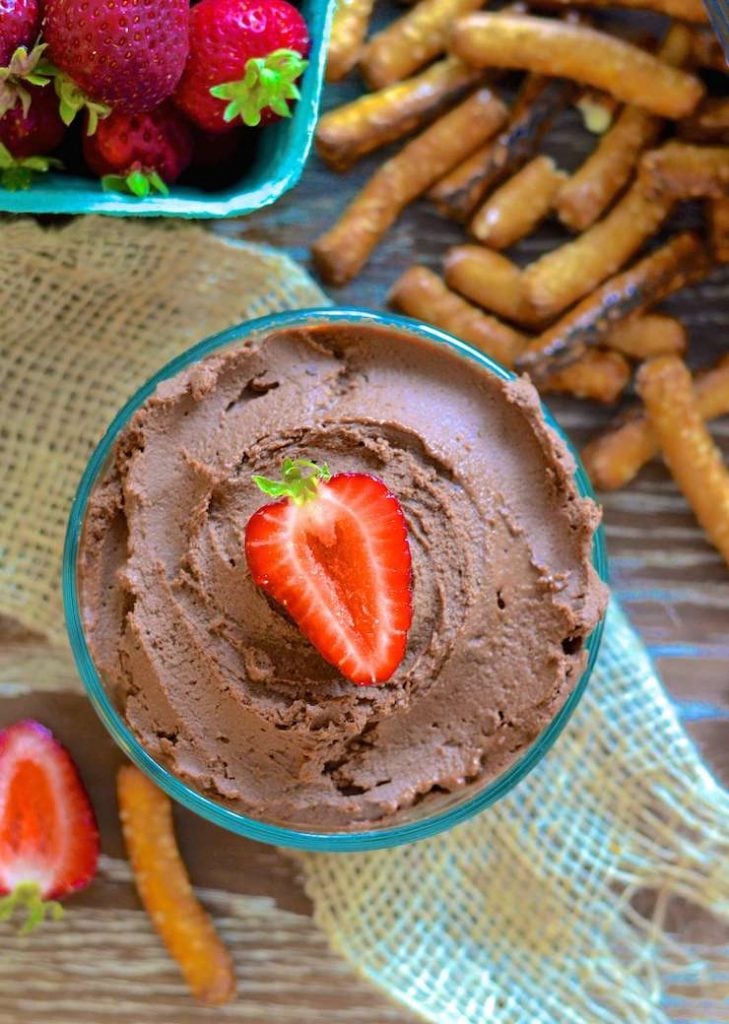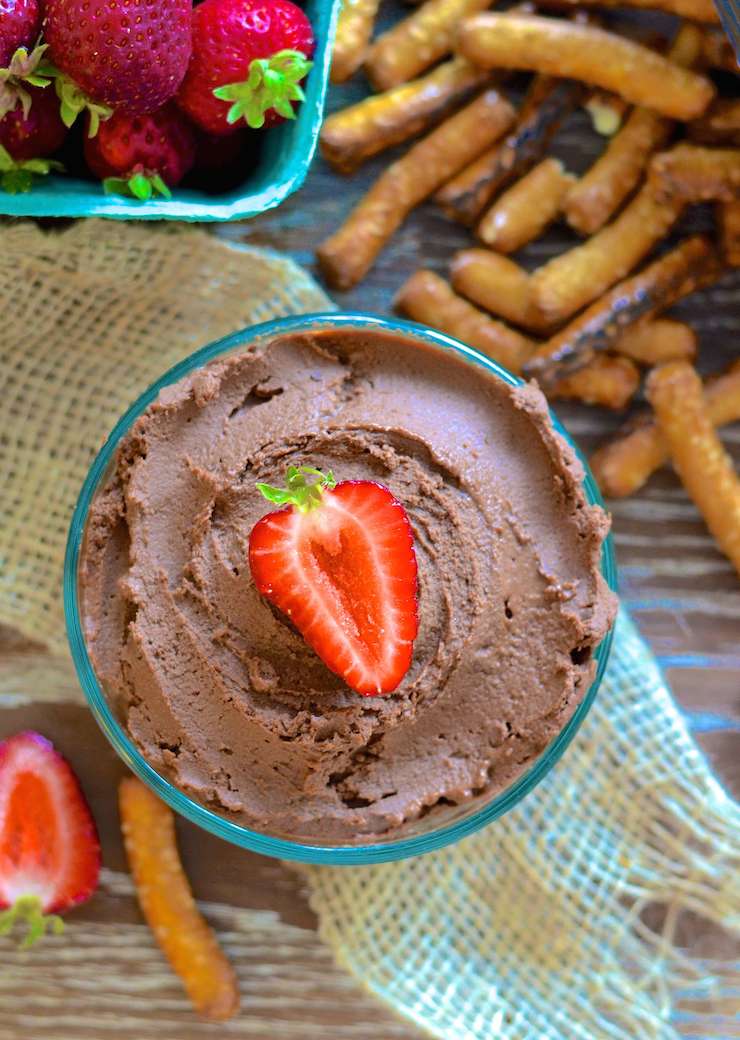 MORE WAYS TO SERVE DESSERT CHOCOLATE HUMMUS
Other fabulous dippers are pita chips, crackers, cookies (my Digestive biscuits are perfect for this!) toast fingers, nuts and of course fruit. Lots of different fruits go well with chocolate and are great for dipping into my Dessert Chocolate Hummus.  Strawberries, banana (frozen banana dipped would be a-mazing), apple slices, persimmon, grapes would all be fantastic. Using fruit is a wonderful way to get healthy stuff into your children without an argument!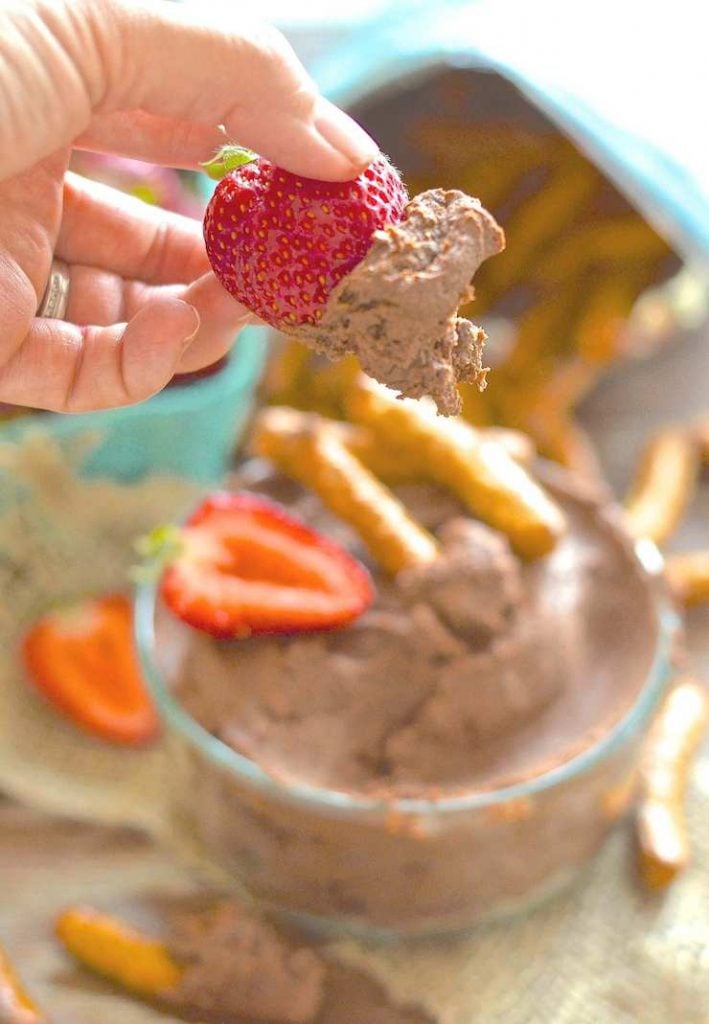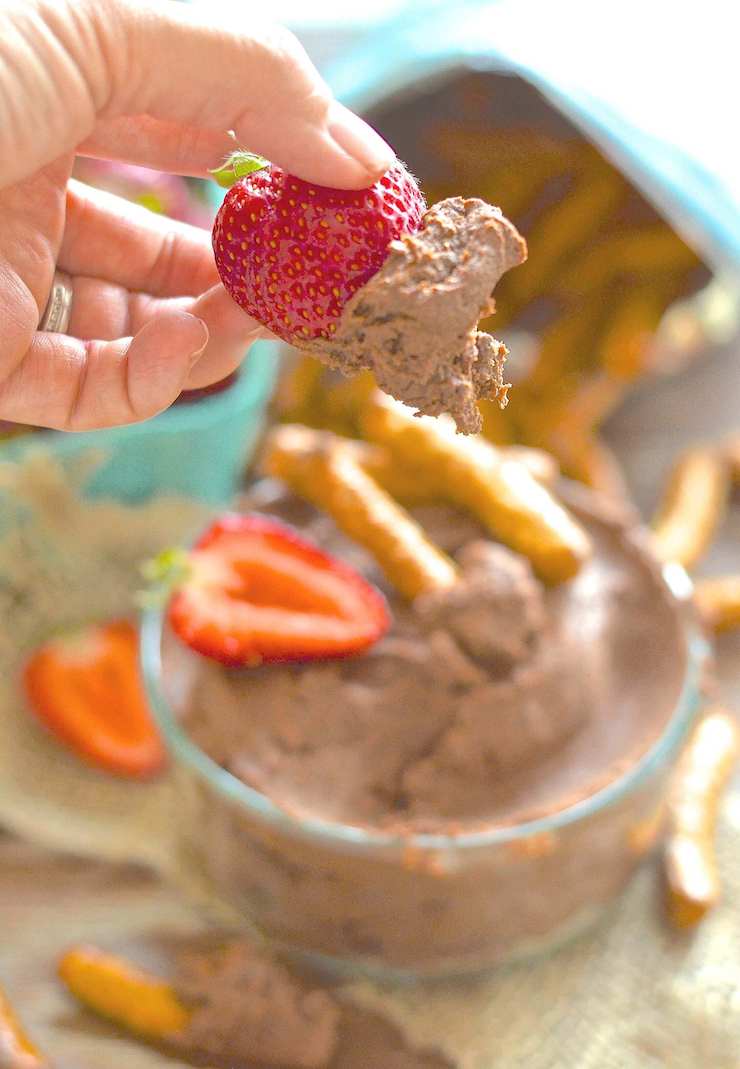 Try my Dessert Chocolate Hummus in a banana sandwich too. Spread two slices of bread generously with it, add lots of sliced banana, sandwich it all together and hey presto, you have a Brownie Batter Hummus and banana sandwich. Children would go wild for them, as would I…….
You can also use it as a pancake or waffle topping either as it is, or dilute it slightly with a bit of non-dairy milk then warm it gently to make an easy chocolate sauce.
PERFECT FOR PARTIES
This Chocolate Hummus is fabulous for dessert or snacks and would be awesome at parties and pot-lucks too.
Once of the most interesting ways to use this hummus is as a frosting on cakes, brownies and cupcakes. It's so much healthier and much lower in fat than regular frosting and tastes just as good. This might well be the basis of a future recipe…..Watch this space.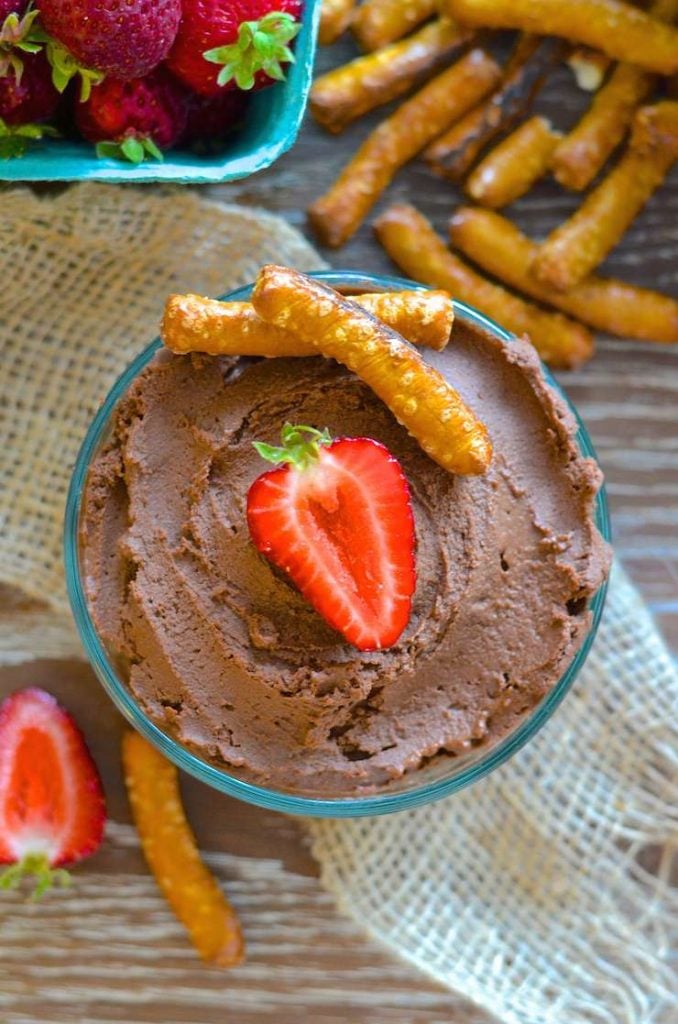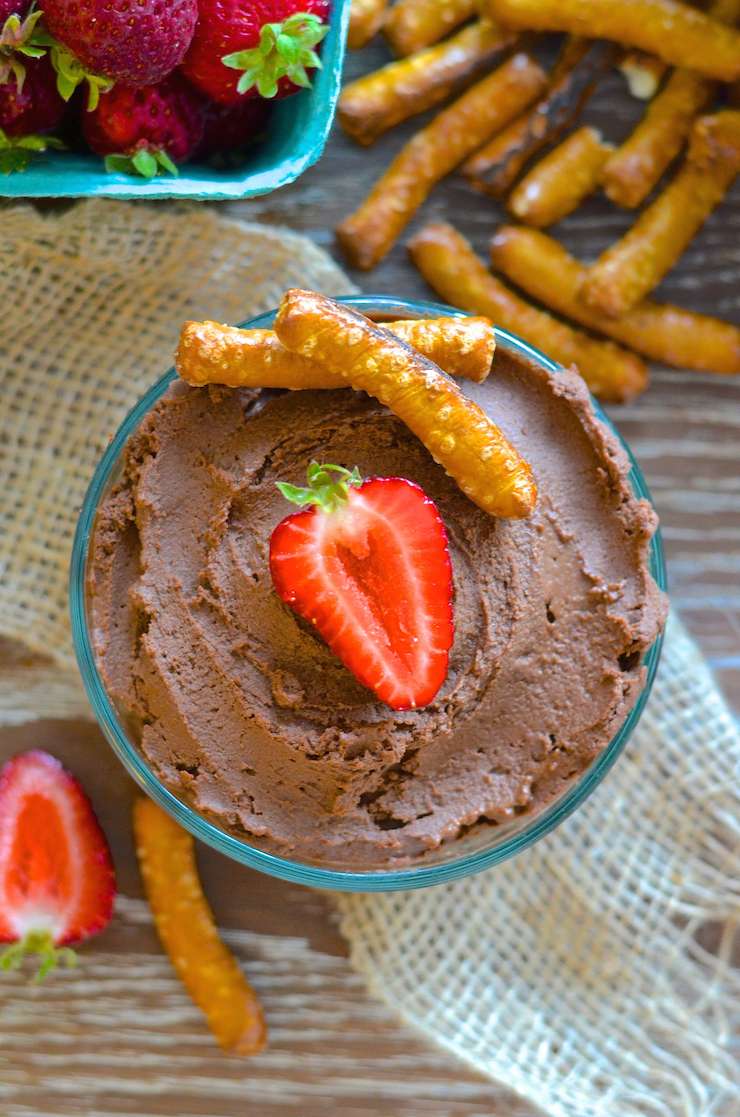 My Chocolate Hummus isn't as healthy as regular hummus because it is loaded with chocolate, but it is still high in protein and fibre, fairly low in fat and is a much better alternative than many other chocolate dips out there. Remember though that it is a dessert so moderation is key. Don't eat it every day for a week like I did………..Just saying…..Oh and if you love it be sure to check out my Snickerdoodle Dessert Hummus too!
LET ME KNOW WHAT YOU THINK!
If you make this super-duper Chocolate Hummus or any of my other recipes then please let me know what you think in the comments below. I love to get your feedback. Share your pics on Instagram too. I am @avirtualvegan and it's best to use the hashtag #avirtualvegan as it makes sure that I won't miss them. I love to see your version of my recipes!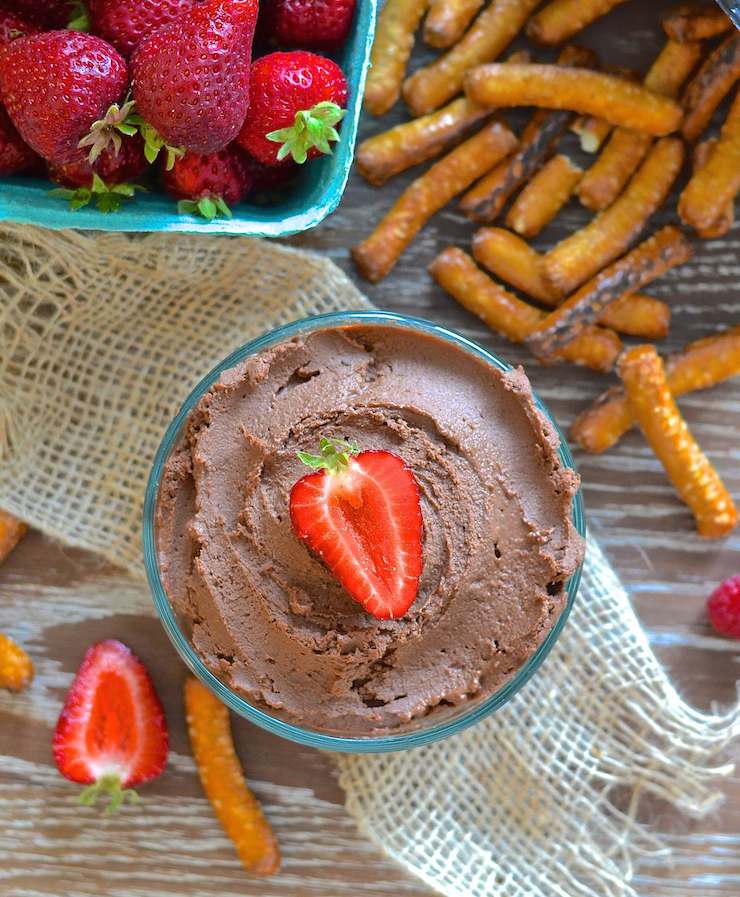 Dessert Chocolate Hummus
This is what happens when a beautiful chocolate brownie and a handsome can of chickpeas have a secret love child……Yes it's Dessert Chocolate Hummus….Yes it is amazingly delicious….And yes dessert hummus is a thing!
Servings
8
servings (each ¼ cup)
Ingredients
2

cups | 1 540ml can

cooked chickpeas drained and rinsed well

5

tablespoons

cocoa powder

½

cup | 100g

chocolate chips

I like to use semi-sweet but you can use whatever you have

¼

cup + 2 tablespoons | 6 tablespoons

maple syrup

see recipe note

¼

cup | 4 tablespoons

non-dairy milk

see recipe note

½

teaspoon

salt

1

tablespoon

vanilla extract
Instructions
Add all of the ingredients except the milk to a

food processor

or blender.

Process until completely smooth.

Add as much milk as is required to get the consistency that is right for you. I used ¼ cup but you might prefer slightly more or less.

Process again.

Store in a sealed container in the fridge.
Recipe Notes
It keeps well for up to 7 days and would probably freeze well too although I haven't personally tried.
Feel free to use slightly less if you don't want as much sweetness or if you use regular chocolate chips instead of semi-sweet. If you do use less just replace the remainder with milk.
Feel free to add more milk if you want it slightly looser.
Nutrition Facts
Dessert Chocolate Hummus
Amount Per Serving (1 serving)
Calories 158
Calories from Fat 45
% Daily Value*
Total Fat 5g 8%
Sodium 166mg 7%
Potassium 211mg 6%
Total Carbohydrates 27g 9%
Protein 5g 10%
* Percent Daily Values are based on a 2000 calorie diet.