Chocolate + Tahini = complete & utter deliciousness. Honestly….Don't take my word for it..Make a batch of these Chocolate Tahini Crunch Bars & find out for yourself!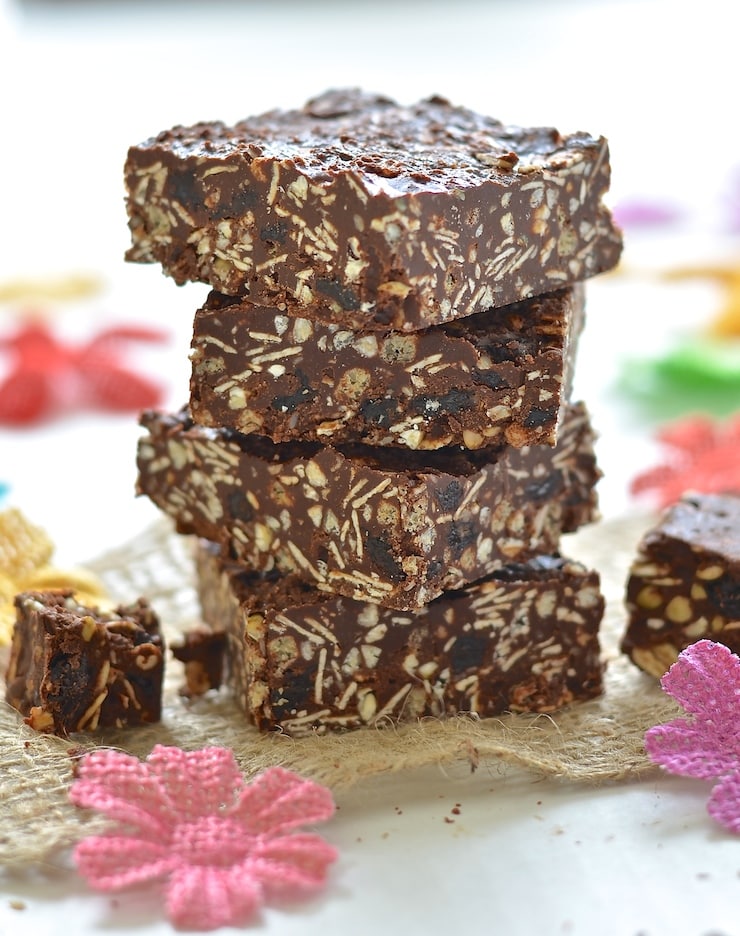 Having this blog has made me realize just how much I love chocolate. I have a notebook full of recipe ideas that I jot down as they pop into my head and I think that about 80% of them involve chocolate in one way or another. I literally have to force myself not to publish a chocolate fuelled recipe every week. I can only hold back for so long though and it's been at least two and a half weeks since I published my Healthy Chocolate Smoothie recipe. That's long enough to wait, right?
These Chocolate Tahini Crunch Bars are the ultimate chocolatey treat, but as indulgent as they are, they are also packed full of healthy, nutrient rich ingredients like tahini, buckwheat groats, hemp hearts and rolled oats. All of these wholesome ingredients are combined with dark chocolate and tahini to make the most delicious and hard to resist bars.
Chocolate and tahini are, quite literally, a match made in heaven. The rich, roasted sesame flavour coming through in the chocolate is so good, and the textures from the other crispy, crunchy and chewy ingredients are out of this world. I literally could not stop eating them.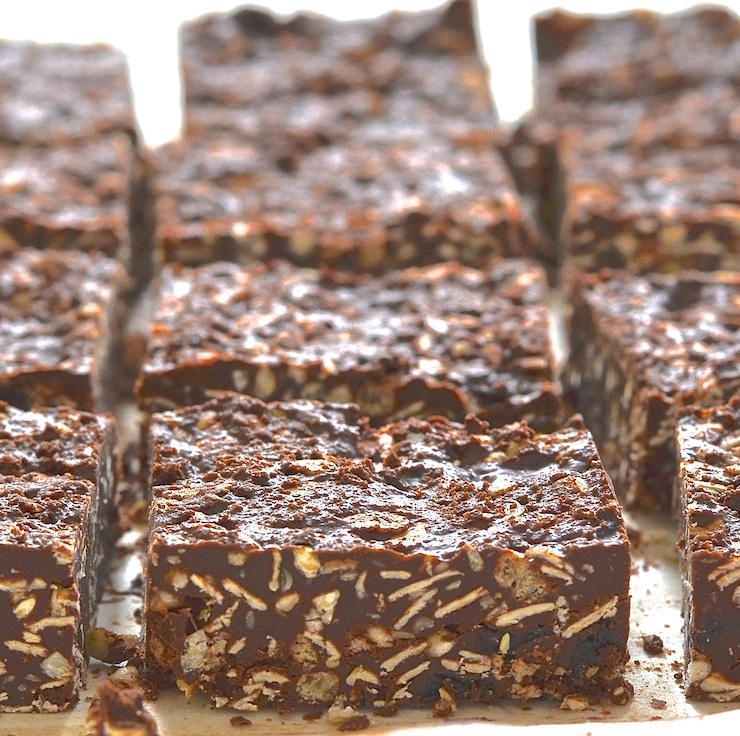 These Chocolate Tahini Crunch Bars only take ten minutes max to make, then need a few hours to set up in the fridge, although you could hurry this along by placing them in the freezer for a little while instead. Once they are set, all you need to do is slice them into bars or squares and you are good to go. I cut mine into sixteen bars but you can make yours as big or small as you like. They are pretty rich so I wouldn't advise cutting them too big.
As long as you stick to the chocolate tahini ratio in this recipe, the rest of the ingredients are pretty interchangeable. If you don't have one of them just sub it for a bit more of one of the others or add something that you do have in your pantry instead. Other ingredients that would work well really are puffed quinoa and nuts. Have fun and be inventive!
If you make these Chocolate Tahini Crunch Bars please let me know what you think in the comments below. Don't forget that you can now also rate my recipes by hitting the yellow stars at the start of the recipe card. I would also love it if you could share your pictures on Instagram. You can tag [email protected] Use the #avirtualvegan so I don't miss them.
Yields 16
Chocolate Tahini Crunch Bars
Chocolate + Tahini = Complete & utter deliciousness. Honestly....Don't take my word for it..Make a batch of these Chocolate Tahini Crunch Bars & find out for yourself!
10 minPrep Time
10 minTotal Time
Ingredients
Instructions
Line an 8 x 8 pan with parchment paper leaving some excess around the sides to act as handles.
Put chocolate, tahini and salt into a pan and melt together over a very gentle heat, stirring occasionally until totally melted.
Remove from the heat and stir in the other ingredients.
Spoon out into your prepared tin and press down really well all over.
Refrigerate until set then cut into even pieces.
Notes
Can be stored in an air tight container in the fridge for up to 4 weeks.
6.6.15
https://avirtualvegan.com/chocolate-tahini-crunch-bars/
Melanie McDonald | A Virtual Vegan