This Dessert Strawberry Salsa is packed with sweet, juicy, fresh strawberries & is served with homemade crunchy Cinnamon Chips that make the perfect scoopers! This is a dessert meets dip meets snack situation that is just perfect for feeding a crowd.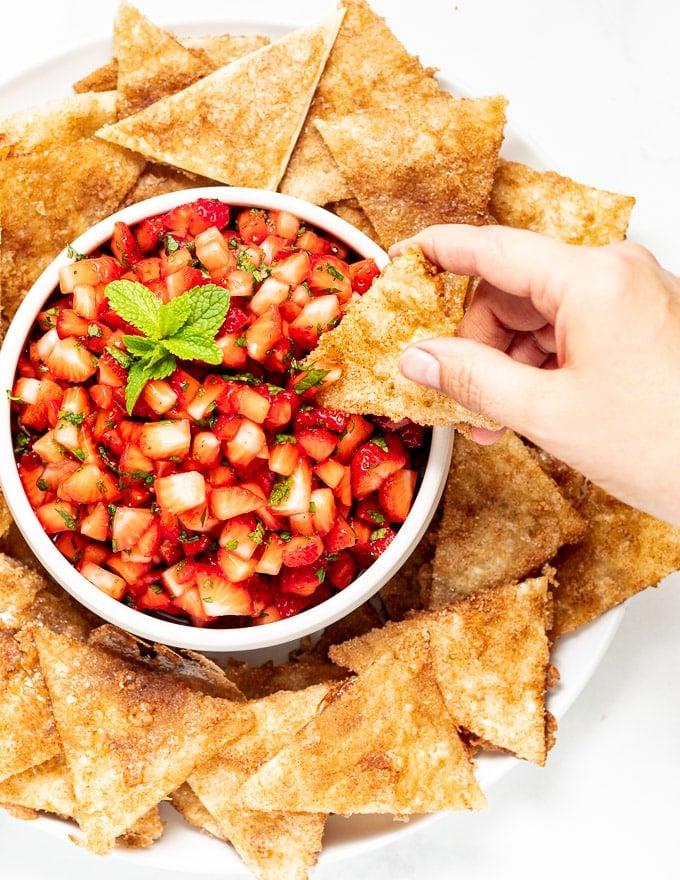 THIS RECIPE IS SPONSORED BY CALIFORNIA STRAWBERRIES
---
Today at the party we have Dessert Strawberry Salsa with Cinnamon Chips.
We're talking juicy, sweet salsa loaded with fresh California Strawberries, mint, lime and a twist of freshly ground black pepper. Stick with me here. I'm not crazy. Black pepper and strawberries, as unlikely as it sounds, are quite the match. Trust me. It totally works.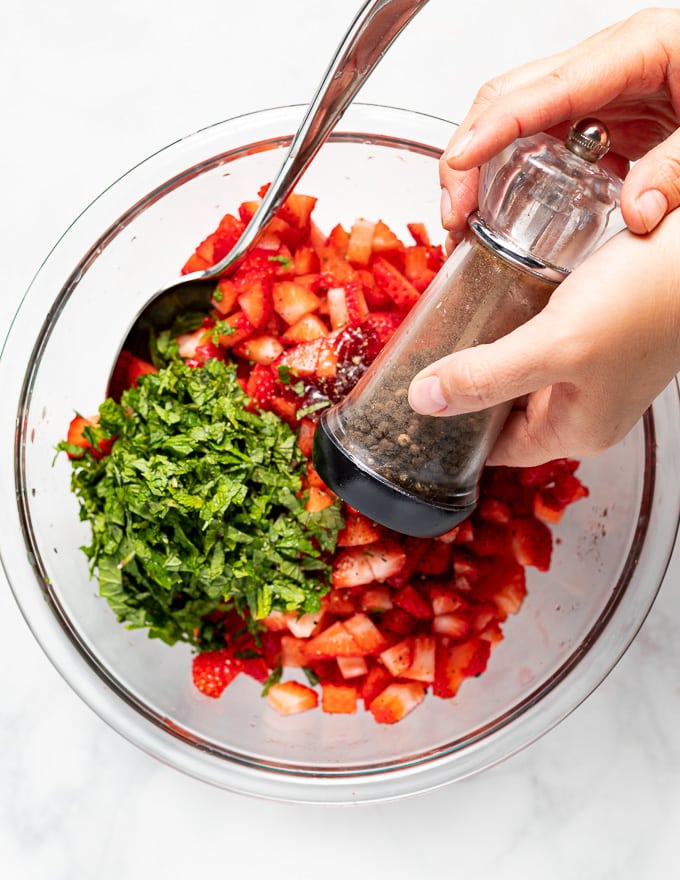 And then, coming along to the party we've got crispy, sugary baked cinnamon chips to scoop all of that strawberry goodness up with.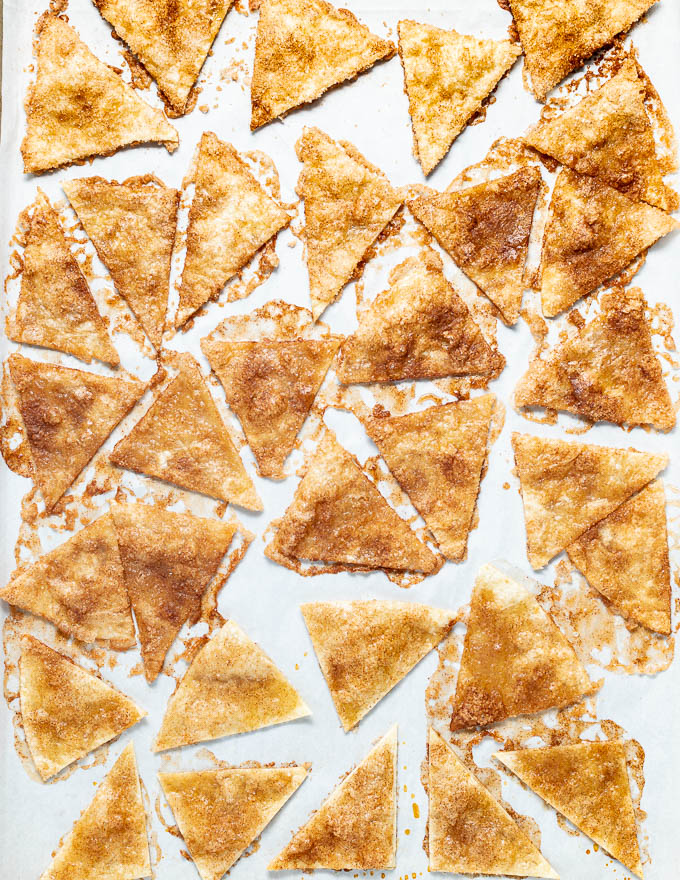 How about a great big ol' yes to that?
4 Reasons to love California Strawberries right now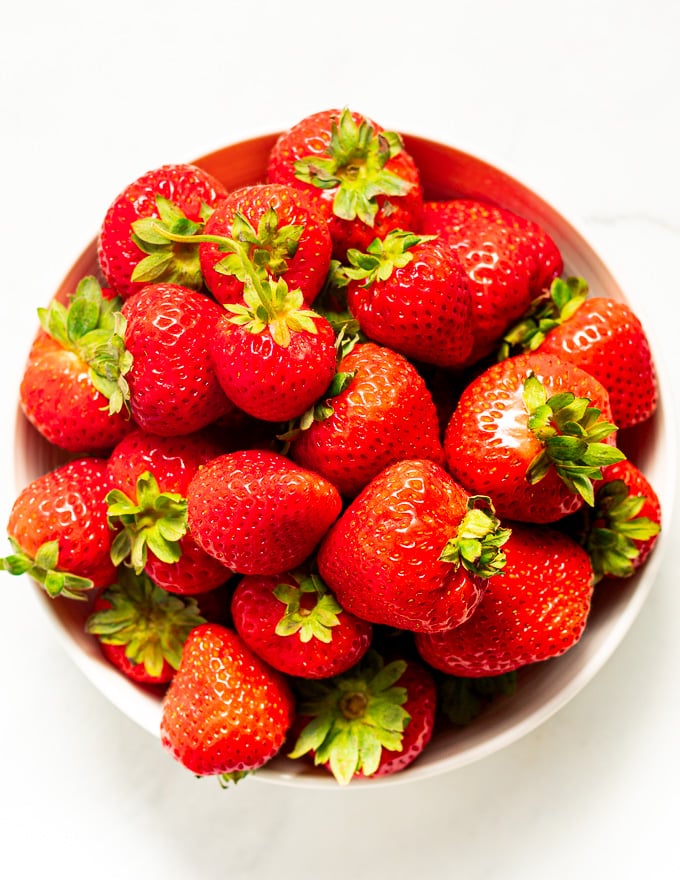 California Strawberries are in season and available now at your local grocery or natural product stores, so no excuse, you can get your strawberry salsa on at any time of year!
8 strawberries (140 g) = 1 serving
California Strawberries are an excellent source of vitamin C with 8 strawberries containing more than an orange
A serving of 8 strawberries has only 50 calories and is a great source of fibre
Regular old breakfast and dinner are great and all that, but desserts and snacks are LIFE. Especially if they involve California Strawberries.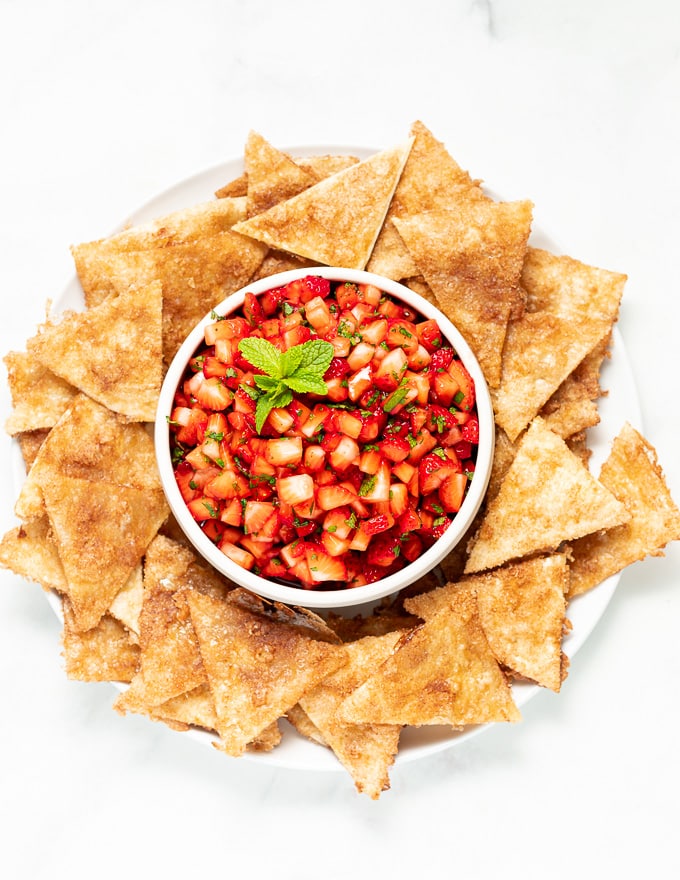 So, here's the run down on what's going on here and why: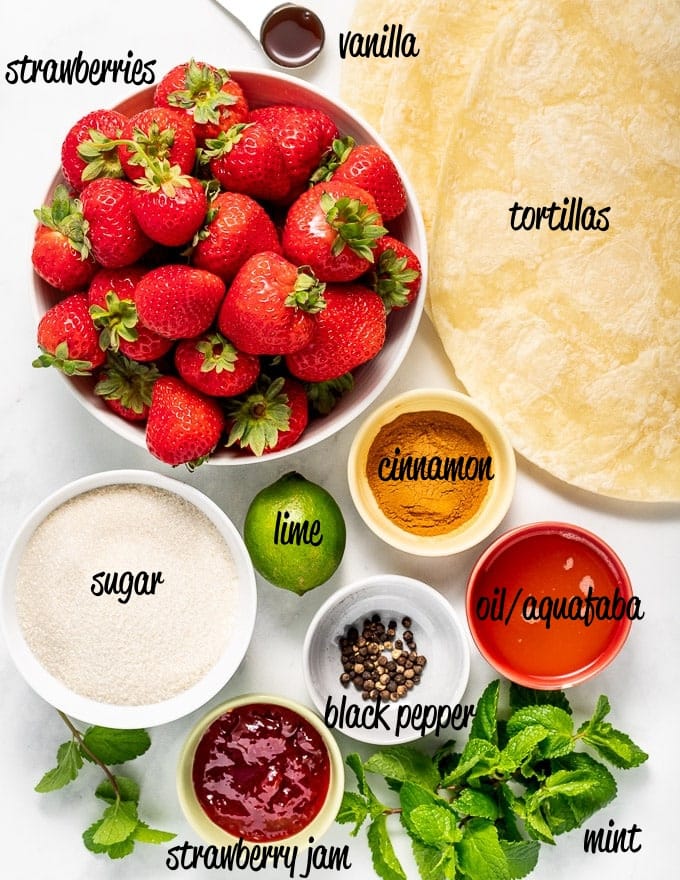 Strawberries - pretty essential in a strawberry salsa don't you think?
Jam - To bind it together a bit and add some sticky sweetness
Lime juice - A bit of acid to balance out the sweet
Mint - For freshness, flavour and contrasting colour
Vanilla - Flavour. It works so well with strawberries!
Black Pepper - For little bursts of peppery heat - trust me. It works.
Tortillas - To make our chips!
Cinnamon - Warm, sweetly spicy flavour
Sugar - Sweetness and crunch
Oil of choice - To make the tortillas super crunchy! Aquafaba can be used for an oil-free option.
How to make Dessert Strawberry Salsa with Cinnamon Chips!
---
FOR INGREDIENTS & FULL INSTRUCTIONS PLEASE SEE THE RECIPE CARD AT THE END OF THIS POST
---
There are two parts to making this recipe. The first is making those crispy, addictive Cinnamon Chips because you can make the strawberry salsa while they are cooling down.
It goes something like this:
Tortillas sliced up as follows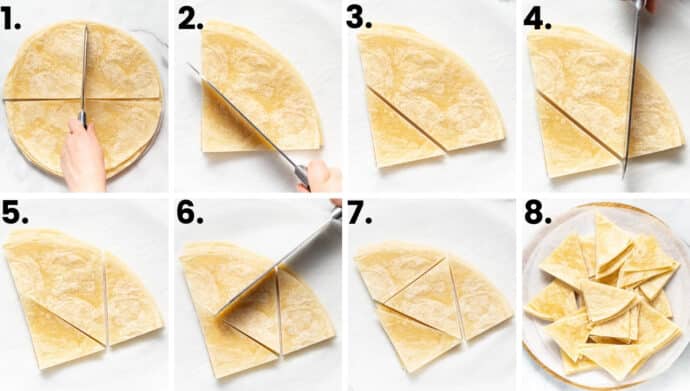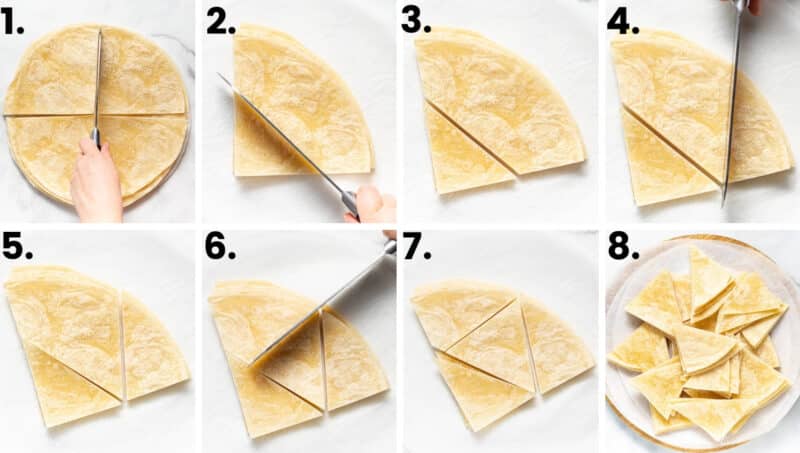 A light brush of oil or aquafaba on each one then a quick dip in cinnamon sugar.


Then bake .. and don't they look all pretty laid out neatly on their tray?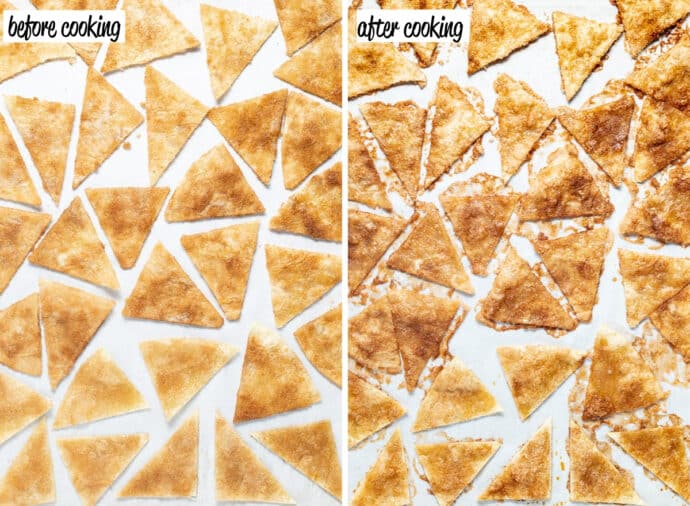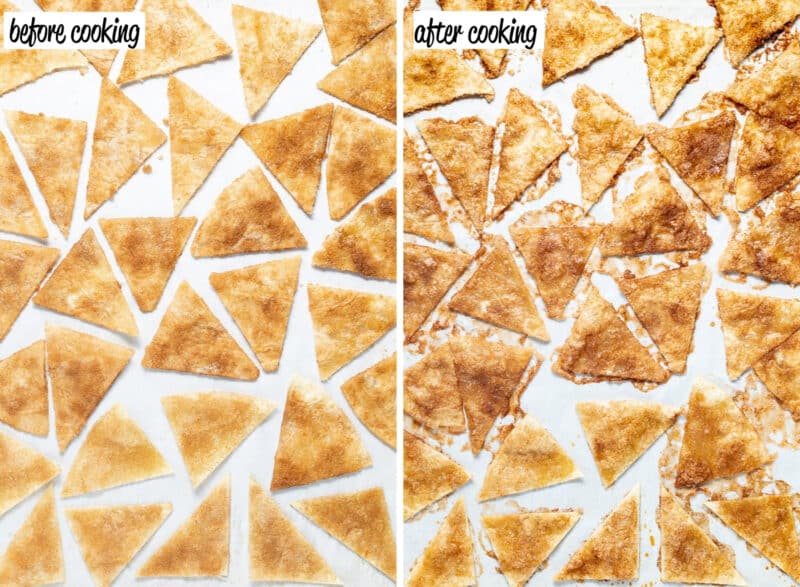 And here comes the Dessert Strawberry Salsa which takes about 10 minutes. It's a simple chop and mix situation. But WOW. It's so good!
In go the strawberries, lime juice, mint, jam and freshly ground black pepper. Then stir that juicy goodness all up.

Boom! Dessert Strawberry Salsa with Cinnamon Chips. Done.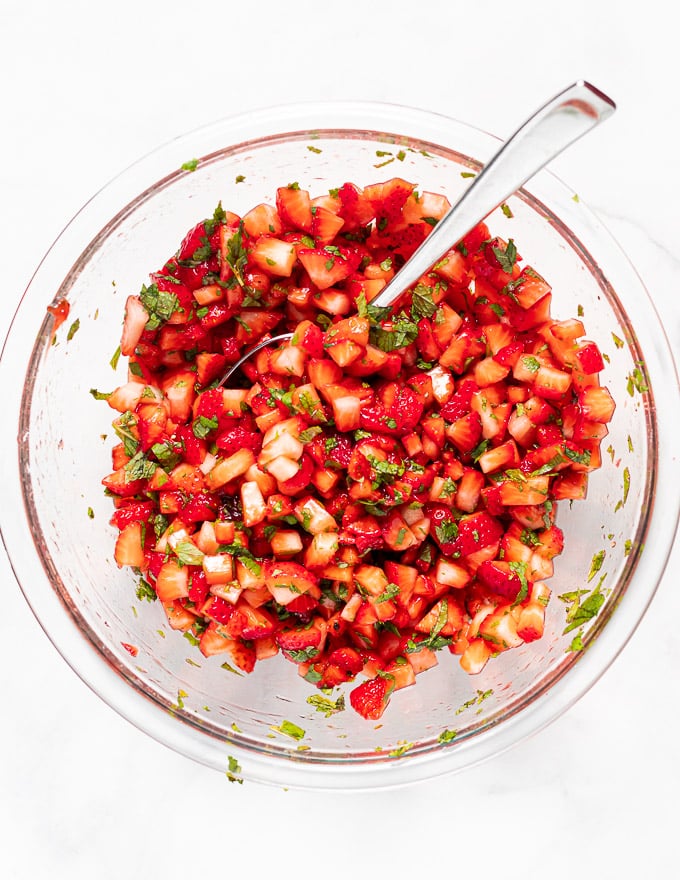 Success Tips
As they are the star of the show, make sure your California Strawberries are perfectly red, ripe and sweet. 

Don't use dried mint. It needs to be fresh.
Use your pepper mill. Freshly ground black pepper makes all the difference!
The cinnamon chips might feel a bit soft when they come out of the oven but will crisp up as they cool.
How to store
Dessert Strawberry Salsa is best served on the day it's made.
Store leftover Cinnamon Chips in an airtight container. They will keep for a couple of weeks.
Other serving suggestions
Make the strawberry salsa on it's own (or use leftovers) and serve with:
ice cream
chocolate cake
waffles
And make the Cinnamon Chips on their own and serve them with my Dessert Chocolate Hummus or my Snickerdoodle Dessert Hummus or with a bowl of ice cream.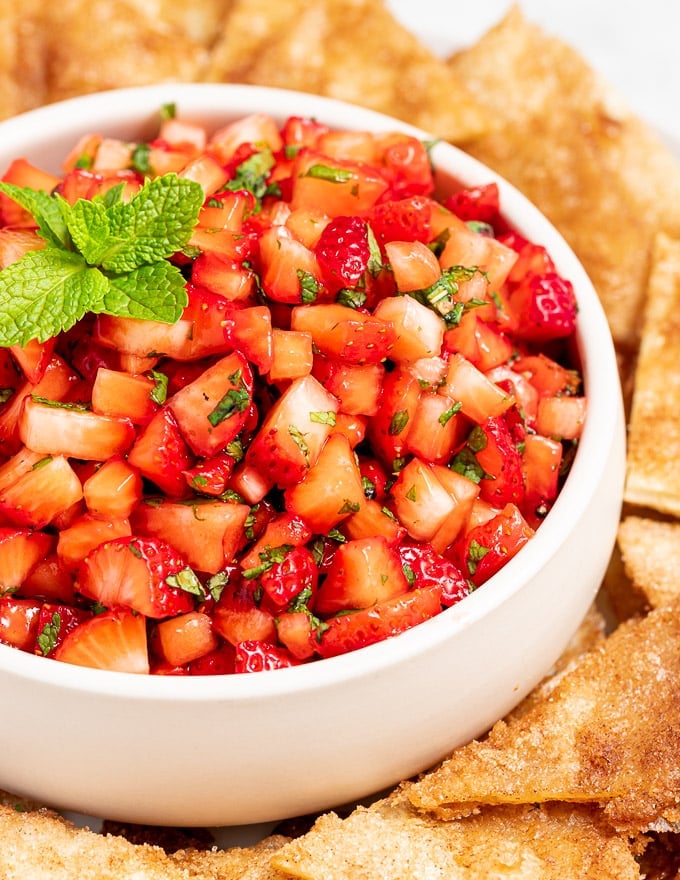 This salsa is perfect for serving at parties and social gatherings and it also makes a great dinner party dessert or pre-dessert, appetizer type situation. It also makes a great after school or sofa and a movie snack.
And so to recap, this Dessert Strawberry Salsa with Cinnamon Chips is:
loaded with juicy California Strawberries!
fresh, sweet, juicy and subtly spiced
texture perfect
great for serving up at your holiday parties
Hungry for more?
If you love strawberry desserts then you might also enjoy my Strawberry Sweet Roll Vegan Mug Cake, my Vegan Strawberry Muffins and my Sticky Lemon Strawberry Sweet Rolls. 
Recipe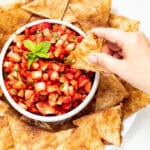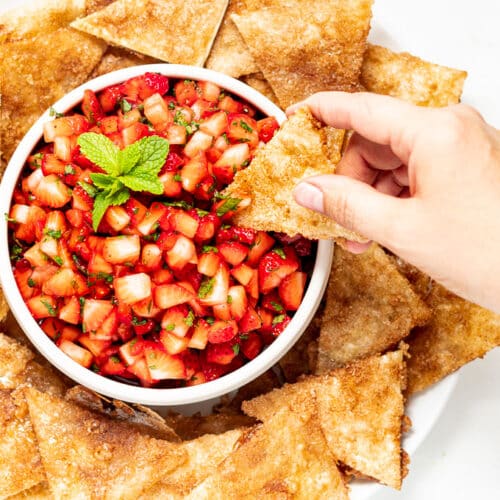 Dessert Strawberry Salsa with Cinnamon Chips
Author:
This Dessert Strawberry Salsa is packed with sweet, juicy, fresh strawberries & is served with homemade crunchy Cinnamon Chips that make the perfect scoopers! This is a dessert meets dip meets snack situation that is just perfect for feeding a crowd.
Ingredients
For the Cinnamon Chips
1 cup / 200

g

sugar

, white or cane sugar is best

1

tablespoon

ground cinnamon

5

10 inch

tortillas

¼ cup / 60

ml

neutral oil

, or aquafaba *
For the Strawberry Salsa
2lb / 32 oz / 907

g

fresh California Strawberries

1

small

lime

3

tablespoons

strawberry jam

1

teaspoon

vanilla extract

1

large handful

fresh mint

⅛ - ¼

teaspoon

freshly ground black pepper

**
INSTRUCTIONS
Preheat oven to 350°F (175 °C) and line 2 large baking trays with parchment paper or a silicone baking mat.

In a small bowl, mix the sugar and cinnamon together until combined well. Set aside.

Have your tortillas in a neat pile, and with a sharp knife, cut the pile into quarters, then cut each quarter into 4 chip sized wedges. For nice, evenly cut chips, see my photographs in the post above for how to do this.

Lay the tortilla pieces out in a single layer on the lined baking trays and brush each one with a light coating of oil.

Sprinkle a generous amount of cinnamon sugar over each one then turn them over, brush with a little more oil and sprinkle with more cinnamon sugar. Or after brushing pick the tortilla up and dip it into the bowl of cinnamon sugar. Do it whichever way works best for you. Dipping makes the sugar coating more even, but sprinkling is quicker!

Place in the oven and bake until bubbling, golden and crispy. It should take about 12 minutes but be sure to keep an eye on them in the last few minutes as they can go from ok to burnt very quickly.

Remove the chips from the oven and leave to cool completely.

Wash and hull the strawberries then dice each one into small pieces. If you aren't too bothered about how neat they look you can pulse them in a food processor rather than chopping them by hand. Transfer the pieces to a large bowl.

Wash and chop the mint (leaves only) and add it to the chopped strawberries along with the jam, juice from the lime and vanilla. Stir it all up well then add the freshly ground black pepper. It's better to start with just a little pepper as you can always add more but you can't take it away. I suggest adding it to taste. Give it a good but gentle stir in between additions.
NOTES
* Oil gives the crispiest results. Avocado, sunflower, vegetable, canola or melted coconut oil are all fine. In my tests melted vegan butter yielded the best flavour but the chips didn't turn out as crispy. For an oil-free option use a very light brush of aquafaba (liquid from a can of chickpeas) instead of oil. 
**I use the full ¼ teaspoon of black pepper in my salsa and with my pepper mill that works out to be about 8 grinds. 
NUTRITION
Calories:
198
kcal
|
Carbohydrates:
42
g
|
Protein:
3
g
|
Fat:
7
g
|
Saturated Fat:
1
g
|
Sodium:
203
mg
|
Potassium:
170
mg
|
Fiber:
3
g
|
Sugar:
24
g
|
Vitamin A:
23
IU
|
Vitamin C:
47
mg
|
Calcium:
53
mg
|
Iron:
1
mg
Did you make this recipe?
Rate it & leave feedback in the comments section below. I love seeing your remakes too. Tag @avirtualvegan on Instagram! 🌟