A simple but incredibly delicious, super creamy Vegan Pesto Pasta Salad topped with juicy, sweet, oven-roasted tomatoes. It has just 5 ingredients & is ready in the time the tomatoes take to roast!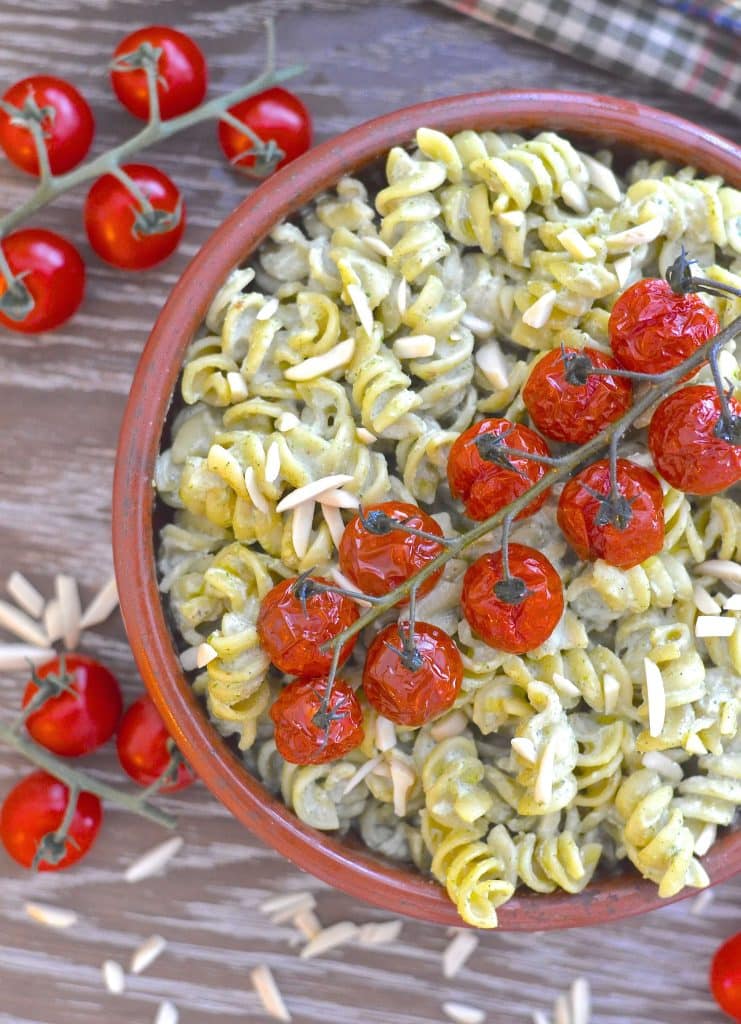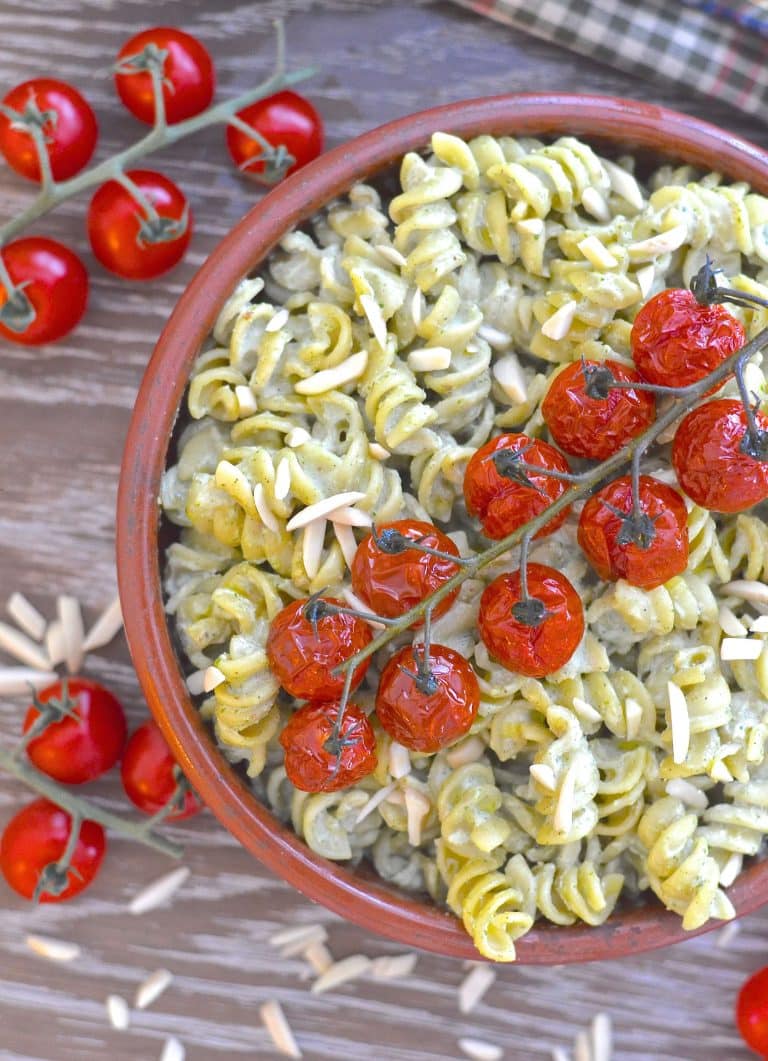 Everyone loves a good pasta salad, right? I make them a lot but only realized recently that I haven't shared any recipes here on the blog.
I am always really busy during the week what with my blog, work and other commitments. I like to have our lunches prepared and ready in advance to save time whenever I can. Pasta salad is one of my go tos as it's quick, easy, keeps well in the fridge for a good few days and it's healthy. Overnight oats are another of my make ahead easy options. I make a batch up in mason jars and keep them in the fridge, then I can just grab a jar whenever I need one. They are both great portable options.
My Kale & Almond Pesto was the inspiration behind this Creamy Vegan Pesto Pasta Salad. I remade the pesto last week as I wanted to shoot a video showing the making of it for my new YouTube channel.
Once filming was finished I decided to get inventive and create a Creamy Vegan Pasta Pesto Salad to share with you today and to provide us with plenty of quick lunches throughout the coming week. I don't usually create a recipe and get it out to you so quickly, but this turned out perfect on the first attempt. That rarely happens. I often make my recipes many, many times before they make it this far and it was a real treat to make it, photograph it and start writing it up all on the same day. I wish it happened like that every time!
This Creamy Vegan Pesto Pasta Salad is really quick and easy to prepare. Roasting the tomatoes is the part that takes the longest time but even that is only 30 minutes and it is so worth waiting for them. The pasta salad is creamy and delicious, but the little bursts of sweet, juicy cherry tomatoes take it to the next level. They work so well together.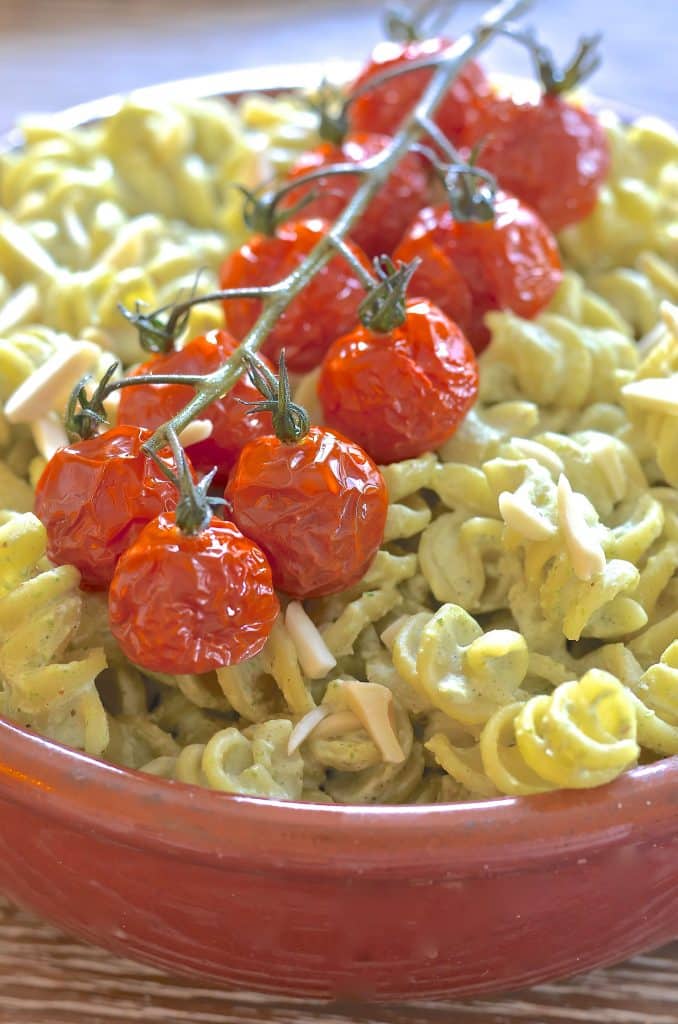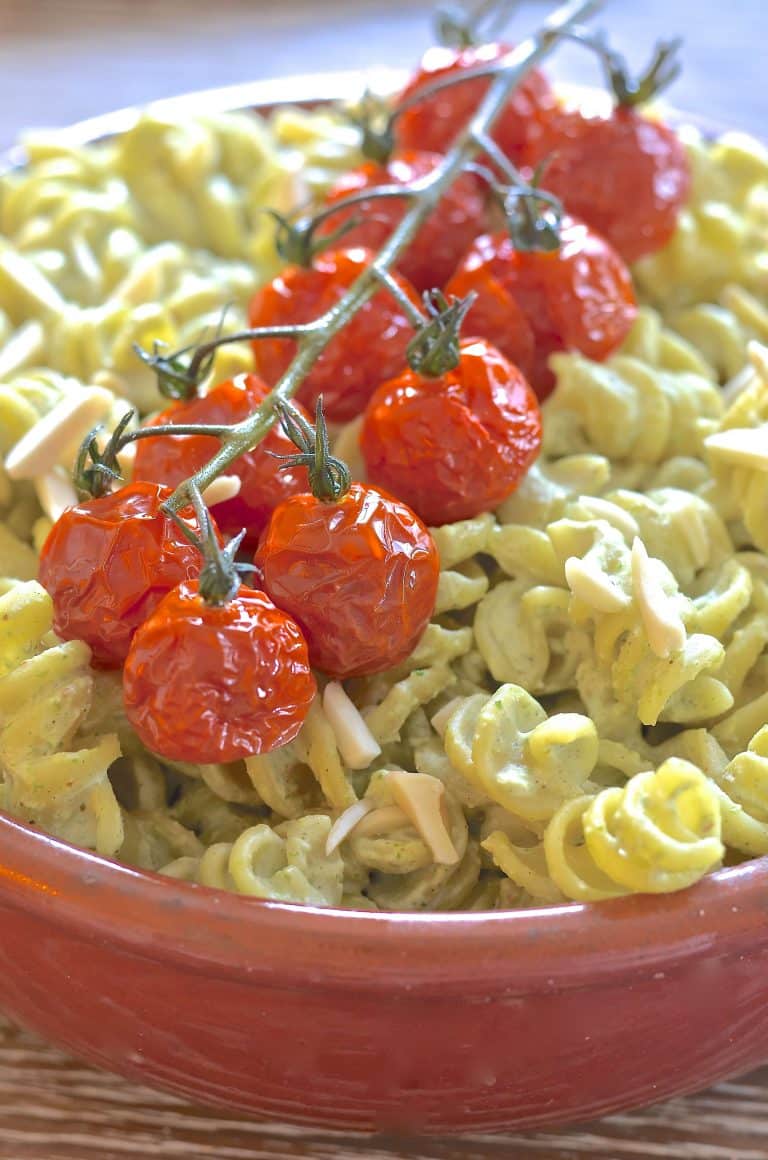 I roasted my tomatoes on the vine for aesthetics sake. They look so much prettier in the photos. There is no need to do this when you are cooking at home unless you are setting out to impress someone! I don't usually bother as it's tricky to get them off the vine without bursting them completely when they are all soft and squishy after being roasted. It's much easier if you just roast them vineless.
The sauce for this Creamy Vegan Pesto Pasta Salad is made in literally a minute or two. All you need is a blender or a food processor. Then just toss through the cooked pasta which can either be still warm or completely cold. The tomatoes then just need to be scattered over the top. It's so easy.
This Creamy Vegan Pesto Pasta Salad is perfect for quick dinners and sides, packed lunches, parties, pot lucks and cookouts. It keeps really well in the fridge for three to four days and can be eaten warm or cold. It is also a great way to use up leftover cooked pasta or pesto.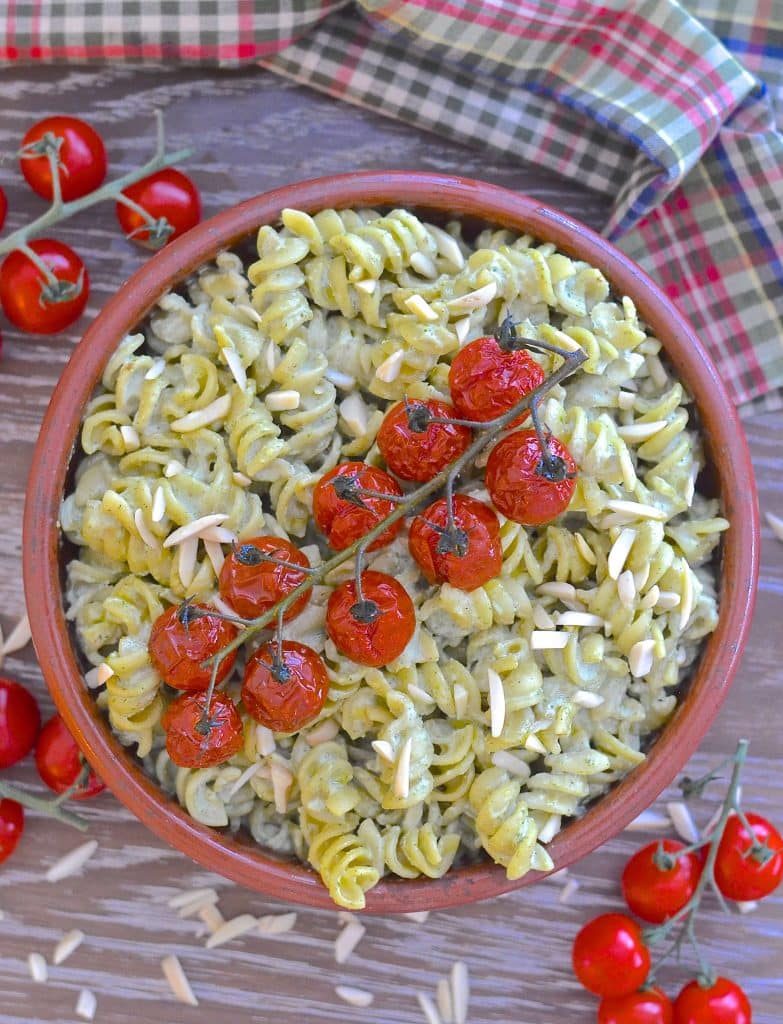 You will no doubt have some Kale & Almond Pesto left after making this pasta salad but don't worry as it is great for so many things. I have used it as a topping on pizza, as a spread in sandwiches, as a dip, tossed through spaghetti, with gnocchi, in lasagnes, in tofu scrambles and stirred through soups and stews for a flavour boost. It also freezes perfectly, ready for a quick and easy meal at a later date. It is so versatile.
I really hope you enjoy this recipe! I would love it if you could leave feedback below. You can share your remakes on Instagram too. Tag me @avirtualvegan and use the hashtag #avirtualvegan. My notifications are fast moving and using the hashtag will ensure I don't miss it.
Recipe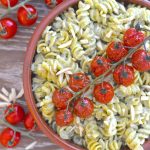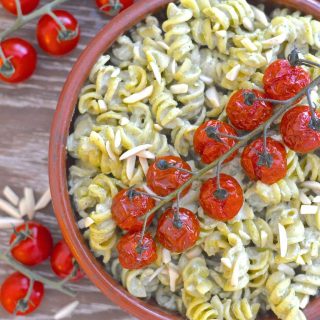 Creamy Vegan Pesto Pasta Salad
Author:
A simple but incredibly delicious, super creamy Vegan Pesto Pasta Salad topped with juicy, sweet, oven roasted tomatoes. It has just 5 ingredients & is ready in the time the tomatoes take to roast!
Ingredients
300-375g / 2 - 3

cups

of cherry tomatoes

, quantity does not need to be exact

145g / 1

cup

raw cashew pieces

, soaked for a couple of hours in cold water or about 20 minutes in boiling water (see recipe note)

1

teaspoon

salt

(plus a little extra for seasoning the tomatoes)

½

teaspoon

ground pepper

(plus a little extra for seasoning the tomatoes)

240mls / 1

cup

non-dairy milk

, unsweetened *

4 - 5

tablespoons

Kale & Almond Pesto

(or any other pesto)

17.5oz / 500

g

dried pasta

(use your favourite kind of shape & use gluten-free pasta to make this recipe gluten-free)

1

handful

flaked or slivered almonds

(optional - see recipe notes)
INSTRUCTIONS
Preheat oven to 400 °F

Place tomatoes on a

baking sheet

. I didnt use any oil but if your baking sheet tends to stick it might be wise to use a little bit, or alternatively you can use some baking parchment or a

silicone mat

instead.

Season the tomatoes with salt and freshly ground pepper.

Roast for 30 minutes

Bring a pan of water to the boil and cook the pasta as directed on the packaging. (It usually takes around 8 - 10 minutes)

Drain it and leave to cool (you can use it warm if you prefer)

Add the drained cashews, milk, salt, pepper and 4 tablespoons of the pesto to a blender or food processor.

Blend until well combined.

Taste and add a little more pesto if you want a stronger flavour.

Pour the sauce over the pasta and stir to combine.

Transfer to a bowl and top with the cherry tomatoes.

Serve immediately or store covered in the fridge.
NOTES
I always use cashew pieces for recipes like this as they are cheaper to buy. You can however use whole cashew nuts. The cup amount I have given is for pieces so if you use whole cashews weigh them to get the correct quantity.
Once the pasta salad has been refrigerated it can go a little bit dry. To refresh just add a few tablespoons of non-dairy milk and stir well. This will loosen it up and make it creamy again.
This pasta salad can be warmed through gently in a microwave if you prefer to eat hot.
Slivered or flaked almonds are optional and are just a garnish. They are not crucial to the recipe. They do however add great texture so I recommend you use them if you have some.
Please be sure to use an unsweetened neutral tasting milk. I do not recommend using almond milk in this recipe because the flavour comes through a bit too strongly. The most neutral tasting milks tend to be soy, oat or cashew and they work best in savoury recipes. 
NUTRITION
Serving:
1
serving
|
Calories:
484
kcal
|
Carbohydrates:
70
g
|
Protein:
15
g
|
Fat:
17
g
|
Sodium:
17
mg
|
Potassium:
243
mg
|
Fiber:
5
g
|
Sugar:
5
g
|
Vitamin A:
700
IU
|
Vitamin C:
10.7
mg
|
Calcium:
60
mg
|
Iron:
2
mg
Did you make this recipe?
Rate it & leave feedback in the comments section below. I love seeing your remakes too. Tag @avirtualvegan on Instagram! 🌟