Semolina pudding but not as you know it......Sweet strawberries are baked under sugar encrusted semolina until bubbling & saucy. The pudding becomes almost sponge-like & is so comforting & delicious!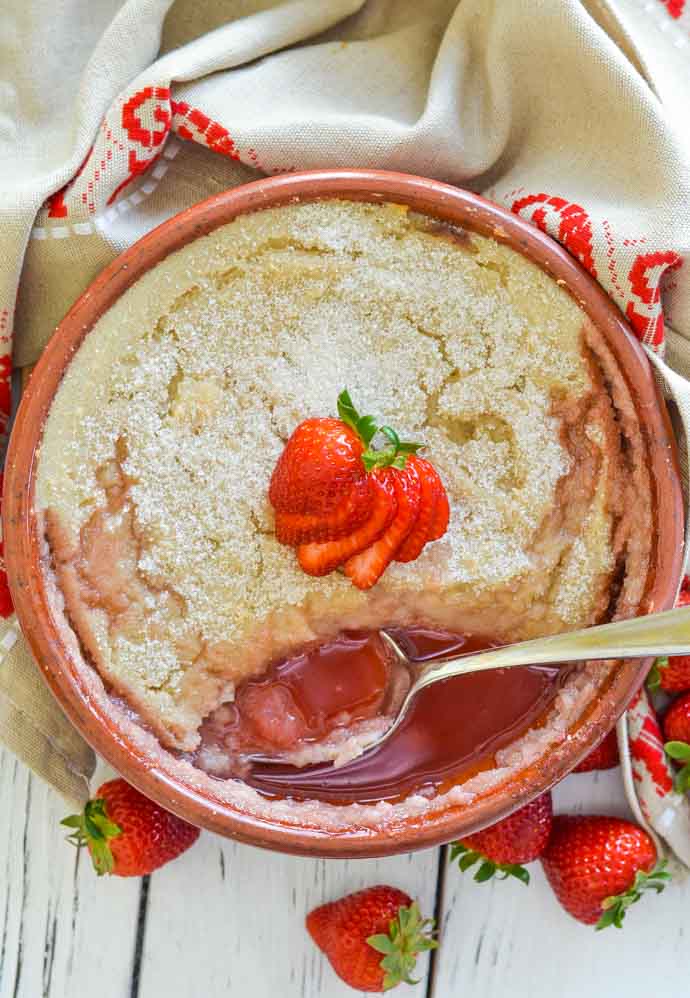 Was Semolina Pudding even a school dinner thing over here in North America? Perhaps it is just something that was served up in English schools back in the day for torture dinner.
Luckily for me, my Mum always packed my lunches, but that didn't stop me having to experience the awful offerings on the occasions I forgot my lunch or lost it. I have vague memories of disgusting pink custard, frog spawn tapioca pudding and milky, sloppy, gruel like, semolina pudding.
There was even a song we used to sing:
"School dinners. school dinners. Concrete chips concrete chips. Soggy semolina. Soggy Semolina. I feel sick. Bathroom quick. It's too late, it's on my plate."
Ohhh-kay.... So if the very mention of Semolina Pudding brings back traumatic memories of horrific school dinners, please bear with me. This is Semolina Pudding but not as you once knew it...
I'm not doing much to sell this recipe am I? Does this photo change your mind?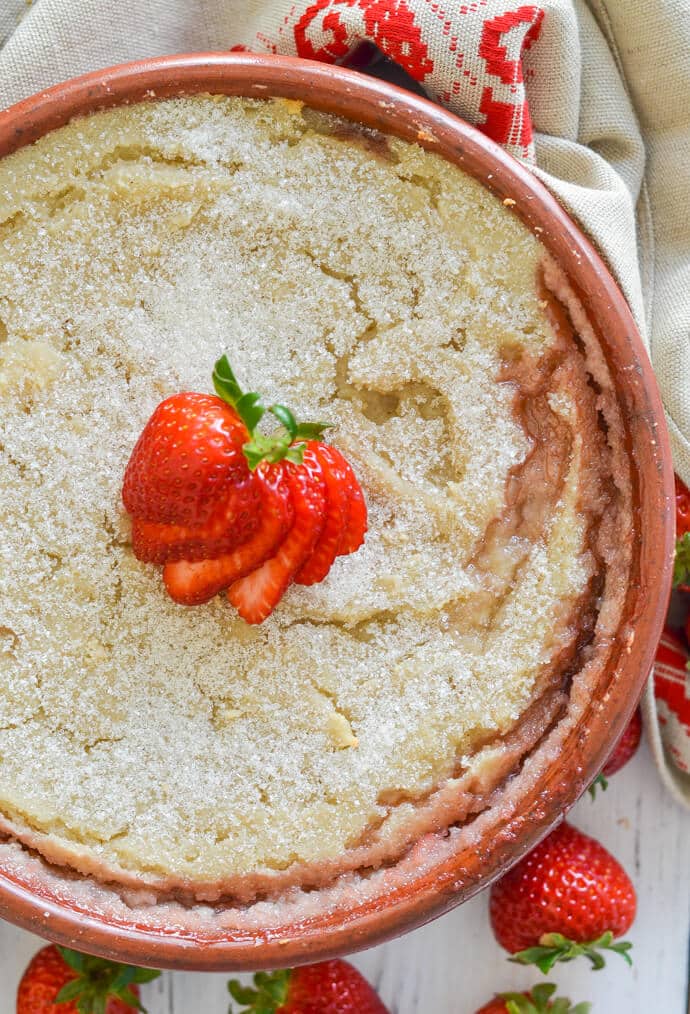 When I told my husband I had bought a bag of semolina he wasn't impressed and said that he hoped I didn't expect him to eat it. He obviously had those old school day memories too. He soon changed his tune when this got taken out of the oven for the first time!
It is truly irresistible. The strawberries bake up to a soft and saucy perfection and the thick, baked semolina pudding becomes almost sponge-like. It's hard to describe but you will see what I mean when you try it.
It all gets baked in the oven but I like to finish it off under the grill. I still don't know the term for that here. I know it's known as broiling. So do I finish it off under the broiler? Is that right?
I'm feeling very foreign again....
It's the baking it in the oven that transforms this Semolina Pudding into something NOT like school dinner semolina pudding at all. It couldn't be more different and is a million, trillion times better. We cant stop making and eating it! The fact it's so easy too makes it even more appealing.
This is the perfect recipe to make when you have some strawberries that are a little past their best. A bit like my Strawberry Baked Oatmeal.
More English recipes
Recipe video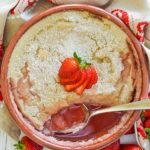 Baked Strawberry Semolina Pudding
Author:
Semolina pudding but not as you know it! Sweet strawberries are baked under sugar encrusted, almost sponge-like semolina until bubbling, saucy & delicious!
Ingredients
1lb | 454

g

fresh strawberries

60mls | ¼

cup

maple syrup

180g | 1

cup

semolina

, the slightly coarser type is best but semolina flour or fine ground will work too.

80g | packed ⅓

cup

sugar

¼

teaspoon

salt

1

teaspoon

vanilla bean powder

, or use vanilla extract

600mls | 2½

cups

plant-based milk

granulated sugar

, for sprinkling
INSTRUCTIONS
Slice the strawberries and put in the bottom of a shallowish oven proof dish.

Pour over the maple syrup and stir to coat.

In a small pan add the semolina, sugar, salt, vanilla and milk. Stir with a balloon whisk to work out any lumpy bits. If you don't have a balloon whisk a wooden spoon will do.

Warm over a medium heat, whisking constantly. If you stop it will go lumpy. Keep whisking until it's too thick to carry on. (Like the texture in my video above).

Spoon the semolina pudding on top of the strawberries. If you don't do this immediately it will become really, really thick and a bit difficult. Don't worry if you do get interrupted though as once it bakes up it will be fine.

Smooth it out, trying your best to seal it all the way around the edges, then sprinkle over a generous amount of granulated sugar.

At this stage you could leave it to cool and refrigerate, ready to bake later.

Place in the hot oven and bake for 30 minutes.

Broiling is optional but it makes the top crusty and delicious so I recommend doing it. Broil it as soon as it has finished baking and until it is bubbling and crusty. Be careful it doesn't burn. It is normal for some of the liquid to erupt through.
NOTES
Leftovers reheat well in a microwave or covered in the oven. 
It has become clear since publishing this recipe, that semolina is pretty hard to find in the U.S. It is not the same as cream of wheat or Farina. Semolina is yellower and looks a bit like cornmeal. It is made from durum wheat like pasta. Farina or cream of wheat, from my research is different. It comes from a different type of wheat and is whiter and has a lower protein level and doesn't hold it's shape like semolina would. I think farina would technically work but the texture wont be the same. I'm not sure about flavour as I've never tried it. You can buy Semolina from Amazon for a reasonable price. I link to one in the recipe above. I would imagine too that any Italian grocery store would sell it. Bob's Red Mill semolina flour would also work well. It is a brand that is very widely distributed across the U.S and Canada. 
NUTRITION
Serving:
1
serving
Calories:
345
kcal
Carbohydrates:
75
g
Protein:
7
g
Fat:
2
g
Sodium:
251
mg
Fiber:
4
g
Sugar:
36
g
Vitamin A:
350
IU
Vitamin C:
91.6
mg
Calcium:
330
mg
Iron:
1.3
mg
Nutritional information is provided for convenience. The data is a computer generated estimate and should be used as a guide only.
Tried this recipe?
Rate it & leave your feedback in the comments section below, or tag @avirtualvegan on Instagram and hashtag it #avirtualvegan