Simplify your mornings with my creamy Bircher Muesli. It's an easy, low-effort and versatile breakfast that's packed with fibre, nutrients and protein to keep you feeling satisfied all morning long. And there's no cooking involved!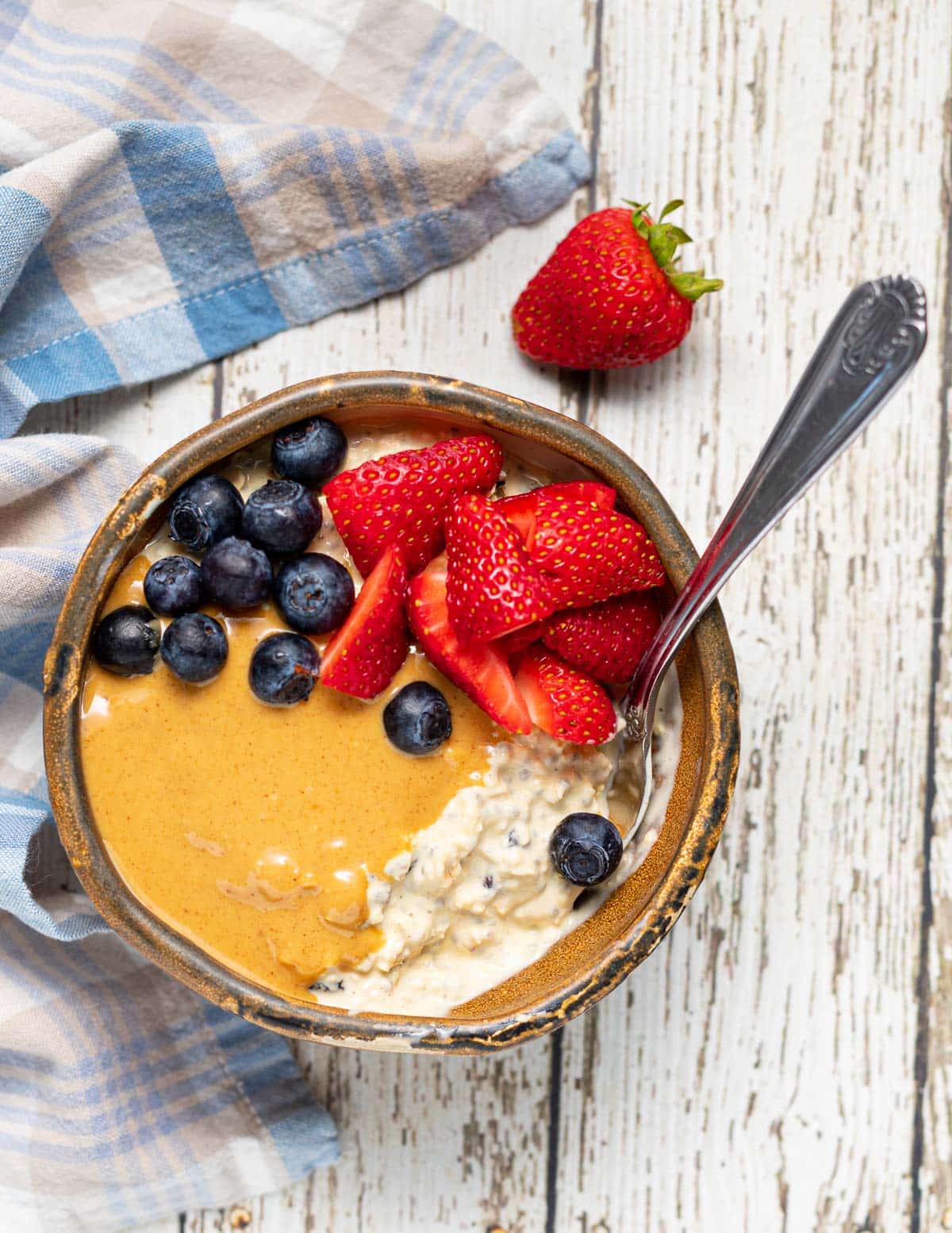 Bircher Muesli is my new favourite way to love oats! We're talking made in minutes, super nutritious, ultra-creamy, high in protein, delicious and no cooking. I repeat. No cooking is involved. This is a must-make summer breakfast.
Mix the simple, healthy ingredients up in a bowl, then leave it for 15 minutes (or more .. who's counting?) while you go off and make the beds, pack the kid's lunch or have a quick shower. Come back, and as if by magic, your breakfast is ready.
Jump to:
Like my Apple Baked Oatmeal, it's perfect for oatmeal lovers who don't want a hot breakfast, and perfect for anyone who always forgets to make overnight oats the night before ... I'm totally looking at myself here.
This is a no-fuss, super creamy, hearty bowl of lightly sweet, heavily topped, oat-y comfort that is super nutritious, tastes amazing and works around your crazy morning routine, while also keeping your love of all things oatmeal going throughout the year.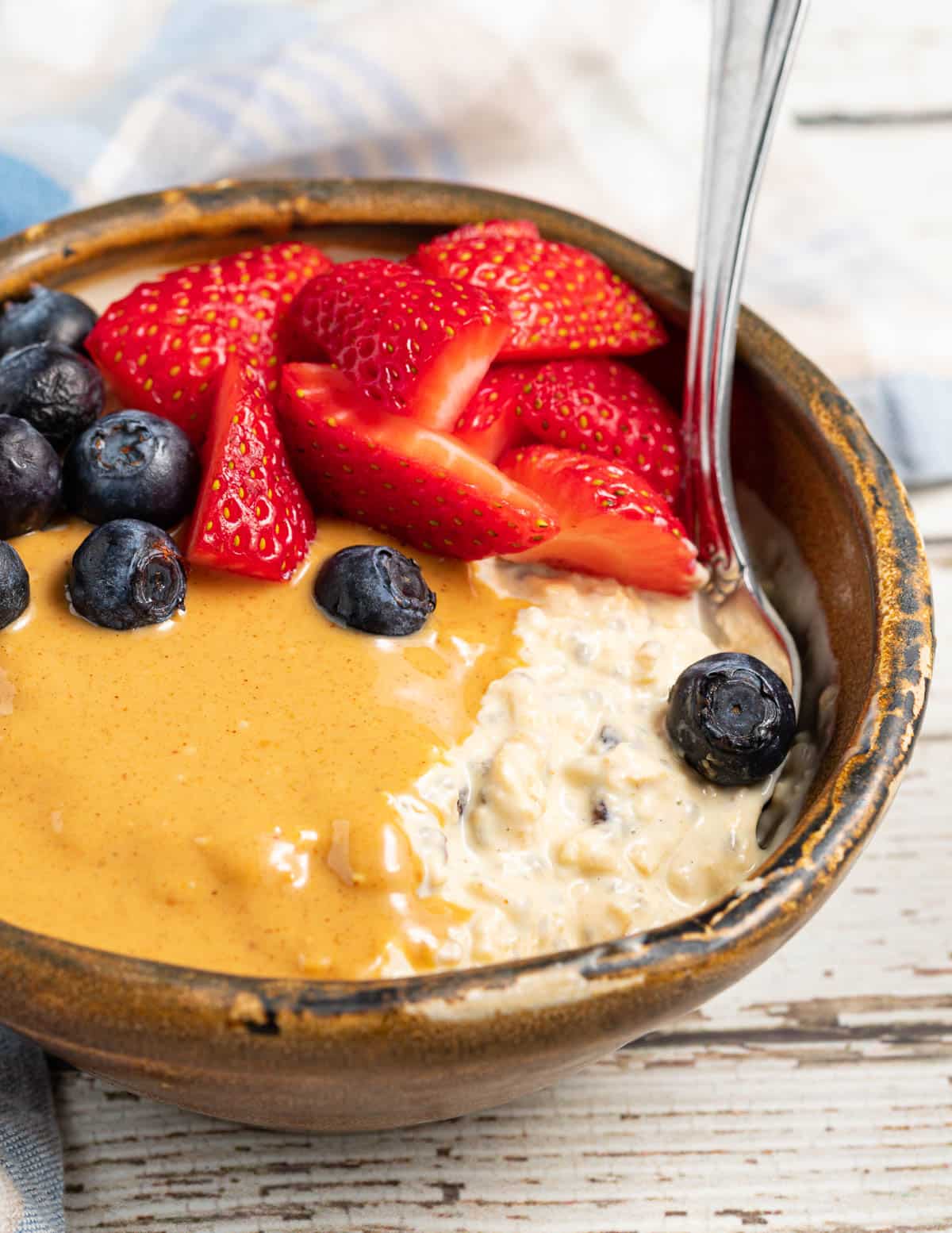 What is Bircher Muesli?
Bircher muesli is an uncooked mixture of oats, nuts, seeds, grains, fruit which is soaked in either milk, fruit juice or yogurt and eaten raw. It doesn't sound that appetizing but I promise my version is super creamy and delicious!
You might be wondering about Bircher muesli vs overnight oats. Are they the same? Are they different? Well, Bircher muesli is in fact the original overnight oat recipe. My recipe differs though because it doesn't involve any overnight soaking. All you need is 15 minutes, although if you want to leave it overnight you can.
Why is it called Bircher Muesli?
Bircher Muesli is named after its creator, Maximilian Bircher-Benner, an influential Swiss physician who was a proponent of raw food and claimed to have cured his own jaundice by eating raw apples.
In the early 20th century Bircher-Benner opened a sanatorium on The Zürichberg with the aim of healing the sick through healthy eating. He created his muesli recipe as an elixir that was eaten before breakfast, lunch and dinner.
His ideas influenced nutrition for decades and through his regime of "order therapy", he changed the dietary habits of millions.
Learn more about Bircher-Benner in this A New Way of Living article by Eberhard Wolff.
What is the difference between Bircher muesli and regular muesli?
Bircher Muesli is soaked in liquid before eating, so the oats etc absorb the moisture and become soft and creamy. In this case, the soaking liquid is plant milk, but sometimes apple juice or orange juice are used and the original Swiss recipe called for condensed milk.
Regular muesli, however, is a dry mix of ingredients that are sometimes toasted. It is often served with milk or yogurt but they are combined at the time of eating so the muesli ingredients keep their texture.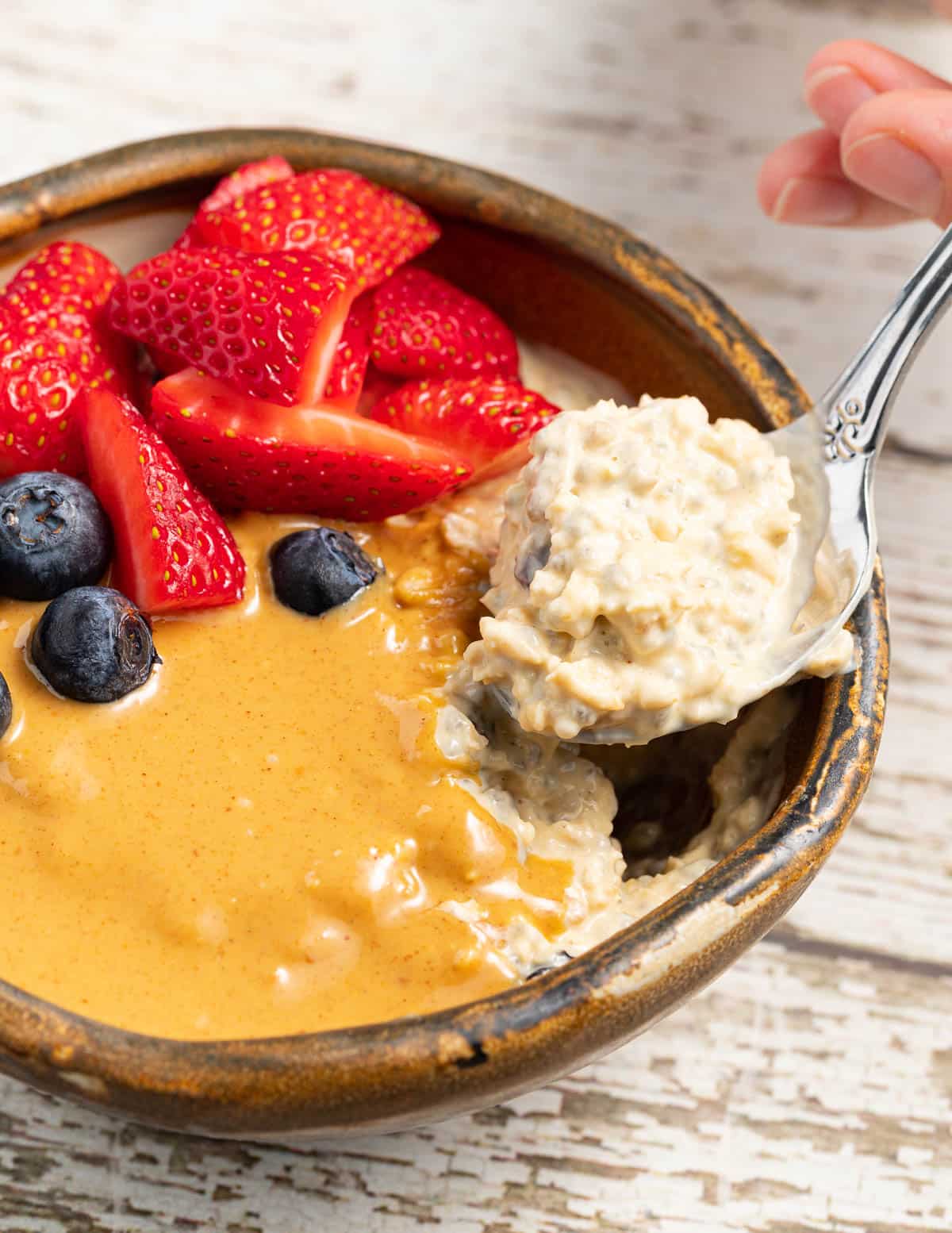 What ingredients do I need?
For detailed measurements and instructions, see the printable recipe card.
To make this recipe you will need:
Oats - Rolled (old-fashioned) oats are best for just the right balance of texture and softness.
Apple - Grated. You cna omit this if you prefer though. The recipe works fine without it.
Dried fruit - Use your favourite dried fruits or just whatever you have available. I love mine with dried cherries, cranberries and raisins.
Seeds or nuts - I've used sunflower seeds and chia seeds, but any chopped nuts or seeds are good.
Dairy-free yogurt - To make a really creamy Bircher Muesli and for probiotic goodness. Plain or vanilla flavour is best. Use my thick and creamy vegan yogurt recipe or your favourite store-bought yogurt.
Dairy-free milk - Any will do. I have recipes for cashew milk and oat milk but there are many different varieties available at the grocery store.
Cinnamon - For flavour.
Maple syrup - Optional and only if you want a touch of sweetness in your Bircher Muesli.
How to make Bircher Muesli
Homemade Bircher Muesli is super simple to make. Here's how:
Step 1 - Add the oats, grated apple, seeds, fruit, yogurt and any other mix-ins you like to a bowl.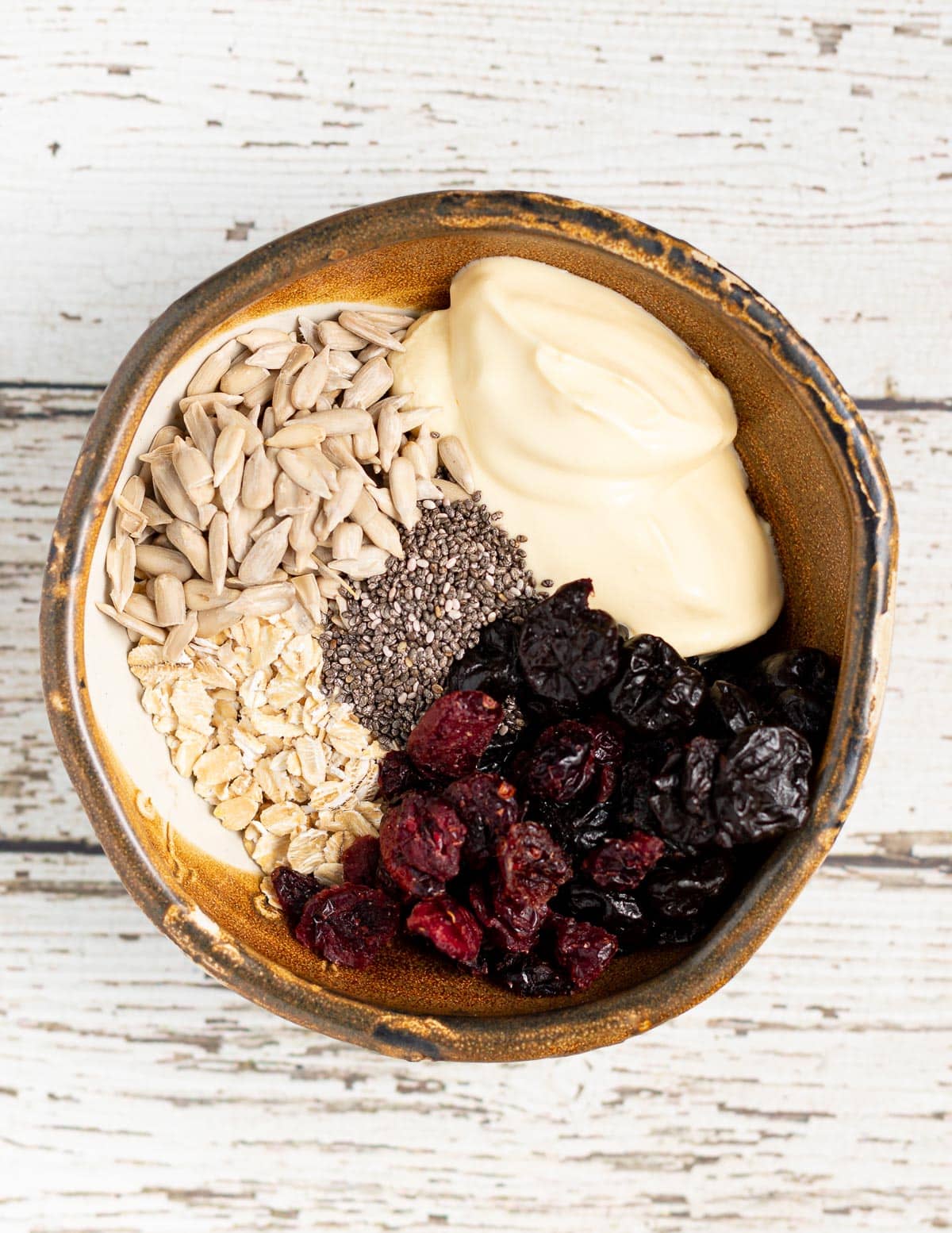 Step 2 - Pour over some non-dairy milk.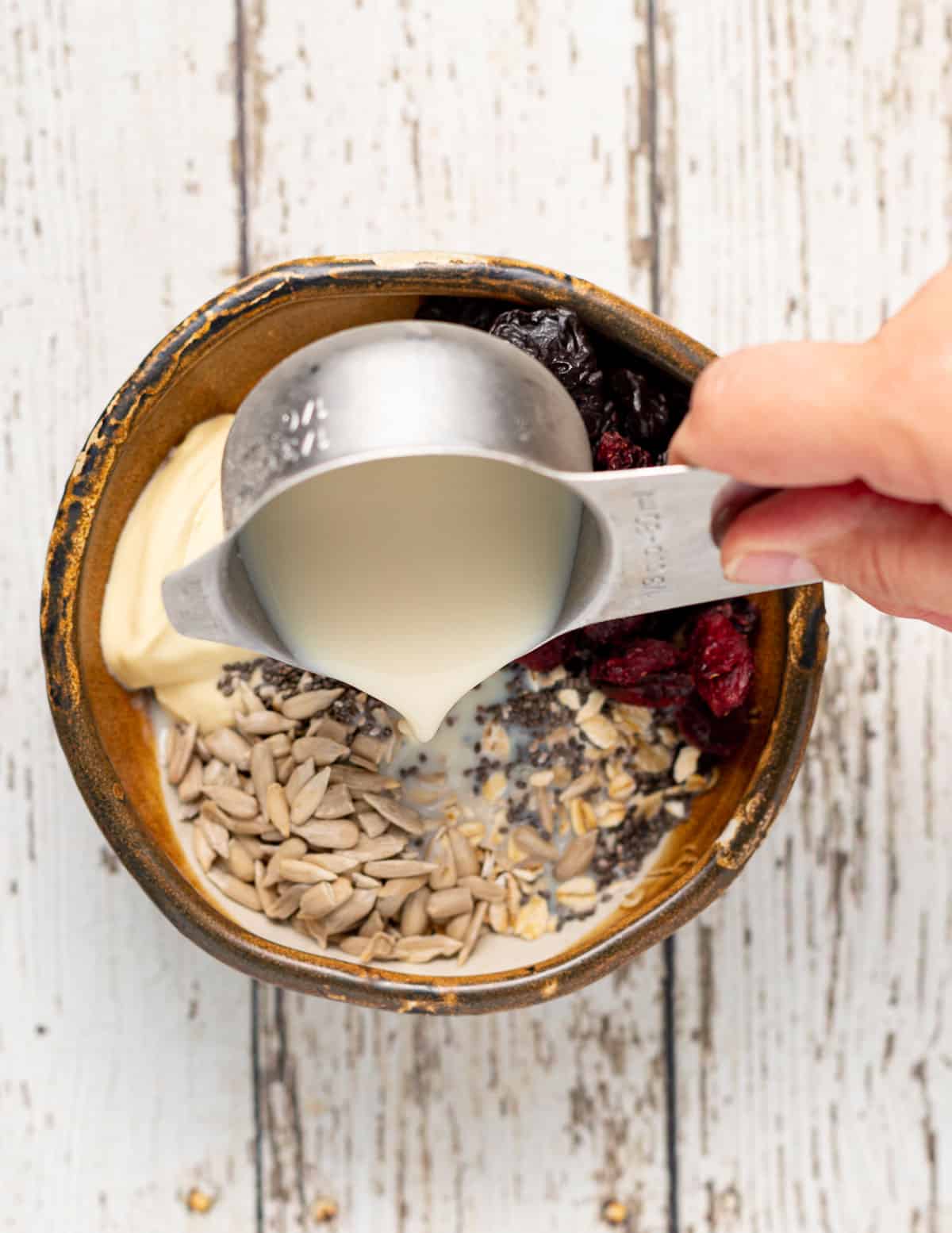 Step 3 - Stir then leave to sit for around 15 minutes at room temperature, or longer in the fridge.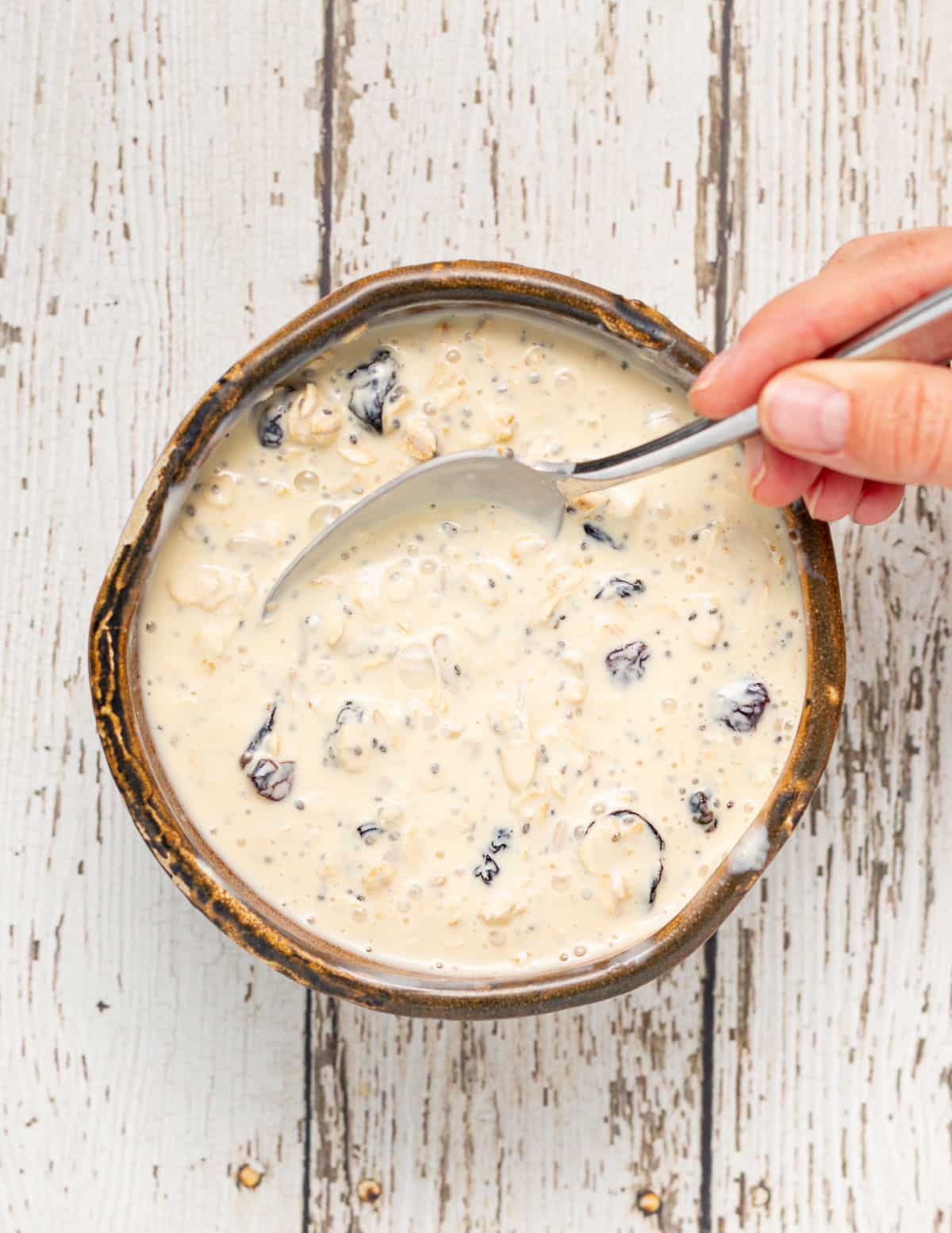 Step 4 - Top with toppings of choice and enjoy.
Mix-ins
Feel free to use my creamy Bircher Muesli recipe as a base and add your own mix-ins. Some ideas include:
mashed banana
different dried fruits
different spices, maybe nutmeg or ginger?
applesauce
grated pear
orange zest and juice
lemon zest and juice
cacao nibs
cocoa powder
chopped dates
nuts or seeds
Warm it up - Great if it's a chilly morning! Simply place in the microwave for a minute or two. A pan on the stovetop would likely be ok too although if you aren't careful it will thicken up a lot if the oats begin to cook. If it does get too thick just add a bit more milk when serving.
Success tips
Use rolled (old fashioned) oats. Don't use steel-cut oats.
Use a nice thick vegan yogurt for ultimate creaminess
Although your own mix-ins are encouraged don't change the oat/milk/yogurt ratio unless you want it to be thicker or thinner.
Add lots of tasty toppings!
Topping ideas
This creamy Bircher is at it's best when topped with lots of tasty toppings. I love a dollop of nut butter and some fresh berries or chopped banana. Some other ideas are:
nut or seed butter
chopped nuts or seeds
a swirl of jam or chia jam
grated chocolate
a large dollop of vegan yogurt
fresh fruit
defrosted frozen fruit
fruit compote
sliced banana
chopped dates
poached fruit
granola (like my Almond Hemp Granola)
chia seeds
coconut cream
Meal prep tips
Make this Bircher recipe ahead of time and store in lidded jars or airtight containers in the fridge. It will keep for up to 5 days but will thicken over time, so add a drop of milk to thin it a little when serving.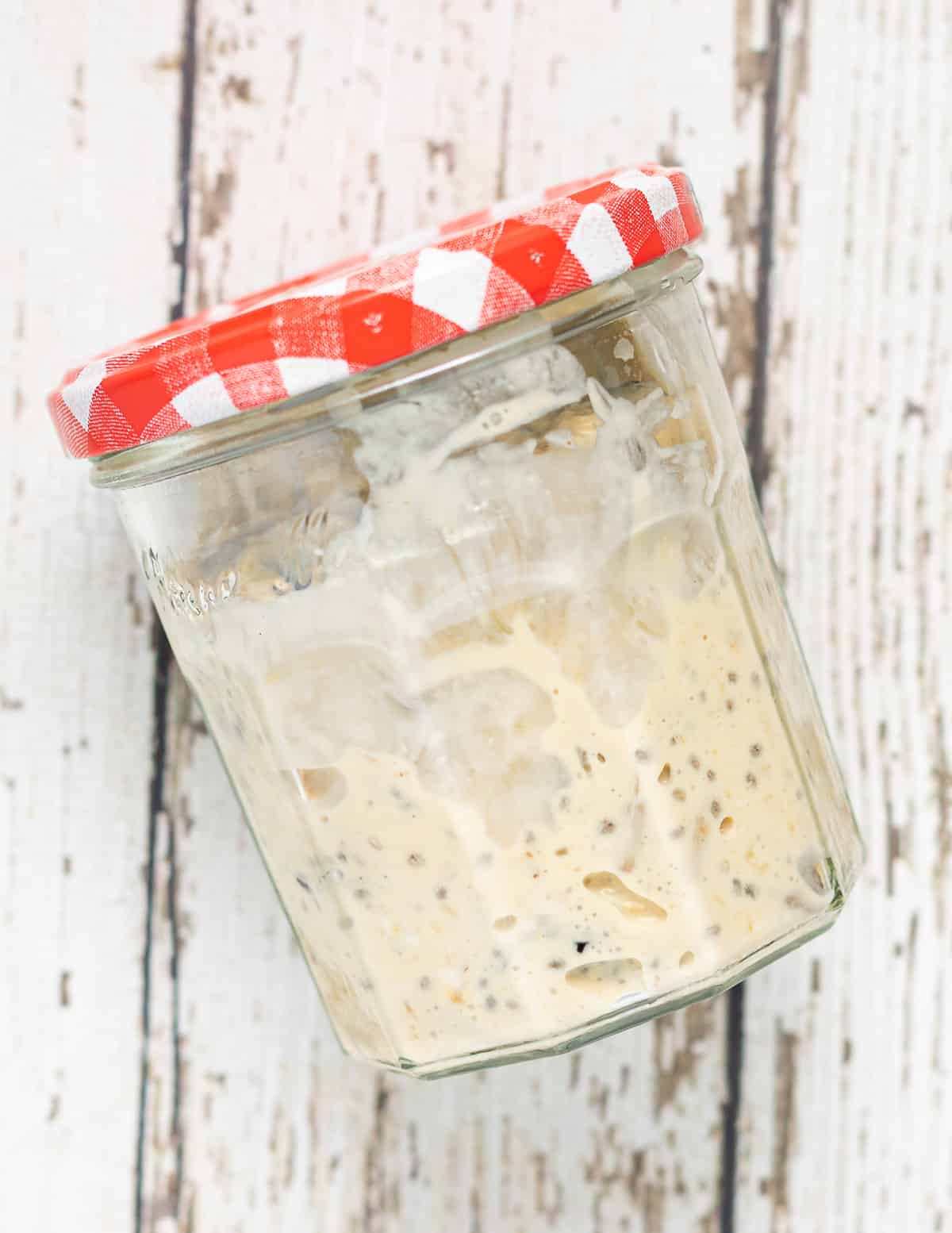 Can you freeze Bircher Muesli
No, I do not advise freezing Bircher Muesli.
Is Bircher muesli healthy?
Bircher muesli is natural, minimally processed, refined sugar-free and full of heart-healthy oats and healthy fats. It is a really healthy breakfast as long as you don't go over the top with sweetener or unhealthy toppings.
How many calories in a bowl of Bircher Muesli?
Made as per my recipe a bowl of Bircher Muesli would contain around 329 calories.
How do you pronounce Bircher Muesli?
Bircher is pronounced ber -cher and muesli is pronounced muse-lee
Is Bircher Muesli gluten-free?
It is gluten-free if you use certified gluten-free oats to make it.
Hungry for more?
If you like this Bircher Muesli recipe then be sure to check out my other no-cook oat-based breakfasts:
Did you make this recipe?
Be sure to rate it and leave a review below!
📖 Recipe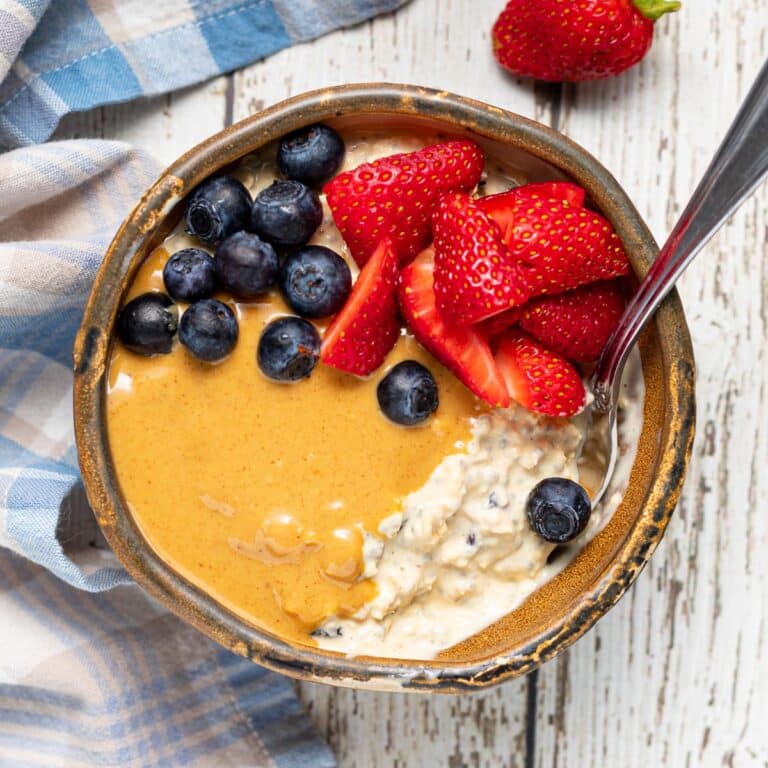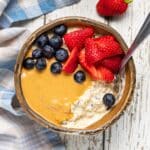 Bircher Muesli
Author:
Simplify your mornings with my creamy Bircher Muesli. It's an easy, low-effort and versatile breakfast that's packed with fibre, nutrients and protein to keep you feeling satisfied all morning long. And there's no cooking involved!
Ingredients
⅓ cup / 30

grams

rolled/old fashioned oats

1

grated apple

, optional, it's still great without

⅓ cup / 80

mls

non-dairy milk of choice

2

heaping tablespoons

vegan yogurt

, plain or vanilla is best

2

tablespoons

dried fruit of choice

, chopped if it's big like dates

1

tablespoon

hulled sunflower seeds

, or pumpkin seeds or chopped nuts

2

teaspoons

chia seeds

, or golden flax seeds

¼

teaspoon

ground cinnamon

1

tablespoon

OPTIONAL maple syrup
INSTRUCTIONS
Mix everything together in a small bowl (or a jar if you need to transport it).

Leave to soak at room temperature for about 15 minutes. Load with toppings then enjoy.

If you need to leave it longer cover it and put it in the fridge. It will keep for up to 5 days. It will thicken over time so add a drop of milk to thin it out to your liking on serving.
NOTES
Recipe makes enough for one serving but can easily be multiplied. 
Amounts of dried fruit, seeds & cinnamon are just a guide. Feel free to add more. Just be sure to keep the oat/milk/yogurt ratio the same. 
Topping ideas - fresh fruit, nut or seed butter, chopped nuts or seeds, a swirl of jam or chia jam, grated chocolate, date caramel, a large dollop of vegan yogurt, defrosted frozen fruit, vegan lemon curd, fruit compote, roasted strawberries, sliced banana, chopped dates, poached fruit, granola (like my Almond Hemp Granola), chia seeds, coconut cream.
NUTRITION
Calories:
329
kcal
Carbohydrates:
51
g
Protein:
10
g
Fat:
11
g
Saturated Fat:
1
g
Sodium:
42
mg
Potassium:
517
mg
Fiber:
9
g
Sugar:
1
g
Vitamin A:
166
IU
Vitamin C:
2
mg
Calcium:
165
mg
Iron:
4
mg
Nutritional information is provided for convenience & as a courtesy. The data is a computer generated estimate so should be used as a guide only.
Tried this recipe?
Rate it & leave your feedback in the comments section below, or tag @avirtualvegan on Instagram and hashtag it #avirtualvegan