A classic Italian dish made vegan! This Vegan Carbonara is so simple & yet so decadent, it's magic. Add a scattering of smoky carrot rashers & you get a fantastic pop of colour & texture too!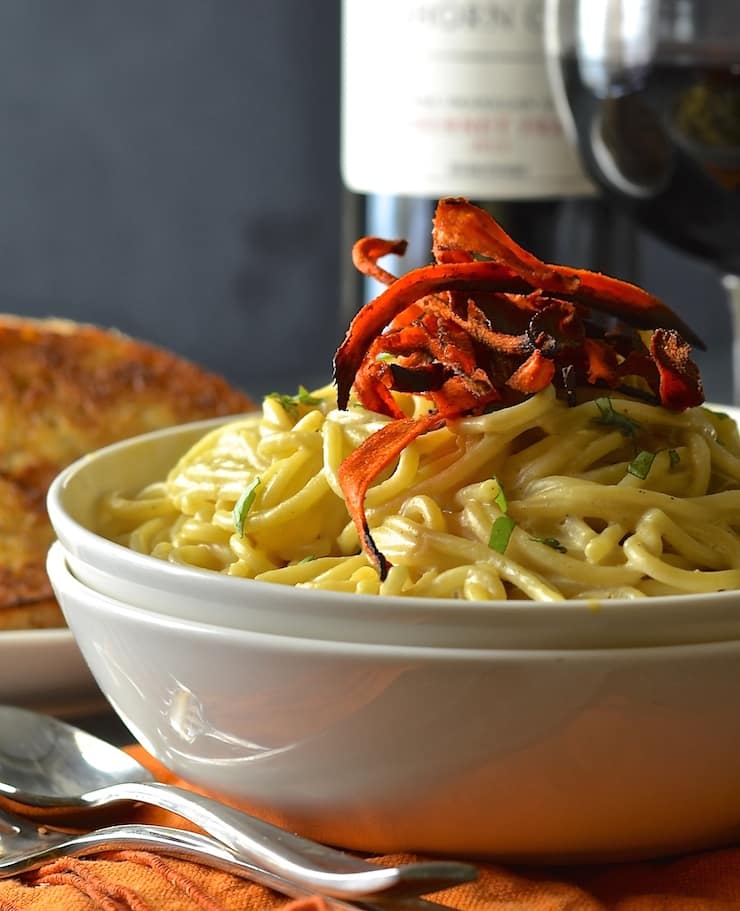 Carbonara is a very simple, classic Italian dish. It is traditionally made without the use of cream or milk and uses fresh eggs and parmesan. The eggs and cheese are beaten together in a bowl and added to cooked spaghetti. The heat from the spaghetti cooks the eggs and melts the cheese forming a sauce. Guanciale ( a cured meat) is also sautéed and added to the sauce.
In my Vegan Carbonara, I use creamy cashews, buttery ground almonds and a little milk to replace the eggs. The cheese is subbed for nutritional yeast and the guanciale is replaced with smoky carrot rashers. I cook it in a similar way to traditional carbonara. The spaghetti is cooked until al-dente then the room temperature sauce is tossed through it. The heat from the spaghetti is enough to warm the sauce through. You don't need lots of sauce. Italians don't drown their pasta in gallons of sauce. They just use enough to coat it nicely and this is the best way to serve this dish.
It's quite amazing how similar this is to a traditional non-vegan carbonara. It is incredibly creamy with a delicious butteriness from the ground almonds. The nutritional yeast gives a subtle cheesiness and the carrot adds a satisfying smoky flavour as well as great texture and a pop of bright orange colour.
The sauce even 'behaves' like carbonara sauce made with eggs and cheese. If you have ever made it you will know that once tossed through the pasta, if you don't serve it immediately or you keep it on the heat, it kind of goes claggy and dry. The same happens with this vegan version. So, when you drain the pasta I suggest you reserve a little of the pasta water to dilute the sauce a bit. The starchy water acts as an emulsifier and adds a lovely gloss to the sauce as well as letting it down a little. It's what Italians do and as they make some of the best food on earth who are we to argue? You might only need a drop but it's better to keep half a cup of it aside just in case.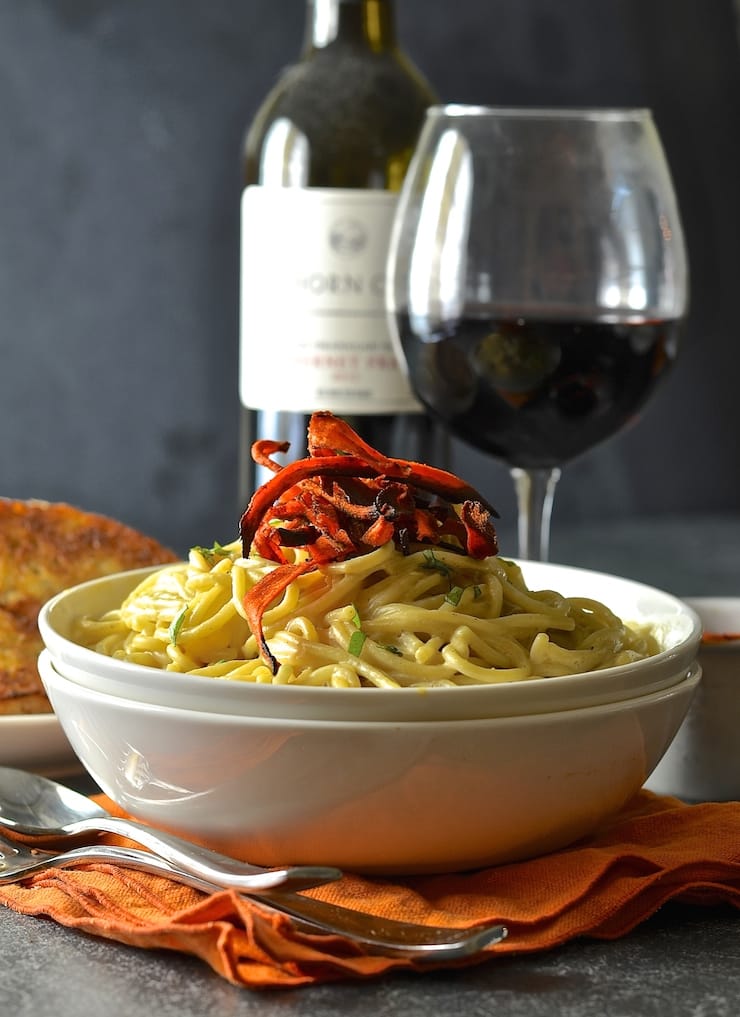 This Vegan Carbonara With Smoky Carrot Rashers is so unbelievably good. It has minimal ingredients, minimal prep and maximum flavour. Because it is so simple and quick to make and looks so impressive with the carrot piled up on top it is great to serve at dinner parties. You can make the Smoky Carrot Rashers in advance then when your guests arrive all you will need is ten minutes in the kitchen and you're done. Easy. More time to spend socializing and eating!
Serve this beautiful Vegan Carbonara with a big fresh salad, lashings of red wine and garlic bread and you will all be in heaven!
I couldn't wait to share this recipe with you today. I have been working on it on and off for months and I'm dying to know what you think. Leave your feedback in the comments below and on my Facebook page. You can also tag me on Instagram or Twitter. I am @avirtualvegan. Try to use the hashtag #avirtualvegan if you can then I won't miss your posts :O)
If you love Italian food then be sure to check out my Garlic Mushroom Risotto.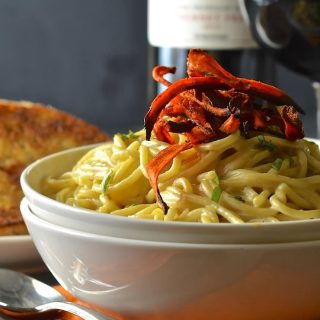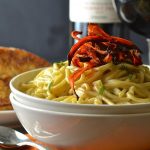 Vegan Carbonara With Smoky Carrot Rashers
Author:
A classic Italian dish made vegan! This vegan carbonara is so simple & yet so decadent it's magic. Add a scattering of smoky carrot rashers & you get a fantastic pop of colour, flavour & texture too!
Ingredients
For the carrot rashers
2

medium

carrots

, cut into very thin ribbons. I used a potato peeler to do this.

1

tablespoon

of oil

(any mild tasting oil, I used olive oil)

2

tablespoons

maple syrup

1

teaspoon

smoked paprika

pinch of salt
For the pasta
500g

spaghetti

(use GF spaghetti to make this meal gluten free)
For the sauce
75g / ½

cup

raw cashews

(soaked for at least 2 hours unless you have a super duper blender like a Vitamix or Blendtec . If you forget to soak them then cover them in boiling water for 20 minutes instead).

56g / ½

cup

ground almonds

30g / ½

cup

nutritional yeast

240mls / 1

cup

non-dairy milk

(see recipe note)

1

small

piece of garlic

, I had a medium sized clove and used just less than a quarter. It doesn't sound much but remember that the sauce doesn't get much cooking so the flavour will be too strong if you use much more.

1

teaspoon

salt

1

teaspoon

pepper
INSTRUCTIONS
For the carrots
Preheat oven to 325 °F

In a small bowl mix together the oil, maple syrup, smoked paprika and salt.

Add the carrot rashers and massage them in the mixture.

Line a baking tray with a

Silpat

or parchment paper

Spread the carrot rashers out on the tray in a single layer and bake for about 20 minutes, checking every 5 minutes or so and turning as necessary. They go from ok to burnt within what seems like seconds so keep a close eye on them. They won't go totally crispy while in the oven. As they cool some will crisp up and some will stay soft and chewy.
For the pasta
Put a large pan of salted water on to boil.

Add the spaghetti once it reaches a rolling boil
For the sauce
Add them and all of the other sauce ingredients to a food processor or

blender

and process until completely smooth.

When the pasta is al dente (cooked with a little bit of bite), drain it reserving half a cup of the pasta water.

Add just enough sauce to the pasta to just coat it. Add a few drop of the pasta water to make it looser and glossier if you need to. Not too much though. You don't want a runny sauce. It needs to be clinging to the spaghetti not dripping off.

Serve immediately.
NOTES
A very neutral tasting milk is best and it must be unsweetened. I didn't like the results with almond milk as I think the flavour of it came through in the sauce. I tried a few different varieties and my favourites to use for this was soy milk or cashew milk. 
Leftover sauce can be stored in a sealed container in the fridge for 4 - 5 days
NUTRITION
Serving:
1
serving
Calories:
517
kcal
Carbohydrates:
63
g
Protein:
23
g
Fat:
21
g
Fiber:
10
g
Sugar:
9
g
Vitamin A:
5200
IU
Vitamin C:
2.5
mg
Calcium:
190
mg
Iron:
4.3
mg
Nutritional information is provided for convenience & as a courtesy. The data is a computer generated estimate so should be used as a guide only.
Tried this recipe?
Rate it & leave your feedback in the comments section below, or tag @avirtualvegan on Instagram and hashtag it #avirtualvegan