A classic Italian dish made vegan! Perfectly rich, silky, creamy Vegan Carbonara with a scattering of smoky carrot rashers for crispy, chewy texture and sweet, smoky flavour. Ready in under 30 minutes!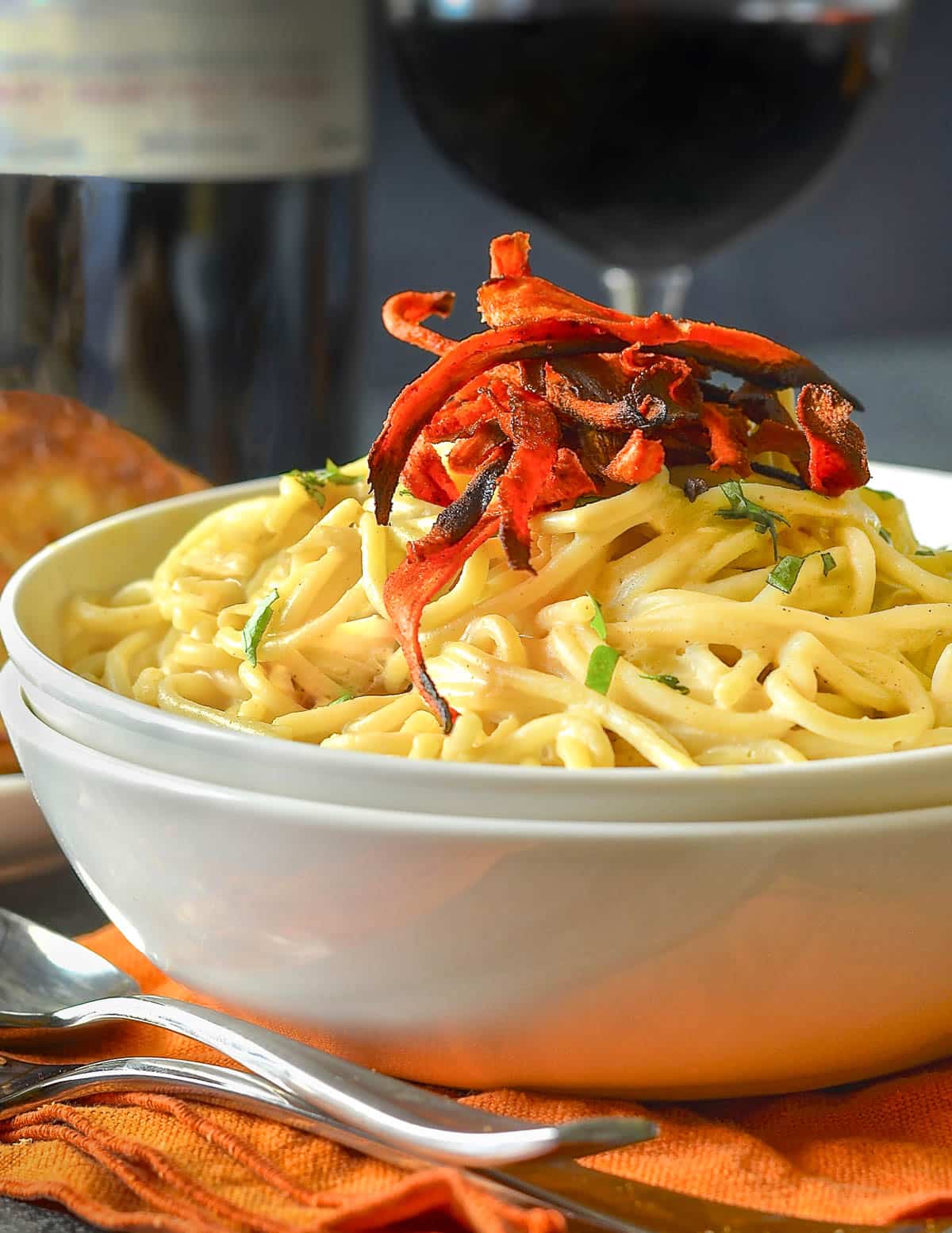 Hold tight because your pasta obsession is about to be satisfied completely with my Vegan Carbonara recipe!
It's cozy, rich and deeply comforting in an easy meets decadent kind of way, and just like my Italian Risi e Bisi, it's quick and easy to make.
What Is Carbonara?
Carbonara is a simple, classic Italian dish, mostly associated with the Rome and Lazio regions, although as with many traditional dishes, there is some debate and controversy over this. Read more about the history of Carbonara here.
The sauce is traditionally made without the use of cream or milk and uses just fresh eggs and parmesan. The eggs and cheese are beaten together in a bowl and added to cooked spaghetti. The heat from the spaghetti cooks the eggs and melts the cheese forming a silky sauce. Guanciale (a cured meat) is also sautéed and added when tossing everything together.
Ingredients For Vegan Spaghetti Carbonara
Here is what you need to make Vegan Carbonara: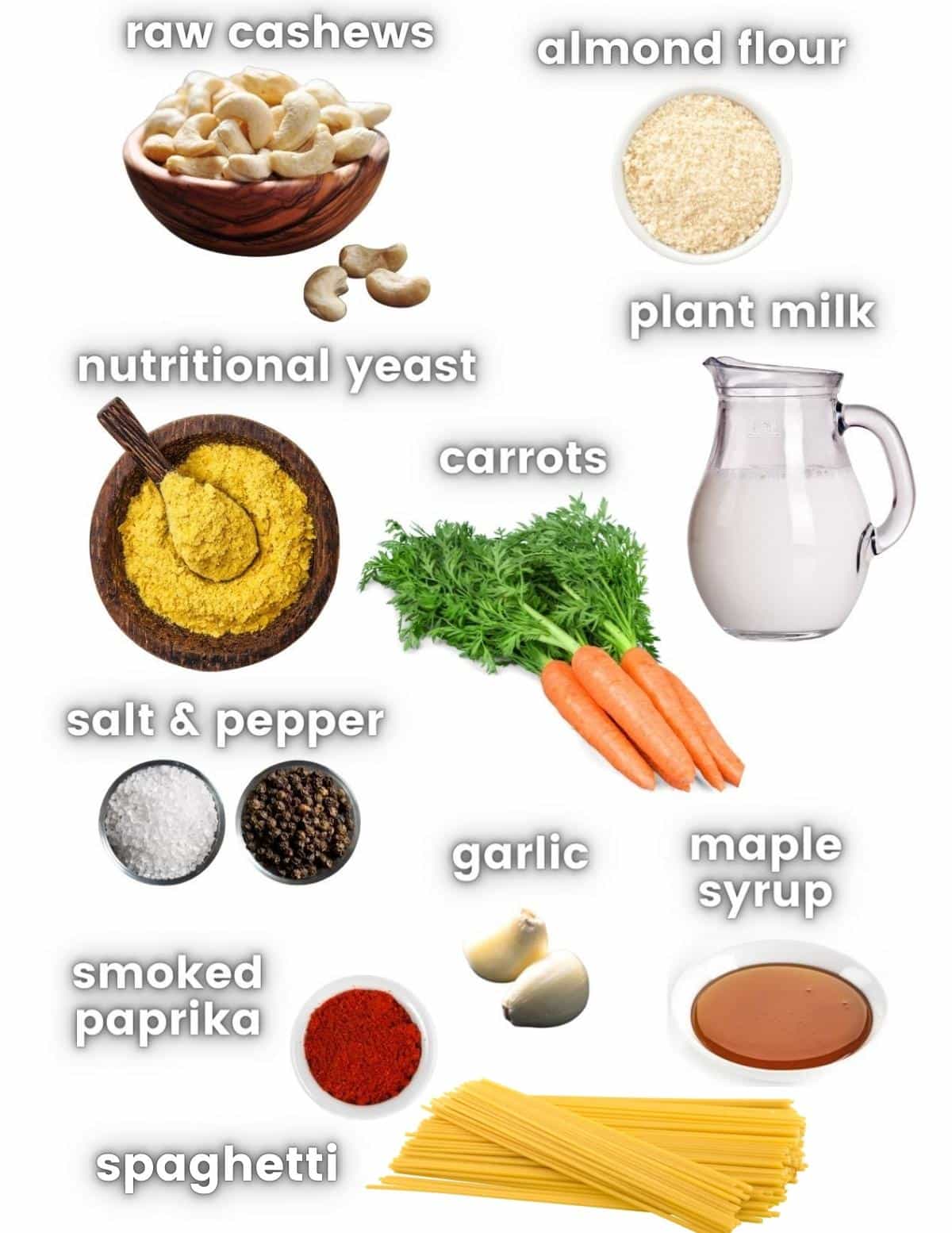 In my Vegan Carbonara recipe, I use creamy cashews, buttery ground almonds and a little plant milk to replace the traditional eggs and cheese. Almond flour is just amazing for giving a really buttery, rich flavour. That's why I use it in my vegan butter and other almond flour recipes.
Nutritional yeast is used for its cheesy, umami flavour and the smokiness of Italian guanciale is replaced with smoky-sweet and chewy carrot rashers.
You'll see a lot of vegan carbonara recipes using kala namak/black salt to give the sauce an "eggy" taste. If you've ever eaten authentic carbonara in Italy though, you will know that it does not taste eggy at all. There really is no need to use kala namak when making a vegan version of carbonara.
How To Make Vegan Carbonara
Here's how I make my vegan carbonara:
Bake the smoky carrot rashers in the oven.
Blend the very simple vegan carbonara sauce. Just like traditional carbonara we don't cook it or heat it.
Cook the spaghetti in a large pot of water until al-dente, then toss the room temperature sauce through it along with a little hot pasta water that you reserve before you drain the pasta (the same trick I use in the vegan vodka pasta sauce pasta). The starch in the pasta water emulsifies the sauce, making it thick, rich, silky and glossy. It will cling lusciously to every single strand of spaghetti!
Serve in bowls topped with the crispy, chewy, carrot rashers.
Success tip - You don't need lots of sauce. Italians don't drown their pasta in gallons of sauce. They use just enough to coat it sparingly and this is the best way to serve this dish.
Serving Suggestions
Serve this beautiful Vegan Carbonara pasta with plenty of vegan parmesan cheese and cracked black pepper or chili flakes. Maybe some fresh parsley too? On the side I love a big fresh crisp salad, some no knead focaccia bread and lashings of wine!
Variations
In a hurry? Skip the carrot rashers and just serve the spaghetti and sauce.
Want an alternative to the carrots? Serve with crispy bake zucchini slices, or sauted vegan bacon bits or mushrooms instead. Simply toss them through the spaghetti with the sauce, or scatter over the top before serving.
Looking for a low fat recipe? Check out my Cauliflower Alfredo.
Recipe FAQs
Can vegan carbonara be made gluten-free?
Yes. Just use gluten-free spaghetti. The sauce is naturally gluten-free.
What plant milk do you recommend?
You need to use a milk that is unsweetened and unflavoured. Always check the labels because a lot of plant milks have vanilla or sugar added to them. My go-tos for savoury recipes are soy milk or oat milk because they are creamy and very neutral. I don't recommend using almond milk in this recipe because its flavour tends to come through in the finished dish.
How do I make this nut-free?
I don't recommend trying to make this particular sauce nut-free. However, you can toss the spaghetti in this vegan cheese sauce. Use just enough to lightly coat the pasta strands and add some reserved pasta water to emulsify everything and make things extra silky and glossy.
If you try this recipe, let me know how you like it by leaving a comment and rating below! And be sure to join my mailing list for more deliciousness!
Recipe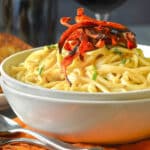 Vegan Carbonara
Author:
A classic Italian dish made vegan! Perfectly rich, silky, creamy Vegan Carbonara with a scattering of smoky carrot rashers for crispy, chewy texture and sweet, smoky flavour.
INSTRUCTIONS
For the carrots
Preheat oven to 325 °F and line a large baking tray with parchment paper or a silicone baking mat.

In a small bowl mix together the oil, maple syrup, smoked paprika and salt.

Add the carrot rashers to the bowl and massage them in the mixture, then spread them out on the prepared tray in a single layer, trying to keep a little space between each one.

Bake for 10 minutes, then turn them over and bake for about another 10 minutes but keep an eye on them and take them out before if they start colouring too much.

Remove from the oven and let them cool on the tray. As they cool some will crisp up and some will stay soft and chewy.
For the sauce
Cover the cashew nuts with boiling water from a kettle and leave to soak for 15 minutes. I recommend doing this even if you have a high powered blender because you will get a much silkier sauce.

Drain the cashews then add them and all of the other sauce ingredients to a blender. Blend until completely smooth.
For the pasta
Put a large pan of salted water on to boil.

Add the spaghetti once it reaches a rolling boil and cook until al dente (tender but still with some bite).

When it's ready, scoop out a mug of the starchy pasta water and set aside. Drain the spaghetti using a colander or sieve then return it to the pan.

Add the sauce to the spaghetti. Toss really well over a very low heat. The sauce will thicken quickly when added, so add some of the reserved hot, starchy pasta water to make it looser and glossier. About ¼ of a cup (60ml) is usually enough. Not too much though. You don't want a runny sauce. It needs to be clinging to the spaghetti not dripping off.

Serve immediately topped with the smoky carrot rashers.
NOTES
Storing leftovers
Leftover vegan carbonara sauce will keep in an airtight container in the fridge for 4 to 5 days. Toss through freshly cooked pasta with a little reserved pasta water before serving. Leftover spaghetti already tossed with the sauce can be stored in the fridge for 2 to 3 days and reheated in a microwave. Add a couple tablespoons of water and heat gently until piping hot. Give it a good stir before serving.
NUTRITION
Serving:
1
serving
|
Calories:
653
kcal
|
Carbohydrates:
94
g
|
Protein:
24
g
|
Fat:
21
g
|
Saturated Fat:
3
g
|
Polyunsaturated Fat:
3
g
|
Monounsaturated Fat:
7
g
|
Sodium:
644
mg
|
Potassium:
649
mg
|
Fiber:
8
g
|
Sugar:
9
g
|
Vitamin A:
5469
IU
|
Vitamin C:
2
mg
|
Calcium:
152
mg
|
Iron:
4
mg
Did you make this recipe?
Rate it & leave feedback in the comments section below. I love seeing your remakes too. Tag @avirtualvegan on Instagram! 🌟
This recipe was originally published on January 29th, 2016. The post has since been rewritten and a video added. The recipe remains the same. I hope you enjoy it. Thank you for following A Virtual Vegan!