A super easy, totally foolproof, quick yeast-free Spelt Bread that is ready from start to finish in a little over an hour. It's rustic, full of nutty, hearty flavours and perfectly soft and fluffy inside!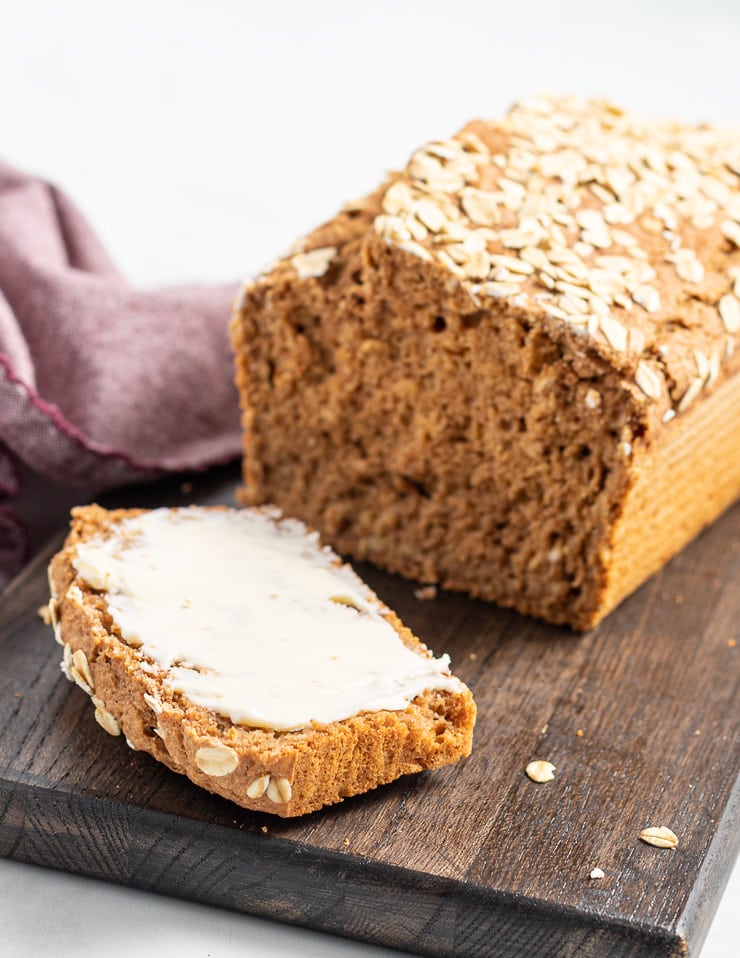 In a little over an hour, start to finish, a gorgeous warm loaf of completely yeast-free Spelt Bread could be yours to enjoy.
We're talking wholesome, rustic bread that can be made with nothing more than a bowl and a spoon and a loaf pan. We're talking so easy it's crazy and we're talking so tasty when schmeared with vegan butter that you might want to double up the recipe because one loaf will be gone before you know it.
The spelt flour gives this yeast-free bread a nutty, savoury, hearty flavour just like it does in my Vegan Spelt Pancakes. It's soft and fluffy on the inside and slightly crusty and chewy with a scattering of nubbly, toasty oats on the outside. If you'd rather bake with white flour though, go check out my No Yeast White Bread which is an adapted version of this recipe, or my vegan soda bread.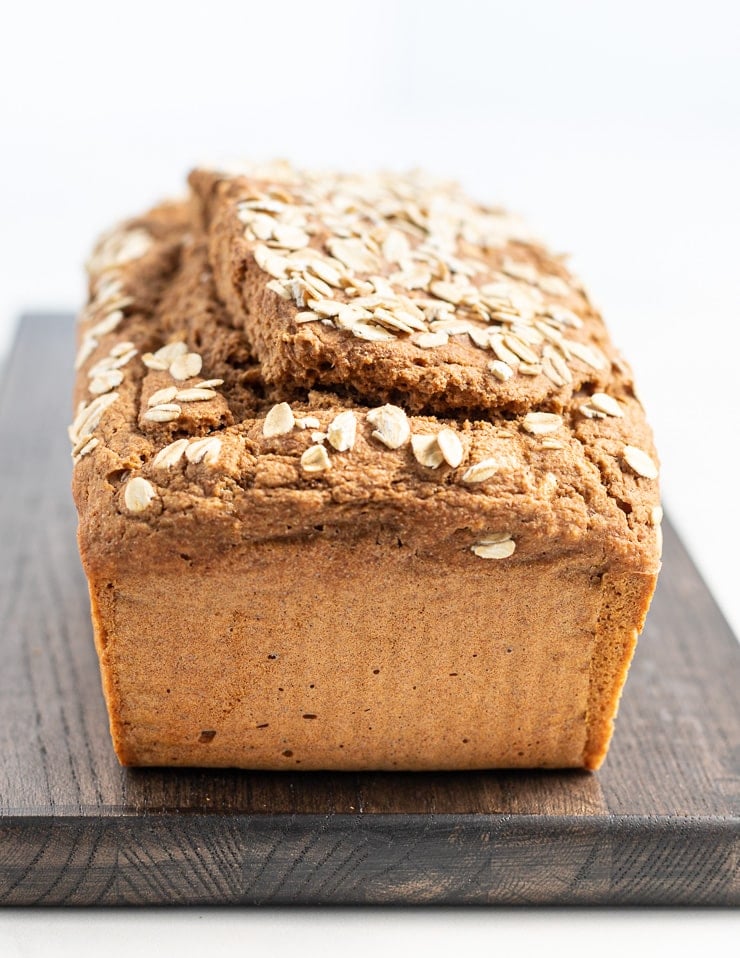 This Spelt Bread is virtually foolproof. Just like my no yeast flatbreads, you don't have to worry about having yeast on hand. You don't have to worry about kneading. You don't have to worry about rise times. It's just a quick, easy, and very delicious savoury quick bread made with simple ingredients that you can whip up at the last minute.
And we all know that there are few better things than freshly baked bread pulled straight from the oven, and as much as I love baking bread like my Easy Whole Wheat Bread with yeast, sometimes it's nice to have a super quick emergency bread option up your sleeve. Like when you run out of yeast or you decide to make soup for dinner last minute and need a tasty accompaniment.
This Spelt Bread is here for all of your "need bread quick" emergencies and then some because once you've tried it you'll be wanting to make it on the regular.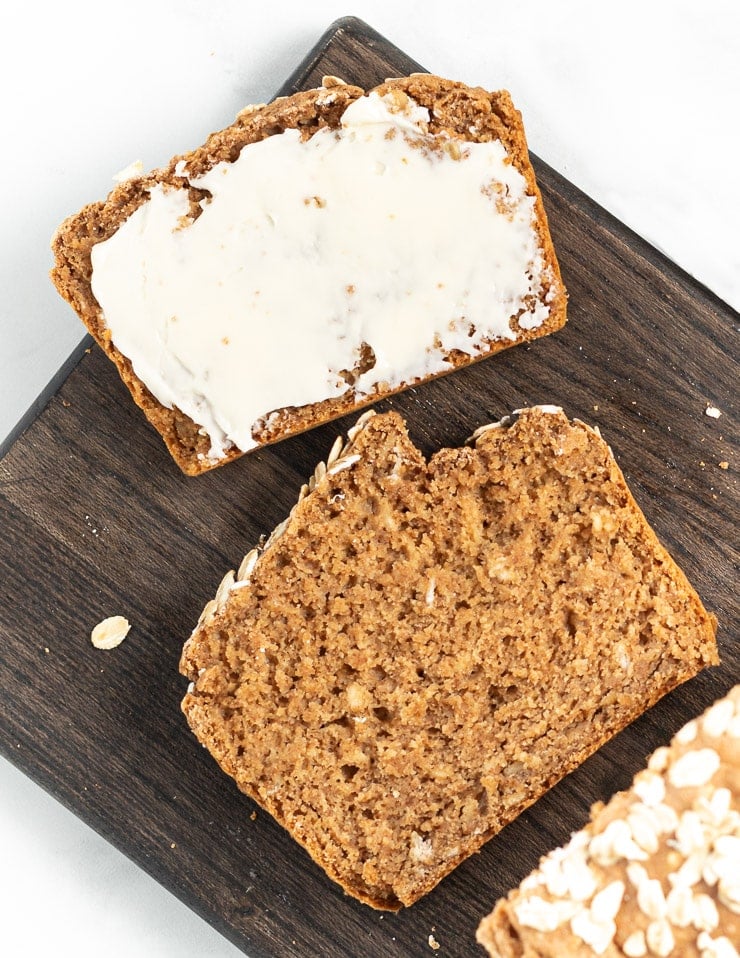 Ingredients & equipment notes
Here is what you'll be needing to make this Yeast-Free Spelt Bread and why:
Spelt flour: A flour you see used here on AVV a lot because it's my absolute favourite. It has so much nutty flavour and a light but hearty, fluffy texture when baked. I highly recommend keeping a bag in your pantry. And if you buy it especially for this recipe check out my healthy vegan banana bread and Vegan Spelt Pancakes to help use it up!
Oats: For texture, toasty oaty flavour, nutrition and presentation.
Maple syrup - Real maple syrup, not the fake stuff. Its flavour really compliments the spelt flour and oats. It's not enough to make the bread sweet, but adds depth.
Molasses - Not enough to taste molasses-y, but what is there compliments the spelt, maple and oats flavours and adds depth to the breads flavour.
Baking powder & baking soda - Both for extra fluff and height. The bonus baking soda reacts with the acidic molasses to boost the ooomph from the baking powder.
Oil- Not absolutely essential and it can be omitted if you are oil-free, but it does improve the texture slightly and works as a preservative too.
Salt: Essential in bread for flavour.
You will also need an 8.5 x 4.5-inch or a 9 x 5-inch loaf pan. Either is fine.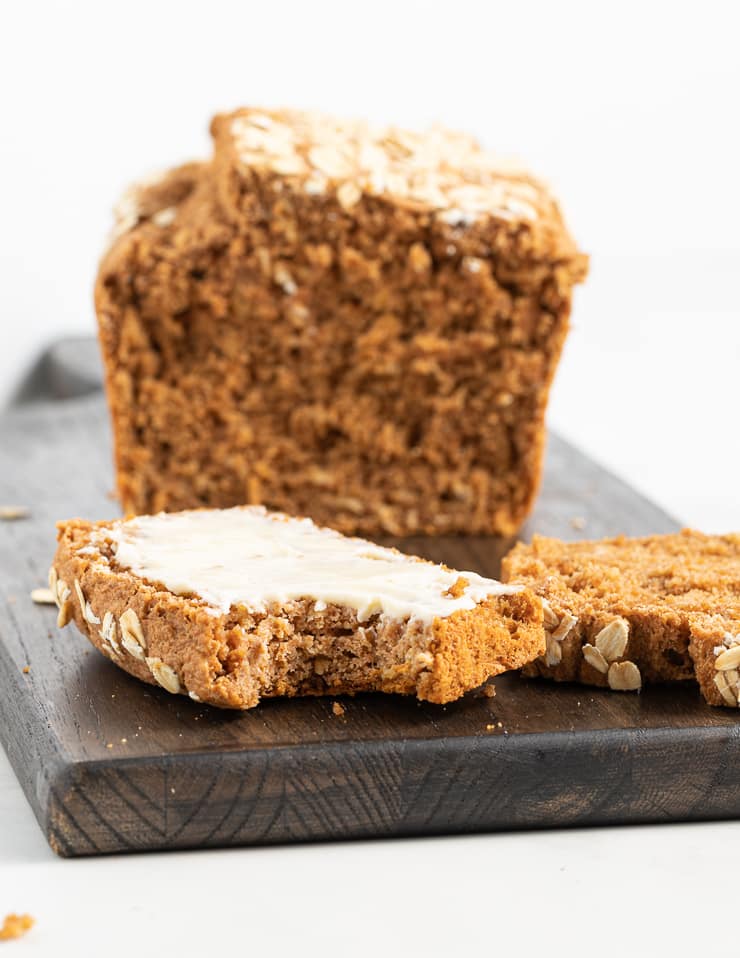 How to make my Easy Spelt Bread
This is the bread recipe you've been waiting for. It's so simple!
Step 1: Grease and line a 9" x 5" (or similar) loaf pan. This USA Pan Loaf Pan is my personal favourite.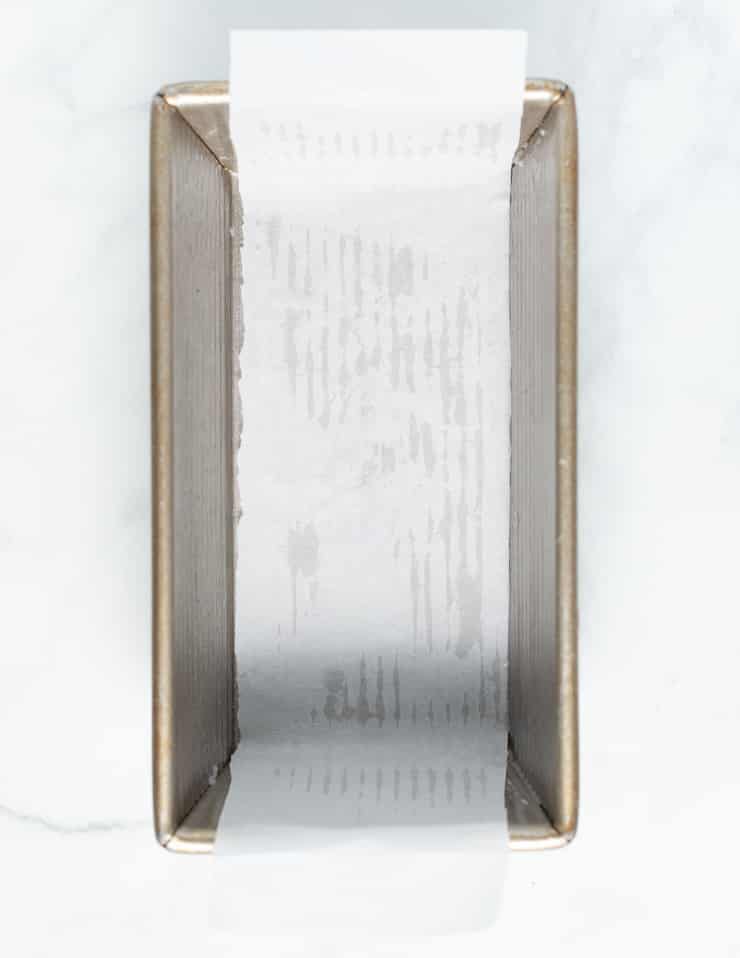 Step 2: Add all of the dry ingredients to a large bowl and whisk them up.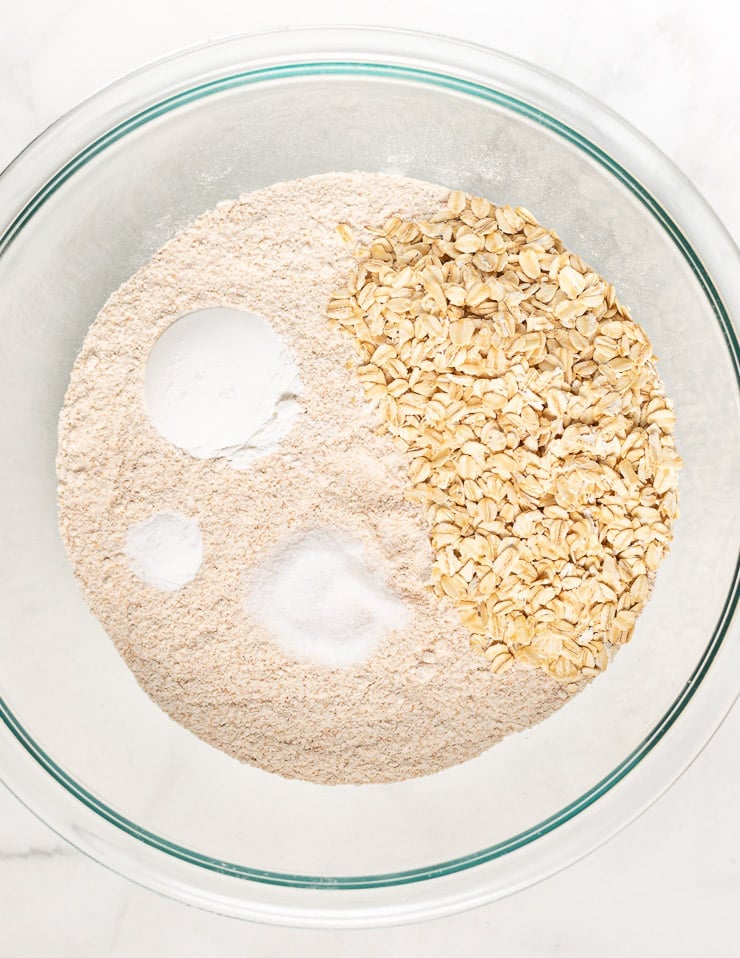 Step 3: Add all of the wet ingredients to another bowl and stir them up (it starts off looking white because the molasses sinks, then turns orange once it's all mixed together).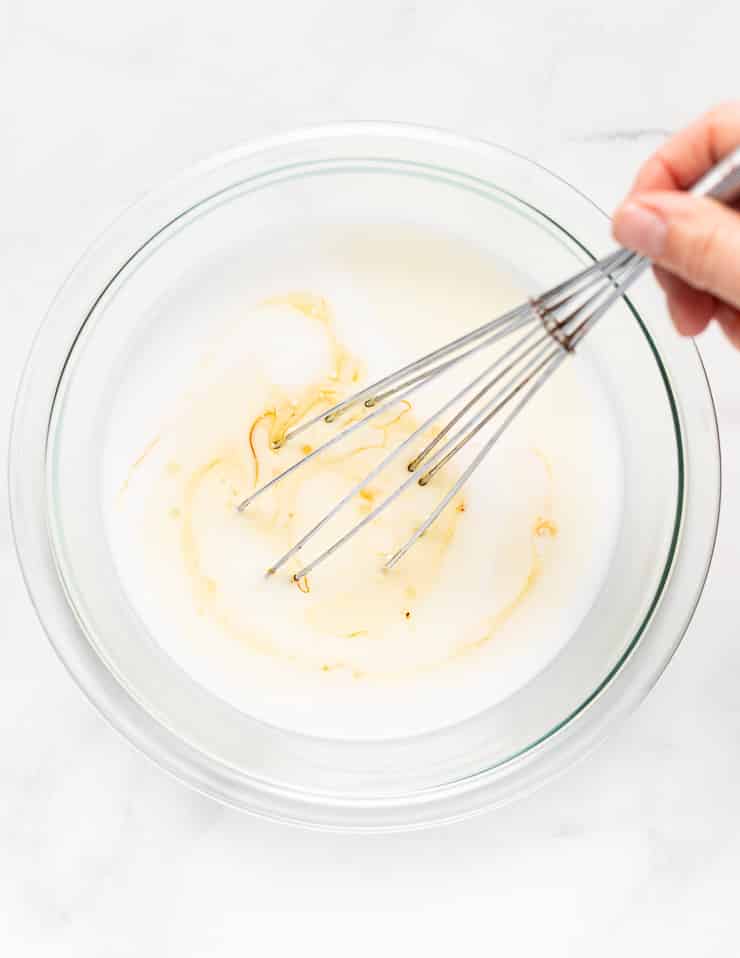 Step 4: Pour the wet into the dry and mix gently. A wooden spoon or a spatula is great for this.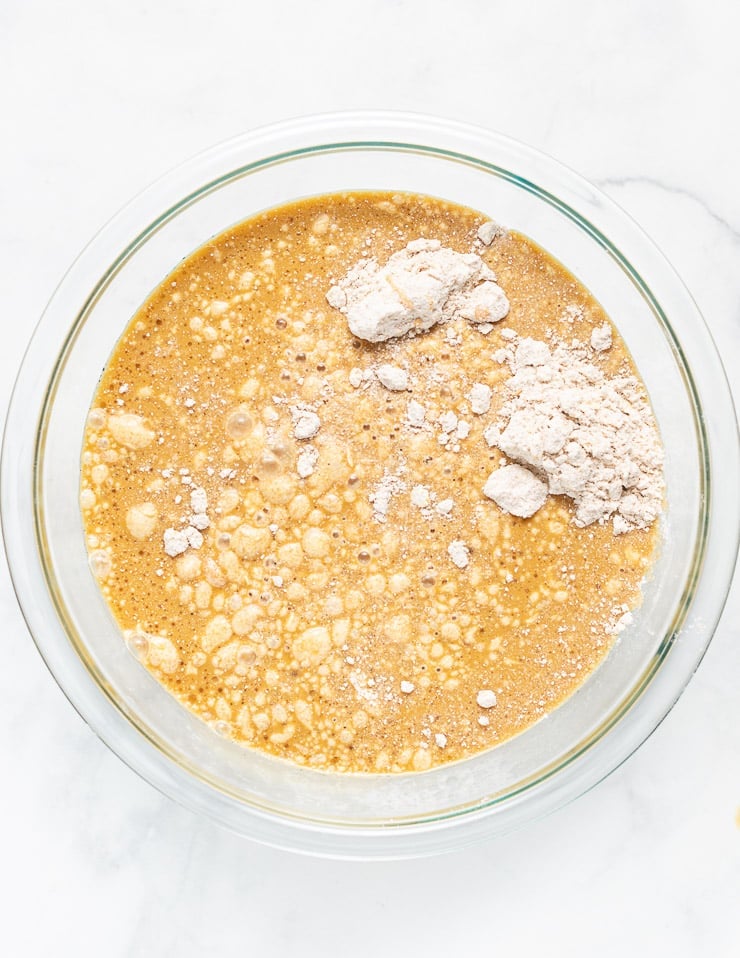 Step 5: Pour the batter into the tin and top with some oats then bake.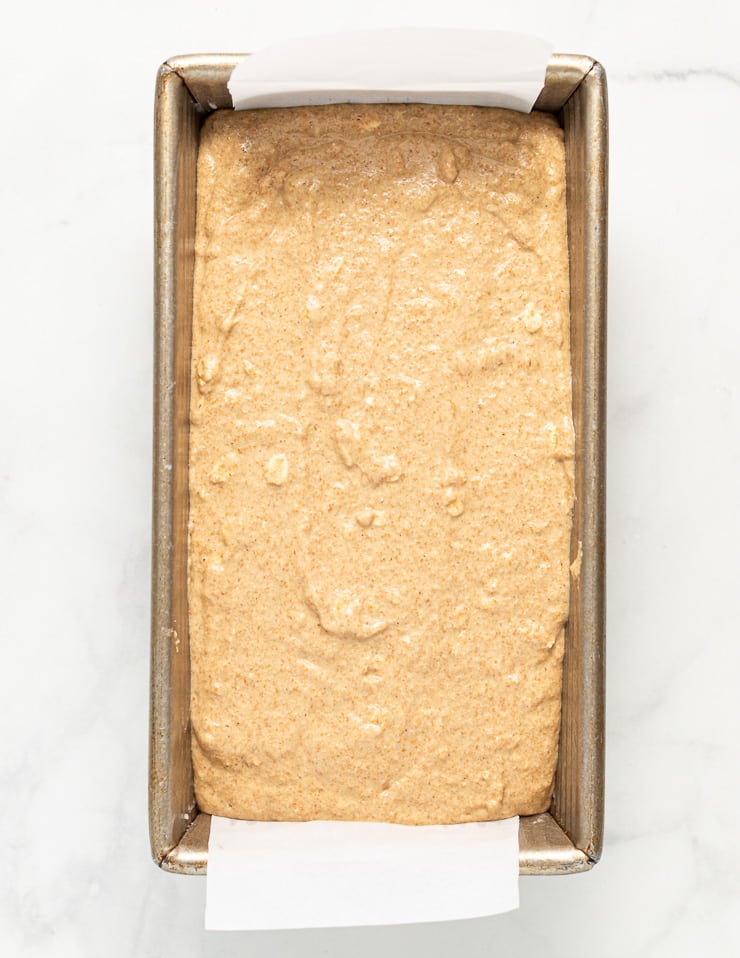 And here's what your gorgeous loaf of Spelt Bread looks like when it's done: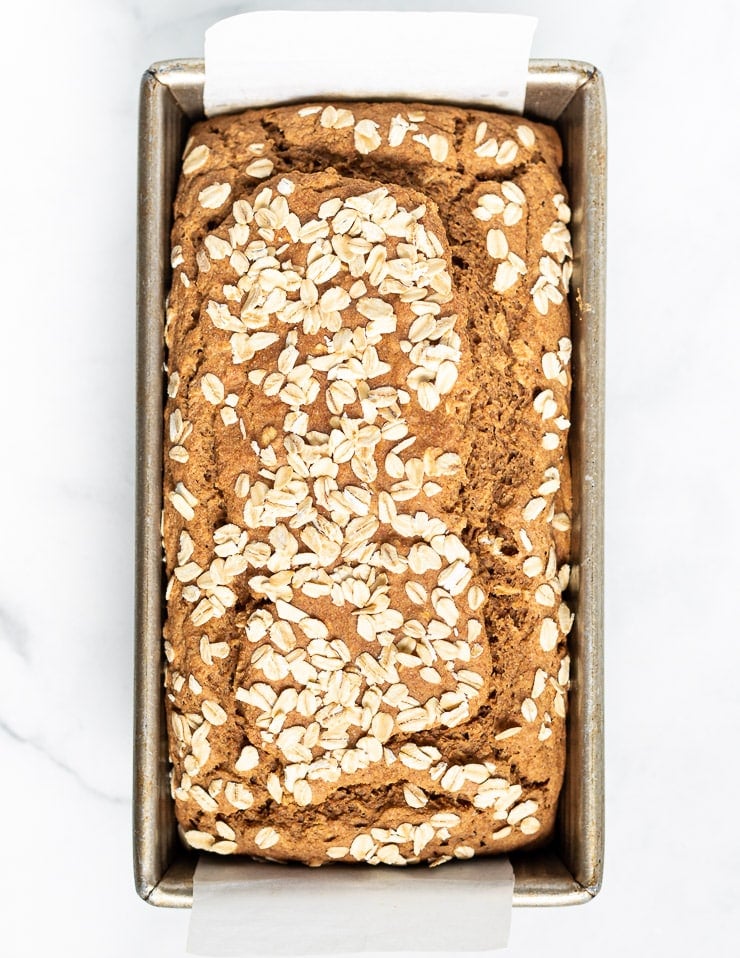 Success Tips
Follow the recipe exactly and weigh the flour. I know I bang on about this every single time but it's so important if you want the very best result. This scale is really inexpensive and accurate.
Don't over-mix the batter. Just mix it gently and only enough to incorporate the dry flour.
Be sure to sprinkle the top with some extra oats. It makes it look pretty!
Try to let it cool for at least 10 minutes before cutting into it. Notice I say "try". It's very hard to resist and no judging from me if you don't ;O)
Freezing instructions
Cook the spelt bread as per the instructions and cool it thoroughly on a cooling rack. Wrap well or place in an airtight freezer-safe container or freezer bag and freeze for up to 3 months.
Allow to defrost at room temperature on a cooling rack so it doesn't get damp. Eat as it is or reheat it in a warm oven. 350°F (175°C) for about 20 minutes should do it. You don't need to put it in a pan. Just sit it straight on the oven shelf.
I like to make two loaves at a time and keep one to eat, then freeze the other for another day.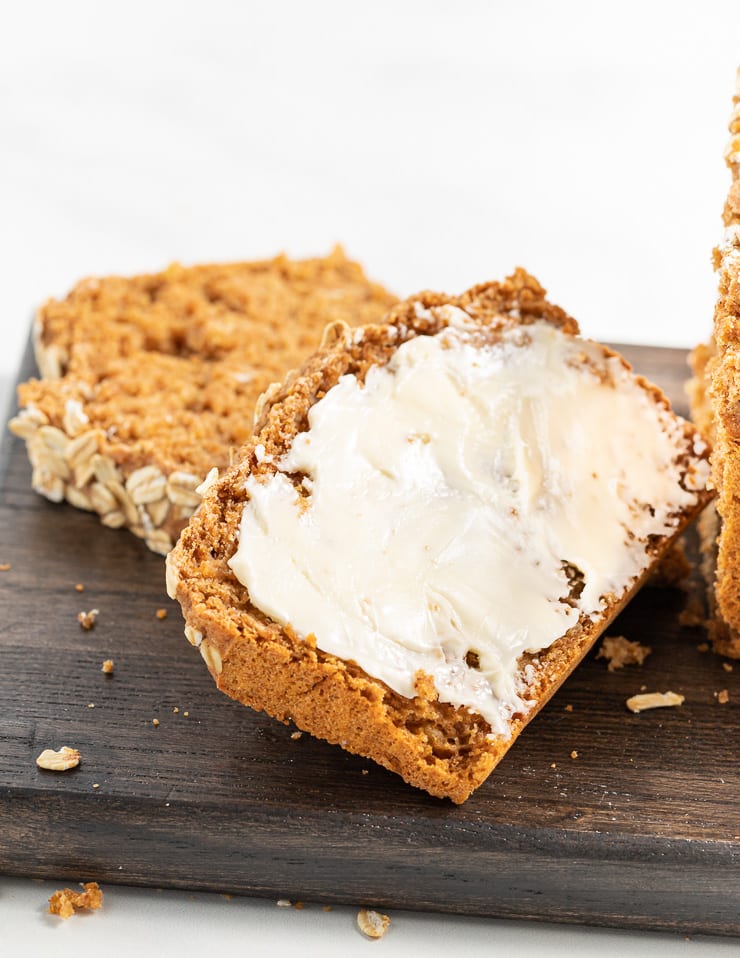 Ways you can adapt this recipe
This Spelt Bread is pretty perfect as it is but you could:
Use beer instead of the water/milk (have you tried the yummy beer bread recipe in my cookbook yet?)
Add some herbs and vegan cheese to the batter
Make it as muffins instead of a loaf. (Bake at the same temperature for 20 to 25 minutes. Check done-ness with a toothpick/metal skewer).
Add another couple tablespoons of maple syrup and a couple of handfuls of dried fruit for a sweet, fruity spelt bread.
Use quinoa flakes instead of oats
Use all purpose or wholewheat flour but be sure to weigh it o you get exactly the correct amount. 1 cup of spelt flour weighs less than 1 cup of all purpose or wholewheat flour.
If you try this recipe, let me know how you like it by leaving a comment and rating below! And be sure to join my mailing list for more deliciousness!
Recipe Video
Recipe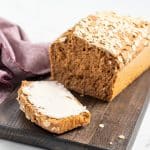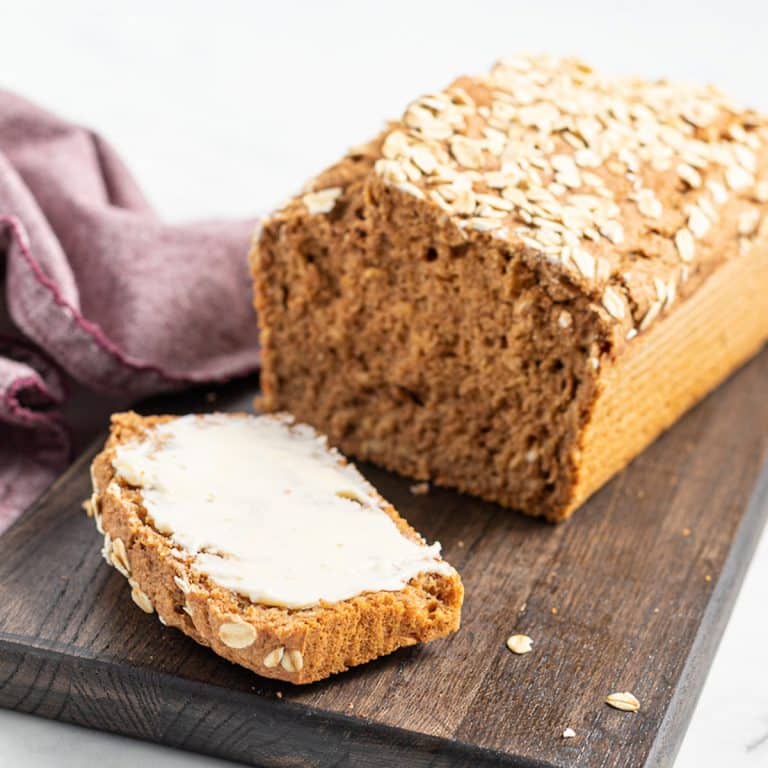 Easy Yeast-Free Spelt Bread
Author:
A super easy, totally foolproof, quick Yeast-Free Spelt Bread that is ready from start to finish in a little over an hour. 
Ingredients
3¾ cups (430

g)

spelt flour

½ cup (45

g)

rolled/old fashioned oats

, plus a few more for sprinkling on top. (Do not use steel cut oats)

3

teaspoons

baking powder

¼

teaspoon

baking soda

, (bicarbonate of soda in the UK)

1

teaspoon

fine salt

2¼ cups + 2 teaspoons (550

mls)

water or plant-based milk

1

tablespoon

molasses

, regular or blackstrap

1

tablespoon

maple syrup

, or 2 teaspoons sugar

2

tablespoons

neutral oil of choice

, such as avocado oil, light olive oil, vegetable oil, sunflower oil, canola oil or melted refined coconut oil (measured after melting) - see notes for oil-free option
INSTRUCTIONS
Preheat oven to 350°F (175°C) and grease a 9 x 5 inch loaf (or similar) with a little oil. Lay a rectangular strip of parchment paper down the middle to stop the bottom of the bread sticking and to act as handles for lifting the loaf out after it's baked.

To a large mixing bowl add the spelt flour, oats, baking powder, baking soda and salt and whisk to combine.

In another bowl add the water/milk, molasses, maple syrup and oil. Whisk them together well.

Pour the wet ingredients into the dry ingredients and stir together gently. Mix until you can no longer see any dry flour but treat it gently and don't beat it hard or use an electric mixer. The batter will be like cake batter consistency.

Spoon the batter into the prepared tin, scatter some more oats over the top and bake for about 1 hour 5 minutes until it's risen and golden and starting to come away from the edges of the pan. A toothpick or metal skewer inserted into the middle should come out clean. Cooking times vary depending on your oven and the pan you use so it might need a few minutes more or less.

Lift the loaf out of the pan and place on a cooling rack. Tip it gently to the side to remove the parchment paper and allow to cool.
NOTES
Molasses gives a great depth of flavour and colour and works really well with the spelt flour. It can be omitted if you don't have any though and won't affect how well the recipe works. 
OIL-FREE OPTION
You can omit the oil to make the recipe oil-free. It turns out well but the texture isn't quite as good as when you do use the oil. It also won't keep as long because oil acts as a preservative. 
NUTRITION
Serving:
1
of 10 slices
Calories:
226
kcal
Carbohydrates:
38
g
Protein:
6
g
Fat:
5
g
Saturated Fat:
1
g
Sodium:
266
mg
Potassium:
171
mg
Fiber:
6
g
Sugar:
3
g
Calcium:
62
mg
Iron:
2
mg
Tried this recipe?
Rate it & leave your feedback in the comments section below!