Overnight Oats Chunky Monkey Style! We're talking banana, nuts, chocolate & creamy oatmeal, because everyone deserves to wake up to that combo! There is no cooking involved at all. Make up a batch in minutes, store them in the fridge & they are perfect for quick, healthy breakfasts on the go!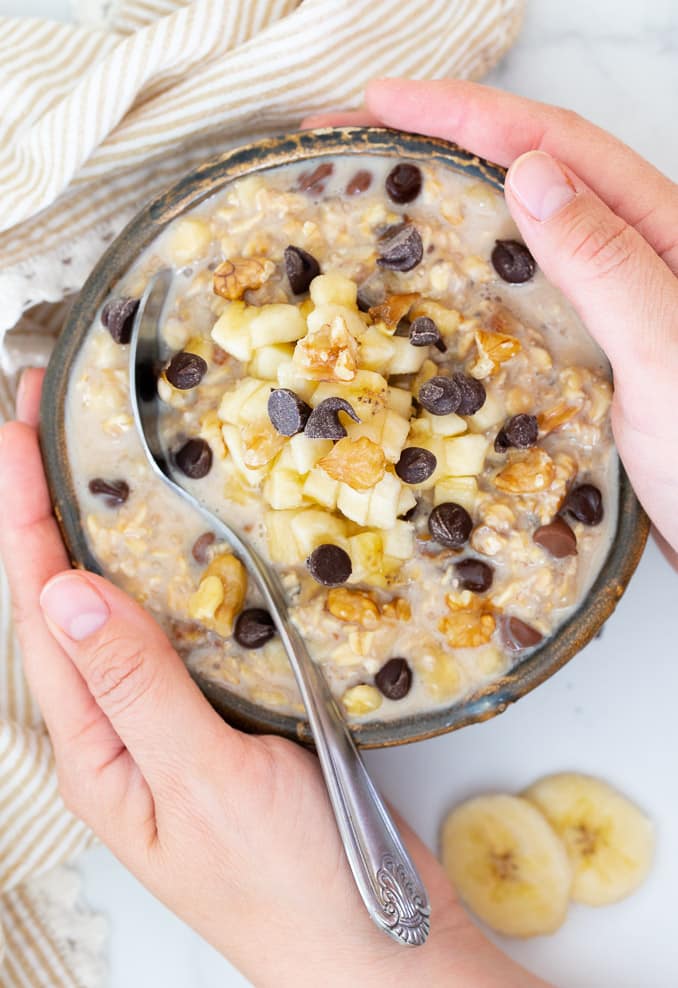 Stressful mornings. Something no-one likes. Simple things help make your morning routine run smoother, like making the packed lunches the night before, laying yours and the kids clothes out ready and having breakfast ready and waiting when you walk into the kitchen.
Say what? How is that even possible?
Well with overnight oats it is entirely possible. They have been, and still are, my morning salvation.
During the week there usually isn't time to linger over a decadent breakfast like my Vegan French Toast. Save that for the weekend. Make sure you do too because it is the best vegan French toast EVER!
Monday to Friday it's got to be super quick and easy. That's where overnight oats come in. Make up a batch in minutes on Sunday evening. Pop them in the fridge and voila. Breakfast is ready when you need it the next day and for up to 3 to 4 days later if you want it to be. If you invest in some wide mouthed mason jars you don't even need to put the oatmeal in a bowl. Just eat it straight from the jar or grab the jar from the fridge and take it to work with you for later!
I use these 16oz mason jars. The shape is perfect and they are really easy to eat out of:
HOW TO MAKE OVERNIGHT OATS
Making overnight oats is a really quick and straightforward process. All you need are rolled oats, milk of choice and a drop of maple syrup or a chopped date for sweetness. I like to add some chia seeds too, both for texture and nutrition.
The measurements for a single portion are as follows:
½ cup rolled oats
2 teaspoons chia seeds
1 tablespoon maple syrup or a chopped medjool date
¾ cup of milk
That's the basic recipe. Once you've got that down you can get inventive with the add-ins. You can stir in some cocoa powder to make chocolate overnight oats, stir in some nut butter, vegan yogurt, top with fresh fruit, dried fruit, nuts, seeds, more nut butter...Whatever floats your boat.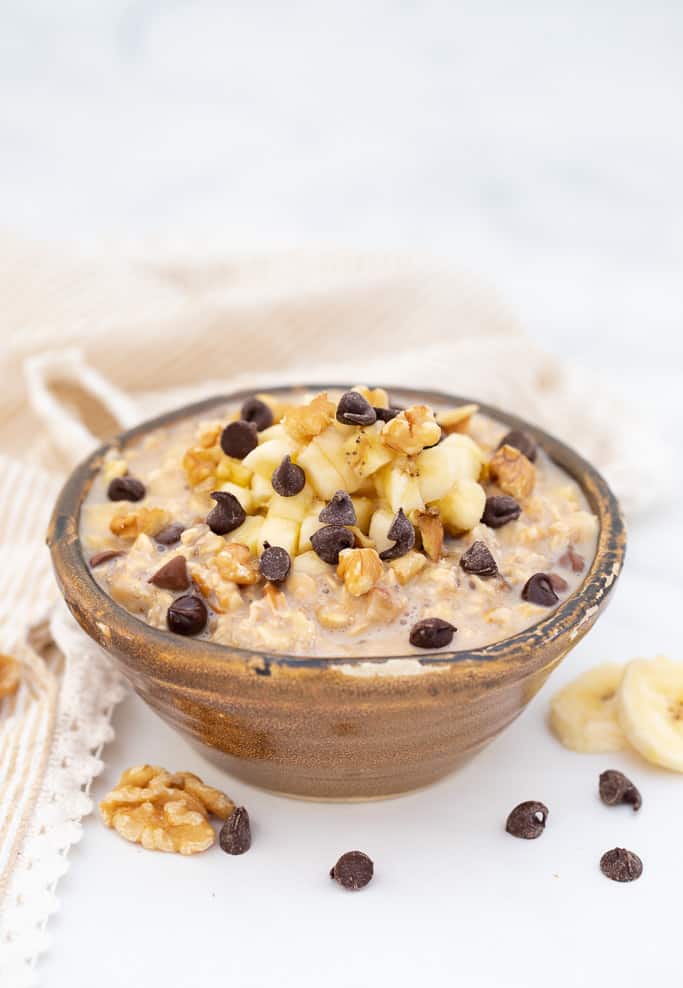 DO YOU EAT OVERNIGHT OATS COLD?
Overnight oats are usually served chilled straight from the fridge. They are absolutely perfect for people who love oatmeal but don't want a hot breakfast in the summer.
Some people don't like the thought of eating their oatmeal cold, but it really isn't like eating cooked oatmeal cold. That's wouldn't be pleasant at all. Because overnight oats haven't been cooked, you don't get that thick, gloopy texture that would be off-putting with previously cooked oats.
If you are dead-set against it though, you can warm them up. If you make them in a mason jar you can pop them in the microwave while still in the jar, as long as you remove the metal lid first. They don't take long at all. To take the chill off but still eat them cool, I put them in on high power for 20-30 seconds. If I want them hot I heat them on full power for about 1 minute, maybe up to 1 minute 30 seconds.
HOW LONG DO OVERNIGHT OATS LAST IN THE FRIDGE?
Basic overnight oats last for up to 5 days in the fridge. Most add-ins will last that long too, with the exception of fresh fruit. It can get a little soggy if left too long, especially berries like strawberries. I like to add them when I am about to eat the oatmeal or a few hours before is fine too if you plan on taking your oatmeal to work with you. You can still have the fruit washed and prepared in an airtight container so that you don't have to faff around with washing and chopping it in the morning.
That's it. They really are the most simple and delicious breakfast!
You might want to try my Ginger Chocolate Overnight Oats: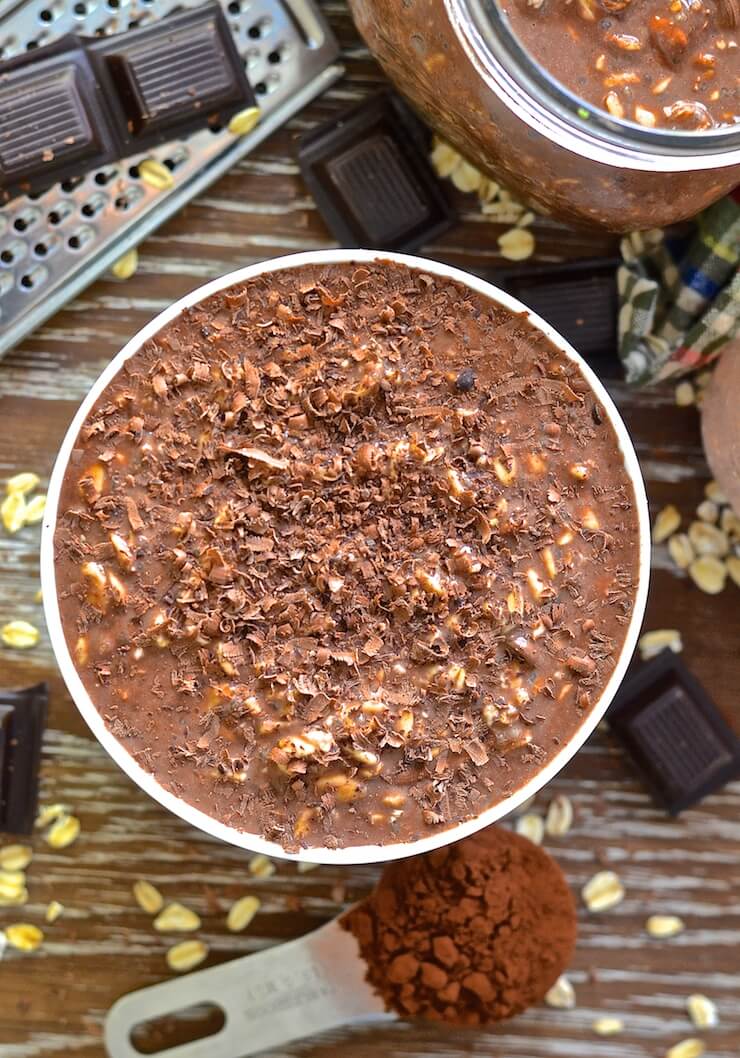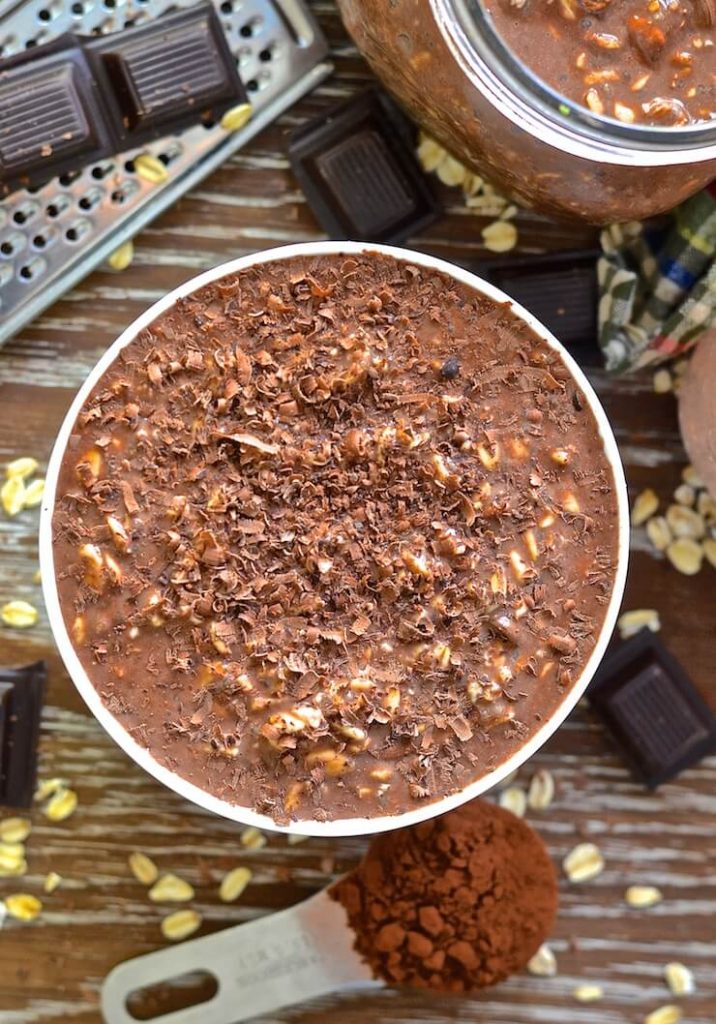 HOW TO MAKE CHUNKY MONKEY OVERNIGHT OATS
---
SEE MY VIDEO FOR A VISUAL GUIDE. FOR INGREDIENTS & FULL INSTRUCTIONS PLEASE SEE THE RECIPE CARD AT THE END OF THIS POST
---
Making Chunky Monkey Overnight Oats is really easy! Here are the ingredients you will need: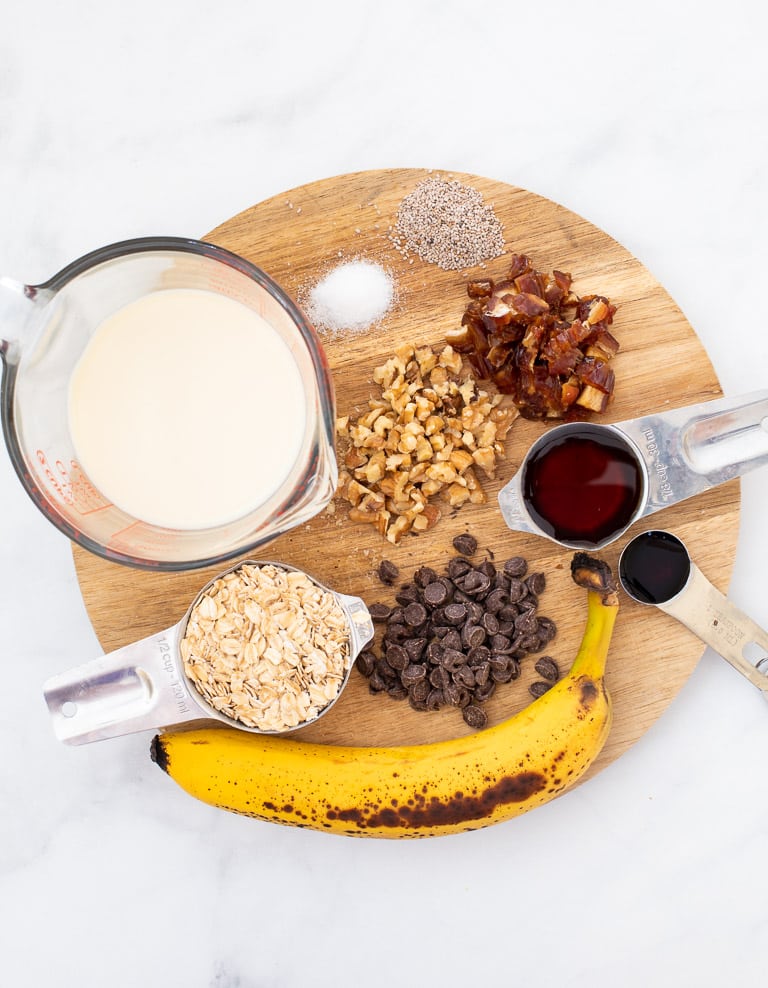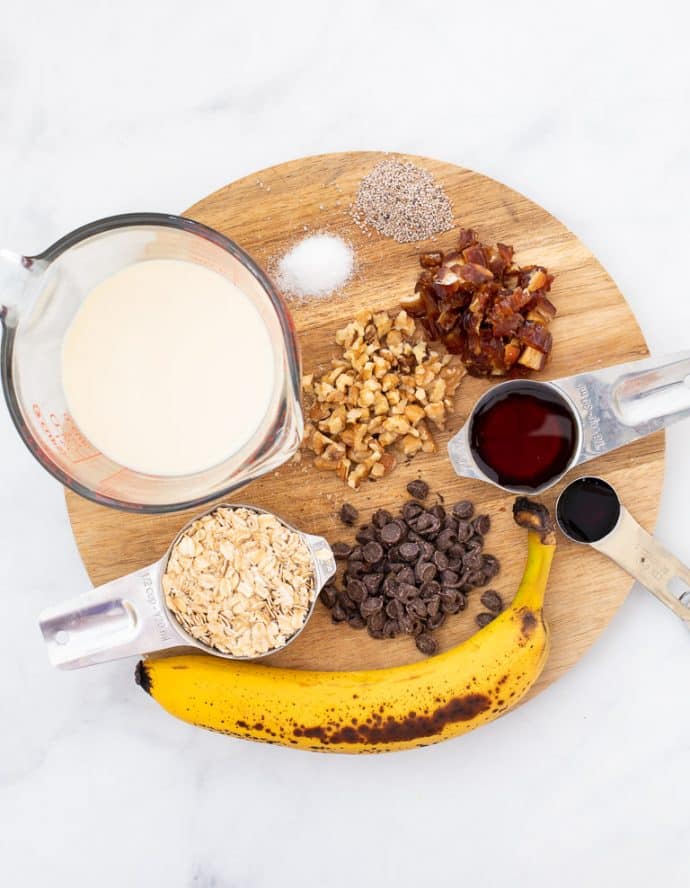 And here's how it's done:
STEP 1
Mash some banana and put into a jar or bowl
STEP 2
Pour in some oats, chia seeds, a chopped date, a pinch of salt, some chopped nuts, some chocolate chips, vanilla, milk and optional maple syrup
STEP 3
Stir or put the lid on and shake then place in the fridge and leave for at least 6 hours or up to 3 days
That's it!
Because of the mashed banana in these Chunky Monkey Overnight Oats, they don't last as long as 5 days like plain overnight oats would, but they are absolutely fine for up to 3.
The flavour and texture of Chunky Monkey Overnight Oats is amazing. Banana, nuts, chocolate and a date that magically turns almost caramel-y are the perfect combo.
These oats are:
quick and easy
convenient
refined sugar free
kid friendly
hearty
healthy
satisfying
and they taste like dessert for breakfast!
For more oatmeal recipes, check out these great options:
And if you love this recipe, please do checkout my cookbook, and subscribe to my email list for a fabulous FREE eCookbook featuring my top 10 recipes. Being on the list means you will be first to see my new recipes and you'll be kept in the loop on all things new and exciting too!
Chunky Monkey Overnight Oats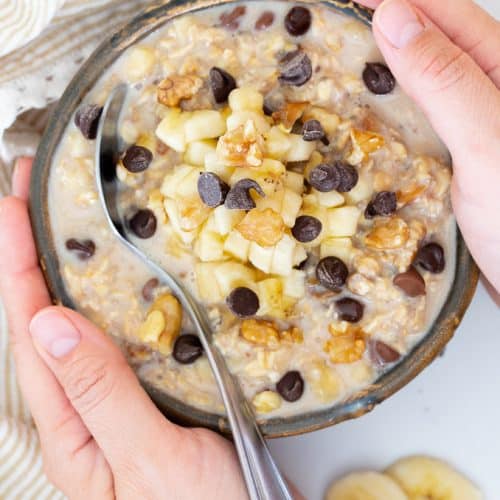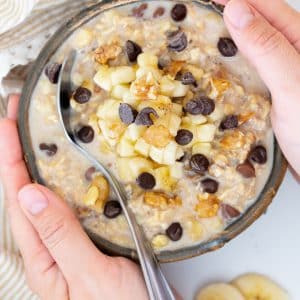 Overnight Oats Chunky Monkey Style! We're talking banana, nuts, chocolate & creamy oatmeal, because everyone deserves to wake up to that combo! There is no cooking involved at all. Make up a batch in minutes, store them in the fridge & they are perfect for quick, healthy breakfasts on the go!
Ingredients
1

ripe banana

1 cup / 100

g

rolled oats

4

teaspoons

chia seeds

2

small pinches

salt

2 -4

tablespoons

chocolate chips

2 - 4

tablespoons

chopped walnuts

, or pecans

1½ cups / 360

mls

milk of choice

1

tablespoon

maple syrup

, optional
INSTRUCTIONS
You need either 2 mason jars or 2 small bowls.

Mash the banana with a fork. Add ½ to each mason jar or small bowl.

Then add ½ a cup of oats, 2 teaspoons of chia seeds, a small pinch of salt, 1 date broken up into little pieces, 1 to 2 tablespoons of chocolate chips and nuts, ¾ cup (180 ml) milk to each jar/bowl. Maple syrup is optional. If you add it the oats are really sweet. I personally find it sweet enough without.

Stir them really well, or put the lid on and give them a good shake. If using a bowl, cover with cling wrap. Transfer to the fridge and leave for at least 6 hours or up to 2 to 3 days.

Eat straight from the fridge or warm gently if preferred.
NOTES
1 tablespoon of cocoa powder added with the other ingredients makes for a great double chocolate chunky monkey oatmeal!
Nutritional information is calculated using 1 tablespoon each of chocolate chips and walnuts.
NUTRITION
Serving:
1
jar/bowl
Calories:
425
kcal
Carbohydrates:
70
g
Protein:
10
g
Fat:
14
g
Saturated Fat:
3.5
g
Sodium:
160
mg
Fiber:
11
g
Sugar:
30
g
Vitamin A:
450
IU
Vitamin C:
7.4
mg
Calcium:
320
mg
Iron:
4.3
mg
Nutritional information is provided for convenience & as a courtesy. The data is a computer generated estimate so should be used as a guide only.
Tried this recipe?
Rate it & leave your feedback in the comments section below, or tag @avirtualvegan on Instagram and hashtag it #avirtualvegan